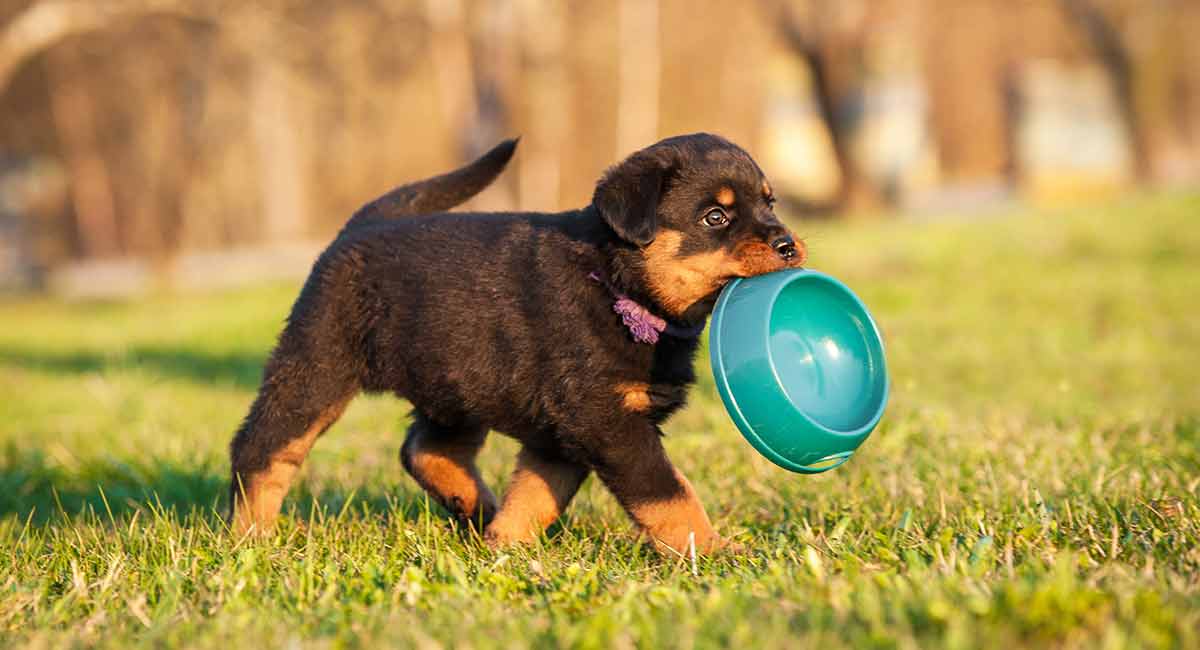 The best food for Rottweiler puppy health will be one designed for large, energetic working breeds.
It will take into account their potential for hip problems, growth rate and size.
As well as providing a meal that tastes good and is easy to digest.
All of these products were carefully and independently selected by the Happy Puppy Site team. If you decide to make a purchase from one of the links marked by an asterisk, we may earn a small commission on that sale. This is at no extra cost to you.
The Best Food For Rottweiler Puppy Size
Depending on your particular pup's parents and gender, your adult Rottweiler may weigh anywhere from 70 to 130 pounds!
That is a really big dog.
But you don't want your pup to grow too quickly, or they might suffer joint problems further down the line.
The best food for Rottweiler puppies will offer the proper amount of protein and the right calcium-to-phosphorus ratio for large breed puppies.
Supporting a steady rate of growth and delvelopment.
Feeding the wrong diet in the wrong amount can lead to overly fast skeletal and muscle growth.
This can cause severe structural and mobility issues in adulthood.
How much food should I feed my Rottweiler puppy?
When your puppy arrives home at 8 weeks old, you will want to split their meals four times a day.
Around the age of six months, you can reduce this to 3 meals a day if you like.
Begin by continuing with the breeder's feeding schedule, amounts, and brand when you first bring your Rottweiler puppy home.
You can switch over a few days later if they are settled well and not having any tummy troubles.
This transition should be accomplished gradually over a week's time.
Mixing increasing amounts of the new food in with the old until your puppy is finally eating nothing but the new food.
Rottweiler Puppy Training Treats
Although your meals should be split throughout the day, there is no limit to how often to feed.
Just limit the over all quantity of food that you give in the day by following the guidelines on the packaging.
Once you've split the meals into four or three portions, dive into these bowls to get kibble to use as training treats.
Rottweiler puppies joints are at risk if they put on too much weight, so using their daily rations to reward good behavior is ideal.
Best Food for Rottweiler Puppy: Dry
The best dry food for Rottweiler puppy dogs will be formulated to help manage their long-term growth and development.
These three long-time vet-recommended, owner-trusted brand names each offer a large breed puppy recipe that is suitable for Rottie puppy needs.
Hill's Science Diet
Hill's Science Diet Large Breed Puppy Food* is a veterinarian-formulated and vet-recommended large breed puppy food.
It is suitable for large breed puppies that will be 55+ pounds at maturity, perfect for your growing Rottie.
And comes pre-fortified with glucosamine and chondroitin for extra joint support.
Eukanuba
The Eukanuba Large Breed Puppy Food* is also vet-recommended for large breed puppies.
It also contains easily digestible fiber plus fish oil (DHA, omega-3, omega6) for brain and body health.
Iams Proactive Health
Iams ProActive Health smart puppy food* for large dogs includes 22 nutrients found in mother dog milk.
And it contains added DHA for brain and body health.
This food is also free of soy and wheat, two common digestive allergens.
Best Food for Rottweiler Puppy: Wet
Wet food is great for Rottweiler puppies that have trouble crunching up hard kibble, or if your dog is a bit of a fussy eater.
It's also often recommended over kibble for pups with kidney trouble.
If you are looking for wet food options for your Rottie pup, these are our favorite three choices.
Nutro Large Breed
Nutro's wet large breed puppy food* comes in two recipes.
It's free from chicken meal by-products, soy, and artificial ingredients.
Wellness Core
Wellness CORE* is a natural grain-free puppy food.
It is a great option to give your pup some extra nutrition, while still avoiding common grain-based allergens.
This food is made in the USA and contains extra DHA for brain and vision health.
Blue Wilderness
BLUE Wildernes* is a high protein, grain free puppy food.
It contains added DHA that you can use to supplement your growing pup's daily diet.
Best Food for Rottweiler Puppy with Sensitive Stomach
If your Rottie seems to be struggling with allergies or G.I. issues, do talk to your veterinarian.
They may recommend trying a food that is grain-free, limited in ingredients, or formulated for sensitive stomach issues.
These three food brands may be suitable to help ease your pup's tummy troubles.
Nutro Ultra
Nutro ULTRA* is a large breed puppy food that features three protein sources.
The recipe is nutritionally balanced for the needs of large breed puppies.
There is no corn, wheat, soy, or other common allergens.
The recipe also includes 15 different superfoods for extra vitamins, minerals, and antioxidants.
Eagle Pack
Eagle Pack* provides a large breed, grain-free recipe.
It features lamb, chicken, and fish for protein in a base of superfoods, antioxidants, vitamins, and minerals.
This food is free from animal by-products, wheat, corn, soy, artificial ingredients, and preservatives.
Holistic Select
Holistic Select* have another great large breed puppy food recipe.
This features prebiotics and probiotics for easy digestion.
It also includes natural fiber, digestive enzymes and USA-sourced ingredients.
There are no meat by-products, wheat or gluten, fillers, or artificial ingredients in this food.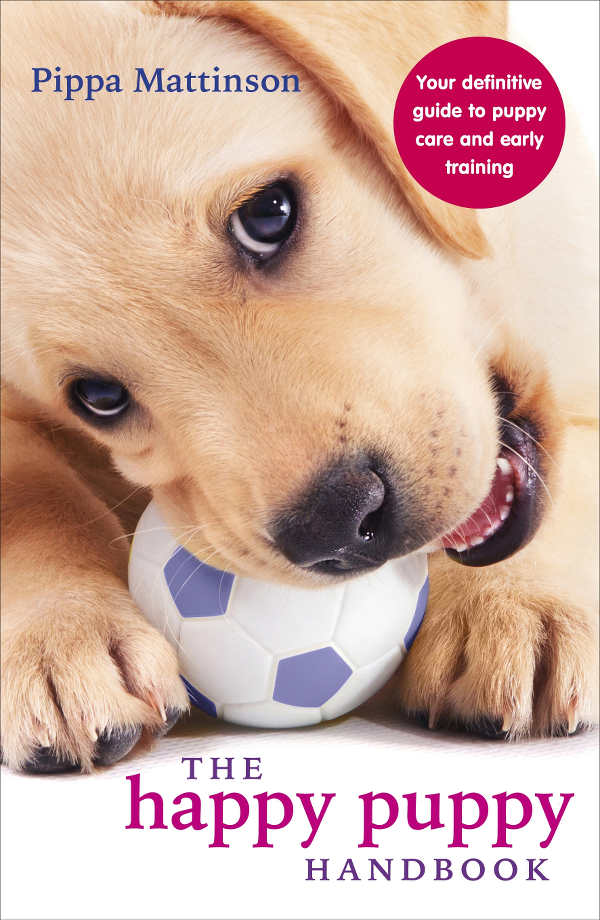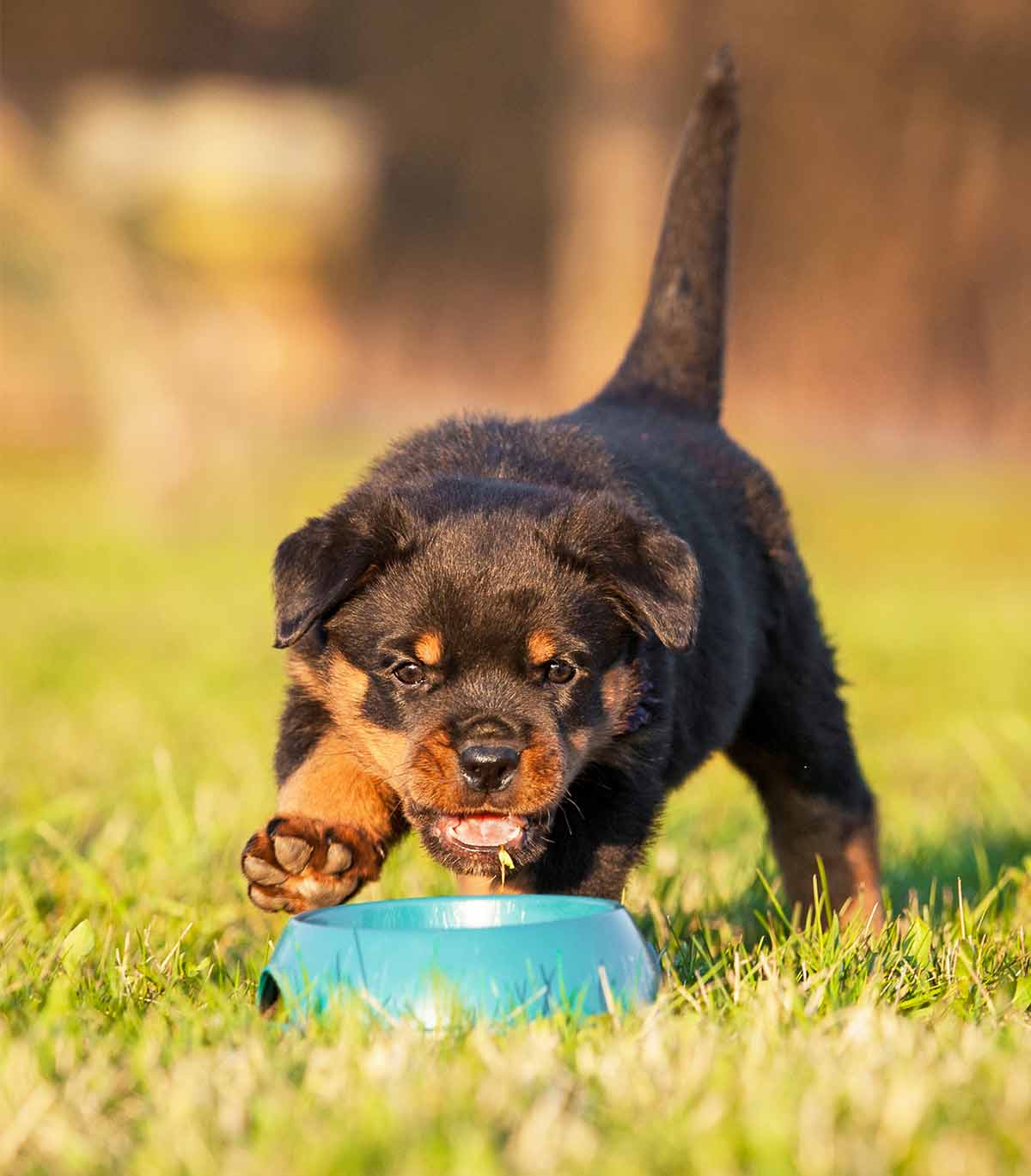 Best Food for Rottweiler Puppy on a Raw Diet
Lastly let's take a look at the raw food alternatives for feeding your Rottweiler puppy.

Feeding a raw diet can be challenging if you work out of the home and are pressed for food preparation time.
These food brands offer freeze-dried raw recipes to help you out.
Wellness Core
Wellness CORE* have a very convenient freeze-dried raw puppy food.
It features turkey and chicken for protein mixed in with a nutrient-dense kibble.
Superfoods, vitamins, and minerals make up the remainder of the recipe
It's completely grain-free.
Nature's Variety
Nature's Variety Instinct* is a grain-free, large breed puppy food.
It features freeze-dried raw protein bits mixed in with dry kibble for a balanced diet as your puppy grows.
This food is also free of by-products, artificial ingredients, and preservatives.
Merrick Backcountry
Merrick 1 Count Backcountry* have a big game receipe puppy food that Rotties will love.
It freeze-dried raw bites with dry kibble in a grain-free, USA-sourced recipe.
It's designed to be easy on your puppy's developing digestive system.
Best Food for Rottweiler Puppy
We hope you have found this guide to the best food for Rottweiler puppy nutrition helpful as you select the right food for your sweet pup!

Whether you choose wet, dry or raw food, the best food for Rottweiler puppy dogs is one that is designed for growing pups from large breeds.

Are you feeding wet food or dry? Is there particular brand of food that your Rottweiler puppy loves? Why not let us know in the comments below.
Affiliate link disclosure: Links in this article marked with an * are affiliate links, and we may receive a small commission if you purchase these products. However, we selected them for inclusion independently, and all of the views expressed in this article are our own.
References and Further Reading
Wynn, S. DVM. "Feeding Large Breed Puppies," Innovative Veterinary Care Journal, 2013.

Larsen, J., DVM, MS. "Optimal Feeding of Large Breed Puppies," School of Veterinary Medicine/University of California, 2002.

Linder, D.V., DVM, MS, DACVN. "Confused About What to Feed Your Large Breed Puppy? New Rules May Help!," Clinical Nutrition Service at Cummings Veterinary Medical Center, 2017.

Buzhardt, L., DVM. "Nutritional Requirements of Large and Giant Breed Puppies," VCA Animal Hospital, 2018.