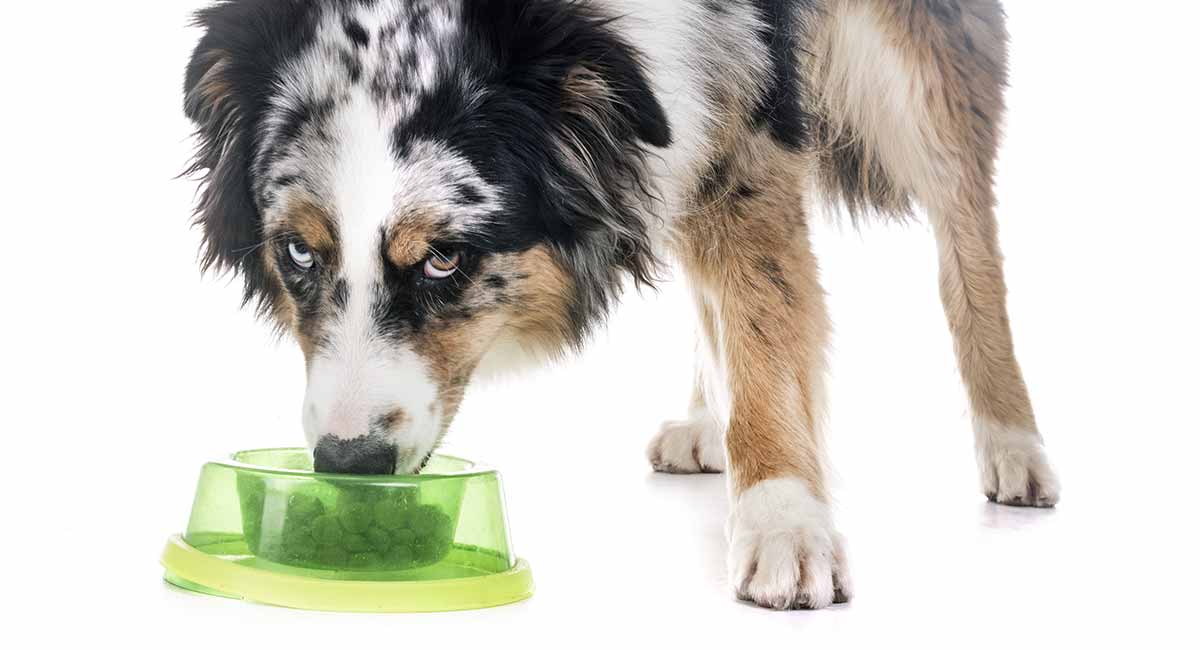 Looking for the best dog food for Australian Shepherd dogs? The Australian Shepherd is a herding dog, and therefore a very active dog in the medium size range. They frequently work actively as herders and need complete nutritional support to keep up their strength and vitality.
The best dog food for Australian Shepherd dogs will include lots of high quality protein, as well as other nutritional benefits. Some of the suggested ingredients include phosphorus and calcium for dental health, and joint supplements such as glucosamine.
Products included in this article were carefully and independently selected by the Happy Puppy Site team. If you decide to make a purchase from one of the links marked by an asterisk, we may earn a small commission on that sale. This is at no extra cost to you.
Best Dog Food For Australian Shepherds
Australian Shepherds are robust, animated, and highly intelligent animals. They love to work as much as they love to play. They were developed in America (not Australia!) to be a working breed, and are excellent stock dogs.
Today, this versatile and vibrant dog numbers in the top twenty of the most popular dog breeds.
Due to their nimble and alert nature, Aussie's make great partners for outdoor activities and sports such as Frisbee. Furthermore, their innate intelligence, coupled with their trainability, also make them excellent search and rescue as well as service dogs.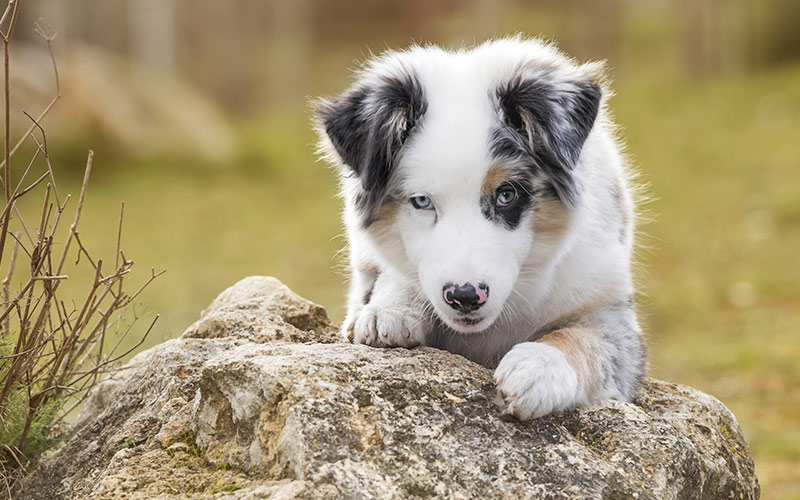 Unique Requirements
Like all breeds, energetic Australian Shepherds have their own unique set of needs, which of course extends to their dietary requirements. Therefore, the best Australian Shepherd dog food should be tailored to your dog's size, stage of life, and activity level.
Puppies, for instance, need special ingredients in their food formula in order to grow into healthy adults. Working dogs, on the other hand, will need a higher proportion of protein to support activity. And older dogs, finally, may need joint supplements and calcium.
Active dogs like Aussies similarly need considerably more caloric intake than inactive dogs due to their activity level. For example, experts recommend just under a thousand calories per day for an inactive dog weighing 50 pounds. On the other hand, an active dog is recommended to intake 1353 calories per day.
Australian Shepherd Health and Diet
Moreover, if your dog has special needs, these also need to be considered when you buy Australian Shepherd dog food.
For example, Australian Shepherd food allergies are not uncommon. However, there are many formulations of good dog food for Australian shepherd dogs and puppies that cater to this and other unique needs.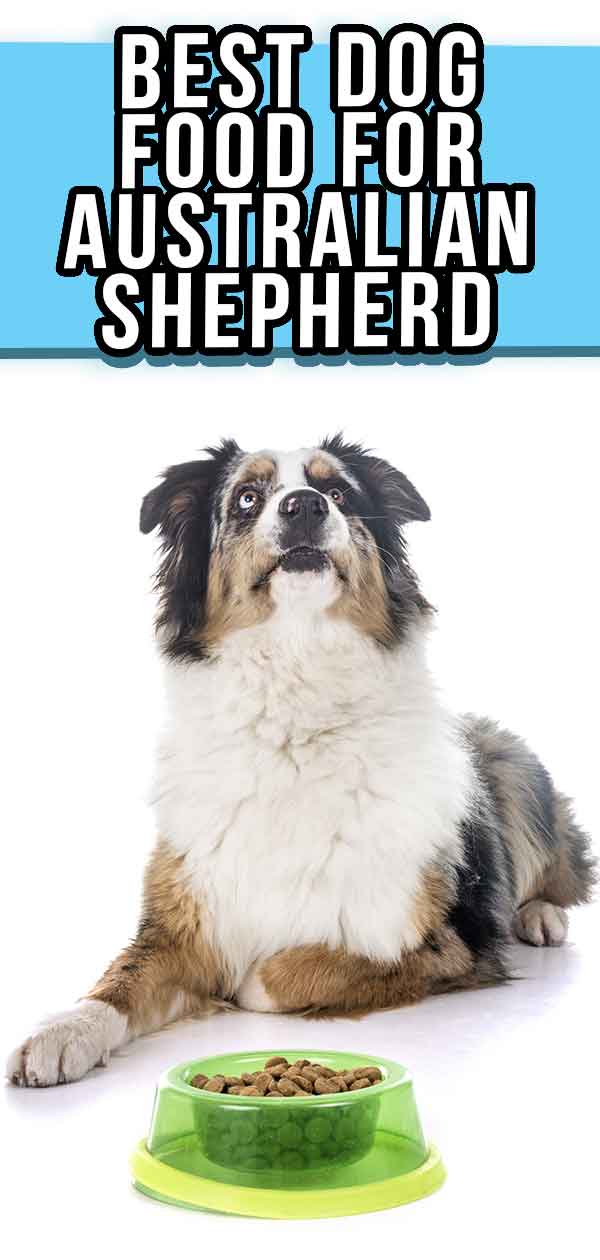 Firstly, vision problems, including conjunctivitis and cataracts, are common in this breed. Epilepsy, likewise, is also a concern.
Further, skin and respiratory problems are not uncommon among Aussies. Similarly, neither are joint issues. Equally important, specialized dog food takes into account these distinct needs by augmenting the food to include target ingredients.
For example, glucosamine will help your pet's body to create new cartilage. In the same way, chondroitin can help defend her joints from cartilage-destroying enzymes.
Australian Shepherd Food Allergies
There is also a wide array of dog food for pets with sensitive stomachs and/or allergies.
Hypoallergenic dog foods have limited ingredients to aid in digestion, and do not contain ingredients that cause common allergic reactions.
With more focus on eating healthily and complete nutrition, grain free dog foods are easier than ever to find.
Below, we will look at choosing the best dog food for Australian Shepherd dogs that reduce the chances of an allergic reaction or intolerance.
Keep in mind, however, that each dog is different. As a responsible pet owner, therefore, it's up to you to observe your dog closely when introducing a new food. Make sure that there are no adverse reactions.
Australian Shepherd Dog Food Choices
For each type of dog, at each stage of life, there are a number of choices to consider.
All of us, as caring and responsible pet owners, want what is best for our dog. And what is the best dog food for one Australian Shepherd often isn't what's best for another.
First, many think of dry or wet food. Secondly, raw or cooked. Third comes the consideration of grain free.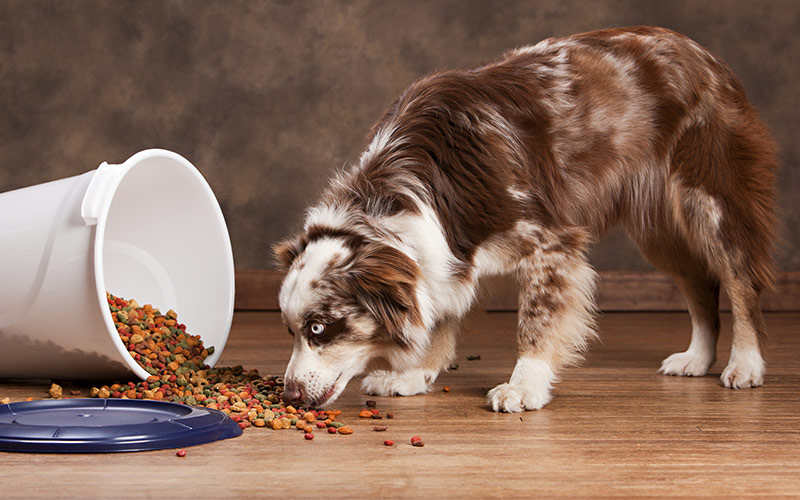 The More Choice The Better!
So it's really to our pet's benefit that there are so many choices available now. Whether you choose raw or complete diets, wet or dry food, grain free or not, it all boils down to what is best for your best friend.
We definitely recommend reading up on your options before you make a decision. This article from the American Veterinary Medical Association on raw food diets is a good place to start. As is information available on the American College of Veterinary Nutrition website.
Ultimately, the choice is up to you. But here in this article, we are going to feature our favorite recommended foods across a wide range of diet options.
Best Dry Dog Food For Australian Shepherd Adults
Adult Aussies are, more often than not, active working dogs. And even if they are more a companion animal than a farm dog, they're still likely to be incredibly active.
So a balanced dry dog food that includes lots of protein definitely deserves consideration.
These dry foods are grain free and contain the large amounts of high-quality protein that robust dogs require.
Let's see if any of these will be your favorite best dog food for Australian Shepherd dogs.
Hill's Science Diet Dry Dog Food, Sensitive Stomach and Skin, Chicken Recipe
Hill's Science Diet* is a traditional crowd pleaser when it comes to real ingredients and balanced formulas.
This food is specially formulated for active adults who may have typical allergic reactions to other foods.
CRAVE Grain Free High Protein Dry Dog Food
Crave Grain Free High Protein Dry Dog Food* contain 34% high-protein ingredients.
It comes in several varieties of high quality dry food – chicken, lamb and venison, salmon and ocean fish.
You can be assured that each formulation is grain, soy, corn and wheat free and has no artificial flavors preservatives or colors.
Rachael Ray Nutrish PEAK Natural Grain Free Dry Dog Food
This top rated Rachael Ray Nutrish food* from one of today's top chefs comes in both a beef and turkey variety.
Each flavor has 30% high quality protein listed on the label.
Packed with vital nutrients, the food contains absolutely no by-products or unwanted fillers, gluten or grain.
Best Wet Dog Food For Australian Shepherds
Dogs love the savory aroma and textures of wet dog food, and these top rated choices will ensure that your pooch comes running when it's mealtime!
Will a wet food be your top choice for the best dog food for Australian Shepherd dogs?
Purina Pro Plan Savor Wet Dog Food
If you're looking for something a little different to serve your treasured pooch, he'll will love Purina Pro Plan Savor Wet Dog Food.*
These unique entrée slices come smothered in a tantalizing gravy sauce.
You can buy a package of 12 13-ounce cans in a multitude of flavors that include beef, chicken, lamb and turkey.
Natural Balance Limited Ingredient Chicken and Sweet Potato Wet Food
This food* is designed to support digestive health as well as ensuring that sensitive or allergic dogs get the nutrition they need.
A grain free formula, this wet food provides complete nutrition for medium sized dogs of any age.
Nutro Limited Ingredient Diet
The first ingredient in this formula by NUTRO* is farm-raised lamb. And there are only five key ingredients in total, with the other portions of the food being made up of vitamins and minerals for additional nutritional support.
This food was designed for dogs with sensitive stomachs and an active lifestyle.
Best Raw Dog Food For Australian Shepherds
Many pet owners are checking into the potential benefits of feeding their dog a raw food diet. Of course, it's always best to discuss this diet change with your vet, to make sure that your dog is getting all the nutrition he needs.
Will this be your best food for Australian Shepherd dogs?
Steve's Real Food Freeze-Dried Raw Diet Turkey Nuggets
These freeze-dried nuggets* contain real turkey as well as vegetables for balanced nutrition. They work well for on the go feeding.
Please note that freeze-dried raw food does need to be rehydrated in order to be digestible by the dog.
TruDog Freeze-Dried Raw Superfood
Freeze-dried raw foods* are a popular (and easy) way to provide your dog with a raw diet.
Often they are used in supplement to a straight raw diet, ensuring that your dog has a little variety and a lot of nutrition.
No fillers, preservatives, or artificial colors in Sojo's Turkey Recipe*. No grains or gluten either!
Sojos Complete Natural Freeze-Dried Raw Grain Free Dog Food
USDA-inspected meat is the number one ingredient for this raw food, and this food is specially formulated for medium sized adult dogs.
Best Grain Free Food For Australian Shepherds
More and more owners are looking for grain free food for their dogs. This is often the case for dogs who suffer from apparent grain allergies, or who have sensitive stomachs.
But it's also useful for owners who just want to avoid as much filler as possible in their dog's food, opting instead for true nutrition.
Let's see if this will be your top choice for best food for Australian Shepherd dogs.
Blue Buffalo Wilderness Natural Protein
Blue Buffalo's formula* is natural and grain free.
It's made with real chicken, antioxidants, and vitamins and minerals.
Rachel Ray Nutrish Just Six Limited Ingredient Dog Food
This food by Rachel Ray Nutrish* is formulated from no more than six ingredients, all easily digestible and natural.
It avoids grain, gluten, dairy, egg, beef, and potato ingredients.
Best Food For Australian Shepherd Puppies
Puppy food contains special ingredients to support developing bodies. Puppy food is designed to meet younger canine needs such as emerging dental health and immune system function, and adult dog food formulas should not be substituted.
IAMS PROACTIVE HEALTH Puppy Dry Dog Food
This highly rated Iams Proactive Health puppy food* comes packed with ingredients to support your growing dog's specialized dietary requirements.
Including antioxidants for her developing immune system and omega-3 DHA for healthy brain development.
Chicken is the number one ingredient and you can buy this puppy food in bags that range from 3.3 to 30.6 pounds.
Tuffy's Pet Food NutriSource
This Tuffy's Pet food* is specially formulated to meet the needs of medium breed, active, and developing pups.
Chicken is the number one listed ingredient for a high-quality source of protein with absolutely no chicken by-products included.
Blue Wilderness Rocky Mountain Recipe
This grain free food* recipe features a blend of red meats.
It's geared to building lean muscle mass in puppies as they grow into healthy working adults.
Best Food For Australian Shepherd Seniors
As dogs get older, their nutritional needs change correspondingly.
For instance, they may not be as active, so their caloric intake and need for protein will likely go down.
On the other hand, they may need more joint support and other supplements to keep their bones and muscles healthy.
NUTRO ULTRA Wet Dog Food
Packed with over 10 superfoods, and bursting with omega fatty acids, this Nutro Ultra Senior Wet Dog food* provides excellent nutrition for your senior Aussie.
It also contains natural sources of glucosamine and chondroitin to help with joint health.
The high-quality combined protein sources include lamb, chicken, and salmon to aid in easy digestion.
EUKANUBA Senior Maintenance Dog Food
This specialized Eukanuba Senior Maintenance dog food* is formulated with ingredients to aid your older dog's metabolism.
A precise ratio of carbs, fats, carbohydrates, proteins, vitamins, and minerals are designed to support an optimal weight and energy level.
Natural beet pulp is included as a fiber source to both aid in digestion and promote nutrient absorption.
Hill's Science Diet Senior Dry Dog Food
This formula by Hill's Science Diet* supplies the nutrients that older dogs need to stay healthy, with a tasty chicken meal and rice flavor.
It also features Omega-6s and vitamin E to promote a healthy skin and coat.
Diamond Naturals Senior Real Meat Recipe
Diamond Naturals* aim to provide complete, holistic nutrition to dogs of all ages.
They also provide digestive support for optimal health for senior dogs.
Nulo Senior Grain Free Dry Dog Food With Glucosamine And Chondroitin
This limited ingredient dry dog food by Nulo* comes with the nutrients that seniors often need, such as glucosamine and chondroitin for joint support.
It uses an 80% animal protein based formula to keep lean muscle mass and cut down on the weight gain that often happens as Australian Shepherds age.
Best Food For Herding Dogs
As herders and farm dogs, Australian Shepherds definitely need a lot of protein and nutritional support!
After all, the more active a dog is, the more important nutrition will be.
If your Australian Shepherd is actively working as a herding dog, look for foods with a good protein balance, such as the following.
Purina Pro Plan Sport
This food by Purina* features 30% protein in its formula.
It also contains 20% fat to promote the building of lean muscle.
Eukanaba Premium Performance Adult Dry Dog Food
This food by Eukanaba* also features the 30/20 formula for protein and fat.
It doesn't contain any fillers, and has calcium to promote strong bones.
Best Food For Dogs With Joint Problems
As active working dogs, Aussies may be prone to joint pain and problems, especially if they are overweight and as they age.
Though a good diet will not reverse any potential damage that has already occurred, diets that offer good joint support can help the dog to manage pain and to be more mobile.
EUKANUBA Adult Dry Dog Food
This Eukanuba Adult Dry Dog food* contains naturally sourced chondroitin as well as glucosamine to aid in supporting joint health.
It also has high levels of omega fatty acids to promote skin and coat health.
The fiber in this formulation comes from natural beet pulp and prebiotic FOS to aid in nutrient absorption as well as promote stress-free digestion.
Dogswell Happy Hips Dry Dog Food
You can buy this joint-friendly Dogswell Happy Hips dog food* in either the chicken or chicken with sweet potato variety.
Real chicken is the number one listed ingredient in both versions, and you have peace of mind knowing that it comes with both glucosamine and chondroitin to support healthy bones and joints.
How Much Should I Feed My Australian Shepherd Puppy?
The answer will depend on a number of factors. How old is he? How active is he? Does he have any existing health issues that impact his movement and his weight?
Three to four small meals daily are recommended for puppies up to the age of six months, and two should suffice thereafter.
Look on the can or bag to determine how much you should feed your little one. But be aware that manufacturers can over estimate quantities a little.
Keep an eye on your pup's weight and adjust accordingly.
And if in doubt, also seek the advice of your trusted veterinarian. They can advise you on your Australian Shepherd's unique needs.
The same really goes for your Aussie at any age. Though there are breed feeding calculators available, how much you feed your dog will depend on individual variables. And it's always best to get input from your vet.
How Much Should I Feed My Australian Shepherd Adult?
A complete, well-balanced and healthy diet is one that supplies the body with the proper, absorbable nutrients it needs to maintain a healthy weight and body condition.
Dogs are omnivores, which means that they can eat meat, vegetables, and grains. The best dog food for Australian Shepherds, and most dogs, is one that is high in protein and low in fillers. When you scan the label on your dog's food, the first ingredient should not be a grain or vegetable.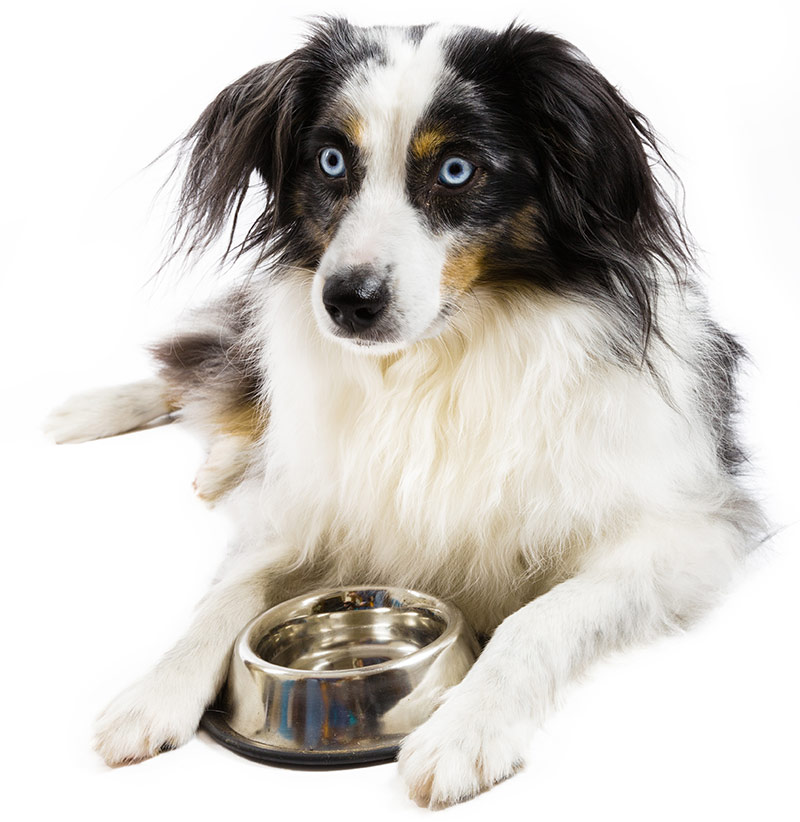 You can also look to the food label for assurance that you are buying the best dog food for Australian Shepherds, or the best dog food for Australian Shepherd puppies.
What Should You Look For?
You can buy with confidence when you see an endorsement from the Association of American Feed Control Officials (AAFCO) certifying that the product is, "complete and balanced."
A complete dog food will have all of the nutrients that dogs in a particular life stage require. A balanced dog food provides nutrients in the correct ratios for your dog, depending on his age, needs, etc.
At the peak of health, Aussies are vibrant and zippy, and they require a diet that matches their dynamic physical needs. They should not be fed too much, however, so they don't become too overweight.
Let's take a look at how to tell if your dog is a healthy weight.
Australian Shepherd Weight and Diet
Aussies can range in weight from 40 to 65 pounds. This is a fairly large range, and will differ depending on the size and structure of your individual Aussie, as well as age and health.
For an exact weight, it's best to let your vet weigh your dog, as Aussies are a little too large for a normal bathroom scale!
If you are concerned that your dog may be over or underweight to a degree that may trigger extra health problems, we definitely recommend that you visit your vet. However, if you are taking your Aussie for his regular checkups, this should give the vet a good chance to keep an eye on the dog's overall health.
Let's take a look at the best dog food for Australian Shepherd dogs that are over or underweight.
Best Australian Shepherd Dog Food For Weight Loss
As your dog gets older, or if he is not as active as he could be, you may need to reduce the amount of food he is fed. However, it's also a good idea to double-check and make sure that the food you're giving him is the best for his weight issues.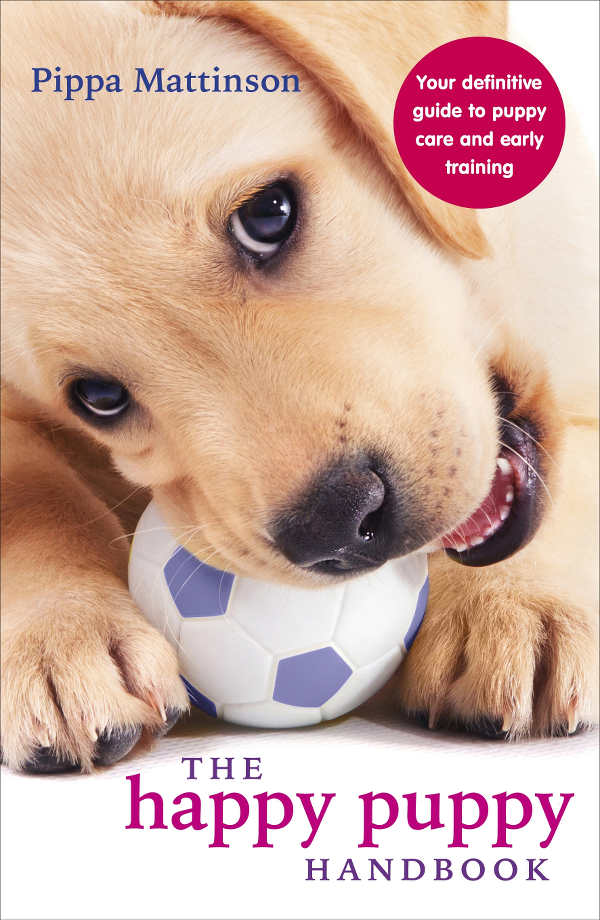 These weight management foods, then, are specially designed to help you with that.
Lets look at the best dog food for Australian Shepherd weight loss.
Nutro Weight Management With Chicken Protein
Not only is this food made with high quality protein*, but it also has a blend of superfoods and antioxidants. Therefore, it is specially formulated to help overweight dogs to reduce to a healthier weight.
Blue Buffalo Wilderness High Protein Healthy Weight Management
This dry dog food*, then, strips out excess calories. So, with proper attention to the right amount of food, it is designed to work along with your medium sized breed to attain and maintain a healthy weight.
Best Dog Food For Australian Shepherds to Gain Weight
On the other hand, there's a chance that your Aussie may actually be somewhat underweight.
However, this is not very common for these sturdy, stocky dogs. But it is possible.
These foods below, for example, are designed to help your dog to gain healthy weight. Equally important, remember that you can also augment these products with healthy snacks and toppers.
Purina One True Instinct Wet Food
This food* works great as a topper to your dog's regular food. It contains real poultry, real venison, and antioxidants.
Buddy and Lola Weight Gainer Treats
These natural dog treats* are a great and tasty way to help your dog to get back up to a healthy weight. Make sure to combine them with one of the other healthy nutritious foods included on this list!
Best Food For Australian Shepherds With Allergies
These dog food options are excellent choices for dogs with sensitive digestive systems, and for those times when you want to provide your Aussie with a limited ingredient dog food.
Limited ingredient foods are often turned to when a dog has an intolerance or allergic reaction that manifests in skin conditions, such as reddening or itching.
Natural Balance Limited Ingredient Diets High Protein Dry Dog Food
Natural Balance Limited Ingredient Diets High Protein Dry Dog Food* could be the best food for Australian Shepherd dogs that suffer with sensitive stomachs.
The protein variable is an industry high 32% and there are no fillers or grains to interfere with digestion.
Instinct Limited Ingredient Diet Grain Free Recipe
This Instinct Grain Free limited ingredient dog food* boasts just one protein and one vegetable.
Best Food For Mini Australian Shepherds
The dimensions of the medium breed Australian Shepherd is definitely not in the small dog category, as they can range from 30 to 60 pounds, and stand up to 26 inches.
Conversely, a miniature Australian shepherd is a small dog, standing between 13 to 18 inches in height.
In the same way as the standard, the mini is sturdy and athletic, and makes an excellent herder. Albeit with smaller stock, including goats and sheep.
The Miniature Australian Shepherd is not a toy breed. A dog food specially formulated for active medium to small breed puppies is in order. Here are some of the best dog food for Australian Shepherd dogs that are smaller than normal!
Royal Canin Health Size Mini
This highly-rated Royal Canin puppy food* is specially formulated with key ingredients for a growing dog's dental and digestive health needs.
The food comes in 2.5 as well as 13 pound sized bags, and has "intensified energy content" to support even the most lively of pups!
Purina Pro Plan Savor Shredded Blend Puppy
Active puppies will benefit from Purina Pro Plan Savor*.
This formula is packed with high-quality protein. Additionally, it contains antioxidants and omega acids that support growing bodies. Phosphorus and calcium are present to support dental health.
This unique and delicious food is the perfect blend of both kibble and shredded soft pieces. This means both texture and variety.
Best Dog Food For Australian Shepherds Summary
Our reviews of the best Australian Shepherd dog food includes formulations that address known Aussie health issues such as joint health, as well as food for senior dogs and those with sensitive digestive systems.
Remember, we'd love to hear your feedback about any of our best dog food for Australian Shepherd reviews!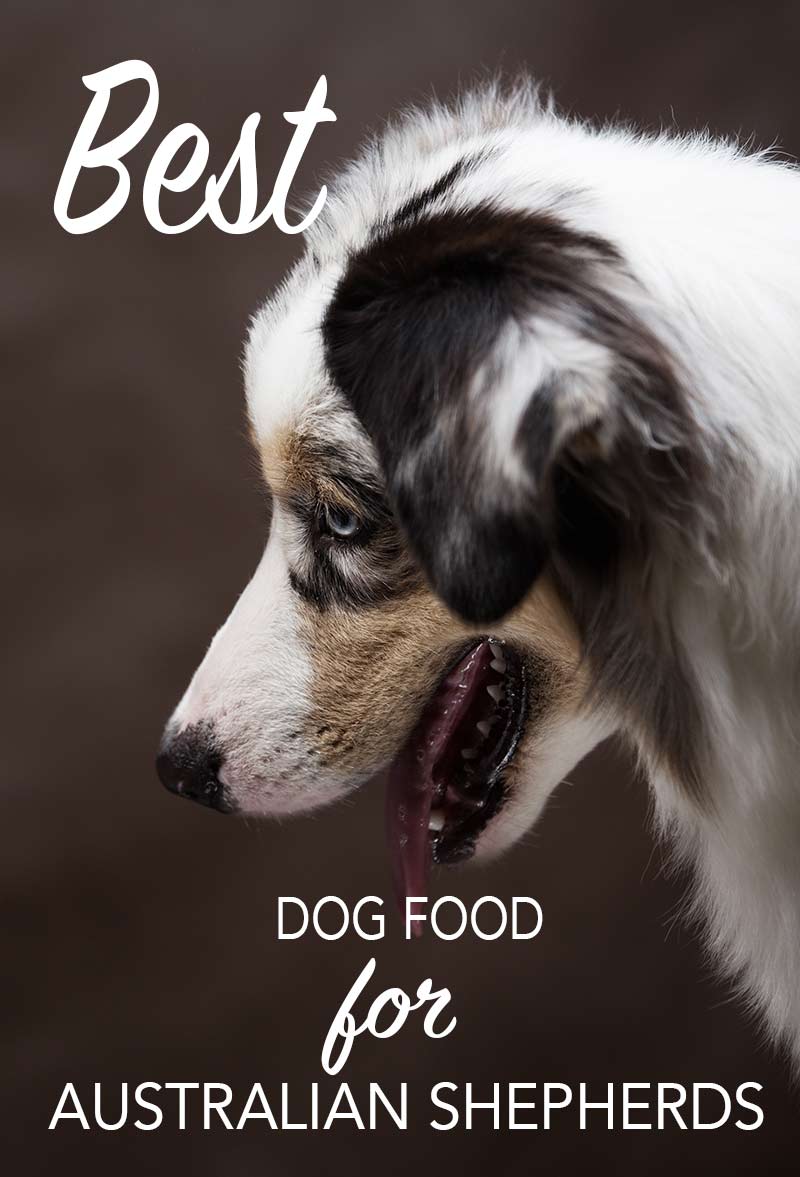 What do you think is the best dog food for Australian Shepherd dogs? Leave us a comment below!
Affiliate link disclosure: Links in this article marked with an * are affiliate links, and we may receive a small commission if you purchase these products. However, we selected them for inclusion independently, and all of the views expressed in this article are our own.
References And Further Reading
AKC
The Australian Shepherd Club of America
Miniature Australian Shepherd Club of America, Inc
Weissl, J., et al, Disease Progression and Treatment Response of Idiopathic Epilepsy in Australian Shepherd Dogs, Journal of Veterinary Internal Medicine, 2011
Shelton, G.D., et al, Canine masticatory muscle disorders: A study of 29 cases, Muscle & Nerve, 1987
Hoffmann, I., Canine multifocal retinopathy in the Australian Shepherd: a case report, Veterinary Ophthalmology, 2012
Your Dog's Nutritional Needs, National Research Council
AVMA
American College of Veterinary Nutrition