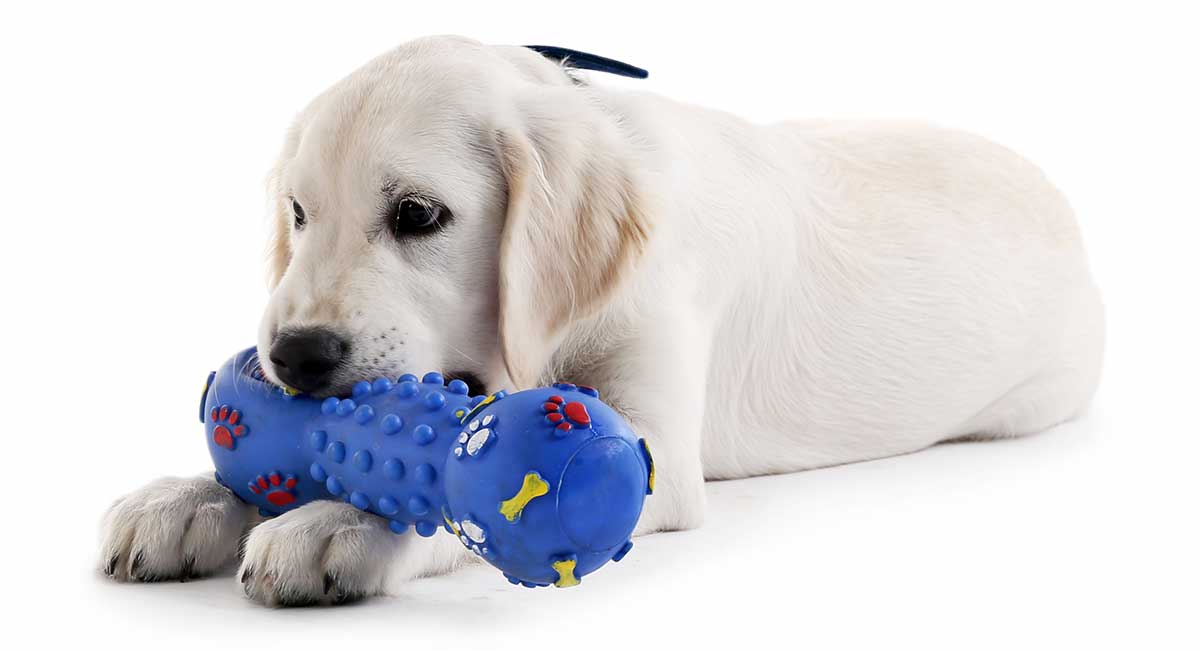 The best chew toys for Labs are durable, tough and have a textured surface or contain something fun.
They can withstand long periods of strong gnawing, and won't break into small swallowable parts.
Labradors are boisterous, fun-loving pups.
These dogs adore fetching, swimming, running, digging, and more than anything, they love to play.
Although Labradors can be cuddly and loving, they can also be destructive when it comes to toys.
Shaking and biting them until they finally give.
Therefore, you need to find a safe chew toy that your Lab can really sink his teeth into – without destroying it in an instant!
All of these products were carefully and independently selected by The Happy Puppy Site team. If you decide to make a purchase from one of the links marked by an asterisk, we may earn a small commission on that sale. This is at no extra cost to you.
The Best Chew Toys for Labs
Labs are notoriously willing to chew on anything!
And chew toys help to take this natural urge to wreck your stuff, and channel it somewhere it isn't going to do any harm.
To them or your furniture!
Benebone Maplestick Durable Dog Chew Toy
The Benebone Maplestick Durable Dog Chew Toy* comes in three sizes – small, medium, and large.
Depending on the size and age of your Labrador, you can choose the size to match your needs.
The large size is designed for dogs around 90 lbs, while the small size will be perfect for a puppy who is teething.
This bone has a dog-friendly designed and can be purchased in real maple wood or real bacon.
The stick is made out of nylon and 100% USA-sourced real maple wood.
The bone has an ergonomic design that helps your dog get a good grip on the bone for hours of chewing.
Planet Dog Glow in the Dark Orbee Planet Chew-Fetch Dog Ball
Now here's a dog chew toy your pup can really sink his teeth into!
The Planet Dog Glow in the Dark Orbee Plane t Chew-Fetch Dog Ball* is available in small, medium, and large, with multiple colors available.
All of the colors glow in the dark to make it easier for your Lab to find his ball when you're playing fetch at night.
It is made out of Orbee-Tuff, Planet Dog's patented material, and it's suitable for extreme chewers.
West Paw Design Zogoflex Tug-o-War Dog Play Toy
Enjoy a competitive game of Tug-o-War with your Labrador from time to time?
Then the West Paw Design Zogoflex Tug-o-War Dog Play Toy* is the perfect chew toy.
This tug and fetch toy can stretch to double its length.
Giving it an interactive shape and size that is perfect for play between you and your dog, or even your dog and another pup.
It should be noted, however, that this toy is not designed for heavy chewers.
Chew King Fetch Balls
Chew King Fetch Balls* are good alternatives to your Lab's favorite stinky, slimy tennis balls.
You can put a treat inside the ball and play with your dog for hours!
It is durable and natural, retaining its shape and bounce even after periods of tough chewing.
The balls are available in two different sizes to accommodate different sizes of dogs.
However, you might find that your dog loses interest in this ball if you don't throw it for him or regularly fill it with treats.
Multipet Duckworth Chewing Duck
The Multipet Duckworth Chewing Duck is a cute chew toy for your Labrador that will incite your Lab's natural instincts to chew, hunt, and play.
This is a soft chew toy, so it's not necessarily geared toward aggressive chewers.
However, it is fun to toss and easy to catch, meaning it could quickly become your Lab's favorite toy.
Best "Indestructible" Chew Toys for Labs
The next category of Labrador chew toys we will look at are those that are marketed as "indestructible."
We use the term "indestructible" loosely because it's very rare – if not impossible – to find a toy that no dog can destroy.
Although manufacturers sometimes replace indestructible toys if they break.
There are very few chew toys that can hold up to the strength of a Labrador's powerful jaw.
But when you buy a so-called indestructible toy, you get the peace of mind in knowing that you can get a replacement if necessary.
Kong Classic Dog Toy
Kong is one of the most popular brands in indestructible dog toys, and this Classic Dog Toy* is truly what got it all started.
It provides your dog with extensive mental stimulation by satisfying his instinctual need to chew.
It has a unique bounce pattern that makes it fun to play fetch with, or it can be stuffed with treats for the times when you can't be with your dog at home.
The Kong Classic chew toy comes in six different sizes so that it can be purchased for Labradors of any size.
It is made out of ultra-durable, pet-safe materials.
Although Kong chew toys won't hold up to the toughest chewers, the toys are safe and easy to clean.
Goughnuts – Indestructible Chew Toy MAXX
Goughnuts offers many popular dog toys that look just like donuts!
The Goughnuts * Indestructible Chew Toy MAXX can be used for independent or group play.
It might be hard to entice your dog to bite on this one at first.
If so, you can easily smear some peanut butter on the surface to get him to try it.
Once he has a taste, your dog will get some serious mileage out of this tough dog chew toy.
Best Soft Chew Toys for Labs
Giving your Labrador a soft chew toy is a good choice if he has sensitive teeth.
Or, for example if he needs a toy that provides some comfort.
Soft toys are good to snuggle up to.
At the same time, they are also beloved by Labradors who like to shake and squeeze their chew toys, too.
While a soft chew toy might not be the best choice for an aggressive chewer, these toys are good options for calmer individuals.
Look for one that is unstuffed if you have a dog that likes to rip out padding!
Keep in mind that soft chew toys will be less likely to harm the teeth and gums of your dog, but they will be easier to tear apart.
You should only let your dog play with one of these soft toys under supervision.
Matz Gator Toy
The Matz Gator Toy* probably isn't the best dog toy if you enjoy peace and quiet, as it has over 30 individual squeakers inside of it!
However, if you're willing to put up with a little bit of noise, this toy is a good choice.
Your Labrador will enjoy flapping around the long, jointed body of this Gator.
Even the head rattles!
A soft, cuddly chew toy, it is designed for mild to moderate chewers.
Ethical Skinneeez Stuffingless Dog Toy
If you have a dog who has a penchant for pulling out the stuffing in his favorite chew toy, the Ethical Skinneeez Stuffingless Dog Toy* is a good choice.
The manufacturer makes several varieties of these, including raccoons, foxes, sheep, and more.
Your dog will love this long, soft chew toy designed to look like his favorite animal.
Plus, with no padding to present a choking hazard, it's safe for more curious dogs.
Just keep an eye on your Lab while he plays with it – there are squeakers that could be removed.
Best Puzzle Chew Toys for Labs
Labradors are intelligent dogs, and they also have lots of energy.
A good chew toy will help your Lab exercise both his brain and his body.
A puzzle chew toy might fall into several categories.
It can be a treat dispenser, an interactive maze, or some other fun option.
Not all Labs like puzzle toys.
As a result, it's best if you experiment to find the puzzle toy that works best for your individual pet.
It might take some one-on-one time with your Lab to show him how to use one of these toys, too.
West Paw Zogoflex Tux Interactive Treat Dispensing Dog Chew Toy
The West Paw Zogoflex Tux Interactive Treat Dispensing Dog Chew Toy* can be filled with treats to help keep your dog stimulated.
It comes with a 100% manufacturer guarantee and is also dishwasher-safe, so it's easy to care for.
You can even freeze and stuff with your dog's favorite treats.
This will keep him occupied when you can't be at home.
Kong Jump'n Jack Toy
The Kong Jump'n Jack Toy* can be used as a fetch stick or as a puzzle toy.
It helps clean your dog's teeth and is available in several different sizes.
It is made out of firm rubber.
Yet, it is flexible enough to be filled with small pellet food, peanut butter, or other treats.
The Importance of Chew Toys For Labs
Many people believe that chew toys are luxuries for Labs – that's not the case.
Chew toys should be considered necessities.
Good chew toys help your Lab fight boredom when you have to leave him at home.
They can reduce or prevent behaviors like destroying furniture or indoor elimination.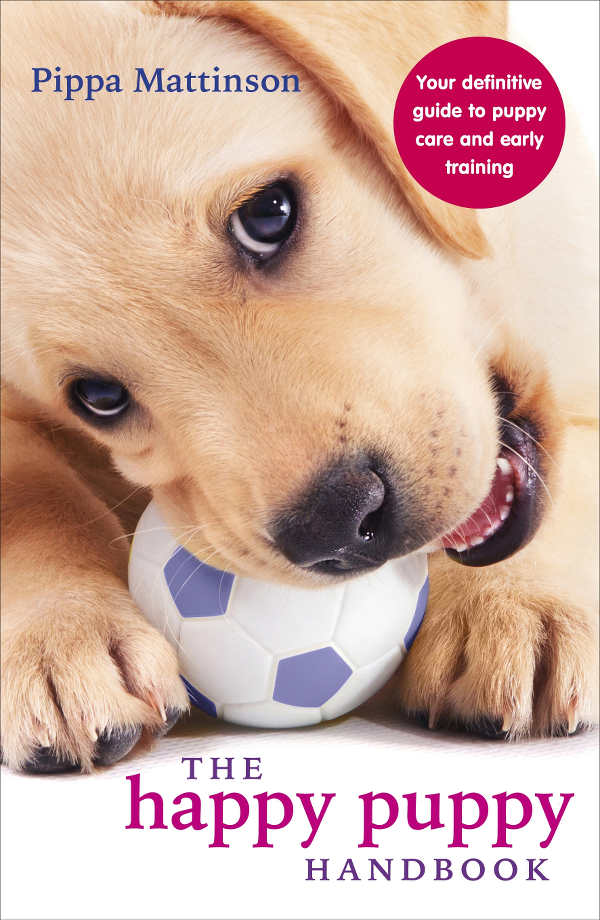 And they can comfort a dog who struggles with being left by himself.
Toys provide mental stimulation and can help you train your dog.
Playing with your Lab is a great way to practice positive reinforcement training techniques.
The best chew toys for Labs will help encourage appropriate chewing and other good behaviors.
Important Features of Lab Chew Toys
Labs can be destructive chewers.
They have powerful jaws and they need toys that will hold up to the power and strength of their teeth.
Furthermore, Labs are smart, born to hunt and play. They need toys that will keep them engaged.
Regardless of the breed of dog you have, safety should be your first priority when looking for a good chew toy.
Chew toys should be designed specifically for your dog, and they should be the appropriate size.
Avoid small toys  when you are looking for chew toys for your adult Labrador.
Good Design Is Key
Chew toys that are soft and/or squeaky can be good options for Labradors, as your dog will likely find comfort or entertainment in these.
However, you want to make sure that they can hold up to the natural instinct of your dog to shake the toy.
Poorly made chew toys can become choking hazards under these conditions.
An optional feature of many chew toys is their ability to be interactive.
These can be fun if you are available to play with your dog.
They can also be helpful when you are trying to train your Lab.
Best Chew Toys for Labs
Labradors are lively, energetic dogs.
When you are looking for the best toy for your Lab, consider his individual likes and dislikes.
Then, pick something that matches your dog's personality and his quirks.
Soft toys, puzzle toys, and indestructible toys should all have a place in your dog's play time!
Hopefully, we've told you enough about the best chew toys for Labs to help you get started.
We've covered a lot, from the rugged Kong Classic Chew Toy to the plush Matz Gator.
Hopefully our top choices will be helpful to you as you start shopping.
Which chew toys do you prefer to buy for your Lab? Be sure to comment below with your favorite picks.
References and Resources
"Destructive Chewing." American Society for the Prevention of Cruelty to Animals.
"Dog toys: How to pick the best and safest." The Humane Society of the United States.
"How to 'Chews' The Best Dog Chew Toys." Texas A&M University Veterinary Medicine & Biomedical Sciences. 2019.
"Safe Chew Toys for Dogs." Atlanta Veterinary Dental Services.
Ward, E. "Why Does My Dog Chew Everything?" Pet Health Network. 2016.
Affiliate link disclosure: Links in this article marked with an * are affiliate links, and we may receive a small commission if you purchase these products. However, we selected them for inclusion independently, and all of the views expressed in this article are our own.