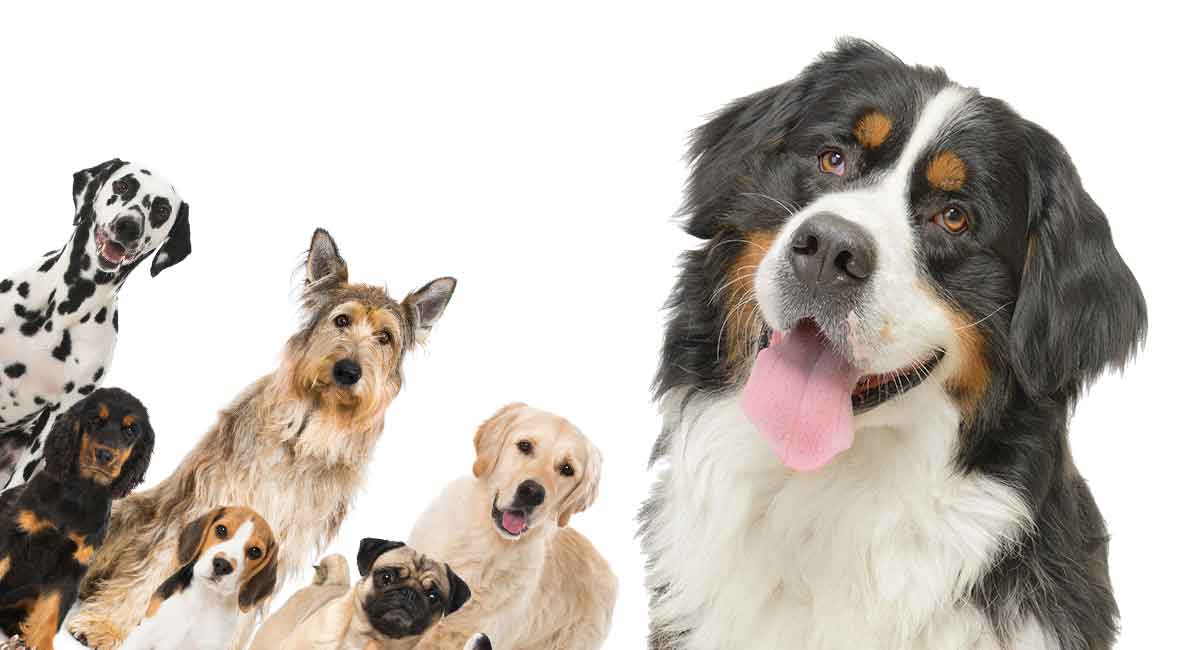 Bernese Mountain dog mixes are fast gaining profile and popularity.
In this guide, we take a closer look at a few of the most popular Bernese Mountain dog mixes, and the kind of pets they make.
Mixed breed dogs, sometimes also called designer dogs, are created by crossing two pure breed dogs.
Their puppies inherit character traits and looks from both parents, sometimes favoring one over the other, and sometimes not.
So, before you decide on what Bernese Mountain dog mix to go for, make sure you love both the parent breeds!
To help you get to know more about each parent breed, we've included handy links within this guide to other articles all about them.
So, first of all, let's take a look at the Bernese Mountain dog.
The Bernese Mountain Dog
The Bernese Mountain dog originates from the snowy Mountain of Bern in Switzerland.
This versatile breed was used to work alongside people in herding, hunting, and farming. Before the industrial revolution, Bernese Mountain dogs were used for hauling heavy loads.
The American Kennel Club first recognized the breed in 1937.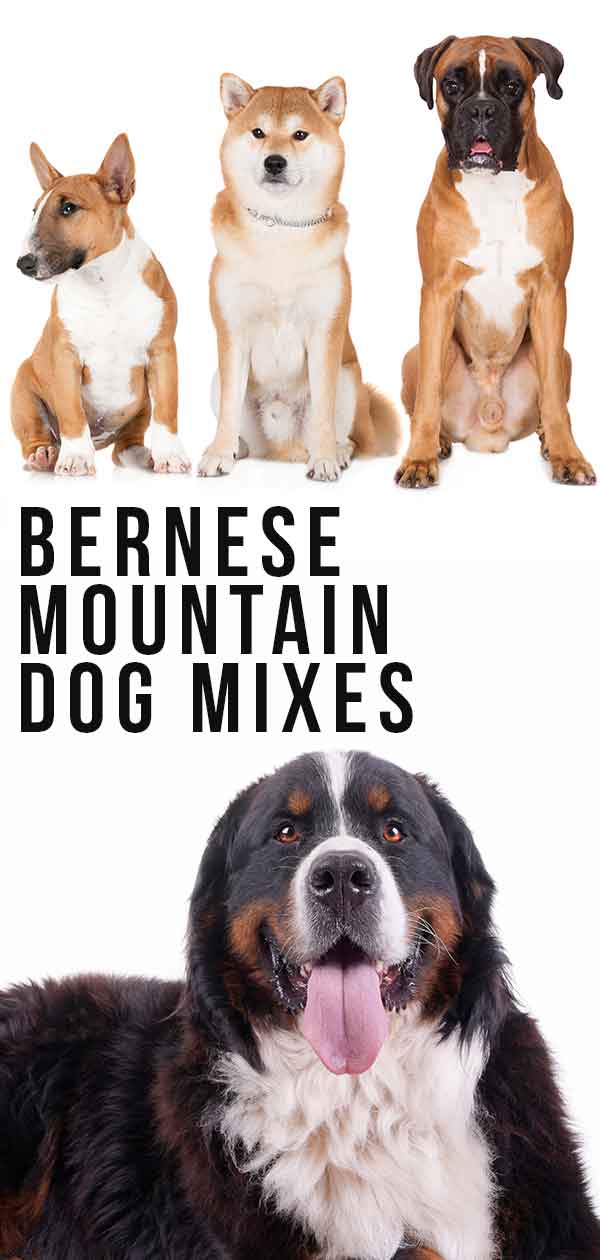 These dogs are often confused with the Newfoundland and the St. Bernard. To get a better idea of what the Bernese Mountain dog looks like, check out these pictures that are credited to one of the U.S. Bernese Mountain dog clubs.
The Bernese Mountain dog is a very large dog!
Females are typically smaller than males, which is something to bear in mind when choosing a Bernese Mountain dog mix.
The average height of the breed is 25 inches to the shoulder. And their average weight is between 80 to 115 pounds!
Despite their massive size, this dog is known as a "gentle giant." The breed's character is laid-back and friendly, and they make wonderful family pets.
Their coats are always bi-color or tri-color, containing white, black, tan, and rust or a combination of these colors.
The breed has a thick, double coat. So, unsurprisingly, shedding can be pronounced at times, especially during the spring and summer when the dog is "blowing" his coat.
Expect to devote lots of time grooming your Bernese Mountain dog mix, as it's highly likely they will have a thick, double coat too.
Bernese Mountain Dog Health
Unfortunately, Bernese Mountain dogs have a short lifespan of just seven to ten years. This is typical of very large dog breeds.
They have a few common health conditions that you should be aware of, including:
Allergies
Eyelid problems
Mast cell cancer
Some autoimmune conditions
Remember that your puppy could inherit health conditions from both his parents.
It's also very important to check that both your puppy's parents have been tested for the following conditions:
Cardiac problems
Degenerative Myelopathy
Your Bernese Mountain dog mix needs exercise every day. However, you must avoid exercising your pup in hot weather as this breed can be prone to overheating.
As your pup is likely to be a large dog with a heavy bone structure, bear in mind that exercise shouldn't be too strenuous or prolonged as a puppy. Overdoing things can cause development problems.
The Bernese Mountain dog is a fabulous family dog. Despite his size, he is gentle, safe, and naturally protective, even with young kids and other family pets.
Bernese Mountain Dog Mixes
Remember that your puppy will inherit some traits from each of their parents. So, to find out what you could be getting yourself into,, use the "Search" box on our site to see more in depth information about each breed.
Don't forget to ask your pup's breeder for proof that both his parents have been health-checked as outlined above. If possible, you should also ask to meet your pup's parents. That way, you'll get a good idea of their personalities and looks.
It's also helpful to see pictures of your pup's siblings from previous litters that were produced by the same parents. This will give you an idea of how your dog might turn out.
It's likely that your puppy will grow to be a large dog. That means a Bernese Mountain dog mix is not going to be the best choice if you live in an apartment or small house with no outside space.
Bernese Mountain Dog Types
Now let's look at a few of the most popular and commonly found Bernese Mountain dog mixes.
The Bernese Golden
The Bernese Golden is a cross between a Bernese Mountain dog and a Golden Retriever.
Both parents are large dogs, so your puppy will probably grow to be around 22 to 28 inches tall, weighing between 65 and 95 pounds.
Looks-wise, the Bernese Golden inherits the defined, straight muzzle and the calm, intelligent gaze of both breeds. Their ears are floppy, and the coat is typically either wavy or straight.
Both breeds have double coats, so be prepared for plenty of grooming!
The Bernese Golden has a calm, friendly, and affectionate personality. These are gentle, loyal dogs that make excellent family pets and companions. You'll find that your dog is outgoing and playful, especially as a puppy.
Unfortunately, both parent breeds are predisposed to developing certain cancers and hip and elbow dysplasia.
The Bernedoodle
The Bernedoodle is a cross between a Bernese Mountain dog and a Poodle.
The size of a Bernedoodle puppy when fully grown will depend on what type of poodle parent they have.
A Bernese Mountain dog crossed with a Standard Poodle will produce a large dog that could achieve 27 inches in height and around 70 pounds in weight.
A Miniature Poodle cross will produce a much smaller dog, although there is still scope for a large pup, depending on which parent they take after.
A Toy Poodle crossed with a Bernese Mountain dog will create the Tiny Bernedoodle, a much smaller pup altogether!
Both the Bernese Mountain dog and Poodle are intelligent, friendly, and alert and their offspring usually inherit this personality. The Bernedoodle makes a great family pet who gets on well with other animals and kids.
Poodles don't shed, whereas Bernese Mountain dogs do. So, there's a good chance that your Bernedoodle will shed to some extent and will need regular brushing and grooming.
Poodles are generally more active than Bernese Mountain dogs, so your puppy will need plenty of attention, play, and exercise.
When it comes to health issues, the Bernedoodle can inherit any of the following conditions from his parents:
Epilepsy
Addison's Disease
Hip dysplasia
Elbow dysplasia
Mast cell tumor
The Poodle has a longer life expectancy than the Bernese Mountain dog. Therefore, your pup could be blessed with a lifespan of upwards of ten years.
The Labernese
The Labernese is a cross between a Labrador Retriever and a Bernese Mountain dog.
Labradors are a medium sized breed, typically growing to around 24 inches high and weighing between 65 and 80 pounds. Females are usually smaller and lighter than males. So, depending on which parent your pup takes after, he could be around this size or slightly bigger.
Labradors have three distinct coat colors; yellow, chocolate, and black. The Labernese will usually have a tri-colored coat with white markings.
Like the Bernese Mountain dog, Labs have a double coat. These dogs do shed seasonally, so be prepared for plenty of grooming sessions!
These breeds are both friendly and non-aggressive, making them ideal family pets.
Both are active breeds that were bred to work, so you will need to have sufficient time to exercise and play with your Labernese.
Unfortunately, both the Labrador and the Bernese Mountain dog are prone to some health conditions that can be passed onto their offspring.
Health problems that can be common to both breeds include hip and elbow dysplasia.
Check with your puppy's breeder that both Lab and Bernese Mountain dog parents have good hip and elbow scores, are PRA clear and have a clear eye test.
You should also check that the Bernese Mountain dog parent does not have a family history of cancer or hypothyroidism and has been checked by a vet for heart problems.
A reasonable life expectancy for you Labernese is between eight to 12 years.
The Bordernese
The Bordernese is a cross between a Border Collie and a Bernese Mountain dog.
These dogs are very popular and have a fantastic personality. These dogs are intelligent, energetic, and alert, as well as being very protective of their family. They are also smart, friendly, loving, sociable, and loyal; what's not to like!
Although the Border Collie is much smaller than the Bernese Mountain dog, a cross breed between the two will typically produce a large dog, weighing between 40 and 80 pounds.
The Bordernese is a lively, active breed that needs plenty of regular exercise and play each day.
Both parent breeds have a double coat, and your puppy will too. That means lots of grooming is required to keep your dog's coat clean and healthy. The Bordernese sheds seasonally in the spring and fall, and at these times you'll need to groom them more frequently.
Bordernese are usually healthy dogs that enjoy an average lifespan of 12 to 15 years.
That said, the Bordernese does suffer from some common ailments, including:
Osteochondritis dissecans
Allergies
Hip and elbow dysplasia
Cancer
Panosteitis
Heart problem
Eye problems
For this reason, you should always ask the breeder if the appropriate veterinary checks and screening have been carried out on both your puppy's parents.
Is A Bernese Mountain Dog Mix Right For Me?
So, is a Bernese Mountain dog mix the right choice of canine companion for you and your family?
Well, if you're looking for a family-oriented dog who loves to play and will be loyal to the end, a Bernese Mountain dog mix could be the way to go.
However, you will need a large property with plenty of outside space to comfortably accommodate your Bernese Mountain dog mix, as these dogs all tend to be on the big side.
Do you have a Bernese Mountain dog mix?
If you do, we'd love to know more about him or her! Why not tell us your furry friend's story in the comments section below?
References and Resources
Buzhardt, L., DVM, "Designer Dog Breeds," VCA Animal Hospital, 2016
Adams, J., et al., "Genetics of Dog Breeding," Scitable by Nature, 2008
Klopfenstein M et al. 2015. Life expectancy and causes of death in Bernese Mountain dogs in Switzerland. BMC Veterinary Research.
VCA, "Panosteitis", "Osteochondritis dissecans"