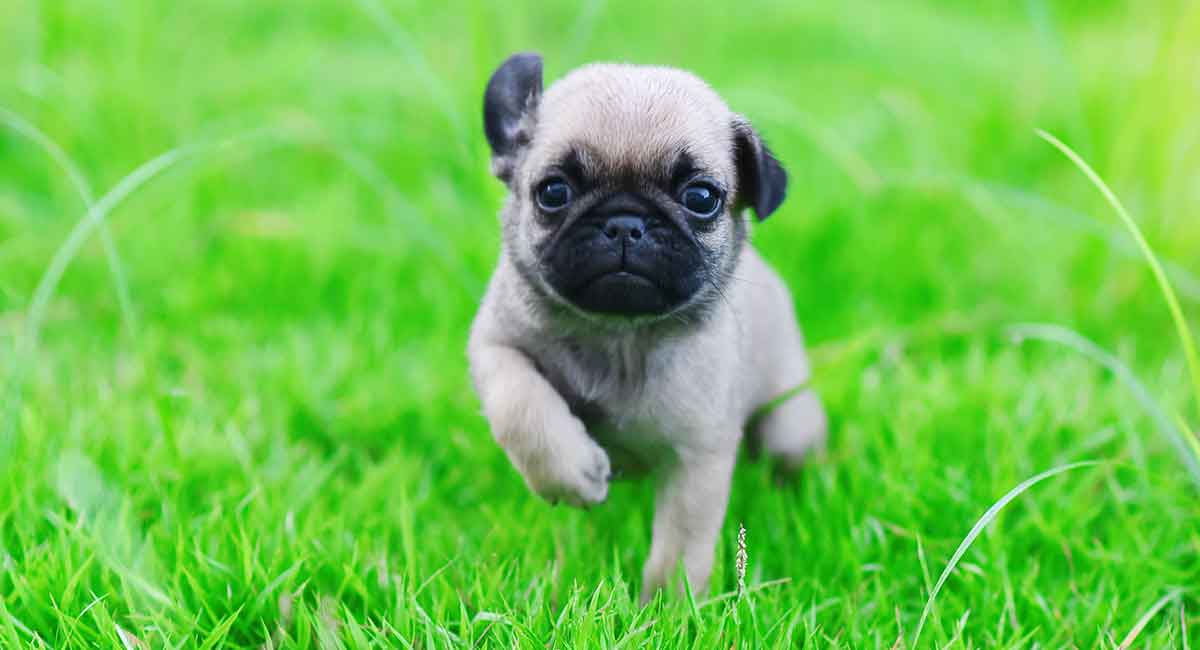 A baby Pug is tiny, cute and gentle. They make snuffly noises and love to cuddle. Today we share a week by week guide to your growing baby Pug puppy. And we'll take a look at the pros and cons of bringing home an 8 week old baby Pug dog.
Contents
A baby Pug is more likely than most other breeds to be born by caesarean section. As newborns they are deaf, bind, and largely immobile. They rely on their mom, or their breeder for food, warmth, and care. As a baby Pug grows up, it's important to monitor them closely for signs of developing breathing problems.
Your Baby Pug
The Pug is a popular breed, however, not many people could tell you about what happens during the baby Pug's first few weeks of life. Baby Pug puppies tend to be sold at 8 weeks of age, meaning that many owners simply don't have any idea of how this breed develops from a newborn into the puppy they buy.
A Pug is Born!
Unfortunately, the birthing process of Pugs is a difficult one. Flat-faced breeds, such as the Pug, are more likely to experience complications when giving birth. The Pug is also more likely to experience Dystocia, which is simply a term that means difficult or abnormal birth. Such situations put both the mother and her pups at risk.
More often than not, the mother will require her pups to be delivered by a C-section. This is due to the fact that unborn Pugs have large and broad heads, whilst their mom has a very narrow pelvis. This awkward combination makes natural birth difficult.
If the birth is successful, Pugs commonly have litters containing 1-8 puppies, with 4 pups being the average. If your baby Pug is born naturally, their mother will next turn to chewing off the umbilical cord and cleaning them up. This is an important part of the bonding experience for mother dogs.
If they are born by C-section, your breeder's vet will advise them on how to encourage mom to start bonding with her puppies when she comes round.
The newborn Pugs will often nurse from their mother. When they are not nursing, they will spend the majority of their time sleeping.
Newborn Pugs
Pug pups begin their life fully reliant on their mother. They are born blind, deaf, and without teeth. A coat should be present, with the color being commonly either fawn or black. Fawn pups may experience their coat color lightening or darkening in shade as they mature.
Their eyes and ears will be closed at birth and will remain this way for a while yet. Unable to support their own body weight, they will crawl on their stomach to get around. However, they won't be making any grand adventures just yet.
Baby Pugs are also not able to regulate their temperature, meaning that it is very important to stay warm. They will commonly clump together in piles, sharing body heat.
Finally, the mother will also have to help her pups urinate and defecate as they are unable to do so by themselves. She does this by licking the anal and genital areas.
One Week Old Baby Pug
During the first week of life, baby Pug pups will either be nursing off their mother or sleeping.
As they are still blind and deaf at this stage, they will not bother exploring or moving around more than necessary, spending most of their time lying close to their littermates and mother.
Their weight should steadily increase every day. At the end of their first week of life, they should have doubled their birth weight, or at least come close.
The owners of the pups will need to keep an eye on their breathing as brachycephalic breeds, such as the Pug, commonly have breathing issues.
Two Week Old Baby Pug
As we hit two weeks of age, we see a key development in the puppies growth; their eyes will open for the very first time! The pups won't be able to see too clearly just yet, but their eyesight will continue to develop over the coming days. To begin with, their eye color will be blue, but will likely transition into a dark brown as they mature.
Owners need to check over their eyes to ensure there are no issues, as this breed can be susceptible to ocular problems.
At this stage, they may be a little more curious about their surroundings due to their newfound eyesight. However, they will still primarily be focused on sleeping and nursing. Their weight should continue to rise steadily over the coming weeks.
Three Week Old Baby Pug
At three weeks of age, we begin to see some truly exciting changes! By this time, the ears of the baby Pug pups will have opened. They will be able to hear for the first time and will begin reacting to more sounds. Their eyesight will also have developed significantly, with them being able to recognize their mother, littermates, and objects placed in their den.
Along with their newfound perception of the world, they should now be able to support their own body weight and stand up. They may be able to walk, albeit with an unsteady gait.
With all the interesting sights and sounds around them, they will likely be a lot more inquisitive of their surroundings. They may explore the den as much as their wobbly legs will carry them.
The Pug puppies will also start teething, with their baby teeth coming through for the first time. This may start a passing interest in solid food. However, at this stage, nearly all of their diet will consist of their mother's milk.
Gaining Independence
On top of all this, they should now be able to urinate and defecate on their own, without any stimulation from their mother.
We can also expect to see the start of the early socialization period. The puppies will begin developing behaviors and social skills for the first time, taking part in play with their littermates.
Owners of the puppies should take advantage of this period to help them get used to human touch and presence.
Four Week Old Baby Pug
At four weeks of age, baby Pug puppies' minds will be akin to a sponge; and things learned here will make a large impact on their behavior as they mature.
They will be establishing relationships with their mother, den mates, and people. It's important that they are socialized thoroughly and positively with humans.
Training can begin at this early stage. Despite the fact that their brains still have a lot of developing to do, a start can still be made on teaching them basic crate and potty training.
They will also likely be much more mobile on their feet. Little adventures will be common and the puppies will play together often.
It's at this time that the weaning process can begin, as their baby teeth should have fully come through.
Soft, easy to eat puppy food can be given. Pug puppies should eat a mix of solid food and their mother's milk at this time.
Five Week Old Baby Pug
Baby Pugs at five weeks of age will continue to develop in various ways. They will continue to rise in weight and keep learning social skills, with more complex behaviors being shown.
Weaning will progress steadily, with the Pug beginning to eat more and more solid food as opposed to their mother's milk.
While they seem a lot more independent at this stage, they will still require plenty of time with their mother and den mates before they are ready to be moved to a new home.
Six Week Old Baby Pug
At six weeks old, the Pug puppies are fast approaching the age where they reach full independence.
By now, they should be fully weaned off their mother and placed onto solid food only.
This is a big step. However, they aren't ready to leave the den just yet! There is still much to learn.
Seven Week Old Baby Pug
Once the Pugs reach seven weeks of age, they may begin to experience the beginnings of their first "fear period".
Up until now, the Pug puppies have been very curious and interested in completely new things. But they have always been safe under the watchful eye of their mom, too.
Now, as they finally gain independence, the puppies learn to be cautious and careful; traits that keep them alive in the wild.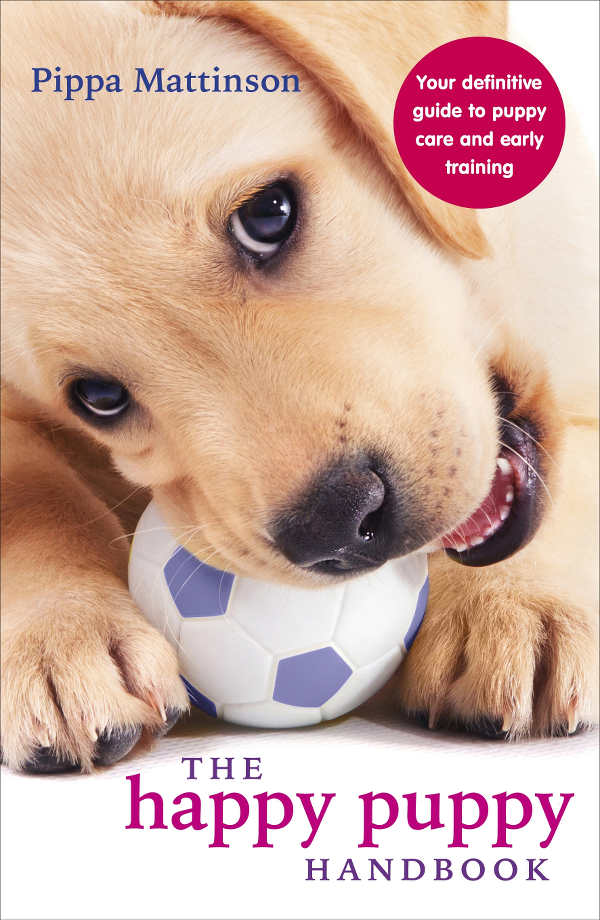 Like the early socialization period, this is another phase that is critical in their development; frightened puppies shouldn't be pushed into overwhelming situations, and gentle counter conditioning should be used to help them regain their confidence.
Eight Week Old Baby Pug
At eight weeks old, the Pug pups are developed enough to be able to leave their mother and littermates behind. They can be sold and moved into a new loving home.
Their eyes should be fully dark brown by now, and they will be completely weaned off their mother's milk onto high-quality solid food.
They should weigh around 2-4 pounds.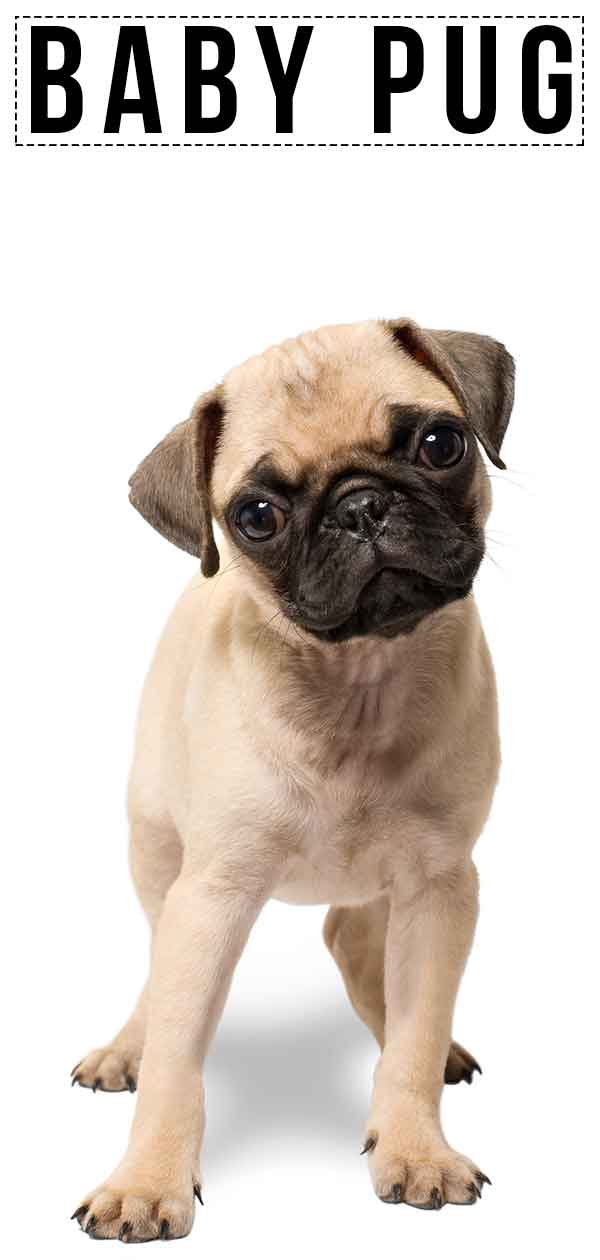 Training and Raising a Pug Resources
Keep in mind that they still have a lot of developing to do; both physically and mentally!
It's important that their new owners keep training and socializing them thoroughly. Remember, they are still within their fear period! Things learned here will make a big impact.
Potty training and dealing with any biting issues is a good start to training them.
It's very important that you fulfill all their nutritional needs for them to develop healthily. Check this article for advice on feeding a Pug puppy.
You can also check out a puppy growth chart here.
We have a comprehensive puppy development guide if you are in need of more info!