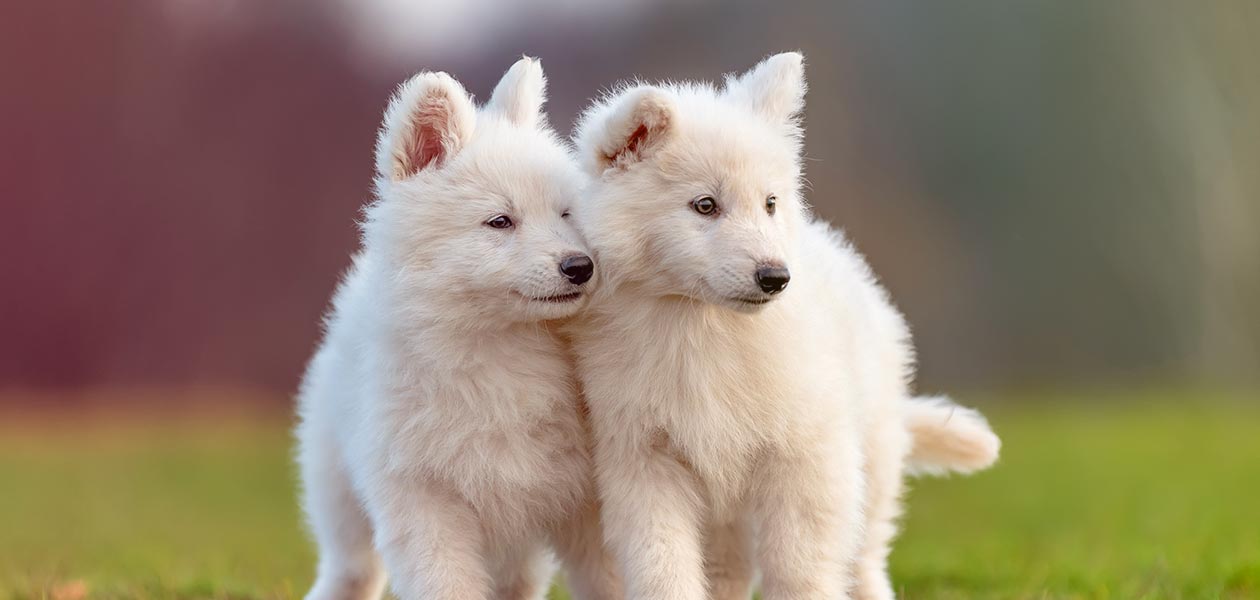 White dogs are wonderfully eye-catching. From exclusively white dog breeds, to those that come in many colors including white, they all have something special to offer.
This article is all about the most striking white dog breeds, and how to choose the right one for you.
What Breeds Of Dog Are White?
Here are 18 of the top dog breeds which use white fur to striking effect in their coats:
Why White Dogs Are White
A.K.A. The Difference Between White Dogs And Albino Dogs
Fun fact – none of the white dogs on our list are albino dogs!
True albinism, where the skin and hair is unable to make any pigment at all, is incredibly rare in dogs. Some people doubt it exists at all.
In fact, most of our white dog breeds owe their coats to a gene called the extreme piebald spotting gene.
The extreme piebald spotting gene causes big patches of white – so big they cover the whole body.
In fact, those white patches mask the genetic instructions for other coat colors.
So all these white dogs actually have a hidden hair color too. It could be black, brown, yellow, or even a pattern like brindle.
But those colors and patterns have been blotted out by the extreme piebald spotting gene.
Health Notes About The Extreme Piebald Spotting Gene
The extreme piebald spotting gene suppresses pigment production in the skin and hair.
But it has been linked to congenital deafness as well.
Exactly how that works isn't fully understood yet, but it's believed to be because the extreme piebald spotting gene somehow affects melanocytes.
Melanocytes are specialist cells involved in both making pigment, and making the tiny hairs which pick up sound vibrations in the inner ear.
The extreme piebald spotting gene has also been linked to micropthalmia, a condition where one eyeball is abnormally small, and sometimes missing altogether.
Since the cause of these conditions is more complex than simply possessing the extreme piebald spotting gene, it's not always possible for breeders to predict which puppies will be affected.
Choosing A White Dog
All of the breeds in our white dog list were originally founded and developed by breeders to meet a specific purpose.
Some of them are working dogs, and others simply live to keep their humans company.
Some of our white dog breeds need lots of space to exercise and things to do, whilst others can't handle long hikes, but suffer if their owner doesn't have enough time to shower them with affection.
It's important to choose the breed which best fits your household, lifestyle, and expectations of doggy-ownership first and foremost.
But this article will give you an idea of the wide variety of dogs which come in white.
Let's begin!
Small White Dogs
These small white dogs come from all four corners of the world!
They don't need big living quarters.
But they DO have big personalities, and some of them need a lot of attention and interaction with their owner.
Chihuahua
Originally hailing from Mexico, Chihuahuas are the toy sized dogs with out-sized attitudes!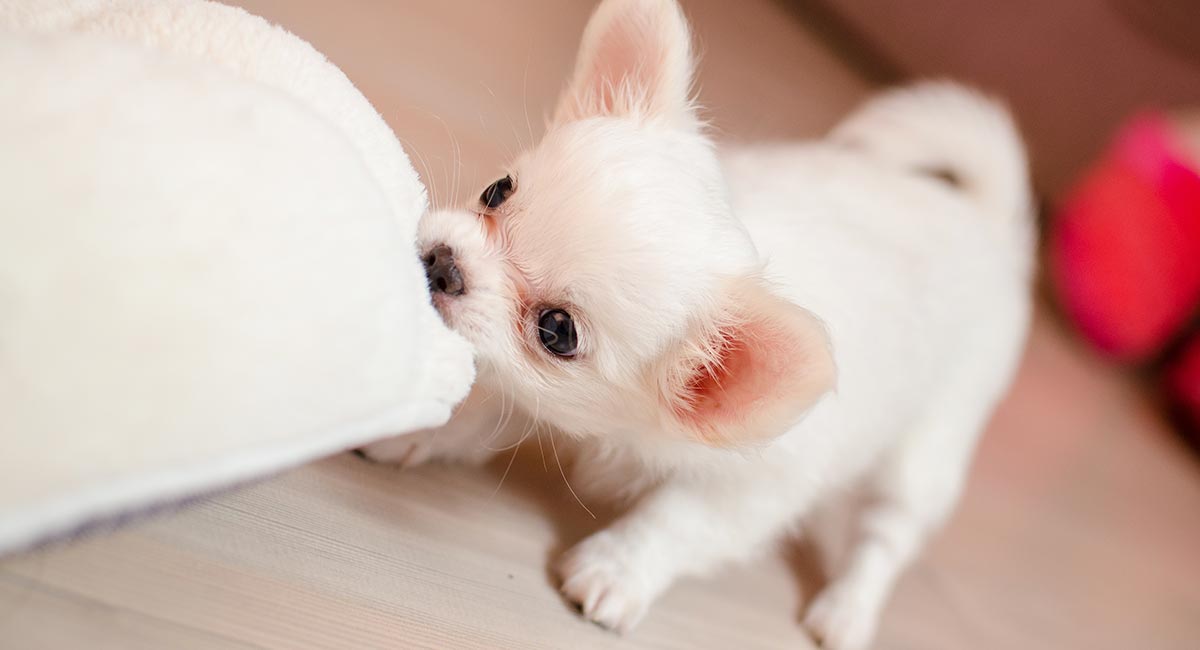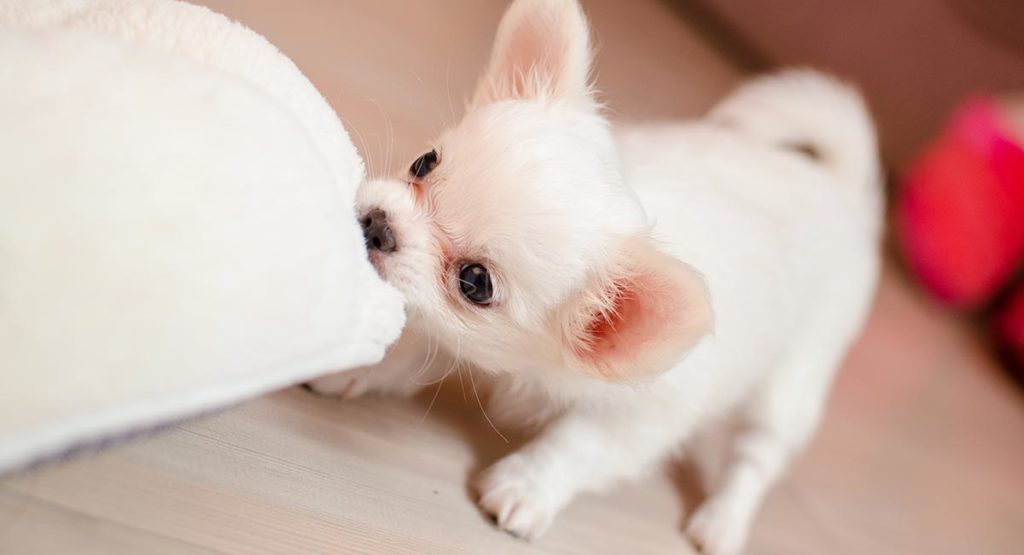 White Chihuahuas can have long or short coats, and modern Chihuahuas have also diverged into deer head and apple head lines.
Deer head Chihuahuas are a little larger than their apple head brethren, and they have longer skulls.
They also tend to be healthier, but since they match the breed standard less closely, they don't perform as well in shows.
Healthy Chihuahuas live for 12 years on average, but it's not unusual for them to reach their late teens.
Chihuahuas are best suited to adult only households, since their small size makes them fragile, and they can be prone to owner-directed aggression.
Investing lots of time in socialisation and training is the best way to overcome this.
Maltese
Maltese dogs are another popular toy breed. As their name suggests, they first started out on the island of Malta.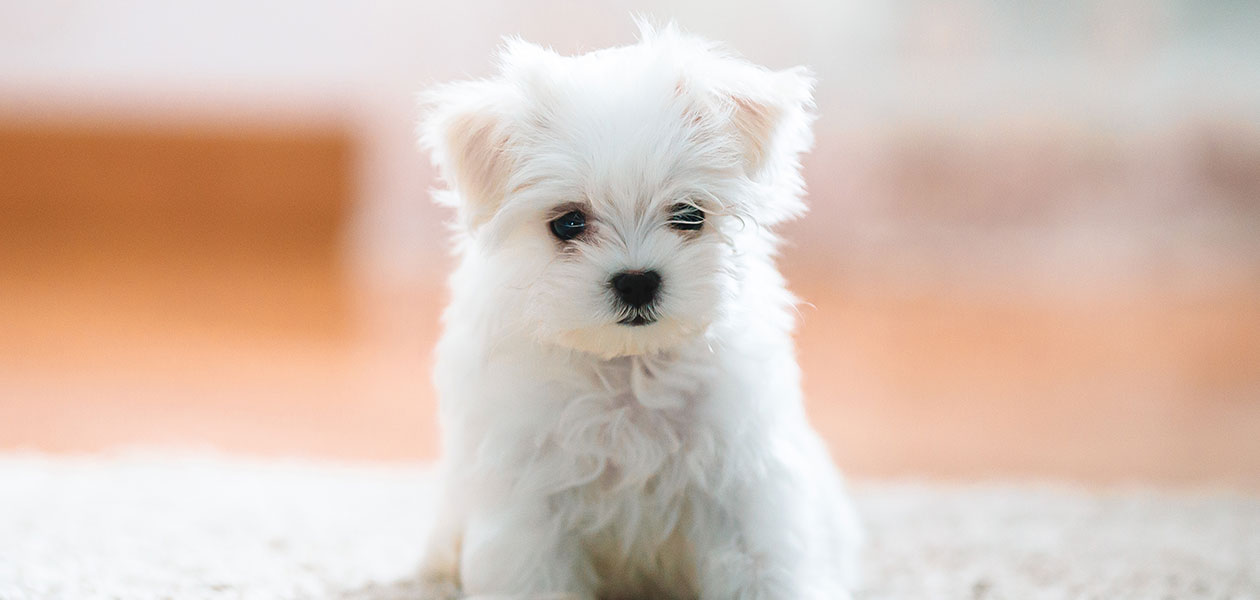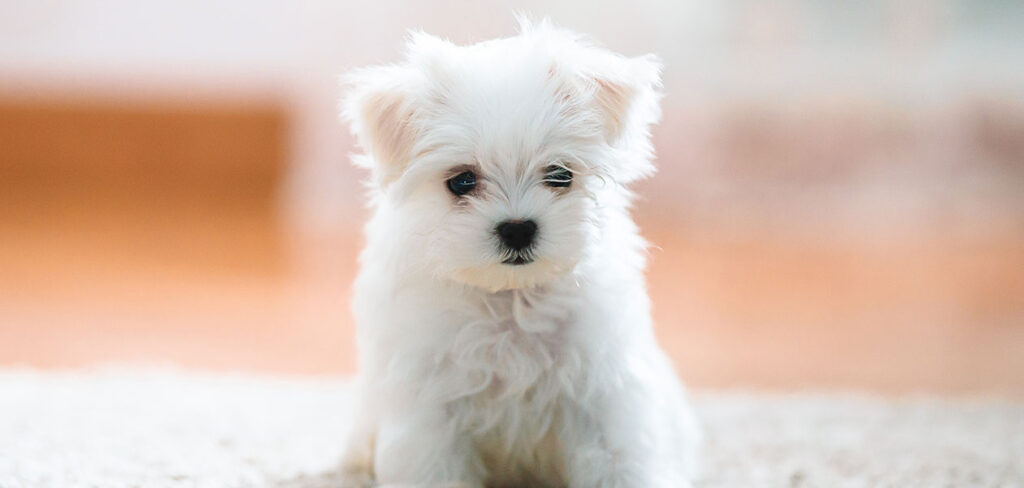 Their long silky coat is low shedding, and always pure, crisp white.
Many Maltese dogs live long into their teens, but they are prone to thyroid disease, hip dysplasia, slipping kneecaps and tooth decay.
These conditions aren't life limiting, but they can reduce quality of life, so look for puppies from health tested parents.
Maltese dogs can't keep up on very long walks, but they have lots of energy for playing games and crave human company.
So they fit best in households where someone is at home most of the time to keep them company.
Havanese
Havanese dogs are friendly and mischievous pups from Cuba.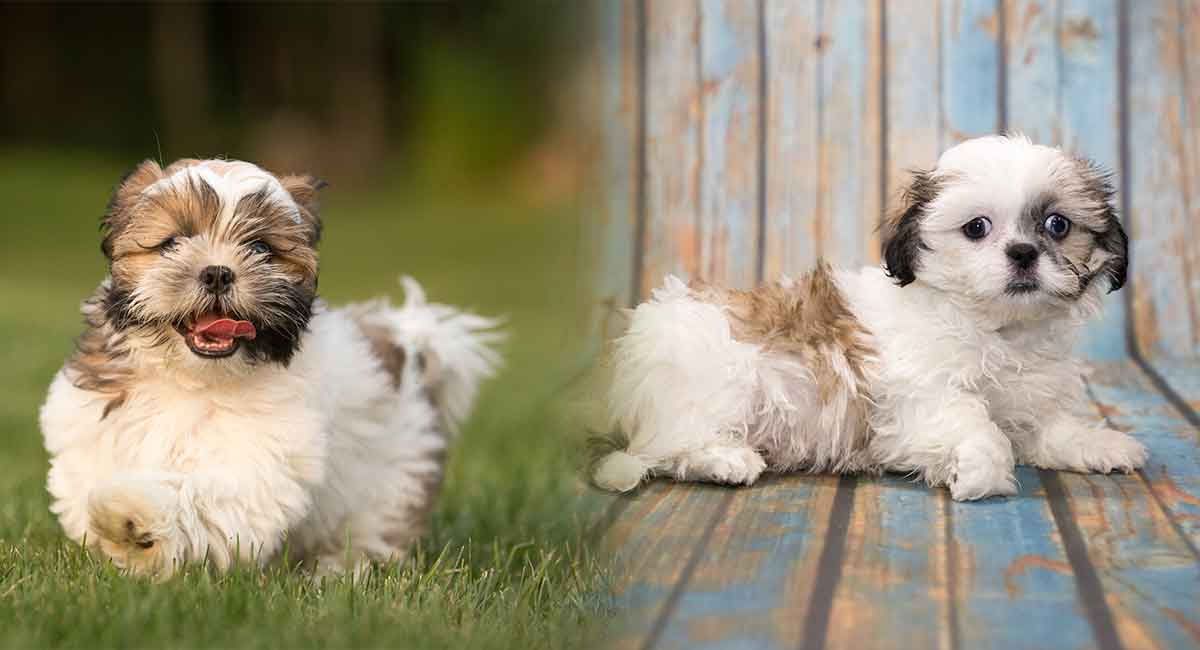 Their thick coats can come in any color, but white, or white with black or tan markings are particularly popular.
These dogs are one size up from the tiny Chihuahua and Maltese, and naturally more outgoing and gregarious.
So if you're looking for a small fluffy white dog to live with children, the Havanese is more likely to thrive.
Like the Maltese, their coat is often kept in a practical puppy clip by owners, to reduce the need for washing and grooming.
They'll still need regular brushing though, to get rid of mats and remove debris.
Lhasa Apso
Next to the Himalayas, where Lhasa Apso dogs were first bred as wardens of palaces and temples.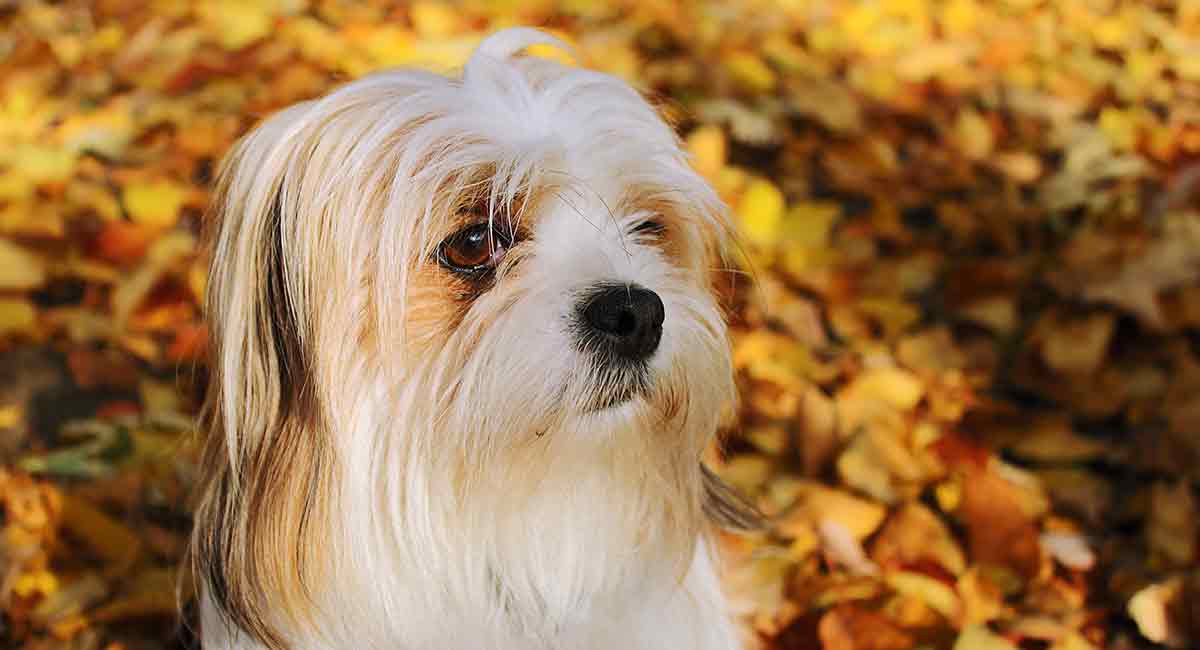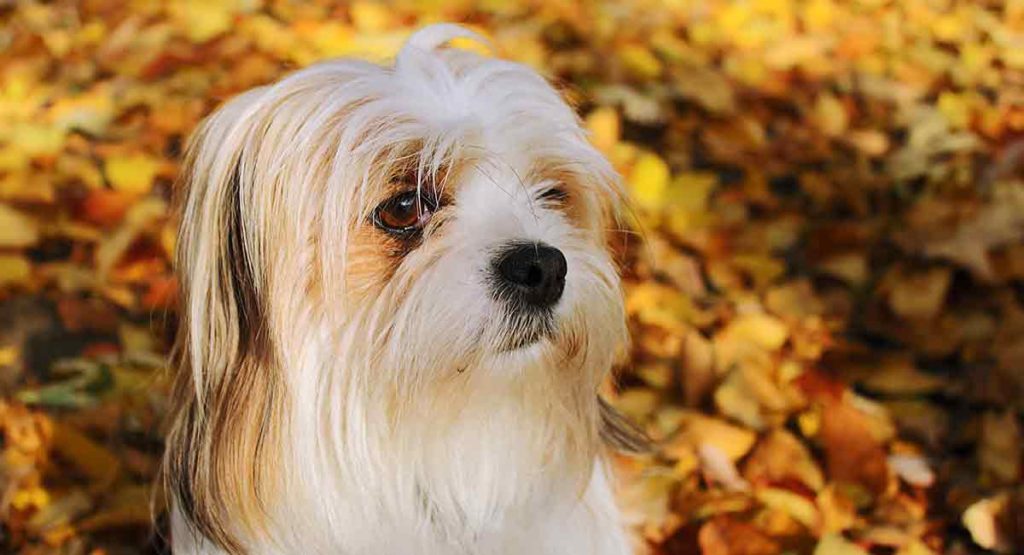 These dogs are one size bigger again than the Havanese – they reach up to 18lbs.
Like all breeds bred for guarding, or to alert their people to the arrival of visitors, Lhasas can be unsettled and vocal around strangers.
With their family, they are loyal, affectionate, and love being a little bit silly.
Lhasa Apsos are frequently healthy dogs, and live for over 14 years on average.
West Highland White Terrier
Next to Scotland, and a gorgeous little terrier breed which always, always, comes in white.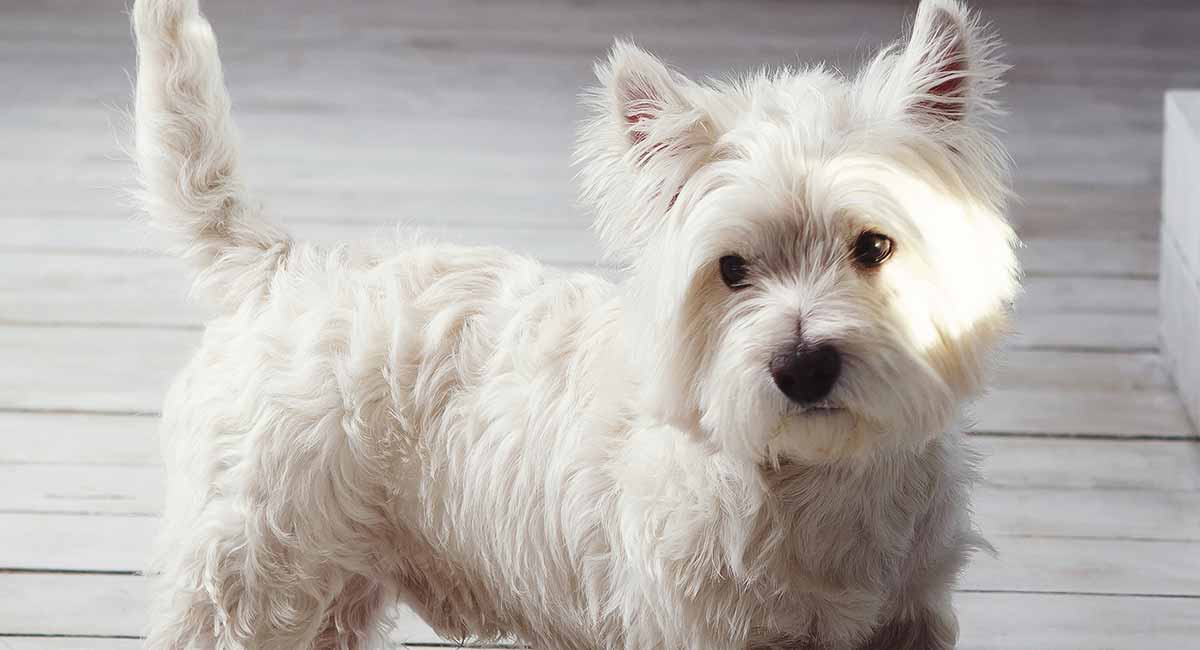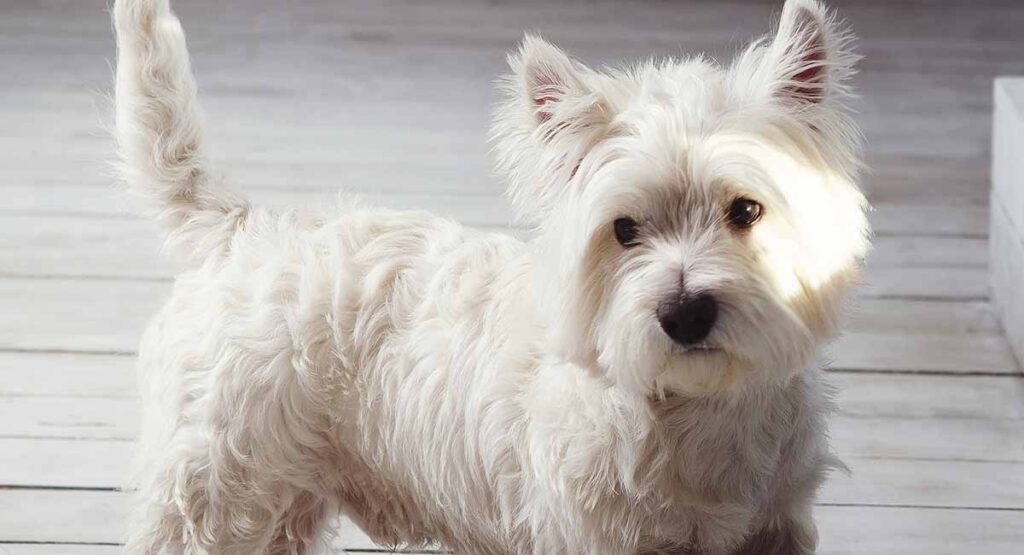 West Highland White Terriers, affectionately known as Westies, were originally working dogs, used to hunt rats and other vermin.
They're tough, bold, and spirited little dogs.
Since being able to work independently was a desirable quality for early Westies, they still tend to find doing their own thing more rewarding than slavishly following instructions.
This means first time dogs owners can find them tricky to train.
A Westie's coat is hard and coarse compared to a Havanese or Lhaso Apso, so it demands less maintenance.
But they do tend to suffer from problems with their teeth, so it might just be a case of swapping the hairbrush for a toothbrush!
Bolognese
The last of our small white dogs is from Italy!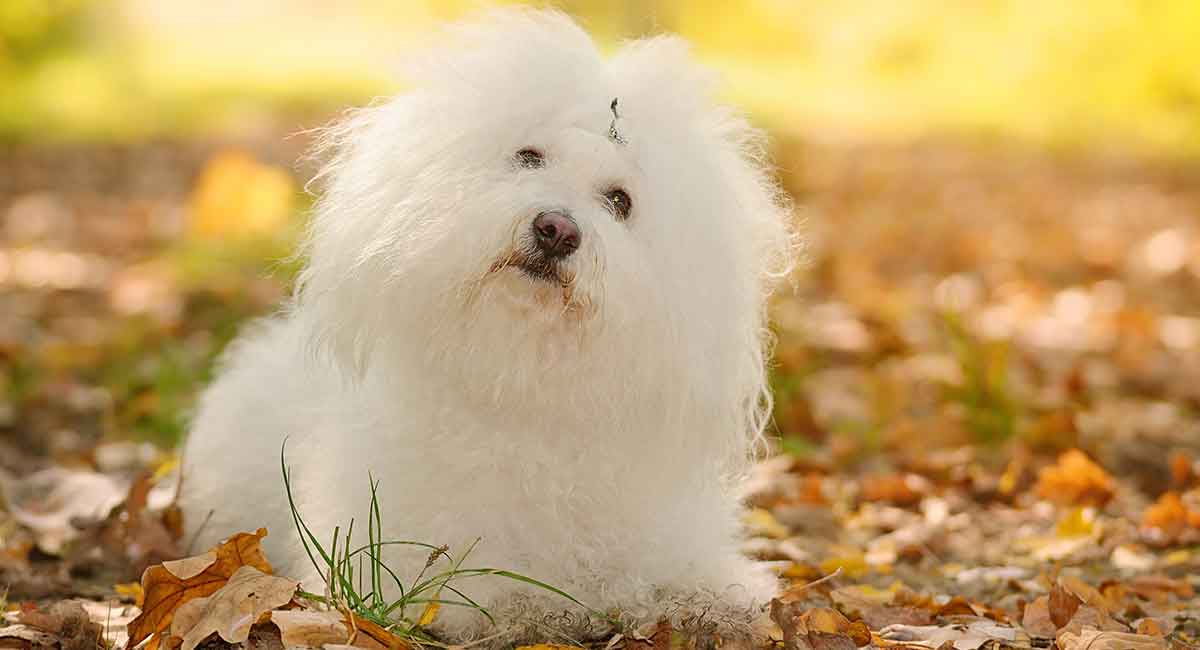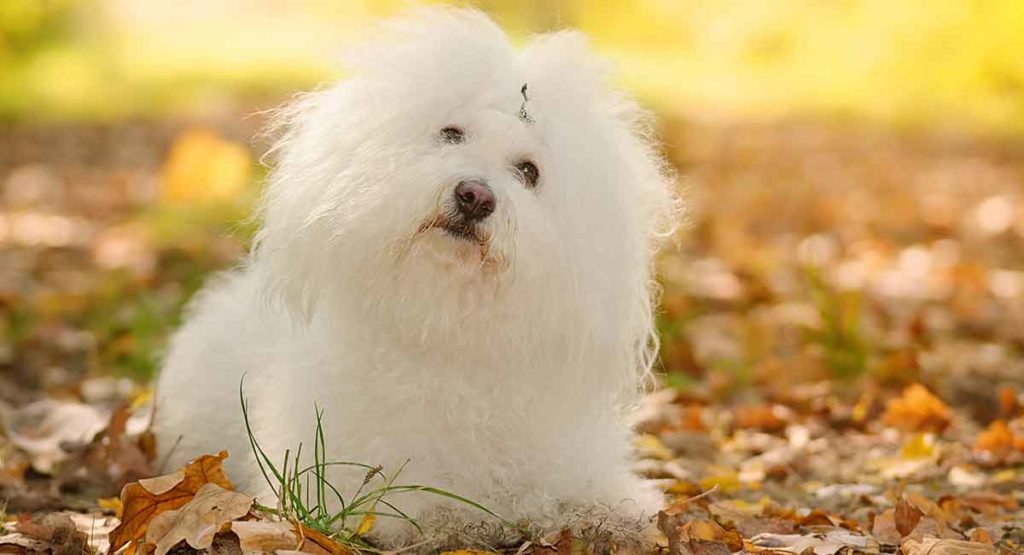 But whilst they're growing in popularity in the U.S., they're yet to be formally recognized by the AKC.
Bolognese dogs' coats form lovely ringlets which are low shedding but require lots of combing if they're not kept clipped.
Bolognese dogs are friendly, playful, and anecdotally respond well to positive reinforcement training.
They were originally prized by the Italian aristocracy as companion dogs, which means they still seek out human company.
They love you have their family close by, and interact with them, and they're prone to separation anxiety in a household where this isn't possible.
White Fluffy Dog Breeds
We've already told you about some quite fluffy white dogs.
But things are about to get even more cute and cuddly, because now we've got some incredibly fluffy white dog breeds
Pomeranian
First, the fluffiest dog in any color – the inimitable Pomeranian.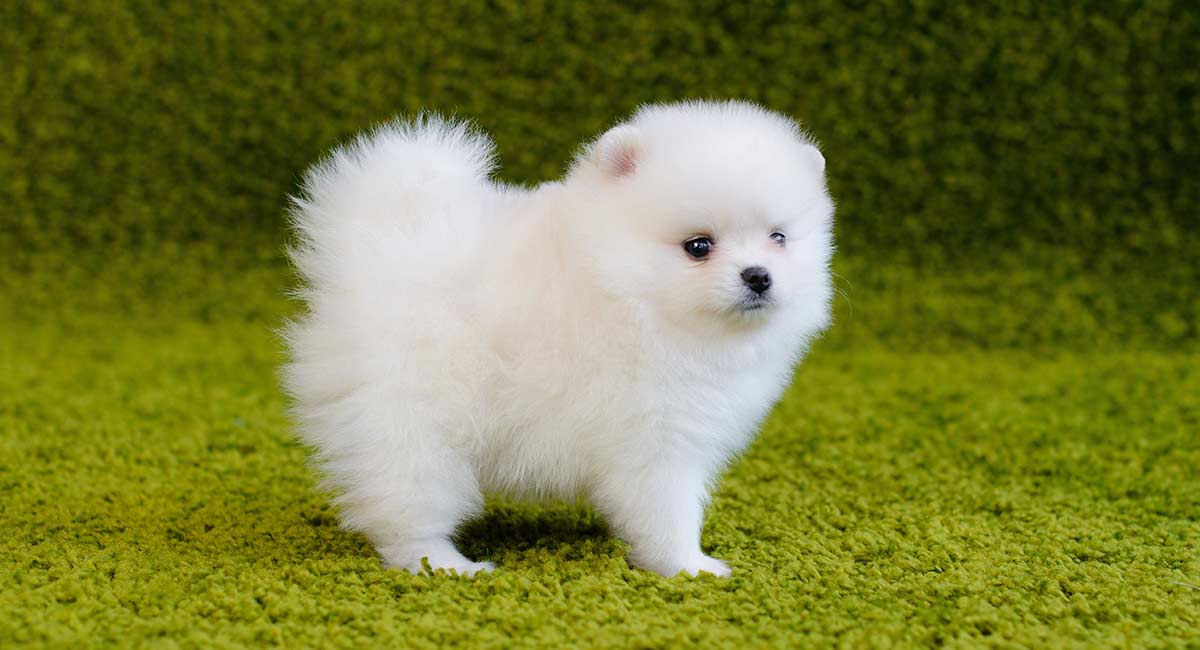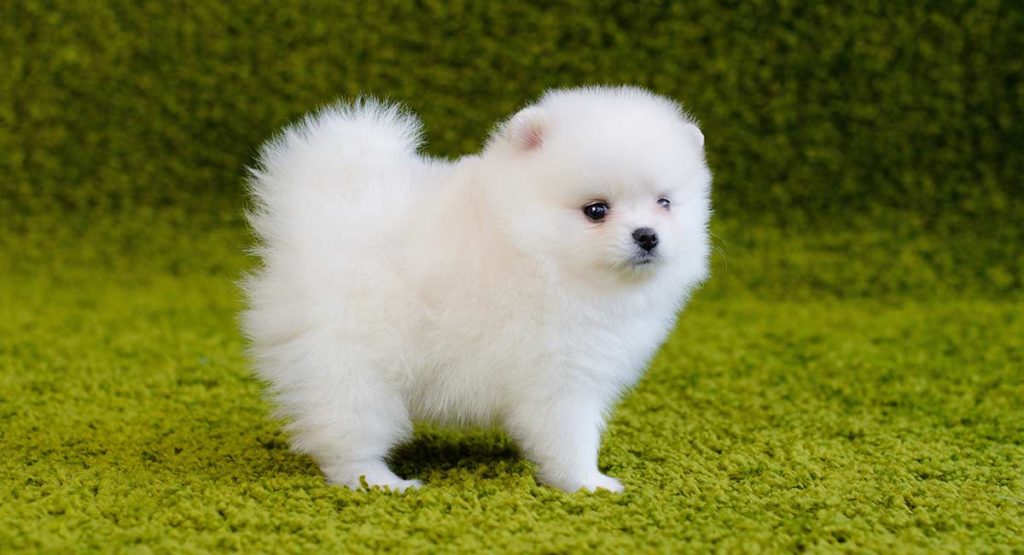 Pomeranians have dense, fluffy coats which stand straight out from their body.
So whilst their body is no bigger than a Chihuahua, their coat gives them a much bigger silhouette.
Pomeranians are smart and energetic.
Even though they can't keep up on long walks, they do need an owner who's willing to spend lots of time playing games with them, training them, and teaching them tricks.
About one in three Pomeranians is affected by slipping kneecaps, which makes them the breed most affected by this disorder.
So look for puppies from health tested parents, and be aware that they may need expensive surgery at some point.
Bichon Frise
Bichon Frises are fuzzy white bubbles of dogs.
They're typically about a foot tall, and weight 12 to 18 pounds.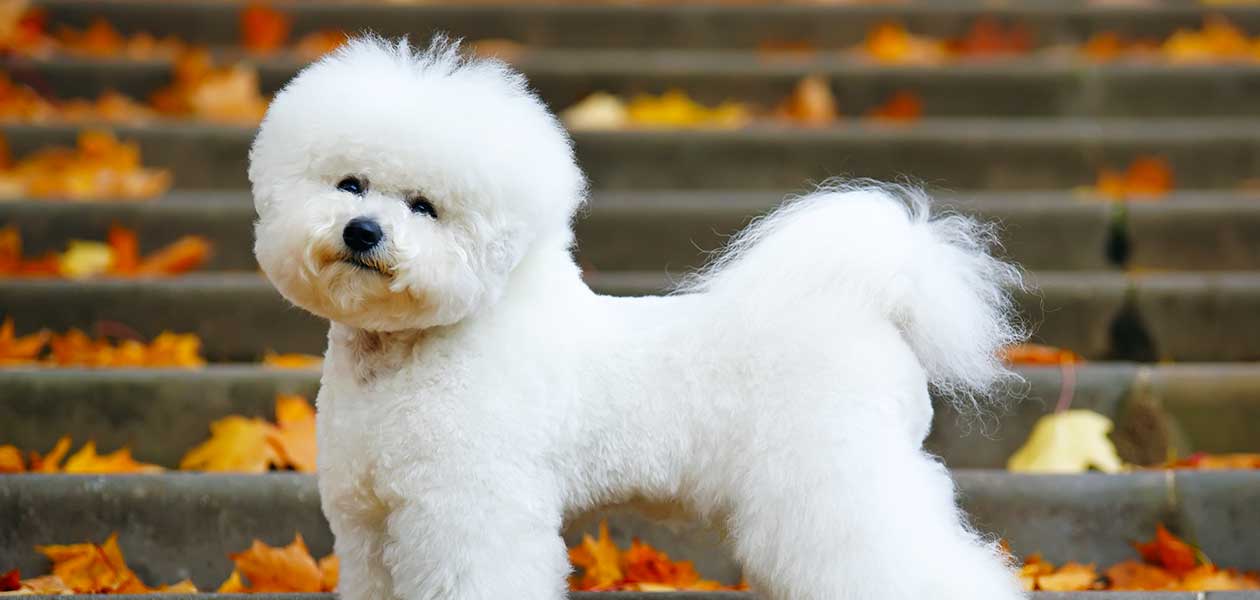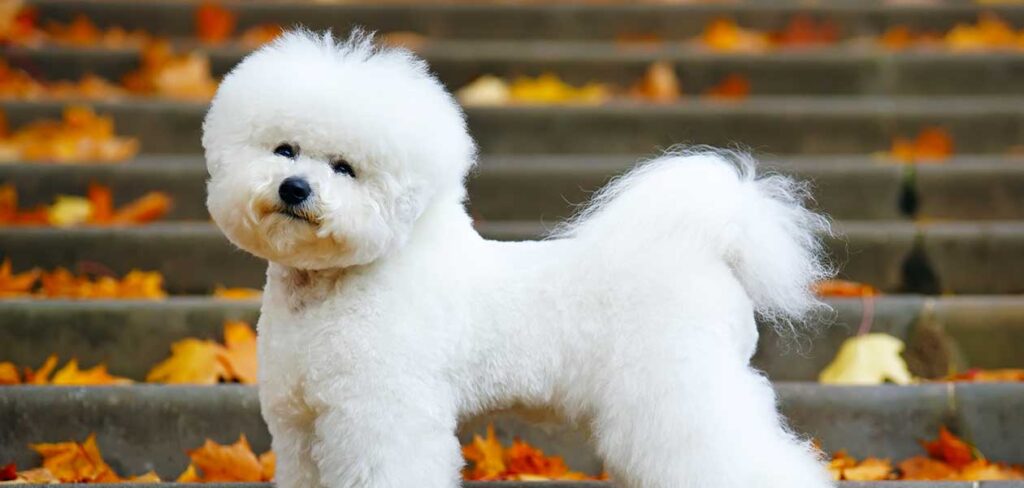 Underneath their fluffy white coat is a sturdy body which tends to be relatively free of hereditary health problems.
They are however prone to the progressive neurological condition degenerative myelopathy.
Bichon Frises are popular dogs for families with older children. They have a lot of energy for playing games and practising tricks, so it helps to have lots of people who can get involved!
Samoyed
Samoyedsare our first medium sized white dog.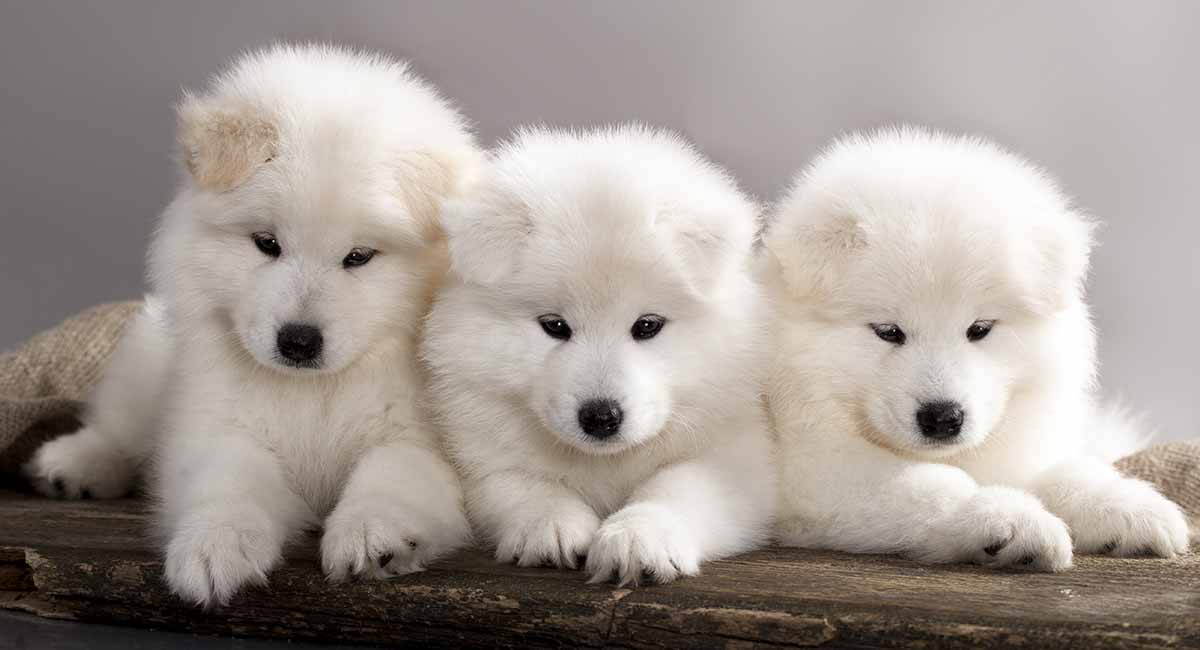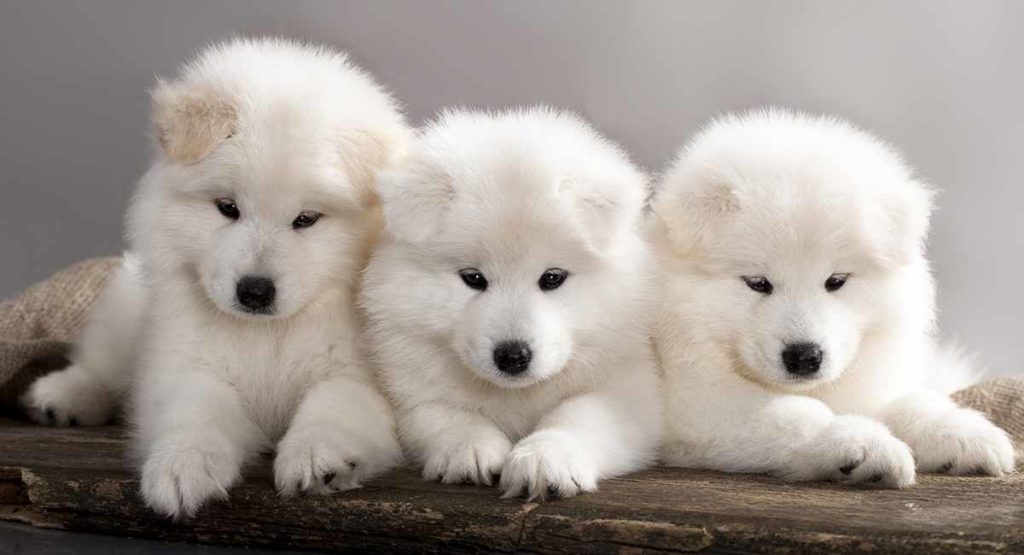 They started out in Siberia as sled dogs, reindeer herders and watchdogs. Even now, their modern descendants are beloved for their versatility.
Their huge white coats were the perfect protection against harsh Siberian winters.
But they're not the Samoyeds' only cold weather adaptation: they also have upturned "smiling" mouths, which are thought to prevent drooling. In cold weather, drool could freeze and damage the skin.
Since Samoyeds working in extreme weather needed to be fit and healthy, this fluffy white dog breed is refreshingly free from hereditary health problems.
They are somewhat vulnerable to hip dysplasia and the skin condition sebaceous adenitis though, so look for puppies from health tested parents with well documented family trees.
The median lifespan of Samoyeds is 12.5 years – the high end of average.
Coton De Tulear
The Coton de Tulear isn't a very well known dog, but it comes from the same group of dogs as Bichon Frises, Maltese, Havanese and Bolognese dogs.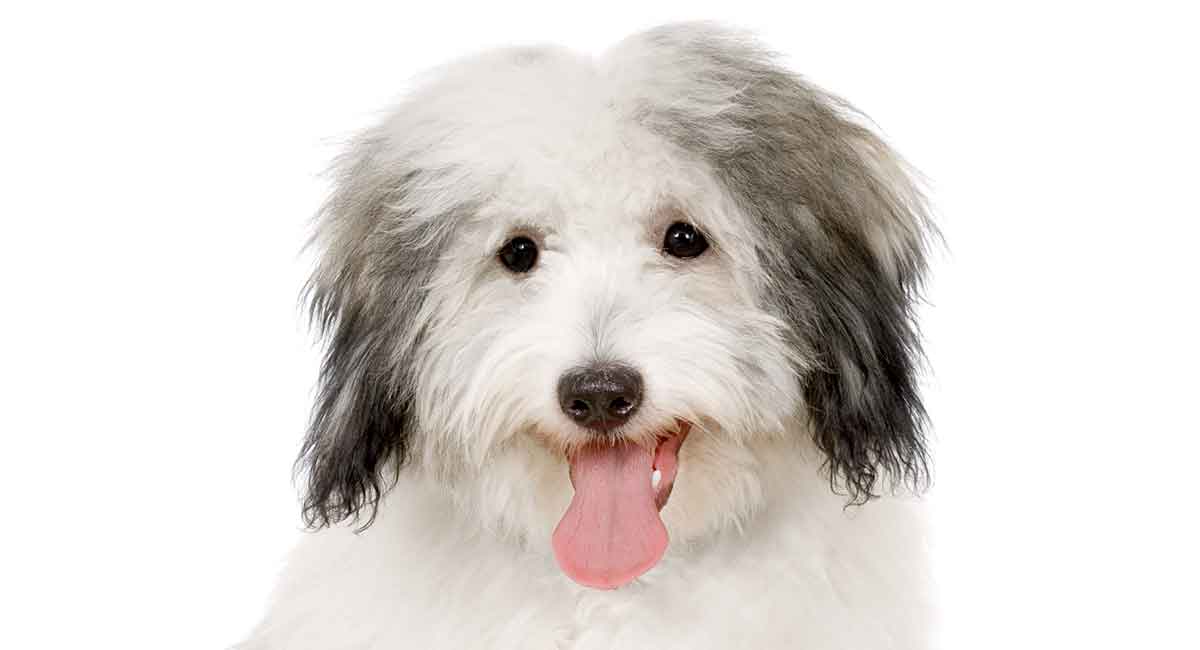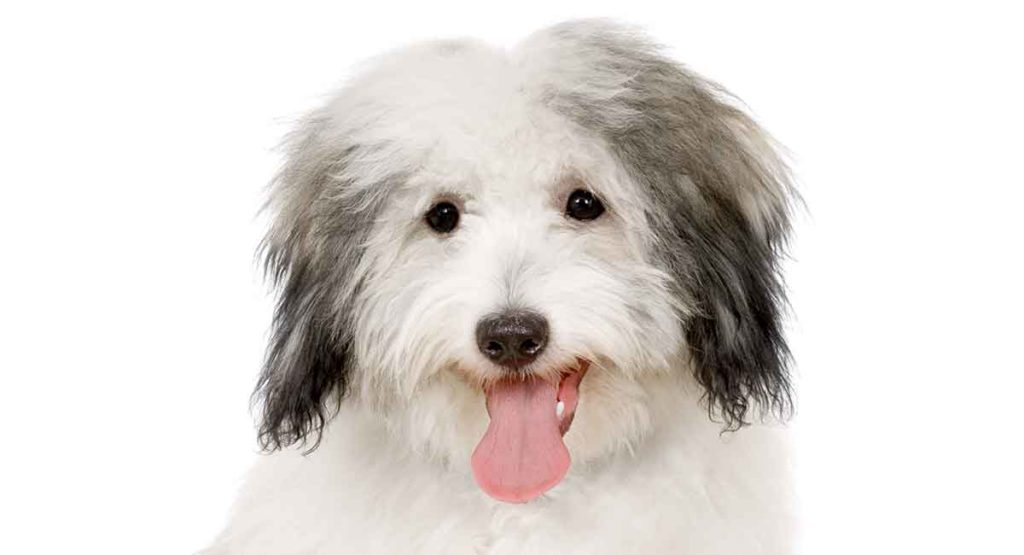 Their voluminous coat is always white, sometimes with slight shading on their ears.
These dogs are robust, but short, because they carry genes for dwarfism (like Dachshunds and Corgis).
They're another companion breed, which demand a lot of interaction and affection from their owners.
Which makes them great for families with older children, or retired people.
Because they have dwarfism they're very vulnerable to hip and shoulder problems, so look for puppies from health tested parents.
Japanese Spitz
The Japanese Spitz looks rather like a large Pomeranian.
They stand just over a foot tall, and they have luxurious, crisp white coat.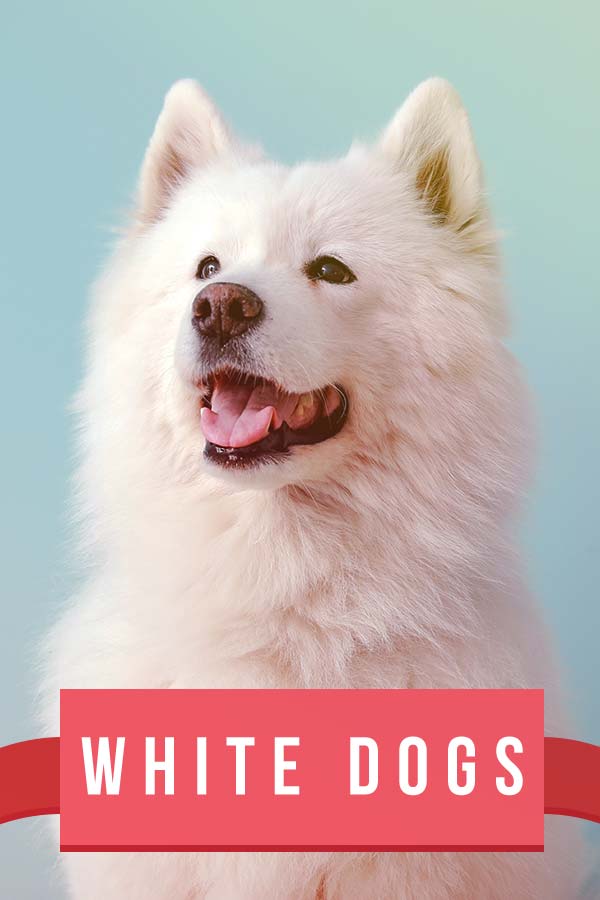 Japanese Spitzes are part of the AKC's foundation stock service, and they aren't widely owned in the U.S.
This can make it tricky to find a breeder, and agencies like the Orthopedic Foundation For Animals don't carry much data about disease statistics for them.
Spitz type dogs were originally bred for hunting, herding and sled pulling.
But the Japanese Spitz breed is unusual in that it has been derived from the old Spitz breeds more recently, specifically as a companion dog.
Look for fluffy Japanese Spitz puppies from healthy parents with great temperaments.
Big White Fluffy Dog Breeds
If your dog search criteria are as simple as "what kind of dog is big and white?", then these are the breeds for you!
Great Pyrenees
First, the Great Pyrenees.
This giant dog breed can easily weigh in at over 100 pounds!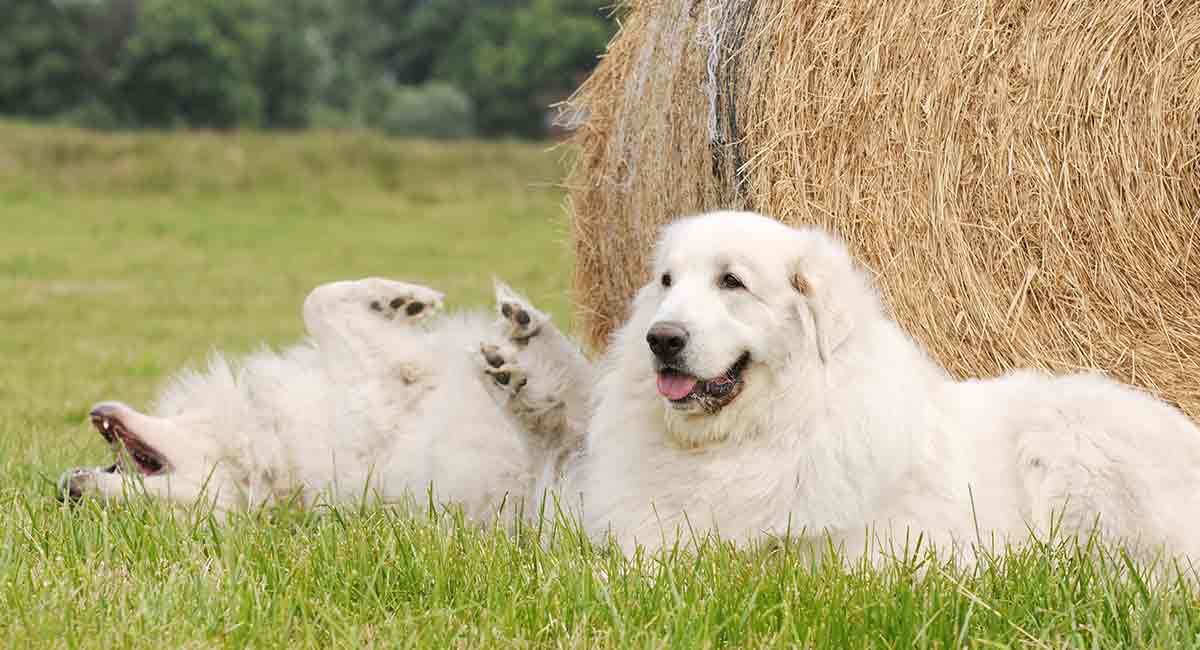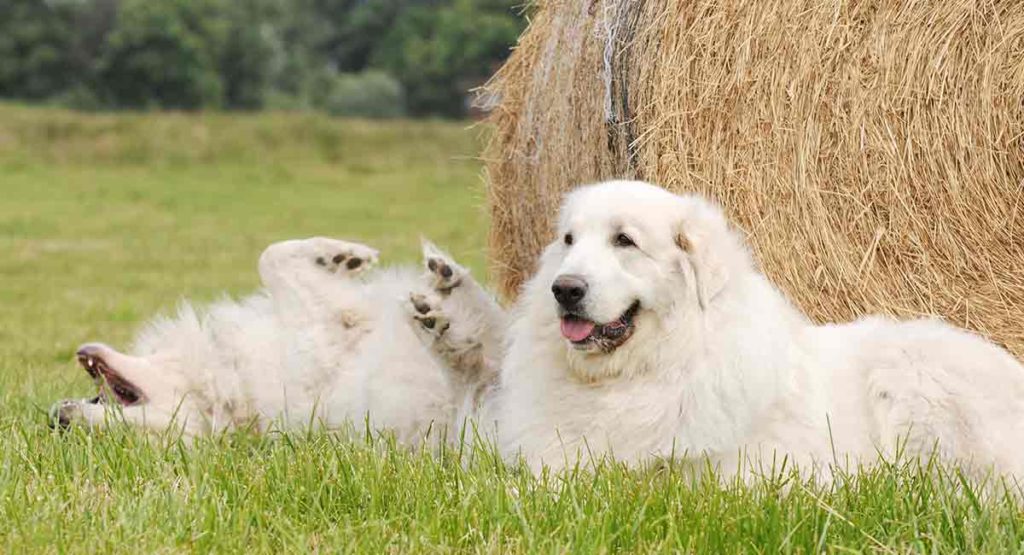 They have a strong, muscular build, and a thick, all-weather coat, which makes them look rugged, and beautiful.
Despite their size, Great Pyrenees are famously gentle and docile dogs around the home.
Nonetheless, it's important to teach them the importance of greeting people calmly and not jumping up whilst they are still a puppy. Since they will easily knock people over when they grow up!
But if you can handle the grooming and the dog food bills, you could hardly meet a more striking and loyal companion.
Like all giant dog breeds, the Great Pyrenees has a much shorter lifespan than his toy-sized canine cousins. On average, they live 10-12 years.
Siberian Husky
Everyone can picture a black and white or sable Siberian Husky, but have you ever seen a white one?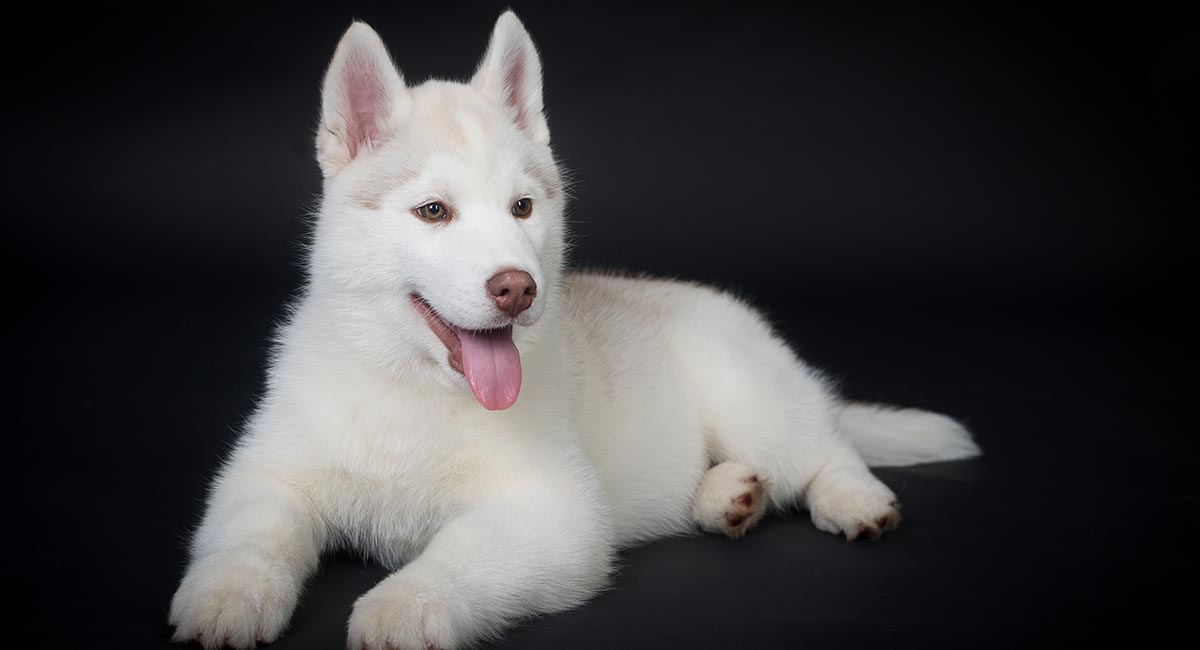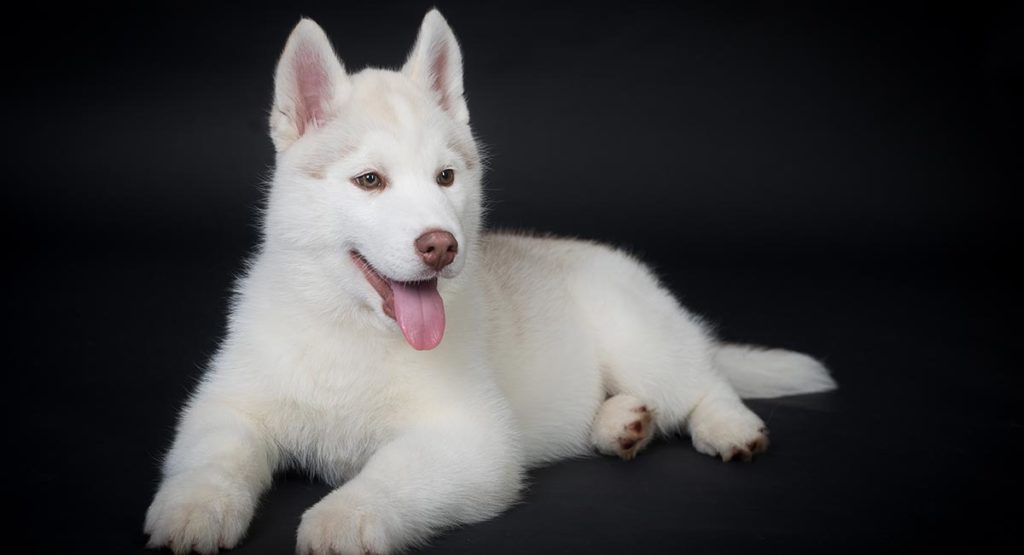 White Siberian Huskies are a beautiful but less commonly seen color for this breed.
Like all other Huskies, they have bags of energy and stamina, and need lots of exercise.
They're clever and love problem solving (read: total escape artists!), but sometimes get bored quickly during training.
Patience, persistence, and a willingness to tackle training little and often will be key.
Huskies tend to be friendly to nearly everyone they meet – and for this reason they are notoriously poor guard dogs!
Compared to other breeds the same size, Huskies have relatively low frequencies of hereditary illnesses.
American Eskimo Dog
Something a lot of big fluffy white dog breeds have in common is a history of working in freezing cold climates.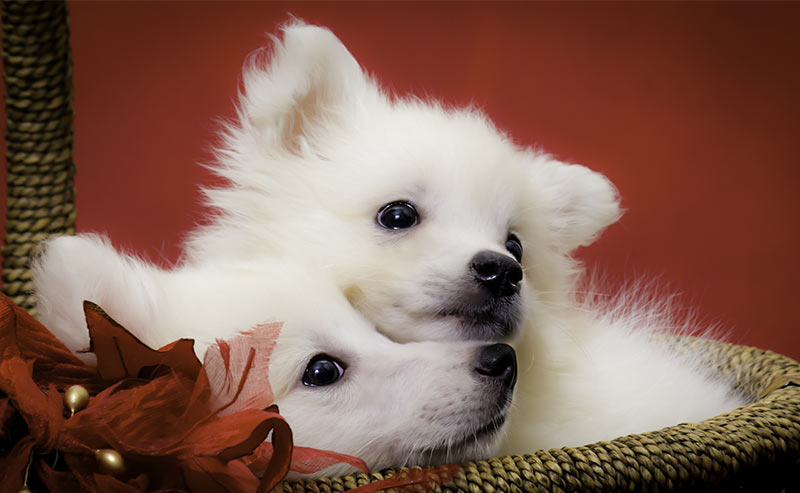 Well American Eskimo Dogs sound like they come from somewhere very cold, but actually they don't!
American Eskimo Dogs were founded from German Spitzs brought over to the States in the 19th century.
Since they're another spitz breed, they also look like white foxes. They respond quickly to positive training techniques, but they can be destructive if left to get bored or lonely.
They are prone to hip dysplasia, degenerative myelopathy and problems with their teeth and gums.
Standard Poodle
Poodles have a reputation for being fussy divas, but it couldn't be further from the truth!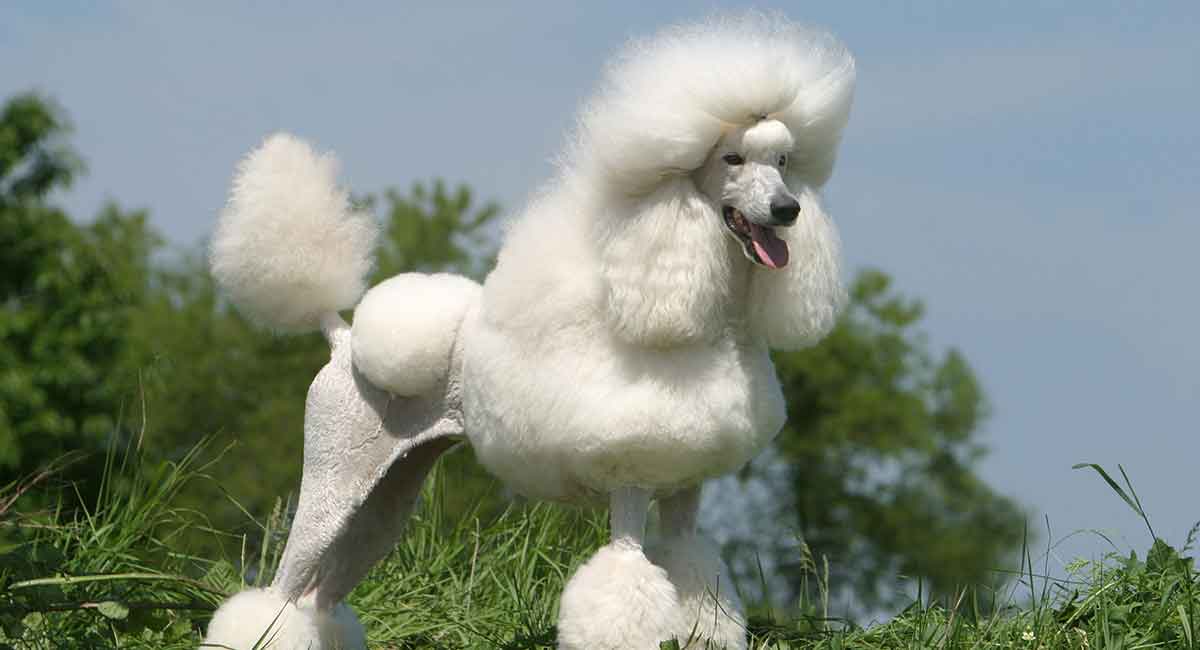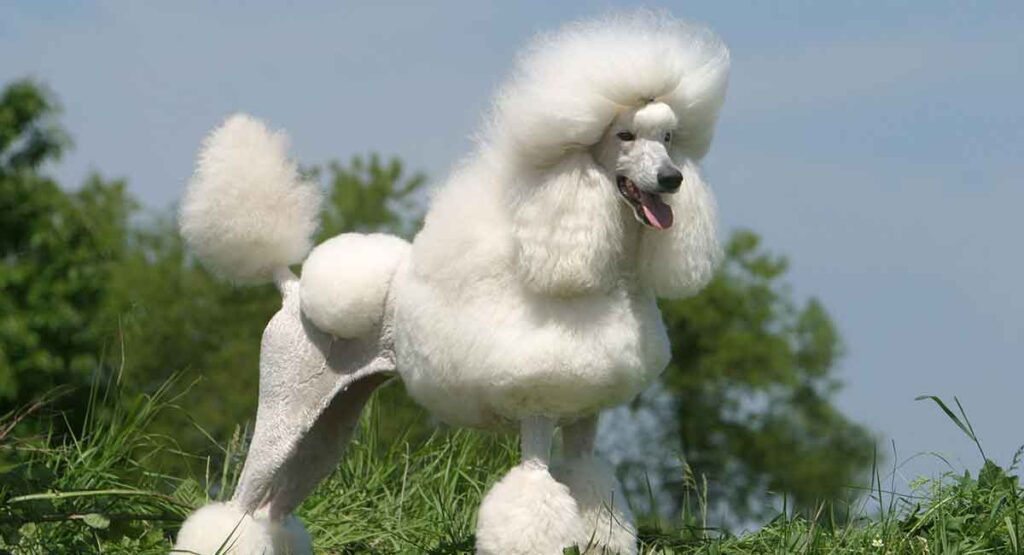 In fact, these smart dogs love hiking, games, learning tricks, agility, swimming, and all manner of other fun times too.
These highly trainable dogs were originally used to retrieve ducks from water during duck hunts.
Their curly coats are a clever adaptation for staying warm in cold outdoor water, and they can come in many colors, including white.
Even though Poodles are very low shedding, they are not completely hypoallergenic.
But they might be easier to live with for people with allergies.
Looks for puppies from parents with clear hip and eye certificates.
Standard Poodles live for an average of 12 years, but sometimes as many as 18!
Unusual White Dogs
A white dog's snowy coat alone is usually enough to turn heads.
But these three breeds aren't just exceptional for their color:
Puli
The Puliis a small to medium sized sheep herding dog from Hungary.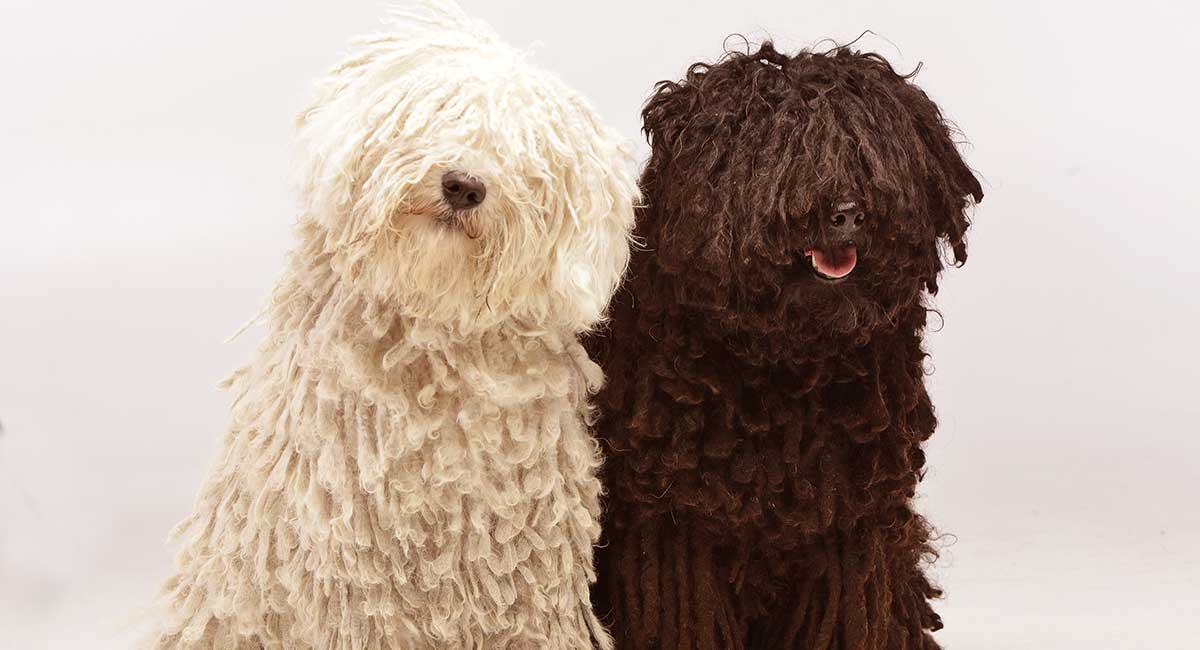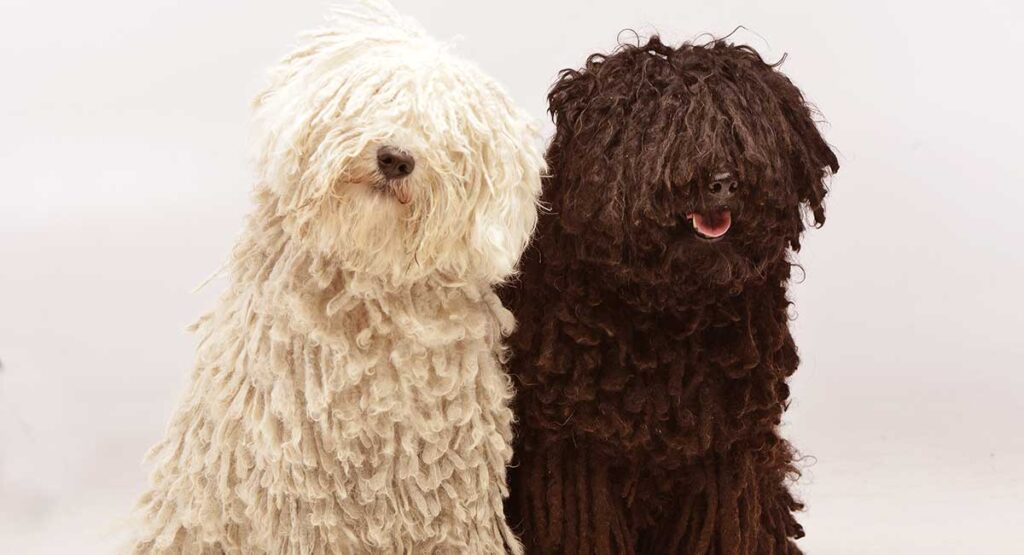 As puppies their coat is curly and fluffy, but as they grow up it forms natural narrow cords.
Whether you embrace those dreadlocks, keep combing them out, or keep them in a regular puppy clip, their coat needs lots of care.
Puli dogs have lots of energy and stamina, as befits a breed designed to spend long days working outside.
They also retain a strong herding instinct, which means they might chase and nip at other pets, or even small children.
Look for puppies from parents who have had their hip, knees, and elbows checked – these dogs are especially vulnerable to joint problems.
Fun fact – the plural of Puli is Pulik!
Chinese Crested
Most white Chinese Crested dogs don't actually have much white fur at all, because they're mostly hairless all over!
What they do have is a smooth, supple, hairless white body, with a mop of white hair on top of their heads, and fluffy "legwarmers' around their wrists and ankles.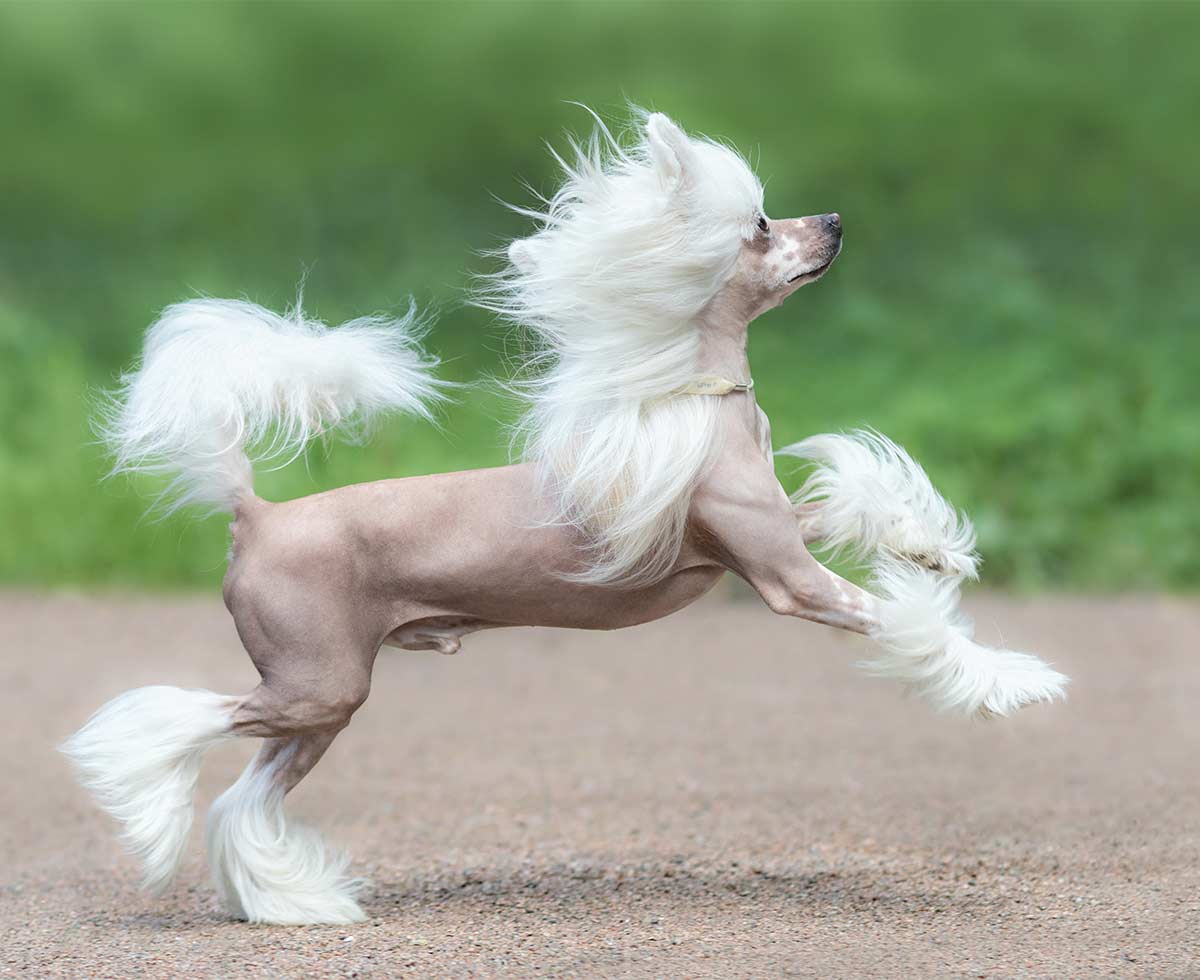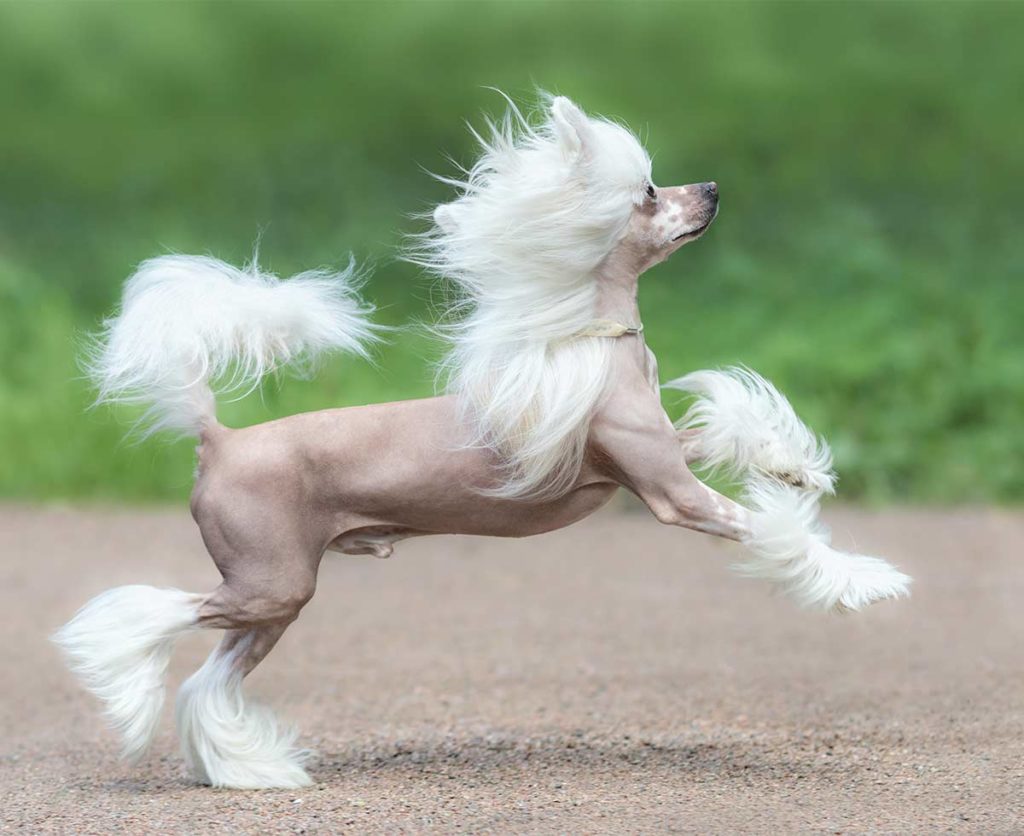 Chinese Crested dogs are playful and devoted. They are best suited to households where someone can be home with them a lot of the time, and they can struggle with being left alone.
Like all small breeds, Chinese Crested dogs tend to live a long time, but they are susceptible to slipping kneecaps.
Furthermore, around 1 in 10 Chinese Cresteds suffer the blood clotting disorder Von Willebrands Disease.
Breeding dogs can be screened for it, in order to protect the next generation.
Soft Coated Wheaten Terrier
Soft Coated Wheaten terriers were originally an Irish farm dogs.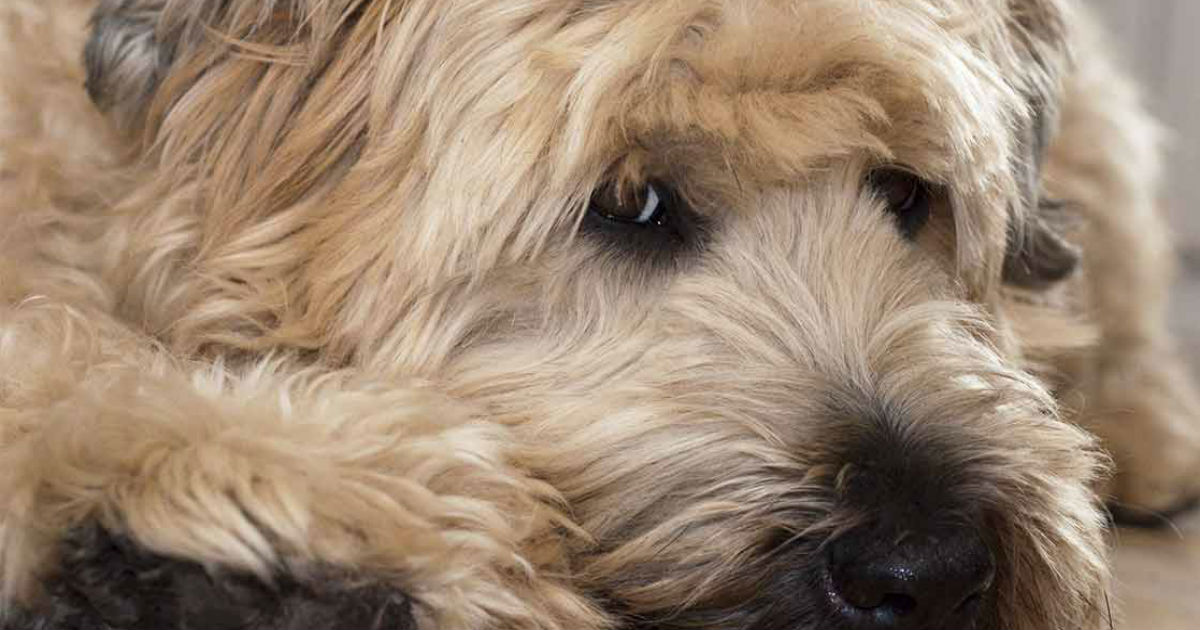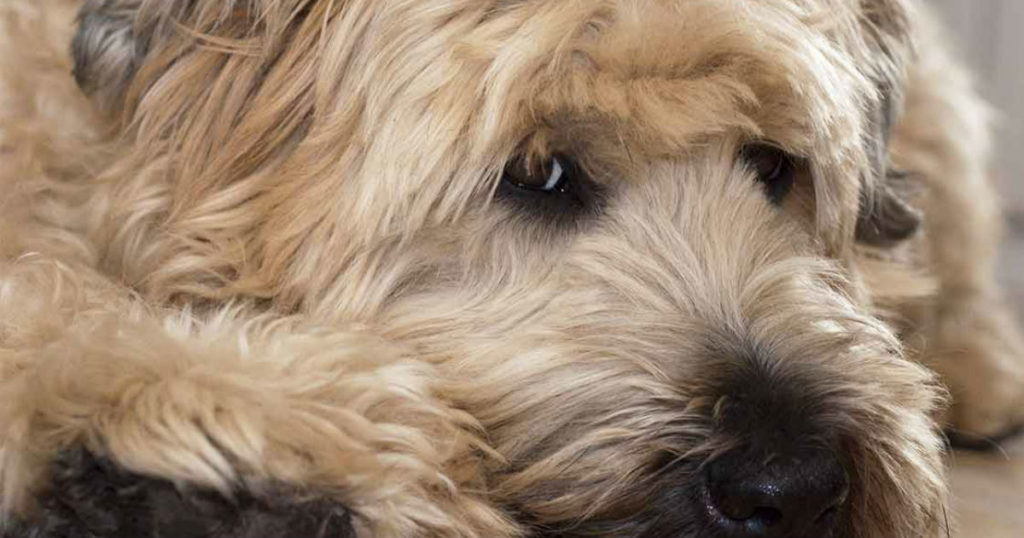 Besides their warm off-white coats, they're notable for their boxy shape, and sweet little goatee!
Like all terriers, they're loyal, charismatic, and like to keep busy.
You'll need to given them lots of exercise, toys, training and puzzles to solve before they'll relax instead of chewing your furniture.
For this reason, they're best suited to active, outdoorsy households.
How Do You Keep A White Dog White?
It has to be said that white dogs can be a little high maintenance if you want to keep them looking pristine snowy white all the time.
Dogs' tears contain a red substance called porphyrin, which causes tear stains on many a white dog's coat.
Dust and debris also shows up far more against white coats. Regular bath times with a gentle doggy shampoo will help.
For dogs who just can't help rolling in the mud, a well fitting coat is also a shrewd investment for reducing the amount of surface area which needs to be cleaned up afterwards.
White Dogs Summary
It is more important to choose a dog breed for their health, and the traits which make them a good match for your lifestyle, than for their color.
But luckily, if you've always had a soft spot for pups with frosty white coats, you're sure to find a breed in this list which looks like you hoped and fits perfectly into your home.
If you already have a white dog, please tell us about them in the comments box!
Where did they come from, and what are they called?
Related Articles
References and Resources
Orthopedic Foundation for Animals
Adams et al, Methods and mortality results of a health survey of purebred dogs in the UK, Journal of Small Animal Practice, 2010.
Duffy et al, Breed Differences in Canine Aggression, Applied Animal Behavior Science, 2008.
Strain, The Genetics of Deafness in Domestic Animals, Frontiers in Veterinary Science, 2015.