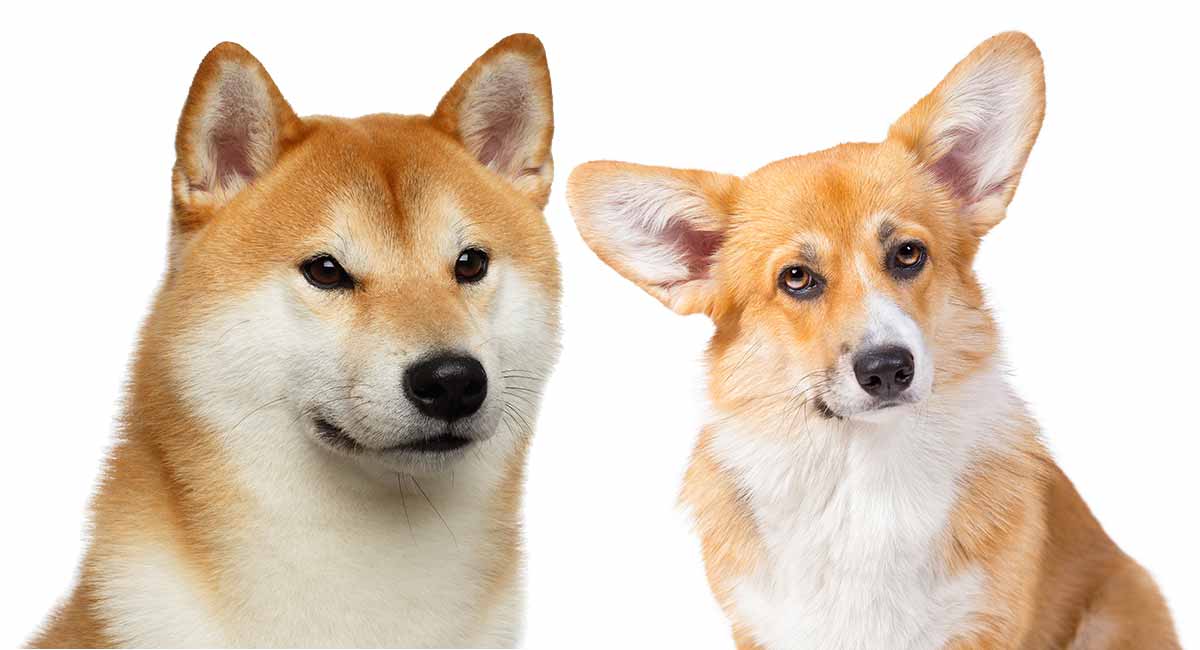 The Shiba Inu Corgi mix dog combines an old European breed with an even older Japanese breed.
Shiba Inu Corgi mix dogs are likely to have a strong herding instinct, a dedicated work ethic, and a wariness of unfamiliar people.
They might also be prone to health problems caused by the Corgi's unique body shape.
Your Shiba Inu Corgi Mix
A crossbreed known as the Shiba Inu Corgi mix has been rising in popularity in recent years.
However, there are various concerns with this cross that we must explore.
In this article, we will take an unbiased and comprehensive look into this mix, looking at their possible physical traits, temperament, and health issues.
So let's see what we can find out!
Where Does the Shiba Inu Corgi Mix Come From?
As this crossbreed has only just recently surfaced, they don't have much of a history yet.
However, we can still gain a good understanding of the cross by looking at the background of the parent breeds.
Shiba Inus are an ancient Japanese breed that has been traced all the way back to 300 BC.
They were originally used to hunt small game such as rabbits in the rough and dangerous terrain of the Japanese mountains.
As for the Corgi, their ancestry can be followed back to the 1100s.
Imported into England from what is now known as Belgium, these hardy dogs were used to herd animals much bigger than themselves.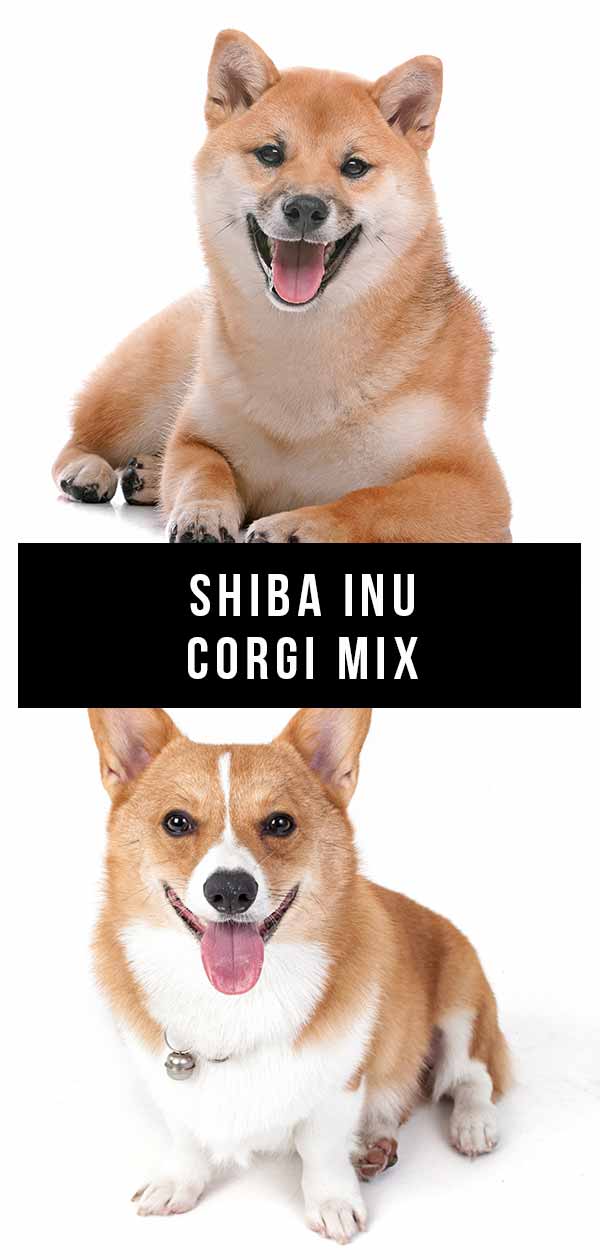 Fun Facts About the Shiba Inu Corgi Mix
Unfortunately, the Shiba Inu Corgi mix doesn't have a catchy nickname just yet. Do you have any suggestions? Let us know in the comments!
The Corgi is a popular dog used in designer dog mixes. However, the Shiba Inu is still a rather obscure choice.
The AKC place the Corgi as 13th and the Shiba Inu as 44th in their popularity rankings containing all purebred breeds.
Shiba Inu Corgi Mix Appearance
The Shiba Inu Corgi mix commonly reaches heights of around 12–17 inches tall.
As for weight, they range from 17–30 pounds.
They may inherit the Corgi's short stumpy legs and long back.
Face and Tail
A strong muzzle will be present, with intelligent and alert eyes.
Their ears may vary in size from small to medium length.
From the Shiba Inu it's possible for this mix to inherit the Spitz dog tail, a fluffy tail that curves over the back of the dog.
Otherwise, they may have a short tail that is carried high.
Coat
As for the coat of this breed, the cross may inherit either the shorter coat of the Shiba Inu or the medium-length coat of the Corgi.
A coarse outer coat with a softer undercoat will likely be present regardless of which parent's coat they inherit.
There are many potential coat colors within this crossbreed.
See below for a list of the most common.
Sable
Fawn
Black and tan
Black
Sesame
There are many possible patterns that may appear on top of these base colors.
The undercoat of the cross may be either white, cream, buff, or gray.
White to cream markings may be found throughout the coat.
Shiba Inu Corgi Mix Temperament
Dogs of the Shiba Inu Corgi mix have the potential to be loyal and intelligent dogs who get along well with their owners.
However, there is a significant amount of concern surrounding their temperament.
Aggression
Firstly, both parent breeds have been found to have a tendency towards aggressive behaviors that may be passed down to dogs of the Shiba Inu Corgi mix.
This can include territorial aggression, especially toward dogs and cats they don't know.
Aggression as a result of herding instincts inherited from the Corgi could also be an issue.
Dogs of the Shiba Inu Corgi mix could potentially see running family members (especially children) as something that needs to be herded.
This can lead to negative behaviors such as barking and potentially nipping at the heels of running family members, as the dog may feel they are trying to escape the flock.
The Shiba Inu Corgi mix may inherit hunting and chasing behaviors from the Shiba parent.
They may have a strong instinct to chase and potentially attack small animals.
They may also exhibit dominance or aggression towards dogs of the same sex.
Other Temperament Issues
On top of potential aggressive behaviors, dogs of the Shiba Inu Corgi mix may also inherit other temperament issues.
These can include:
Destructive behaviors when bored
Stubbornness, independently minded
Escape artistry
Tendency to chase interesting smells and sights
Excessive wariness toward strangers
Training Your Shiba Inu Corgi Mix
Now that we know of all the potential behavioral issues that may be present in this cross, we can understand how important proper training and socialization is.
Socialization is a major facet of training to get right, seeing as dogs of the Shiba Inu Corgi mix could be naturally suspicious of strangers.
This could develop into negative behaviors such as anxiety or aggression, so thorough socialization from a young age is a must.
Obedience training is also key.
It's important for owners to be able to have a good level of control over this independent-minded cross.
Teaching them a good recall as soon as you can is a good idea, due to the fact they may have a natural urge to chase.
Training Resources
See here for some resources on the subject:
Positive, reward-based training is the best way to train this cross.
Be patient and clear.
Offer a moderate amount of treats as a reward, and the commands will soon stick!
We offer plenty of resources on training.
See below for some good places to start!
Exercise Requirements
On top of training them, it's important that this cross is exercised daily.
Due to the parent breeds, it is likely that the cross will be moderately energetic.
Taking them for a good long walk daily is usually enough to satisfy their needs.
Some mentally stimulating play is also a good idea!
Shiba Inu Corgi Mix Health
Unfortunately, this mix is prone to some serious health concerns that you need to be aware of.
The Corgi parent may introduce a structural health issue into the breed.
Their short legs and long back are the result of a genetic defect that was bred into the breed hundreds of years ago.
Chondrodysplasia
Dogs with these characteristics are known as sufferers of chondrodysplasia.
Chondrodysplasia brings with it significant risks for severe joint and back issues such as hip dysplasia, elbow dysplasia, degenerative myelopathy, and intervertebral disc disease.
If the short legs are present in this cross, it's important to prevent any unnecessary strain to their joints and back.
Dogs with these physical traits should not be allowed to jump on and off furniture or run up and down stairs.
Along with these structural health concerns, there are other potential genetic health problems that may be passed onto a dog of the Shiba Inu Corgi mix.
Other Health Issues
These include:
Von Willebrand's disease
Epilepsy
Progressive retinal atrophy
Patellar luxation
Cataracts
Lens luxation
Glaucoma
To avoid the health issues above, it's important to steer clear of dogs of the Shiba Inu Corgi mix who have the short legs and long back of the Corgi parent.
Genetic testing and health evaluations of the parents and puppy are also important to help ensure that many of the conditions listed above are not present.
A good breeder will provide proof of any tests or evaluations that have taken place.
The expected lifespan of this breed is around 12–14 years.
Grooming and Feeding
As for grooming, both parent breeds shed a lot so it is certain that the Shiba Inu Corgi mix will too.
A daily once-over with a brush is usually a good idea to remove dead hair before it ends up everywhere.
This cross does well on high-quality dog food.
Ensure that you are covering all their nutritional needs each day.
A veterinarian can help you come up with a diet plan if you are unsure.
Do Shiba Inu Corgi Mixes Make Good Family Dogs?
Unfortunately, we cannot recommend this pet as a family dog to a high risk of chondrodysplasia.
It commonly leads to debilitating and painful health conditions that may severely affect the dog's quality of life.
There are also many potential temperament issues, meaning this breed isn't a good fit for many families and owners.
This cross may not be a good fit for families with kids or other small pets.
They also require a lot of daily upkeep, with significant grooming and exercise needs.
If you are set on this breed, regardless, we would recommend rescuing an adult over purchasing a puppy.
Rescuing a Shiba Inu Corgi Mix
Choosing to rescue a dog of the Shiba Inu Corgi mix has upsides and downsides.
First, you are able to rescue an adult.
Not only does this allow you to skip the exuberant puppy phase, but you can see exactly what you will be getting.
A good rescue center will also explain what you can expect with their temperament and health.
However, many of the dogs in rescue are there because of behavioral issues or health problems.
You may have to prepare to deal with such issues.
If you decide to adopt, the staff will interview you to ascertain whether you and your family would be a good fit for the dog.
They may decide to either allow or deny the adoption based on your current family situation and previous experience with dogs.
Finding a Shiba Inu Corgi Mix Puppy
For the best chance of receiving a relatively healthy Shiba Inu Corgi mix puppy, it pays to be careful in your search for a breeder.
Unfortunately, there are many immoral breeders out there who sell unhealthy puppies for a premium price.
Beware of Puppy Mills
Such places care about money more than the welfare of their litters.
They are informally nicknamed puppy farms or mills.
The rising trend of designer dogs has seen bad breeders jump into the market of crossbreeds.
Therefore, you must be extra careful.
Avoiding such places should be your top priority.
Keep in mind that you should also avoid pet shops due to the fact that they commonly buy their stock from puppy farms.
Look for Good Breeders
Instead, look for breeders recognized by well-established breeding societies.
Ideally, they should also have good feedback and reviews from previous happy customers.
Check here for a comprehensive guide on finding a healthy puppy.
Raising a Shiba Inu Corgi Mix
Training a puppy is a big task.
There is so much to cover!
However, it doesn't have to be so daunting.
We offer plenty of resources on puppy training, aimed at new owners, to help every step of the way.
With some patience and our expertise, it won't be long until your puppy is rapidly progressing with their training.
See below for links to our guides!
Shiba Inu Corgi Mix Products and Accessories
There are a lot of useful products and accessories on the market that may make things easier for both you and the dog!
We would recommend looking into a harness.
Harnesses hold many benefits over the traditional leash.
Durable high-quality grooming tools will also be a godsend for the amount of brushing you will be doing!
Pros and Cons of Getting a Shiba Inu Corgi Mix
Here are the pros and cons of this breed, summarised into a quickfire list!
Cons: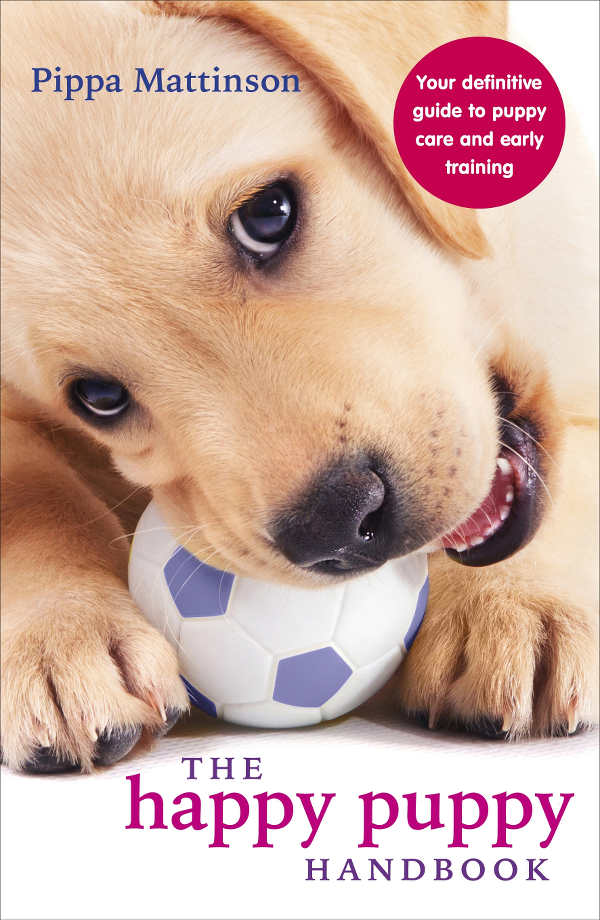 Serious health issues
Potential structural health problems
Many possible temperament issues, not a good fit for most families
Requires a lot of daily grooming
Pros:
Intelligent breed
Lots of personality and character
Loyal breed that bonds strongly to owners
Similar Shiba Inu Corgi Mixes and Breeds
As this is a breed with a high risk of debilitating health problems, we heavily recommend that you take a look at similar but healthier breeds.
See below for some places to start!
Shiba Inu Corgi Mix Rescues
Unfortunately, there are no rescue centers fully devoted to this cross at the time of writing.
However, you may have luck searching rescues that focus on the parent breeds!
Look below for a list of places to begin your search.
UK:
US:
Canada:
Australia:
If you know of any more reputable rescue centers to add to the list, let us know in the comments below!
Is a Shiba Inu Corgi Mix Right for Me?
We're not convinced that this mix has the good odds of the healthy life all dogs deserve.
We recommend you consider healthier breeds before coming to any decisions.
What do you think about this cross? Have you ever owned one?
Let us know in the comments!
References and Resources
Stafford, KJ, Opinions of Veterinarians Regarding Aggression in Different Breeds of Dogs New Zealand Veterinary Journal, 1996
Takeuchi, Y, et al, Association Analysis Between Canine Behavioral Traits and Genetic Polymorphisms in the Shiba Inu Breed Animal Genetics, 2009
Aloff, B, et al, Aggression in Dogs Dogwise Publishing, 2004
Awano, T, et al, Genome-wide association analysis reveals a SOD1 mutation in canine degenerative myelopathy that resembles amyotrophic lateral sclerosis PNAS, 2009
Mattoso, CRS, et al, Prevalence of von Willebrand disease in dogs from São Paulo State, Brazil Journal of Veterinary Diagnostic Investigation, 2010
Oberbauer, AM, et al, Long-term genetic selection reduced prevalence of hip and elbow dysplasia in 60 dog breeds PLOS one, 2017
Parker, HG, et al, An expressed fgf4 retrogene is associated with breed-defining chondrodysplasia in domestic dogs Science, 2009
Priester, WA, Canine intervertebral disc disease – Occurrence by age, breed, and sex among 8,117 cases Theriogenology, 1976
Patterson, EN, Clinical Characteristics and Inheritance of Idiopathic Epilepsy University of Minnesota College of Veterinary Medicine, 2007
Dekomien, G, et al, The canine Recoverin (RCV1) gene: a candidate gene for generalized progressive retinal atrophy Molecular Vision, 2002
Gough, A, et al, Breed Predispositions to Disease in Dogs and Cats John Wiley & Sons, 2018
Kirberger, RM, et al, Incidence of Canine Elbow Dysplasia in South Africa Journal of the South African Veterinary Association, 2007
Isaka, M, et al, Corrective Surgery for Canine Patellar Luxation in 75 Cases (107 Limbs): Landmark for Block Recession Veterinary Science Development, 2014
Bell, J, et al, Veterinary Medical Guide to Dog and Cat Breeds CRC Press, 2012