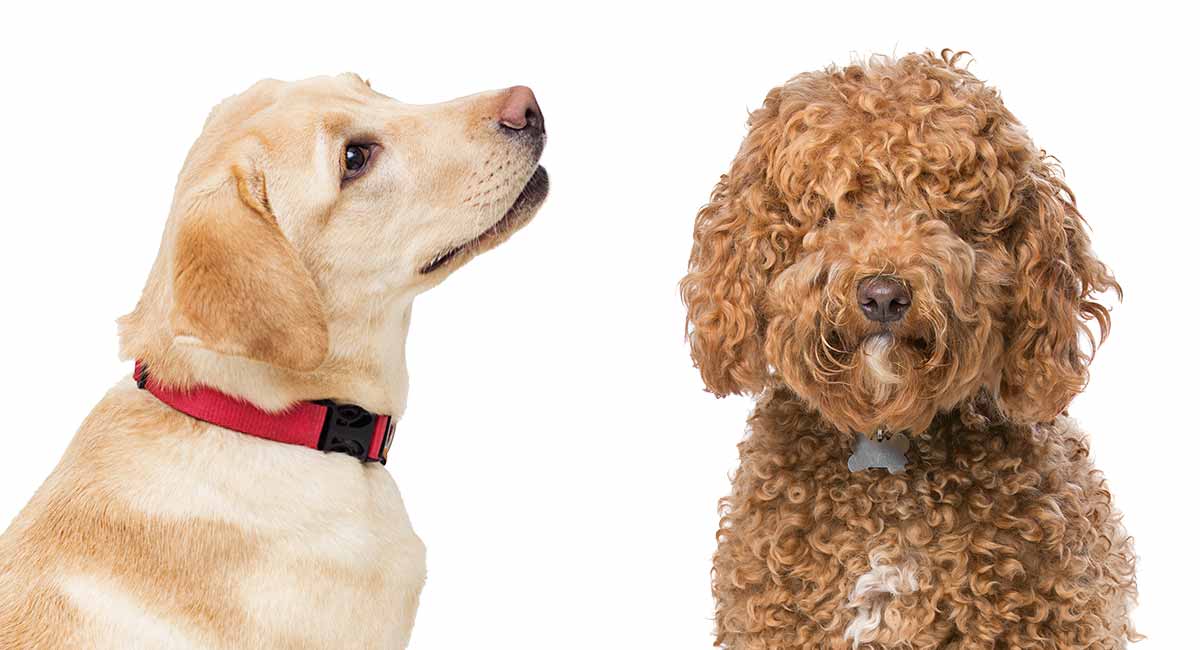 Picking between the Labrador vs Labradoodle is not a decision to tackle lightly!
After all, you are talking about two of the most popular pet dogs in the world!
The Labrador Retriever has been the most popular purebred pet dog in the nation for more than 26 years now, beating out 194 other purebred dog breeds to take top honors year after year!
And the Labradoodle is one of the most enduringly popular hybrid dog breeds of this century!
You have quite a big task on your hands selecting the Labrador vs Labradoodle.
We hope the comparative information in this focused article will help you make your choice!
Labrador Retriever vs Labradoodle – Which Pet to Choose?
If there is one thing you can count on here, it is that you won't be able to find the answer to this question by asking Labrador and Labradoodle owners!
Both breeds are so beloved that each owner will naturally tell you their dog is the best one!
However, by studying some of the key differences between the Labrador vs Labradoodle, you can make your own decision about which dog is the better fit for you and your family.
What's the Difference Between a Labrador vs Labradoodle
Here, their names give a big hint about one of the main differences between a Labrador vs Labradoodle!
The Labrador Retriever is a purebred dog breed.
What this means in layman's terms is that the Labrador can easily trace its genetic lineage to prove that both parent dogs were full-blooded (purebred) Labradors.
Purebred dogs like the Labrador can carry a pedigree if the breeder registers the puppies with a national association such as the American Kennel Club (USA) or the United Kennel Club (UK).
The Labradoodle is a hybrid dog breed.
This means that each parent is a different purebred dog breed.
The Labradoodle takes its breed name from its parents: a Labrador Retriever and a Poodle.
The Poodle parent may be a standard, miniature, or toy sized dog. If the mini Labradoodle is what interests you, take a look at this article.
For more about the differences between purebred, hybrid, and mixed breed dogs, you might find this article quite helpful!
Size Difference Between Labradoodle vs Labrador Retriever
The Labrador typically weighs 55 to 80 pounds and stands 21.5 to 24.5 inches tall in adulthood.
The Labradoodle size can vary greatly, depending on the size of the Poodle parent!
Mini Labradoodles may weigh 15 to 25 pounds and stand 14 to 16 inches tall.
Medium Labradoodles may weigh 30 to 45 pounds and stand 17 to 20 inches tall.
Standard Labradoodles may weigh 50 to 65 pounds and stand 21 to 24 inches tall.
Labrador Labradoodle Shedding and Hypoallergenic
Contrary to popular belief, Labradoodles are neither non-shedding nor hypoallergenic.
What actually occurs is that the Labradoodle's typically curly, thick coat catches shed hair before it falls out.
This can reduce the circulation of the allergen protein that causes pet allergies.
Labradors, in contrast, shed noticeably year-round, since their straight, thick, double-layer coats don't catch the falling hair.
This can worsen pet allergies for some people, since there is more potential for contact with the protein allergen.
Labrador vs Labradoodle Temperament and Personality
Sharing genetic similarity increases the likelihood that you will get the sunny disposition of the Labrador with either dog breed!
Poodles are also very loving, affectionate and active dogs, although they are more reserved with people they don't know.
Labrador Retriever vs Labradoodle As a Family Pet
It's difficult to go wrong selecting either the Labrador or the Labradoodle for a family companion.
They get on well with children, and treat all members of the family with the same unswerving affection.
Bear in mind thought that medium and standard Labradoodles are much heavier than small children, and could easily knock them over by accident.
And all sizes need lots of your time and attention for exercise and training.
Labrador Doodle Dog Exercise Needs
You can count on needing to give your Labrador Retriever or Labradoodle lots of exercise and activity.
Both dogs come from a long lineage of working breeds, and they need to be active to stay healthy in body and behavior.
Labrador vs Labradoodle Intelligence
According to one research study, both the Labrador and the Poodle are in the top 10 smartest dogs!
The Poodle is ranked number two and the Lab is holding fast at number 7.
Labradoodle Labrador Training
Both the Labrador and the Labradoodle score high in people-pleasing traits, which means they tend to be naturals at canine training and athletics.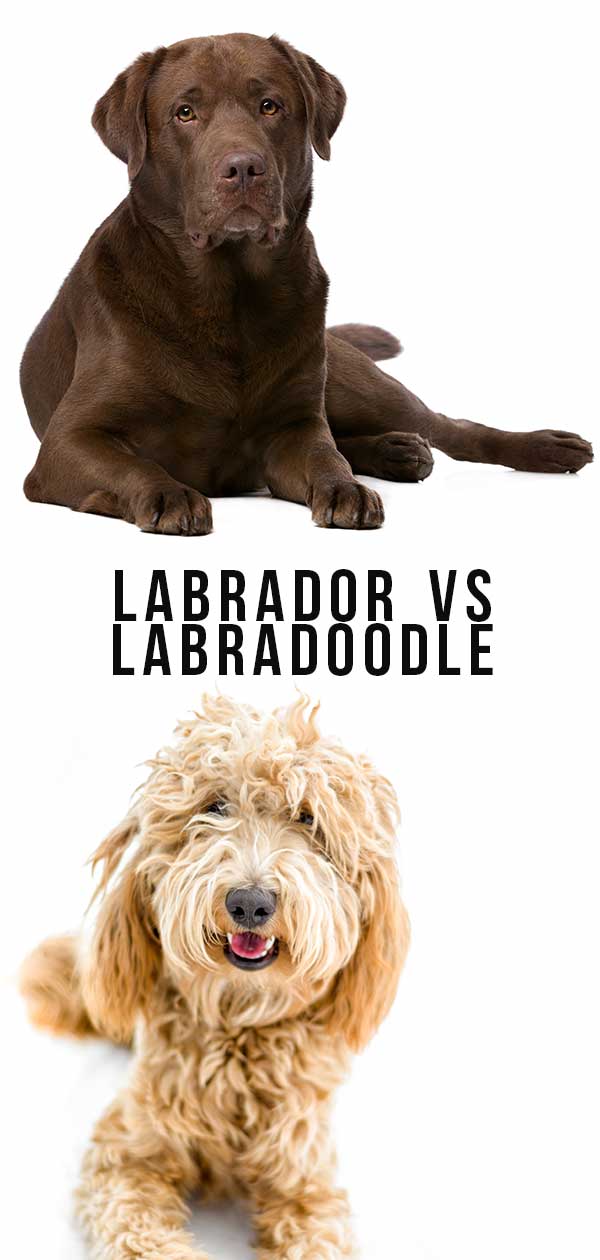 Since both of these boisterous bundles of canine goodwill can also be quite big, teaching them good manners early on, and socializing them to greet new environments calmly and confidently is vital.
Labrador vs Labradoodle Life Expectancy
The Labrador generally has a lifespan of 10 to 12 years.
The Labradoodle lifespan is less well established.
Here, it can help to look at the life expectancy of the Labrador and the Poodle.
The Poodle lifespan ranges from 10 to 18 years and lengthens with the smaller the Poodle size.
So a Labradoodle should live at least 10 years, but how much longer is impossible to predict.
Health Problems: Labrador and Labradoodle
Most purebred dog breeds have certain genetic (heritable) health concerns that can potentially be passed from parent dog to puppy.
Reputable breeders will health test parent dogs to avoid perpetuating these health conditions in their breed lineage.
However, not all health issues can be tested for in advance.
Canine cancer is a particular concern for both Labrador and Labradoodle dogs, although veterinarian medicine is working hard to develop effective treatments for all dog breeds.
Health Testing: Labrador and Labradoodle
The Canine Health Information Center (CHIC) currently recommends that breeders test Labrador dogs for
elbow and hip dysplasia
D-Locus (dilute) gene
exercise-induced collapse
eye issues
Optional recommended tests include cardiac and centronuclear myopathy.
CHIC does not post health testing recommendations for hybrid dog breeds.
However, by studying recommended tests for each purebred parent dog (Labrador, Poodle) you can learn what questions to ask any breeder.
CHIC-recommended tests for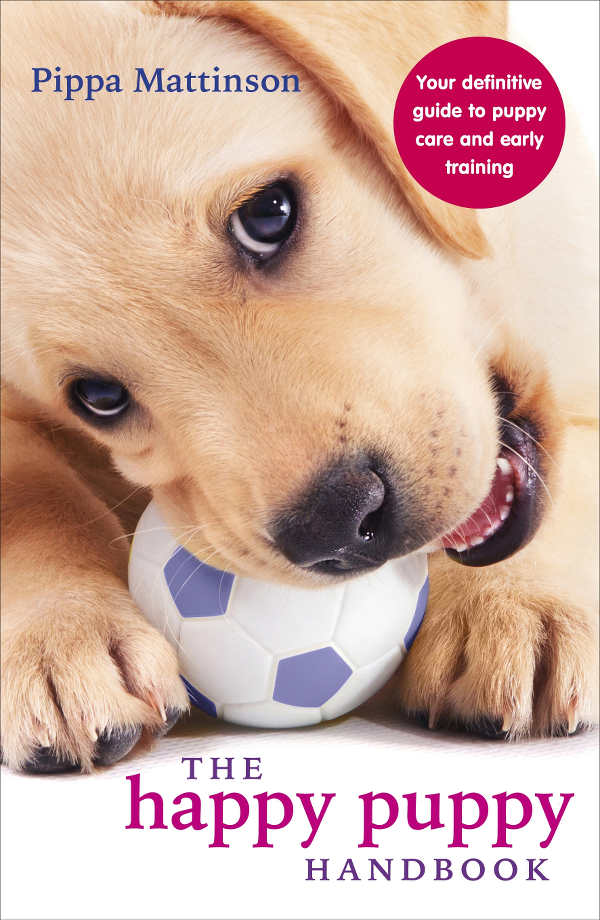 Labrador Doodle Dog Puppy Price
The price for a purebred Labrador puppy is $800 to $1,200+.
The Labradoodle puppy price is $1,500 to $3,000+, depending on their sex, the quality of their parents, and your region.
Labrador Retriever or Labradoodle – Which Dog Is Right for Me?
We hope this focused article has helped you make the choice between the Labrador Retriever and Labradoodle!
These are both large, friendly dogs.
A lot of people instinctively believe that a Labradoodle inherits the Poodle's non-shedding coat. But this is isn't necessarily the case.
So consider the whole package for each dog before you make a choice.
Which will you choose?
Are you any closer to choosing between a Labrador Retriever or a Labradoodle?
Let us know in the comments box which factors tip it for you!
Related Articles
Resources
Murphy, A.B., et al, "Questions to Ask," Australian Labradoodle Club of America, 2018.
Smith, F.O., DVM, PhD, et al, "About the Breed," Labrador Retriever Club of America, 2018.
Guiden, M., "CSU veterinarians help bring groundbreaking cancer drug to market," Colorado State University Flint Animal Cancer Center, 2017.
Wolfe, L., et al, "Poodle Come in Three Sizes," Poodle Club of America, 2018.
Gestes, T., "3 Sizes of Australian Labradoodles," Archview Labradoodles Kennel, 2018.
Lubin, G., "These Are The 'Smartest' Dog Breeds, According to a Canine Psychologist," Science Alert, 2018.