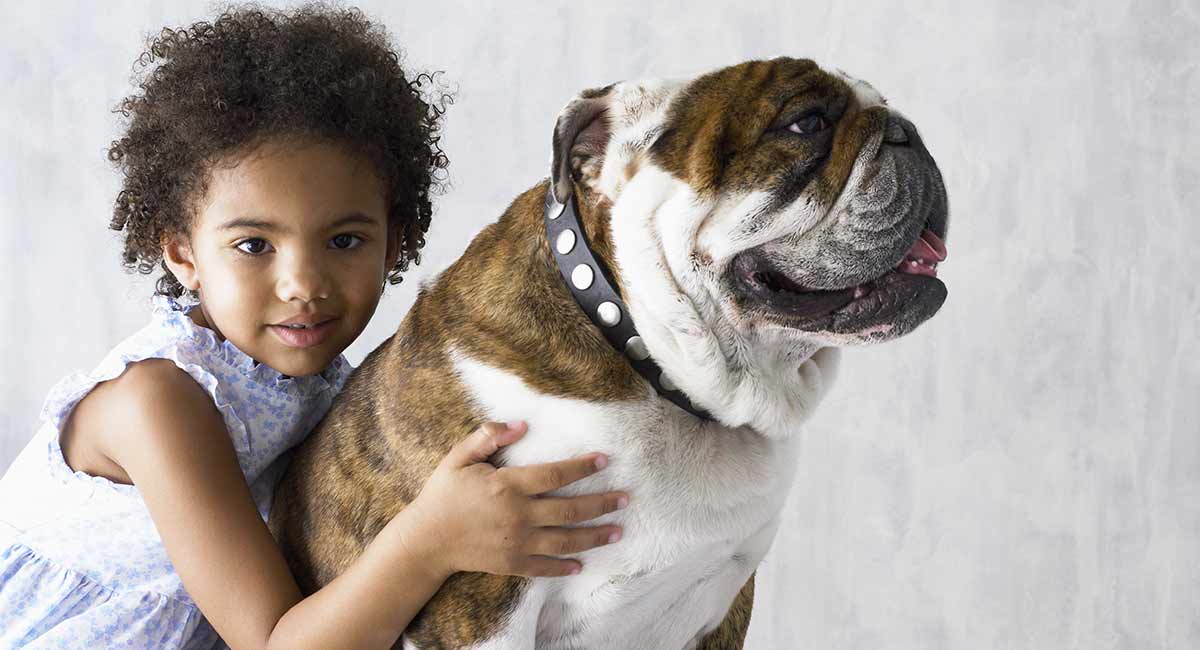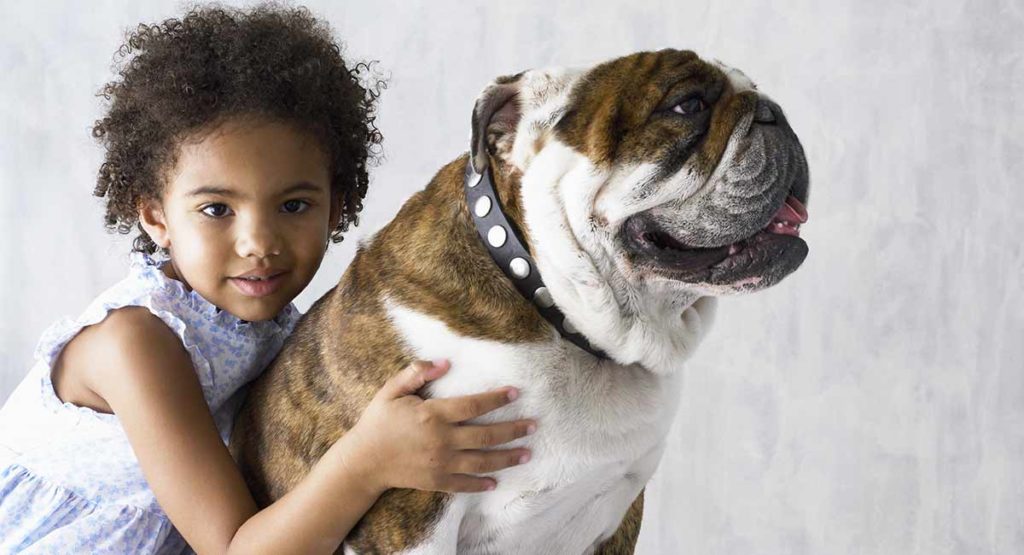 English bulldogs are lovable, dependable dogs who are commonly praised as being great with children. They were originally bred to fight bulls, hence their name. They are generally only seen as companion dogs today.
One of the most common questions about this breed is "How big do English bulldogs get?" The answer to the question is somewhat complicated by the English bulldog's unique proportions.
How Big do English Bulldogs Get?
English Bulldogs are a shorter, stocky breed. As adults they can weigh from 40 to 50 pounds, but grow to only 14 to 15 inches in height. They have short, broad legs, and very wide heads.
Despite their somewhat fierce appearance, English bulldogs are known for their gentle natures. Unfortunately, they are also known for their poor health.
There are a number of ways to go about defining a dog's size. You could look solely at a dog's weight, or you could take height into account as well.
For most dogs, their height and weight usually matches. In other words, short dogs usually weigh very little and tall dogs weigh more. The English bulldog, however, is a special case.
English bulldogs are built very close to the ground. This was useful in their bull-fighting days, when being close to the ground meant they could dodge the bull's horns.
But the English bulldog is also pretty heavy. This makes categorizing their size somewhat difficult.
What do English Bulldog Puppies Weigh at Different Stages?
Of course, a young English bulldog's weight is different depending on how old the puppy is.
According to English bulldog weight charts, at one month, English bulldog puppies weigh about 5 pounds.
Around 4 months, the puppy will have a growth spurt that will skyrocket him to 30 pounds.
This weight will then slowly increase until he is a year old, when he will be at his adult weight.
How Tall are English Bulldog Puppies?
Just like with their weight, the height of an English bulldog puppy will depend on their exact age.
So far, there has been very limited information gathered on the optimum growth for dogs, especially when it comes to height.
Some vets are seeking to change this. So a height chart for English bulldogs might become a reality in the future.
In the meantime, it is important to remember that adult English bulldogs are pretty short. Therefore, puppy English bulldogs will be shorter as well.
How Big do English Bulldogs Get as Adult Dogs?
Full grown English bulldogs differ in weight depending on their gender.
The English bulldog average weight is around 40 pounds for females, while males weigh around 50 pounds. Of course, large English bulldogs will weigh more.
Remember though, English bulldogs are very short. A full sized English bulldog usually only reaches 14 to 15 inches in height. This proportion can make them look very short and bulky. Tall English bulldogs really don't exist!
Their short stature often makes them appear lighter than they actually are. You cannot really pick up an English bulldog the way you can pick up dogs of a similar height. They are also usually too heavy to sit in a lap comfortably.
Their weight can be an important factor to take into account when it comes to adopting an English bulldog.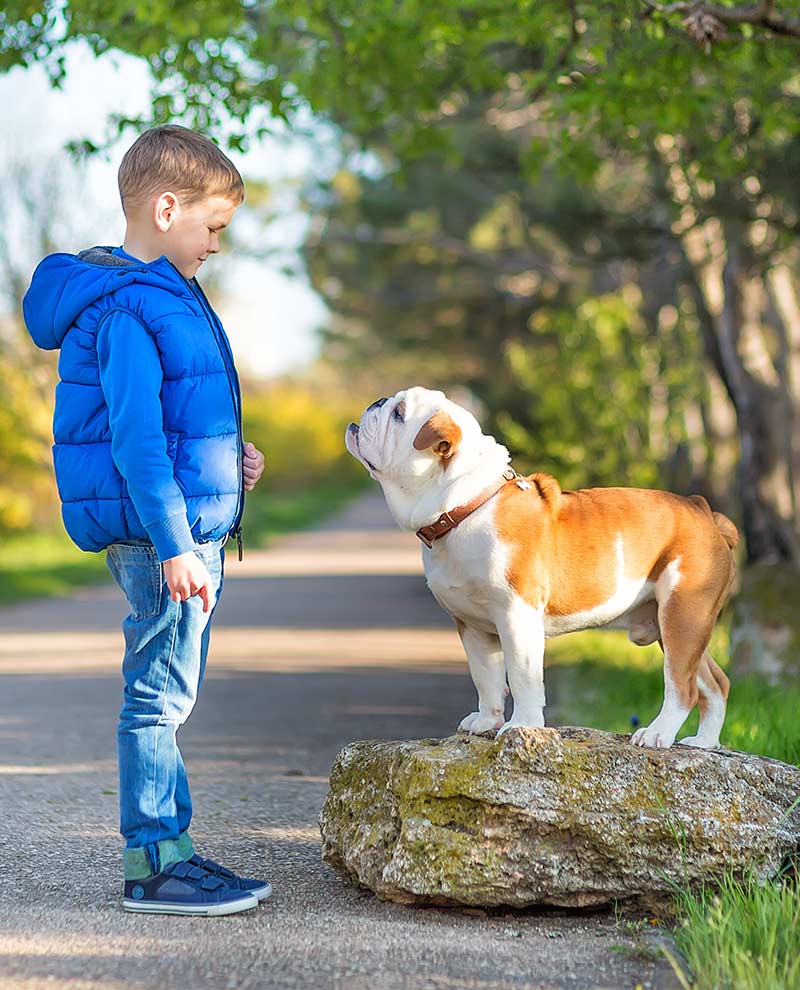 How Broad are English Bulldogs' heads?
English bulldogs have very broad heads!
According to the American Kennel Club, an English bulldog's head should measure "at least the height of the dog at the shoulders."
In other words, an English bulldog's head will be just as wide as the bulldog is tall at the shoulder.
The breed standard also states that "the skull should be very large."
That is a very large head compared to other dog breeds!
How Long are English Bulldogs' legs?
It is not secret that English Bulldogs are short. This is largely due to their short legs.
An English bulldog's legs are very short and stout, but are also very muscular. They are very powerful dogs despite their shortness.
Often times, an English bulldog's legs will have a bowed appearance. This is normal and due to the layout of the leg muscles. The bones themselves should not be curved.
It is also normal for an English bulldog's back legs to be longer than their front legs. Their loins will commonly be higher than their shoulders, giving them an even stouter appearance.
Is my English Bulldog a Healthy Weight?
The weights and heights given here are rough estimates.
Every dog is an individual and will probably not fit these guidelines precisely. If they did, there would be breeders lined up around the block to adopt them!
If you are worried about your pet's weight, it is important to ask your vet. They can do some simple measurements and will be able to give you a sure answer.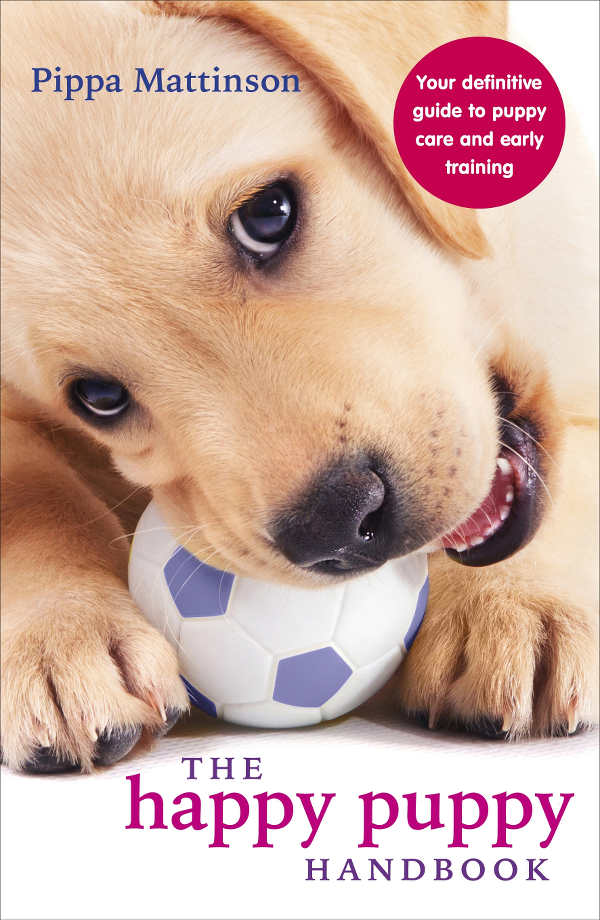 If you have a fat English bulldog on your hands, they will also be able to help them reach a healthier weight!
English Bulldog Size
English bulldogs really are short and stout compared to other dogs.
Interested in learning more about these unique dogs? You can read more at our complete guide!
Learn More About English Bulldogs
References and Further Reading
"The Bulldog: An Illustrated Guide to the Standard." The Bulldog Club of Northern California Inc.
Salt, Carina. "Growth standard charts for monitoring bodyweight in dogs of different sizes." PLOS. 2017.
"Bulldog." American Kennel Club.
"Official Standard of the Bulldog." American Kennel Club.
"Bulldog Standard." Bulldog Club of America.