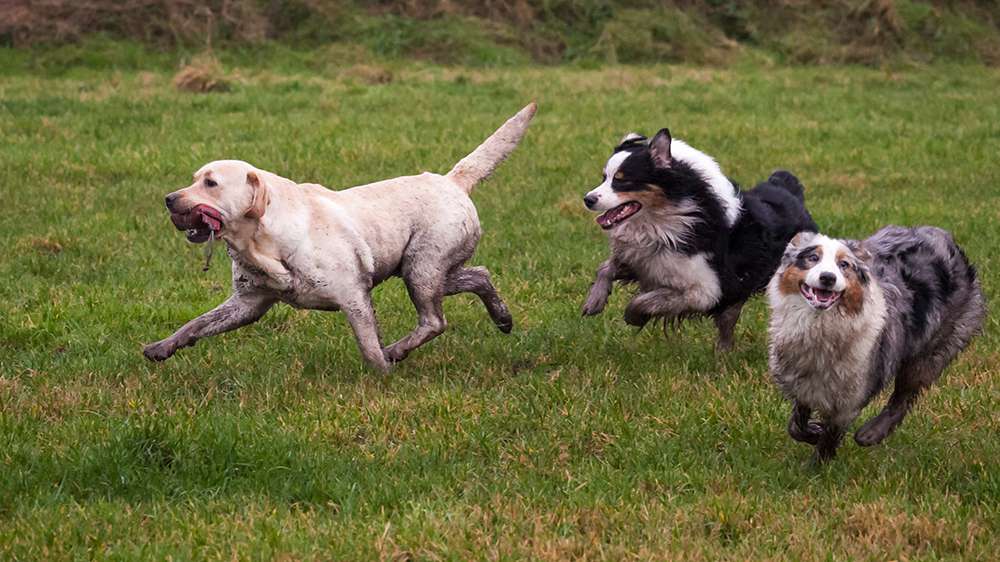 A lot of the questions people send me start with this sentence:
"My dog is really good except when there are people around"
Or "My puppy is very obedient until other dogs come along"
Or – a common one in many breeds – "My dog is very attentive until there is the scent of rabbits, or a glimpse of a squirrel, and then I can't get him to listen at all"
Distractions, distractions!
Here's the good news. All these annoying factors that conspire to prevent your puppy obeying you are 'distractions'. And they can all be tackled in the same way.
The bad news is, that it is going to take some time and effort to fix.
This may be obvious to some, but many people tend to forget, or were never aware, that each kind of distraction we add to a situation in which we expect our dogs to respond, has to be deliberately trained for.
Different dogs are distracted by different things
"But my friend's dog doesn't do that" you cry. And I feel your pain.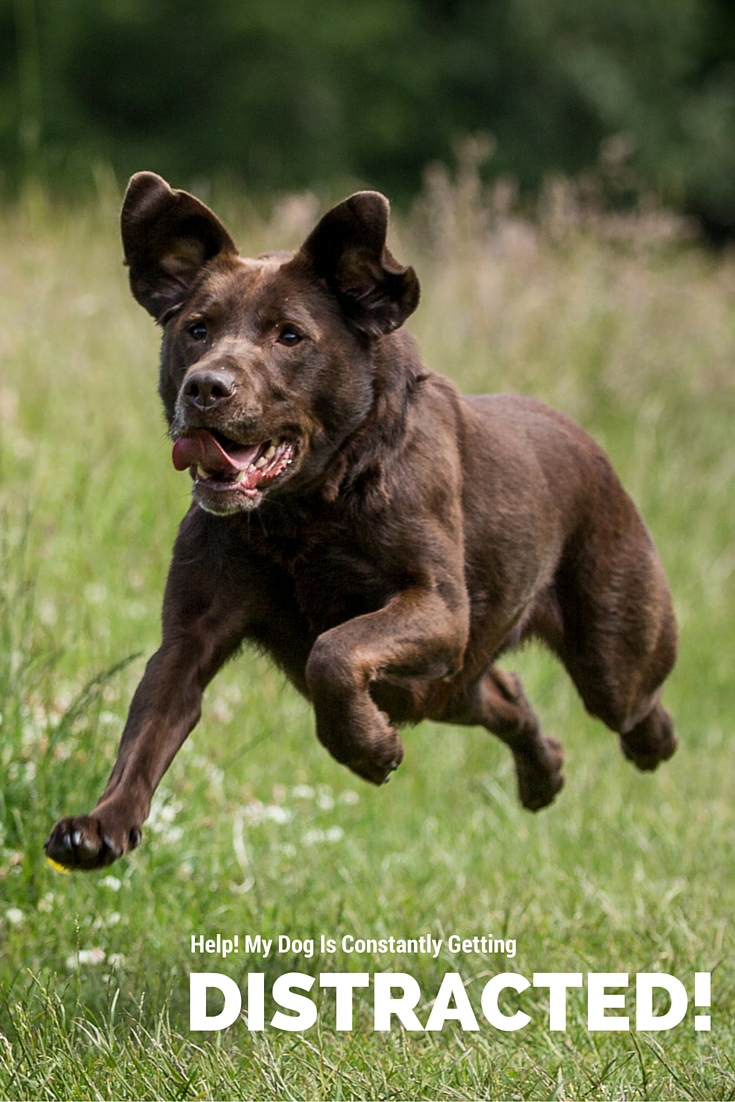 It is incredibly annoying if your friend's dog spins away from children at the merest gesture from his owner.
While your dog makes a bee-line for every toddler within half a mile, then proceeds to slobber and jump all over them.
But this does not necessarily mean that your friend's dog is better trained than yours.
Because different dogs like different things.
And her dog may find kids about as interesting as the weather forecast.
What is distracting to one dog is simply not at all distracting to another.
A distraction is anything that diminishes your dog's ability to respond to a known cue or command. This could be something he fears or something he adores.
It could be something he hears, or smells or sees. It could be something he simply anticipates due to association with a place or activity.
Ignoring distractions is a learned skill
Many of us know in theory that we have to specifically train a puppy to sit in different places long after he has mastered the sit in our kitchen.
But it is easy to forget that the same applies to all kind of other skills and to all kinds of different types of distraction.
My dog is distracted by people
Here's the bottom line. If your dog loves people, teaching him to recall in your garden where there are no people will have absolutely no impact on your chances of getting him to come back when there are friendly strangers on the horizon.
Your early training is a foundation, yes, and you can't skip the 'at home' bit.
But it is just the very beginning. And here is the annoying part: you are going to need help.
How to get help for your distracted dog
If you want your dog to recall away from people for example, you have to practice with people. You need to 'set up' recalls – easy ones to begin with with massive rewards – in situations where you can totally control the outcome.
This means using people that you have 'briefed' in advance, and having your dog on a long line so he cannot entertain himself by leaping all over them.
It may seem obvious, but I have to say, dog owners can get quite shirty when I point this out.
"But I don't have a friend to help me train" they protest
"I haven't got time to go to all that trouble"
The answer I'm afraid is that in that case, that person is not likely to succeed. You must get help, and if you don't have a friend or friends to train with, you'll need to join a good dog training class
Practice, practice
It may not be convenient, but it's a fact. You are going to need to spend time recalling your dog away from all kinds of nice people before you will be able to rely on his recall in this kind of situation in the future.
The same applies to getting a dog to sit while your neighbour tickles his ears, or the girl in the park gives him a lick of her ice-cream.
Taking control of your dog's world
Your job is made more difficult by the fact that many people love dogs and will unwittingly undermine your training by petting and fussing your dog while he happily ignores you.
So you'll need to be firm about anticipating trouble and controlling the outcome of your dog's behavior.
You need to make sure only the behaviors you want to increase, are followed by activities he enjoys. And this can be quite a challenge if you don't prepare in advance.
My dog is distracted by other dogs
Maybe your dog is fine around people, maybe he can take them or leave them. But maybe his favorite game is playing with other dogs.
The answer is the same. Other dogs are a great big super-massive distraction for 'some' dogs.
And if that includes yours, and you want to be able to walk past other dogs without having your arms pulled from their sockets, you are going to have to work hard on this with planned and well thought out training exercises.
My dog is distracted by scent
Ground scent is the same. For some dogs, scent is utterly and blissfully absorbing. Training this dog is a breeze at home on your boring lawn, or walking around the town.
But put him in a field where rabbits were feeding a few hours earlier, and you can kiss goodbye to all your lovely obedience skills.
Water is another powerful distraction for many dogs. Just because your dog will recall on land, does not automatically mean he will recall when he is enjoying a swim.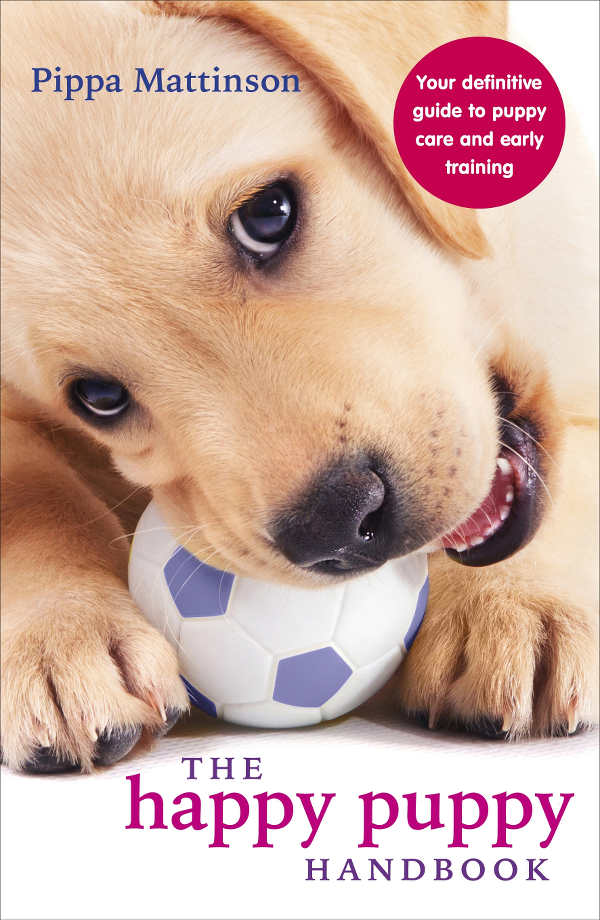 My dog is distracted by everything!
And then there are those dogs, that are distracted by simply everything. You know the dogs I mean. You may even have one!
The dog that wants to play with every other dog, steals balls and other toys from little children and wraps himself around the leg of a total stranger so that you have to 'peel' him off while apologizing profusely
Some dogs are definitely more distractible than others, but you know, these are often really nice dogs. Friendly, playful, enthusiastic dogs, who just need a little bit more training to become the dog of your dreams.
My dog knows what I want but doesn't listen!
The truth is your dog is not being disobedient if he fails to respond in the presence of a distraction. He doesn't know what you want under these conditions.
Dogs have to be trained to listen and respond in the presence of distractions. And as we have see what counts as a distraction depends greatly on the individual dog.
So take heart. Your dog isn't bad, he isn't stupid. He is just not yet trained. That's all. Now is a great time to start
Let's get this fixed!
Learning to respond around distractions takes some time and thought, but it isn't as hard as you might think. Here's an article to get you started:
Every dog has something that he finds really distracting – what is your dog's favorite distraction? And how do you train him to cope? Share in the comments box below.