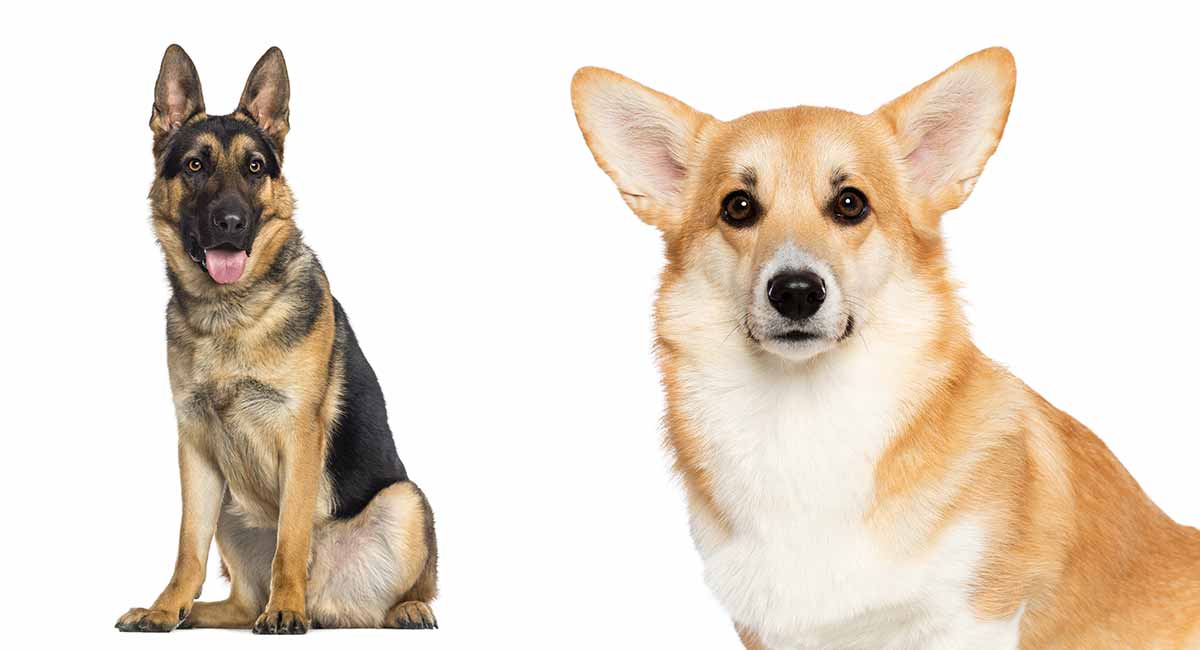 The German Shepherd Corgi mix puppy is a cross between the loyal, intelligent, German Shepherd Dog and the energetic short-legged dog Corgi. The origins of both these breeds lie in farming and working with livestock. Also known as the Corman Shepherd or German Corgi, this medium sized hybrid companion dog can reach over 40 pounds in weight and 15 inches in height. The Corgi Shepherd has erect ears, expressive eyes, and plenty of attitude. And needs regular exercise and training!
Wary of strangers but playful and affectionate with their family, the Corman Shepherd, if properly socialized, is suitable for homes with children. It makes an alert and busy pet for those with an active lifestyle. Today we'll look at some of the traits you can expect to find in this breed. And we'll share tips on how to adopt, buy, raise and care for a German Shepherd Corgi mix puppy.
German Shepherd Corgi mixes range in size because their parents are very different in looks. However, German Shepherd dogs and Corgis are both working breeds. The Corgi is a cattle drover, with a strong watchdog streak, and the GSD is a herding and guarding dog. So you can be confident that some of these breed traits will be passed on to your Corman Shepherd dog.
What is a German Shepherd Corgi Mix Puppy?
The Corgi German Shepherd mix is a cross between a purebred German Shepherd and a purebred Corgi. Most commonly, the Corgi in the mix is a Pembroke Welsh Corgi, though it could also possibly be a Cardigan Welsh Corgi. A German Shepherd Corgi hybrid always inherits the short stubby legs of the Corgi as this is a dominant trait. Markings, however, may resemble either parent breed to differing degrees.
Both parent breeds were used for herding, so the intelligence and protective instincts persist in German Shepherd Corgi mix puppies. We'll take an in-depth look at both parent breeds, as well as the breed mix, so you can decide if a "Corman shepherd" will be your new best friend!
Popularity: The mix between German Shepherd and Corgi is in the top 4 most common mixes for both breeds
Purpose: Both parent species were originally used for herding, now more for companionship. The German Shepherd is commonly used as a police or guard dog.
Weight: varies widely from 25 to 65 lbs.
Temperament: Intelligent, loyal, enthusiastic about working
German Shepherd Corgi Mix History
Two get to know the history of the German Shepherd Corgi mix, you need to find out about their parents. There are two individual breeds of Corgi. The Pembroke Welsh Corgi is most commonly seen in the German Shepherd mix. As the name implies, the Pembroke Welsh Corgi breed originated in Wales. It is descended from short-legged herding dogs brought to Wales by Flemish weavers in the 1100s.
The German shepherd dog (also called the GSD) is a popular and beloved dog breed. This handsome, noble and loyal dog got its start when a breeder named Captain Max von Stephanitz developed the GSD from a mixture of several German herding dogs in the late 1800s. Both breeds are now most commonly seen as companion animals. The German Shepherd is also common as a police and guard dog.
While there have been chance matings between GSDs and corgis over the years, the planned breeding of the two to create a designer crossbreed is a relatively recent development. Designer mixed breeds like the German Shepherd Corgi mix have become popular in the past couple of decades.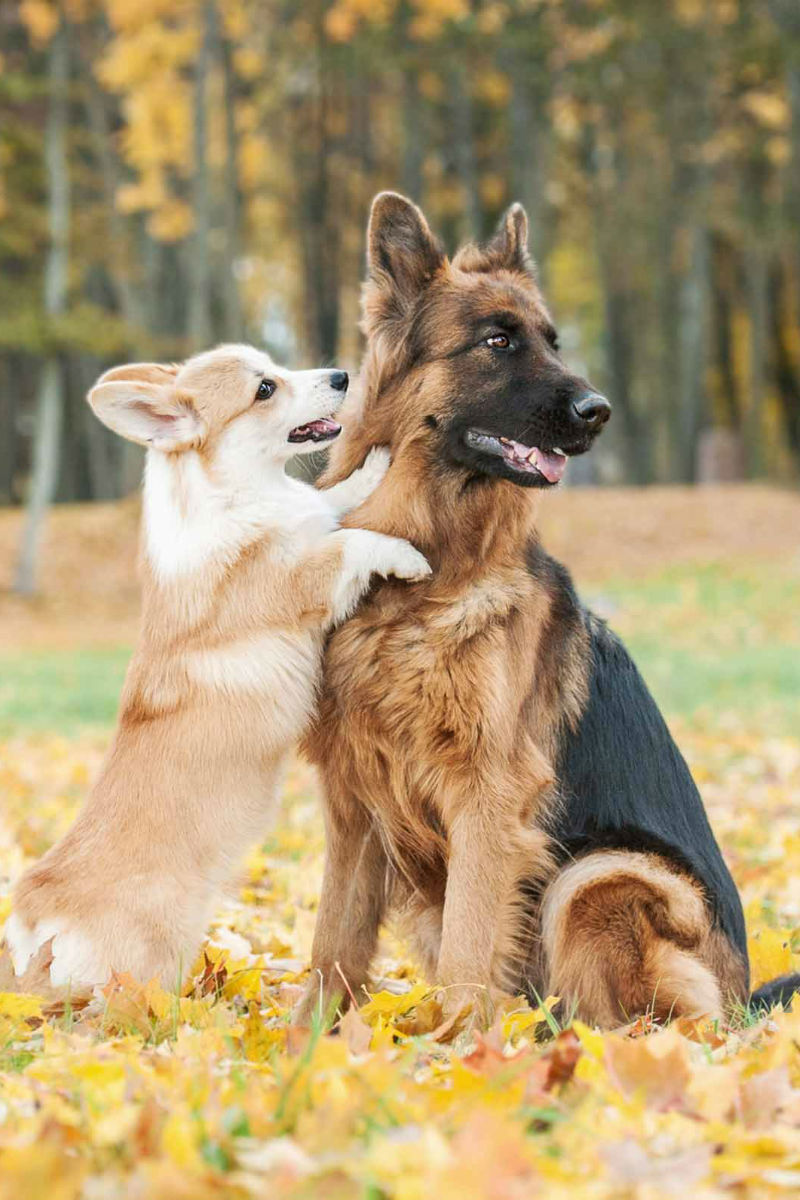 German Shepherd Corgi Mix Appearance
What does the German shepherd corgi mix look like? As with any mixed breed, it's important to remember that your dog can inherit the characteristics of either parent breed, in any combination.
The German shepherd is a large, athletic dog with an alert, strong and confident bearing. The breed standard allows any coat color except white, although most people associate the GSD with those distinctive black and tan markings. GSDs have a dense double coat that requires regular brushing, especially during shedding season.
The Pembroke Welsh Corgi is much smaller than the German Shepherd. There is little size variation between males and females. Both should appear strong and sturdy, with an alert and intelligent expression.
The coat comes in shades of red, sable, fawn, black and tan with or without white markings on the face, chest and legs. The corgi has a thick double coat that is prone to shedding year-round, and especially in the warm months.
While we can't always predict how a German Shepherd Corgi mix puppy will be marked and colored we do know that it will inherit a thick double coat. So regular grooming is a must. Daily grooming may be needed to keep the shedding under control.
German Shepherd Corgi Mix Size
Male German Shepherds weigh between 65 and 90 pounds. Females weigh between 50 and 70 pounds. Males stand 24-26 inches at the shoulder, and females 22-24 inches. Male Corgis can weigh 27-30 pounds and females 25-28 pounds. Both sexes stand between 10-12 inches tall at the shoulder. Generally, German Shepherd Corgi mix adults are relatively short at less than 15 inches in height at the shoulder. The weight range is broad, usually between 25 and 65 pounds.
German Shepherd Corgi Mix Coats
Like both parent breeds, expect your Corman to have a dense double coat that sheds a fair amount and requires regular brushing. Colors and markings can be inherited from either parent, and are usually a combination of brown, black and white. The shape of the head, ears and face can favor either the shepherd or the corgi. The overall expression should be alert and intelligent.
Fun Facts about Corgi German Shepherd mix
The cute and popular corgi is well-known as Queen Elizabeth's favorite breed
The German Shepherd has been popular for appearances in movies, including as Rin Tin Tin, Strongheart, Buddy (the first seeing eye dog), and Chips (a military hero)
German Shepherd Corgi Mix Temperament
That alert and intelligent look is a good indicator of what to expect from the personality of your German Shepherd Corgi mix. The German Shepherd is famously loyal, intelligent, brave and watchful. The Pembroke Welsh Corgi has a charming personality—friendly, outgoing and playful. Expect your German Shepherd Corgi mix to be intelligent, lively and devoted. Your dog may have personality traits that favor one parent breed over the other.
As both parent breeds have roots as herding dogs, there can be strong guard instincts. This also means they tend to bark. In addition, the guard tendencies of the German Shepherd may lead to aggressive tendencies in the mix, which need to be addressed quickly in training.
As intelligent dogs, they need a lot of mental stimulation. When bored, they can quickly become destructive of items. For this reason, this is not an ideal breed for a household where no one is home for long stretches of time. The best way to ensure that your German Shepherd Corgi mix puppy grows into the kind of adult dog you want is through proper training and socialization.
Training and Exercising a Corgi German Shepherd mix
Herding breeds like the GSD and the Corgi are smart and very trainable. Start training and socializing your dog from puppyhood. Consider enrolling in obedience classes if you are a novice dog owner. Early socialization is also extremely important in all breeds. It is especially so with this mix as unsocialized German Shepherds or German Shepherd mixes may become aggressive with strangers.
The Corman shepherd is an active and energetic dog, so daily exercise and play sessions are a must. Experts recommend at least two long walks per day and plenty of opportunities for stimulating activities like games of fetch and trips to the dog park. It is important to keep in mind the climate where you live and time of day for exercise as, being the combination of two double-coated breeds, the Corgi German Shepherd mix can be prone to overheating in hot temperatures.
German Shepherd Corgi Mix Health and Care
Some purebred dogs suffer from genetic health conditions caused by reduced genetic diversity. Fans of designer mixed breeds say that these dogs are healthier than purebred dogs. Is this true?
The overall health of a mixed breed dog depends on the health of its parents. Introducing greater genetic variety through the mixing of breeds can lead to lower susceptability to certain illnesses. Hybrid vigor is a term used to describe this robust health that comes from outbreeding to different genetic lines.
Structural health issues in the German Shepherd Corgi mix
Looking at both parent breeds, there are a few physical defects which commonly occur. The Pembroke Welsh Corgi is a true dwarf breed. Dwarfism in dogs can lead to certain health issues, especially in the limbs and spine. Intervertebral disc disease is a painful spinal problem common in short-legged dogs such as the corgi and dachshund.
The corgi also shares some of the same health problems as the German shepherd, including hip and elbow dysplasia and degenerative myelopathy. As a large breed dog, the German Shepherd can be prone to hip and elbow dysplasia. These conditions can affect the dog's mobility and cause pain.
The main structural issue that might cause problems for your German Shepherd Corgi mix is their disproportionately short legs. A long back relative to leg length is strongly associated with back problems in dogs. These can be very painful and difficult to treat.
Other major health issues in the breeds
As we've mentioned, purebred dogs can be prone to certain genetic health conditions, and the Corgi and German Shepherd are no exceptions. As far as serious health conditions, the GSD is prone to:
pituitary dwarfism (stunted growth)
degenerative myelopathy (a neurodegenerative disease that can lead to paralysis)
congenital megaesophagus (dilation of the esophagus leading to regurgitation and malnutrition), and
pancreatic acinar atrophy (an autoimmune disease affecting digestion).
The corgi can also suffer from von Willebrand disease, which is an inherited bleeding disorder caused by a lack of the blood clotting protein called von Willebrand Factor. It increases the tendency to bleeding. Corgis are also prone to certain eye diseases, including cataracts, persistent pupillary membrane (remnants of a fetal membrane over the eye) and progressive retinal atrophy (a degenerative disease of the retina).
Your Corgi x German Shepherd can inherit these (and other) health problems from one or both parent breeds. Common minor issues in the mix may include osteoarthritis and bloat.
Corgi German Shepherd Mix Health Testing
A responsible breeder will test both parent breeds for genetic health conditions and certify that they are free of physical defects. This is one of the reasons why it's important to find a reputable breeder for your German Shepherd Corgi mix. Conditions for which genetic tests are available and relevent to this breed mix include:
degenerative myelopathy
von Willebrand Disease
Conditions that should be screened through exam in both parents include:
Hip and elbow dysplasia – x-rays
Eye problems – veterinary eye exam
The median lifespan of the Pembroke Welsh Corgi is 12.2 years. The median lifespan of the German Shepherd is 11 years. In general, the smaller size of the mixed breed with skew the life expectancy to be longer than would be expected for the German Shepherd. As there can be a large degree of variability in the mixed breeds, the range of expected life expectancies is larger, but you should expect the lifespan of a German Shepherd Corgi mix to fall between that of the German Shepherd and the Corgi.
Special Care Needs
Due to dwarfism, it is very common for this mix breed to develop joint soreness in legs and spine with age. You can help reduce and delay this by taking actions to reduce strain on joints from puppyhood. Some ideas would be installing ramps for the puppy to get up stairs or onto (but more importantly off) furniture. Also, keeping on top of exercise and preventing your pup from becoming overweight will reduce the load on joints over time.
You may also want to consider feeding a food or adding a supplement that includes glucosamine and fish oil to maintain cartilige health. If at any time your dog starts acting as if in pain, contact your vet for guidance.
German Shepherd Corgi Mix Grooming and Feeding
The double coat of this mixed breed will require regular attention. Brushing at least a few times a week will help to keep mats at bay and remove the loose hairs as they are shed.
As a mix of high energy breeds, food with adequate nutrition is important. Consider a food that includes Glucosamine for maintaining joint health. You will also want to pay close attention to portions to prevent this dog from gaining too much weight, as that will be hard on the spine and legs.
Do Corgi German Shepherd mixes make good family pets
Well socialized and well trained dogs could make excellent family pets. German Shepherd Corgi mixes that have missed out on early socialization, are poorly trained, or have had aggressive (guarding) tendencies encouraged could actually be quite dangerous for children. They could also be aggressive toward other dogs, creating a dangerous situation for children trying to control them.
So, if you want to consider this as a family breed, good care to socialization and training is absolutely essential to bring out the loyal, sweet side of this mix. When well-adjusted, the lively and intelligent personality of this mixed breed makes it a good choice for families with children as well as active adults.
Being smaller than the purebred German Shepherd, they may be more ideal if you have young children. Provide your dog with good training and socialization from puppyhood. Keep your pup active and stimulated with regular play and exercise sessions and you may find a fantastic family companion.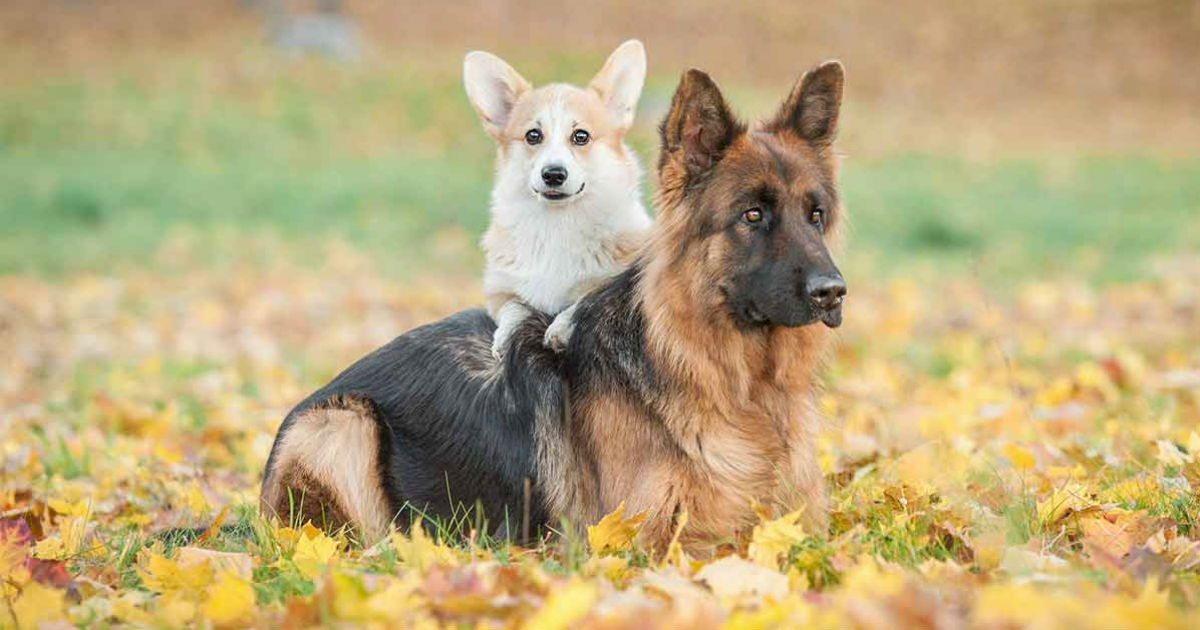 You've fallen in love with the cute looks of the Corman shepherd, but is this pup the perfect dog for your family?
Pros And Cons of Getting A Corgi German Shepherd mix
Cons of Getting a Corgi German Shepherd mix:
The double coat will require a good amount of regular grooming and house cleaning.
Their strong protective instincts can lead to a lot of barking.
If not carefully trained and socialized from a young age, they may become aggressive with other dogs.
Pros of Getting a Corgi German Shepherd mix:
With consistent focus, you can enjoy their high intelligence and trainability.
If you are highly active, their playfulness and high energy will keep up.
Rescuing a Corgi German Shepherd mix
Can you find a Corman shepherd dog at an animal shelter or rescue organization? It is possible to adopt a German shepherd corgi mix, especially if you are interested in an adult dog. Contact breed specific rescue groups for both the German shepherd and the Pembroke Welsh corgi, and let them know that you are interested in a mixed breed dog.
You can also find German Shepherd Corgi mix dogs at animal shelters by doing a breed targeted search on pet adoption search websites like Petfinder. Remember that in some cases dogs surrendered to shelters may have behavioral problems. Ask the shelter if they perform temperament tests and if the dog requires any special training or socialization.
Finding a Corgi German Shepherd Mix Puppy
Ready to find a Corgi German Shepherd mix Puppy? These mixes are becoming quite trendy, so it may not be so hard to find one. You should expect to pay $250 to $750 for a German Shepherd Corgi mix puppy. That said, raising a puppy that will be a well-adapted, healthy family member for life does require some care in the search stage.
To start with, just eliminate from consideration any possibility of purchasing from a pet store or an online advertisement. Puppies acquired from these sources can come from large scale breeding operations known as puppy mills. In order to cut costs and sell puppies at a lower price and/or make a larger profit, important issues may be neglected.
This may mean a puppy of uncertain health history, with little early socialization. Such puppies are far more likely to have behavior problems throughout life.
Reputable breeders of the German Shepherd Corgi mix
A local breeder will mean you can visit. Smaller scale breeder will likely have the ability to pay more attention to each dog, ensuring health care and facilities support health, and that puppies receive important socialization from early in life.
A really important sign is whether the breeder will welcome you to visit the breeding facility. You should be able to observe the living conditions and meet your puppy's parents and litter mates.
In addition, it is very important that your breeder test their breeding stock for genetic health conditions and share all test results with clients. This also means that all animals who are bred are free of major genetic health conditions. Be sure to carefully review any contracts and refund/return policies before signing an agreement.
Raising a Corgi German Shepherd mix puppy
Caring for a German Shepherd Corgi mix puppy is a big responsibility. There are some great guides to help you with all aspects of puppy care and training. You'll find them listed on our Corgi German Shepherd mix puppy page.
Corgi German Shepherd mix products and accessories
Comparing the Corgi German Shepherd mix with other breeds
Corgi German Shepherd mix vs. Pembroke Welsh Corgi:
As the Pembroke Welsh Corgi is generally the type of Corgi in the mix breed, they share many similarities. The purebred Corgi will be a smaller dog, without the influence of the German Shephard's stronger guarding tendencies, so may be better with small children and other pets.
Corgi German Shepherd mix vs. German Shepherd:
As the other half of the mix, the purebred German Shepherd will also share similarities with the mix breed. The purebred German Shepherd, however, will be a significantly larger dog and will certainly have one variation of the classic german shepherd coat. Temperament of the mix breed may be influenced by the more playful Corgi.
Corgi German Shepherd mix vs. Australian Shepherd: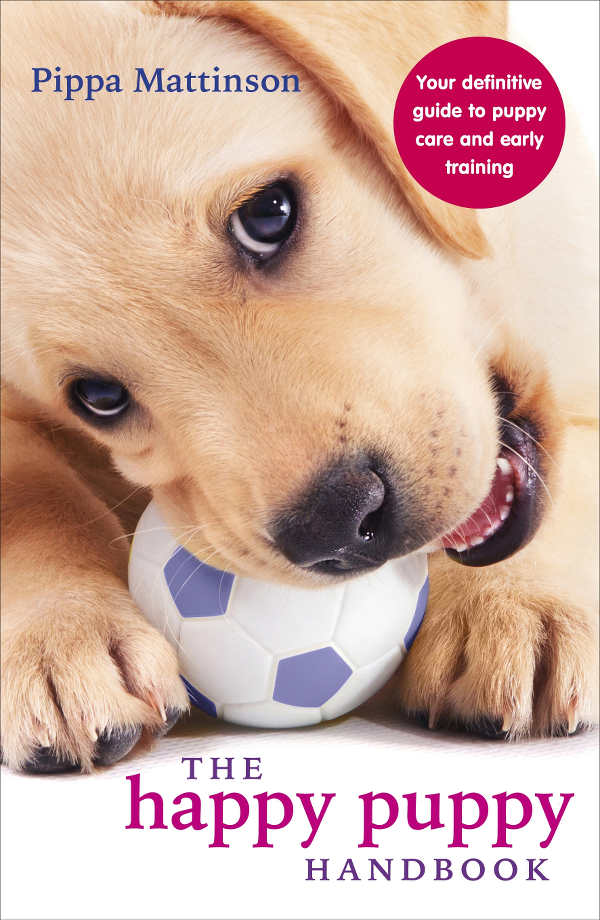 These may be similarly sized dogs, depending on which aspects of the purebred breeds come out more strongly in the mix. Both will share strong herding and protective instincts, and the personality of the Australian Shepherd, which is a bit more laid back than the German Shepherd may also be somewhat similar to the mix breed.
Similar Breeds
Other dog breeds you might want to consider:
Australian Shepherd
This breed is slightly smaller and more laid back than the German Shepherd, so may share some of the characteristics of the Corgi German Shepherd mix. They also tend to have slightly less tendency to genetic health problems than the German Shepherd
German Shepherd
The German Shepherd, as already mentioned would be a good choice if you have the energy and space for a larger highly energetic dog. They also will make good protectors. That said, the best fit is with owners who are confident in demeanor with this intelligent breed.
Pembroke Welsh Corgi
This breed may be a better choice if you have more limited space or very small children. Still loyal, they are also playful and good with children.

Shetland Sheepdog
Another smaller sized herding dog, they are playful, smart and high energy.
German Shepherd Corgi mix Breed Rescues
USA-Based Rescues:
UK-Based Rescues:
Australia-Based Rescues:
Canada-Based Rescues:
Already have a German Shepherd Corgi mix? We'd love to hear about your dog in the comments below.
References And Resources
Gough A, Thomas A, O'Neill D. 2018 Breed Predispositions to Disease In Dogs and Cats. Wiley Blackwell
O'Neill et al. 2013. Longevity and Mortality of Owned Dogs In England. The Veterinary Journal
Adams VJ, et al. 2010. Results of a Survey of UK Purebred Dogs. Journal of Small Animal Practice.
Schalamon et al. 2006. Analysis of Dog Bites In Children Who Are Younger Than 17 Years. Pediatrics
Duffy D et al. Breed differences in canine aggression. Applied Animal Behavior Science 2008
Strain G. Deafness prevalence and pigmentation and gender associations in dog breeds at risk. The Veterinary Journal 2004
Packer et al. 2015. Impact of Facial Conformation On Canine Health. PlosOne
The Myth of Hybrid Vigor in Dogs…Is a Myth," The Institute of Canine Biology
Intervertebral Disc Disease," American College of Veterinary Surgeons
Mellersh, C.S., 2014, "The Genetics of Eye Disorders in the Dog," Canine Genetics and Epidemiology
Pembroke Welsh Corgi," American Kennel Club
Tsai, K.L., Rooksana, E.N., Starr-Moss, A.N., et al., 2011, "Genome-Wide Association Studies for Multiple Diseases of the German Shepherd Dog," Mammalian Genome
Von Willebrand Disease," University of California Davis Veterinary Genetics Laboratory