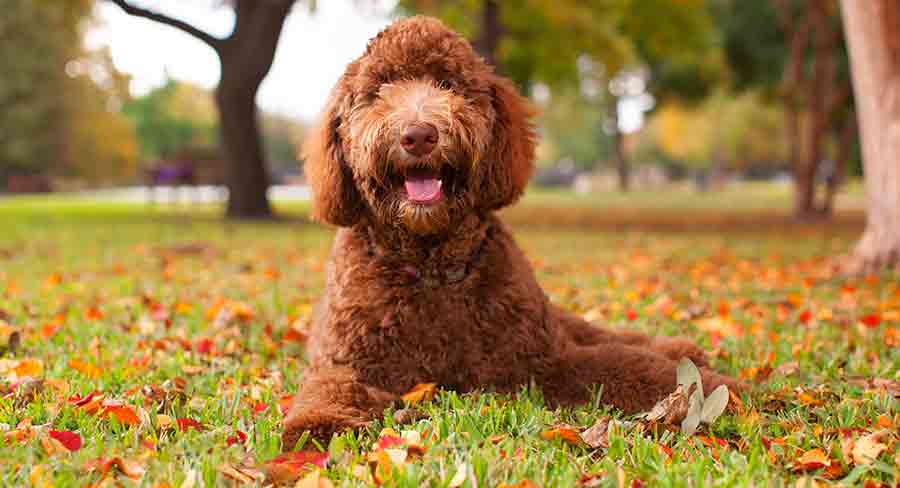 A full grown Labradoodle will usually be a large breed. But exactly what will your Labradoodle puppy look and act like when it's full grown? It's impossible to completely predict what any puppy will be like as an adult. But, we can get a good idea by looking at their parents, the breed as a whole, and how you plan to raise them.
Generally, a standard Labradoodle adult will be a large dog, with wavy fur. However, some breeders will offer medium Labradoodles and miniature Labradoodles, which will both be smaller. The best way to predict your adult Labradoodle size is to compare their parents.
Full Grown Labradoodle Size
The Labradoodle is a mixed breed dog. An f1 Labradoodle will have one Labrador Retriever parent and one Standard Poodle parent. Of course, some breeders use Miniature and Toy Poodles to create small Labradoodle dogs. So, the size of a full grown Labradoodle can depend on its Poodle ancestry. One of the best ways to predict an adult Labradoodle dog's size is to look at its parent breeds.
The Labrador Retriever will grow to be between 21.5 and 24.5 inches at the shoulder. On average, this breed will weigh from 55 to 80 lbs. Males are usually at the larger end of this scale than females.
Poodle size is more varied. So, a Standard Poodle will be anything over 15 inches tall, weighing 40 – 70 lbs. A Miniature Poodle will be 10 – 15 inches tall, weighing 10 – 15 lbs. And a Toy Poodle will be anything under 10 inches tall, weighing from 4 – 6 lbs.
How Big Do Labradoodles Get?
There are three recognized Labradoodle sizes: standard, medium, and mini. Like Poodles, the original Labradoodles were the largest size. But, some Labradoodles have been sized down over the years. A full grown Labradoodle's height and weight depends on this size category. Let's take a look:
| | | |
| --- | --- | --- |
| Size | Height | Weight |
| Standard Labradoodle | 21 – 24 inches | 45 – 65 lbs |
| Medium Labradoodle | 17 – 20+ inches | 25 – 45 lbs |
| Miniature Labradoodle | 14 – 16+ inches | 15 – 25 lbs |
So, the standard Labradoodle size is the largest, the mini Labradoodle size is the smallest, and the medium Labradoodle size falls somewhere in between. But, a full grown mini Labradoodle will still be larger than a toy Poodle, thanks to the Lab parent influence. A full grown Labradoodle's body type can also vary. Some are sturdy and solid like the Labrador, and others are slim and elegant like the Poodle.
Australian Labradoodle Size
The above sizes tend to refer to the full grown Australian Labradoodle, according to the breed standard of the Australian Labradoodle Association of America. The Australian Labradoodle can include more than just Poodle and Labrador genetics. Breeders may also involve the American and English Cocker Spaniel, the Irish Water Retriever, and the Curly Coated Retriever breeds.
Since American Labradoodles tend to only be Labrador Poodle mixes, their sizes will be a little less predictable. They could be anywhere between the sizes of their two parents. So, to predict an American Labradoodle's adult size, take a look at your puppy's parents.
When Do Labradoodles Stop Growing?
Generally, the smaller a dog breed is, the faster it reaches its adult size. So, a full grown miniature Labradoodle can reach its adult height within its first year of life. But, a large Labradoodle can take longer – more like 18 months.
The colour of your Labradoodle won't impact its growth. So, chocolate Labradoodle puppies will grow to be a similar size to full grown black Labradoodle puppies, as long as they're in the same size category.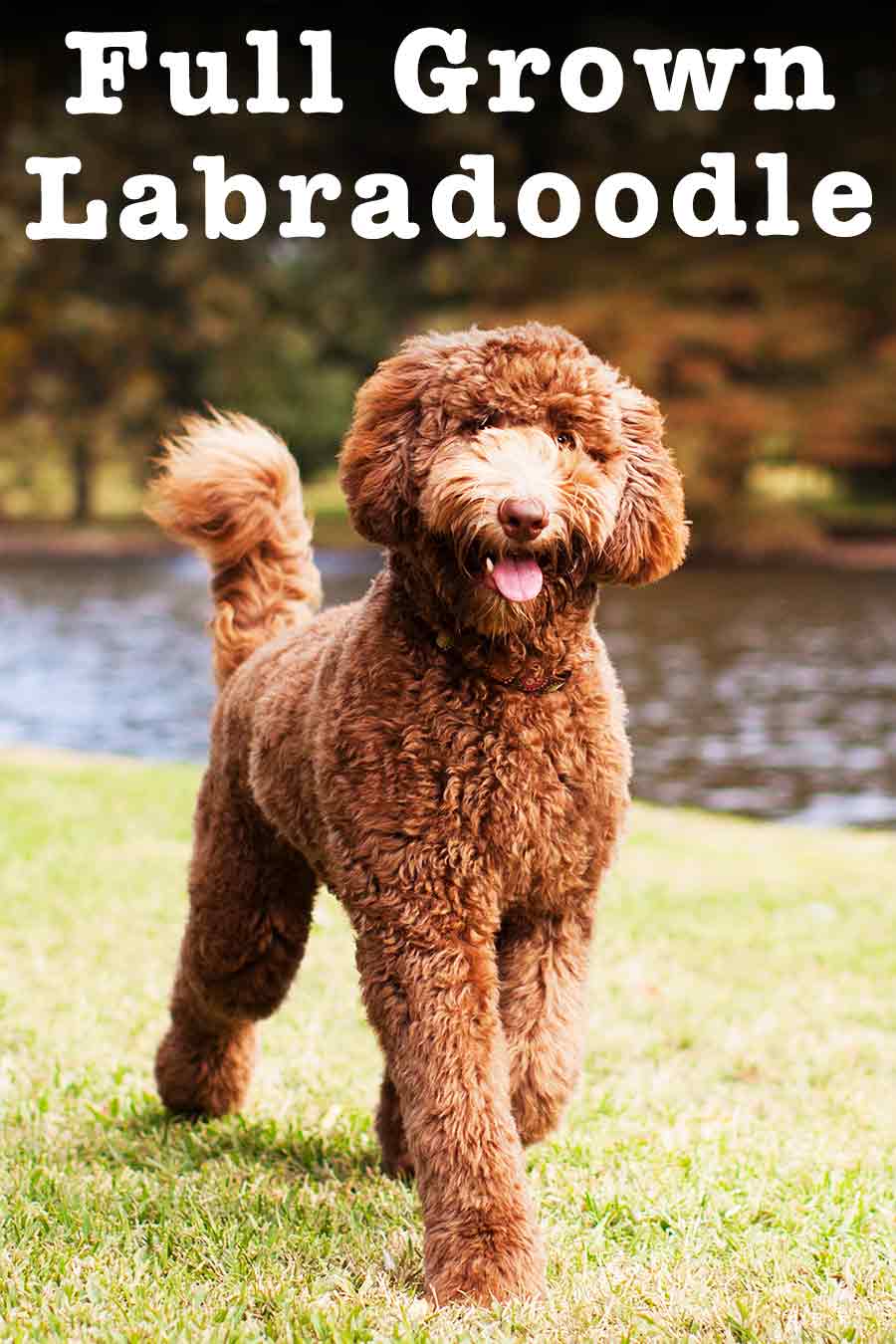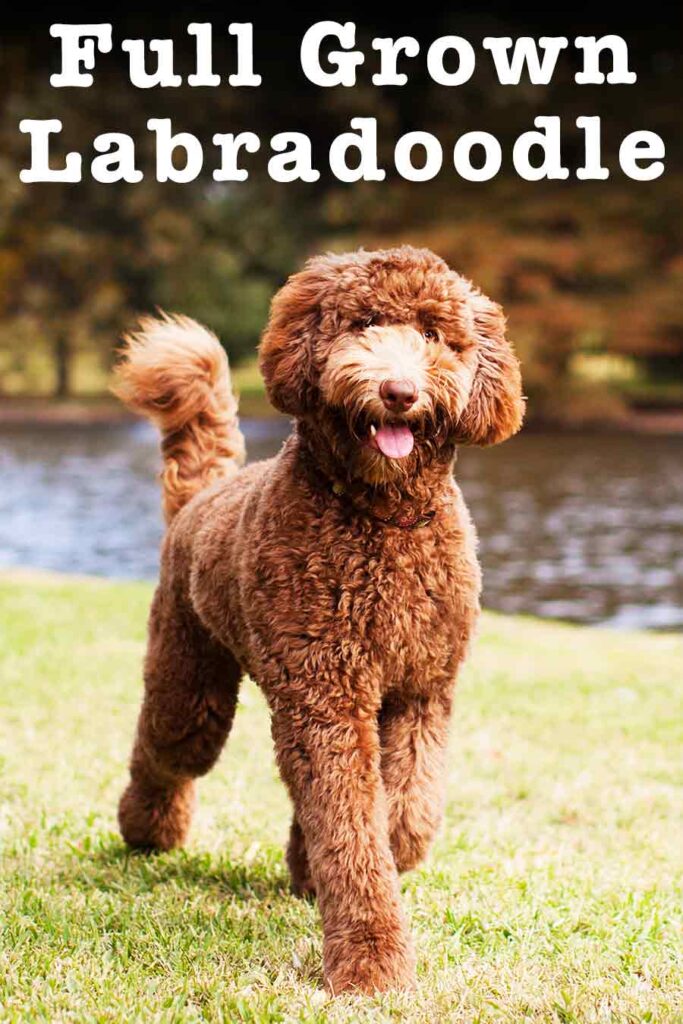 Full Grown Labradoodle Coat
The Labradoodle's soft curly coat is one of the breed's main attractions. But, not all Labradoodle puppies will grow up to have the same coat type. An adult Labradoodle can have one of three coats:
Wool: slightly coarse, very curly, low shedding
Fleece: soft and low shedding, different degrees of curl
Hair: Coarse and dense with moderate shedding
The hair type is the most similar to the Labrador parent. But, the wool type is most similar to the purebred Poodle parent. Choosing an f1b Labradoodle, or a later generation, will increase your chances of finding a puppy with a wool or fleece coat.
What Does a Labradoodle Look Like?
Other than their size and fur type, Labradoodles can come in a huge range of colors. As well as solid colors, Labradoodles can have parti coats, and more unusual markings like phantom and sable.
Some Labradoodle puppies can fade in color as they grow older. This fading is caused by Poodle genes. It's most often seen in darker Labradoodle puppies. A black puppy's coat can fade to silver, and a brown puppy's coat can turn tan. Light colored puppies will have little to no fading.
Full Grown Labradoodle Temperament
It's impossible to predict what any puppy will be like as an adult. Many factors, like training and environment, contribute to a dog's personality. How you raise your puppy is important! But, what can you generally expect from a full size Labradoodle?
Labradoodles are famous for their friendly, affectionate, and playful natures. Chances are, your sweet Labradoodle puppy will grow into an equally sweet Labradoodle adult. Especially if you take the time to train and socialize them from a young age. Labradoodles do well with active adults and families with children of all ages. They won't suit homes where they are left alone for long periods, or where they get little to no exercise. Without enough mental and physical stimulation, an adult Labradoodle can show a lot of destructive, unwanted behaviors!
How Long Do Labradoodles Live?
A dog's lifespan depends on many factors, including genetics, nutrition, environment, lifestyle, and preventive veterinary care. The Labradoodle's lifespan tends to range between 12 and 14 years. But, some breeders predict this lifespan can stretch as high as 16 years. Either way, many Labradoodles will be with you for over a decade, often reaching their teens.
Full Grown Labradoodle Health
The Labradoodle breed can inherit health issues from any of its parent breeds. A good breeder will health test dogs to eliminate serious issues from their breeding stock. But, potential owners should still be aware of the most common problems, so they can recognise signs early on.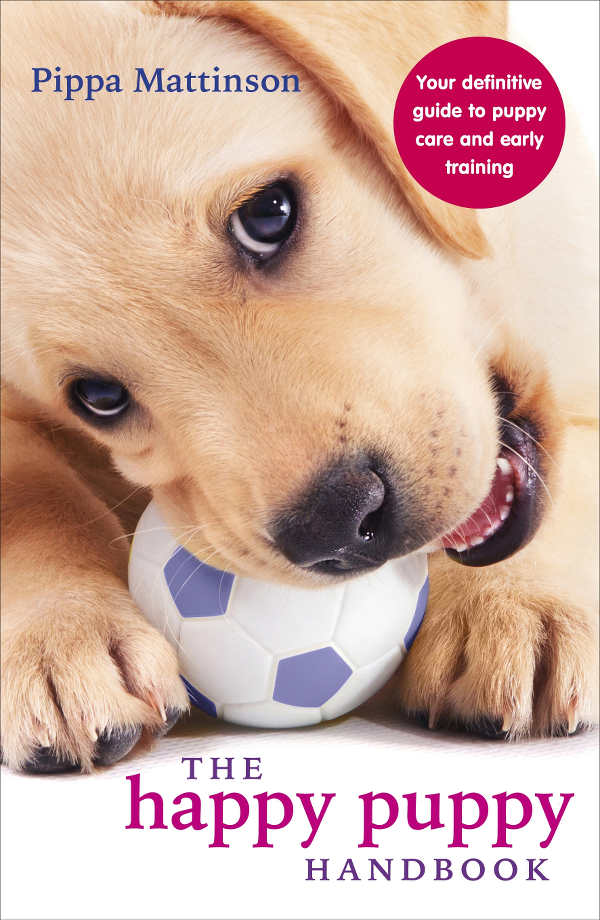 Labrador Retriever Health Problems
Here are some of the purebred Labrador's most common health issues:
Hip and elbow dysplasia
Arthritis
Gastric Dilatation Volvulus
Exercise induced collapse
Cataracts
Heart problems
Poodle Health Problems
The most common Poodle health problems can vary depending on the size of the Poodle. Here are some that could pass on to a Labradoodle puppy:
Idiopathic epilepsy
von Willebrand's disease
Sebaceous Adenitis
Progressive Retinal Atrophy
Neonatal Encephalopathy
Cushing's disease
Addison's disease
Back to the Labradoodle
Genetic testing has suggested that many Australian Labradoodles are more Poodle than Labrador Retriever. This is because Poodle coat qualities are desirable, and often achieved by adding more Poodle DNA to the mix. Unfortunately, this means Labradoodles are at risk of these serious Poodle health issues. But, they can still inherit problems from the Labrador Retriever breed. Especially since these two purebred dogs share some health issues, like bloat and hip dysplasia.
The good news is that genetic testing and physical examination procedures are available to identify these health problems in Labradoodles. A responsible breeder will health test their dogs and remove affected individuals from their breeding programs. So, to ensure your dog grows up into a healthy, happy full grown Labradoodle, choose a reputable breeder. You should also take them to the veterinarian for regular check ups.
Do You Have a Full Grown Labradoodle at Home?
Does your full size Labradoodle fit into the size ranges we looked at earlier in this article? Or have you got a Doodle that falls outside of the most common statistics? We would love to hear about your Labradoodles in the comments!
Readers Also Liked
References and Resources