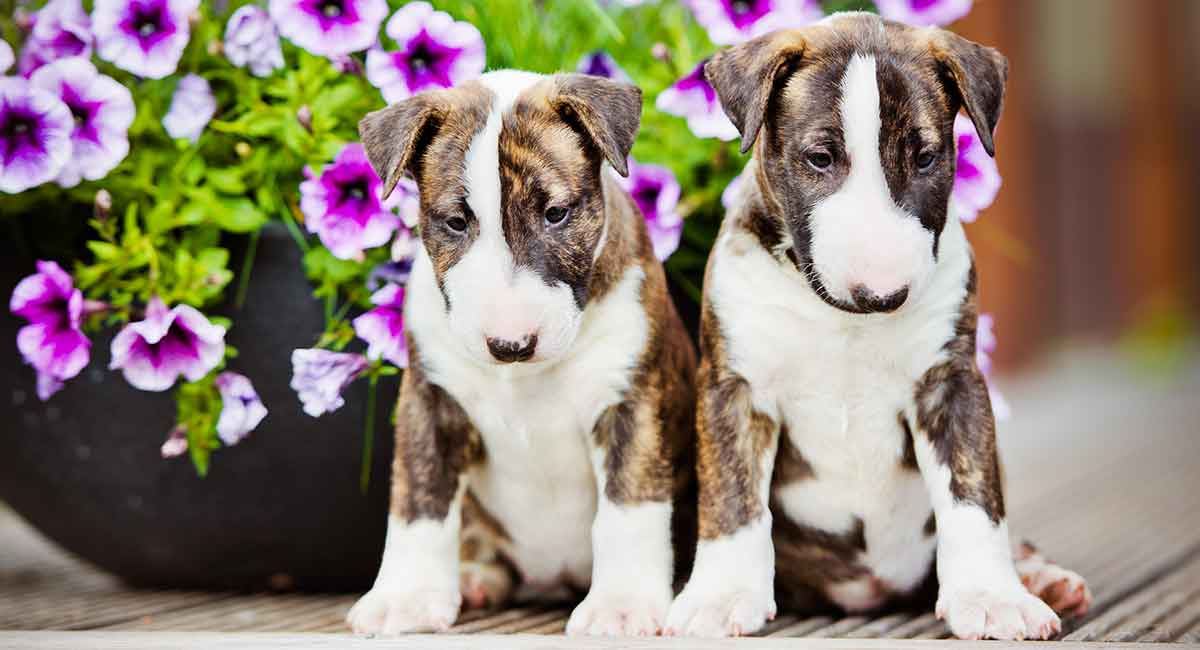 Do you think the brindle Bull Terrier is a handsome dog that might just be for you?
The brindle Bull Terrier is a particular color of purebred Bull Terrier.
Do the brindle markings cause any health or temperament problems you should know about?
These distinctive, powerful, devoted dogs sometimes get bad press, so let's find out the truth about this breed and color.
History of the Brindle Bull Terrier
The heavy boned Bull Terrier got its name from its use in the pastime of bull-baiting, which was popular from the 1300s–1800s in the U.K.
In the 1830s, blood sports with animals were outlawed.
Underground dog fighting became the sport of choice.
Participants crossed Bulldogs, considered too slow to be entertaining, with faster, fiery terriers.
Dalmatians and some other breeds were also added to the cross.
Eventually pit fighting was banned, and Bull Terriers became fashionable pets for young men.
Breeders started refining them to be better upscale companion dogs.
The brindle color likely came from the early 1900s, when Bull Terriers were back-crossed with brindle Staffordshires.
You can find brindle Pitbull Terriers, and other dog breeds that often show brindle coloring include:
Cardigan Welsh Corgis
Greyhounds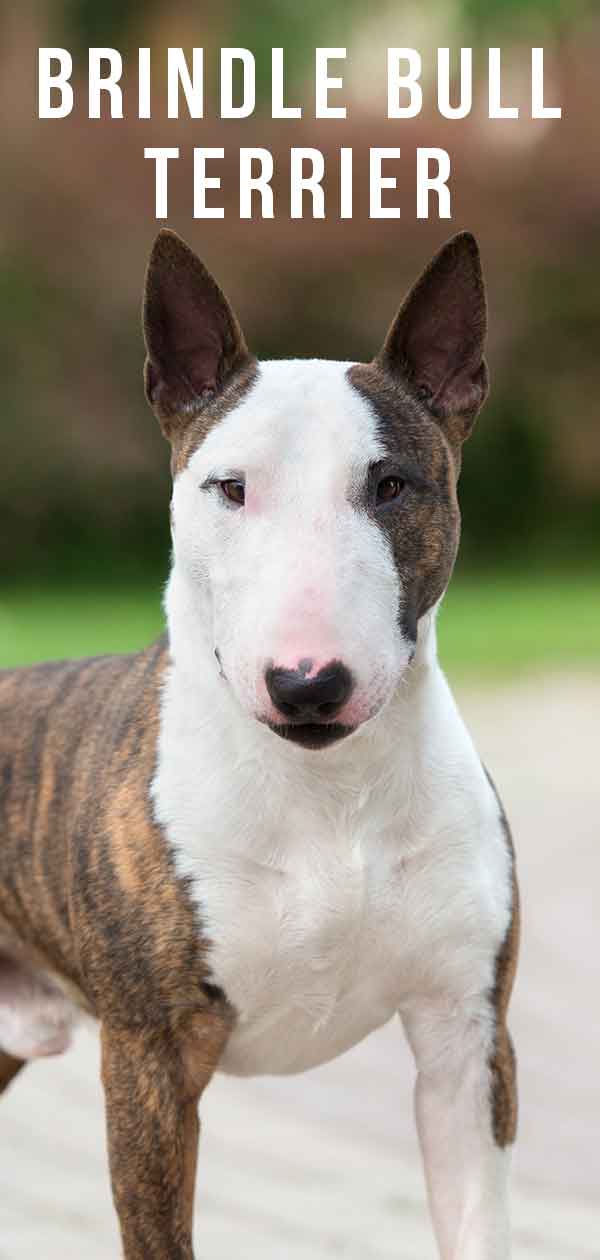 Genetics of the Brindle Bull Terrier Coat
In dogs, coat color is controlled by a number of different genes.
One of these is the K locus, or the dominant black gene.
This gene can bind proteins and pigments to it to create color variations.
One recessive allele that can bind to K is the Kbr allele – the "brindling" allele.
The different brindle appearances are caused by the A locus, which consists of four different alleles that represent several base coat colors in dogs.
These colors include:
fawn
red
sable
black and tan
tricolor
The K gene actually works by eliminating or reducing the A locus, called the agouti gene.
The Kbr allele actually lets the A locus be expressed, but in that brindle pattern.
So different A locus genes affect how the brindling will look in dogs.
However, to date, it's difficult to detect brindling through testing.
Also, we haven't narrowed down which genes control the wideness of stripes.
What Do We Know?
We do know there's a gene that determines intensity of color, as it dilutes the red pigment of the brindle base color to cream.
Also, dark stripes on a brindle can be affected by merle (and harlequin), liver, dilution, greying, and recessive red color genes.
All brindle dogs can have white markings, and a sabled brindle dog will have brindle all over and can have a black mask.
All solid brindles are sables.
Brindle as a color is not problematic healthwise for dogs, unless it is mixed up with color coat genes that do cause issues.
For example, some brindles have dark stripes broken into shorter stripes and spots.
This subtle effect may be the result of mixing with the merle gene, which causes ear and eye problems in dogs.
The brindle mutation is very complex genetically, so we still have a lot to learn!
The Brindle Bull Terrier Appearance
This medium dog weighs 50–70 pounds and is 21–22 inches at the shoulders.
Brindle Bull Terriers are muscular and strongly built.
Their heads are long and deep, with an oval, egg-shaped outline.
Their ears are small, thin, and close together, while their eyes are sunken and dark.
Brindle Bull Terriers are sturdy, robust dogs.
Colors
Some are generally white with brown or black brindle markings on the head and body.
Others are colored, which means they have non-white bodies that may show smaller white markings.
The brindle marking shows up as stripes on the non-white part of the coat.
Basically, brindling is a brown base color, with darker brown or black stripes on top.
You can have a black brindle Bull Terrier or a brindle and white Bull Terrier.
Brindle Bull Terriers can be a white and black brindle, black brindle and white, brindle and white, or white and brindle, too.
These are just ways of describing how much white and how much brindle are on the dogs.
Different Brindles
A brindle dog has a brownish coat or spots with stripes of a darker shade of brown.
A Bull Terrier black brindle has a black coat with lighter lines.
Both dogs may have white on them – but not too much!
White and black brindle means that the dog is mostly white, but the head, chest, and leg markings may be black with light-colored streaks.
White and brindle means that the dogs are mostly white.
Markings on the chest, legs, and face are brown with dark streaks.
Conversely, a brindle and white English Bull Terrier has more brown than white.
Same with a black brindle and white dog.
You may hear the term reverse brindling.
It is used to describe a brindle dog coat which has a high concentration of striping, so the brindle almost appears reversed (light on a dark coat).
It is not necessarily rare.
Health of the Brindle Bull Terrier
Bull Terriers are prone to hearing problems such as congenital sensorineural deafness, which is more common in white dogs.
The Bull Terrier Club says 18% of white Bull Terriers and 2% of colored Bull Terriers may suffer from deafness.
Bull Terriers are also predisposed to:
kidney disease
varying types of heart disease
patellar luxation (knee dislocation)
skin and coat disorders from allergies and other conditions
cancer
osteochondritis dissecans (of the hocks)
neural abnormalities leading to aggression or obsessive behaviors
Some owners and researchers hypothesize that the desire to breed Bull Terriers to fit conformation standards may have resulted in certain health issues, such as breathing problems, related to their dolichocephalic (long) head shape.
None of these health issues seem to be linked with a brindle coat.
Brindle Bull Terrier Temperament
Bull Terriers in general are sweet, smart, exuberant dogs.
They are known to be tough and stubborn.
Their history as fighting dogs has led to a tendency to be aggressive when provoked.
They are not overly fond of other dogs as a result.
Their terrier disposition gives them a high prey drive for smaller animals and disinclines them to loud, inexperienced children.
But they are also known to be spirited, devoted, loyal, and mischievous.
They also have comical tendencies that families love.
The brindle Bull Terrier is a Bull Terrier, so it has these same qualities, and no differences have been linked to the coat color.
Brindle Bull Terrier Intelligence
Like all Bull Terriers, brindle Bull Terriers are smart, strong-willed dogs.
Their high level of intelligence makes them adaptable and responsive to training.
Brindle Terriers are busy dogs and need daily mental stimulation.
Breed Popularity
Bull Terriers aren't for new dog owners.
They require lots of attention, leadership, and consistency and also need a patient hand.
They are listed as #57 of the American Kennel Club's most popular breeds.
The most famous Bull Terrier you know is probably Spuds MacKenzie, the mascot for Bud Light beer in the late 1980s.
That dog was a fictional character but was played by a real Bull Terrier named Honey Tree Evil Eye (Evie).
She was not a brindle, though.
Brindle Bull Terrier Grooming
Grooming isn't too bad in brindle Bull Terriers.
Any Bull Terrier coat is short, flat, glossy, and harsh.
You basically should brush them once a week to remove dirt and loose hair.
They do shed seasonally, and you should trim their nails frequently.
Beyond that, grooming needs for a Bull Terrier are minimal.
Brindle Bull Terrier Training
Make training fun for your brindle Bull Terrier!
Terriers are independent, stubborn, and free-thinking.
As dogs with aggressiveness in their breed history, training and socialization is key.
They can be destructive if left alone too long.
Bull Terriers are generally fairly outgoing and affectionate, so they react well to a consistent and positive training routine.
Brindle Bull Terrier Activity
Brindle Bull Terriers have a fairly high energy level.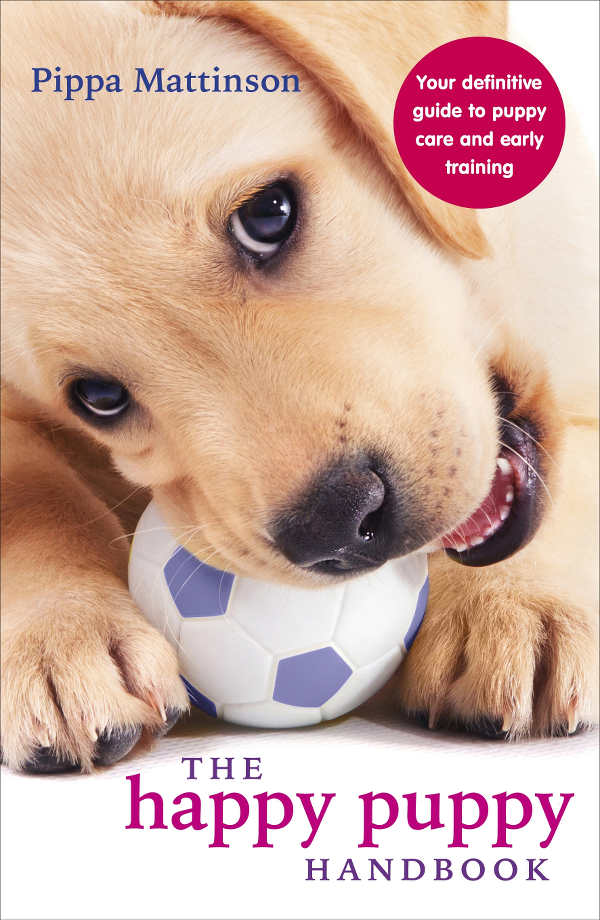 They require daily, moderate exercise.
Mental and physical stimulation are both good for these dogs.
Because they were bred for sport as well as companionship, they have a lot of strength and agility.
Allowing them to work or participate in dog sports is a great way to channel their energy levels.
These dogs like predictability, so make sure their time is organized.
Miniature Bull Terrier Brindle
You will find there's also a brindle Mini Bull Terrier.
Until 1991, they were considered the same breed as the regular Bull Terrier.
Mini Bull Terriers are 10–14 inches in height and 18–28 pounds, but size is the only difference between the breeds.
Brindle Bull Terrier Puppies
A brindle Bull Terrier puppy is a cute proposition!
Brindle shows up at birth, so you should know immediately if a puppy will show the brindle coloring.
That doesn't mean the coat won't change as the dog gets older, though!
If you're interested in a brindle Bull Terrier puppy, find a good breeder, who has documentation and can provide a medical history for each pup.
Want some ideas for naming and caring for your new dog? Just click the links.
References and Resources
American Kennel Club, Bull Terrier.
American Kennel Club, Miniature Bull Terrier.
The Bull Terrier Club of America, The Bull Terrier Illustrated Standard.
The Bull Terrier Club, Health Issues.
Chappell, J. (2017). Brindle K Series. Dog Coat Color Genetics.
Asher, L. et al (2009). Inherited defects in pedigree dogs. Part 1: Disorders related to breed standards. The Veterinary Journal, 182(3).
Kerns, J. A. et al (2007). Linkage and segregation analysis of black and brindle coat color in domestic dogs. Genetics, 176(3).
Schmutz, S. M. Genetics of Coat Color and Type in Dogs.
Strain, G. M. (2004). Deafness prevalence and pigmentation and gender associations in dog breeds at risk. The Veterinary Journal, 167(1).