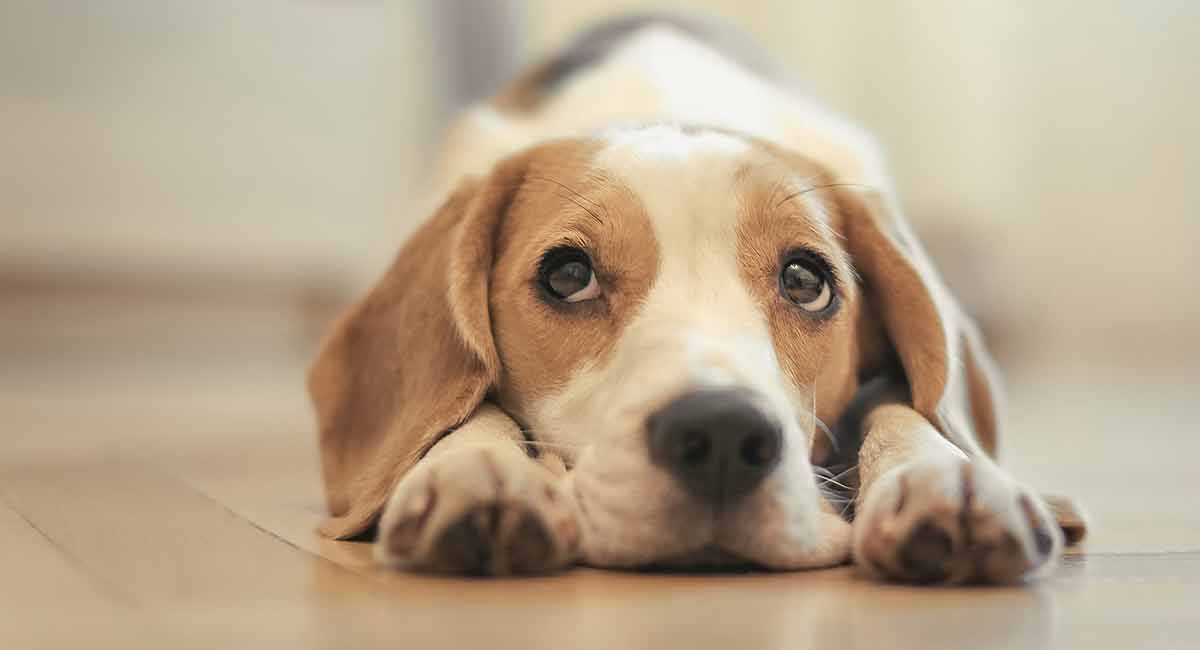 Looking for the best puppy food for Beagles? You've come to the right place! Welcome to our guide to the best food for Beagle puppies!
Beagles are a medium-sized, active breed of dog. They have particular dietary requirements that you should be aware of if you are thinking of welcoming a Beagle into your home.
Products included in this article were carefully and independently selected by the Happy Puppy Site team. If you decide to make a purchase from one of the links marked by an asterisk, we may earn a small commission on that sale. This is at no extra cost to you.
What's the best puppy food for Beagles?
The best puppy food for Beagles will be high in protein and fat, and low in carbohydrates. Minimal fillers and lots of easy to chew pieces will keep your puppy happy and active.
Fortunately, there are lots of options to choose from.
Best puppy food for Beagles – a balanced diet
A good dietary balance will ensure that your Beagle puppy has everything his body needs to maintain the body's organs and tissues and carry out essential chemical reactions within the cells of his body.
Most complete puppy foods are designed to meet these needs, but some are of course better than others.
How do Beagle puppies get the energy they need from their food?
Dogs extract most of their energy requirements from the fat and protein in their diet. Consequently, it's very important that your pup's diet contains plenty of fats, unless he has a specific physical condition that would preclude a high fat diet.
Check out this article to discover why a low-fat diet is not usually the best choice for your Beagle puppy.
Best puppy food for Beagles: Dry food
Here's a selection of the best dry puppy food for Beagles.
Wellness Core® Natural Grain Free Dry Dog Food.* Wellness Core feeds are made in the US and backed by the Wellness guarantee.
The food is 100% grain-free, and formulated to provide complete and balanced everyday nutrition for your puppy. Rich in protein and made from premium turkey, chicken, and salmon, the food contains everything your Beagle puppy needs for healthy development and growth.
This all-natural food contains only premium, natural ingredients with no wheat, corn, soy, meat by-products, or artificial colors, flavors, and preservatives.
Purina ONE SmartBlend Healthy Puppy Formula Dry Dog Food.* Purina is one of the main manufacturers of high-quality dog foods in the marketplace.
Their Healthy Puppy Food has real chicken as its primary ingredient. There's also rice, oatmeal, and other key ingredients, all included in amounts that provide high levels of essential nutrients.
The food is specially designed for puppies, including lots of protein for growth and DHA, a nutrient also found in mother's milk, for vision and brain development.
Blue Buffalo BLUE Life Protection Formula Dry Puppy Food.* Based in the US, Blue Buffalo makes premium-quality pet foods using real meat, fruit, and vegetables.
BLUE Life Protection Formula puppy food is made with natural ingredients, including protein-rich deboned chicken, whole grains, garden vegetables, and fruit. This food contains no poultry or meat by-product meals, corn, wheat, soy, or artificial colors, flavors, or preservatives.
Best puppy food for Beagles: Wet food
Some puppies may find eating dry food, or "kibble", difficult when they are teething. During this period, you may want to feed your Beagle puppy wet food that is more comfortable on his tender young gums and teeth.
BLUE Wilderness High Protein Grain Free Puppy Wet Dog Food.* This specially formulated, grain-free canned puppy food contains protein in the form of delicious deboned turkey to promote healthy muscle growth.
It also contains DHA, an important fatty acid found in your puppy's mother's milk. DHA ensures the healthy development of your Beagle pup's brain and eyesight. Also included is a perfect balance of Omega 6 and Omega 3 fatty acids, which will give your pup a gorgeous shiny coat and healthy skin.
Merrick Classic Grain Free Canned Dog Food.* Texas-based pet food manufacturer Merrick has a good reputation for producing high-quality canned dog food made from premium ingredients.
Their Puppy Plate recipe is grain-free and contains real deboned turkey as the first ingredient, plus a carefully balanced blend of quality fruits and vegetables. Each batch of food is made separately and quality tested, so you know that your puppy is getting the very best.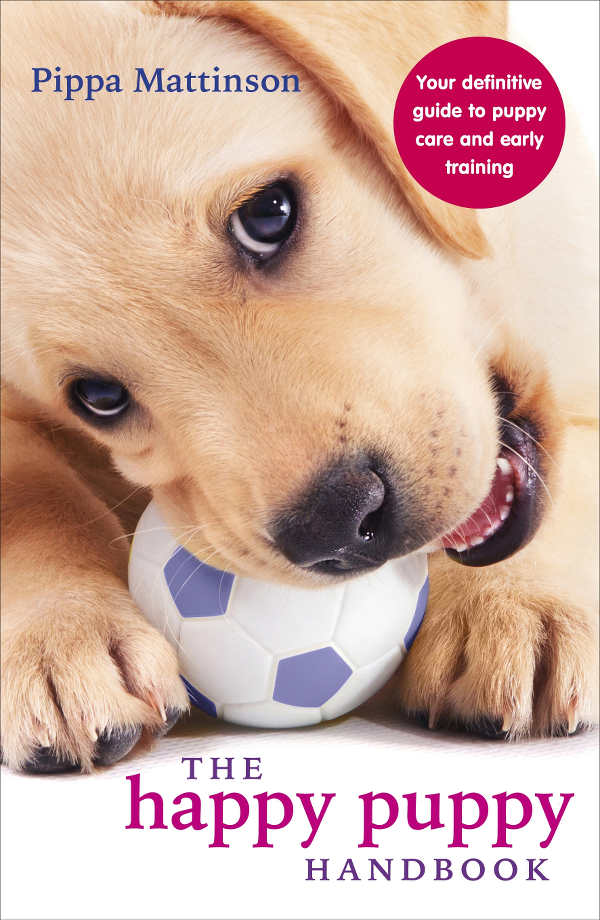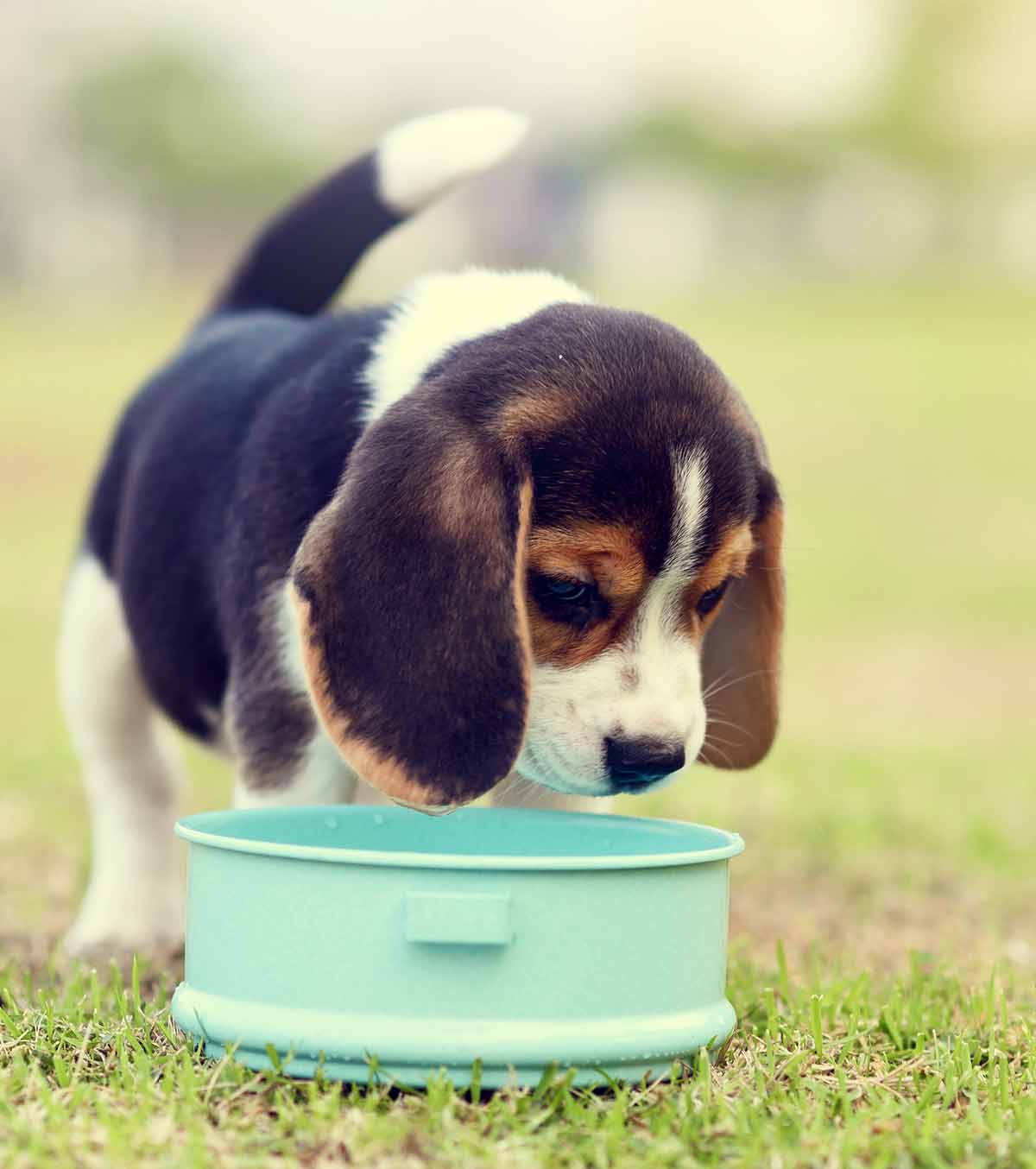 Best puppy food for Beagles
So, what is the best puppy food for beagles?
Not every pup will enjoy the same brand of food! So, you may need to try several brands before you find the one that your puppy likes.
Always introduce new foods gradually to avoid tummy upsets. Puppies receiving an exclusively dry diet should always have plenty of clean, fresh water available.
The best puppy food for Beagles will contain a good balance of protein, carbs, fat, minerals, and vitamins to make sure he grows correctly and stays healthy.
We'd love to hear about the best puppy food for Beagles that you've found for your pup, especially if it's one of the brands we've reviewed in this article. Why not tell us about it in the comments section below?
Affiliate link disclosure: Links in this article marked with an * are affiliate links, and we may receive a small commission if you purchase these products. However, we selected them for inclusion independently, and all of the views expressed in this article are our own.
References and Further Reading
Linder DE, Clinical Nutrition Service, Cummings Veterinary Medical Center, Tufts University (February 24, 2017), "

Confused About What to Feed Your Large Breed Puppy? New Rules May Help

"

Yuill C, DVM, MSc, CVH, "

Nutrition: General Feeding Guidelines for Dogs

", VCA Hospitals (November 2011)