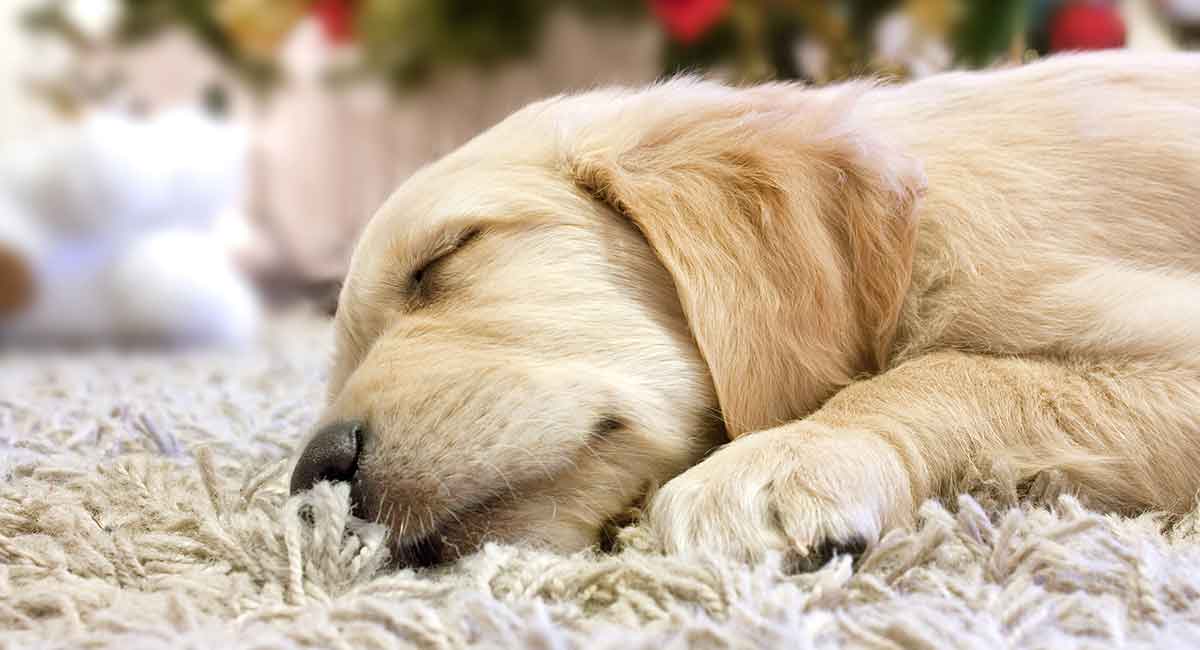 A baby Golden Retriever is born with her eyes tight shut, just 400g in weight and totally reliant upon her mother and littermates.
So how does this cute little pup get from this innocent picture to the bouncy 10lb ball of fur that launches happily through your front door at 8 weeks old?
Let's follow her journey through the early baby days, into your heart and home.
Golden Retrievers
The Golden Retriever is a beloved family dog that has been popular for many years.
Many fans of the breed particularly love their cute characteristics as puppies. However, most families receive their Golden Retriever puppy when they are already 8 weeks of age.
So what happens during those first 8 weeks? In this article, we aim to answer that question for you!
We'll discuss how their behavior and appearance changes during these first weeks of life so that you have a good understanding of how this popular breed develops.
A Baby Golden Retriever is Born!
Golden Retriever litters usually comprise of 1-14 pups, with 7-8 as the average.
When they are first born, baby Golden Retrievers will need to have their umbilical cords removed. In most cases, the mother will take care of this herself, but breeders may need to intervene if she does not.
The newborn babies will also need to be cleaned up by either their mother or the breeder.
When the puppies are first born, they will spend all of their time either nursing from the mother or sleeping.
Newborn Golden Retrievers
After just being born, Golden Retriever puppies are quite helpless and fully dependent on the mother. They are born blind and deaf, with their eyes and ears fully closed. It will remain this way for some time.
Golden Retrievers are born with their signature golden coat, though it will be quite light and short at this stage.
Additionally, the cold can be a real danger for newborns as they cannot regulate their body temperature. Therefore, they usually attempt to stay warm by sleeping close to the mother and other litter mates, sharing body heat.
Standing up is also impossible for these tiny pups, as their legs are currently unable to support their body weight. If a pup needs to move, it will do so by crawling around on its belly.
The mother is also required to help her pups urinate and defecate, as they cannot do so on their own.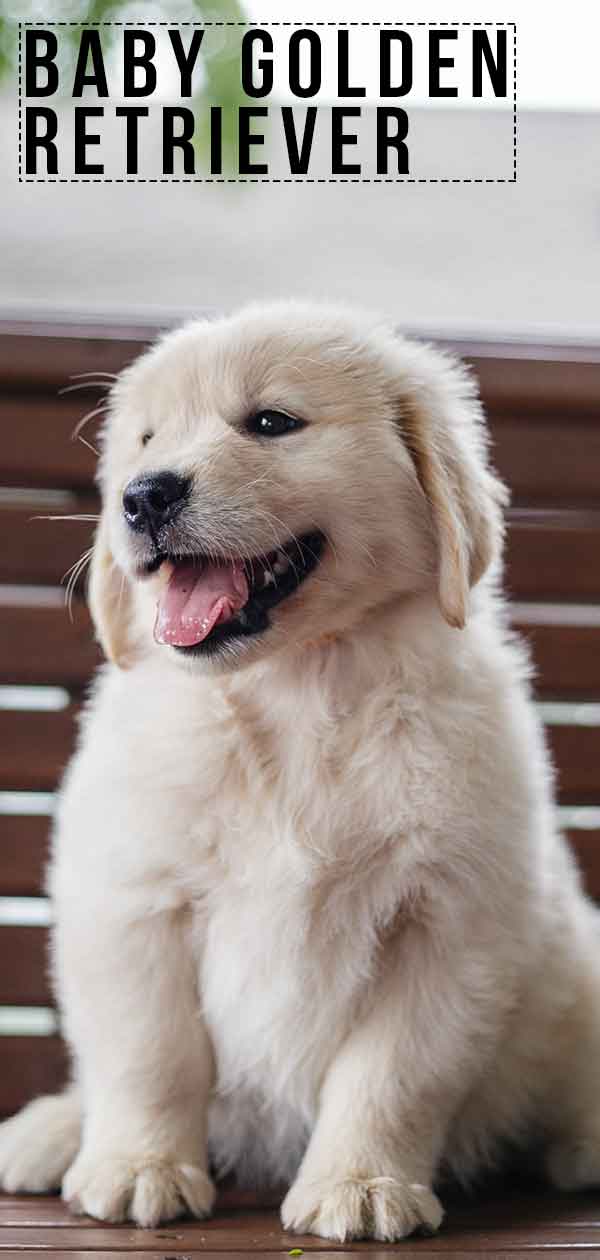 One Week Old Baby Golden Retriever
At one week of age, Golden Retriever puppies should have bulked up significantly. They will have doubled their birth weight. This can be a great sign that they are healthy and that their development is on track.
They should keep gaining weight every day.
Their eyes and ears won't have opened just yet, but it will be happening very shortly!
During this stage, the pups will continue prioritizing eating and sleeping over anything else.
Two Week Old Baby Golden Retriever
At this age, all of the Golden Retriever pups should have opened their eyes.
While they don't have perfect vision yet by any means, they will be able to make out shapes and large objects.
It's also expected for their ears to open up around this time. With their new hearing, they will begin to show reactions to sound. It's important that loud sounds are avoided around the puppy so as not to scare them!
With their rapidly developing senses, the puppies may begin to show interest in exploring the den for the first time.
However, they may still struggle to stand, and walking can be even more of an issue! Some clumsy attempts may be seen at this stage, with the pups quickly tiring out and going back to sleep.
Three Week Old Baby Golden Retriever
Exciting developments continue to occur as Golden Retriever puppies reach the three-week milestone! They should be a bit more balanced on their feet, showing some confidence in walking about. They may even start playing with their den mates for the first time.
Along with these new behaviors, the pups will likely become more vocal, and may bark and wine. Up until now, the pups will have been simply grunting and mewing.
With these new social developments, the breeders can begin early socialization training. This can be a great period to get the puppies familiar with human presence and contact. It's also possible to begin crate and potty training. Getting this started early can be a great help.
By now, their coat should have grown significantly and they should appear notably fluffier!
It's important to note that their baby teeth will be well on the way to fully coming through. While they aren't ready for the weaning process to begin, it won't be long now.
Four Week Old Baby Golden Retriever
Once Golden Retriever puppies have reached this age, their baby teeth will be fully formed, and they can begin to be weaned off their mother.
This is a huge step. Puppies need to be fully weaned and no longer dependent on their mother before they can be moved into new homes.
At this early stage, the puppies will eat some solid food. However, they will still receive a significant portion of their nutritional needs from their mother's milk. As the weeks continue, their diet will slowly transition to fully solid food.
Another small development is that the puppies will now be able to urinate and defecate without their mother's assistance.
Five Week Old Baby Golden Retriever
During the fifth week of life, the Golden Retriever puppies will continue to bulk up and get more and more independent.
They will be very confident in their walking and running by this stage. They'll commonly show off their mobility by taking part in small play-fights with their litter mates.
Socialization training should be going well. The puppies should have good relationships with people of all ages, including children.
Six Week Old Baby Golden Retriever
Six week old Golden Retriever puppies should now be fully weaned. They will no longer need their mother's milk. Instead, they gain all their sustenance from high-quality solid food.
The puppies should have fully come into their own, displaying a lot of energy. Individual personalities between the puppies may show, and they will likely love to play and explore their surroundings.
Seven Week Old Baby Golden Retriever
At seven weeks of age, baby Golden Retrievers are almost ready to go into new homes. However, they still have a tiny bit more developing to do!
Around this time, the "fear" period will begin. This is another important phase in their social development.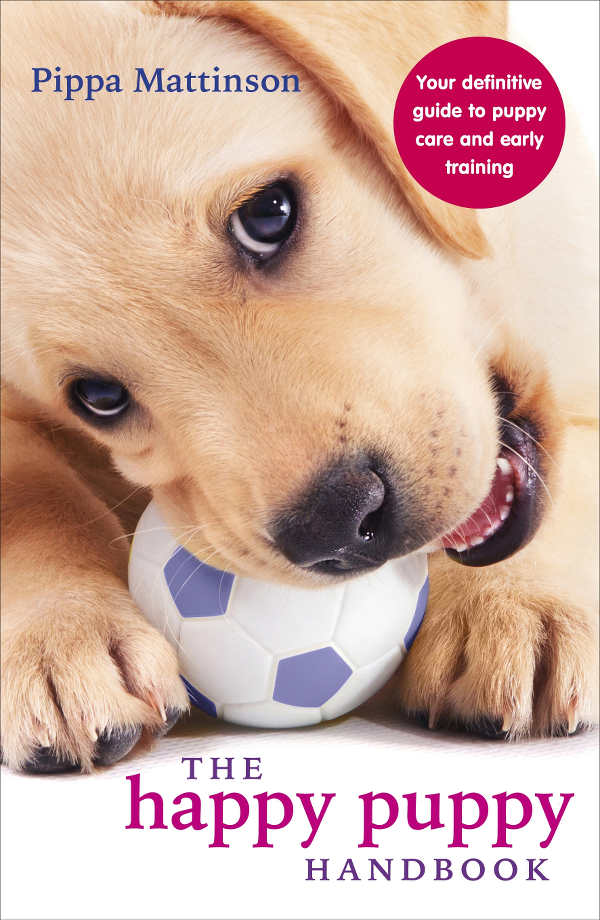 The fear period is where the baby Golden Retrievers learn to be cautious. It's around this time that puppies would be leaving their den in the wild, where caution can make the difference between life and death.
The breeders will need to be careful to not scare or traumatize any of the puppies at this critical stage, as it may develop into a lifelong fear.
Eight Week Old Baby Golden Retriever
After all those weeks of fast development, the puppies have transformed into independent little dogs that are ready to be homed!
An average weight for this breed at 8 weeks old is around 10-11 pounds.
They will be fully weaned, have basic potty and crate training, and have experienced a good amount of socialization.
The training process is far from over, though! The new owners will need to keep training and socializing them so that they mature into well-behaved adults.
Training Your Baby Golden Retriever
These training guides are designed to help a new puppy owner help their furbaby to develop into a happy, healthy grown dog.
It will now be up to their new owners to feed them properly. Fulfilling their nutritional needs each day is incredibly important for them to continue to grow and develop correctly. Here is our guide to feeding a Golden Retriever puppy!
Need a name for your Goldie pup?
Have you ever raised a litter of Golden Retriever puppies? Anything you would like to add?
Let us know in the comments!
References and Resources
Serpell, J, The Domestic Dog: Its Evolution, Behavior and Interactions with People, Cambridge University Press, 1995
Farricelli, AJ, Understanding Fear Periods in Dogs, PetHelpful, 2019
Borge, KS, et al, Litter Size at Birth in Purebred Dogs – A Retrospective Study of 224 Breeds, Theriogenology, 2011
Bloomfield, S, What is Normal for a Newborn Puppy?, The Veterinary Expert, 2014