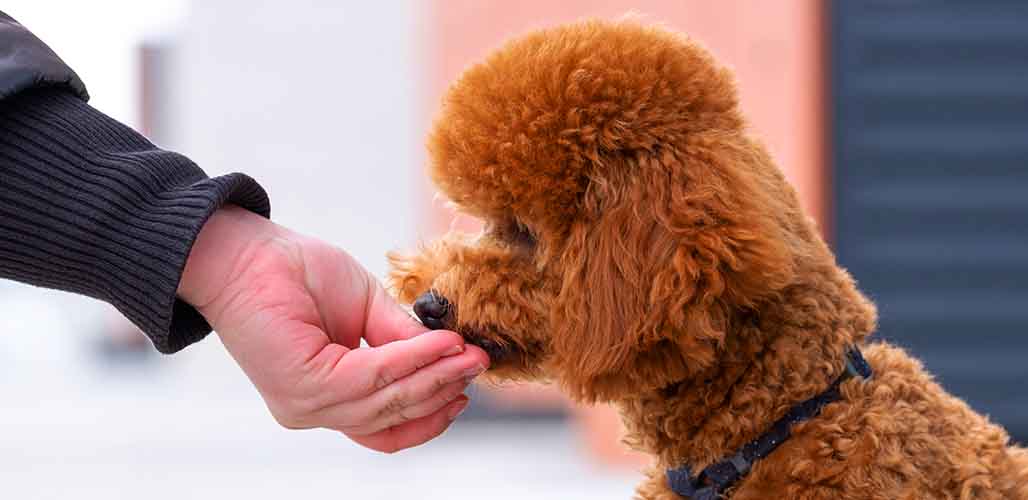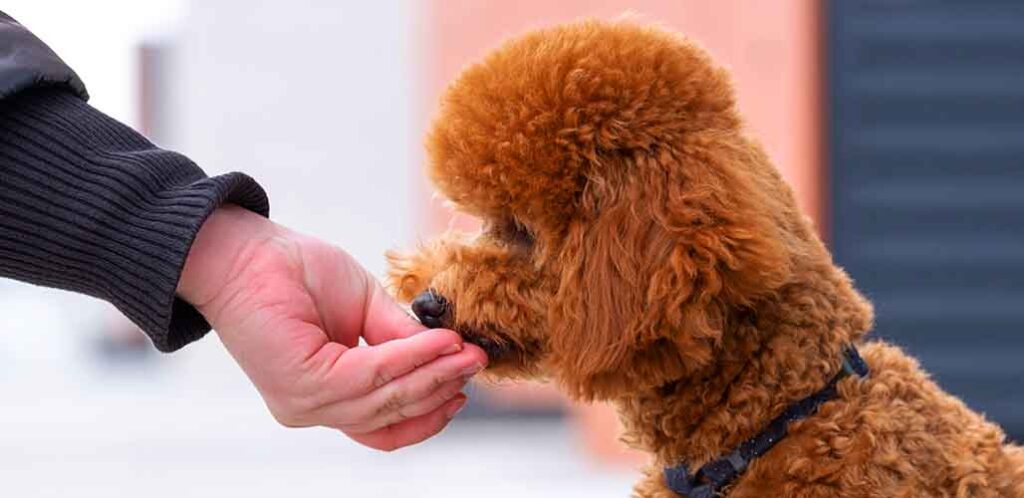 What do Toy Poodles eat? If you're anything like me, you'll always be striving to give your dog the best lifestyle possible. From providing top notch toys, taking them for runs at the dog park, and training them – there's so much for us to think about! And food can't be ignored. Toys are the smallest of the Poodle breeds, so it's perfectly reasonable to assume they'll need a different level of protein, carbs, and other nutrients in their diets to the larger varieties. But, wonder no more! In this guide, I'm going to explain exactly what nutrients this breed benefits from, how much they should be eating, and some great ideas for healthy treats.
Contents
What Do Toy Poodles Eat?
Like all other dogs, this tiny breed is omnivorous. Our domestic dogs have adapted to thrive on a diet made up of plant and animal matter. Toy Poodles need a balanced diet that contains appropriate levels of fat, protein, vitamins and minerals. Carbohydrates and water are also essential for the overall health and wellbeing of the poodle. Let's take a closer look at these requirements.
Protein
Protein is essential for your dog's growth as a puppy and for continued strength and energy as an adult. Puppies and senior dogs need higher levels of protein than adults. The ideal level of protein for your dog will vary depending on their age and health. But, generally animal protein makes up about one-fifth of your pup's daily diet.
Fat
A puppy needs 8 percent of their daily food in fat while adults need only 5 percent of fat every day. Fat is found in many types of animal protein including chicken skin and pork belly. Your Toy Poodle needs fat to maintain its hair, develop no cells and tissue, and get energy.
Vitamins
Not all dog foods contain the necessary vitamins your Toy Poodle needs. That's where vegetables and fruits come in. They are packed with vitamins such as A, B1, D, and E which keep our dogs healthy and fight off disease and infections.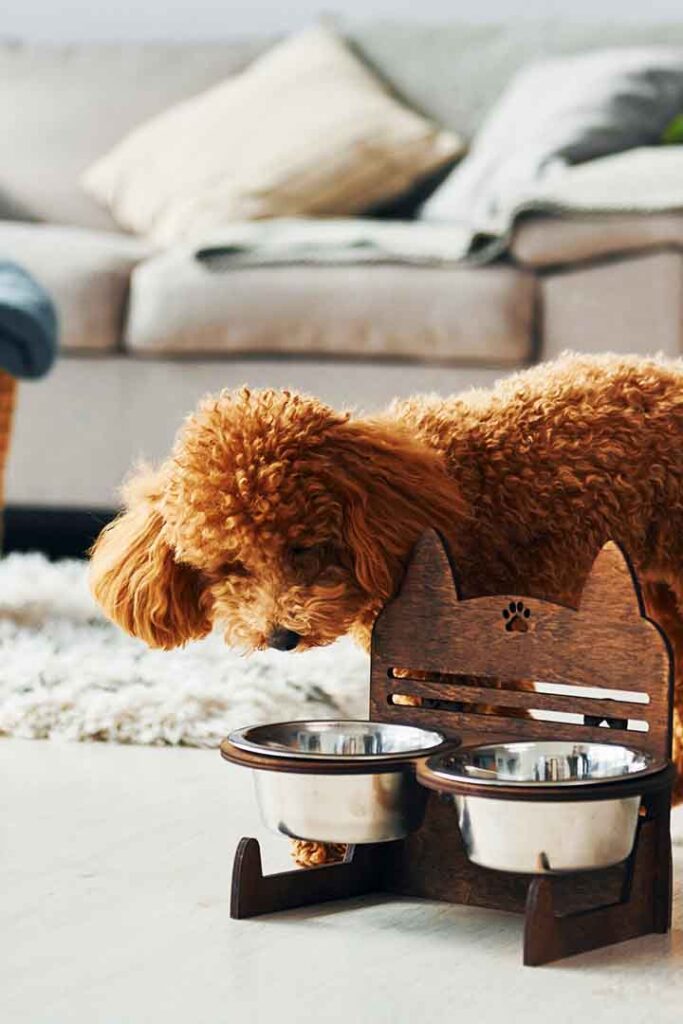 Minerals
Your toy dog needs calcium, potassium, magnesium, and sodium in small amounts in their diet to stay healthy. They would usually get their daily needs from the plant matter in their commercial food.
Don't Forget the Importance of Water!
You should keep your Toy Poodle hydrated at all times. On average, your dog needs about one ounce of water a day. They might require more when they play outside on a hot summer day. Change the water every day and keep the water bowl full.
How Much Food Should I Feed My Toy Poodle?
Age, activity levels and health can all determine the best amount of food for your Toy Poodle. So, you should always take online feeding guides with a pinch of salt (…not literally!). Feeding charts are available on most commercial food packaging. But, they'll vary depending on the brand, the type of food, and your dog's size. So, keep an eye on their weight and don't be afraid to adjust your dog's meal sizes when necessary. Here's a general calorie guide that you can start from.
| | |
| --- | --- |
| Toy Poodle Age/Type | Daily Calories |
| Puppy | 626 |
| Active Adult | 323 |
| Inactive Adult | 237 |
| Active Senior | 262 |
Is My Toy Poodle a Healthy Weight?
Monitoring your dog's weight is important for their general health, as well as for determining their correct meal sizes. Toy Poodles are tiny dogs that generally don't weigh more than 6 lbs as adults. So, it's surprisingly easy for one to become overweight.
You can monitor your dog's weight with your vet's help, but also at home. Feel your pup's sides when he or she is standing straight. You should be able to feel definition on their ribs, but not excessive jutting bones. If you struggle to feel your dog's ribs, speak to your vet about reducing their food in a healthy amount, or assess the amount of additional treats you're giving your pet.
Puppy, Adult, or Senior Dog Food?
Toy Poodles can live well into their teens. But, over these years, they won't eat the same food constantly. When your puppy first comes home, they'll eat food specifically designed to help them grow. They'll need to stay on this until around 6-7 months old, when they reach their full adult size.
As adults, they'll transition onto a lower protein food. At around 8 or 9 years, you can transition them onto a senior food to support their changing needs as older dogs. The transition process from one food to a new type should be a slow process, so your dog doesn't suffer from an upset stomach. If you're uncertain about the best time to make the change, just give your vet a call!
Using Food During Training
Toy Poodles are very small, as we all know. But, because of this, they're prone to excess weight gain. So, you need to be careful when training your pup. Subtract the calories of training treats from their daily allowance. You can spread training sessions out through the day and use kibble that you would otherwise give your dog at mealtimes!
What Foods to Avoid
Just because your pooch has a good appetite for any kind of food you offer them, that doesn't mean that they can eat everything. There are certain types of foods that can cause our dogs to get sick and some are even fatal. And, since Toy Poodles are so small, it takes a tiny amount of toxic foods to make them really sick. Here are some basic foods you should never offer your Toy Poodle:
Garlic
Onions
Green tomatoes
Grapes
Alcohol
Chocolate
Anything containing caffeine
Anything containing xylitol
This is not a complete list. Whenever you're considering offering your Poodle some "human food", check that it's safe for them. Even a few bites of something toxic can be really dangerous for these tiny dogs.
What Do Toy Poodles Eat? A Summary
These tiny dogs can enjoy a wide range of foods. Like other breeds, their nutritional needs will vary at each life stage. Keep a close eye on your Toy Poodle's weight to ensure their meal sizes are correct. And, if you're ever in doubt about their weight or health, speak to the veterinarian.
More Toy Poodle Care Tips
References