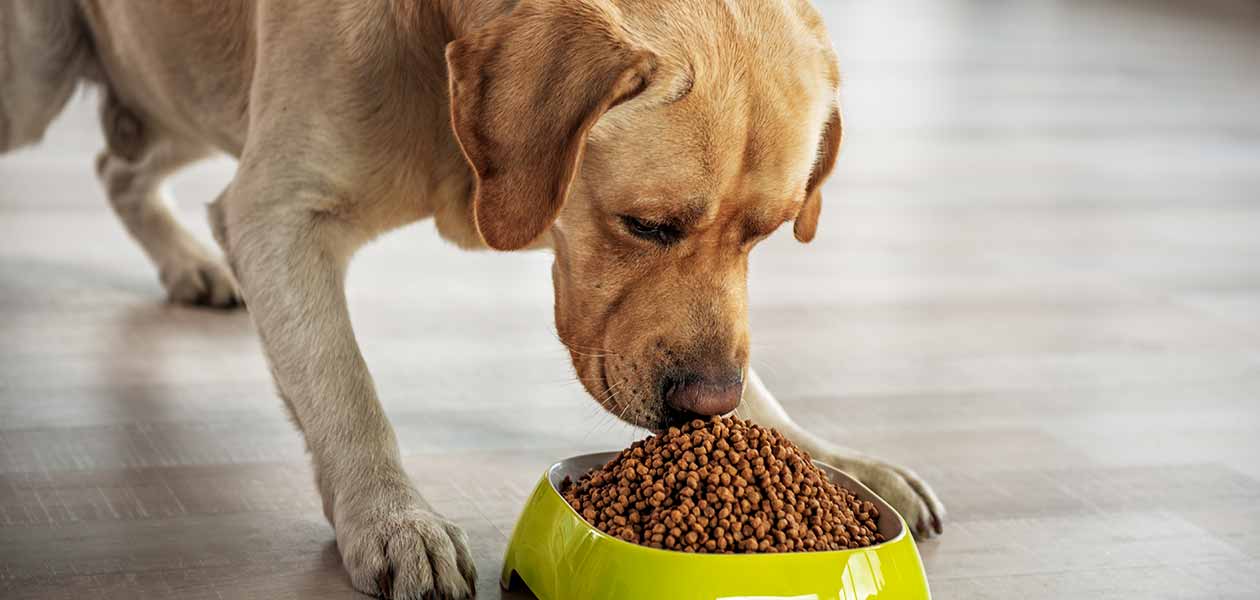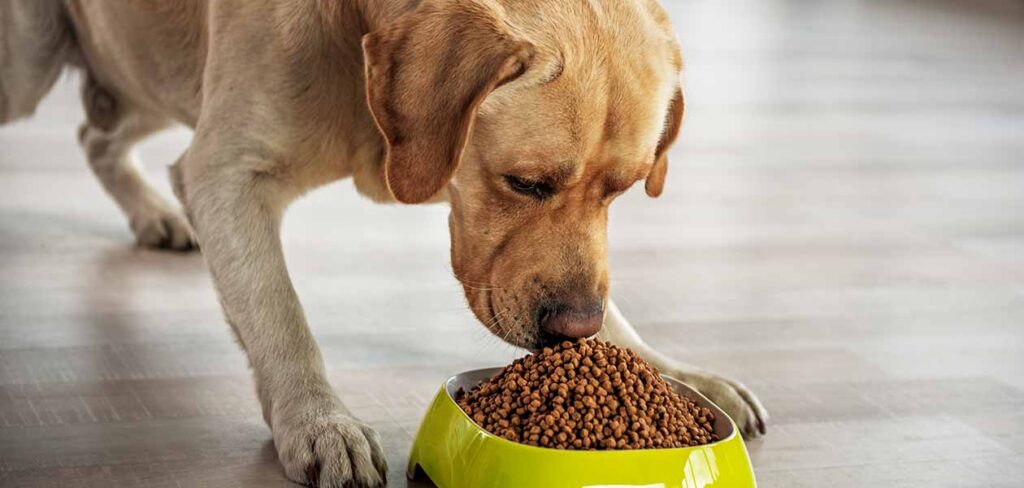 Knowing how much to feed a dog will depend on your their age, size, health, lifestyle, and more.
Large dog breeds need to eat more than small dog breeds. But, you should also consider your dog's lifestyle, and the type of food you are feeding him.
Even if you stick to feeding guides online or on food packaging, assess your dog's body condition frequently to make sure they aren't becoming underweight or obese.
How Much To Feed A Dog Contents
You can click on the links above to find the answers to some frequently asked questions we get about how much to feed a dog.
Or, keep reading to get our complete guide full of advice and tips for feeding your adult dog.
Why Does it Matter How Much I Feed my Dog?
It might seem strange that you would need to monitor what your dog is eating, or even to restrict their calories to a certain amount.
Surely dogs will just eat what they need and stop when they are full?
Unfortunately, this is not the case. Many dogs, given the opportunity, will just keep eating!
One study suggests that obesity affects up to 40% of the canine world. And this problem has sadly been linked to early death and worsening other disorders, like hip dysplasia and osteoarthritis.
Feeding your dog the correct amount will help to reduce their risk of obesity. So, it's important to get it right.
How Do I Know How Much To Feed My Dog?
Not every dog will eat exactly the same amount of food. There are a lot of factors that will affect how much food your dog should be eating.
You can use these factors to get a pretty good idea of how much your dog should eat.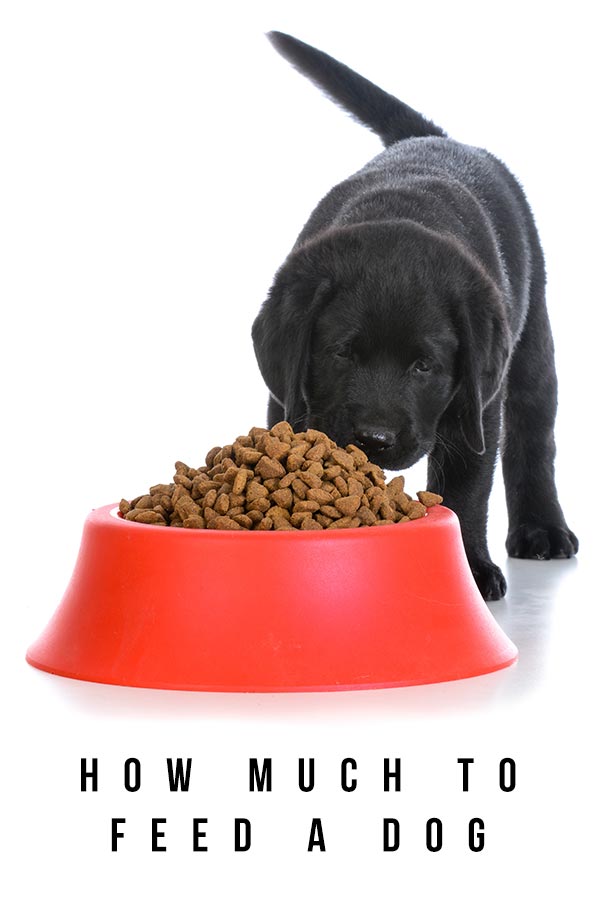 But, for an even more accurate opinion, you can speak to your vet. Your vet will be able to assess your dog as an individual, rather than using broad recommendations based on breed and weight boundaries.
Here are some of the factors you, and your vet, may use to determine how much to feed your dog.
Feeding Guidelines on Food Packaging
Most dog food will have a feeding guideline on the side. This is usually based on your dog's adult weight.
However, these guides aren't always 100% accurate. If your dog is underweight or losing weight whilst following them, you might need to feed more than the recommended amount.
But, if your dog is leaving food, or putting on weight , you might need to reduce the portion sizes you're giving them.
Lifestyle of Dog
Another thing that can impact how much your dog should be eating is his lifestyle.
Dogs that lead quite sedentary lifestyles won't need as many calories as dogs that exercise a lot every day.
Some breeds need much more exercise than others. For instance, a busy Border Collie will burn a lot more calories than the Pug.
So, take this into account when choosing how much to feed your dog.
Calorie Counting
You can choose calorie counting as a way to work out exactly what to feed your dog. There are tons of useful calorie calculators online.
These will take into account your dog's weight and lifestyle to give you an exact number.
You can translate this into ounces of food using the nutritional guidelines on the packaging.
Health Problems
Another factor that can impact the amount or type of food that your dog needs to eat is any health problems.
A major way to help with certain health problems is to change up your dog's diet.
If your dog's diet has changed because of a health problem, the best person to help you decide how much they need to eat is your vet.
Monitor Your Dog's Weight
When feeding your dog, you should regularly monitor any changes that you notice.
Some people like to weigh their dog. But, you can also use a visual assessment!
You should be able to feel but not see your dog's ribs, and when you look down on them, they should have a defined waist.
Of course this will vary a little between each breed.
So, if unsure, check with your vet.
How Much To Feed A Dog – Types of Food
One of the main reasons that there is no straight answer to the question 'how much should I feed my dog?' is that the type of food people choose for their dogs varies.
Wet food contains a lot more water than dry food, so by volume it contains fewer calories.
Which means how much wet food to feed a dog and how much dry food to feed a dog will be different.
Some people even like to give their dogs a combination of both food types.
As we mentioned earlier, most dog foods have charts and guidelines when it comes to feeding your dog.
Some wet foods have a serving in a tin, which makes things easy to figure out. But, again it may depend on their size of your dog.
Speak to your vet if you're unsure. For now, let's take a look at some examples.
How Much Should Dogs Eat Based on Weight
Dog food brands will differ in their ingredients, nutrients, and calories. So, the amount you feed your dog will vary depending on the food you choose.
For now, we will take a look at some examples based on dry kibble and wet canned dog food.
Adult Dry Dog Food Feeding Charts
The IAMS Proactive Health dry dog food suggests that you should feed your dog the following:
For 5 lb dogs: ½ to ¾ a cup daily
10 lb dogs: ¾ to 1 cup daily
20 lb dogs: 1 ¼ to 1 ½ cups daily
30 lb dogs: 1 ⅔ to 2 cups daily
40 lb dogs: 2 to 2 ⅓ cups daily
50 lb dogs: 2 ½ to 2 ¾ cups daily.
This is based on each cup weighing 104 grams.
Alternatively, the Diamond Naturals Real Meat Recipe suggests the following.
For 5 lb dogs: ½ a cup daily
10 lb dogs: 1 cup daily
20 lb dogs: 1 ½ cups daily
30 lb dogs: 2 cups daily
40 lb dogs: 2 ½ cups daily
60 lb dogs: 3 ¼ cups daily
80 lb dogs: 4 cups daily
100 lb dogs: 4 ⅔ cups daily.
For dogs heavier than 100 lbs, they suggest adding ½ cup for every extra 10 lbs.
Differences in how much dry food to feed a dog depend upon things like the ingredients they contain, and the shape of the kibble.
A cup of large kibble pieces has more air spaces in it than a cup of small kibble pieces, so it can also weigh significantly less.
So always check the specific feeding instructions for your chosen brand.
How Much to Feed a Raw Fed Dog
Raw feeding involves preparing your dog's food yourself at home. Raw-fed diets usually consist of raw meat and bones.
Because you prepare this food at home, it won't come with a helpful feeding guide.
If you're choosing to give your dog a raw-fed diet, you're likely to have to use other methods of assessment to decide whether you're feeding the right amount.
Make sure to feed your dog's sides, and watch his weight carefully. If your dog is becoming too skinny, or seems quite chubby, you will want to adjust your food quantities.
Again, speak to your vet if you have any concerns about this.
How Much Wet Food to Feed a Dog
As we mentioned earlier, the amount of wet food that you feed your dog will depend on if you are pairing the food with kibble, or only feeding them wet food.
For example, the Pedigree Chopped Ground Dinner food suggests giving ⅔ of a can per 10 lbs that your dog weighs.
So, you could use the following guide:
10 lb dog: feed ⅔ of a can daily
20 lb dog: feed 1 ⅓ cans daily
30 lb dog: feed 2 cans daily
40 lb dog: feed 2 ⅔ cans daily
50 lb dog: feed 3 ⅓ cans daily.
Of course, this daily ration will be split into your dog's meal times!
Adult Dog Feeding Schedule
Most people choose to feed their adult dogs two meals a day – one in the morning and one in the afternoon or evening.
Other people will free feed their dogs. This involves leaving your dog's food ration down at all times, so he can eat as and when he chooses.
Some problems with free feeding include: dogs eating out of boredom, dogs eating excessively and becoming overweight, not noticing loss of appetite, and it being a less sanitary option.
Remember, the food amounts we recommended above count for your dog's entire daily allowance.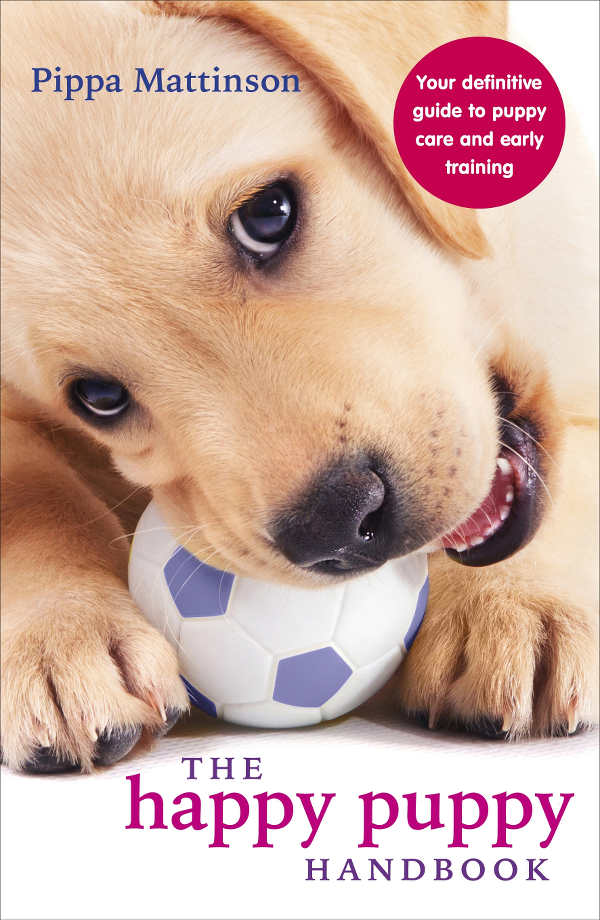 So, you will need to split this food up into separate mealtimes.
How Much to Feed a Puppy
Puppies need a very different nutritional balance to adult dogs. So, it's likely that you will feed your dog a specific puppy food until he is fully matured.
Smaller dogs tend to mature faster than large or giant breeds. It can take anywhere from 9 months to 3 years for your dog to fully mature, depending on its breed.
Puppies have much smaller stomachs than adult dogs. So, they will also need their daily food rations split between more meals.
If you're interested in finding out more about how much to feed a puppy, take a look at our complete guide here.
How Much to Feed a Senior Dog
As dogs age, they may suffer from problems like sensitive stomachs or achy joints.
Senior dog foods are often packed full of antioxidants, nutrients, and supplements to help with these problems.
Senior dogs may not eat less, or less frequently than adult dogs. But their nutritional needs can change.
So, speak to your vet if you think that your dog needs a different type of food as he gets older.
You can take a look at our guide to the best senior dog food for more help with feeding an older dog.
How Much to Feed a Dog
So, as you can see, choosing how much to feed a dog depends on lots of things! Your dog's size, activity levels, health, and age all play key roles.
You can monitor your dog's weight by feeling and visually assessing him regularly.
If you think that you are feeding your dog the wrong amount, the best person to help you is your vet.
How do you decide how much food your dog needs? Do you have a favorite brand? Let us know in the comments!
Readers Also Liked
Best Dog Food for Skin Allergies
References and Resources