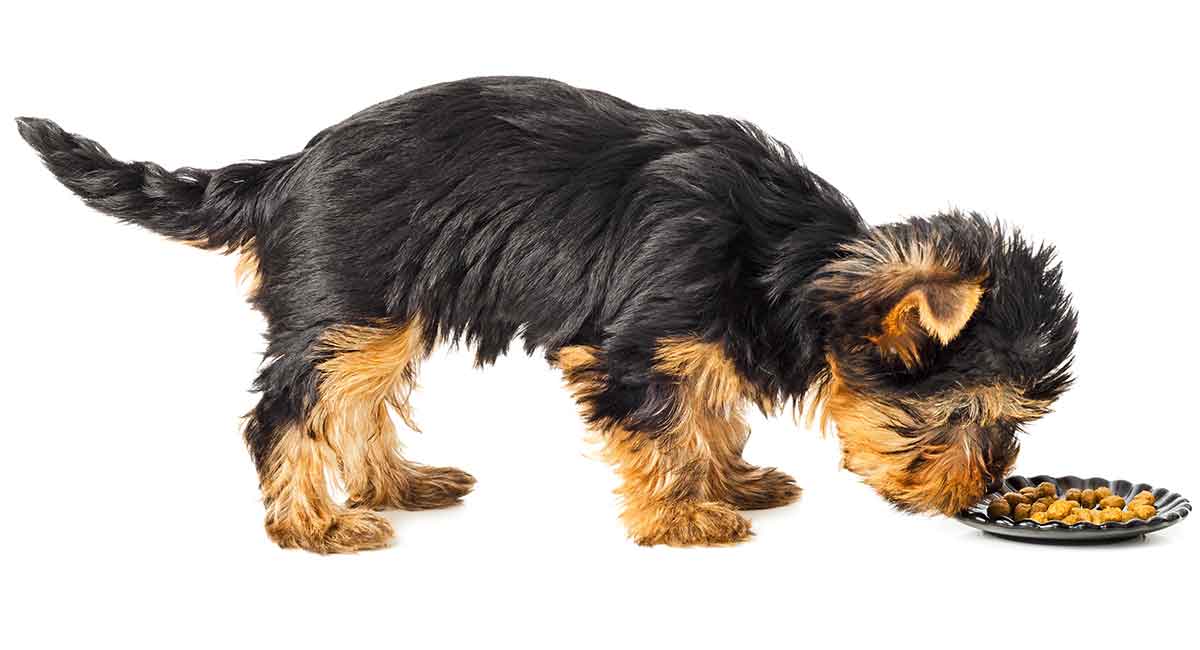 Feeding a Yorkshire Terrier puppy is one of the most important parts of their care. Today we'll share our schedules, routines, amounts and top tips. To help feed your Yorkie puppy the best food, in the right way.
Feeding a Yorkshire Terrier Puppy
The Yorkshire Terrier is a popular toy breed initially developed in England to control vermin and now kept primarily as a companion dog. They weigh three to seven pounds, and extremely small sizes are increasingly common. It can be difficult to judge how much to feed a tiny puppy, and which is the right food to keep them healthy.
What should Yorkie puppies eat?
It is import to feed to meet the needs of your particular puppy. Nutritional needs will vary with genetics and activity levels, but there are simple rules we should follow. Like using a brand of food aimed at toy dogs, and always having water available during the day.
Young puppies should be offered four or more small meals throughout the day. You want to avoid any extended periods where their little stomach is empty. Bladder stones are more common in Yorkshire Terriers than other breeds. It is essential to ensure your puppy always has access to fresh water to help prevent this condition.
Swapping puppy food brands
Most breeders use a commercially produced dog food. You should acquire enough of this food type to last for at least a few weeks. If you decide to change to a new food, wait until the puppy is settled in their new home.
At first, add a small amount of the new food to the old food. Add an increasing proportion of the new food over 1–3 weeks until it is completely replaced. Given that some Yorkshire Terriers have sensitive stomachs, this transition period should not be rushed.
How Much Should I Feed My Yorkshire Terrier Puppy?
Young puppies can generally be offered as much food as they wish to eat until they are around fourteen weeks old. Give them frequent small meals at least four times a day. As a broad estimate, if you are feeding a small breed puppy kibble, you can expect to feed:
¼ cup per day for a dog expected to have an adult size of 3 pounds
¾ cup per day if their projected size is closer to 7 pounds.
Over time, you should observe your puppy growing steadily. It is a good idea to weigh your puppy at least weekly to ensure they are gaining weight steadily. Be sure to keep track of treats and snacks.
Pre packed dog treats should not become too large a proportion of what your puppy eats each day. They are not nutritionally complete. Using a portion of your pup's daily kibble rations as dog treats works better.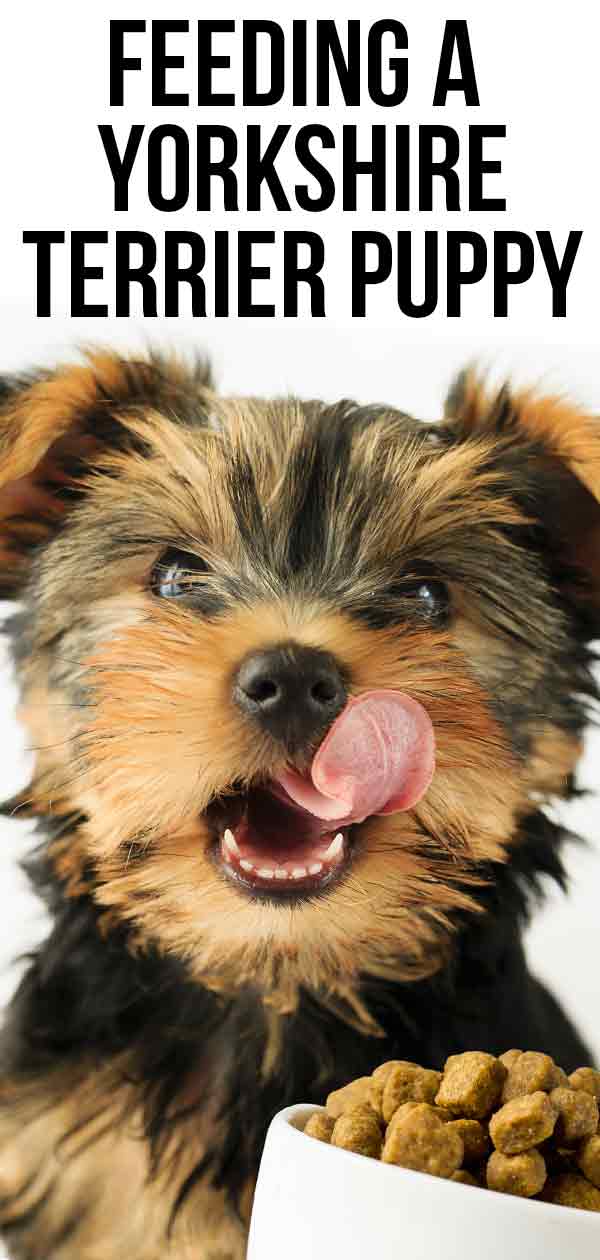 Yorkshire Terrier Puppy Diets
There are many suitable kibbles for small and miniature breeds. Hill's Science Diet Dry Dog Food for Small Breeds* is a great option. It's made of high quality ingredients with no artificial colors flavors or preservatives.
Royal Canin Size Health Nutrition X-Small Puppy Dry Dog Food* is another good choice. You will notice these are formulated for small breed puppies and have very small rounded pieces.
What to Feed a Yorkshire Terrier Puppy
Yorkshire Terriers can be fed a wide variety of diets or combinations of them. The main limitation is that food pieces must be tiny to avoid the risk of choking.
Feeding a Yorkshire Terrier Puppy Kibble
If you feed a kibble, ensure it is formulated for a small breed. The size of the kibble pieces should be small and preferably rounded in shape. Choose a brand meeting the specification of the Association of American Feed Control Officials. Yorkshire Terriers can do well on both grain-containing and grain-free formulations.
Feeding a Puppy Wet Food
Wet food is available that is suitable for a Yorkshire Terrier puppy. Check out Merrick Lil' Plates Small Breed Wet Dog Food*. Wet food can be used as a regular diet or used when the puppy is showing lower appetite.
Feeding a Puppy Raw (BARF)
Yorkshire Terrier puppies can be fed a BARF (biologically appropriate raw food) diet. The diet needs to be formulated for a toy breed, and all pieces must be very small.
BARF food is often manufactured with larger dogs in mind so may include pieces of bone or gristle. Veterinarians report that large pieces of food from a BARF diet can get caught in the throat or esophagus of the Yorkshire Terrier.
Is My Puppy the Right Weight?
As your puppy grows, you should learn how to assess his or her body condition. You can gradually adjust feeding to maintain good condition. In young puppies, it is important to avoid periods of fasting. They are unpleasant for the pup and can contribute to health problems. But once they become adult, obesity becomes a greater risk (especially for males) and can also contribute to health problems.
Puppies should have a slightly nipped in waist, visible when they are wet. You shouldn't be able to see their ribs, but you should be able to feel them slightly when you run your hands along their sides.
My Puppy Is Still Hungry
Very young toy breed puppies cannot eat very much at once, so it is important to offer food regularly. While they are small, Yorkshire Terriers come from a working terrier line. Therefore, they should not lie around unoccupied all day.
As they grow larger and more mobile, it is crucial to provide them with plenty of opportunities to explore, socialize, play, and exercise. This will prevent them becoming overly fixated on their next meal.
You can also offer a range of lower-calorie treats between meals as you reduce the number of meals per day. This will help your pup carry out feeding activities and feel full without overeating.
If your puppy continues to seem excessively hungry, you should consult with a veterinarian. There may be a medical cause for this behavior.
My Puppy Won't Eat
It is common for puppies to go off their food when:
moving to a new home
presented with a new type of food
However, for miniature breeds, it is especially important that young puppies eat regularly. Offering wet food or other preferred food types may help with a transition.
If your puppy refuses more than two meals in a row, a veterinarian should be consulted. You should always be alert to any sudden loss of weight or drop in activity.
Toy breeds such as the Yorkshire Terrier can suffer from a number of diet-related conditions. For example, a condition called transient juvenile hypoglycemia involves a sudden drop in blood glucose. Hand-feeding a diet high in carbs and protein (under veterinary instructions) can treat the condition.
How Long Is a Yorkshire Terrier Considered a Puppy?
A Yorkshire Terrier is generally considered a puppy up until ten to twelve months of age. Depending on their growth, they can transition to an adult food at around this age.
How Feeding Changes as a Yorkshire Terrier Puppy Gets Older
At around ten months of age, you should begin transitioning your Yorkshire terrier to the adult formulation of their diet. At this time, they may only need two meals per day. Providing more frequent meals continues to be an option, though.
Affiliate link disclosure: Links in this article marked with an * are affiliate links, and we may receive a small commission if you purchase these products. However, we selected them for inclusion independently, and all of the views expressed in this article are our own.
References and Further Reading
Alexander, et al. (2017). Energy requirements for growth in the Yorkshire terrier. Journal of Nutritional Science.
Colliard,et al. (2006). Risk factors for obesity in dogs in France. The Journal of Nutrition.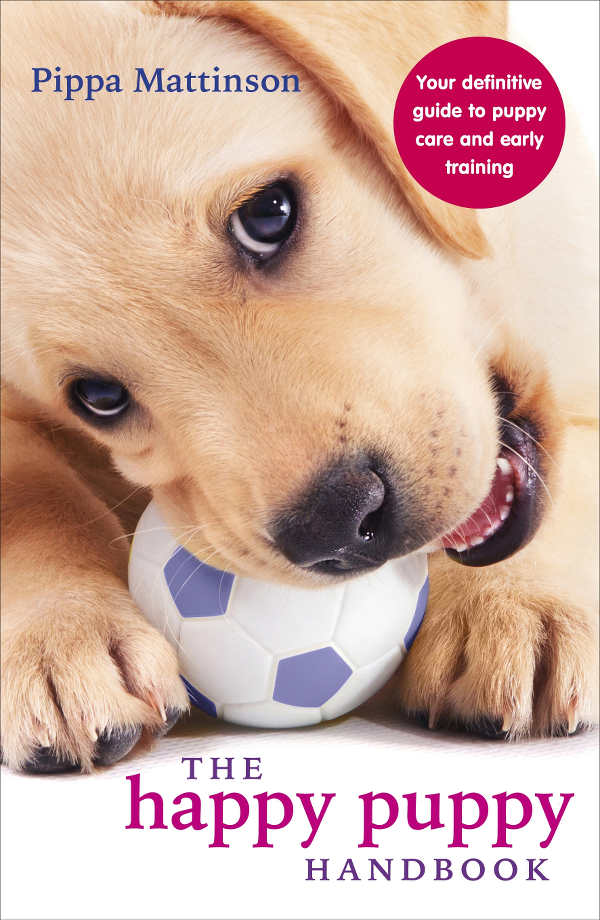 Connolly, et al. (2014). Feeding practices of dog breeders in the United States and Canada. Journal of the American Veterinary Medical Association.
Dzanis, (1994). The Association of American Feed Control Officials dog and cat food nutrient profiles: Substantiation of nutritional adequacy of complete and balanced pet foods in the United States. The Journal of Nutrition.
Houston, et al. (2004). Canine urolithiasis: a look at over 16 000 urolith submissions to the Canadian Veterinary Urolith Center from February 1998 to April 2003. The Canadian Veterinary Journal.
Rodríguez-Alarcón, et al. (2010). Breed as risk factor for oesophageal foreign bodies. Journal of Small Animal Practice.
Salt, et al. (2017). Growth standard charts for monitoring bodyweight in dogs of different sizes. PloS One.
Vrábelová, et al. (2011). Analysis of 2735 canine uroliths in Spain and Portugal. A retrospective study: 2004–2006. Research in Veterinary Science.
Vroom & Slappendel. (1987). Transient juvenile hypoglycaemia in a Yorkshire terrier and in a Chihuahua. Veterinary Quarterly.