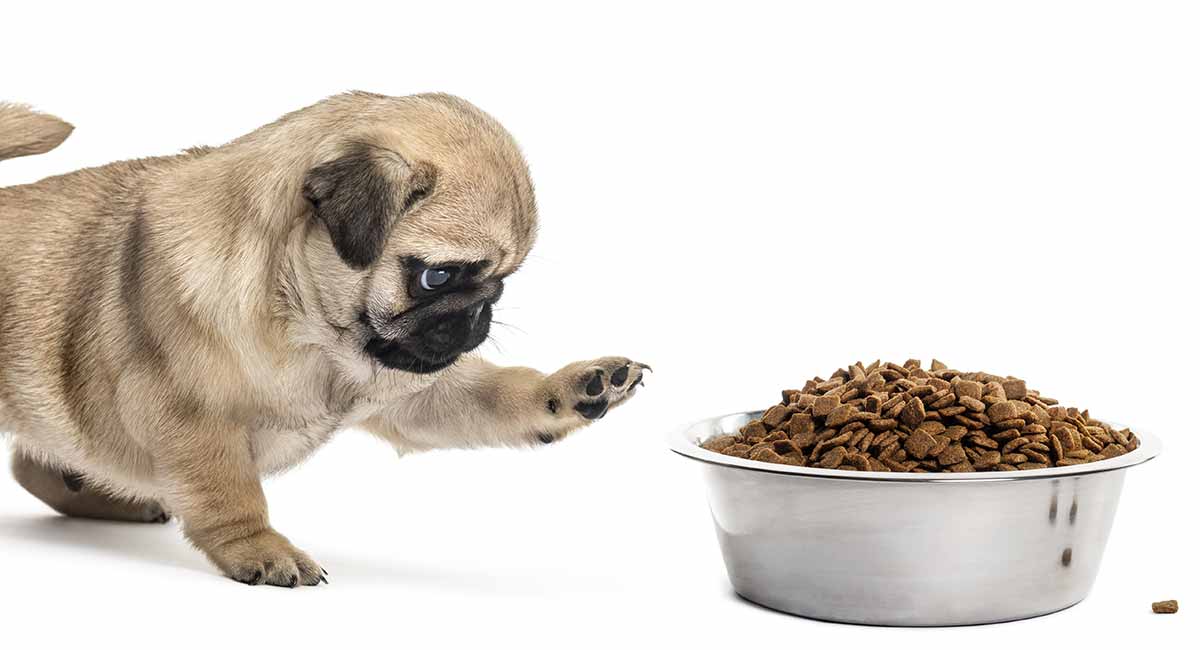 Feeding a Pug puppy the right food in the right quantities is important.
For any puppy, eating the proper portions of nutrient-dense food is crucial during this all-important growth phase.
But feeding a Pug puppy comes with some special considerations.
That scrunched-up face, the hallmark of the breed, has some serious health implications.
In this article we address the challenges that face this toy breed.
We'll also discuss how Pug puppy diet plays a role in keeping him as fit and healthy as possible.
And we'll look at how feeding a Pug puppy changes as he grows, and the pros and cons of different foods.
A Pug puppy feeding schedule will help you keep track of calories for a tiny dog prone to obesity.
So if you're ready to learn about feeding a Pug puppy, keep reading.
Pug puppy dietary needs
Puppy food is formulated differently, because they have different nutritional requirements than adult dogs.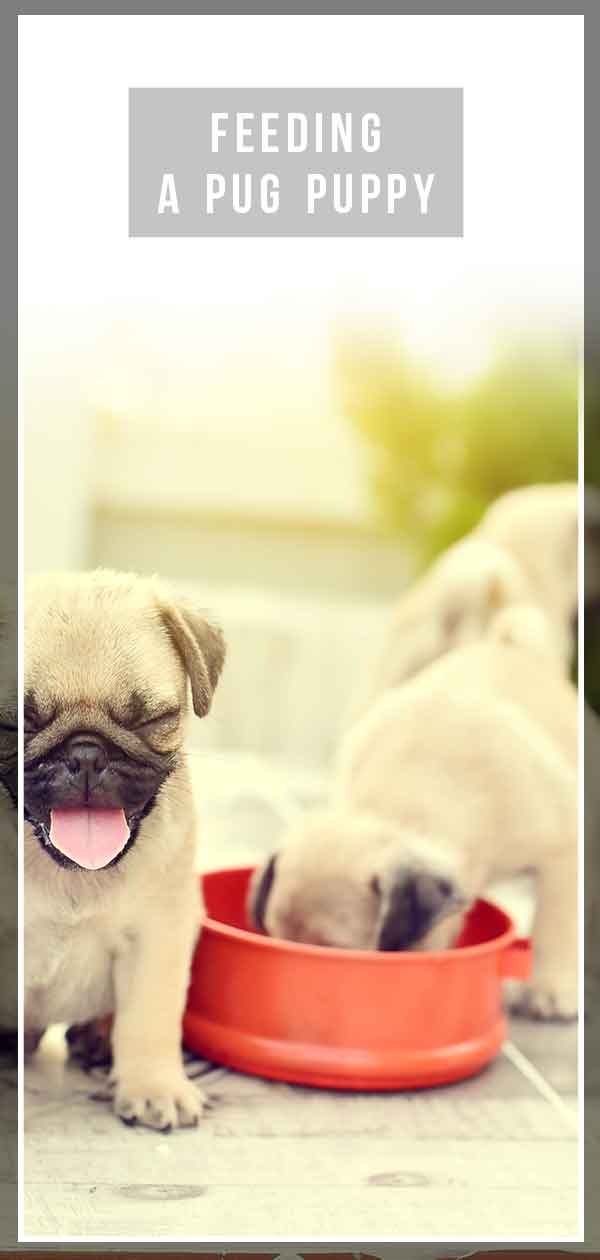 Since puppies need energy to grow big and strong, their food is higher in calories and packed with more nutrients.
This includes more fat, protein, amino acids, vitamins, minerals, and omega-3 fatty acids.
What's the best food for Pug puppies?
Since a Pug is a small toy breed, they will grow very quickly and reach adulthood much faster than larger breeds.
Toy dog breeds actually need more calories per pound than larger breeds due to their higher metabolic rates.
Feeding a Pug puppy means finding a diet that is specially formulated for their small size.
The Pug puppy diet and structure
It's very important to be aware of breed-specific issues when choosing the best dog food for Pug puppies.
The Pug is a brachycephalic breed.
The structure of their flat muzzle and facial folds, while appealing to look at, unfortunately causes a number of serious health problems.
Most troubling is the chronic respiratory disease known as Brachycephalic Obstructive Airway Syndrome (BOAS).
This causes soft tissue to block the airways, making breathing very difficult.
Eating can exasperate this condition.
Regrettably, breathing problems are not the only issues associated with being brachycephalic.
Their jaws and teeth can also cause them problems.
Because their teeth are crammed together on a small jawbone, they're more prone to plaque and tooth decay, which can also make eating a problem.
The Pug puppy diet and obesity
Obesity is another health concern to be aware of with the Pug.
Like most dogs, he'll be only too happy to eat as much food as you put in front of him.
Having breathing problems also means that Pugs shouldn't exercise too much, especially if it's hot or humid.
As a puppy, the average Pug will weigh between 2 and 4 pounds at 8 weeks and between 7 and 12 pounds at 6 months.
It doesn't take much extra weight to put stress on a breed prone to breathing problems.
How the Pug puppy diet changes as he grows
As your Pug grows from a puppy to an adult, his nutritional needs will change.
Puppies spend a lot of time playing and burning a lot of energy.
They also require more protein than adult dogs because their bodies have a lot of growing to do.
Toy breeds generally reach maturity faster than large dog breeds.
One of the best ways to ensure you're feeding a Pug puppy the proper food amount is to create and stick to a regular schedule.
Pug puppy food chart
8 weeks to 3 months – 4 meals a day
7 a.m.
11 a.m.
3 p.m.
7 p.m.
3 to 6 months – 3 meals a day
8 a.m.
1 p.m.
6 p.m.
6 to 12 months – 2 meals a day
9 a.m.
5 p.m.
These are merely guidelines on how often to feed a Pug puppy.
The idea is to give him small meals at scheduled times several hours apart, and then decrease the frequency as he gets older.
With so many different types of puppy food, choosing the right one for feeding a Pug puppy can seem overwhelming.
If you have any questions, consult your veterinarian. They'll be up-to-date on the latest research on dog nutrition.
Kibble and canned – pros and cons
Kibble that is specifically formulated for puppies is probably the most popular choice.
The reason has a lot to do with convenience.
It's affordable, easy to store and transport, and readily available.
Serving is as simple as opening the package and pouring it into the bowl.
While most vets will support kibble as a Pug puppy food choice, there's definitely a difference between brands.
Make sure you're feeding your Pug puppy a superior product, rich in high quality protein and grain-free, with no additives or fillers.
You can learn more about the pros and cons of kibble by reading this article.
Canned or wet food will sometimes offer more meat protein and fewer carbohydrates than kibble does, but you will usually pay more as well.
There has also been some concern that wet food is associated with an increase in periodontal diseases.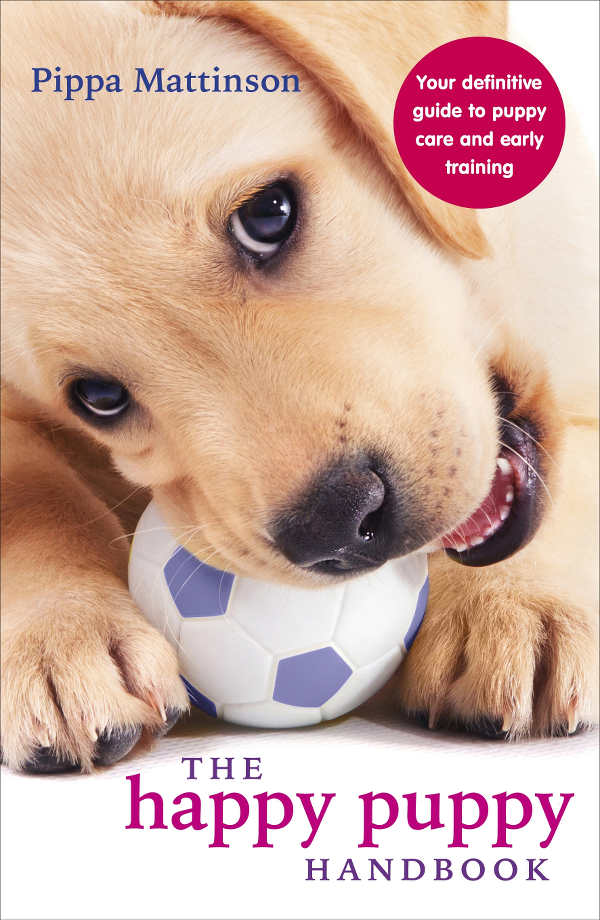 While some will argue that wet food is more appetizing, most Pugs don't seem to be picky eaters.
Specialty Pug puppy foods
The introduction of breed-specific formulas to the market has made it even more confusing.
There's no evidence-based information about the effectiveness of specialist foods for specific breeds. Also, these brands are usually much more expensive.
However, there are some Pug puppy formulations that address some of their conformation and health issues and which might be worth considering.
This includes promoting healthy skin to help prevent skin fold dermatitis and satisfying a Pug puppy's appetite with fewer calories, to avoid weight gain.
Some kibble is designed in a shape and texture that makes it easier for short-nosed puppies to pick up and chew easily.
Summary
Just like people, all puppies are individuals.
Their activity level and metabolic rate will play a role in the Pug puppy food amount they should eat.
Your Pug should be broad in the shoulders and wide at the hips.
Remember, a square-shaped Pug is an overfed Pug.
What are your tips for feeding a Pug puppy?
If you're already on your puppy feeding journey, what have you learned that you wish you'd know sooner?
Share your Pug puppy feeding tips with other new Pug parents in the comments box below!
References and further reading