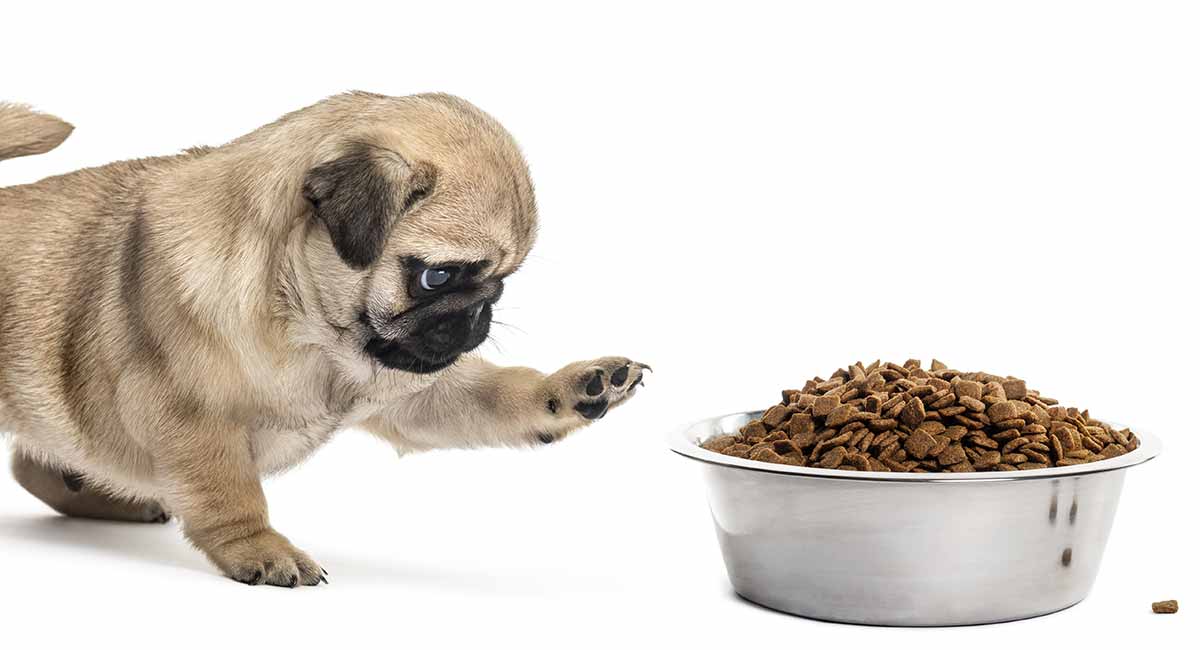 Feeding a Pug puppy the right food in the correct quantities is important. They do best on a high protein, high fat meal with limited carbohydrates. Kibble can be easier for them to eat when it is in odd shaped pieces that are simple to pick up, chew and swallow. It's also very important to be careful not to over feed them. Four small meals a day suits these young dogs just fine. Although they've got a reputation for a cute chubby body, they are actually healthiest with a nipped in waist and slim sides just like any other breed.
Contents
Proper Nutrition
Since puppies need energy to grow big and strong, their food is higher in calories and packed with more nutrients. This includes more fat, protein, amino acids, vitamins, minerals, and omega-3 fatty acids. So always choose a food that is labelled for puppies.
Since a Pug is a small toy breed, they will grow very quickly and reach adulthood much faster than larger breeds. Toy dog breeds actually need more calories per pound than larger breeds due to their higher metabolic rates.
How Shape Influences Food Choices
The Pug is a brachycephalic breed. The structure of their flat muzzle and facial folds, while appealing to look at, unfortunately causes a number of serious health problems.
Most troubling is the chronic respiratory disease known as Brachycephalic Obstructive Airway Syndrome (BOAS). This causes soft tissue to block the airways, making breathing very difficult.
Their jaws and teeth can also cause them problems. Because their teeth are crammed together on a small jawbone, they're more prone to plaque and tooth decay, which can also make eating a problem.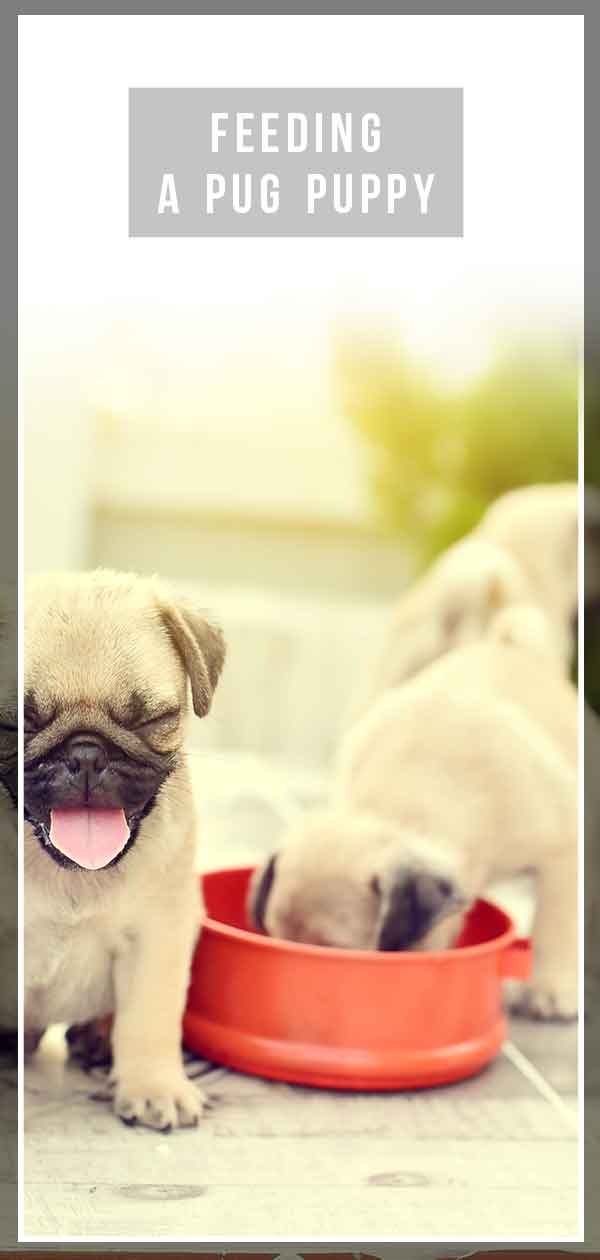 How Much To Feed A Pug Puppy
Obesity is another health concern to be aware of with the Pug. Like most dogs, he'll be only too happy to eat as much food as you put in front of him.
Having breathing problems also means that Pugs shouldn't exercise too much, especially if it's hot or humid. It doesn't take much extra weight to put stress on a breed prone to breathing problems.
Begin by following the quantities suggested on the food packaging, but keep a very close eye on your dog's build. Remember, slimmer is better.
How Often To Feed Your Pug Puppy
I always recommend feeding puppies small meals at scheduled times several hours apart, and then decreasing the frequency as they get older.
For puppies under six months go with something like 7am, 12noon, 3pm then 6pm. You don't want the last feed any less than three hours before your bedtime, or you'll be woken in the night with a bathroom request!
As they grow you can reduce this routine to three or even two times a day, but there is no harm continuing with multiple feedings as long as you dividing their daily rations evenly.
Kibble vs Canned Food
Dried puppy kibble is affordable, easy to store and transport, and readily available. Serving is as simple as opening the package and pouring it into the bowl.
Make sure you're feeding your Pug puppy a superior product, rich in high quality protein and grain-free, with no additives or fillers.
Canned or wet food will sometimes offer more meat protein and fewer carbohydrates than kibble does, but you will usually pay more as well. Wet food is also associated with an increase in periodontal diseases, which is not ideal for a dog already prone to these issues. While some will argue that wet food is more appetizing, most Pugs aren't picky eaters.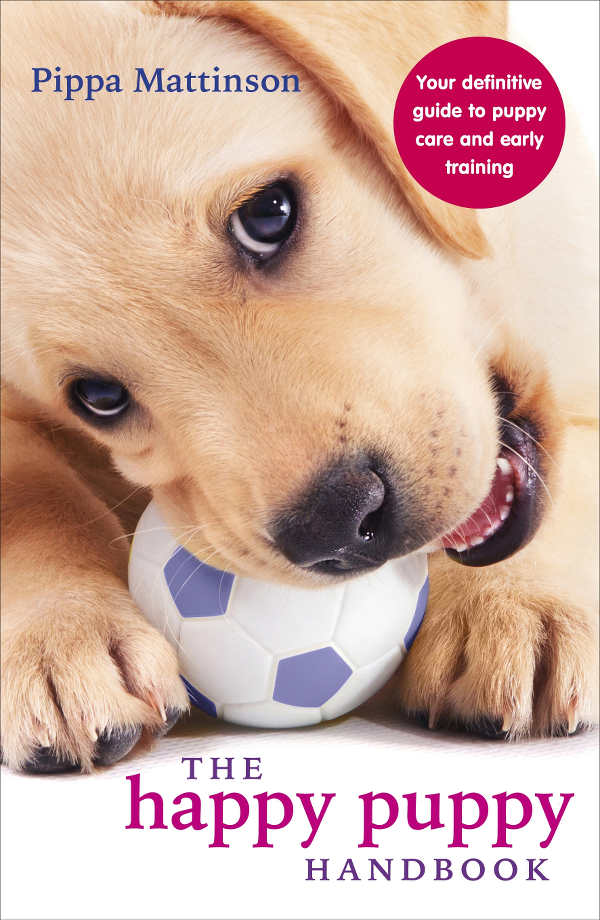 Specialty Pug Puppy Foods
The introduction of breed-specific formulas to the market has made it even more confusing. There's no evidence-based information about the effectiveness of specialist foods for specific breeds.
However, there are some Pug puppy formulations that address some of their health issues that might be worth considering.
This includes promoting healthy skin to help prevent skin fold dermatitis and satisfying a Pug puppy's appetite with fewer calories, to avoid weight gain. Some kibble is designed in a shape and texture that makes it easier for short-nosed puppies to pick up and chew easily.