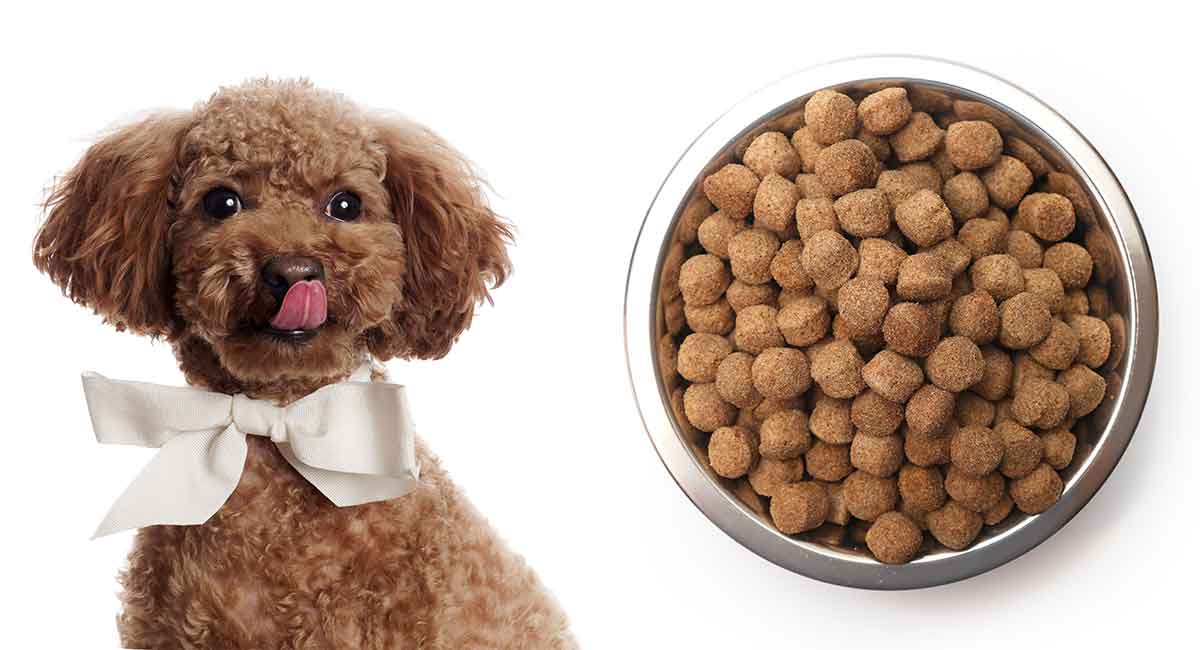 Feeding a Poodle puppy is all about matching the right diet to their individual needs. Although Poodle puppies range a lot in size, but they are all active, intelligent dogs. From the tiniest Toy to the largest Standard Poodle, they all need a meal plan that is high in protein and fat, but low in fillers like carbohydrates. However, smaller dogs benefit from little, easy to chew pieces, and bigger breeds can require larger portions and even slightly different nutrients to produce good growth.
Contents
When you bring home a new puppy, you might want to switch her food to a brand you prefer. Wait until your dog has been with you for at least a few weeks. This is a time of big changes for your puppy, and you should minimize the trauma coming all at once. Plan to make the dog food switch over the course of a week or so, and watch for signs of digestive upset.
Poodle Puppy Diets
Many diets today are age- or stage of life-specific, even breed-specific. But does this really matter, or is it marketing? The truth is, it actually does. Brands that make dog foods pay attention to research to formulate the best nutrition for different stages of life and for different sizes of dog.
A good puppy formula will include extra nutrients, such as calcium, and extra calories per pound of body weight. It will also have the right number of vitamins, minerals, antioxidants, amino acids, carbohydrates, and fats for the right amount of growth.
The right amount actually includes the restriction of certain nutrients. Having too much of a good thing can actually be bad for dogs.
In large breeds like the Standard Poodle, the ingestion of excessive amounts of energy and calcium as puppies can lead to a higher likelihood of developmental orthopedic diseases such as hip dysplasia. Poodles are genetically prone to joint problems like this, so diet here is very important.
How Much To Feed A Poodle Puppy
If you are using a commercial dog food, then begin by following the instructions on the packet. For kibble, you can even dish up the daily meals at the start of the day.
Personally, I always make one extra bowl to use as training treats. Allowing me to reward my pup for good behavior throughout the day without messing with my ratios.
Over the first couple of months, I feed four meals so I make up five bowls first thing in the day. Spread the formal meals evenly throughout the day time, making sure the last one is at least two hours before you want to go to bed. This will save you getting back up again to let your puppy out to open their bowels!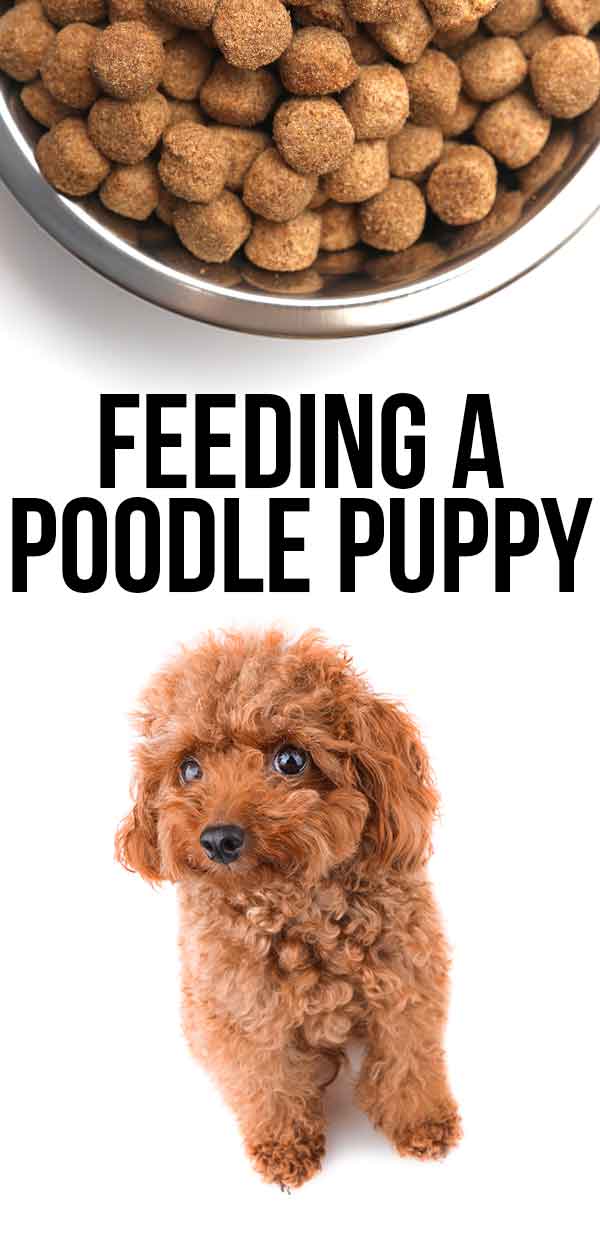 How Feeding Changes As A Poodle Puppy Gets Older
As your Poodle puppy gets older, his needs change. You'll need to keep up with new nutritional requirements. An adult dog food should have less protein, calcium, fat, and omega-3 acids than the puppy version.
Once your Poodle gets to about 80 percent of his expected adult size, feel free to switch to the adult brand. If you don't, you're likely to be encouraging obesity and orthopedic problems in your puppy from too much fat.
Pay attention to your puppy's body language. Every dog is different in terms of metabolism and body type. If he's leaving food behind, for example, he may be feeling too full because of the fat content of the puppy food. In that case, it might be time to switch to the adult corollary.
Feeding A Poodle Puppy Kibble
One of the most popular feeding choices is commercial dry food. It's convenient, reasonably priced, and generally contains balanced nutrition for your Poodle pup. Additionally, kibble is good for puppies' teeth because the hard texture helps mechanically scrape off food debris.
One major advantage of dry food is that it won't spoil, and you can leave it out. Look for meat-based protein sources in the first few ingredients listed on the package. Be sure to start off with apuppy formula if your dog is under 12 months old.
Feeding a Poodle Puppy Wet Food
Many canned dog food options are digestible and full of balanced nutrition. However, you might have to do a bit more work to find the complete nutrition you're looking for. Not all wet foods offer a balanced diet, so make sure to read labels. And don't forget to not leave canned food out too long.
If your dog needs better hydration or has problems with her teeth, wet food might be a good option. Canned food often has 75 percent moisture content compared with 6-10 percent for dry.
Since dogs seem to like the taste, this is a good choice for dogs that aren't feeling well. Canned food has more fat and protein and fewer carbs, along with more animal products.
Feel free to supplement your dog's wet food with kibble to provide optimum levels of nutrition and flavor without breaking the bank.
Raw Feeding For Poodle Puppies
Raw food diets such as Bones and Raw Feeding (BARF) are very popular, and you'll definitely find vets and breeders that swear by them. These diets are natural and palatable, which can be great for a dog's nutrition, energy levels, and skin health.
If you feed raw, allow transition time to let your dog's gut readjust. Also, do your research! Learn about safe handling and storage of meats. You're also going to have to know what nutrition your dog needs at what life stages, and what foods to give for proper nutrition.
Feeding Your Puppy a Homemade Diet
Feeding homemade allows you to add cooked meats and vegetables to your dog's diet. This works because some foods provide more nutrition (and taste better!) when cooked. Others are better raw. So this diet can be more flexible and easier to deal with than the raw diet. And you can avoid some of the pitfalls of uncooked meat, too.
However, some of the same nutritional issues must be addressed. You can't just feed your dog the same things you eat every day. What works for you doesn't necessarily work for your Poodle puppy.
Is My Puppy The Right Weight?
Being overweight or underweight are both undesirable conditions for your dog's health. Weigh your puppy frequently and use a Poodle growth chart, then adjust food amounts as needed.
Check your dog's ribs. If you can't feel under your dog's skin, he may be overweight. If you can see them without having to feel for them, your dog may need more food.
Look for other symptoms of problematic weight, such as exhaustion and difficulty turning around, or bowel and gas issues.
My Puppy Is Still Hungry
Some puppies want to keep on eating, even after you've given them the exact amount of food they need.
Don't give more! Poodles are prone to obesity, and obesity comes with plenty of health issues you do not want to deal with, such as metabolic and digestive disorders, back pain, heart disease, and joint problems.
Instead, find ways of helping your pup eat slower, or feel full faster. A slow-feeder bowl can help reduce the rate at which your dog scarfs down his meal, for example.
A puzzle feeder or other toys may also help. Play with her to distract her, or take her out!
If you really think you need to adjust food amounts, talk to your veterinarian and get professional advice.
How Long Is A Poodle Considered A Puppy?
Poodles tend to be a slower-maturing breed.
The different sizes of Poodle mature at different rates. Smaller dogs mature more quickly.
Miniature poodles will be fully grown between 7-12 months but may take a bit longer to fill out. Standard poodles may take up to 2 years to mature.
You can start feeding Miniature and Toy Poodles adult foods at around 9-12 months. For Standard Poodles, you'll want to wait until 12-24 months.