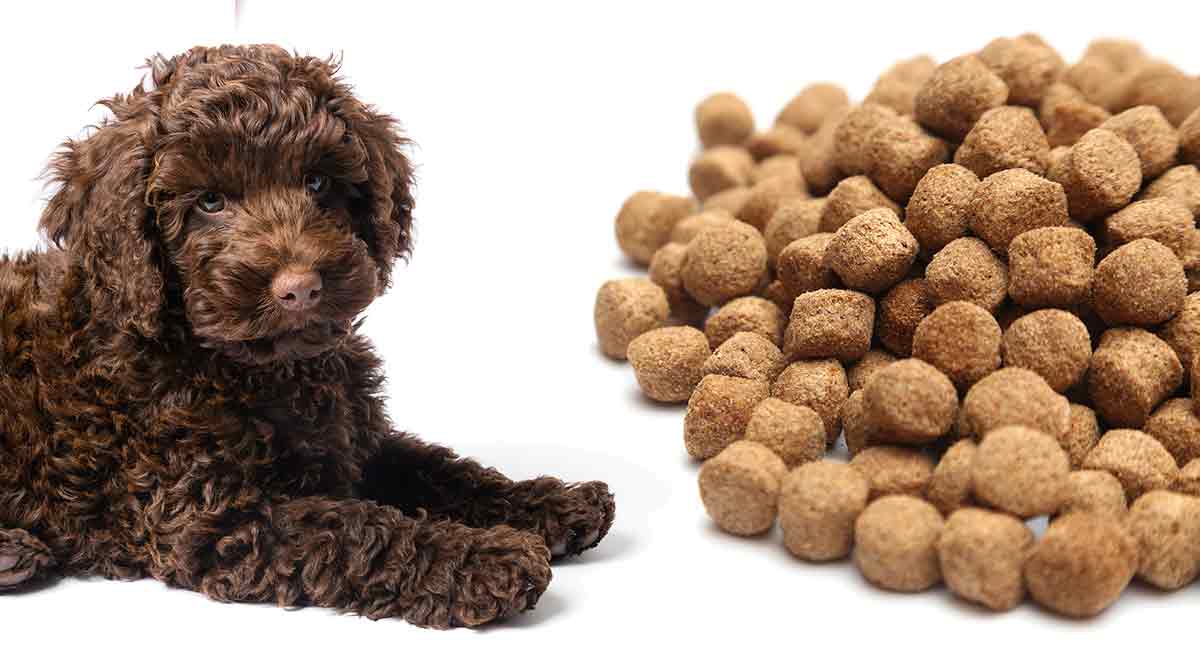 Labradoodle puppies should be an athletic build, lively, bouncy and full of fun. A vital part of their care is obviously getting those meal times right. Not just in terms of food brands, but the regularity of their meals and quantites you dish up. Good nutrition makes for a happy, healthy puppy, and lays a great foundation for a longer life.
Contents
Swapping Puppy Food Brands
Moving into his or her new home is a challenging and exciting time for your Labradoodle puppy. That alone can be enough for a slightly upset stomach, so it's best to not add a food change to the mix right away. Keep feeding what your pup is used to for at least two weeks. Then, slowly start mixing in the new food you have chosen for your pup.
Increase the amount of new food slowly over the course of one week, then remove the "old" food altogether. You can add canine probiotics to your puppy's food to help with this transition. We love Purina Pro Plan FortiFlora Dog Probiotic Supplement.
Labradoodle Puppy Diets
Puppies have lots of growing to do. This means that they need more of certain minerals and nutrients (for example calcium and phosphorus for bone growth). Your labradoodle pup will also need a higher amount of good quality protein.
It's natural to think that fast growth is good. This is definitely not the case, though. When your puppy's bones grow very quickly, the cartilage in the joints does not have time to catch up. This—among other things—can cause joint problems, such as hip dysplasia.
Labradoodles are a cross between two breeds that are both already at high risk of developing hip dysplasia. Therefore, it's even more crucial to ensure that your Labradoodle grows slowly and sustainably. The most important thing of all is to avoid overfeeding a Labradoodle puppy, as we will see later in this article.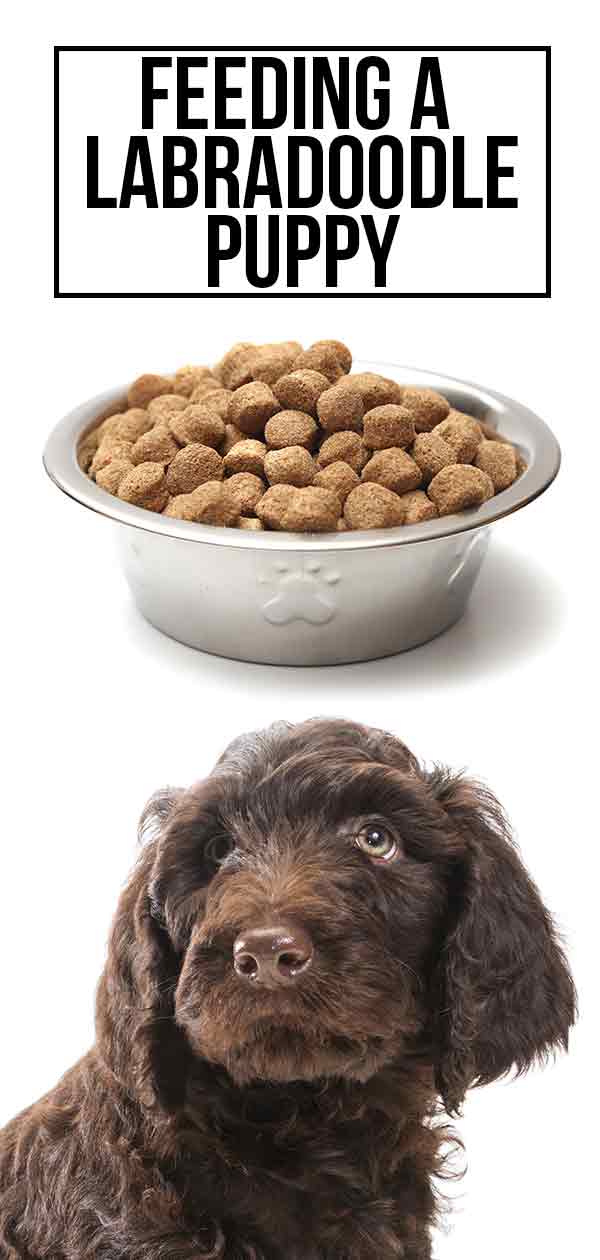 How Often To Feed A Labradoodle Puppy
The younger and smaller your puppy is, the more often it needs to be fed. A puppy's blood sugar can drop dangerously if he or she does not eat for longer periods. This is called hypoglycemia. Generally, a feeding schedule for your Labradoodle pup can look like this:
2 – 4 months: 4 meals daily
4 – 6 months: 3 meals daily
6 – 8 months: 2 – 3 meals daily
Older than 8 months: 2 meals daily.
How Much To Feed A Labradoodle Puppy
Most commercial foods come with detailed recommendations on how much to feed every day. Just make sure to divide the total daily amount onto multiple feedings. You can make slight adjustments to these amounts if your pup is looking a little slim or chunky.
The number of calories your pup needs will also change as he or she gets older and heavier. The daily required calorie amount is calculated according to your puppy's current bodyweight. Commercial dog foods also base their feeding recommendations on your Labradoodle pup's weight. This is why it's important to weigh your pup regularly and adjust the feeding portions accordingly.
What Is The Best Type Of Food?
There are a couple of different options out there. Your first decision to make is whether to buy commercial dog food (kibble and/or wet food) or prepare the meals yourself (raw feeding or home-cooked meals). If you don't have a lot of experience with puppy nutrition, we suggest sticking with commercial food for a start.
Commercial dog foods offer complete and balanced nutrition for your growing pup – this means that they have all the right nutrients in all the right amounts and ratios. If a puppy is fed an inappropriate diet, this could lead to long-lasting growth defects or other malnutrition diseases.
Feeding a Labradoodle Puppy Kibble
Kibble is the most popular type of dog food out there. It's convenient, cheap, and it comes with recommendations on how much to feed at any life stage.
There are only two things you need to pay attention to when choosing kibble: It should be designed specifically for puppies, and it should be high-quality. Research shows that higher-priced dog foods tend to have higher nutrient digestibility than lower-priced kibble – so it might be worth spending a bit more.
Choose a kibble that contains a meat protein source as the first ingredient, and steer clear of ingredients like corn, soy, and cereals.
Feeding a Labradoodle Puppy Wet Food
Wet food can really make puppy hearts beat faster. Due to its high water content, the aromas and taste of the meat unfold better, making wet food the most palatable food there is. This comes at a bit of a cost, though: Wet food tends to be more expensive than kibble, and of course it spoils more easily.
Contrary to kibble, it's not that easy to use as a treat when training your puppy, and it can't be filled into food balls and other fun games that make your dog work for his food. Wet food also can't help clean your puppy's teeth, whereas kibble can.
This—and the fact that a lot of dogs get loose stools when fed on wet food—is why we wouldn't recommend feeding your Labradoodle pup exclusively on wet food.
To get the best of both worlds of commercial dog foods, you can combine or alternate between kibble and wet food. If you do opt to feed only wet food, make sure it says "complete food" on the label (not "complementary").
The BARF Diet
If you want to feed your puppy a raw diet, you'll have to do some planning. BARF stands for "biologically appropriate raw food", and the idea behind it is that you only feed your dog natural and fresh ingredients.
The BARF diet consists of lots of raw meat and bones, as well as some veg and fruit. Supporters of raw feeding think that it will make your dog healthier, although there is no solid evidence for this yet.
Raw meats are often contaminated with bacteria such as Salmonella or Campylobacter. These bacteria could potentially cause diseases in your pup. However, this is extremely rare, as the digestive tract most dogs can handle these bugs just fine.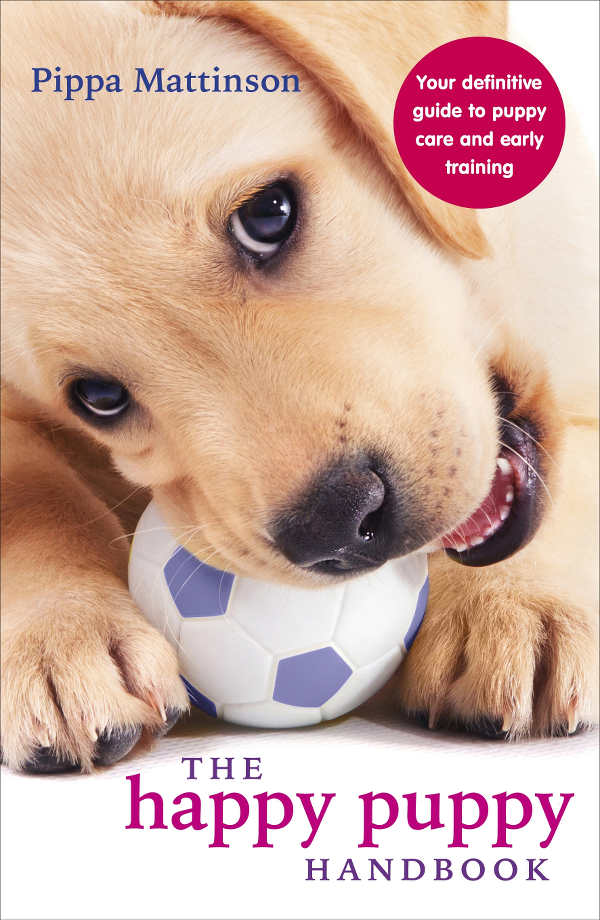 Feeding a Labradoodle Puppy a Homemade Diet
Homemade diets follow similar principles as BARF, but generally, the meals are cooked. This means that there is a lot less danger of bacterial infections from raw meats. There is, however, another drawback that raw feeding and homemade diets have in common: It's necessary to have a solid meal plan so that your pup gets all the nutrients it needs.
If you're not quite sure about this, we would suggest talking to an experienced veterinarian or a dog nutrition specialist. Keep in mind that cooking for a dog is not the same as cooking for yourself. Avoid spices, onions, garlic, cooking oils, and too much salt.
My Puppy Is Still Hungry
The Labradoodle definitely has the Labrador's mighty appetite. These are dogs that will always want more food and are prone to obesity. Obesity is one of the biggest threats to your dog's long-term health, so it's vital that you don't give in to those begging eyes.
It can help to space out meals or add one or two feedings a day if your dog is constantly hungry.
Another option is to make your dog work for small amounts of food throughout the day – be it with puppy training, food balls, or puzzles. The possibilities are endless. Just make sure not to feed any additional food, but to calculate all of this towards your dog's daily calorie requirement.