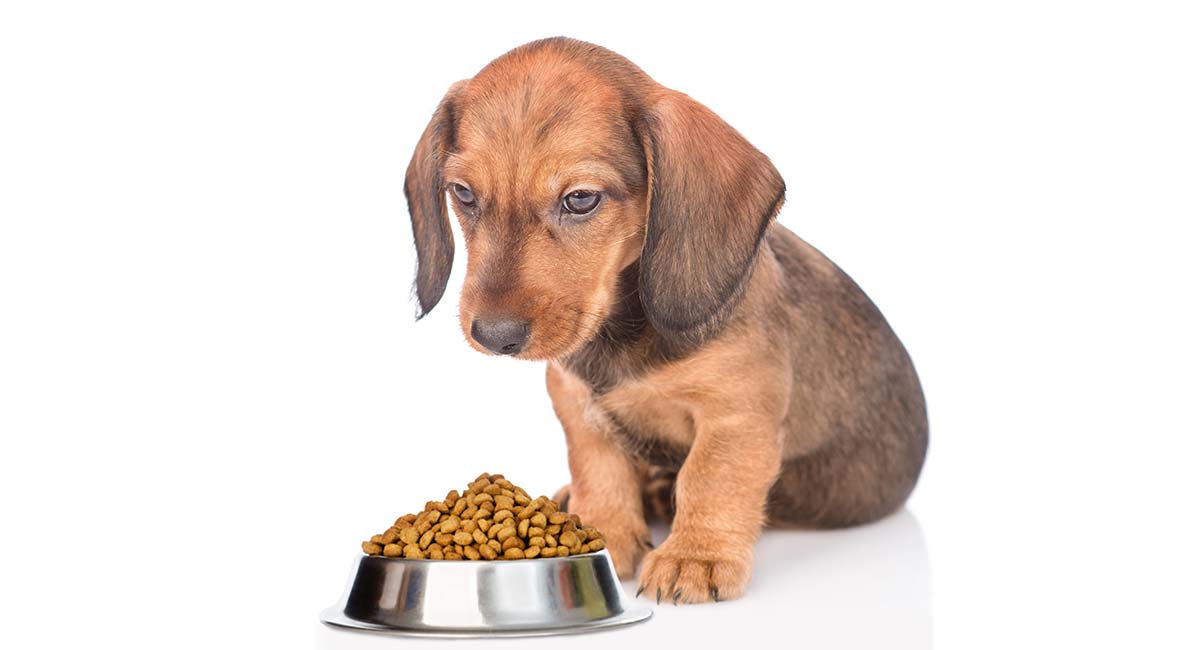 Feeding a Dachshund puppy the right food will lower their chances of health problems in adulthood. Look for brands that are high in fat and protein, with not too many fillers. Quantity is really important too. Puppies do need more calories per pound of bodyweight than adult dogs, but feed too much and your pup will grow too fast. Fast growth can lead to problems with bones and cartilage, and exacerbate their predisposition to back problems.
Contents
Swapping Puppy Food Brands
Your Dachshund puppy's digestive system is already used to the food that the breeder was giving him or her. To give your dog's tummy time to adjust, it's best to transition slowly.
Keep feeding the same food your pooch is used to for at least two weeks after taking him or her home. Then, start by mixing 90% of the old food with 10% new food.
Gradually increase the percentage of new food over the course of 7–10 days, until your puppy is happily munching on a bowl filled with nothing but his or her new chosen food.
Probiotics Might Help
To help make this transition as smooth as possible, you can add probiotics to your pup's food once a day.
Probiotics are good gut bacteria that help with digestion. Studies have shown that they can be beneficial for your dog in times of stress, food changes, or illness.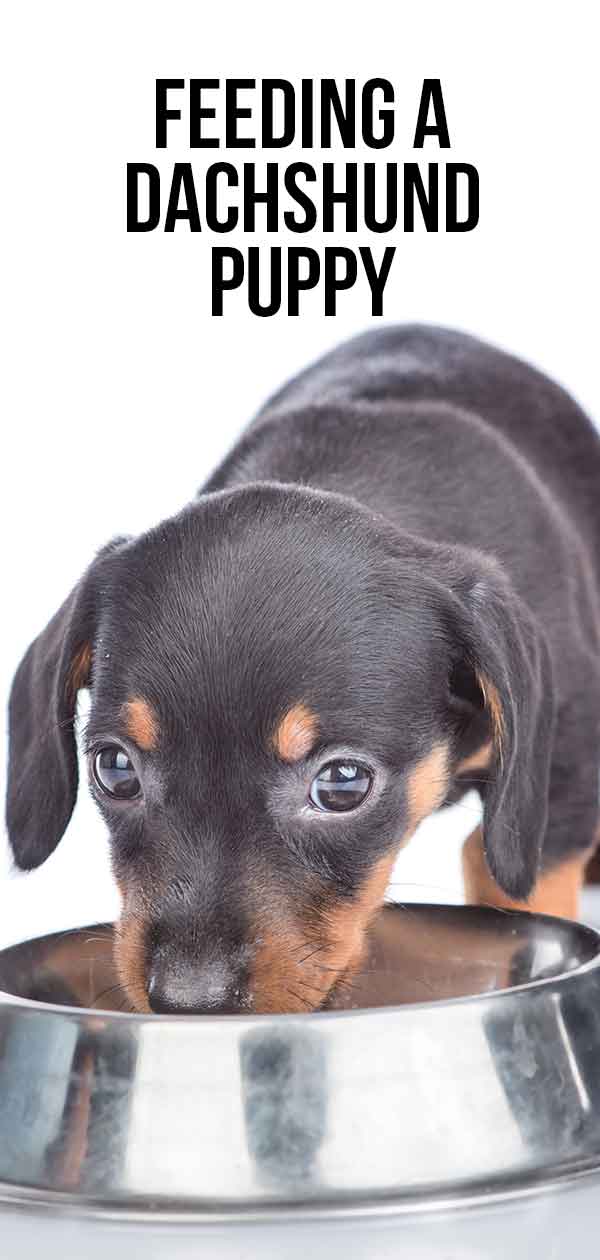 Schedules and Routines
Puppies – especially those of smaller breeds like Dachshunds – have a fast metabolism and are therefore at risk of hypoglycemia if they don't eat for longer periods of time.
At the beginning, you will need to distribute your pup's total daily portion into multiple feedings throughout the day. The amount you should be feeding a Dachshund puppy can decrease as your puppy gets older.
A rough guideline to follow is:
2–4 months: 4 meals
4–6 months: 3 meals
6–8 months: 2–3 meals
Over 8 months of age: 2 meals
As Dachshunds are very active dogs and known for their hearty appetites, we would recommend sticking with 2 meals daily, even as your pooch reaches adulthood.
How Much To Feed A Dachshund Puppy
I find the best way to give a puppy the right amount of food each day is to plan ahead. Follow the guidelines on the packet for the daily weighted ration of food. Then split it into separate bowls, one for each meal and a separate one for training treats to reward good behavior.
If after a few weeks your puppy is looking a little slim or heavy you can adjust accordingly.
What to Feed a Dachshund Puppy?
In general, you get to choose between commercial dog food (either in the form of kibble or wet food, or a combination of both) and a homemade diet (cooked or raw).
Complete commercial dog foods are balanced, which means that they contain all the nutrients and minerals your pup needs in the right amounts. This will ensure your dog's healthy growth.
If you choose to feed your puppy on a homemade diet – be it raw foods or cooked meals – it will be your job to ensure that the meals are well-balanced.
Puppy Kibble
Kibble is by far the most popular and convenient choice of dog food. It comes in many different shapes, sizes, and flavors.
It's important to choose a kibble that was designed specifically for puppies, preferably for small-breed puppies.
Kibble for small breeds is smaller and therefore easier to chew and swallow. It's often worth spending a bit more.
Premium kibble tends to contain a higher quality protein. As ingredients in dog food must be listed by amount in descending order, look for a kibble that lists a meat source as the first ingredient.
Try to avoid brands that contain fillers such as cereals and grains (corn, soy, wheat, and so on).
Feeding a Dachshund Puppy Wet Food
Wet food is a commercial alternative to kibble. It tends to be more expensive and a little less practical than its dry counterpart.
Due to its high water content, wet food spoils more easily once opened.
Some other concerns with wet food include its tendency to cause loose stools, as well as the fact that it doesn't help clean you pooch's teeth in the way that kibble does.
On the other hand, wet food is very tasty for most dogs. We wouldn't recommend feeding a Dachshund puppy on wet food alone. However, it can be a great occasional treat at mealtime – or it can be mixed with kibble to get the best of both worlds.
If you do choose to feed your pooch only on wet food, choose one labelled complete not complementary.
Raw Puppy Food
BARF stands for "biologically appropriate raw food". Raw feeding, has gained immense popularity in the world of dog lovers over the past few years.
Fans of raw feeding advocate its positive effects on teeth, coat, and digestive functions.
One drawback of raw feeding is certainly that it requires lots of effort and planning on your part. Unlike with commercial dog foods, if you feed your pup a raw diet, it is your responsibility to ensure that he or she gets all the right nutrients in the right amounts and ratios.
This is crucial in all of your dog's life stages, but especially during the growth period. Lack of calcium or phosphorus – or an inadequate ratio of the two – can cause growth defects in puppies.
Last but not least, watch out for your own safety and the safety of your family when preparing raw meals for your pup. Raw meat contains bacteria – such as Salmonella and E. coli – that can endanger humans. Proper hygiene is very important when handling raw meat or bones.
Feeding a Dachshund Puppy a Homemade Diet
There is also the option to cook homemade meals for your Dachshund pup.
With homemade diets – as with raw feeding – it is up to you to ensure that meals are well-balanced and meet all the nutritional needs of a growing puppy.
If you want to cook for your dog, work closely with a vet to put together a meal plan.
Unfortunately, human meals are generally not fit for dogs.
They contain too much salt and fats and the calcium to phosphorus ratio is not optimal.
Therefore, you will need to cook separate meals for your dog if you choose this type of feeding a Dachshund puppy.
How Much Should I Feed My Dachshund Puppy?
In general, you can calculate the daily amount of calories your puppy needs based on his or her current weight.
A rough guideline to follow is that growing dogs require two times their resting energy requirement (RER) per day.
This total daily calorie amount is then distributed into multiple meals throughout the day.
If you choose a commercial dog food for your pup, the good news is that someone else already made these calculations for you.
Kibble and wet food come with detailed instructions on how much to feed depending on the age and current weight of your pup.
If you feel that the recommended amount is too little or too much, talk to your vet.
Is My Puppy the Right Weight?
Weighing your Dachshund regularly is not only important to figure out caloric needs but also to track his or her growth.
The numbers on the scale don't tell the whole truth, though.
It's crucial to also determine your pup's body condition score.
There is a tendency to think that it's okay for puppies to be chubby as they will "grow out of it."
However, being overweight during the growth phase can have a long-lasting detrimental effect on your pup's health.
IVDD
Dachshunds are genetically prone to develop intervertebral disc disease (IVDD).
This is a disease of the spine that is very hard to treat and is unfortunately a frequent cause of euthanasia in Dachshunds.
Obesity can increase your dog's chances of developing IVDD.
Weight control – starting early on in your pup's life – is the best prevention.
On the other hand, being underweight is just as unhealthy for your pup.
If your dog is too thin, have a vet check him or her for worms, infections, or other underlying health issues.
My Puppy Is Still Hungry
If your pup wolfs down his food and then goes straight to begging for more, try not to oblige too readily.
Stick to the calculated daily calorie amount, but try distributing it over more feedings and spacing out the meals throughout the day.
Another option is to slow down your pup's food intake – this will help him or her feel more full.
Slow-feeder bowls are a great option, as are treat balls or puzzle games that make your dog work for his or her food.
My Puppy Won't Eat
With the excitement of changing homes and foods, it's possible that your pup's appetite suffers for a bit.
If your pup misses more than 2 meals or 12 hours of feeding, or if you notice other symptoms (apathy, vomiting, diarrhea), give your vet a call right away.