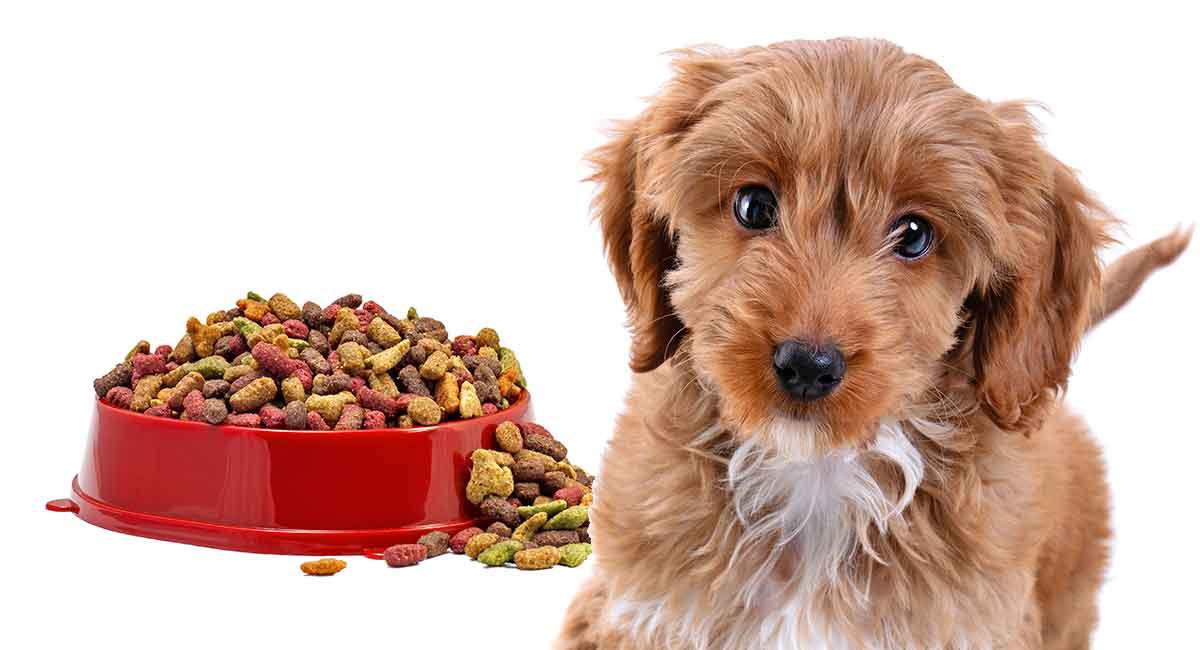 Feeding a Cockapoo puppy involves decisions about the type of diet to offer, in what quantity, and how often. And now you don't have to make them alone! We're going to walk you through each choice, helping you to make the right one for your pup.
There are pros and cons to all the options. Whether that's kibble, wet food, raw food, or even homemade Cockapoo puppy meals. Their calorie needs depend upon their age, condition, and expected adult size. And whilst there's a lot to think about, once you know what you are looking for it's surprisingly easy to make the right choices.
Feeding A Cockapoo Puppy
The Cockapoo is a cross between the Poodle and the Cocker Spaniel. As this cross-breed is rather new, there's not that much information out there. But we've done the research for you. In this article, you will find out what to feed your Cockapoo puppy, the right amounts and feeding schedules, and much more.
Swapping Puppy Food Brands
The first thing to do is to plan ahead: before you take your pup home, find out what food he or she is used to. Keep feeding this food for at least two weeks while your pup gets accustomed to his or her new home and family. During this exciting period, your Cockapoo pup might already experience some loose stools, so it's best not to add a food change to the mix right away.
When you do start feeding your pup's new chosen food, mix it with the "old" food for at least a week. Start off with just a bit of "new" food in the bowl, and then gradually increase the amount over 7-10 days until there's no more of the "old" food left. If you're switching to a completely different diet (for example from commercial dog food to a raw diet), you might have to make this transition period last even longer. Monitor your dog's appetite and stool texture and adjust to his or her individual needs.
Cockapoo Puppy Diets
We often talk about "The Cockapoo" as if this was a homogenous breed, but the truth is that designer breed puppies often differ greatly one from the other – sometimes even within the same litter! Depending on which type of Poodle is to be found in your pup's ancestry, your Cockapoo's adult weight can be something between 6 and 20 pounds. Of course, the growth curve and the dietary needs will depend strongly on your pup's expected adult weight. Having a close look at your pup's parents will let you know what to expect.
For most Cockapoo puppies, the safe bet is to opt for a dog food made for "small breeds." In general, all puppies need special "puppy" food. The reason for this is that they need more protein per pound of body weight than an adult dog would. All this protein – together with nutrients such as calcium and magnesium – goes towards your pup's bone and muscle growth. Puppy food should contain at least 22.5% protein, according to the AAFCO.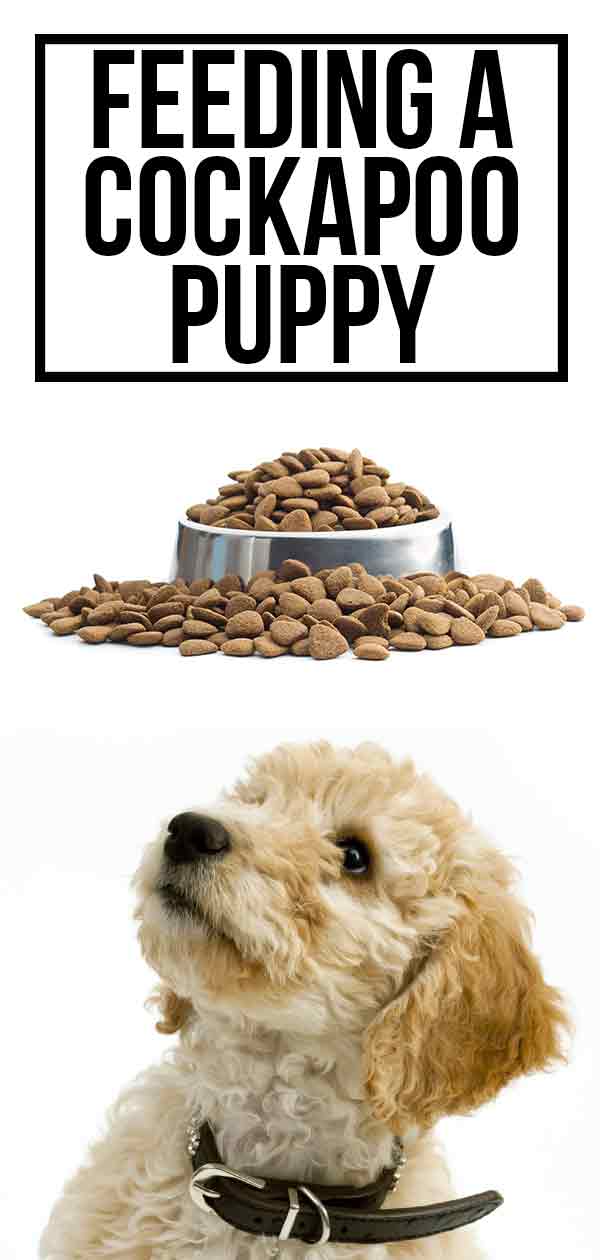 How Feeding Changes As A Cockapoo Puppy Gets Older
Your Cockapoo puppy will complete the steepest part of his or her growing curve before you take your pooch home. From then on, growth is gradual and steady. The bigger and heavier your puppy gets, the more calories he or she needs per day. On the other hand, older Cockapoo puppies can go longer without a meal.
From the moment you take your pup home until he or she is four months old, you should go with four meals a day. Then, reduce to three meals daily until your puppy is six months old. Once your Cockapoo pup is older than six months, you could even opt for only two meals a day.
What To Feed A Cockapoo Puppy
We know that there are countless different food options for your Cockapoo puppy. Every brand claims to be the best, but what's the difference between them? We'll summarize the different types of food for your pup and help you choose which one is right.
The first decision to make is whether to buy a commercial dog food (wet food or kibble), or whether to prepare your Cockapoo pup's meals at home. Commercial foods generally contain all the nutrients your puppy requires from a complete diet.
If you put your puppy's meals together yourself (cooked or raw), it will be your job to make sure that the meals are well-balanced. We suggest you get an experienced vet on board to help you with this. But first, let's have a look at all the options in detail.
Feeding a Cockapoo Puppy Kibble
Kibble is extremely convenient: it's easy to store, can be fed on the go, and it doesn't leave a mess. If you choose a brand that is specifically designed for small breed puppies, you'll ensure that your pup gets thoroughly balanced nutrition.
Kibble for small breeds is also made up of smaller pieces, to avoid choking hazards for your Cockapoo pup. As humans, we tend to think that diversity is an important aspect of any diet. This doesn't quite apply to dogs, though. Once you've found a kibble that your pup likes, it's best to stick with it.
You can even use your dog's kibble as treats for puppy training if your puppy likes it. Just make sure to deduct the treats from your Cockapoo pup's daily portion (to avoid overfeeding).
Feeding a Puppy Wet Food
Wet food is the other type of commercial dog food you can feed your puppy. As the name says, it contains a lot of water. This helps keep your puppy hydrated, and also makes wet food very palatable.
Some wet foods are not meant to be fed exclusively, as they are not completely balanced. These will be labeled as "complementary" foods. If the wet food says that it is a "complete" diet for your puppy, it's safe to feed your Cockapoo pup only on this wet food. One drawback of doing this is that it's more expensive than kibble.
A lot of dogs also get bad breath and loose stools from wet food-only diets. The best option would be to use wet food as an occasional mealtime treat, or to mix it with kibble (this is called "topping").
Feeding a Puppy Raw (BARF)
Maybe you don't want to feed your puppy a commercial diet. Maybe you're thinking that opting for fresh ingredients will be better for your Cockapoo pup's health and digestion. You're not alone with this thought – in the past years, raw feeding has gained tons of supporters worldwide. But can research back up this trend, or is it a fad?
BARF diets ("biologically appropriate raw food") have not been proven to be worse for your pet than commercial diets, providing that they are complete and well-balanced. Unfortunately, as of today, there is also no conclusive evidence that raw feeding is inherently better for your puppy's health.
I cannot stress enough how important it is to put together a well-balanced meal plan. Unfortunately, we still see cases of severe malnutrition and diet-related diseases in puppies fed a raw diet. If you're not a canine nutrition expert, that's not a problem – an experienced veterinarian can help you check meal plans.
Recently, the rise of "commercial raw foods" has made raw feeding accessible for those who do not want to calculate nutrients themselves. However, a lot of these commercially available BARF meals are not complete, even though they claim to be. Do your research and if you're in doubt, have a canine nutrition expert double-check the nutrition facts on the packaging. Raw meats and bones are always a potential source of bacteria and parasites that can be harmful for your puppy and yourself. Hygiene is crucial!
Feeding a Puppy a Homemade Diet
Homemade diets are similar to raw feeding, except that the ingredients are usually cooked. This greatly reduces the risk of infection (with parasites or bacteria such as Salmonella) for you and your puppy. Other than that, the same rules as with raw feeding apply: you will need to keep a close eye on nutrient contents and ratios to make sure you are feeding your Cockapoo pup a balanced diet.
Another thing to consider is that while humans and dogs can survive on similar diets, modern-day human foods are not ideal for your puppy's health. When cooking for your Cockapoo pup, skip the salt and spices, go easy on the oil, and don't forget that certain surprising foods can be toxic to dogs.
How Much Should I Feed My Cockapoo Puppy?
If you're preparing your Cockapoo puppy's meals yourself, you will have to calculate his or her daily calorie requirement. A general rule of thumb is two times the RER (Resting Energy Requirement) for your pup's current weight.
If you decided to buy a commercial food for your puppy, you should find guidelines on the amounts to feed on the packaging. If you think that the suggested amounts are too much or not enough, ask your vet for guidance.
Is My Puppy The Right Weight?
Weight is a very good indicator of your puppy's health. A puppy that is underweight could have undetected health issues – especially if it's eating enough.
Being too skinny can impede your Cockapoo pup's growth. If you suspect that your puppy is too thin, talk to your vet and make sure that you are deworming your pup correctly. On the other hand, being too chubby can also harm your pup's bones and joints during the growth phase.
Your puppy's weight is surely important to determine, but the numbers on the scale can't tell you everything you need to know. A far superior indicator is your puppy's body condition score. When you're bringing your pup in for vaccines, ask your vet to show you how to determine your puppy's body condition score.
My Puppy Is Still Hungry
If your puppy is constantly begging for food, maybe he or she is eating too quickly. You can try a slow-feeder bowl or making your puppy work for his or her food – you could use food balls or puzzles to place kibble in, for example. Don't do this for every meal, though, as this could exhaust your pup.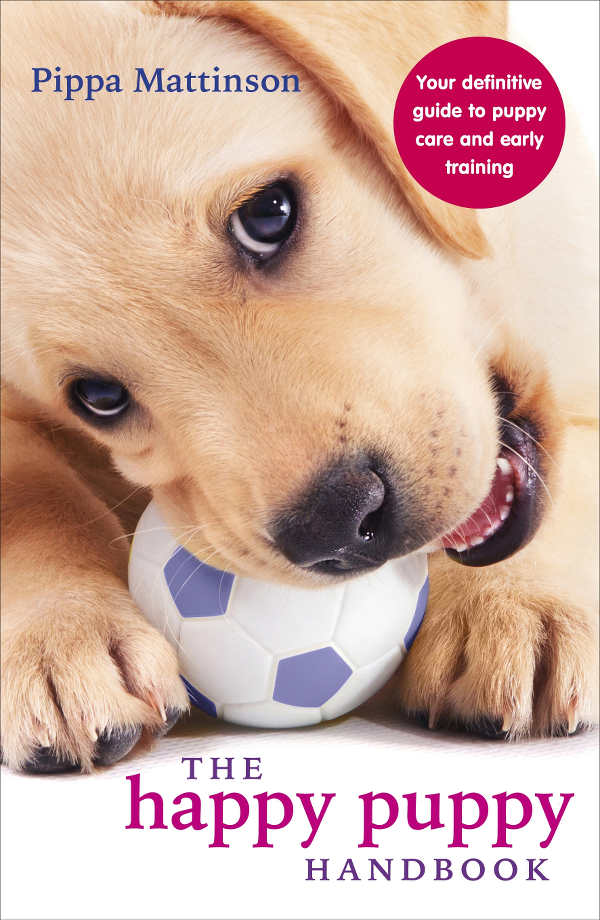 Another option is to distribute your pooch's daily calories into more meals throughout the day. In general, though, your puppy should learn that food is only available at specific meal times and that begging won't be rewarded.
My Puppy Won't Eat
What if your puppy is not eating right?
Puppies have fast metabolisms and need to eat regularly. If your pup misses more than two meals in a row or goes more than 12 hours without eating, this is cause for alarm. Call your vet right away. Some puppies also have reduced appetites overall.
If there's always some food left over in the bowl, re-check that you calculated the daily portions correctly. If you did, consult your vet. Provided that your pup's body condition score is within a normal range, there's probably no reason to worry.
How Long Is A Cockapoo Considered A Puppy?
Cockapoo pups normally reach their adult weight at around 10 months of age. At this time, you can make the switch to adult food for your pooch. If you chose a commercial puppy food, it's best to stick with the same brand for the adult food.
Should you choose to feed your dog raw or home-cooked meals, you should re-calculate nutrients with your vet, as some of your dog's nutrient requirements are different now that he or she is no longer growing.
Conclusion
We hope you found all the answers on what to feed your Cockapoo puppy.
With all this knowledge in mind, you can make the optimal choice your pup – so that your Cockapoo can be happy and healthy.
Further Reading
References and Resources