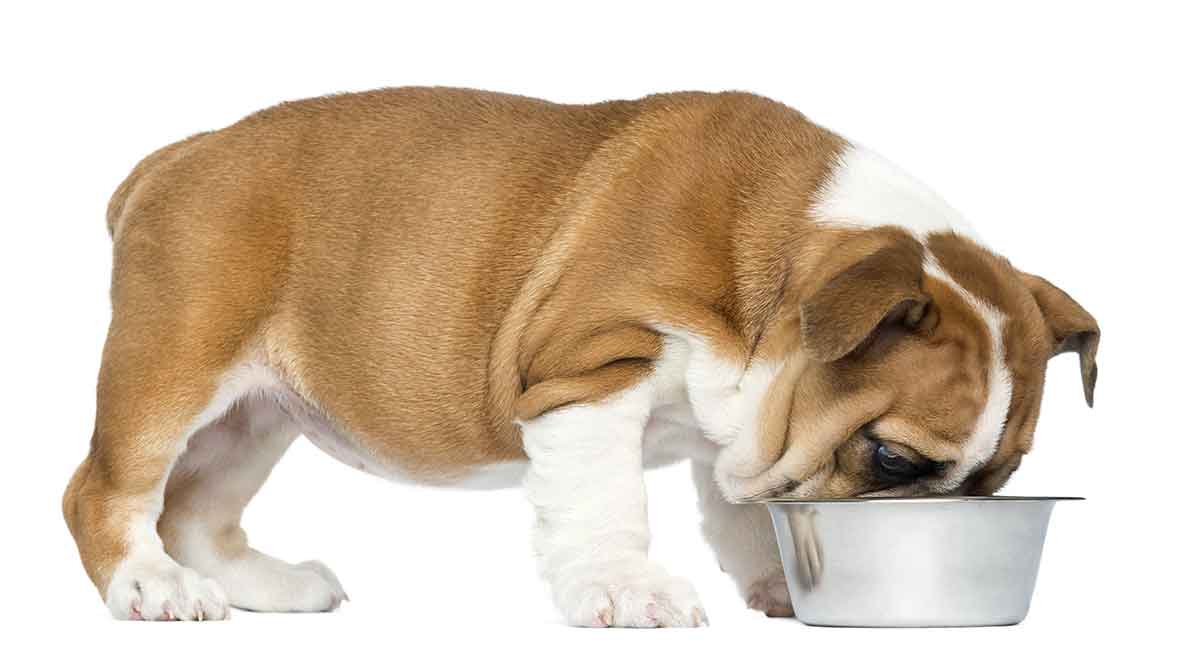 Taking care of any puppy is a big responsibility, but a Bulldog puppy has some special health and feeding requirements! Today I'll share what to feed your Bulldog puppy, how much to give them and how often. I'll delve into the pros and cons of different diets, taking into consideration the genetic and conformational issues this iconic breed has to contend with.
Contents
Swapping Puppy Food Brands
When you first bring your Bulldog puppy home you should feed him the same food that he was getting from the breeder or shelter for about three to four weeks. This will give him time to acclimate to his new surroundings and get used to being separated from his mom and siblings.
When you switch your puppy's food, do it gradually over a period of five to seven days. Mix about three-quarters of the puppy food he eats now with one-quarter of the new food for the first two to three days.
For the next two or three days give him equal portions of the old and new food. Finally, give him three-quarters of the new food and one-quarter of the old food for two to three days. This should be enough time for your puppy's tummy to be able to handle the new food.
Bulldogs have a particularly sensitive digestive system and an abrupt change in diet can easily upset a puppy's small stomach.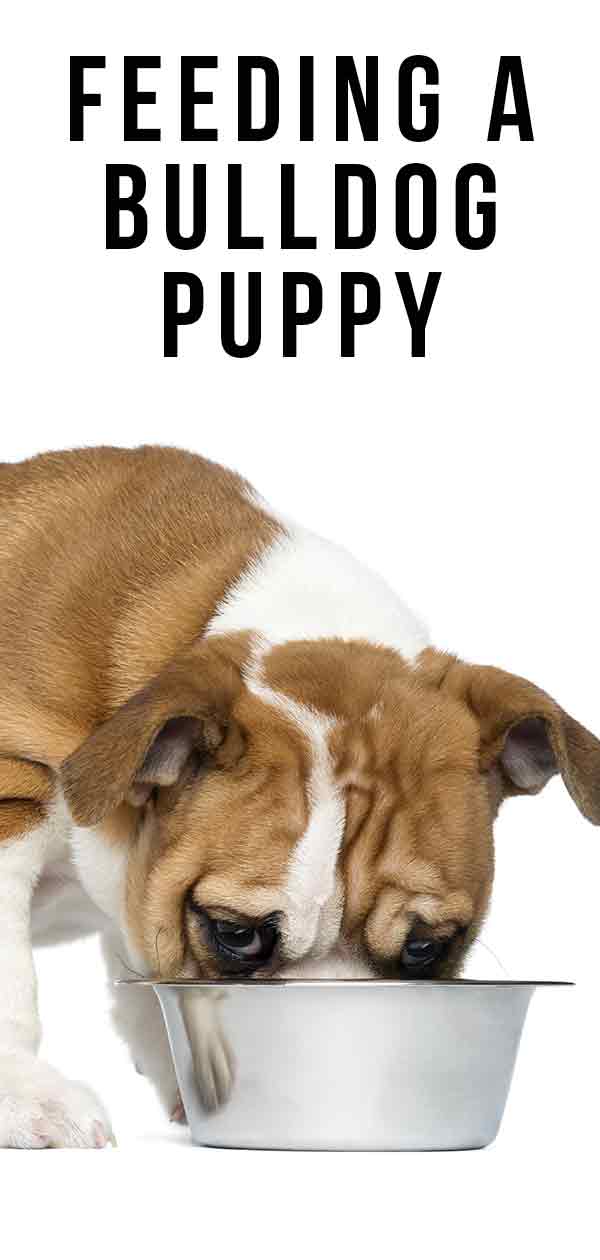 Bulldog Puppy Diets
The sheer number of different puppy foods to choose from can be overwhelming. Your breeder may be able to give you some guidance. It's also a good idea to have your veterinarian make a recommendation on the best food for your Bulldog puppy.
Puppies need plenty of protein to promote strong bone, muscle, and joint growth. High-quality, natural protein should account for about 20% of your puppy's diet .
Guidelines on labels will give you an idea of the amount to feed your puppy, but ultimately each dog is an individual. Their body size, not what the label says, is a better indicator of a proper portion. A serving size can also vary depending on the type of food or brand as well.
Special Requirements
Bulldogs are a brachycephalic breed. The short muzzle that's one of their defining features can also make it difficult for them to pick up food. Chewing and swallowing can also be a problem. This is because the palate, teeth, tongue, and tissue are the same size as that of a dog with a much longer muzzle.
Many Bulldogs also suffer from brachycephalic obstructive airway syndrome which causes serious breathing issues that can also make eating difficult. If you're feeding your puppy dry kibble, choose one that has a triangular or other unique shape because it's easier for them to pick up and chew. You might also find combining dry food with a good quality wet food is easier for them to consume.
How Much To Feed A Bulldog Puppy
Until your Bulldog puppy reaches three months of age he should be fed four times a day. From three to six months, you can reduce it to three times a day. At six to 12 months old, you can feed him twice a day. After he's a year old you can feed him once or twice daily.
It's important to support slow growth so that their bones form properly. Bulldogs are highly at risk for hip dysplasia. In fact, this study of 20 English Bulldogs found that none of the hips showed normal development and 77.5% were moderately to severely deformed at 12 to 14 months of age.
Slightly lowering calorie and protein levels can foster slower growth in a dog who's prone to hip and joint problems.
Feeding a Bulldog Puppy Kibble
Dry kibble is probably the most popular all-round puppy food choice. That's because there are a lot of plusses with dry food. It's convenient, easy to store and serve, and in most cases it's the least expensive option.
Make sure you choose a dry formula designed specifically for puppies. You may also want to find one that's suitable for medium to large breeds. However, not all brands are created equal. Always check the ingredient list to ensure you're getting a high quality protein. Stay away from ingredients like
corn
wheat
soy
artificial color
additives, and
preservatives.
Feeding a Bulldog Puppy Wet Food
Wet food usually comes in cans and is generally considered meatier and more appetizing than dry old kibble. One upside to feeding your Bulldog puppy wet food is that it requires less chewing, which makes it easier for them to eat. It can also be easier for a dog with a delicate gastrointestinal system to digest.
One downside is that it may cause loose stool. So if you're switching to canned food, you may want to keep an eye on your puppy's bowel movements.
Since kibble is known to help remove plaque and the Bulldog is prone to dental problems, combining dry and wet food may be a good compromise.
Feeding a Bulldog Puppy Raw
BARF stands for biologically appropriate raw food and there's increasing interest in this dog food diet. Proponents of raw food feel this is a healthier diet because a dog's digestive system is designed for processing meat and bones. A raw diet will keep your dog's teeth cleaner than kibble.
Dogs tend not to overeat raw food and are therefore less likely to put on weight. This is good for breeds like the Bulldog who have a tendency towards obesity and the joint and other health problems it causes.
There are some concerns with intestinal blockage from bone fragments, which could lead to an emergency situation. Raw food can contain harmful bacteria and it goes without saying that precautions need to be taken when preparing raw meat.
If your puppy is very young, his immune system isn't fully developed. If you do choose raw, consider grinding the bones first. This is to avoid choking hazards in a dog who is prone to them.
Feeding a Bulldog Puppy a Homemade Diet
Although a homemade diet can incorporate raw food, it usually includes meat that's cooked. There are varying opinions on what are the best foods and proportions for your Bulldog puppy's homemade diet. Although, it definitely isn't giving him table scraps.
If you're considering going the homemade diet route, your best bet is to work closely with your veterinarian to ensure your puppy is getting the proper nutrients.
Is My Puppy the Right Weight?
It's harder to tell if your Bulldog puppy is the right weight than it is with most other breeds. This is due to their singular conformation. However, if you run your hands along either side of his ribcage you should be able to feel his ribs. By eye, his waistline should tuck in and be narrower than their hips.
Bulldogs have a tendency to gain weight easily. This can mean trouble for a dog who is limited in the amount he's able to exercise. Being overweight can increase the chance of
hip and joint problems
respiratory dysfunction, and
arthritis.
It also puts them at risk for
diabetes
kidney disease, and
heart disease.
However, you don't want your dog to be underweight either. Parasites, diabetes, or other underlying medical conditions could be the reason behind weight loss.