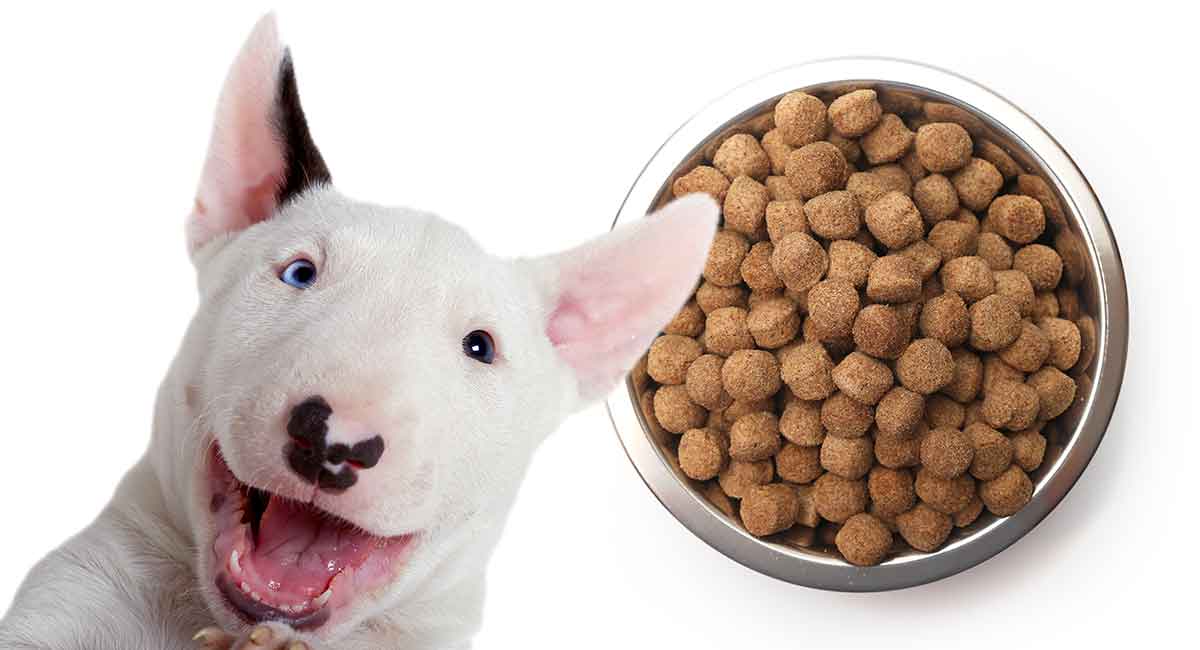 Feeding a Bull Terrier puppy is something you will need to research thoroughly to ensure you're getting it right.
The Bull Terrier is a breed that is idiosyncratic in both its appearance and personality, which has attracted and maintained a large group of fans over decades.
With their cute egg-like heads and heaps of character, it's no surprise that the many cannot help to fall in love with this unique breed. This appeal is only further increased when they are still puppies.
If you're reading this having just bought a Bull Terrier puppy, you may find yourself completely overwhelmed with the number of options available to their diet.
A cursory Google search reveals many different avenues, all claiming to be the "best" option for your new puppy.
In this article, we aim to provide you with all the relevant information and options you can take with your Bull Terrier puppy's diet.
We also include guides answering big questions such as when to feed, how much to feed, and more!
So let's get started!
Swapping Bull Terrier Puppy Food Brands
When you first take your Bull Terrier puppy home, it's important that at first, you continue feeding them the exact same food that the breeder has been raising them on.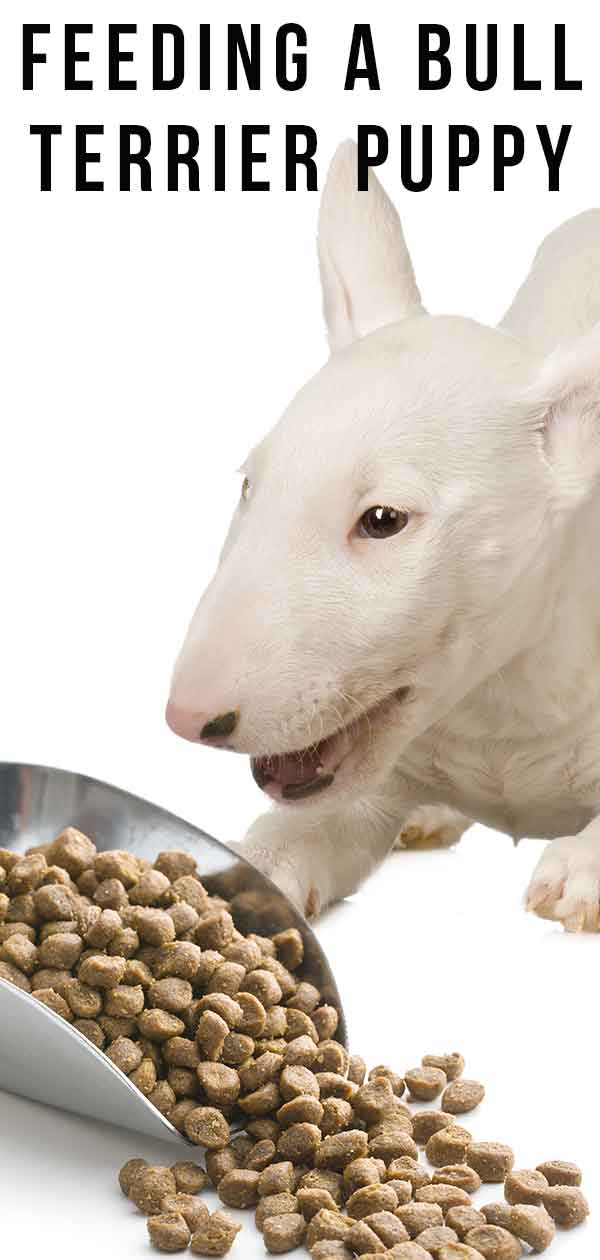 A responsible breeder will tell you exactly which brands and/or ingredients their puppies were weaned on – most provide a small supply to take home as well.
The reason why to avoid changing to a new food instantly is it would prove a huge shock to you puppy's stomach, and they would most likely end up suffering from vomiting or other gastrointestinal worries.
Being moved into a new home with strange sights, sounds, and smells is already stressful enough on a puppy.
Changing their usual food would just increase their stress further and potentially cause anxiety within the puppy.
The Right Time to Make the Change
Instead, we would recommend waiting a few weeks to a month for your Bull Terrier puppy to settle in before attempting to change their diet.
Changes should be made gradually over a moderate length of time. For example, slowly introducing the new food by mixing a small amount in with the old.
From there, you can increase the amount of new food and decrease the amount of old food every few days until the meal is 100% the new.
This method is the least stressful for your pets and allows their stomach to get used to the new food bit by bit, rather than all at once!
Be aware that during the first few days after taking your new puppy home, it's normal for them to eat less than normal. They may also suffer from minor stomach issues.
This is usually due to the stress of the move. However, if it continues longer than two days, seek your vet's advice.
Bull Terrier Puppy Diets
As mentioned earlier, there are many out there who claim that certain diets are the best and only option for a Bull Terrier puppy.
These people often completely contradict each other, leaving new owners completely confused as to what is the correct choice!
The truth is, all diets have advantages and disadvantages. You might need to try more than one before you settle on an option which is acceptable to you and your Bull Terrier puppy.
Raw Food Diets
Raw food diets (BARF) are particularly recommended by owners and breeders for this breed.
However, there are safety concerns surrounding this diet that we will detail later.
It can be an intimidating place to start for a first time puppy owner too.
Home Cooked Diets
Some people recommend home cooked diets.
You get all the control over what goes into them, but without the hygiene concerns of dealing with raw meat.
However, achieving the right nutritional balance can be difficult for the novice canine chef.
Commercial Diets
Instead, the simplest choice is usually the easiest for most people – a pre-made,  store-bought, dog food.
There are many companies out there who offer kibble that is specifically tailored to all the nutritional needs of a puppy.
Purchasing a high-quality complete puppy formula is the easiest way to ensure that your Bull Terrier puppy is receiving all the nutrition it needs to develop correctly.
How Feeding Changes as a Bull Terrier Puppy Gets Older
As your Bull Terrier grows, changes in their diet will be necessary. Their nutritional needs are always changing, and age is a huge factor in this!
Whilst they are still developing, Bull Terriers will need to be on a specialized puppy diet to ensure they are receiving all the nutrients they need to properly develop.
A Bull Terrier is typically considered an adult at around 14 months old, as it is around this time that they reach their tallest. From there, we would recommend gradually moving them onto a more adult diet.
The next major change you will need to fulfill within your Bull Terrier's lifespan is the move to senior food once they start to get on in years. Senior diets account for the fact that they are no longer as active as they used to be.
Your senior Bull Terrier may require a special diet, as they may have attained health concerns over the years that require dietary changes. Make the switch to a senior-focused diet with advice from your vet if your Bull Terrier is suffering from any health issues.
What to Feed a Bull Terrier Puppy
When it comes to deciding what to feed your Bull Terrier puppy, there are four different options. These include dry food, wet food, raw (BARF) diets, and home cooking.
Each one comes with its pros and cons.
We're going to take a detailed look at each method and outline what each one means for both you and your Bull Terrier so that you can make an informed decision as to which will be the best for your puppy.
Feeding a Bull Terrier Puppy Kibble
Kibble often makes the best choice for owners who are inexperienced or do not have extensive knowledge of a Bull Terrier puppy's nutritional needs.
However, there are a huge amount of choices out there, with hundreds of different brands ranging significantly in price all offering to be the best food for your Bull Terrier. So how do you know which one to pick?
When it comes to kibble, it is almost always worth spending a little more for quality. While cheaper alternatives do exist, they often contain much lower quality ingredients and offer much less nutrition than the slightly more expensive brands.
In fact, due to the lower nutritional value of cheaper kibble, puppies often have to eat more of it to fulfill their nutritional needs, meaning you need to buy more of it than you would have to with quality kibble!
We would recommend looking for a quality puppy formula that is a complete feed for your Bull Terrier that fulfills all their daily nutritional needs in one food.
Feeding a Bull Terrier Puppy Wet Food
Wet food is another option for your Bull Terrier puppy. It can either be given on its own or mixed with kibble as a tasty treat.
One of the big differences that wet food offers when compared to dry food is water content; some wet foods can be around 80% water. This offers the benefit that your puppy will naturally be hydrated while they eat.
However, a downside with wet food is they tend to not offer all the nutritional value that your Bull Terrier needs. Conversely, many kibble brands offer complete formulas.
They are easier to digest, so they can be a viable alternative if your Bull Terrier is sick or having stomach issues. However, in most cases, we would not recommend solely feeding your Bull Terrier wet food.
Wet food tends to be extra palatable to most dogs though, so they can be used as an occasional kibble topper as a treat!
Feeding a Bull Terrier Puppy Raw (BARF)
This is a popular choice amongst owners and breeders of Bull Terriers, some state that this is the best diet for the breed.
They commonly state benefits such as improved dental health, better gastrointestinal function, and natural healthy enzymes being present within the food that would otherwise be destroyed by cooking.
Of course, this all sounds good on paper. However, there is little scientific evidence that backs up these claims around raw foods.
The American College of Veterinary Nutrition state that no published peer-reviewed scientific studies exist that support the benefits of raw food as claimed by advocates of the BARF diet. They go on to state concerns about nutrition imbalances within this diet.
Along with this, the American Veterinary Medical Association discourages raw diets, due to the dangers present to both the dog and your family by potential pathogens within the food. Take extra care to ensure that you follow good hygiene practices to reduce the risk of illness.
As there is little evidence of the claimed benefits, we would not recommend this diet. There are safety and nutritional concerns.
However, if you do choose this diet, be sure to work with your veterinarian to ensure that you are fulfilling all your Bull Terrier's nutritional needs. With this diet, you are taking full responsibility for ensuring that your puppy is receiving everything they need to develop healthily.
Feeding a Bull Terrier Puppy a Homemade Diet
Some people like to cook meals for their dogs at home, rather than feeding them commercially available food.
This comes with the benefit that you know exactly what is in your puppy's food. Some commercial foods contain ingredients such as animal and meat derivatives. It is not always clear where the ingredients were sourced.
With this method, you can ensure that your dog is receiving quality ingredients.
However, this avenue is by no means easy. You will have to take full responsibility for your puppy's daily nutritional needs and ensure you are fulfilling them every day. Home cooked diets require that you have a lot of knowledge of what your puppy needs to grow correctly.
Therefore, this is not a diet that is recommended for first-time owners of the breed. If you are experienced and do decide to go on this path, work with your veterinarian to ensure that you are covering all their nutritional needs with a diet plan.
How Much Should I Feed My Bull Terrier Puppy?
Now that you may have a better idea of what to feed your Bull Terrier puppy, how much should you feed them?
Unfortunately, there are no hard rules on the amount of food you should give to your Bull Terrier puppy. In most cases, it is a matter of feeling it out for yourself.
We'd recommend following your breeder's advice. If you have chosen a puppy formula diet, use the instructions on the package as a guide.
As a puppy, they should be fed three times a day. If you find they are still hungry or are leaving food in their bowl, try changing the amounts. However, it's always a good idea to check with your vet for advice on food amounts if you aren't sure.
Is My Bull Terrier Puppy The Right Weight?
Ensuring that your Bull Terrier remains within a healthy weight range throughout its life is very important for their health.
Being underweight or overweight brings with it a wealth of potential health risks. You should always want to make sure that your Bull Terrier is at an ideal weight.
If you are worried that your Bull Terrier is looking a little too thin or a bit too chunky, you should weigh them.
Whilst your Bull Terrier is still a puppy, you should be able to just use home scales to ascertain their weight.
If you cannot get them to sit still, stand on the scales yourself while carrying them and work out the difference between your normal weight and the weight whilst carrying the dog.
The result will be the weight of your puppy.
However, Bull Terriers grow up to be quite heavyset and large dogs! They may be too large for household scales and too heavy to pick up.
Vet clinics are happy to offer weigh ins for your puppy. If you make these visits a positive experience with lots of praise and reward, it is an excellent way to make them comfortable with vet visits as they grow up too!
My Bull Terrier Puppy Is Still Hungry
Does your Bull Terrier puppy seem particularly ravenous? Do they always seem hungry despite following recommended feeding instructions? There could be a few reasons as to why.
A potential cause could be low quality food. As mentioned earlier, cheaper brands of commercial dog food are filled with low-quality ingredients. These do not offer much nutritional value.
Therefore, your Bull Terrier needs to eat more of it to properly fulfill their needs.
Gradually making the change to a more nutritionally valuable food can help fix this problem if it is the cause.
Another reason could be very high activity levels. Some Bull Terriers are more energetic than others. Active dogs burn a lot more calories and need more energy. In these cases, it is fine to give them a bit more food if you are sure this is the case.
If you don't believe it is either of these reasons, we would recommend making an appointment with your veterinarian to rule out any potential medical causes.
My Bull Terrier Puppy Won't Eat
If you find that your Bull Terrier puppy is avoiding food and doesn't seem to touch anything you give them, it can be quite worrying. However, most of the time it is due to a few simple issues that usually pass by themselves.
If you've just taken your puppy home and you've run into this issue, it could be due to stress. The move into a completely new environment surrounded by new faces is scary. Dogs tend to stop eating when they are anxious or stressed.
Given a day this should naturally resolve as your puppy gets more used to its surroundings. To help things along, slowly introduce your hand to the puppy in a safe, quiet space. Offer some food on your hand once they're comfortable.
Once they take it, you can move on to introducing them to a food bowl.
It's also possible for dogs to just have an off day. Dogs can seem otherwise healthy but not too interested in food. However, if this lasts more than a day and they haven't eaten anything, we would heavily recommend seeing the vet.
How Long is a Bull Terrier Considered a Puppy?
A Bull Terrier is still considered a puppy until around 14 months. At this point, it should have reached its adult height.
From here, you can gradually begin to move your Bull Terrier off a puppy diet to a more adult one.
Feeding a Bull Terrier Puppy
And with that, there's everything you need to know about feeding Bull Terrier puppies!
We hope that this article gives a better idea of what would be the best option for your family and your new Bull Terrier.
What are you feeding your Bull Terrier? Do you have anything more to add? Let us know below!
References and Further Reading
The Bull Terrier Club, Feeding Your Bull Terrier, 2013.
American Veterinary Medical Association, Raw or Undercooked Animal-Source Protein in Cat and Dog Diets, 2012.