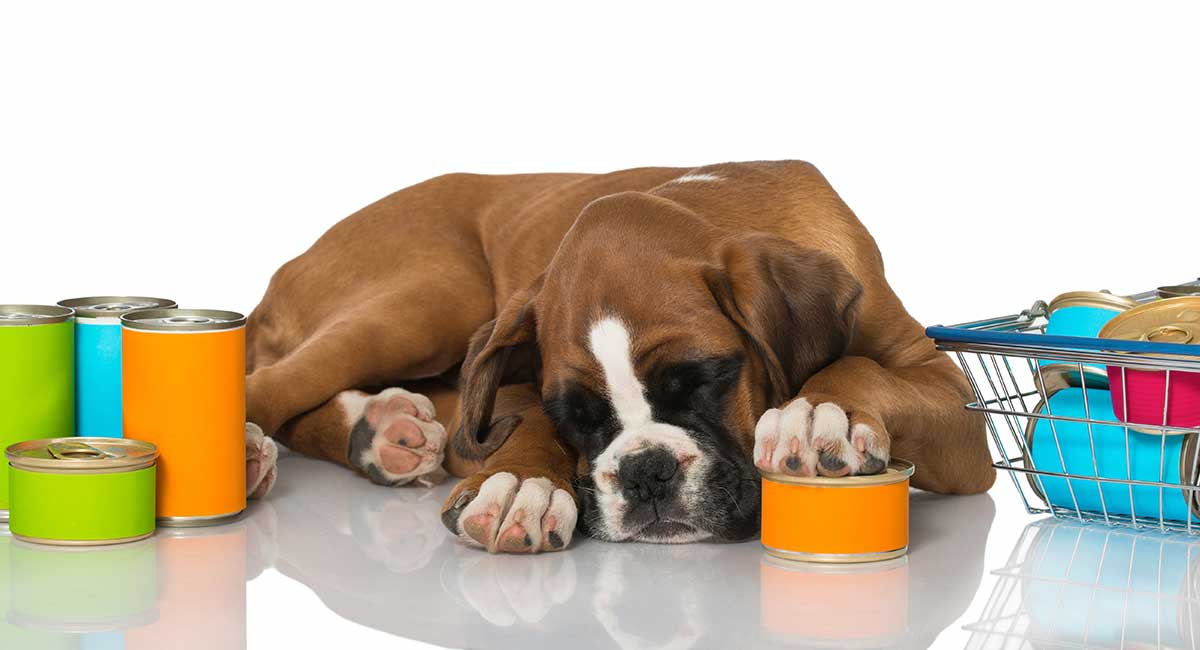 Feeding a Boxer puppy the right diet sets them up for a healthy, happy life.
Boxer puppies need the right number of calories, and ingredients like calcium and phosphorous in the correct ratio to develop their young skeleton.
The best feeding schedule will also protect them from conditions like hypoglycemia and bloat.
Feeding a Boxer Puppy
Are you wondering what to feed your Boxer puppy?
If you're about to take your new baby Boxer home, congratulations.
We can help you figure out how to best care for your puppy, so that you can spend many happy and healthy years together.
In this article, we will take a look at what to feed your Boxer pup, how much to feed, when to feed and lots more.
Boxers are vivacious and active dogs.
Due to some of their some anatomical peculiarities, their nutritional needs are a little bit different from other dogs.
Let's have a look at the science behind feeding your Boxer puppy.
Swapping Puppy Food Brands
When you are ready to take your Boxer pup home, ask the breeder or shelter what they were feeding your pooch.
We suggest sticking with this food for at least two weeks while your puppy gets accustomed to his new home and environment.
Studies have shown that the gut flora (the good bacteria in your pup's digestive system) can take a hit during big changes and times of "stress."
It helps to make food changes slowly and gradually, taking your time to mix in the "new" food with the "old" in increasing amounts over the course of at least one week.
If the "new" and "old" diets for your pup are very different in texture (i.e. if you're switching from wet food to kibble), make this transition period last for 10-12 days.
To help your Boxer pup's digestion even more, you can supply him or her with good gut bacteria that are mixed in with the food once daily.
These are called "probiotics"—make sure you choose a brand that is designed specifically for dogs.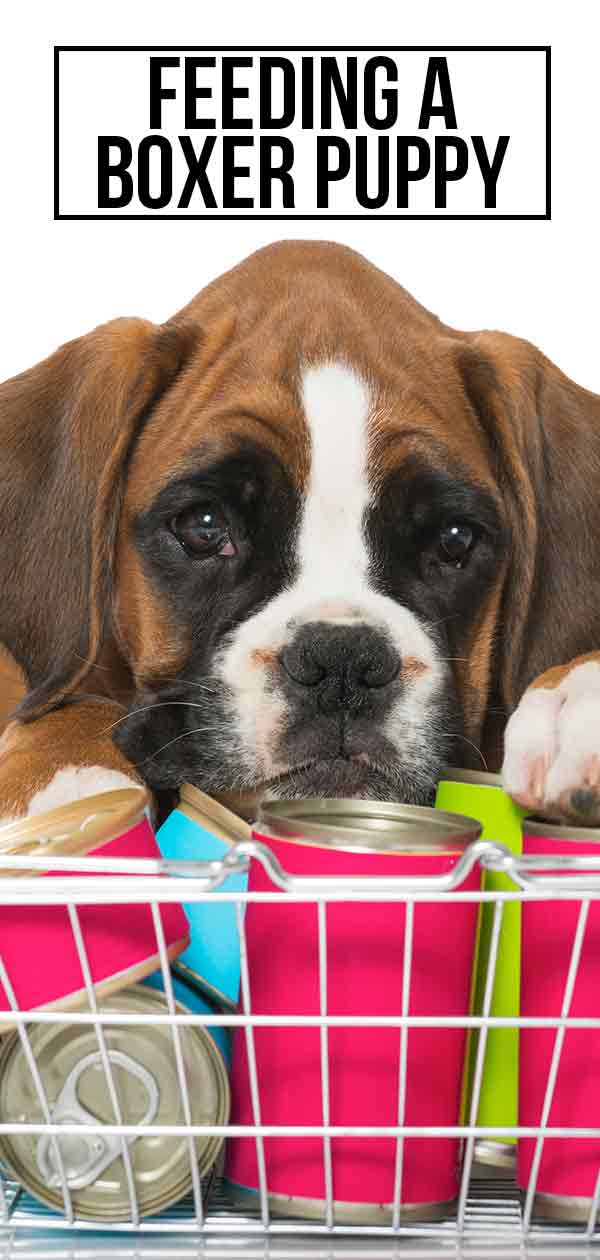 Boxer Puppy Diets
While Boxers are definitely not known to be picky eaters, they can have some special requirements when it comes to nutrition.
In general, puppies need a well-balanced food with at least 22.5 percent of protein (based on dry matter).
Your Boxer puppy will also require calcium and phosphorus in a ratio of at least 1:1—or even up to 2:1—for optimal bone growth.
More is not always better, though.
If your pup gets too much protein and "bone building blocks," he will grow so fast that the developing joints won't be able to keep up.
This could predispose your Boxer pup to joint issues such as osteochondritis or hip dysplasia.
How Feeding Changes As A Boxer Puppy Gets Older
The best prevention for the above-mentioned joint problems is to avoid overfeeding.
It's a good idea to control your puppy's feeding portions and make sure that he is not getting more than the necessary daily caloric requirement.
This daily requirement changes as your puppy gets older and heavier.
We recommend weighing your puppy often—at least once weekly—and adjusting the food portion accordingly.
The older your puppy gets, the longer it can go without food, so you can start reducing the number of feedings as your puppy grows up.
Feed your puppy as follows:
2–4 months of age: 4 times a day
4–6 months of age: 3 times a day
Above 6 months of age: 2–3 times a day
We recommend feeding at least twice daily even well into adulthood.
One meal a day can be a risk factor for bloat, and Boxers—as a deep-chested breed—are already predisposed to this condition.
What to Feed a Boxer Puppy
A lot of Boxers have what their owners would describe as "sensitive stomachs."
They might react with stomach upsets, loose stools or flatulence to certain foods (or to fast changes in their feeding schedule).
Boxers are also at risk for food-related allergies, which might manifest as skin problems such as itching.
Therefore, finding the right food for your Boxer pup might require a bit of experimenting.
Let's go through all the options.
Feeding a Boxer Puppy Kibble
Kibble is always a safe bet.
Commercial dog foods are well-balanced, so you have the peace of mind to know that your Boxer pup is getting all the nutrients he needs, in the right amounts and ratios.
Kibble is also a very convenient option.
It's easy to store, doesn't smell as strongly as wet food, and can be fed on the go or used as a treat during puppy training sessions.
If you would like to feed your Boxer puppy on kibble, make sure to choose a kibble that says "for large breed puppies."
This will help prevent the joint issues we've talked about.
With the Boxer's sensitive stomach, we recommend steering clear of ingredients like grains, cereals, corn or soy.
When it comes to kibble, it's also worth spending a bit more for high-quality brands.
Studies have shown that the cheaper options on the market are not as good when it comes to digestibility.
Feeding a Puppy Wet Food
Another type of commercial dog food is wet food. As the name suggests, wet food contains more moisture—around 75 percent.
Some Boxers have rather short snouts and might struggle with chewing kibble thoroughly.
If this is the case for your Boxer pup, wet food is a good alternative to try.
Careful, though: Since there's no chewing action involved, wet food does not help clean your dog's teeth the way kibble can.
We don't recommend feeding your pup on wet food alone.
A good option is to alternate between wet food and kibble; or to mix the two together (this is known as "topping").
If you do want to feed your Boxer puppy on a diet of only wet food, keep the following tips in mind:
Establish a teeth-cleaning routine early on—your vet can show you how to get started.
Make sure you choose a "complete" wet food (not "complementary").
Keep an eye out for loose stools.
Feeding a Puppy Raw (BARF)
Raw diets have been steadily gaining popularity in recent years.
Biologically appropriate raw feeding (BARF), "raw food diet" and raw meat-based diet (RMBD) are all terms used to describe the same thing: A diet for your dog that consists mainly of raw meats and bones, with the addition of some veg and fruit.
The veterinary community is divided on this topic, and the research still doesn't show a complete picture.
Advocates of BARF are convinced that raw feeding can boost your pooch's health tremendously.
Some veterinarians recommend raw diets especially for dogs with troubled digestion or suspected food-related allergies.
Drawbacks of Raw Feeding
So what's the drawback of raw feeding?
Unfortunately, putting together a well-balanced diet is not that simple.
Studies have shown that up to 60 percent of BARF diets are not balanced and complete.
This can have a detrimental effect on your pup's health and growth.
If you choose to feed your Boxer puppy a raw diet, we strongly recommend you work with an experienced veterinarian to put together a meal plan.
Another thing to keep in mind is that raw meats are often contaminated with bacteria, such as salmonella.
Your pup's digestive system is generally able to handle these bugs, but yours may not be.
There is always risk of getting sick from handling raw meats or being in contact with dog stools of raw fed dogs.
Therefore, hygiene is crucial if you feed your puppy on a raw diet.
Check out this article for more info on safety and raw feeding in general.
If you are pregnant or immunocompromised, or if there are small children in your household, talk to a doctor before opting for a BARF diet for your pup.
Feeding a Puppy a Homemade Diet
Raw feeding is not the only type of homemade diet you can feed your Boxer puppy.
Another option is to cook for your pup.
If you would like to prepare homemade meals for your Boxer, we suggest you work with an experienced vet to ensure that all your pup's nutrient requirements are met.
Keep in mind that not all human food is safe for dogs. Giving your pup leftovers is not a good option.
"Human" meals tend to contain too much oil, salt and spices.
Also, some normal cooking ingredients like onions can be toxic for your puppy.
How Much Should I Feed My Boxer Puppy?
Now that we've had a look at what to feed, the next question is how much to feed.
While an adult dog's daily calorie requirement remains roughly the same, growing puppies need different amounts of food depending on their age and weight.
If you want to calculate your Boxer puppy's daily calorie needs, there are approximate formulas you can use based on your pup's current weight.
Should you opt for a homemade diet, ask your nutrition specialist or vet to help you with the math.
On the other hand, if you opt for a commercial diet, you will find detailed instructions on how much to feed on the packaging.
These calculated calorie amounts cannot take into account your Boxer pup's individual metabolism.
It's therefore crucial to monitor your pup's weight and growth closely.
Is My Puppy the Right Weight?
While there are growth charts out there that allow you to compare your dog's current weight to what is "normal" for a Boxer puppy of that age, the best indicator is still your puppy's body composition.
The body condition score is a hands-on way to determine if your Boxer puppy is too fluffy or too skinny.
If you are unsure how to determine your pooch's body condition score, your vet can show you how.
You don't want your pup to be overweight, as this can put a lot of stress on the growing bones and joints.
On the other hand, a puppy that is too skinny is at risk for malnutrition diseases or stunted growth.
If your puppy is eating lots but still losing weight, there could be underlying health issues.
Make sure you are de-worming your puppy correctly. Have a vet check for infections and puppy diseases.
My Puppy Is Still Hungry
Boxer puppies could probably eat all day long.
We know it's hard to resist the look on a begging puppy's face, but it's important that you stay strong.
Your puppy should learn from an early age that there are fixed meal times; and that the only other way to receive food is to work for it (e.g. puppy training).
If your puppy is constantly hungry, spacing out meals throughout the day might help.
Slow-feeder bowls can be a blessing, as they force your pup to slow down and give his or her stomach time to reach that feeling of being full.
My Puppy Won't Eat
Your Boxer puppy might miss a meal or two occasionally.
The excitement of moving into a new home and meeting his or her new parents can curb your pup's appetite for a bit.
If your Boxer pup misses more than two meals in a row or goes for more than 12 hours without eating, call your veterinarian.
Additional symptoms—such as vomiting, diarrhea, or excessive tiredness—are a cause for concern and warrant an immediate vet visit.
How Long Is a Boxer Considered a Puppy?
As large breed dogs, Boxers take a long time to reach their adult weight.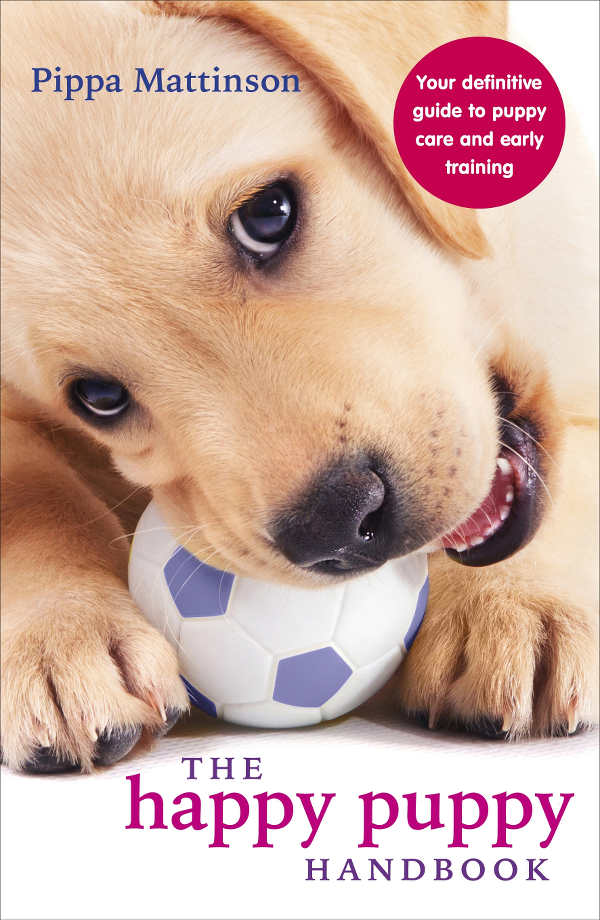 Boxer puppies can grow until around 15 months of age. Up to this age, they require a special diet for growing large breed dogs.
At around 16 months—or sooner if your vet thinks that your Boxer pup has reached adult weight already—you can transition to an adult diet for your Boxer.
When making the switch to an adult diet, preferably choose the same type of food or even the same brand you fed your Boxer as a puppy.
Avoid fast diet changes—mix the puppy and adult foods for about a week, slowly increasing the amount of adult food.
Feeding a Boxer Puppy
Hopefully we have answered all your questions on Boxer puppy nutrition.
A healthy nutrition is crucial to ensure that your pup grows up strong and healthy and lives a long, happy life.
If you have any questions or comments on feeding a Boxer puppy, leave us a comment.
For more puppy guides, take a look at puppy bath time!
References and Further Reading:
"Basic Calorie Calculator," Ohio State University
"The Business of Pet Food," Association of American Feed Control Officials
Buzhardt, L., "Nutritional Requirements of Large and Giant Breed Puppies," VCA: Nutritional Requirements of Large and Giant Breed Puppies
Dillitzer, N., et. al., 2011, "Intake of Minerals, Trace Elements and Vitamins in Bone and Raw Food Rations in Adult Dogs," British Journal of Nutrition
Freeman, L.M., et. al., 2013, "Current Knowledge About the Risks and Benefits of Raw Meat–Based Diets for Dogs and Cats," Journal of the American Veterinary Medical Association
Gawor, J. P., et. al., 2006, "Influence of Diet on Oral Health in Cats and Dogs," The Journal of Nutrition
Greco, D.S., 2014, "Pediatric Nutrition," Veterinary Clinics: Small Animal Practice
Hawthorne, A.J., et. al., 2004, "Body-Weight Changes during Growth in Puppies of Different Breeds," The Journal of Nutrition
"The Healthy Dog Weight and Body Condition," Purina's Healthy Dog Body Condition
Huber, T.N.L., et. al., 1986, "Variations in Digestibility of Dry Dog Foods with Identical Label Guaranteed Analysis," The Journal of The American Animal Hospital Association
Jackson, J.R., et. al., 1997, "Effects of Dietary Fiber Content on Satiety in Dogs," Veterinary Clinical Nutrition
Nash, H., "Bloat (Gastric Dilataion and Volvulus)," Veterinary Services Department, Drs. Foster & Smith Inc.
Nødtvedt, A., et. al., 2007, "A Case–Control Study of Risk Factors for Canine Atopic Dermatitis Among Boxer, Bullterrier and West Highland White Terrier Dogs in Sweden," Veterinary Dermatology
Picco, F., et. al., 2008, "A Prospective Study on Canine Atopic Dermatitis and Food‐Induced Allergic Dermatitis in Switzerland," Veterinary Dermatology
Sanderson, S.L., "Nutritional Requirements and Related Diseases of Small Animals," Merck Manual Veterinary Manual