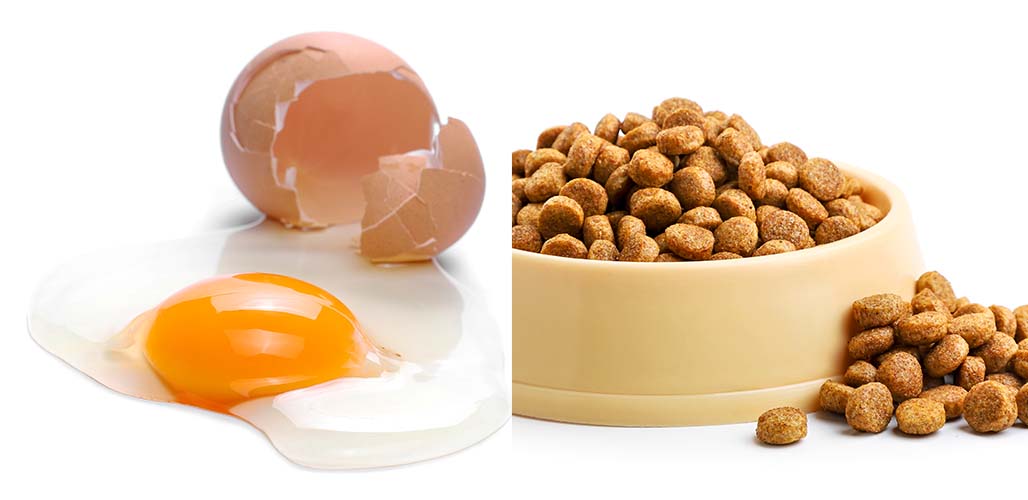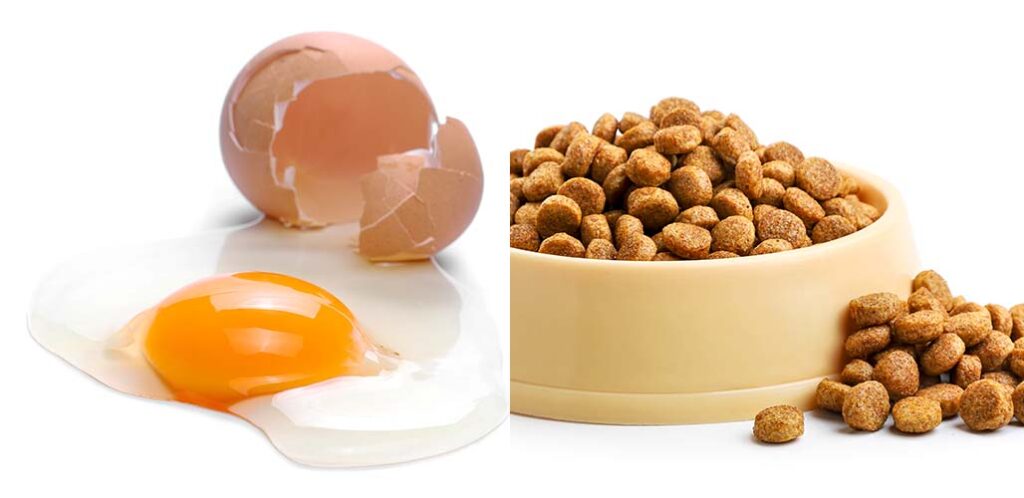 I pour cracked raw egg over dog food to enhance my pooches' meals, give them a boost of protein, or to encourage one of my dogs to eat when they are off color. You do however need to be a little careful when giving your dog raw egg, as there are some risks as well as benefits. Some dogs will love the taste of this addition to their meals. But, others might be ambivalent, and some could have allergies that prevent this treat. You also need to make sure you're choosing good quality eggs, and storing them correctly to lower the risk of salmonella toxicosis.
Contents
I love introducing my dog to new foods, especially when they can provide important nutrients and potentially improve my pup's health. Eggs are a popular treat and a common ingredient to add to homemade dog food and commercial dog food alike. But, there are so many different ways to serve them! So, it's natural to wonder if some ways are better than others. Today, I'll take a closer look at whether you can pour cracked raw egg over dog food, any benefits it can have, and how often you can add raw egg to your dog's food.
Can I Give My Dog Cracked Raw Egg?
Whether you're making a special, homemade diet for your pup, or you're searching for ways to improve their commercial diet, eggs are a common, popular supplement. They're affordable and nutritious. Eggs can provide our dogs with protein, fat, and various vitamins, to name a few nutrients. However, there are a few concerns when it comes to raw eggs.
Mainly, salmonella. Raw eggs can contain salmonella, and the bacteria can quickly multiply if eggs are stored at temperatures over 50°F (10°C). Cooking the egg kills this bacteria, eliminating the risk that your dog will get infected. So, some veterinarians and dog nutritionists will recommend that you avoid raw eggs. However, in some countries, hens are vaccinated against salmonella, reducing the risk that your eggs will contain this bacteria.
The Signs of Salmonella Poisoning
Raw eggs aren't the only source that can pass salmonella bacteria to your dog. Some other things that can contain it include animal feces, raw meat, and even commercial dog foods. Signs that your dog is suffering from salmonella poisoning include:
Diarrhea
Mucus or blood in feces
Lethargy
Fever
Vomiting
Cooking your eggs will remove the risk of salmonella, but this bacteria isn't guaranteed in all raw eggs. You can reduce the risk of infecting your dog by choosing eggs from reputable farms that vaccinate their hens, and storing your eggs in the fridge.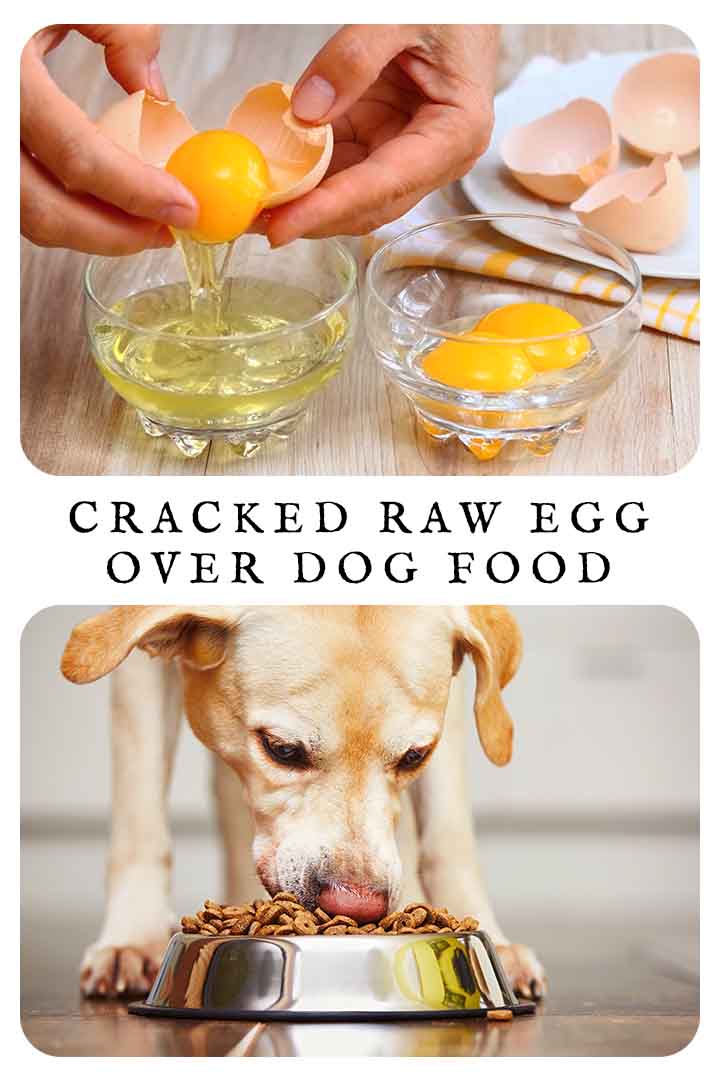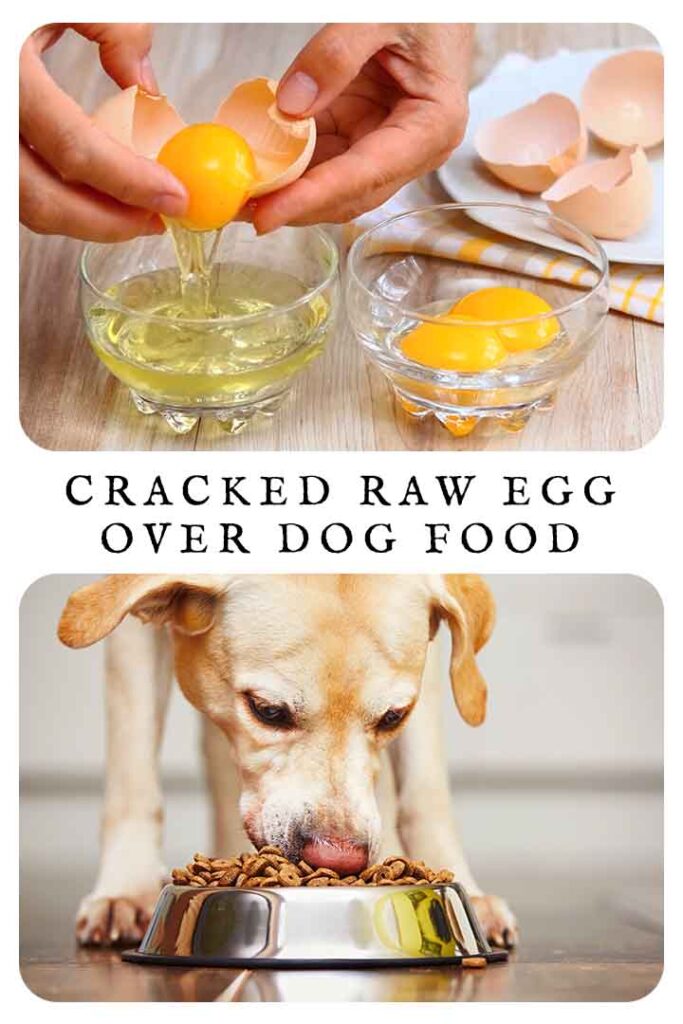 Is it OK to Pour Cracked Raw Egg Over Dog Food?
Salmonella is a pretty scary risk when offering your dog raw eggs. But, as I mentioned a moment ago, it's not guaranteed that all eggs will contain it. Choosing eggs from vaccinated hens on reputable farms is a great way to reduce the risk. Using your eggs whilst they're still fresh and keeping them in the fridge will also help.
As long as you follow these steps, it's absolutely fine to crack an egg over your dog's food. You can mix it with dry kibble, or even add it as an extra ingredient to a homemade diet.
However, one thing that's worth noting is that not all dogs will enjoy the flavor of raw egg. My dog, for example, always hangs around the kitchen when I'm making myself some scrambled eggs. She'll devour a serving of plain cooked eggs in no time, but tends to leave a raw egg alone after a curious tasting. Mixing it with your dog's regular food can make raw egg more appealing, but some dogs might still turn their nose up at it.
Do Eggs Help Dogs Itchy Skin?
Raw and cooked eggs are both popular solutions for dogs with itchy skin. And, some owners might find that their dog scratches themselves less when they start eating a regular egg. But, others might see no difference. There is currently very little scientific evidence to support the theory that eggs can help with itchy skin in dogs.
It's also worth noting that egg allergies are common amongst dogs. And, symptoms of an allergy can include itchy skin. Alternatively, if your dog is allergic to a different ingredient in their food, and you switch them to a simpler diet that includes an egg but doesn't include the other ingredient causing mild allergy symptoms, you might think the egg is helping. Instead, in this circumstance, it would actually be the absence of the allergen making the difference.
To summarize – some people might find that eggs help their dogs scratch themselves less. Others might see no difference at all. And, some people might find the opposite happens, and their dog starts itching themselves more. Speak to your veterinarian if your dog starts suddenly itching themselves excessively. They could have an allergy, a skin disorder, or a parasite like fleas.
Can I Mix a Raw Egg with Dry Dog Food?
Mixing a raw egg with dry dog food can make the food more palatable and appealing for your dog. Particularly if they enjoy the taste of raw egg. It can also be a great way to increase the moisture content in your dog's food. However, you must make sure you choose safe, fresh eggs which were stored properly to minimize the risk of salmonella poisoning.
It's always a great idea to check with your vet before adding a new ingredient to your dog's food. Commercial dry foods are designed to include all of the nutrients your dog needs, in the correct amounts. So, adding something extra can lead to nutritional imbalances, which can, in turn, cause illness.
How Often Should I Put a Raw Egg in My Dog's Food?
The answer to this question relies on a huge number of factors, including: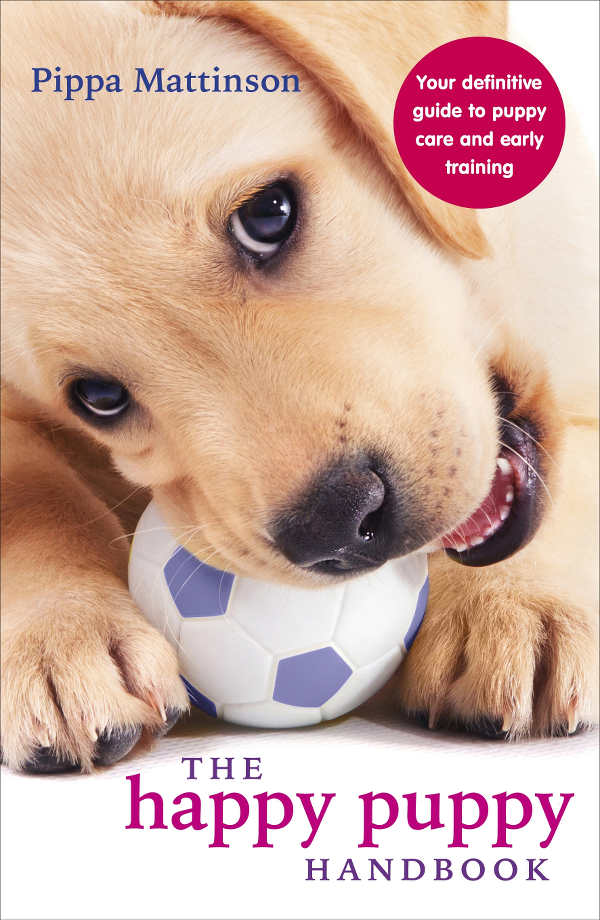 The size of your dog
Their health
The type of food they currently eat
If they actually like raw eggs
If they avoid their regular food to eat the egg first
And more. As a general rule, I'd recommend speaking to your vet if you're considering adding raw egg to your dog's food. They can help you choose the correct frequency of this treat. In homemade diets, it could be a much more regular ingredient than in commercial diets. Since commercial diets already contain all the nutrients your dog needs, eggs are more often kept as an occasional treat.
Adding an egg too often will also increase the calories your dog is consuming. So, having this treat too often can cause weight gain and the associated potential issues.
Can I Give My Dog a Raw Egg Every Day?
Some dogs will be fine having an egg every day. Especially if you offer a homemade diet and need a good source of protein and the vitamins eggs can offer. But, as I mentioned a moment ago, it's best to check with your veterinarian before giving your dog an egg this frequently.