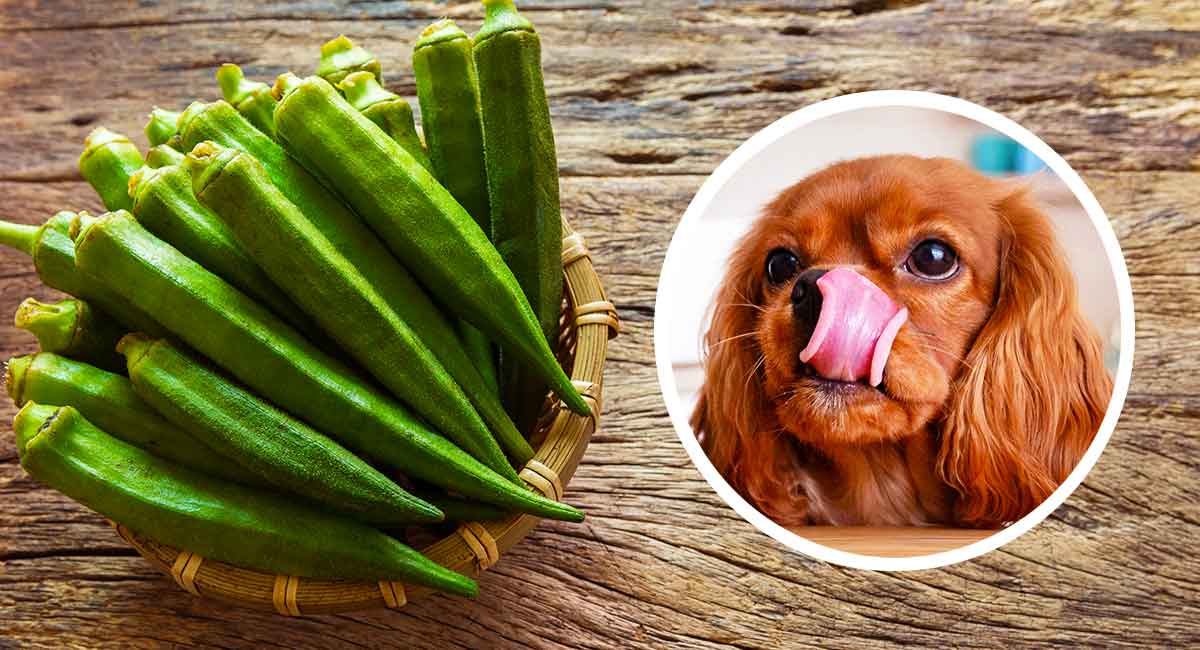 So, you've come here to see, "Can dogs eat okra?" The short answer is yes, dogs can safely eat okra if it is in moderation and prepared appropriately. Okra is a nutrient-dense vegetable that has a high-protein content.
However, too many veggies can be hard on the canine digestive tract. So, despite the nutritional value of okra, it is still best for you to serve it in small quantities to your pet. Pickled okra and fried okra are preparations that are not safe for dogs to consume and should always be avoided. Pickles themselves are also a big no.
But, is okra for dogs a good idea? In this article, we'll talk about this powerhouse vegetable and the pros and cons of feeding it to your loving pet.
Some Fun Facts About Okra
Okra is one of the oldest cultivated crops, and it originated in Ethiopia.
It's a multipurpose crop, as its various parts can be used for a variety of purposes.
The okra plant is used in Ayurvedic medicine. The pods can be eaten cooked or raw and can also be turned into flour.
Okra seeds can even be roasted and used in place of decaffeinated coffee.
Today, this versatile green vegetable is widely distributed around the world. You can find it in Africa, Asia, southern Europe, and the US.
Can Dogs Have Okra?
Can dogs have okra? And is Okra safe for dogs? Generally speaking, yes. It is not toxic to dogs and they can even safely consume the seeds.
However, just because their bodies can tolerate something, it doesn't necessarily mean it good for them. Or that it is safe for them in all forms.
Let's take a closer look at this unique vegetable and find out if it is healthy for both humans and canines alike.
What Are The Benefits Of Okra?
We eat the tender green fruits of the okra plant, which are rich in high-quality oils and proteins, polyunsaturated fatty acids like linoleum acid, and fiber. Okra also has a high antioxidant activity level.
The dietary fiber it provides comes in a soluble form of gums and pectin designed to lower serum cholesterol. There's a bit of insoluble fiber as well, which is good for the gastrointestinal (GI) tract.
The protein in okra has an amino acid composition that's similar to that of soybeans but with a higher efficiency ratio. This makes it a good protein supplement.
Okra also contains carbohydrates and vitamins, including high levels of vitamin C, folate, calcium, and potassium.
It's believed to also have purgative properties. It includes mucilage that washes away toxic substances because it binds cholesterol to it.
Additionally, okra acts as a remedy for ulcers and inflammation.
It has been used to promote healthy skin and blood and to stabilize blood sugar. It has even been credited with helping people recover from depression and weakness.
Researchers say that the best way to keep okra's nutritional properties is to cook it as quickly as possible with steam or on low heat.
As you know, we humans often eat them in salads, soups, or stews. Having it fresh, boiled or fried.
But can dogs have okra too? Do they gain the same health benefits as we do or are there any risks to feeding your dog okra?

Is Okra Bad For Dogs?
In general, it's okay for you to add a little bit of okra to your dog's diet.
As with all human foods added to a dog's diet, though, you should feed okra in moderation.
Too much human food may make your dog's diet inadequate in meeting their nutritional needs. If they fill up on treats, even healthy ones, they may be less inclined to eat their dog food, which is balanced for canine dietary needs.
Also, if your furry friend devours all the delicious morsels you feed them, meals and snacks alike, this can result in unhealthy weight gain. Either way, okra and all forms of treats should be given sparingly.
The idea of feeding your dog fruits and vegetables as part of their diets is a recent one. They can get all the nutrients they need from carnivorous diets.
A bite or two of okra can certainly still be part of a dog's balanced diet. But your dog's guts may not like it quite as much as you do!
Okra And Possible Health Issues
Dogs may suffer bloated stomachs, gas, diarrhea, and other signs of gastrointestinal distress from too much vegetable matter in their diets.
First, you need to make sure that the okra isn't heavily salted or buttered or covered with fatty flavor enhancers.
Secondly, do not feed your dog fried foods. As with humans, fried foods are bad for dogs and can lead to obesity and heart issues.
Lastly, you should be cautious when introducing new foods like okra.
Dogs, like humans, experience allergies. And humans do experience okra allergies. Remember that dogs can develop allergies later on in life.
This means even if your dog has been fine with some foods before, that won't always be the case. Symptoms of allergies in dogs include recurring skin problems and gastrointestinal issues that result in stomach pain or diarrhea.
Okra is not toxic for dogs, but you should still not feed okra in anything but moderate amounts to your dog.
Is Okra Good For Dogs?
As we've seen above, okra is a nutritious food. It contains protein, fiber, carbohydrates, antioxidants, and polyunsaturated fatty acids.
Of course, different preparations of this vegetable can determine its final nutrient content.
Dogs can benefit from the high levels of nutrients in okra. But remember, they should already be getting everything they need from their complete dog food.
In fact, as meat products have become more expensive, okra for dogs has been researched as an alternative protein source in their diets along with other potential replacements.
So, it can definitely be part of a balanced diet for dogs, and a good source of vitamins, protein, and healthy fats.
But okra is not a natural food for dogs.
Dogs are descended from omnivores, with adaptability to a wide range of ingredients. However, their digestive systems prefer protein from animal sources.
And most dogs haven't had access to okra during their evolution. This means they won't get as much out of okra as you or I would.
Can dogs have okra? Yes. Do they need to? No.
So, we know that okay for dogs in limited quantities. But can dogs eat okra in any preparation?

Can Dogs Eat Raw Okra?
If your furry friend doesn't oppose the slimy texture of the mucilage inside okra, they can happily crunch away on a few raw cubes.
Raw okra is perfectly safe both for humans and canines. Okra in its natural state also doesn't run the same risk of being contaminated with additives dangerous to doggie health like salt, garlic, onions, or spices.
Can Dogs Eat Cooked Okra?
Dogs can certainly eat cooked okra, as long as it isn't fried and hasn't been cooked with any flavor-enhancing additives.
Onions, chives, and garlic are staples of flavorful cooking, but they are also dangerous to dogs. Ingredients like these have the potential to cause gastrointestinal trouble and damage to red blood cells.
Similarly, chilies and spices can also cause digestive distress. If you are cooking your dog up some okra, just keep it plain and simple.
Can Dogs Eat Fried Okra?
Are you a big fan of fried foods and wondering, "Can dogs eat fried okra?"
Basically, you should avoid feeding fried okra, let alone any fried food to your pup. Frying adds fat and empty calories to any food. And the emptier the calories that you give your dog, the less nutrition it gets.
Fried foods are very high in fats. In some cases, a third of a fried product's weight is made up of fat!
Saturated animal fats like the ones used in fried fats are associated with obesity and coronary heart disease in humans. Frying is also known to create carcinogens that lead to colon cancer or other health issues.
Fried foods aren't good for humans, and they aren't good for dogs either.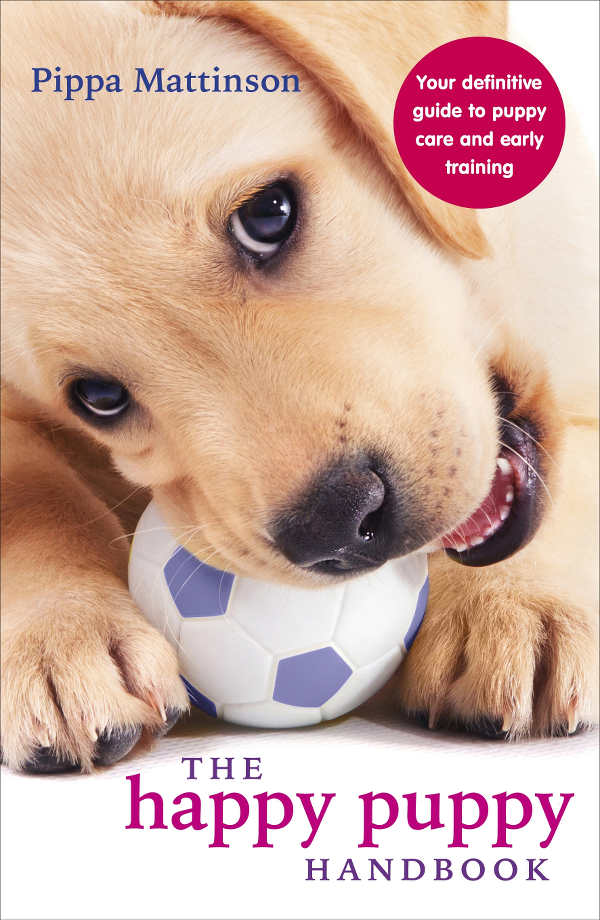 Can Dogs Eat Pickled Okra?
In general, pickled foods are not ideal for dogs and pickled okra is no different. Like cooked foods, salt and spices are not good for them.
Can Dogs Okra Seeds?
They can be a bit slimy, so the texture may be off-putting to your dog. But yes, okra seeds are okay for dogs to eat.
How to Give a Dog Okra
You can give your dog okra raw or cooked plainly. And as mentioned, in moderation.
If your dog hasn't had okra before, it's a good idea to give them a small portion and wait 24 hours to see how they react to it.
Alternatives To Okra For Dogs
Here are a few other vegetable treats for you to consider giving to your dog: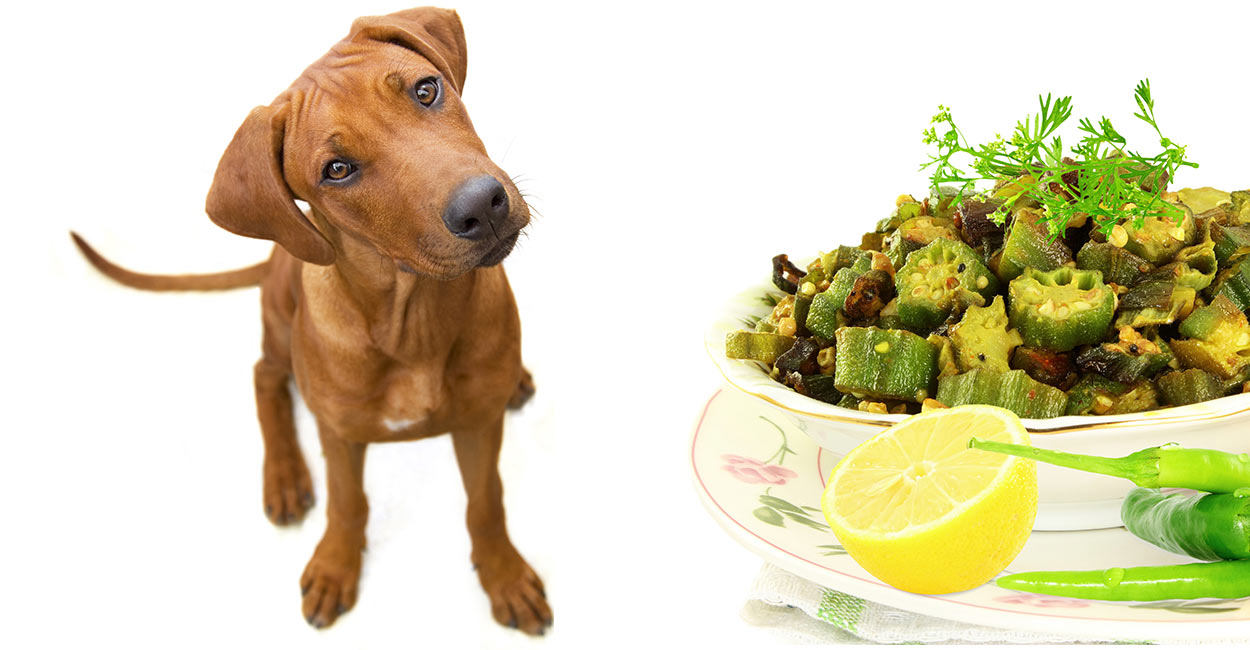 Can Dogs Eat Okra? Summary:
The short answer to, "Can dogs eat okra?" is yes, but with some caveats.
Okra is a highly nutritious vegetable that has health benefits for dogs and humans alike.
If you add a bit to your dog's meal, it won't hurt him, and it may provide a decent alternative source of energy, good fat, and protein. But not too much.
Don't give them too okra. Because they really aren't designed to digest a lot of vegetable matter.
You need to make sure the okra is cooked plainly and not fried. And make sure there is no added butter, salt or fat either.
Plain okra probably won't hurt them if given in moderation. But make sure you know what signs to look for just in case!
Have you fed your dog okra before? Tell us your experiences in the comments below!
Related Articles
References and Further Reading