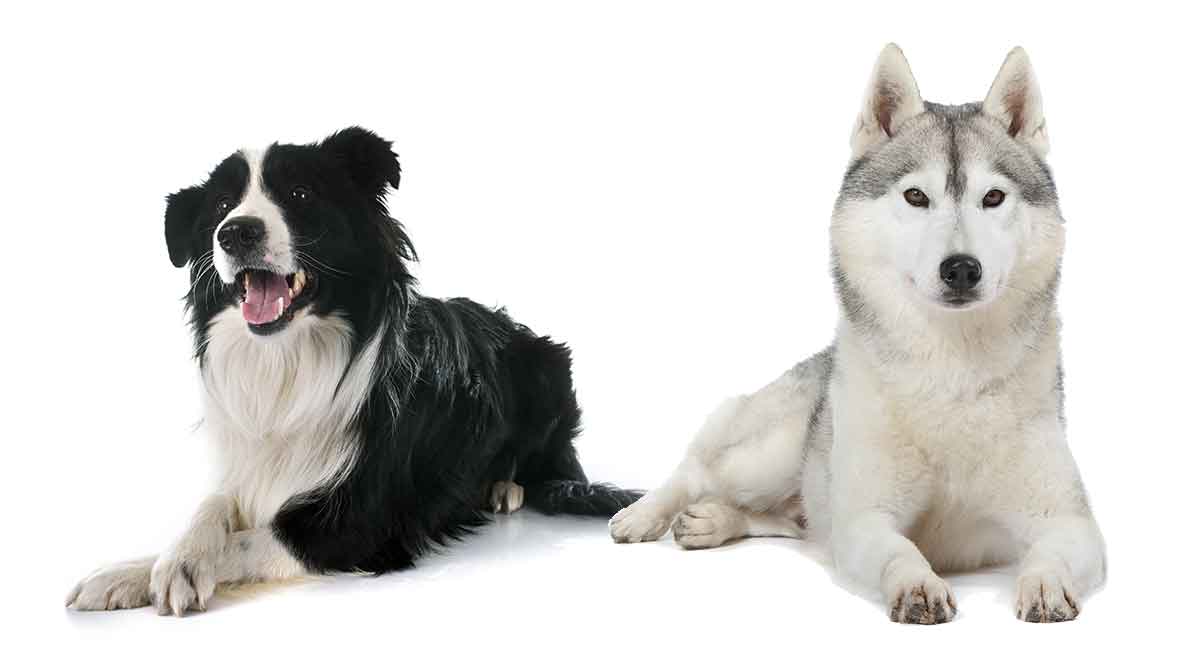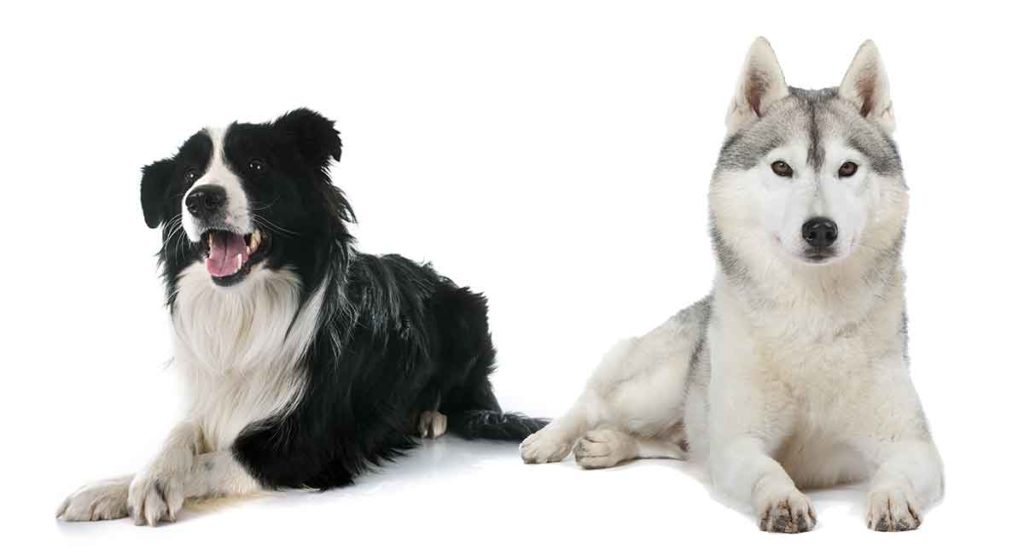 Welcome to the complete guide to the Border Collie Husky mix.
This smart, affectionate, and loyal dog is a handsome hybrid with many appealing characteristics.
Where do Border Collie Husky mix come from?
It's hard not to fall for this mixed breed dog who combines the highly intelligent Border Collie with the dignified Siberian Husky.
The hotly debated subject of purebred vs mixed breed dogs continues.
Hybrid supporters believe that designer dogs are healthier than purebreds, while pedigree devotees argue the opposite.
While not much is known about the exact origins of the Border Collie Husky mix, we can learn about them by looking at the origins of each parent breed.
Origins of the Border Collie
The Border Collie was born to herd.
Their ancestors are thought to be the old Roman dogs and the Viking Spitzes.
They were bred to be compact sheep-herding dogs, well-suited to the climate and hilly landscape of the Anglo-Scottish border region.
Border Collies are highly intelligent, obedient, agile, and often referred to as the world's greatest herders.
Origins of the Husky
The Siberian Husky was believed to have been bred over thousands of years as a hunting and travelling companion to the Chukchi people of Siberia.
In 1908 they were exported to Alaska and Canada and quickly earned a reputation for being excellent sled dogs for their strength and running ability.
Fun facts about Border Collie Husky mix
Border Collies have had significant roles in the films, Babe, Animal Farm, and Snow Dogs.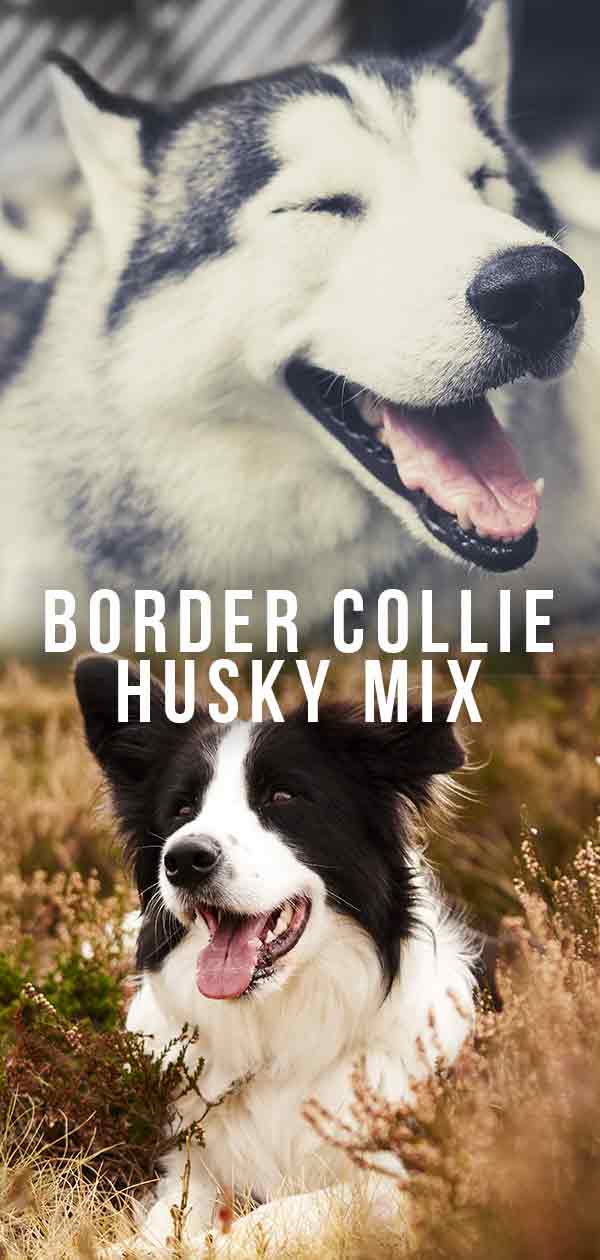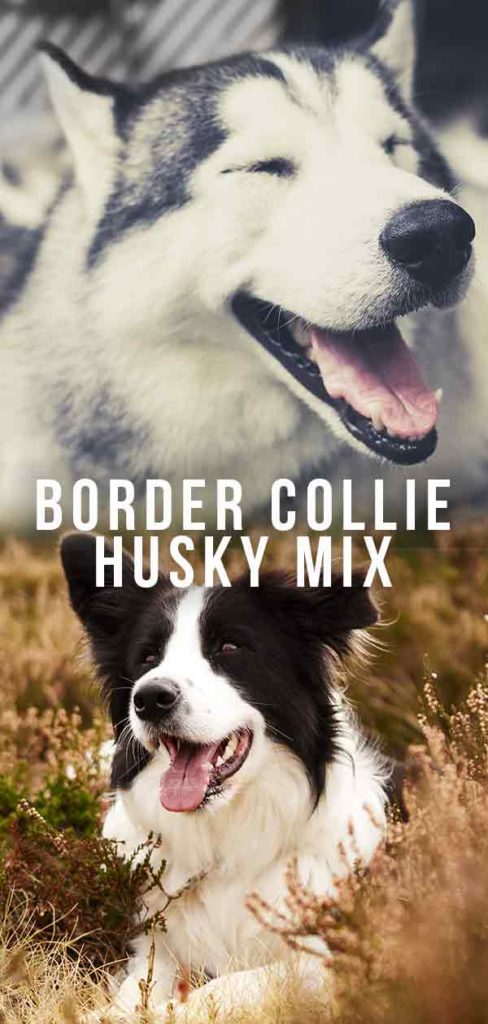 Famous owners include, Queen Victoria, James Dean, and Jon Bon Jovi.
Scottish poet Robert Burns was inspired to write the poem The Twa Dogs when his Border Collie, Luath passed away.
In 1910 a team of Huskies won the arduous 400-mile All Alaska Sweepstakes Race.
In 1925, a team of Husky dogs pulled a sled carrying a lifesaving serum for over 650 miles to Nome, Alaska where a diphtheria epidemic had broken out.
Border Collie Husky mix appearance
When two such beautiful breeds combine, the outcome is sure to be a stunning animal no matter which parent the Border Collie Husky mix takes after.
The Border Collie is a medium-sized dog who will stand from 18 to 22 inches, have an athletic build, and weigh from 30 to 55 pounds.
A wolf-like body and head shape displays ears that are semi-erect.
Their intelligent, almond-shaped eyes are usually brown or blue and are sometimes one of each color.
Their coat can be rough or smooth in a variety of colors and patterns, but is most commonly seen in distinctive black and white.
Huskies
Graceful and nimble, the Husky is also a medium-sized working breed that closely resembles his wolf ancestors in proportions and features.
They stand from 20 to 23.5 inches and weigh between 35 and 60 pounds.
Their eyes often come in the most piercing shade of blue.
They're also almond-shaped, making it easy to squint and keep out snow.
The Husky's thick, lush, medium-length, double coat comes in a huge array of colors, from pure white to black, and with many unique patterns not found in other breeds.
You can expect your Border Collie Husky mix to stand approximately 20 inches and weigh between 30 and 45 pounds.
He'll possess a lean, muscular physique, handsome features, and a silky coat.
Border Collie Husky mix temperament
The Border Collie was bred to work hard.
Unless he's socialized from an early age it's quite possible he will try to herd children and other pets, pushing and nipping to move them along.
A superior intellect, combined with a strong work drive, can lead to destructive behavior if he doesn't get enough physical exercise and mental stimulation.
The Husky is known to be a friendly, free-spirit, who enjoys the company of people.
As a pack dog, they usually get along well with other dogs, unless they feel challenged by them.
These energetic dogs have a strong prey drive. For this reason, cats and other small animals may not fare so well around the Border Collie Husky mix.
This clever breed needs lots of exercise and attention to ensure he doesn't become hugely destructive.
You will need to be able provide a lot of attention and challenging pursuits to avoid bad behavior in your Border Collie Husky mix.
Border Collie Husky mix exercise
Both parent breeds are highly athletic and extremely energetic.
The Border Collie Husky mix will thrive when they are tasked with a job to do and get plenty of vigorous exercise.
This breed is happiest when spending time outdoors playing fetch or running alongside their owner.
A regular daily exercise routine is imperative both physically and mentally to keep the Border Collie Husky mix from acting out and causing damage.
Training your Border Collie Husky mix
The importance of early socialization that positively exposes them to a wide variety of people and situations at a young age cannot be overstated.
When it comes to training, the Border Collie Husky mix's higher than average intelligence can be a double-edged sword.
Although they are fast learners, a stubborn streak and need for mental stimulation can create a challenge for the trainer.
Using positive reinforcement training methods and activities that hold their interest are crucial.
Your Border Collie Husky mix will be a master of escape, so it's important to teach them the meaning of boundaries.
Border Collie Husky mix health
Fortunately, both parents are relatively healthy breeds.
The Border Collie has a lifespan of 12 to 15 years and the Husky from 12 to 14 years.
That being said, all breeds are prone to certain diseases and these two are no exception.
Unfortunately, Border Collies and Huskies suffer from some of the same health conditions.
Hip dysplasia, in which the hip socket is abnormally formed, can cause lameness and painful arthritis.
Eye diseases are also an issue for both parent breeds.
The Husky in particular, is susceptible to a number of eye problems.
Up to 10 % of all Siberian Huskies will develop cataracts, with juvenile cataracts affecting dogs as young as 3 months old.
All Huskies who potentially will be part of a breeding program should be examined by a canine ophthalmologist beginning at 12 months of age, and then on a yearly basis.
Deafness, hyperthyroidism, and skin conditions like follicular dysplasia and the results of zinc deficiency also affect the Husky breed.
Border Collies are prone to seizures and in some cases the cause is idiopathic epilepsy.
There is no apparent cause, and afflicted dogs usually start to have seizures between one and 4 years of age.
Collie eye anomaly can also affect Border Collies.
The Border Collie Husky mix should definitely have hip and ophthalmologist evaluations.
Border Collie Husky mix grooming and feeding
There are two different types of coat in the Border Collie breed.
Both the medium-length rough coat and the short and coarser smooth coat are double and weather-resistant.
They will require going over with a wire pin brush to remove loose hairs, dirt, and tangles once or twice a week.
Daily brushing is required during shedding season.
The Husky has a medium-length, double coat.
Although they shed quite a bit, they will do so even more twice a year, requiring more maintenance to remove the old hair.
Nails need to be trimmed regularly.
Feed your Border Collie Husky mix a high-quality dog food that's specifically formulated to meet the dietary needs of high energy, medium to large breed puppies.
Also be sure that your puppy is getting puppy food. As he grows, switch to adult, and eventually senior, dog food.
Border Collie Husky mix make good family dogs?
The loyal Border Collie Husky mix can be an excellent family dog.
If properly socialized and trained they can be extremely well-behaved and very loving companions.
However, this breed can have the tendency to be anti-social, possessive of their owner, and leery of strangers.
Remember that this highly intelligent breed needs lots of exercise and space to burn off energy.
They will not like to be left alone for long periods, so they're not ideally suited to busy families who are away from home for much of the day.
If your puppy takes after the Border Collie parent, they might have a natural instinct to herd.
If you have young children or a cat, the Border Collie Husky mix might not be the best choice for you.
The best home for a Border Collie Husky mix is one with a very active owner who can spend lots of time with their pet.
Rescuing a Border Collie Husky mix
When most people make the decision to get a dog, they often envision getting a puppy and watching him grow.
While it's true that most dogs in shelters will be older, there are sometimes quite young puppies available.
Adopting a puppy has the added advantage of giving a loving home and family to a dog whose fate is uncertain.
Finding a Border Collie Husky mix
While the debate about whether a mixed breed is healthier than a purebred continues, there's no question that hybrids continue to be very popular among many dog lovers.
Whether you choose to adopt or buy, avoid getting your puppy from a pet store or puppy mill.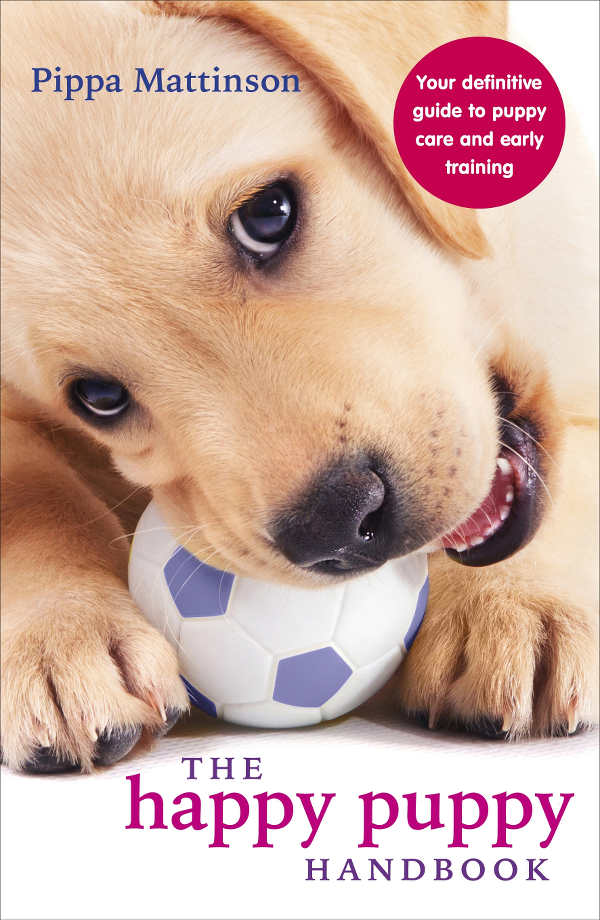 The way a puppy is bred and cared for will have a huge impact on his temperament and health throughout his life.
It's so important to avoid commercial breeders whose sole aim is to produce as many puppies as possible for profit.
Always visit the breeder's facility so you can see where the puppy was raised, and at least one of the parents.
All responsible breeders will screen their breeding stock for health conditions that affect their dogs.
Check out this guide for helpful tips on buying a puppy.
Raising a Border Collie Husky mix
Whether this is your first time raising and training a puppy, or you've done it before, The Happy Puppy Handbook and Total Recall: Perfect Response Training for Puppies and Adult Dogs will offer insight on everything you need to know about training and caring for your new puppy.
Border Collie Husky mix products and supplies
With so many dog toys to choose from it can be hard to narrow down the best choices for a highly intelligent breed like the Border Collie Husky mix.
Puzzles and interactive toys are a great way to engage their active minds.
If your puppy's coat takes after their Husky parent, check out these brushes to keep his beautiful coat in tip top shape.
Pros and cons of getting a Border Collie Husky mix
Cons: The Border Collie Husky mix likes to be the center of attention, and if left alone too often can become destructive.
Their intelligence requires an outlet. They can behave aggressively if not mentally stimulated.
This is a dog with boundless energy who requires a significant amount of time to tire out.
Pros: As both parents are quite healthy breeds, if well cared for, your Border Collie Husky mix should have a long life.
This is a dog who will be affectionate and loyal to their owners.
They make an excellent companion for active people.
Border Collie Husky mix rescues
This is a growing list of Border Collie and Husky rescue organizations.
Please post your organizations' details in the comments box below if you'd like us to add you to the list.
Is a Border Collie Husky mix right for me?
The Border Collie Husky mix is a dog that requires a lot of exercise and attention to avoid health and behavior problems.
If you're a sedentary person, this is your first time owning a dog, or you spend a lot of time away from home, then this is not the right breed for you.
For active outdoorsy people who are looking for a wonderful companion, the Border Collie Husky mix is a fantastic choice.
References and resources