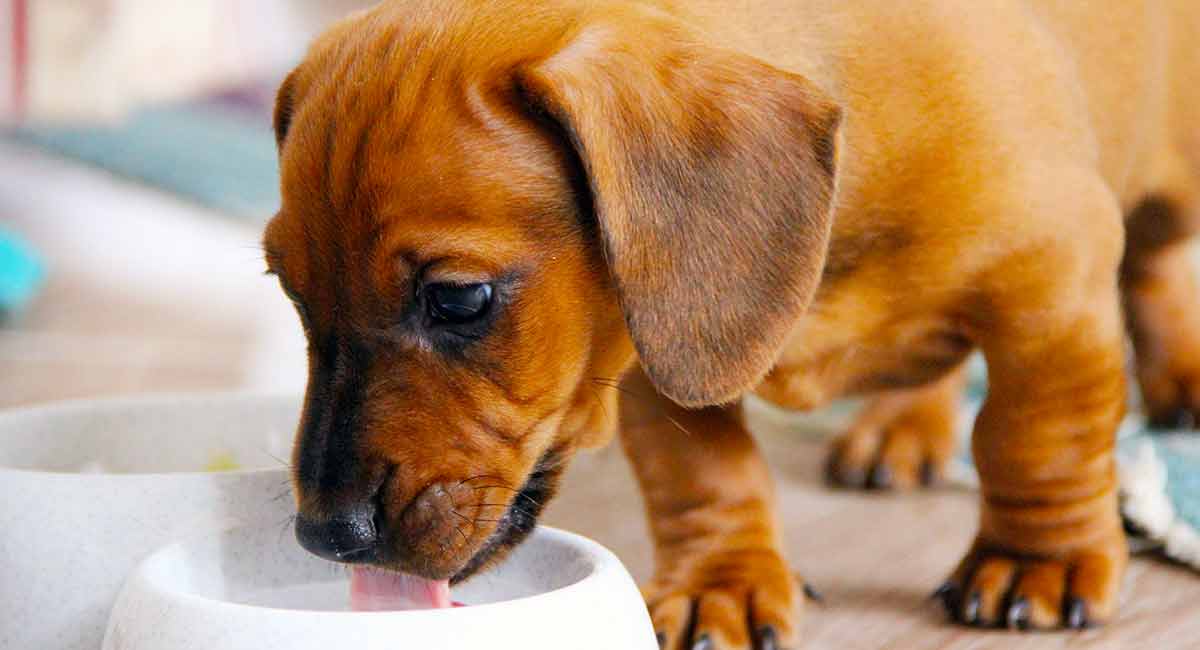 The best puppy food for Dachshunds gives them the nutrition they need, a a form that is easy to pick up, chew and swallow. 
They need a food that is high in fat and protein, and has minimal fillers. 
This means not too many carbohydrates, like rice. 
We've found some great puppy foods that are perfect growing Dacshunds' needs.
All of these products were carefully and independently selected by The Happy Puppy Site team. If you decide to make a purchase from one of the links marked by an asterisk, we may earn a small commission on that sale. This is at no extra cost to you.
What to Look for In Puppy Food
A Dachshund puppy can be very tiny.
If you have a miniature Dachshund, it could weigh as little as a few pounds as a puppy.
And tiny puppies have tiny mouths.
So adult dog food, or large breed dog food, could be difficult to chew and even be a choking hazard due to the large kibble size.
It's important to select a small breed puppy food for your new Dachshund.
But that's not all you should look for.
You want to select a dog food that is high in protein and low in filler products like corn, especially since Dachshunds can be prone to obesity.
The first ingredient listed on the bag is the one with the highest content. So, look for a meat meal, such as chicken meal, to be shown first.
Because meal excludes water weight, it's better to see chicken meal than just chicken.
For more information on dietary requirements, or labeling practices, check out the links in the References section below.
Top Picks
If you're in a hurry, here's a quick summary of our top picks for best puppy food for Dachshunds:
| | | |
| --- | --- | --- |
| Dog Food Brand | Main Ingredients | Our Rating |
| Hill's Science Diet | Chicken, barley | 5 |
| Wellness Complete Health | Turkey, oatmeal, salmon | 5 |
| Ultra | Chicken, rice | 4 |
| Blue Buffalo Freedom | Chicken, peas, potato | 4 |
| BLUE Wilderness | Chicken, peas | 4 |
How Much Should a Dachshund Puppy Eat?
How much you should feed your Dachshund puppy varies based on its side, age, and activity level.
Each bag of food will have a feeding recommendation on it.
However, this is just a recommendation, and what your dog needs might be different.
Watch carefully to monitor for any signs that your puppy is becoming overweight.
Due to the severe back problems Dachshunds can experience, it's very important to make sure your dog stays a healthy size.
Carrying excess body weight can worsen any spinal issues.
It can be difficult to identify if a growing puppy is eating too much or too little just by looking.
If you have any questions or concerns talk to your veterinarian.
How Often Should My Dachshund Eat?
Dachshunds are fairly energetic, considering their small size.
With the energy level and the high metabolism, even an adult Dachshund likely needs more than two meals per day.
As a puppy, you should start your Dachshund off with three to four meals per day.
You'll want to provide a regular feeding schedule with consistent times and the same amount throughout the day.
Don't just leave food out all day for your Dachshund puppy, or it will overeat.
Best Puppy Food for Dachshunds
There are plenty of different types of dog food to choose between today.
You can opt for wet or canned food, dry food, or even raw dog food. There are pros and cons to each option.
However, here we will discuss kibble, or dry food. It's the most popular type, the easiest to find, and often the most affordable.
Even once you narrow it down to dry dog food, there can still be a huge list of options.
Here are our top choices:
Hill's Science Diet
Hill's Science Diet* is for puppies up to one year old.
It's specifically for Toy and Small dog breeds that weigh no more than 25 pounds full grown.
While the Dachshund can sneak past that upper limit, this is perfect for the miniature variety.
It has small kibble for tiny mouths and is veterinarian recommended.
Wellness Complete Health
This all-natural Wellness dog food* comes with a satisfaction guarantee and over a thousand positive reviews on Amazon.
It contains small kibble, packed full of DHA and antioxidants.
ULTRA Dry Dog Food
ULTRA offers a kind of dog food* for every breed and stage of life.
You can opt for Puppy, Toy Breed Puppy, or Small Breed Puppy, depending on the Dachshund puppy you have.
Ingredients are all-natural with no GMOs and only whole grains.
Chicken is the top protein, but lamb and salmon are also included.
Blue Buffalo
Blue Buffalo Freedom* offers Puppy and Small Breed Puppy versions.
It's 100% grain and gluten free, which is perfect if your Dachshund shows any signs of grain allergies.
It includes DHA and ARA fatty acids, plus antioxidants, vitamins, and minerals to meet all of your puppy's needs.
BLUE Wilderness
BLUE Wilderness is another grain-free option* for your Dachshund puppy.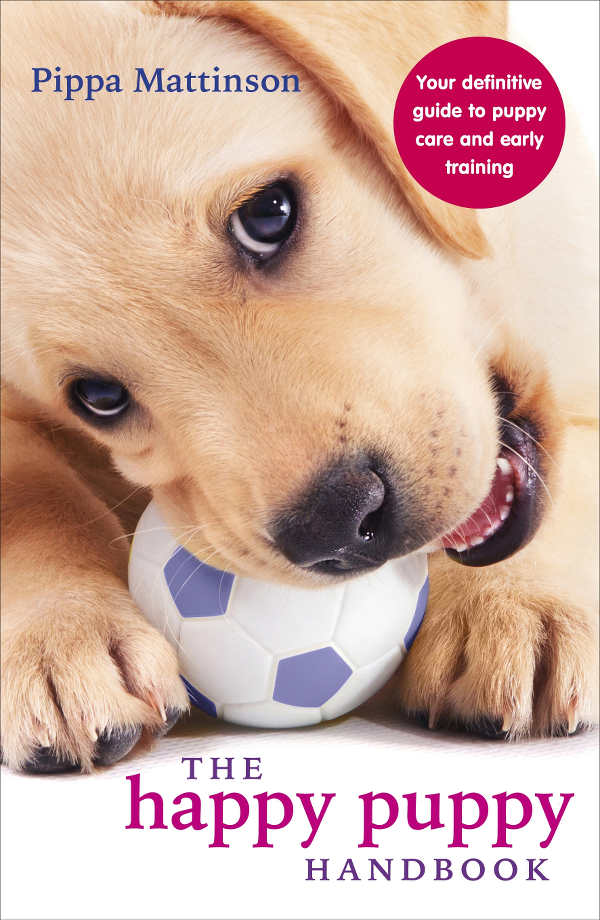 Made by the same company as the last food, there's a lot in common between the two.
The big difference is the Wilderness version is higher in protein, which is a great option for these little dogs.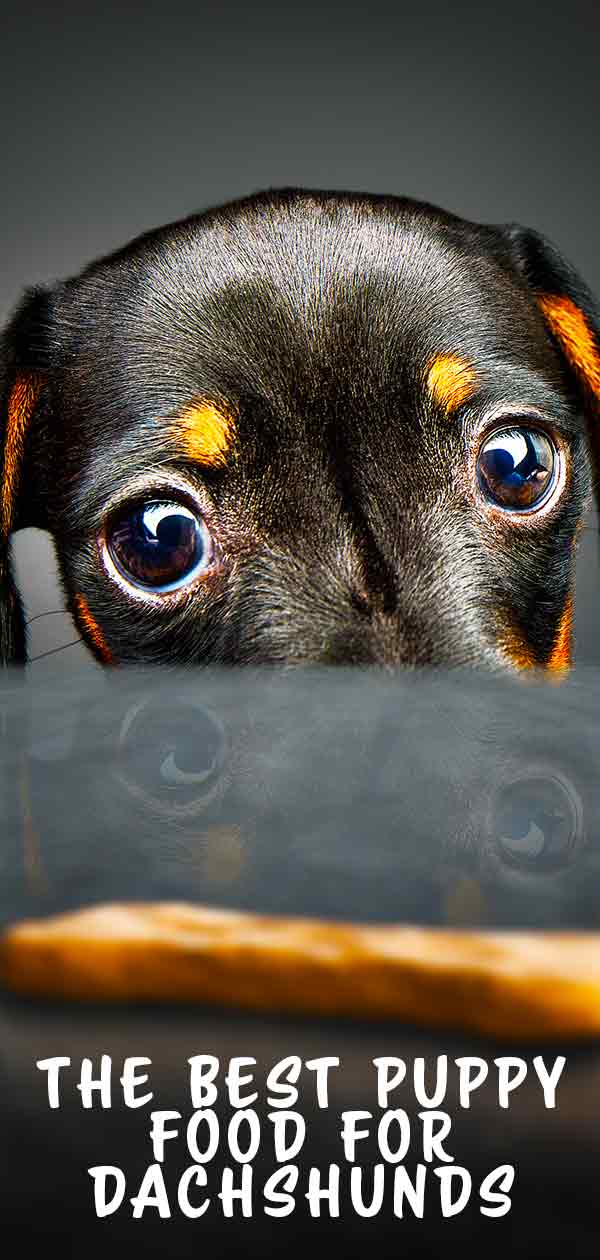 Best Dog Food for Dachshund Puppies with Special Dietary Needs
If your Dachshund puppy has sensitivities or special dietary needs, it's important to speak to your veterinarian.
It can be difficult to narrow down exactly what the cause of the reaction is.
For example, is it a gluten allergy or something else?
You can try a grain-free dog food such as one of the two recommended above.
However, your best option is to ask your vet for advice first.
Dachshund Puppy Food
It's important to choose the best puppy food for Dachshunds, so you can keep your newest pet healthy and happy.
Make sure any food you choose has a protein source as the first ingredient and is not full of 'filler products.'
Also, watch how much your Dachshund puppy eats and avoid overfeeding it.
If you have any concerns over the health or fitness of your puppy, make sure you check with your veterinarian.
References and Further Reading
Coile, DC.

The Dachshund Handbook

. Barron's Educational Series, 2004

German, Alexander. "The Growing Problem of Obesity in Dogs and Cats." The Journal of Nutrition. 2006

.

Linder, D.

The top five clinical consequences of obesity in dogs

. The Veterinary Nurse, 2015.

Lund, EL., Armstrong, PJ., Kirk, CA., Klausner, JS.

Prevalence and Risk Factors for Obesity in Adult Dogs from Private US Veterinary Practices

. International Journal of Applied Research Veterinary Medicine, 2006.

Sanderson, SL.

Nutritional Requirements and Related Diseases of Small Animals

. Merck Veterinary Manual, 2018.

The Business of Pet Food

. Association of American Feed Control Officials, 2012.
Affiliate link disclosure: Links in this article marked with an * are affiliate links, and we may receive a small commission if you purchase these products. However, we selected them for inclusion independently, and all of the views expressed in this article are our own.