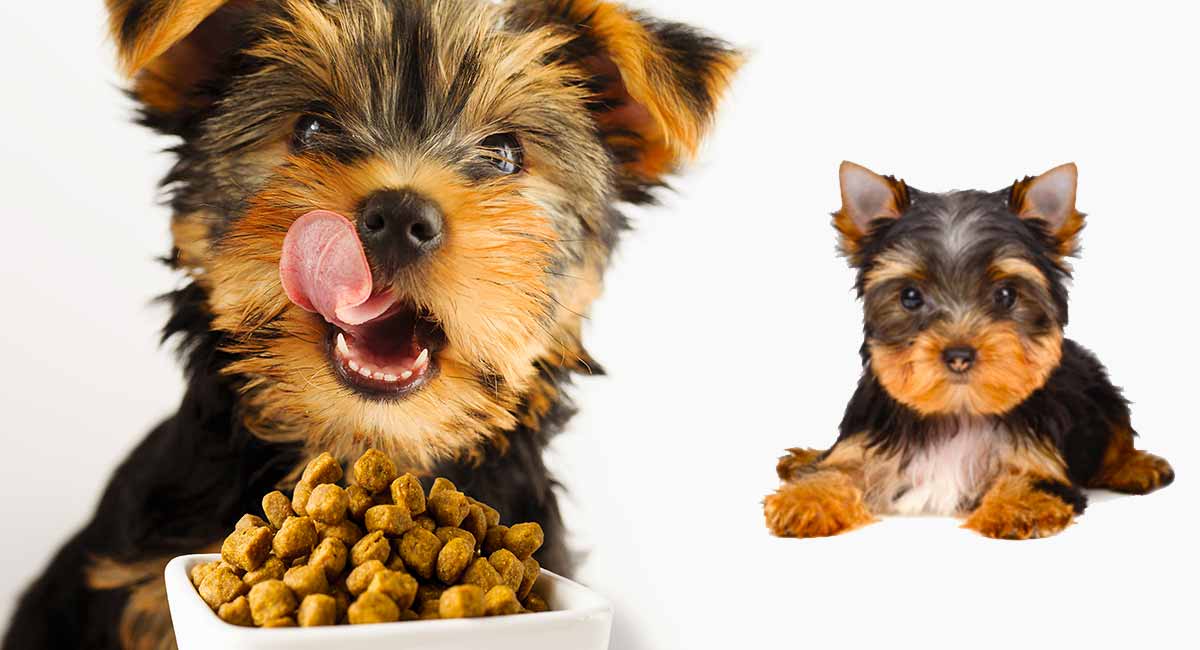 The best food for Yorkie puppy health is one that provides the right nutrients for their growing yet tiny bodies. Yorkshire Terrier puppy food needs to come in small pieces. To be easy to chew, swallow and digest. And of course, it needs to taste good too!
Best Food For Yorkie Puppies
The best food for Yorkie puppy dogs is very different to the best adult food. Puppies need a different balance of nutrients to adult dogs, and often require more calories. The best puppy food for Yorkies provides this during their most intense period of growth.
Yorkie puppies can weigh from 3 to 8 pounds. So they are a tiny dog! Smaller dogs are at higher risk of low blood sugar, especially as puppies. So, as well as the best food for Yorkie puppy dogs, it is also recommended by many breeders to keep a supplement on hand. Deciding what to feed a Yorkie puppy can be tough. So, let's take a closer look at the best puppy food for Yorkies.
The Top 5 Puppy Foods for Yorkies
You can click the links above to jump straight to our top 5 choices. Or, keep reading for all the best Yorkie puppy food options!
Best Puppy Food for Yorkie Contents
Let's start by finding out a little more about how much Yorkie puppies should be eating. Then we can move on to the best puppy food for Yorkies.
How Much Should A Yorkie Puppy Eat?
Veterinary science has come a long way since the days when there was one choice on the pet food shelves – basic dog food. Today, detailed research reveals surprising differences in the nutritional needs of small and large breed puppies.
Canine researchers have also discovered that growing puppies often need more calories. They also require a different nutrient balance than do adult dogs. Even within a single breed.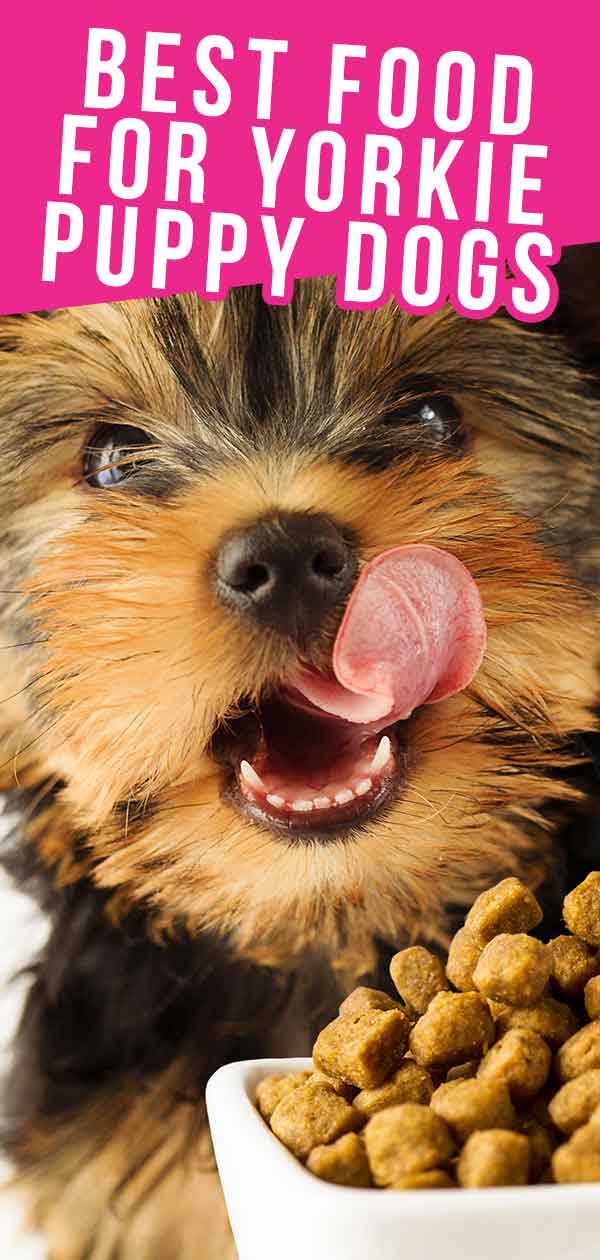 This is because puppyhood is such a short and intense time of growth and development. The first 29 weeks (7 months) of life being the most critical for taking in the right nutrients in the right amounts. This makes the hunt for Yorkie puppy food recommended by veterinarians even more urgent.
Best Wet Yorkie Puppy Food
Wet Yorkie puppy food is always a good staple to keep on hand. Since it is more hydrating than dry kibble and is also highly palatable in case your Yorkie gets stressed or has stomach issues. Adding some wet food as a topper can also add extra moisture to your dog's diet. So let's look at the best options.
Solid Gold Dog Food
This tasty and nourishing wet food* can be served right from the container or added to kibble as a meal topper.
This best Yorkie puppy food recipe is created with the needs of puppies with sensitive stomachs in mind. It is free from fillers, and has no artificial colors or preservatives. Plus, it comes in five different flavors, so there will always be something your Yorkie will love!
Merrick Lil' Plates Wet Dog Food
Another option is the Merrick Lil' Plates.*
This grain free wet puppy food is designed for small and toy breed puppies and can be fed right from the container.
Plus, its main ingredient is real meat – specifically deboned chicken.
Hill's Science Diet Small & Toy Breed Puppy Food
A third wet food option that is great for Yorkie puppies is the Hill's Science Diet puppy food.*
This wet puppy food is in stew form with gentle fiber and plenty of enriching protein, vitamins, and minerals.
It uses high quality ingredients, and can be served alone or mixed with dry food. Let's look at some of the best dry food options.
Best Dry Food for Yorkie Puppies
In most cases, you will be feeding your Yorkie puppy a dry kibble as a dietary staple.
These complete and balanced toy breed dry puppy food brands may be a good choice.
Royal Canin Breed Health Dry Puppy Food
This is aspecial recipe* to meet the needs of Yorkie puppies.
It is designed for puppies from 8 weeks to 10 months old.
The kibble is smaller and easier to chew and will also help clean teeth.
Plus, this recipe has extra nourishment to care for your puppy's signature long, silky coat.
Purina Pro Plan Focus Dry Puppy Food
This special recipe* is created to meet the needs of toy breed puppies who will weigh 10 pounds or less as adults.
The small kibble is easier to hold in your puppy's mouth while chewing.
The recipe includes omega fatty acids, DHA, and essential vitamins and minerals.
It is another recipe with high quality protein as its main ingredient.
Hill's Science Diet Small & Toy Puppy Food
This small and toy breed puppy food* is made to fit the nutrient needs of puppies up to 25 pounds at adulthood.
This recipe is enriched with essential fatty acids, vitamins, minerals, DHA, and amino acids.
The small kibble size is specially formulated for small breeds, so it is perfect for Yorkies!
Best Grain Free Yorkie Puppy Food
Some Yorkie breeders and owners prefer to feed their pups a grain-free food.
This can be a good idea if you suspect your puppy has food allergies or tummy troubles.
Grains can be hard for some dogs to digest.
Wellness Core Natural Grain Free Puppy Food
One option is the Wellness Core Dry Puppy Food*.
This grain free puppy food features three protein sources, DHA, vitamins, minerals, and probiotics to help improve digestion.
It is made in the USA, and includes no meat by-products, filler, or artificial flavors.
Blue Buffalo Wilderness High Protein Grain Free Food
Blue Buffalo Wilderness Natural Puppy Food* is another great option.
This grain free natural puppy food features crunchy kibble mixed with tasty vitamin and mineral bits for extra variety and flavor.
It uses real chicken to promote muscle growth, as 30% of its ingredients. Plus, it has a helpful transition chart, if you're changing to this food from something different.
Taste of the Wild Grain Free High Prairie Puppy Food
This popular grain free Yorkshire Terrier puppy food* features a smaller kibble size.
As well as enrichment from DHA, superfoods, antioxidants, vitamins, minerals, and essential fatty acids.
The main ingredient of this food type is high quality protein.
Best Food For Yorkie Puppies with Sensitive Stomachs
Yorkie puppies can be more sensitive to additives, fillers, by-products, artificial ingredients, and even certain proteins.
Some Yorkies do better on special diets that are designed for puppies with sensitive stomachs or food allergies.
Often, your veterinarian will recommend offering a limited ingredient diet (L.I.D.) dog food.
To try to eliminate any food-based health issues your puppy may be experiencing. If your puppy has stopped eating, this article might help!
CANIDAE Limited Ingredient Puppy Food
Take a look at the CANIDAE* Grain Free Limited Ingredient Diet Puppy Food.
This whole foods-based limited ingredient recipe is designed to support the high nourishment needs of puppies in an easy-to-digest, highly palatable kibble.
Each flavor uses fewer than 10 ingredients, and never include grains.
There are 6 protein options, and added probiotics to support healthy digestion.
Natural Balance Limited Ingredient Puppy Food
This limited ingredient recipe* focuses on just two main ingredients.
With extra nutrients in a tasty small kibble that is easier for puppies to grasp and chew.
This Yorkshire Terrier puppy food comes in two main flavors: potato and duck, or lamb and brown rice.
And, as well as suiting dogs with sensitive stomachs, it is designed to maintain healthy skin and a luxurious coat.
Nutro Natural Choice Limited Ingredients Puppy Food
This limited ingredient puppy recipe* is especially designed to help your puppy develop healthy skin and coat.
Plus support whole-puppy growth and development.
It uses real lamb as its first ingredient, and has a number of healthy vitamins and minerals to benefit your pup.
Yorkie Food Supplements
As we discussed earlier, toy and teacup dog breeds are unique in how they eat and metabolize energy.
A toy breed dog like the Yorkie can't "eat ahead" the way a larger dog breed can. Your Yorkie can only chew a few bits of kibble at a time.
They can only hold a very small amount of food in the stomach for digestion and energy use.
For this reason, you may want to supplement the Yorkie puppy food amount you are feeding.
Ideally with a high-calorie, high-protein topper or treat like one of these.
Tomlyn Nutri-Cal Puppy Dietary Supplement
This nutritional gel* is highly palatable and can be given as a treat or as a meal topper.
It has extra essential fatty acids and plenty of protein, fat and moisture.
This is the best dog food for Yorkie puppies if you have a puppy who is extremely fussy about food.
Enercal High Calorie Nutritional Supplement Gel
Enercal High Calorie Nutritional Supplement Gel* is another great option.
This is another option for a high quality, nourishing gel that your puppy can digest and use quickly.
Pet's Choice Nutri-Vyte Supplement
You might also like Pets Choice Nutri-Vyte Nutritional Supplement.*
This nutritional gel can also provide plenty of quick nutrition and blood sugar rebalancing for your puppy.
Best Food for Teacup Yorkie Puppy Dogs
If you have a teacup Yorkie, your puppy will be even smaller than a regular Yorkie.
So, you'll need to find the best food for teacup Yorkie puppy dogs to ensure your dog gets all the nutrients he needs.
Take a look at some of these options for the best food for teacup Yorkie puppy dogs.
JustFood for Dogs Puppy Food
The JustFood for Dogs* is great if you're wondering what to feed a Yorkie puppy.
It uses all natural ingredients that are high quality and veterinary approved.
This best Yorkie puppy food has a helpful weight guide on the back, to help you change portion sizes as your puppy grows.
Eukanuba Small Breed Puppy Food
Another great Yorkshire Terrier puppy food option is the Eukanuba small breed puppy food.*
This is for dogs who are younger than 12 months old, particularly small breeds.
It comes with a helpful feeding table, that offers a guide for dogs as small as 2 pounds.
This makes it the best food for teacup Yorkie puppy dogs who are often smaller than most foods recognize!
Puppy Feeding Guide
Toy breed puppies need to eat more often than larger breed puppies.
This is because their stomachs are tiny and can't hold as much food.
Your Yorkie puppy will need to eat at least four times a day, and possibly more often depending on size and weight.
Aim to feed your puppy every three to four hours. Initially, you may need to add a fifth night-time feeding as well.
It is always wise to start a feeding journal and make notes about how much your Yorkie pup eats.
As well as how long it takes to finish each meal.
These notes will help you detect any appetite changes quickly.
Allowing you to adjust portion sizes as needed to avoid low blood sugar.
Free Feeding
Some Yorkie owners free-feed their puppies, which means that dry kibble is always available in between meal times.
This can work in small spaces where your puppy is unlikely to forget where the food is located.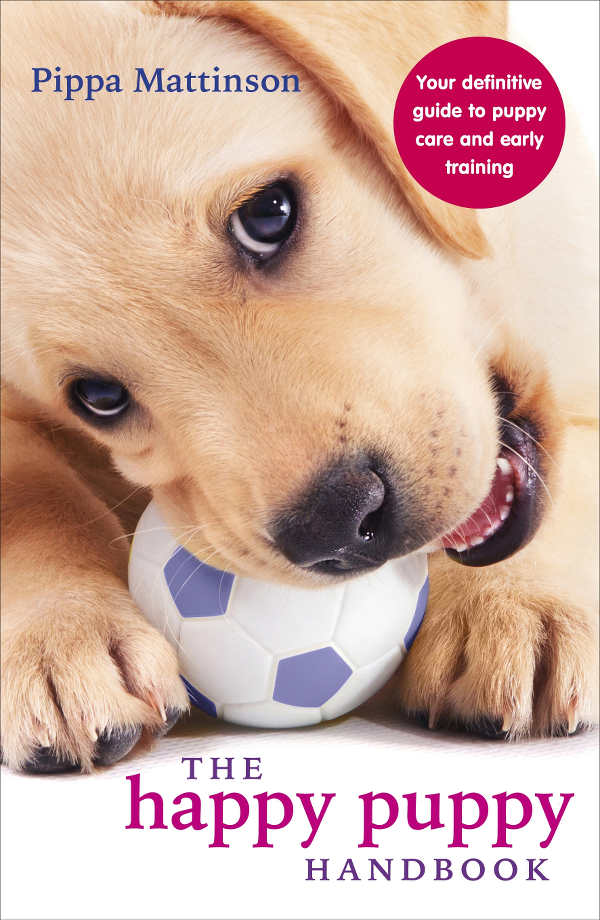 But can backfire in larger homes for the same reason.
You should offer meals at least four times per day. Watch your Yorkie closely and note whether the amount of food is eaten completely.
This can be a gauge of whether you are offering enough for your Yorkie puppy's growth rate and energy expenditure.
Ask your veterinarian to teach you how to feel your puppy's body along the ribcage area.
To detect if your dog is too thin or is packing on the pounds.
Take an initial weight when your puppy first arrives home. This will give you something to compare to as your puppy grows bigger each week.
Yorkie Puppy Dietary Requirements
All dogs need the right balance of protein, fat, carbohydrates, vitamins, minerals, and water.
Achieving the optimal mix of all six nutrients is especially critical for Yorkies with their small size.
The best puppy food for Yorkies can help with this.
Feeding your puppy a commercial toy or small breed puppy food labeled as "complete and balanced nutrition" is ideal.
Special Needs
Because of this dog breed's tiny size, your Yorkie puppy will always be at risk for hypoglycemia (low blood sugar).
This condition can come on suddenly if your puppy burns too much energy without replenishing it.
Low blood sugar can be serious and potentially fatal for Yorkies.
Particularly during puppyhood when they are still learning to eat, eliminate, and manage their energy level.
For this reason, many Yorkie breeders recommend keeping a supplement on hand.
This is to guard against or remedy low blood sugar issues (more on this in a moment).
Your Yorkie puppy may be at higher risk for hypoglycemia when stressed.
Yorkies can get particularly stressed during the initial rehoming, when cold, when over-handled, and during food changes.
Upset tummy, diarrhea and blood sugar issues are not uncommon in this breed.
Warning signs of low blood sugar can include:
lying on the ground and looking up at you
shivering and shaking
pale gums
vomiting green/pale bile or foam
lethargy
listlessness
poor coordination
"drunk" movements
loss of consciousness
Best Puppy Food for Yorkies
The Yorkie can look a little more sizeable than this dog actually is.
Underneath all that silky hair is a petite pup weighing anywhere from three to eight pounds, tops!
This means the best dog food for Yorkie puppies will always be one made to meet the needs of small breed puppies.
You may also benefit from a high calorie supplement, especially if your Yorkshire Terrier suffers from low blood sugar.
Which Puppy Food Do You Use?
Which do you think is the best dog food for Yorkie puppies?
Have you decided what to feed a Yorkie puppy?
Let's us know in the comments section below! And make sure you tell us about your experiences with the brands we've recommended!
Affiliate link disclosure: Links in this article marked with an * are affiliate links, and we may receive a small commission if you purchase these products. However, we selected them for inclusion independently, and all of the views expressed in this article are our own.
References and Resources