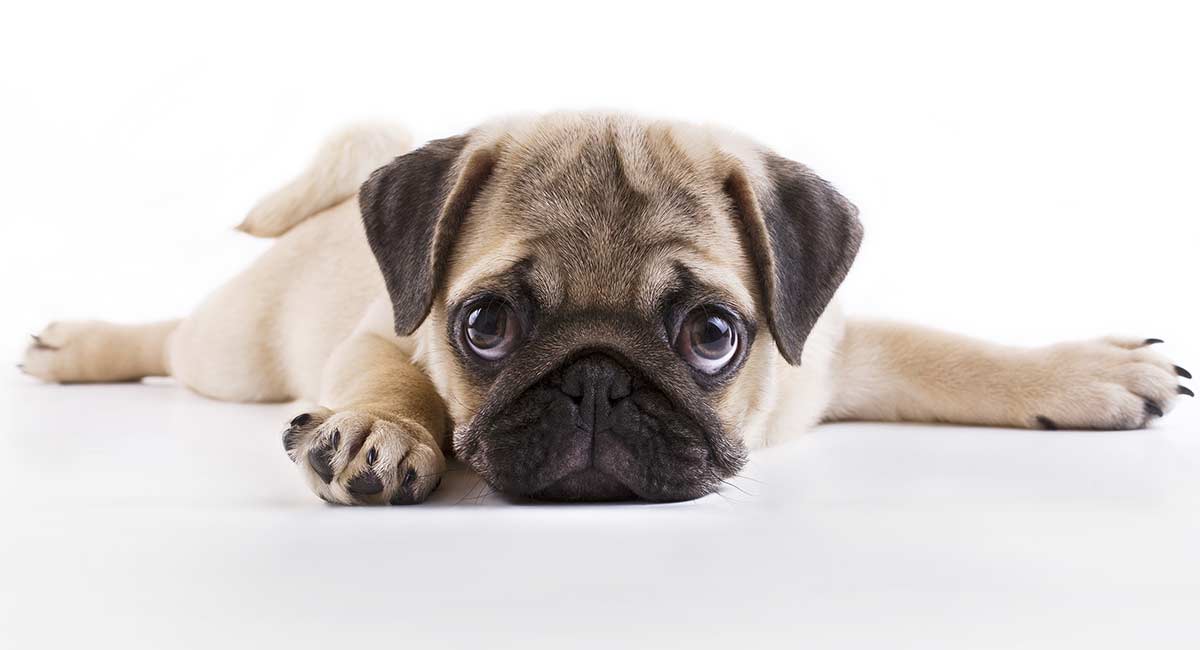 The best food for Pug puppies is easy to chew and swallow, but still provides them with a complete diet.
Because while this adorable dog is partially popular for that cute little face, their flattened features make finding the right food a little trickier.
All of these products were carefully and independently selected by the Happy Puppy Site team. If you decide to make a purchase from one of the links marked by an asterisk, we may earn a small commission on that sale. This is at no extra cost to you.
The Best Food For Pug Puppies
Pugs are brachycephalic; this means that they have been bred for their wider muzzles.
This flat face makes it tricky to breathe, even more so while they are trying to eat.
Their jaws and teeth often have problems because they're smaller than they should be.
Pugs are also prone to retained deciduous teeth.
A fancy way of saying their baby teeth don't fall out, causing adult teeth to erupt in odd places.
Again, making chow down more of a chore.
They are also prone to obesity, so you need to watch the portion size as well as the kibble shape.
Nutrition Matters
Pug puppies have different nutritional requirements to adults.
They need more fat and more protein, along with additional amino acids and minerals.
They should also have more omega-3 fatty acids (such as DHA) for brain and eye development.
Feeding growing puppies the right balanced commercial diet can help keep them healthy.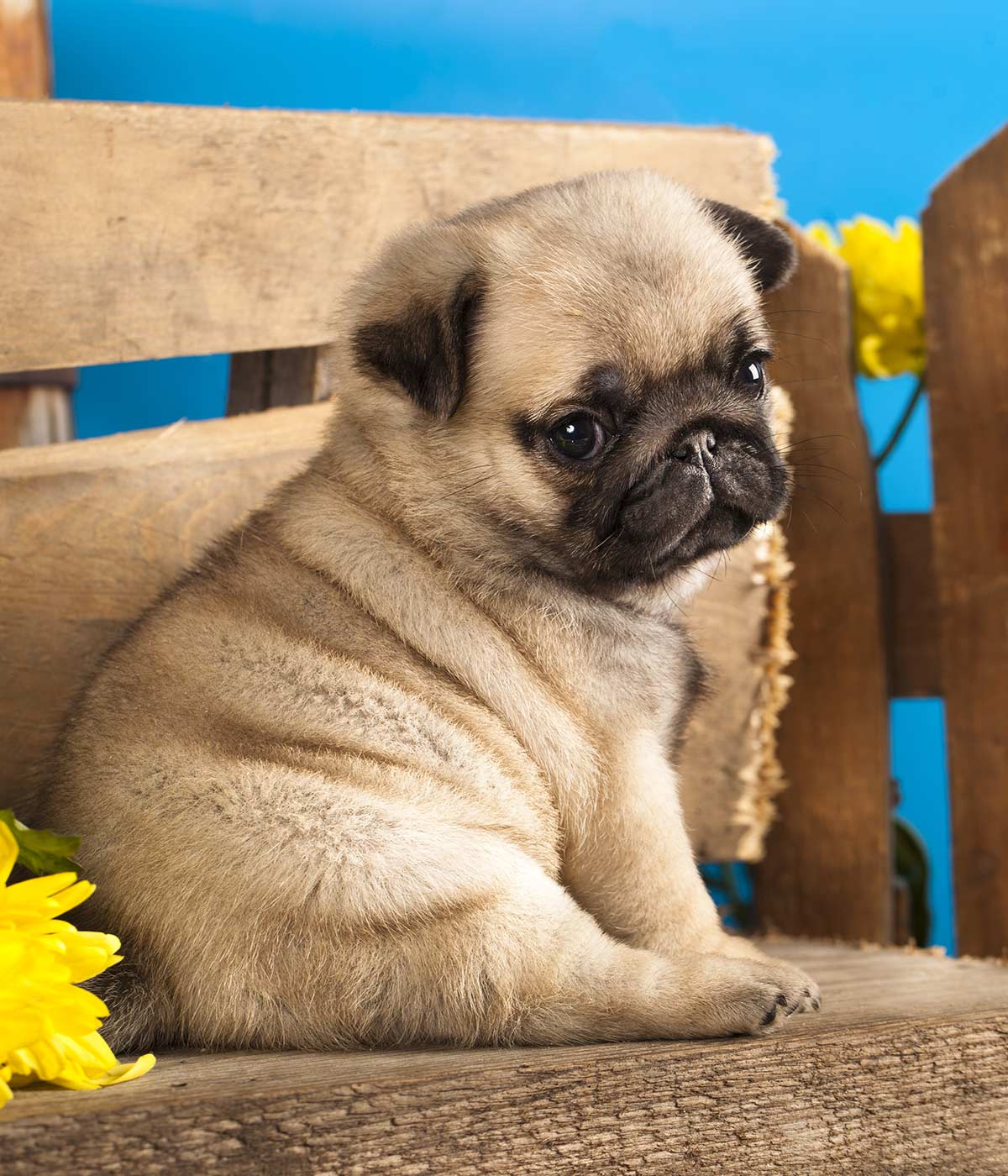 Which food is the best food for Pug puppies?
Puppy food is good for puppies, of course, because it includes more energy-intensive ingredients.
However, you should be cautious.
Research shows our understanding of specialist dog foods needs to be more nuanced.
For example, researchers have found that even dogs within the same family had a 20 percent difference in energy requirements from their food.
It also showed that temperature may play a role in their needed energy requirements.
Basically, your dog has individual needs that must be balanced against each other when it comes to health and growth.
Best Puppy Food for Pugs
Pugs are one of the breeds that may be able to benefit from specialist dog foods.
This is because of their conformational and health issues, and their low energy level.
Specialist foods may be able to address their obesity issues and come in sizes that are easier for their teeth to pick up, for example.
Royal Canin Pug Puppy Food
Royal Canin Pug Puppy Dry Dog Food*, 2.5-Pound is specially designed for your pup's breed.
Royal Canin is known for its specialist kibble.
This puppy brand is designed with a shape that's easy for short-nosed pups to pick up.
The formula supports skin and digestive health as a Pug puppy is growing, but without adult natural defences.
This Pug puppy dog food includes prebiotics, antioxidants and balanced nutrition.
If you are finding it hard to track down the Pug version, then it won't hurt to use the one designed for French Bulldogs.
The needs of the two breeds are very similar.
Purina Pro Plan
Purina's Pro Plan small puppy food* is a great choice for Pugs.
This formula is designed to be easy to digest.
It also comes in a variety of shaped pieces, which should help your pup to pick it up.
Blue Life Puppy Food
BLUE Life puppy food* might not mention Pugs on the packet, but it's still a good choice.
Designed with protein-rich chicken, wholesome whole grains, and garden veggies and fruit.
Blue Buffalo Co's puppy formula can start your puppy's nutrition off right.
This specialist food uses natural ingredients and great quality designed to support the healthy growth and development of puppies.
For puppies, this formula includes DHA to support cognitive development.
And is designed to bolster immunity, give strong bones and teeth, and support healthy skin.
Nutro Puppy Food
NUTRO Dry Dog Food* is another nice option.
The grain-free puppy formula features farm-raised chicken.
It is designed for easy digestion and weight management in young dogs.
The kibble is small so puppies of small breeds can pick it up more easily.
High-quality ingredients include a blend of veggies and fruit.
The puppy formula offers more calories for energy and a high nutrient content.
Hill's Science Diet Toy Breeds
Hill's Science Diet produces a food aimed at small and toy dog breeds*.
The Puppy Stew version of this puppy food for small breeds provides balanced nutrition for little dogs under a year old.
The formula includes high-quality lean protein.
It promotes healthy digestion, and comes in a tiny peel and serve tray with the exact serving for a small pup.
No colors or preservatives are added.
The wet food style is great for dogs with problem dentition, which they may be at risk for.
Wellness Complete puppy food
Wellness Complete* make a very popular puppy food.
The formula used to create this chicken, oatmeal and salmon recipe supports complete, balanced health.
All natural ingredients are used.
Wellness Complete Health uses a guaranteed level of minerals to promote bone growth.
It contains natural sources of DHA for brain development and has more protein for building muscles.
How Much Food Should I Feed My Pug Puppy?
Pugs gain weight easily. In such small dogs even 1 lb. can make a big difference.
And extra weight can exacerbate the breathing problems that pugs may already have.
The amount of food a Pug puppy needs depends on a lot of factors, including age and activity level.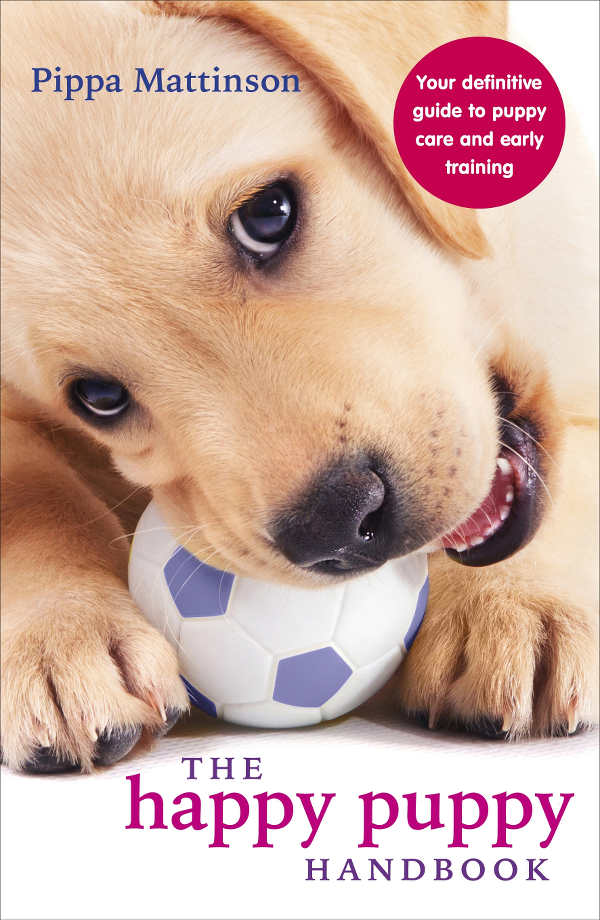 You should feed a puppy four times a day, until about 6 months of age.
Then you are able to reduce to three or two times if you like.
But there is no reason to reduce the frequency if you don't want to.
And ideally, you want to use a lot of their meals as training treats throughout the day.
Training Treats for Pug Puppies
For any breed of dog, we recommend using their daily ration of food as often as possible in training.
It's a great way to bond with your dog, and to make mealtimes more than just a speed eating competition.
And it helps avoid over feeding by using different treats to reward good behavior.
This is especially important for Pug puppies, who can easily put on too much weight and become unhealthy.
So as often as possible, weigh out your pup's meals at the start of the day.
Dish them up on the counter, and then take pieces of kibble out to use as training treats.
Best Food for Pug Puppies
The best food for Pug puppies supports their dental and breathing issues, without compromising on their nutrition.
Puppies need more protein and calories than adult pugs for the development of tissues, muscles and bones.
They need the right balance of nutrition for each stage.
But to also be able to comfortably pick up the pieces, and chew them too.
We hope we've helped you find your best food for Pug puppies. Tell us in the comments what works for yours.
Affiliate link disclosure: Links in this article marked with an * are affiliate links, and we may receive a small commission if you purchase these products. However, we selected them for inclusion independently, and all of the views expressed in this article are our own.
Related Articles
Resources and Further Reading: