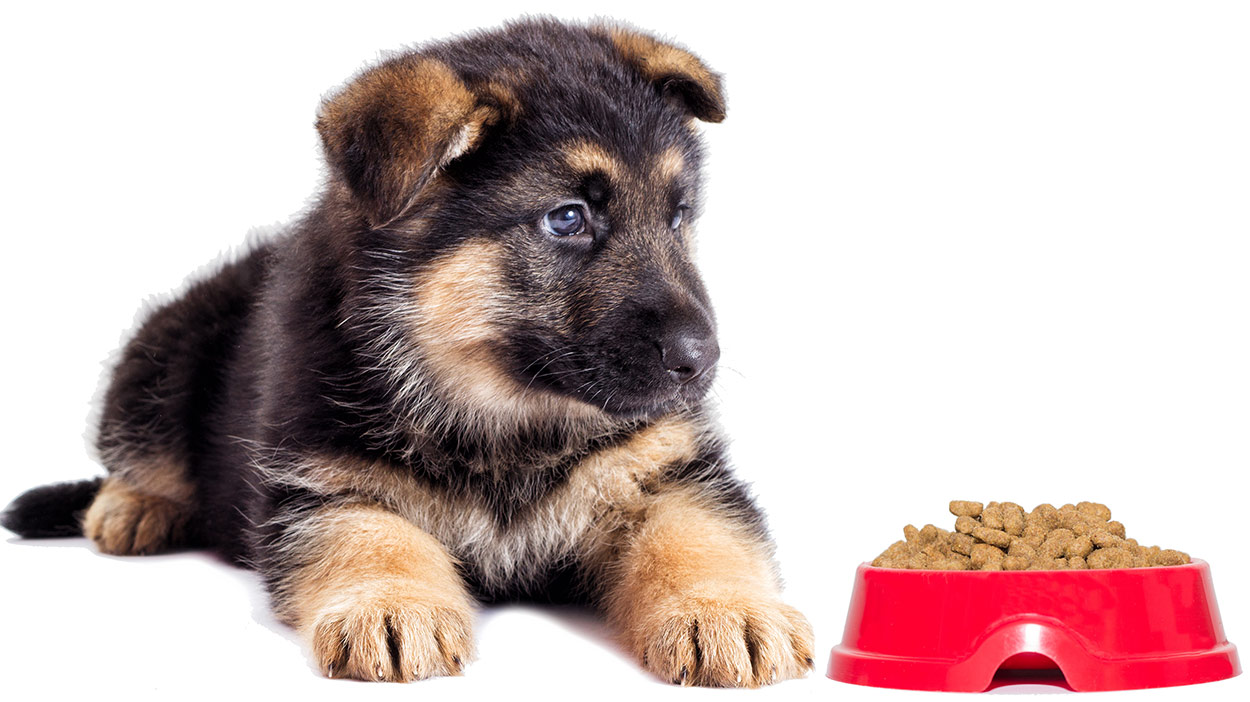 Welcome to our comprehensive guide to the best food for German Shepherd puppies!
German Shepherds are a large, strong, and active breed.
They have particular physical and health needs that are met through the use of high-quality, specialist foods.
The breed is also prone to a number of genetic health conditions, but some of these can be managed and even prevented through correct feeding from puppyhood.
What's the best food for German Shepherd puppies?
In this guide, we'll answer all your questions about the best food for German Shepherd puppies, including:
What kind of food does my German Shepherd puppy need?
How much food for German Shepherd puppy?
How many times each day should I feed my German Shepherd puppy?
Is canned or dry the best food for German Shepherd puppies?
How long should I feed my German Shepherd puppy food?
In addition, we've taken time out to find and review the best food for German Shepherd puppies.
Our handy review section not only contains an overview of our favorite products, we've also included convenient product links so ordering couldn't be easier.
You can find all these German Shepherd puppy foods on Amazon.com.
So, let's start our guide by answering some of your questions!
German Shepherd dog dietary needs
German Shepherds are carnivores.
This means that their diet should contain high protein levels.
Protein is essential for healthy growth, muscular development, and energy.
Fat is also an important element of your German Shepherd's diet.
German Shepherds have thick fur and tend to shed continually throughout the year.
The fat content in your dog's diet helps to keep his skin and coat in good condition.
As your German Shepherd grows and matures, his diet will change according to his activity levels, sex, and age.
Best dog food for German Shepherd puppy requirements
In general, German Shepherd puppies eat more food than adult dogs.
They are curious, extremely busy little creatures who spend much of their day exploring their environment and playing.
Such high activity levels coupled with rapid growth demand plenty of fuel to keep them going!
The nutritional requirements of German Shepherd puppies are unique.
As a large breed of dog, your pup's growing body needs a particular blend of nutrients in order to reach their full size properly and remain healthy.
Choosing the best German Shepherd puppy food for health
German Shepherds are especially prone to certain health problems, including skin conditions, hip dysplasia, and bloat.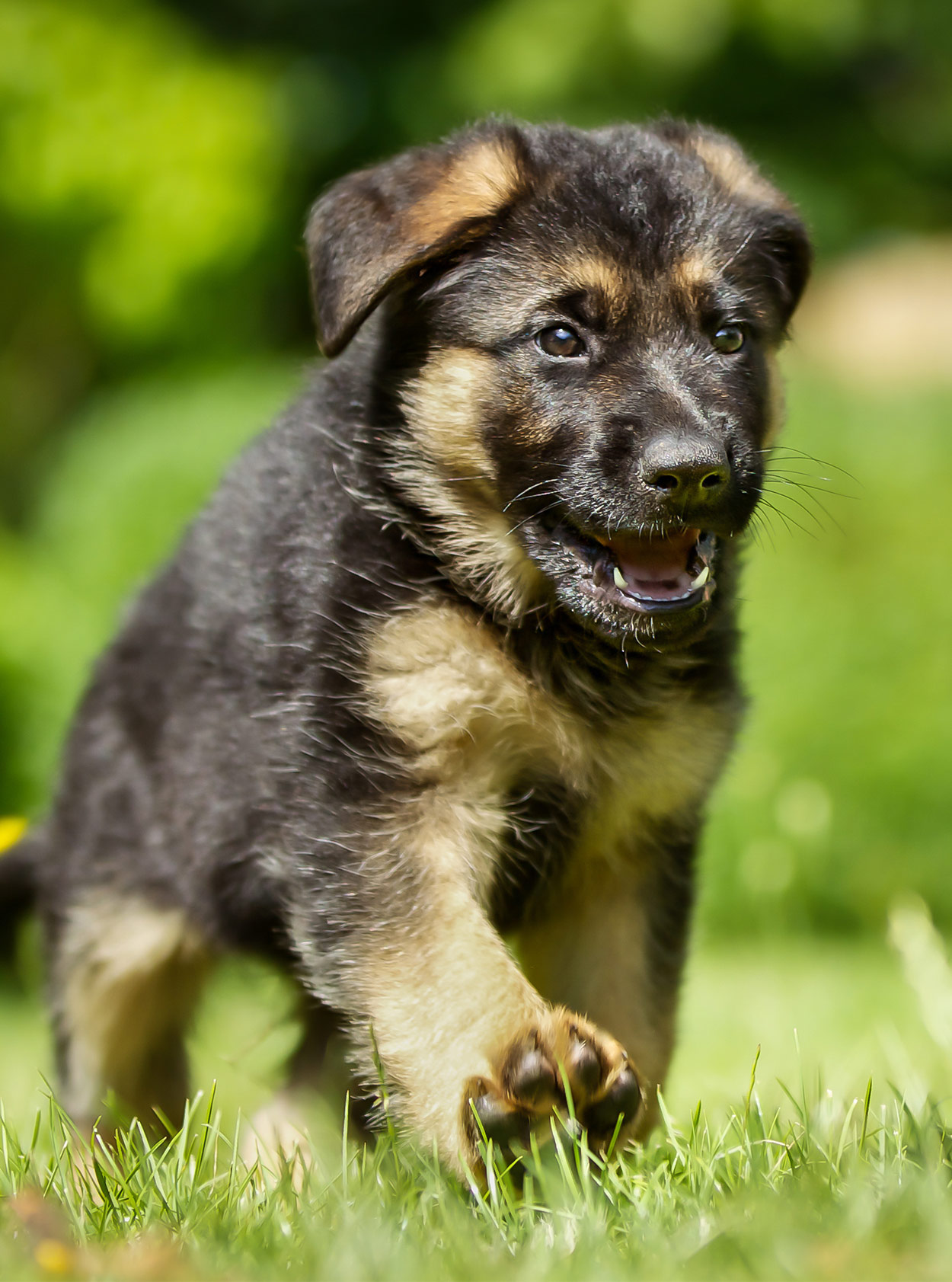 All the major pet food manufacturers create specially formulated and balanced puppy-specific diets for large breeds to help prevent these conditions from affecting your pup in later life.
Once your German Shepherd puppy reaches one year of age, you should gradually move him onto an adult diet.
Let's look at a few vital elements of your German Shepherd puppy's diet:
Protein
Protein is essential for tissue and organ growth and to build strong muscles.
The protein in your puppy's food should come from an animal source in order for it to be most efficiently metabolized by their body.
Roughly 27% of your pup's diet should consist of animal protein.
Remember that ingredients on dog food packaging are listed in order of quantity.
Therefore, always make sure that a named meat such as beef, chicken, fish etc is listed first on the ingredients list.
Many puppy foods contain "meat meal".
Meat meal is a highly concentrated form of animal protein and forms an important element of your German Shepherd pup's diet.
Carbohydrates
Carbohydrates provide energy in the form of glucose and give your pup the energy he needs.
As carbohydrates are digested in the puppy's small intestine, they generate heat, helping to maintain the animal's body temperature.
Carbs derived from grains provide fiber for your German Shepherd puppy, ensuring that he feels "full" and promoting the growth of "healthy" bacteria in his gut.
Fat
Fat serves many important functions in any dog's diet.
It's is an important energy source for your pup – fat is converted by the dog's body into energy-providing glucose.
Fat also enables the puppy's body to absorb vitamins from his food and promotes a healthy skin and coat.
Vitamins and minerals
Although you can buy vitamin and mineral supplements for dogs, feeding too much of these can actually poison puppies.
For this reason, always choose a specially formulated puppy food that already contains the right balance of essential vitamins and minerals.
Always consult a vet before supplementing your puppy's diet with any additional vitamins.
How much food should a German Shepherd puppy eat?
Until the age of about 6 months, young puppies should have 3 to 4 small meals during the day.
It is important that you divide the food up like this, as puppies are renowned for gobbling up everything they're offered, which can cause vomiting!
After the age of 6 months, you can split the food into two meals per day.
Follow the manufacturer's recommended feeding amount guidelines on the product packaging.
Best food for German Shepherd puppies – canned or dry food?
There are two main forms of puppy food available on the market; dry food and wet food.
Many vets recommend starting your puppy on wet food immediately after he is weaned.
This is because your pup's digestive system is used to processing his mother's milk.
Wet food is less of a shock to the system for your pup's gut than dry food at this stage.
Once your German Shepherd puppy reaches 12 weeks of age, you can begin to introduce dry food (kibble), whilst gradually reducing his ration of wet food.
Wet food vs dry food for German Shepherd puppies
Feeding dry food has the advantage that it is convenient and usually more affordable than canned wet food.
Kibble is also very good at removing plaque from your puppy's teeth as he eats, helping to prevent the formation of tartar and the onset of periodontal disease.
However, dry food contains negligible water content.
To avoid liver and kidney problems in your pup, always ensure that plenty of clean fresh water is available to him.
Wet food contains around 80% water, which keeps your puppy hydrated.
Most canned foods are also packed with protein, which is essential for your German Shepherd puppy's development.
However, feeding canned food generally works out more expensive than feeding kibble, as you'll need to feed more of it to meet your pup's daily needs.
Avoiding "bloat"
Bloat (gastric dilatation-volvulus or GVD) is a very serious condition that affects large breeds such as German Shepherds.
GVD occurs when too much air, water, and/or food accumulate in the stomach.
The stomach swells and sometimes twists, obstructing the blood vessels in the dog's abdomen.
This can lead to a drastic fall in blood pressure, shock, and catastrophic damage to the internal organs.
GVD is often fatal.
Feeding your German Shepherd puppy small meals several times during the day can reduce the risk of bloat.
Our selection of the best food for German Shepherd puppies
Now, let's move on to look at a few of the best large breed puppy foods for German Shepherds!
Best wet food for German Shepherd puppies
Let's kick start in the same place your puppy might begin – with the best wet food for German Shepherd puppies.
These are our favorite wet foods for large breed puppies.
Use these foods on their own when your puppy is first weaned, or in combination with the dry foods listed later as they get older.
BLUE Homestyle Recipe Wet Dog Food
This wet diet uses only deboned chicken, together with whole grain rice and barley to provide your puppy with the high-quality protein, carbohydrates, and fiber he needs for energy and growth.
This good dog food for German Shepherd puppy also includes sweet potatoes, carrots, blueberries, and cranberries for antioxidants and essential vitamins.
No meat meal, corn, soy, wheat, artificial colors, flavors or preservatives are used in this all-natural diet.
BLUE Wilderness High Protein Grain Free Puppy Wet Dog Food
Wilderness wet puppy food is a high-protein, grain-free diet containing deboned turkey.
The food also contains an important fatty acid that's found in your pup's mother's milk, which is vital for good brain and eye function in puppies.
Optimally balanced Omega-3 and Omega-6 fatty acids are included to promote healthy skin and a glowing coat.
Best dry food for German Shepherd puppies
Today, many puppies are weaned directly onto softened kibble, or transitioned from wet food to dry food at around 12 weeks.
So they are likely to be already eating dry food by the time they come home with you.
In fact they will probably arrive with a bag of the kibble they were weaned onto.
You can read more about how to feed your puppy kibble in this article.
And if you'd like to try some alternative diets, these are our picks of the best dry dog food for German Shepherd puppies.
Royal Canin Breed Health Nutrition German Shepherd Puppy Dry Dog Food
Royal Canin is one of the world's largest and most popular dog food manufacturers.
This kibble is tailor-made for German Shepherd puppies and contains everything your dog will need during his growth period.
The formula is balanced to avoid digestive sensitivity, and also contains calcium and phosphorus for healthy joints and bones.
Vitamins E and C, together with taurine and lutein help to maintain your pup's vulnerable immune system.
The diet is designed for pure bred German Shepherd puppies from age 8 weeks to 15 months.
Hill's Science Diet Large Breed Dry Dog Food
Hills are another major specialist diet dog food manufacturer.
Their large breed puppy dry dog food is a good food for German Shepherd puppies up to 12 months old.
The diet contains optimal levels of calcium to ensure that bone growth is controlled in order to prevent the onset of health conditions, including hip dysplasia.
Natural glucosamine and chondroitin is also included to help keep joints and muscles strong and healthy.
Your pup's immune system is also supported through a blend of vitamins, minerals, and antioxidants.
The food contains no artificial preservatives, colors, or flavorings.
BLUE Freedom Grain Free Puppy Dry Dog Food
This popular large breed, chicken flavor puppy food is made with only deboned chicken.
No by-products, corn, soy, wheat, or meal is used as padding, making the food gluten-free to avoid upsetting sensitive stomachs.
The food is formulated with a blend of essential antioxidants, minerals, and vitamins.
Royal Canin Size Health Nutrition MaxiPuppy dry dog food
Popular dog food specialists, Royal Canin make a high-calorific value kibble specifically formulated for feeding to large breed puppies with lots of energy to burn!
This food is fortified with vitamins E and C, lutein, and taurine to boost your puppy's immune system.
The recipe also includes glucosamine, chondroitin, and Omega 3 fatty acids for healthy joint development, together with high levels of EPA and DHA for brain and nervous system development.
Purina ONE SmartBlend Large Breed Puppy Formula Puppy Dry Food
Purina are world-renowned makers of specialist dog foods and this is their offering for large breed puppies.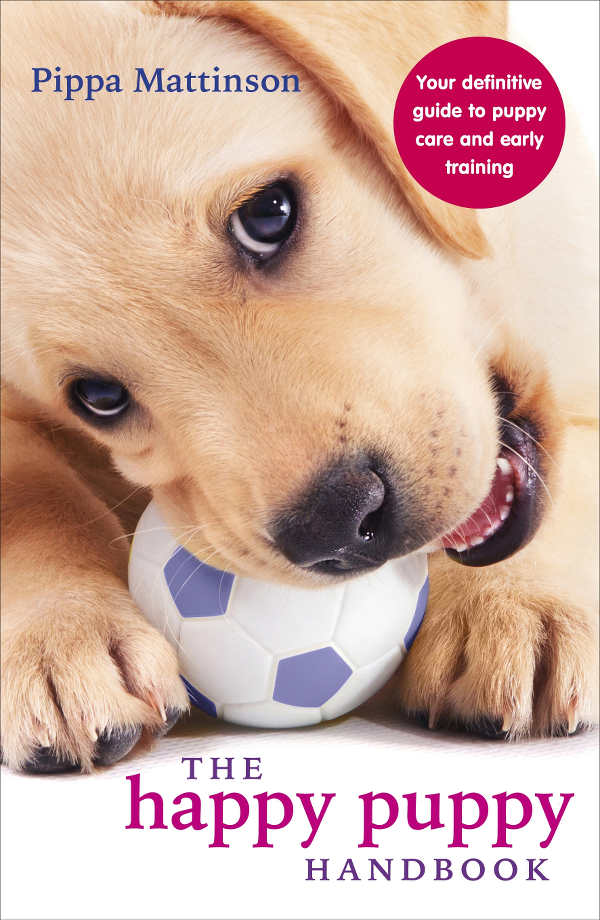 The Perfect Companion For Life With A New Puppy
The dry kibble contains chicken as the number one ingredient, which is combined with rice for easy digestion.
The high-protein recipe also contains added natural glucosamine for healthy, growing joints
This food is slightly cheaper than some of the other top brands, and reviewers' pets seem to love it. A win-win!
EUKANUBA Puppy Dry Dog Food
Eukanuba uses fish oil in this large breed puppy food in order to boost brain function, making your pup smarter and more trainable.
There's also plenty of fiber derived from prebiotics and natural beet pulp to promote easy absorption of nutrients and a healthy digestion.
The protein sources used to make this food are animal-based, promoting the development of strong muscles.
Optimal levels of Omega-3 and Omega-6 fatty acids are included for healthy skin and a radiant coat.
Diamond Naturals Large Breed Puppy Food
This large breed puppy food is made in the USA from pasture raised lamb and is formulated with optimal amino acids for lean, strong muscles.
The food contains no fillers, no wheat, no artificial colors, flavors or preservatives.
This recipe includes superfoods and antioxidants, fatty acids for a glowing coat and healthy skin, and chondroitin and glucosamine for healthy joint development.
Best food for German Shepherd puppies
So, what is the best food for your German Shepherd puppy?
Not every puppy will like the same food!
Be prepared to try a few different brands until you find the one that your puppy loves, and then stick to it!
To reduce the risk of bloat and other digestive system upsets, be sure to introduce new foods to your puppy gradually.
If you are feeding your pup a dry diet, remember to ensure that fresh, clean water is always available.
The best food for German Shepherd puppies contains the perfect balance and blend of protein, fat, carbohydrate, vitamins, and minerals to ensure strong and healthy growth.
Always ask your vet for advice on the correct German Shepherd puppy food amount to use when you're feeding both wet and dry foods.
Do you have a favorite German Shepherd puppy food?
Once you've found the perfect food for your German Shepherd puppy, why not tell us about it in the comments section below?
We'd be particularly interested to hear if you chose one of our top products!
References and further reading
Linder DE, "Confused About What to Feed Your Large Breed Puppy? New Rules May Help" Clinical Nutrition Service, Cummings Veterinary Medical Center, Tufts University, 2017.
Lauten SD, "Nutritional Risks to Large Breed Dogs: From Weaning to the Geriatric Years", Vet Clinic Small Animal, 2006.
Yuill C, DVM, MSc, CVH, "Nutrition: General Feeding Guidelines for Dogs", VCA Hospitals, 2011.
Purdue University School of Veterinary Medicine, "Dietary Risk Factors for Gastric Dilatation-Volvulus (Bloat) in 11 Large and Giant Breeds: A Nested Case-Control", 1995.