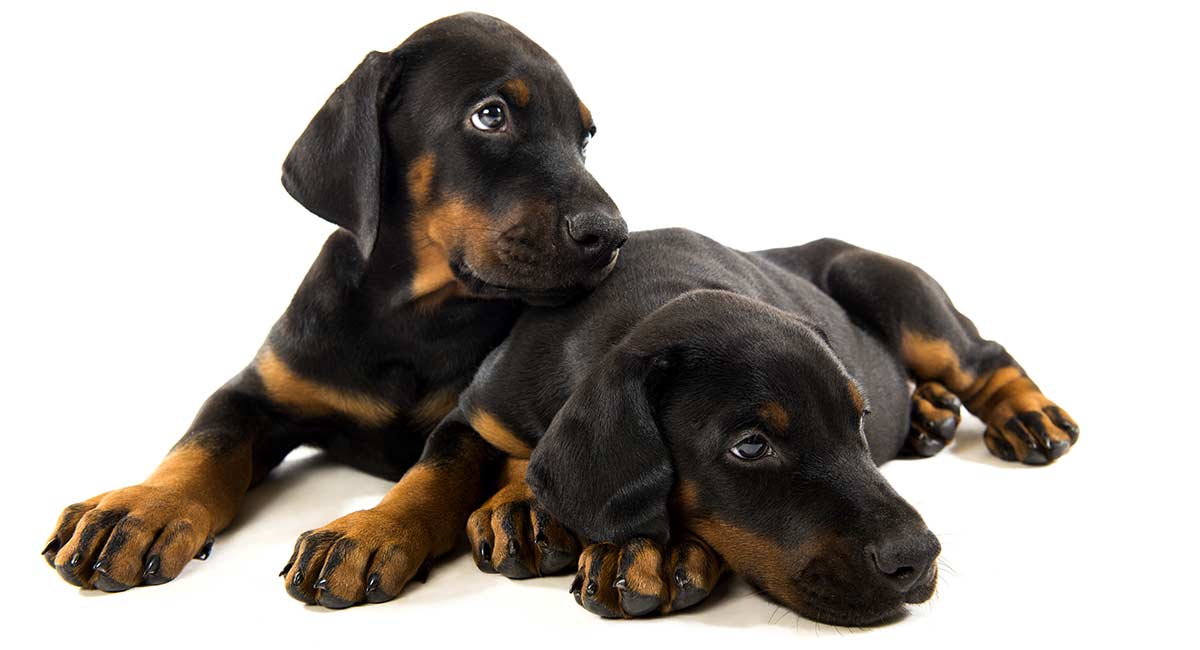 If you are welcoming a young Doberman into your home and are looking for the best food for Doberman puppy dogs, you're in luck!
The Doberman Pinscher is a large breed who requires a healthy, high-quality dog food beginning in puppyhood to stay healthy and happy throughout his lifetime.
So, with that in mind, let's find out how and what to feed your Doberman puppy.
What are the Nutritional Needs of a Doberman Puppy?
When looking for the best food for Doberman puppy dogs, you'll want to look at high-quality puppy foods that are high in meat proteins like beef, chicken, and salmon, and low in unnecessary additives like corn, soy, and wheat.
Although Doberman puppies start out small, they eventually grow into large, muscular dogs who were bred for work.
They require the proper nutrition that will help to nourish a healthy skeletal growth as well as aid in muscle function and brain development.
Here is what you should look for when considering the best food for Doberman puppy.
Protein
Dobermans are very active, so you'll want to implement a diet that is high in animal proteins.
A high-quality puppy food will have real meat listed as their first ingredient.
Meats like fish, lamb, beef, and chicken are great meat proteins you should keep an eye out for as the first ingredients in your puppy's dog food.
Beware of puppy foods that don't list meat in the first three ingredients, and keep in mind that Doberman puppies will require about 26% protein in their diets to thrive.
Fats
It's true that fat sometimes gets a bad rap in the food industry, but not all fats are unhealthy.
Healthy fats like fish oils that contain Omega 3 and Omega 6 aid in the overall development of your Doberman puppy, feeding his brain and providing him with the energy he needs to grow up strong and happy.
Studies have found that a Doberman requires about 15% to 18% of healthy fats in their diet each day, so make sure you check the fat content of your Doberman puppy's food.
Also, keep in mind that Doberman Pinschers are prone to a number of skin issues including skin allergies.
One of the best ways to combat skin allergies is through a healthy diet, and the fatty acids in your puppy's dog food could help ensure you keep those allergies at bay.
Complex Carbohydrates
Complex Carbohydrates should be the fourth or fifth ingredient on your Doberman puppy's dog food list, and while most dog foods contain carbs, it's important to steer clear of puppy foods that contain unnecessary fillers such as wheat, soy, corn, and lots of sugar.
However, as long as you are making sure your Doberman puppy is getting at least 26% protein and 15% to 18% healthy fats in his daily diet, you shouldn't spend too much time worrying about the number of carbohydrates in his food.
How Do the Dietary Needs of Large Dog Breeds Differ from the Dietary Needs of Small Dog Breeds?
The best food for Doberman puppy dogs will be a puppy food that is high in proteins and healthy fats, and of course a puppy food that is geared towards larger breed dogs.
Smaller breed dogs do not go through the vast skeletal development that larger breed dogs do, making them less prone to certain health issues.
Since Doberman Pinschers are prone to health concerns such as Wobbler syndrome, cervical vertebral instability, cardiomyopathy, hip dysplasia, osteosarcoma, Von Willebrand's disease, demodicosis, and Bloat, a high-quality puppy food geared towards larger dog breeds is of the utmost importance.
Why Is Feeding My Young Doberman Puppy Food Over Adult Dog Food So Important?
The type of food you provide your Doberman puppy in his first year as well as the amount you offer him are going to play a major role in his development into adulthood.
All puppies require puppy food over adult dog food because puppies require certain nutrients to grow and develop.
Also, puppy food has a higher calorie count, which is important because puppies burn a lot more energy in their daily activities than adult dogs do!
Luckily, if you are feeding your Doberman puppy a high-quality puppy food for large breed dogs, then no supplements should be necessary.
Of course, special cases may apply if your particular Doberman puppy has certain health issues, but this should be discussed with your veterinarian.
How Much Puppy Food Should I Feed My Doberman Puppy?
The Doberman puppy food amount should be divided into three to four meals per day for the first six to eight weeks of his life.
Once he reaches eight weeks, he should be fed no more than three times a day. Think of this as breakfast, lunch, and dinner.
By the time your puppy is 12 months old, you can transition him to a high-quality adult dog food and feed him twice a day.
Remember, Dobermans are very active and require more calories than many other dog breeds. An adult Doberman Pinscher will eat around two to five cups of dry dog food per day.
However, we recommend starting your Doberman puppy off with 1/2 cup of a high-quality dog food morning, noon, and night. As he grows, you can increase the cup size.
Should I Feed my Doberman Puppy Dry Dog Food or Wet Dog Food?
The choice between dry dog food and wet dog food is a personal one that is really up to you and what your Doberman puppy seems to prefer.
While dry dog food is less expensive than wet dog food, it also contains more preservatives. Then again, wet dog food contains more water, so you are getting less bang for your buck.
Experts recommend you stay away from middle-of-the-road moistened dog foods, though, since they contain lots of sugar.
Specialty Puppy Foods for My Doberman Puppy – Are They Worth the Hype?
Specialty dog foods are best for dogs and puppies who are predisposed to certain health conditions such as food allergies, joint issues, chronic urinary tract infections, and dental or oral issues.
When considering the best food for Doberman puppies, it doesn't hurt to take a look at specialty dog foods since Doberman Pinschers are predisposed to several serious health conditions throughout their lifetime.
However, a high-quality puppy food that contains the proper percentages of proteins and fats should offer most Doberman puppies everything they need to thrive.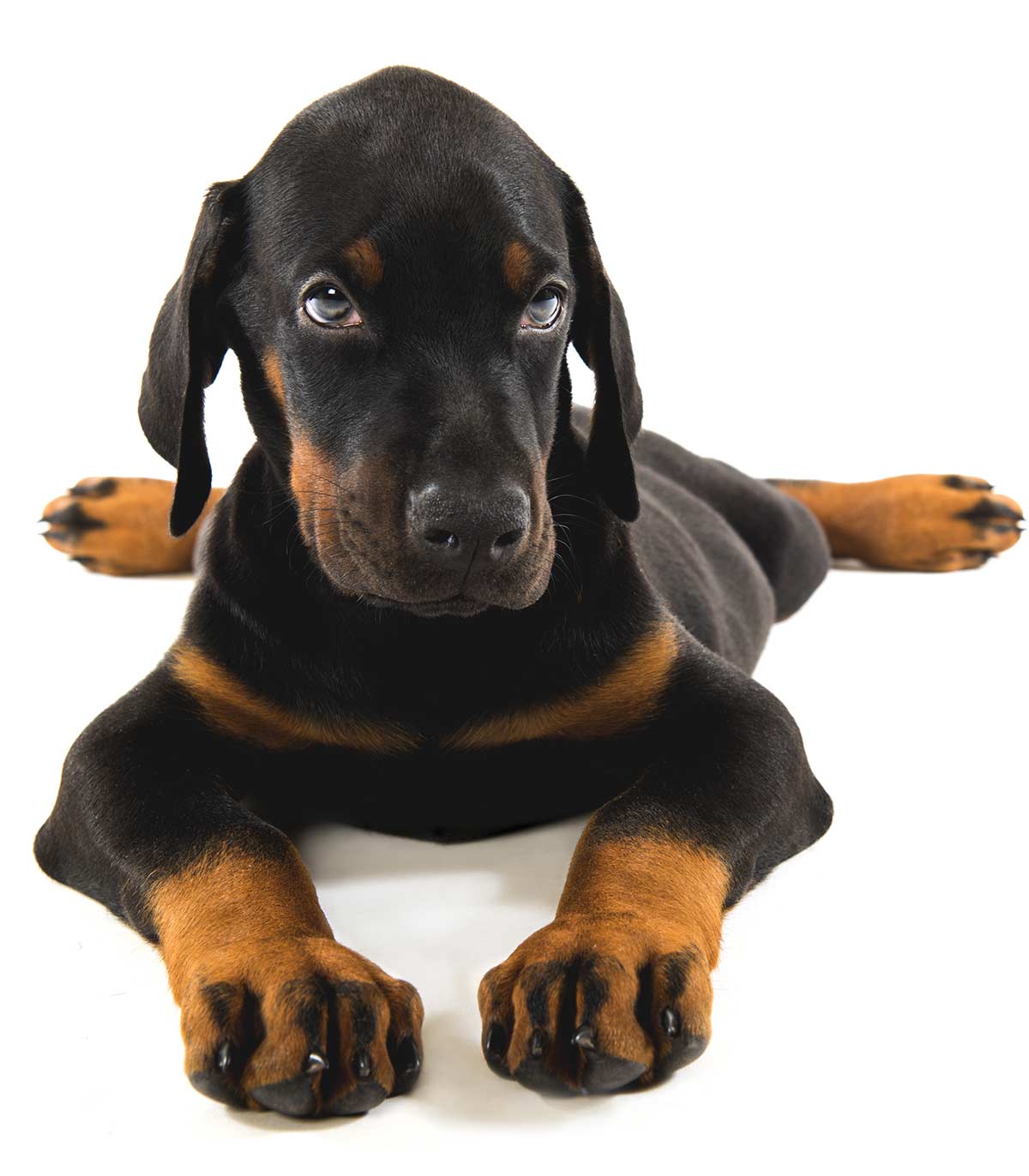 Here are Six of Our Favorite High-Quality Puppy Foods Perfect for Your Doberman Puppy
If you're not sure where to start when looking for the best food for Doberman puppy dogs, don't worry. Here is a list of six of our favorite wet and dry puppy foods!
Wellness Complete Health Natural Dry Large Breed Puppy Food, Chicken, Salmon & Rice
This food provides a complete and balanced diet for your growing pup
Taste of the Wild Grain-Free High Protein Natural Dry Puppy Food is another great option.
This High protein puppy food contains Bison and Venison!
If you'd rather use wet food, why not go for BLUE Homestyle Recipe Wet Puppy Food
This canned puppy food is nutritionally balanced, helping to support your pup as he grows.
Another excellent option is Hill's Science Diet Dry Puppy Food
This complete diet contains antioxidants to help with your pup's healthy development.
Hill's Science Diet Wet Puppy Food & Barley Entrée is another popular choice for doberman puppy owners.
The same quality brand as the previous option, but this time it's a canned wet food!
Rachael Ray Nutrish Bright Puppy Natural Dry Dog Food, Real Chicken & Brown Rice Recipe is a great choice for your growing pooch.
This food is from a hugely popular brand, and the reviews are great!
Of course, we know it is important to you that your Doberman puppy lives a long and happy life, so we hope this article has helped you decide which high-quality puppy food would be the best fit for your Doberman puppy!
References and Further Reading