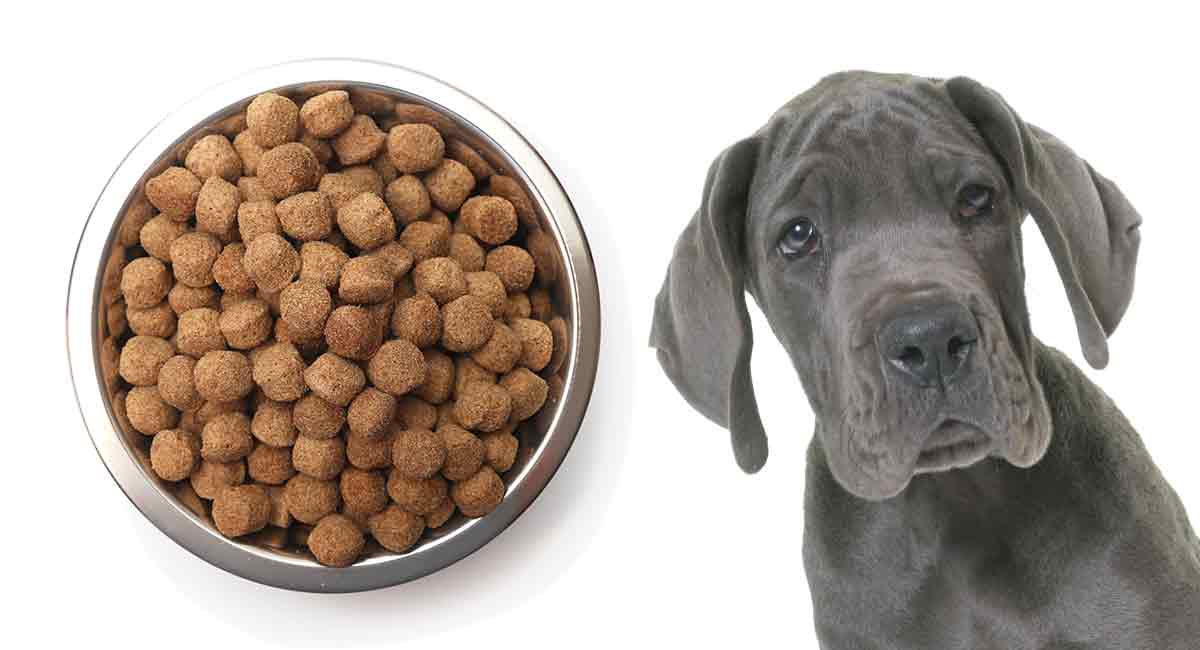 The best food for a Great Dane puppy is one that is designed for larger breeds. It should be nutritionally complete, easy to chew and digest. The best brands are high in protein and calcium, with minimum fillers. The larger the proportion of whole meat in the ingredients the better. Choosing the right product will give your puppy the best chance of good bone growth, as well as a healthy metabolism and hormone levels.
Contents
The package should advise moderate meal sizes, despite your puppy's giant eventual size! This is because growing too big too fast can have major drawbacks.
How Much To Feed A Great Dane Puppy
Great Danes grow to be up to 32 inches high at their shoulder. So you might think that feeding Great Dane puppy dogs as much food as possible will ensure they get enough nutrients. However, over feeding can be just as harmful as under.
Studies suggest over nutrition is linked to osteochondrosis – a condition of the joints that involves interruption of blood supply. Great Danes are at greater risk of developing bloat due to their anatomy. Large dogs with deep chests are more prone to it than smaller breeds.
Evidence from the Netherlands suggests that the risk factors may be reduced by feeding food particles larger than 30mm in size. This applies to dry kibble and home-prepared meat.
You can also reduse the risk of bloat by dividing your puppy food into multiple smaller meals throughout the day, and using a slow feeder bowl. You should also avoid exercise too close to meals.
We feed our large breed puppies four times a day, spaced out evenly. But we divide their daily food rations into five, to use the leftover portion as training treats.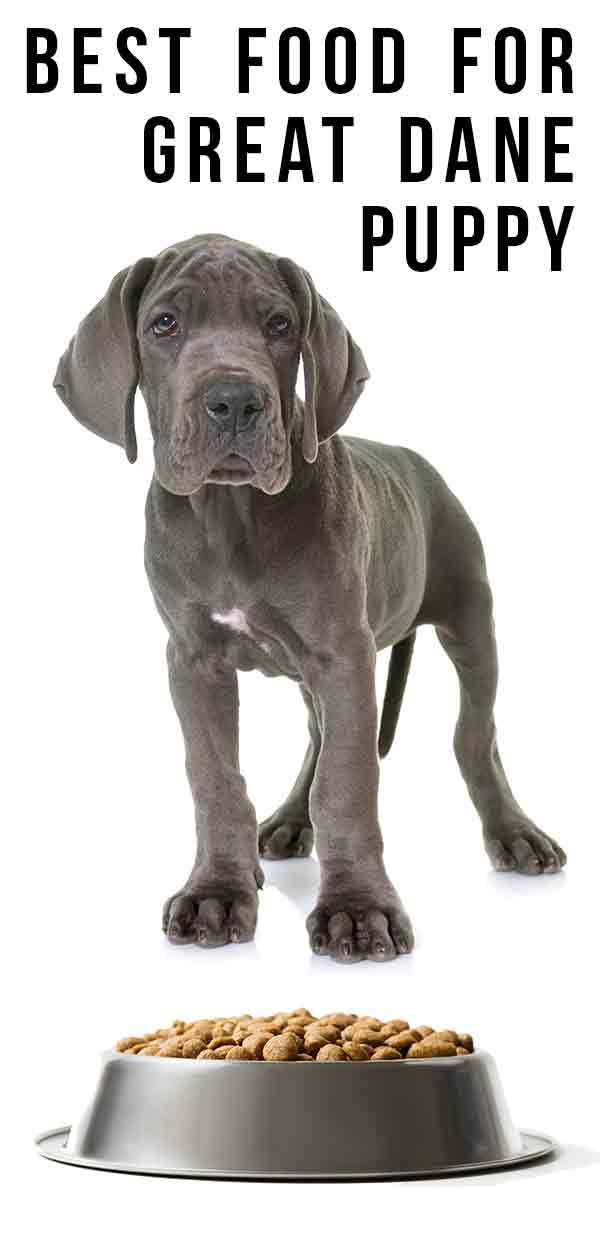 Best Wet Food For A Great Dane Puppy
I am a big fan of Rachael Ray's Nutrish Natural Wet dog food.(paid link)* This consists of natural ingredients, with no corn, wheat, or artificial fillers.
Wet dog food might be an option your dog will prefer, which can really help if you have a fussy pup! This may be a treat, especially if you choose to mix it with their dry food.
However, wet food often comes in smaller packages. Therefore, you may end up having to spend more to keep up with your growing pup's appetite.
Great Dane Puppy Kibble
Rachael Ray also has a dry option(paid link)* in the Nutrish line. These bags of dry food can be anything from 6-40 lbs, and are made from natural ingredients with no fillers.
It also has a handy recommended daily feeding chart based on the weight of your puppy, so you can see exactly how much you should be feeding your Great Dane pup! The price range varies depending on the size you get. So if you're worried about the higher prices of specialist dog foods, this could be the perfect option for you.
Nutro Wholesome
Another very highly rated Great Dane puppy food is Nutro Wholesome Essentials dry puppy food.(paid link)*
This comes in specialised packs for smaller or larger breeds, so you can get puppy food designed for your larger pup. It comes in chicken or lamb flavor, and uses farm-raised meats.
Nutro Wholesome Essentials also does a range of wet dog food, so if your dog loves the dry option, you can always mix things up a little!
Purina Pro Plan
Another well-known brand for your Great Dane puppy food is Purina Pro Plan Focus puppy food(paid link)* designed for large breeds.
Chicken is the main ingredient, meaning the food has a high level of protein. It also includes antioxidants and nutrients aimed at developing your pup's immune system and joints and cartilage.
Blue Buffalo Wilderness
Another option is Blue Buffalo Wilderness High Protein, Grain Free natural puppy food.(paid link)*
This food has a blend of antioxidants, vitamins and minerals chosen by animal nutritionists to benefit our pups. It claims to target brain and eye development, healthy muscle growth, strong bones, dental health, skin and coat health, and immune system development.
It can be a little pricey, but this may be one your pup will love.
Taste of the Wild
If you're feeling unsure about a lot of big-name brands, you might want to try something like the Taste of the Wild High Prairie puppy food.(paid link)*
This dry food is made in the USA by a family-owned business. This is a grain-free formula that uses venison and bison. It has a handy feeding guideline chart based on age and weight so you know how much to feed your pup.
Iams Proactive
If the cost is concerning to you, a final option you might want to try is Iams Proactive Health dry food for puppies.(paid link)* It has a formula specially tailored for large breeds and includes Omega-3 to promote a healthy brain.
Affiliate link disclosure: Links in this article marked with an * are affiliate links, and we may receive a small commission if you purchase these products. However, we selected them for inclusion independently, and all of the views expressed in this article are our own.