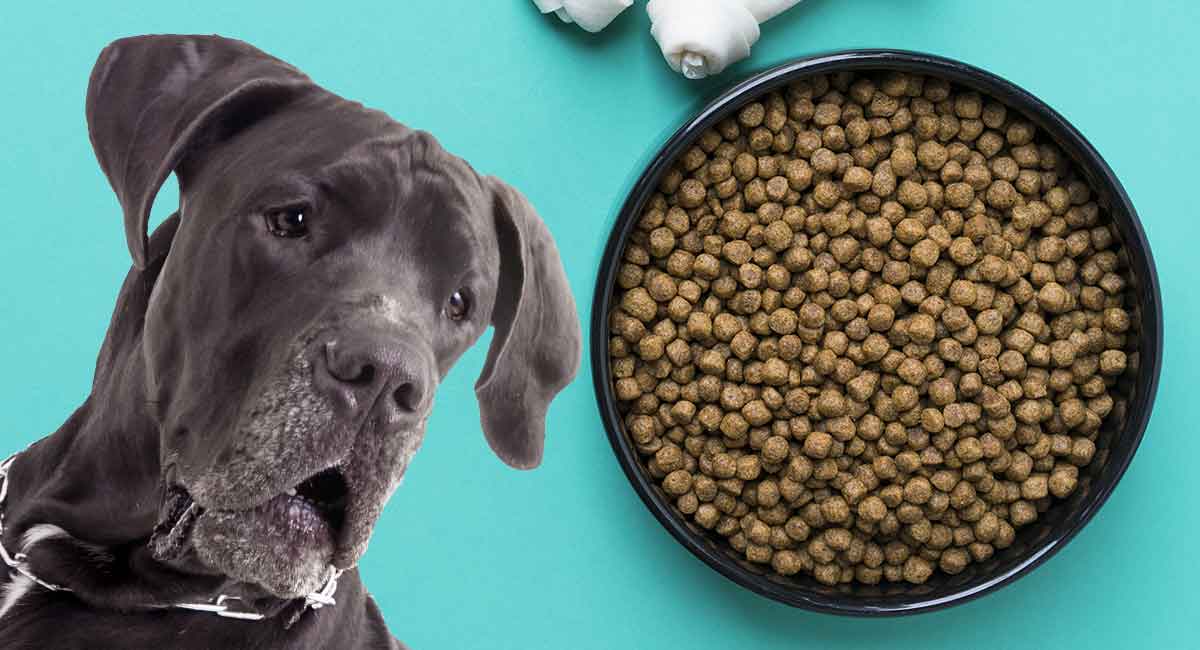 The best food for Great Danes changes throughout their lives.
As a puppy, their diet needs to support healthy bone growth. This will help to protect them against osteochondritis and hip dysplasia in adulthood.
As an adult, specially formulated diets can also reduce the risk of bloat and dermatitis.
Products included in this article were carefully and independently selected by the Happy Puppy Site team. If you decide to make a purchase from one of the links marked by an asterisk, we may earn a small commission on that sale. This is at no extra cost to you.
Best Dog Food for Great Danes
Are you looking for the best food for your Great Dane? Then this is the article for you!
Today, we are going to learn all about the Great Dane's nutritional needs, why feeding your Great Dane according to his size and activity level is so important, and we will also go over some of the best dog foods for Great Danes available.
Let's begin!
Also make sure to take a look at our dog ate plastic guide!
What is the Best Dog Food for Great Danes?
Because of their large size, Great Danes can be susceptible to a number of health concerns, including some that can be affected or influenced by your Great Dane's diet.
Some of these ailments include osteochondritis, canine hip dysplasia, and Gastric Dilatation Volvulus (also known as Bloat).
Osteochondritis and hip dysplasia in a Great Dane can be attributed to how quickly these dogs grow as puppies.
The good news is that studies have found that Great Dane pups fed a proper diet with the right nutrition that aids in muscle and skeletal growth can help play a pivotal role in your Great Dane's vigor and overall vitality.
Studies have also shown that while age raises the risk factor when it comes to Gastric Dilatation Volvulus (Bloat), the size of your Great Dane's kibble may also play a role.
In fact, studies found that large kibble or larger pieces of meat in canned or wet dog food actually helped reduce the chances of Gastric Dilatation Volvulus in Great Danes.
With that in mind, "chunk size" is often a feature of specially designed large breed diets.
Are you wondering what some of the best dog food products on the market are for your Great Dane? Then keep reading!
Let's start with some of our favorite dry foods for Great Danes.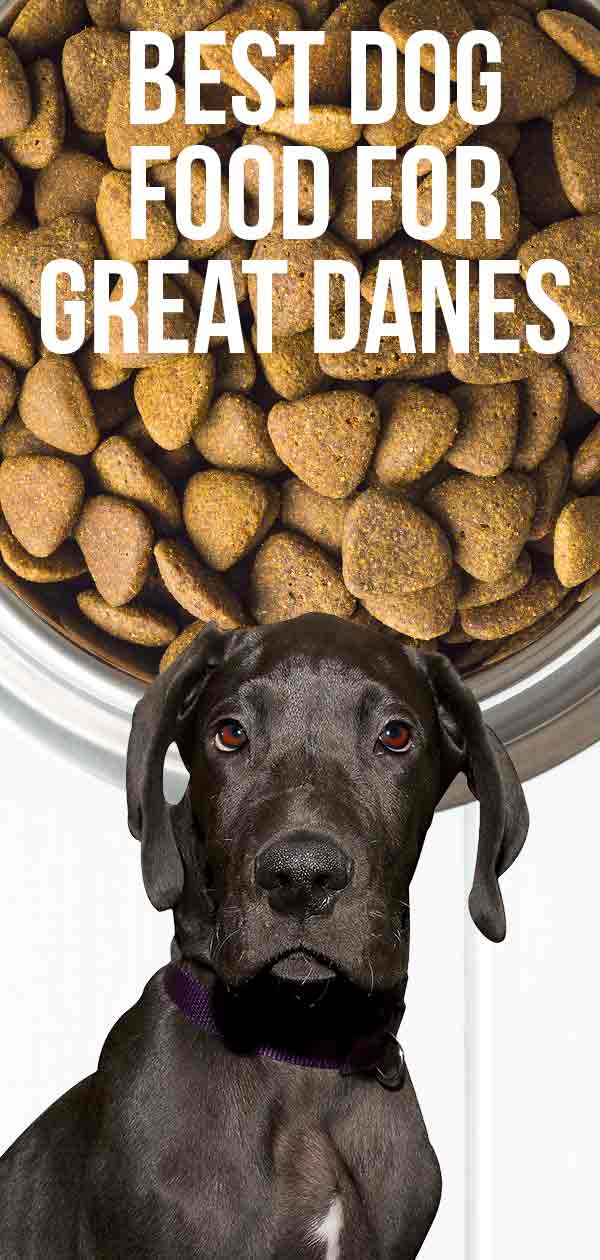 Best Dry Dog Food for Great Danes
Nutro Max Natural Adult Dry Dog Food* is made with no by-products, no grains, soy, wheat or corn, and definitely no preservatives.
You can also order this dry dog food specifically for large breeds, making it ideal for a Great Dane.
We also love Solid Gold Hund-N-Flocken Natural Adult Dog Food*.
This brand is good for different sized breeds and it has probiotics to help support a healthy digestive tract.
And for protein-packed dry dog food for your Great Dane, we recommend Orijen Grain-Free Dry Dog Food*.
It is rich in red meats and has 38% protein and absolutely no grains.
You may also want to take a look at Blue Buffalo Life Protection Formula Natural Adult Dry Dog Food.*
It is made with real meat and comes complete with a mix of minerals, antioxidants, and vitamins to help support your Great Dane's healthy immune system!
Of course, there are pros and cons to feeding your Great Dane a dry food only diet. One of the pros is that dry dog food is great for your Great Dane's oral health as it helps to strengthen his teeth and fight tartar buildup.
Dry dog food is also higher in calories and carbohydrates, meaning it is more filling than wet dog foods, which contain more water.
However, some feel that wet dog food is a healthier and tastier option for dogs. If you feel that you would rather feed your Great Dane a wet dog food diet, then keep reading.
Best Wet Dog Food for Great Danes
As we mentioned above, there are pros and cons to feeding your Great Dane wet food over dry dog food.
Despite the many differing opinions, what you feed your dog is up to you and your veterinarian. We feel that as long as your Great Dane's dog food is a high quality, healthy food and is specified for his age and weight, then you should be alright.
Of course, we do have some favorites when it comes to wet dog foods for Great Danes.
The first wet dog food for Great Danes that we would recommend is Natural Balance Ultra Premium Wet Dog Food*.
This wet dog food is made with no artificial ingredients, colors, or flavors and is a great source of protein that your Great Dane is sure to love.
We also think your Great Dane may like Blue Buffalo Homestyle Recipe Natural Adult Wet Dog Food*.
This wet dog food comes in a variety of flavors with different protein choices to ensure your Great Dane is happy with each meal.
Nutro Hearty Stews Adult Natural Wet Dog Food* is another wet dog food we love for its healthy ingredients, natural proteins, and variety of flavor choices.
We also like the hearty ingredients and chunky stew bits to help with your Great Dane's digestion.
Another wet dog food with chunks is Merrick Chunky Grain Free Canned Dog Food.*
This grain-free recipe uses deboned beef as its number one ingredient and contains large chunks of beef to help keep your Great Dane full and healthy.
But what if your Great Dane is a puppy? Let's find out.
Best Dog Food for Great Dane Puppies
As we have mentioned above a few times now, it's highly important that you feed your Great Dane based on his size, age, and activity level.
All puppies have different nutritional needs than adult dogs and require more calories and certain fatty acids to help with their brain and muscle development.
Large breed dogs like the Great Dane are especially vulnerable to skeletal issues due to their rapid growth and development as puppies.
Luckily, a good, high-quality puppy food can help reduce skeletal issues and help promote healthy development.
One of our favorite puppy foods for your large breed puppy is Blue Buffalo Life Protection Formula Natural Puppy Large Breed Dry Dog Food*.
It is specifically formulated for large breed dogs to help aid in growth and development and is rich in DHA and ARA to help support eye and brain health.
Wellness Complete Health Natural Dry Large Breed Puppy Food* is another brand of puppy food we love for puppies for the same reasons.
Not only is it made with all the ingredients and vitamins you need for a growing puppy, but it has large kibble sizes to help your puppy with chewing and digestion.
For a wet puppy food option that is just as great, try Solid Gold – Love at First Bark – Natural Puppy Food*.
This is a grain free, gluten free, wet puppy food option your Great Dane puppy is sure to love. It is suitable for puppies of all sizes and breeds and is a great source of protein, minerals, vitamins, and antioxidants to support your Great Dane's development and immune system.
Wet food is also helpful for dogs with sensitive tummies. Does your Great Dane have food sensitivities?
Let's talk more about that.
Best Food for Great Danes with Sensitive Stomachs
Food sensitivities are not uncommon in dogs, and they can be unpleasant for both the dog and the dog's owner.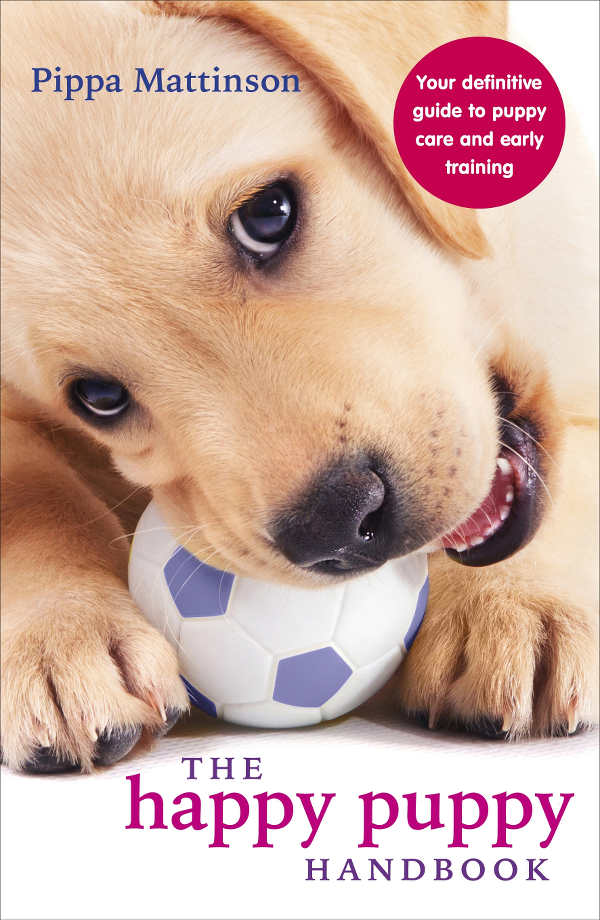 Some symptoms of food sensitivities include skin issues, tummy upset, vomiting, diarrhea, and gas.
For the Great Dane with a sensitive stomach, owners may want to give Hill's Science Diet Wet Dog Food Sensitive Stomach & Skin* a try.
We love that it helps those Great Danes with tummy and food sensitivities while also supporting skin health.
Another option for the Great Dane with a touchy belly is a limited ingredient dog food like Blue Buffalo Basics Limited Ingredients Diet*.
This dog food is free of ingredients that can cause tummy upset like dairy, eggs, chicken, beef, and grains.
Natural Balance Limited Ingredient Diets for Adult Dogs* is another limited ingredient option great for the Great Dane with sensitivities.
We love it for its quality ingredients and lack of preservatives and artificial flavors.
Feeding Your Great Dane
While breed, age, diet, and exercise may all play a part in your Great Dane's development and health, you can aid in your dog's digestion and keep issues like skin issues, food sensitivities, and more at bay just by keeping your dog on healthy, high-quality dog food.
And since Great Danes can be so susceptible to Bloat, you may also want to invest in slow feeding bowls.
Many experts recommend using slow feeder bowls like the UPSKY Slow Feeder Dog Bowl*.
To find out more about the risk factors for bloat and how to avoid it, visit us here. https://thehappypuppysite.com/canine-bloat/
How else do you keep your Great Dane healthy and in shape? Share your tips in the comment section below.
Affiliate link disclosure: Links in this article marked with an * are affiliate links, and we may receive a small commission if you purchase these products. However, we selected them for inclusion independently, and all of the views expressed in this article are our own.
References and Resources