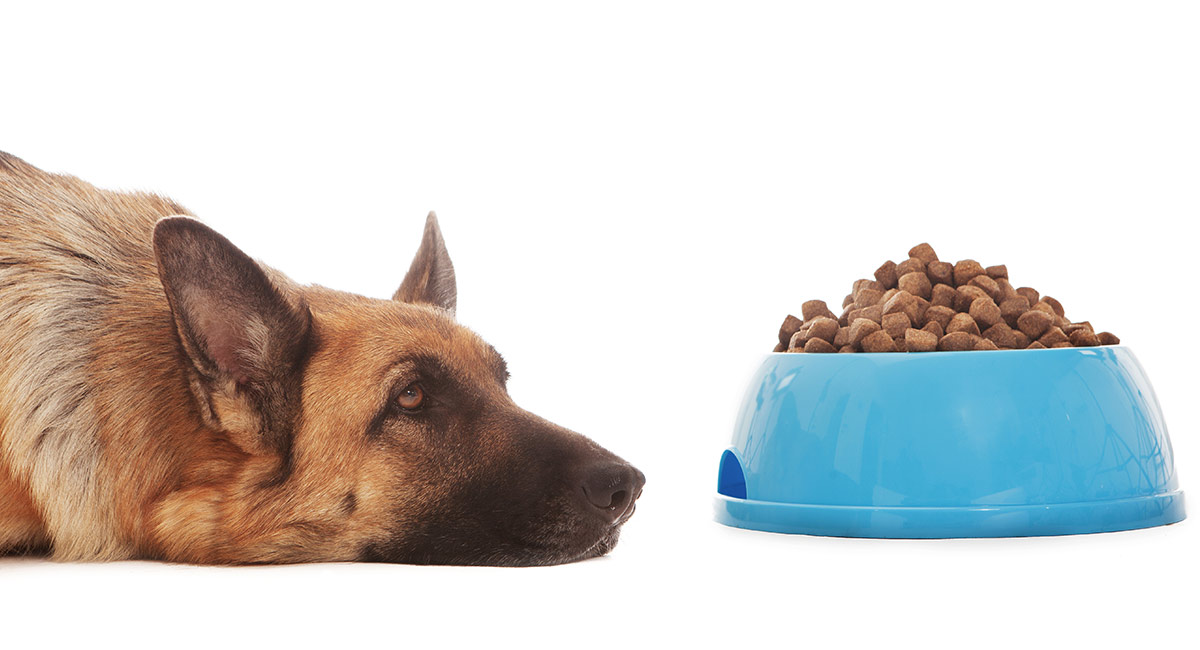 Does Your GSD Have Tummy Troubles? Don't Worry! We Have Found The Best Dog Food For German Shepherds With Sensitive Stomachs.
With Several Great Options To Choose From, Your Pup, Adult or Senior GSD Is Bound To Find Something That Keeps His Digestive System Happy.
German Shepherd dogs are known for their sensitive stomachs.
Not to mention their wide ranging gastrointestinal issues.
In this article we are going to learn a bit about what causes these problems.
Helping you to find the best food choice for German Shepherd sensitive stomach problems.
In a hurry? Here our some of our top picks!
We will take a look at these great options and lots more in detail below.
But first, the important question….
Products included in this article were carefully and independently selected by the Happy Puppy Site team. If you decide to make a purchase from one of the links marked by an asterisk, we may earn a small commission on that sale. This is at no extra cost to you.
Do German Shepherds Have Sensitive Stomachs?
German shepherds do have digestive issues, and some of these issues may be caused by specific illnesses.
It won't be a problem with every GSD, but it certainly isn't unusual.
Pancreatic Insufficiency
For example, German Shepherds are prone to a genetic condition called exocrine pancreatic insufficiency.
This illness is where the pancreas does not produce enough digestive enzymes to break down and digest food properly.
This disorder is degenerative, so it worsens over time, and you are likely to notice some diarrhea and gas issues.
If your pup has this disorder, bacteria develop within the intestinal tract since digestive juices are not abundant enough to keep growth at bay.
The growth of these bacteria, as well as the passing of undigested food, account for the majority of the discomfort.
Eosinophilic Gastroenteritis
Eosinophilic gastroenteritis may be a problem as well, and this illness involves the inflammation of the intestinal tract and the stomach.
This ailment is common in dogs like German Shepherds and it has many different causes.
Parasites, bacterial infections, flea allergies, viral illnesses, and soft tissue injuries are all linked to the problem.
You will typically see chronic diarrhea, vomiting, weight loss, and poor appetite with this disease.
Malnutrition is a common issue with this ailment as well, and so is dehydration due to the watery diarrhea.
Eosinophilic gastroenteritis can sometimes be confused with inflammatory bowel syndrome since the symptoms are extremely similar.
The good news is that gastroenteritis typically requires more short term treatment than other bowel disorders, but this is not always true.
Ulcers
German Shepherds are prone to both oral and stomach ulcers. Sometimes the issue pops up on its own, but it is often a problem that develops due the treatment of another disorder.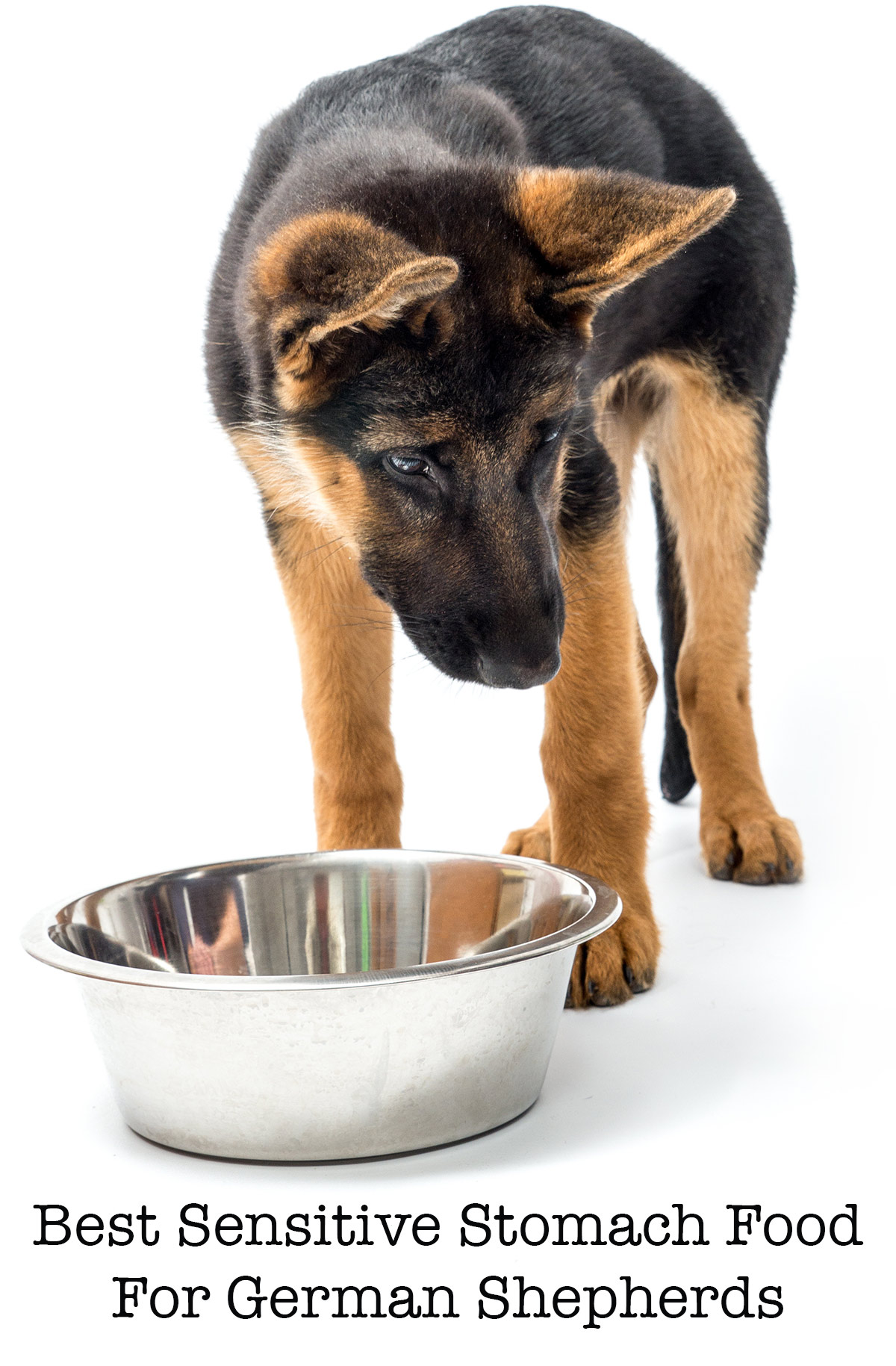 For example, canines that are given enzyme supplements to treat pancreatic diseases will often develop ulcers. Also, pain medications can cause a breakdown in the stomach lining and an ulcer may soon develop.
Ulcers can lead to bloody stool, diarrhea, and a poor appetite. Like many other digestive issues that cause diarrhea, dehydration is a concern when it comes to ulcer formation.
Food Intolerances in German Shepherds
The digestive sensitivity that you notice with your German Shepherd may be caused by a simple case of food intolerance.
Food intolerances are common in dogs, and this is especially true of German Shepherds.
In fact, German Shepherds, in particular, are predisposed to both skin allergies and food allergies/intolerances.
Allergies cause hives, itching, ear infections, and hair loss. Intolerances are more likely to produce intestinal issues like diarrhea, vomiting, and a generally upset stomach. Basically, an intolerance is similar to when you experience gas, bloating, and diarrhea after eating a spicy meal.
There are many ingredients that can cause intolerance issues. Soy, chicken, wheat, eggs, chicken, lamb, fish, beef, and dairy are a few of the common culprits.
Since there are so many reasons why your German Shepherd may be experiencing a sensitive stomach or a gastrointestinal issue, it is extremely important to work with your veterinarian to determine the cause of the issue.
Oftentimes, it requires a combination of medicine and diet to ensure that your canine remains as healthy, happy, and pain free as possible.
Best Dog Food For German Shepherds With Sensitive Stomachs
If your German Shepherd has a sensitive stomach issue, then there are a wide variety of foods that you can purchase.
However, you need to look closely at your options and choose the food that is best for your canine's condition.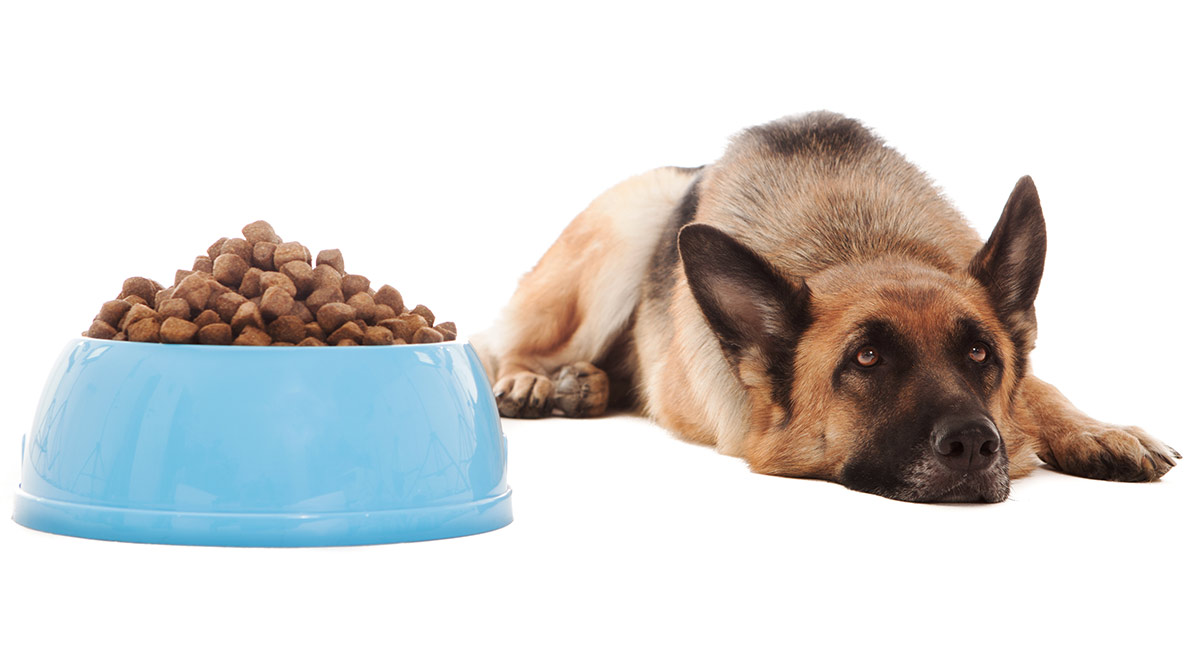 The good news is that there are a lot of choices out there. The bad news is that specialized foods are much more expensive than other types of food.
Also, while some foods may be marketed as a sensitive stomach formula, they can cause more severe issues if you do not pay close attention to the ingredients.
For example, many dog foods made for gastrointestinal issues are formulated with a single type of protein. If your canine happens to be allergic to this specific protein, then this can exacerbate the problem.
For this reason, it is wise to work with your animal doctor to discover the cause of a possible intolerance before you start experimenting with different kinds of dog foods.
You want to know exactly the best food for German Shepherd with sensitive stomach to look for.
Dry German Shepherd Sensitive Stomach Dog Food
If you have just started working with your veterinarian to discover the allergy or food intolerance that is bothering your canine, then it may be extremely difficult for you to choose a safe, single protein dog food right away.
As you work with the animal expert, malnutrition issues do need to be addressed.
This is a major concern if your poor pup has been dealing with diarrhea and vomiting for days or even weeks.
Also, if an inflammatory condition is suspected then your dog will need a food that will not contribute to the inflammation.
Thankfully, there are some relatively new types of dog foods that are appropriate for a wide variety of gastrointestinal conditions like pancreatic insufficiency, gastroenteritis, and food intolerance, according to some promising research studies. These foods use something called hydrolyzed protein.
Purina Hydrolyzed Dog Food
One such example is the Purina HA Hydrolyzed Dog Food*.
This food contains protein that is broken down to its molecular bits.
By breaking down the protein this much, your dog's body does not identify the protein as an invader or allergen that needs to be destroyed.
The protein can then be digested and used by your canine's body.
While many of the hydrolyzed protein foods are not exactly tasty to many dogs, Purina's product is one of the more popular hypoallergenic foods, so give it a try.
Natural Balance
Another of the best food for German Shepherds with sensitive stomachs is Natural Balance*.
This blend is grain free and has limited ingredients. Perfect for dogs with sensitivities to certain popular dog food recipes.
A great choice if you are avoiding a common cause of digestive difficulties, and can remove certain proteins too.
The main source of protein is bison. An unusual choice that is unlikely to have been the cause of your dog's tummy troubles as it's not often used in dog food.
Blue Basics
Tasty Blue Basics* also comes in a grain free and limited ingredient formula.
With this blend you have a choice of several recipes, to help you narrow down one that agrees with your dog's constitution.
The choices are duck, salmon or lamb. A good range for a GSD who needs a more restricted diet to help them digest their dinner.
Wellness Simple
The natural blend from Wellness Simple* has a great grain free, limited ingredient choice.
It is made with salmon and potatoes, and is designed to be easily digestible.
Worth a try if you are looking for the best dog food for German Shepherds with sensitive stomachs.
Best Canned Dog Food For German Shepherds With Sensitive Stomachs
If you and your veterinarian are concerned about how diarrhea is affecting your dog's ability to stay hydrated, then a dry food may not be the best option.
Wet foods provide a good deal of fluid to the diet and can help your pup combat electrolyte imbalances.
Hill's Science Diet Sensitive Stomach & Skin
Hill's Science Diet Sensitive Stomach & Skin Dog Food* is a great option for your dog.
However, you should keep in mind that this food is not a hypoallergenic food, so it is best for general gastrointestinal issues or very mild inflammatory conditions.
The Science Diet canned food is made with easily digestible and healthy ingredients like salmon, green beans, carrots, apples, and potatoes.
It does not contain any grains, since grains often contribute to digestion problems.
Artificial flavors, coloring agents, and preservatives are also not included in the food.
This is great news for your German Shepherd. The fewer the artificial ingredients, the less likely your canine is to get sick.
Wet German Shepherd Sensitive Stomach Dog Food
If you love the idea of a canned German Shepherd sensitive stomach dog food, but want a product that has very few ingredients, like many of the hydrolyzed and hypoallergenic options, then there are some choices for you.
Instinct Limited Ingredient Diet
Instinct Limited Ingredient Diet Recipe Natural Wet Canned Dog Food* by Nature's Variety is one popular option that comes in a unique rabbit formula.
Turkey, lamb, and duck products are available as well, depending on your dog's needs. But you can be sure that each can of Nature's Variety food contains only one single protein source.
It also contains no grain or gluten.
This is ideal if you are working with your veterinarian to exclude certain ingredients to see which ones your canine can and cannot tolerate.
Nature's Recipe Wet Dog Food
If you are concerned about the price tag of the Nature's Variety food, then another good option is Nature's Recipe Wet Dog Food Cuts in Gravy*.
Go with either the easy to digest lamb, rice, and barley recipe or the chicken, rice, and Barley formula.
Both of these foods are relatively inexpensive and do not contain common food sensitivity ingredients like beef and corn.
Puppy Food For German Shepherd Sensitive Stomach
Since some gastrointestinal ailments are considered congenital, it is essential that you start your canine on a good diet plan at a young age.
However, the diet needs of your German Shepherd puppy are quite different than those of an adult dog. For this reason, you may need a sensitive stomach puppy food.
Hill's Science Diet Puppy Food
Hill's Science Diet has your puppy's health in mind with their Large Breed Dry Dog Food*.
While this food is not marketed for young dogs with sensitive stomachs, the chicken and lamb formulas contain a good protein source for sensitive dogs.
Also, the food contains no artificial flavors, preservatives, or coloring agents, and it is an easily digestible product.
However, the food does contain some grains.
This helps to add calories, but a grain-free alternative may be needed if you notice gas and diarrhea issues.
Nature's Receipe Grain Free Puppy Food
One grain free option is Nature's Recipe Grain Free Dry Dog Food for puppies*.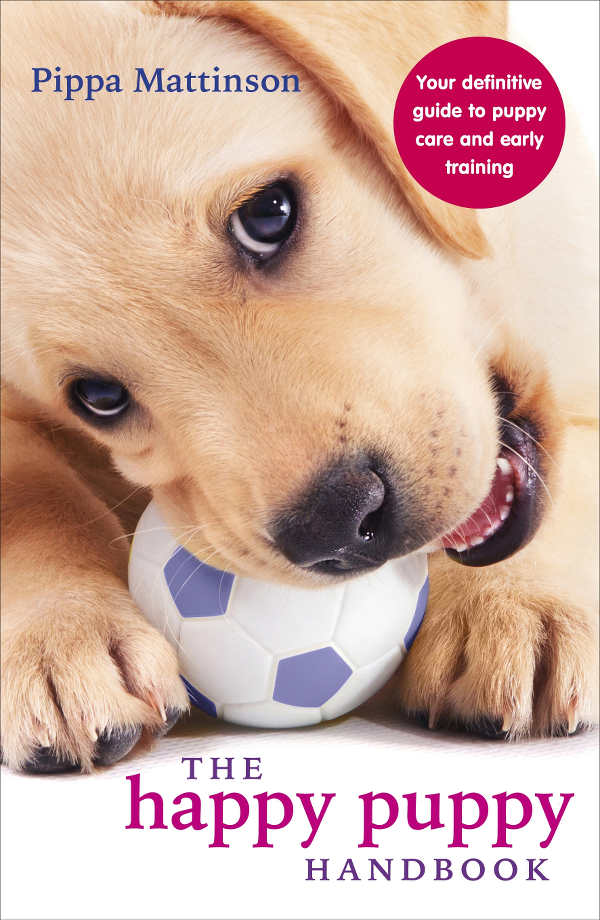 This food is similar to the Hill's Science Diet food, but the formula includes sweet potatoes and pumpkins instead of grains.
This way, your growing puppy still gets the carbohydrates he needs.
Royal Canin German Shepherd Puppy Food
If you are looking for something more breed specific to ensure optimal health, then Royal Canin has you covered with their German Shepherd Puppy Dry Dog Food*.
Royal Canin makes their food with the unique digestion challenges of the German Shepherd in mind.
Best Dog Food For Senior German Shepherds With Sensitive Stomachs
Those are some great options for easier digestion of young and adult GSDs. But what is the best dog food for German Shepherds with sensitive stomachs that don't have age on their side?
Of course, your senior German Shepherd has his special nutritional needs, and you should not be surprised if your canine develops stomach issues later in life.
Like humans, dogs can develop illnesses, sensitivities, and allergies as they age.
Nutro Wholesome Senior Dog Food
So, if you see some gastrointestinal issues, then think about switching to a food like NUTRO WHOLESOME ESSENTIALS Senior Dry Dog Food.*
This food supports good digestion with fewer ingredients.
Holistic Select Natural Grain Free
Holistic Select Natural Grain Free Dry Dog Food* is another good choice. This food is grain-free and contains no filler materials.
The product also has a number of ingredients to encourage digestion like enzymes, probiotics, and prebiotics.
For dogs without other health problems, this is one of the best dog food for sensitive stomachs in German Shepherds in the twilight years.
However, a hypoallergenic food might be required if your dog has a serious ailment.
Make sure to work with your veterinarian to choose the best food to make sure that your canine receives the fat, calories, and essential nutrients that every senior dog needs.
What Is The Best Dog Food For German Shepherds With Sensitive Stomachs?
So, what is the best dog food for German Shepherds with sensitive stomachs?
German Shepherds can develop a wide variety of gastrointestinal ailments, food sensitivities, and allergies that can make nutrition challenging. Of course, we know that "challenging" may be an understatement.
The good news is that there are so many great sensitive stomach, hypoallergenic, easily digestible, and hydrolyzed foods out there. There are surely one or two choices that fit your dog's needs.
Speak with your veterinarian and then peruse your options, because the right diet can do wonders for your dog's health.
Do you have a German Shepherd with a sensitive stomach, or have you found the best food for GSD with sensitive stomach? Let us know in the comments below.
Affiliate link disclosure: Links in this article marked with an * are affiliate links, and we may receive a small commission if you purchase these products. However, we selected them for inclusion independently, and all of the views expressed in this article are our own.
References
Williams DA (1996) Exocrine Pancreatic Disease. In Thomas DA, Simpson JW and Hall EJ (Eds) Manual of Canine and Feline Gastroenterology. p171-189. BSAVA: Cheltenham, UK
Elisabeth Snead. Oral ulceration and bleeding associated with pancreatic enzyme supplementation in a German shepherd with pancreatic acinar atrophy. Can Vet J. 2006 Jun; 47(6): 579–582.
Cave, Nick. (2006). Hydrolyzed Protein Diets for Dogs and Cats. The Veterinary clinics of North America. Small animal practice. 36. 1251-68, vi. 10.1016/j.cvsm.2006.08.008.