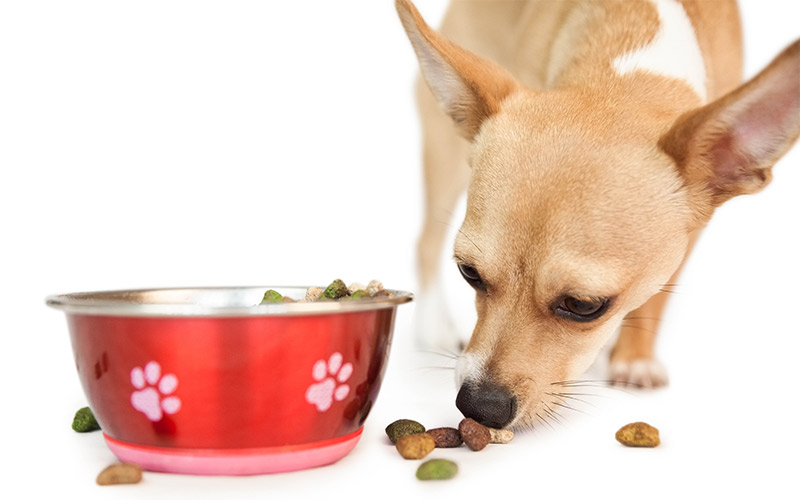 Looking For The Right Dog Food For Chihuahua Puppies? Then Welcome To The Best Dog Food For Chihuahua Puppy Dogs! A Complete Chihuahua Puppy Food Guide.
Every dog owner wants to make sure their puppy has the nutrition it needs.
But some breeds have different requirements than others. And Chihuahuas like most very tiny dogs, have some special dietary needs
It's important to research your options thoroughly to ensure your furry friend gets the right food for a long, healthy life.
In this guide, we'll help you decide what's the best food for Chihuahua puppies.
We look at the best puppy food brands, what to do if your puppy has special dietary needs and which are the best snacks and treats.
In a hurry? Check out our top five picks here:
This complete Chihuahua puppy food guide will give you all the information you need to make good choices for your canine companion.
How much food should I feed my Chihuahua puppy?
As anyone who's ever owned a puppy knows, they rarely sit still.
All that running, jumping and playing requires serious energy, which needs serious fuel.
Puppies eat a lot. They have to!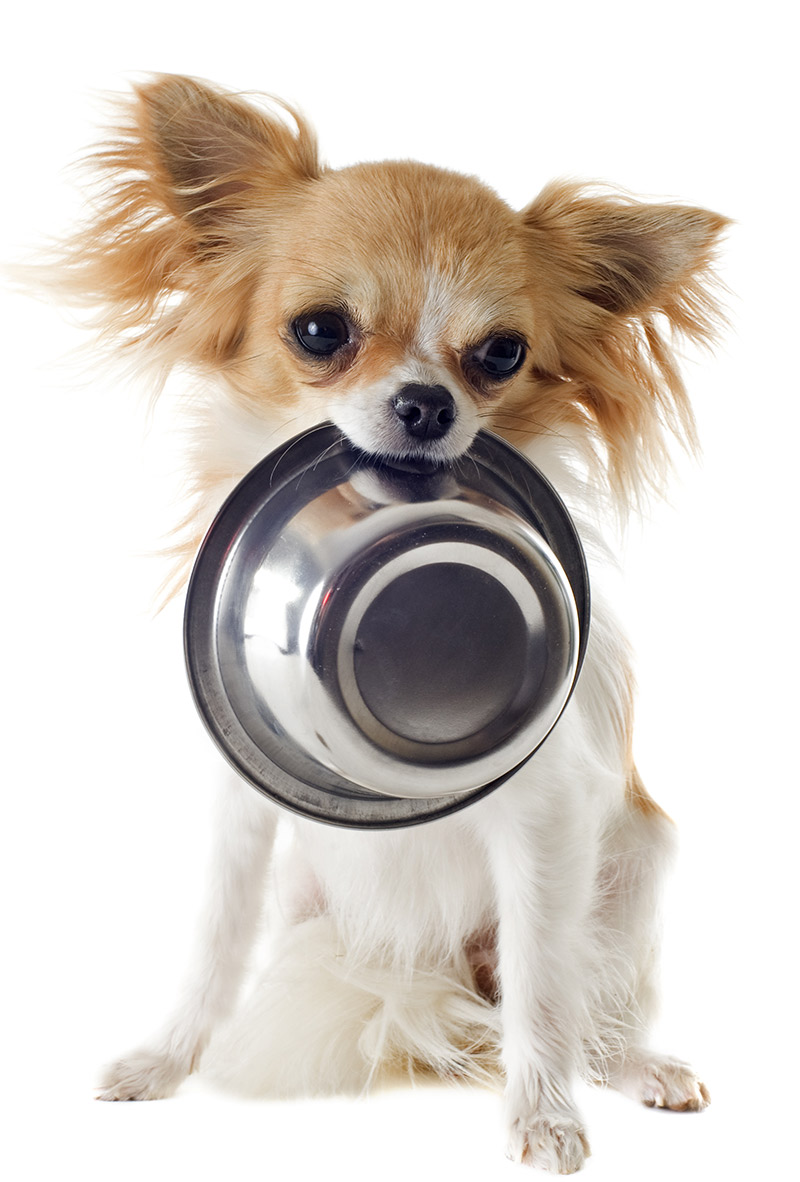 They're growing their muscles, boosting their immune system and strengthening their bones.
Puppies do best with multiple small meals a day. Feed at regular times, in regular amounts.
Don't worry if your puppy picks at his food, he could just be telling you that you're giving him too much!
Portion sizes vary according to each dog. Let your puppy guide you and keep an eye on his weight.
Overweight puppies are more at risk of orthopaedic problems.
Small breeds, such as Chihuahuas, are at risk of hypoglycemia or low blood sugar.
To guard against this, small breed puppies should be fed four to six times a day.
Signs of hypoglycemia include lethargy and muscle tremors. Speak to a vet if you are concerned your puppy isn't eating enough.
If you've purchased your Chihuahua puppy from a breeder they can also advise on the amount and type of food. It's best not to introduce any change in diet too quickly.
At least two weeks before changing your puppy's food is the advised minimum.
Chihuahua puppy feeding timeline
So, what's the best food for Chihuahua puppies at different stages?
Chihuahuas should be fed puppy food only until 9 months of age. As this is when they can be considered to be of adult size.
You might want to extent this to 10 months for a male Chihuahua as studies suggest they take a little longer to reach full growth.
Four feedings a day is usually enough. The smaller the amount of food you can give in each serving, the less likely a dog is to get Gastric Dilation-Volvulus (known commonly as bloat).
So if you can break up your Chihuahua's total daily quantity into more meals then this could reduce their risk of bloat.
And introducing dry, unmoistened food when the puppy is 12 or 13 weeks old is recommended by the AKC.
Chihuahua puppies should process their food better than their larger breed counterparts. As smaller breeds have lower small intestinal permeability and therefore a better gastric emptying rate.
Put simply – your small breed puppy is likely to have better quality poops than a larger dog!
Best Dog Food For Chihuahua Puppy
So what's the best dog food to feed your Chihuahua puppy? There's a lot of choice out there.
You might think that due to Chihuahua's predisposition to dental problems, that a low sugar dog food would be essential. However, one study demonstrated a non-significant impact of diet on their teeth. Although they only compared commercial dog foods and not raw.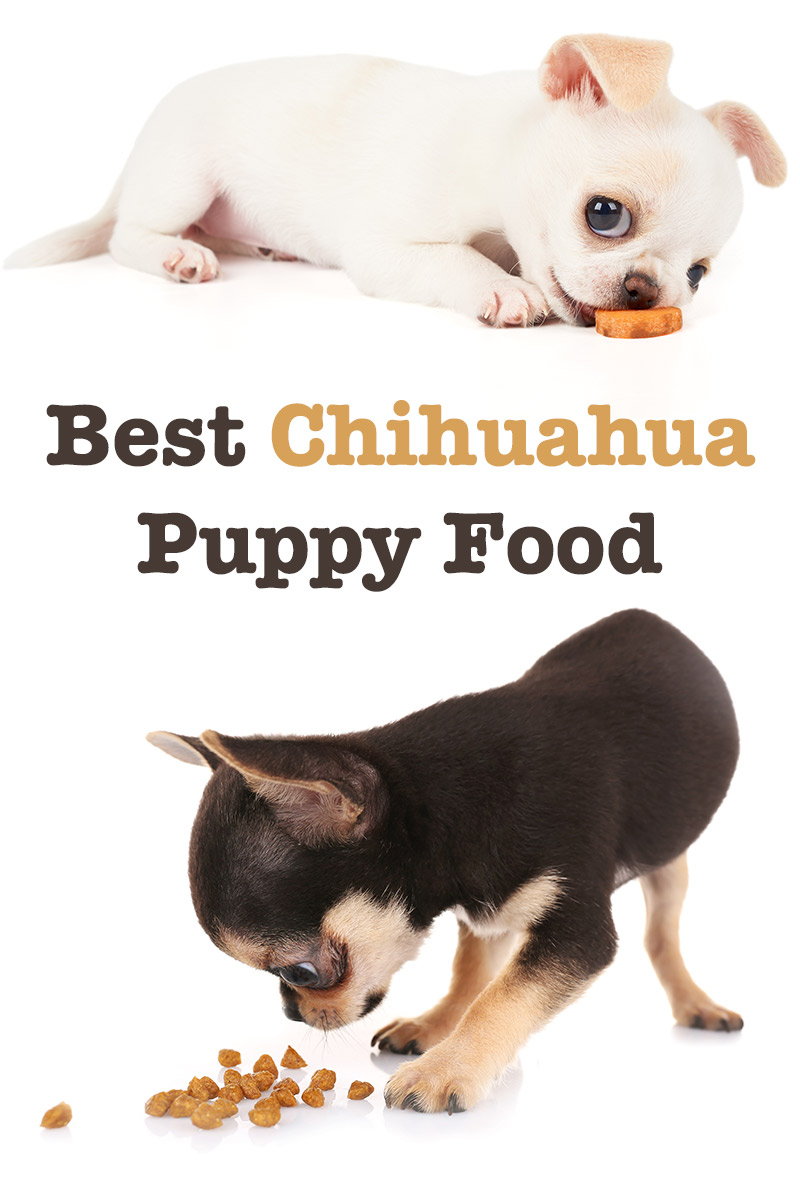 It is however essential to invest in a Chihuahua tooth brush along with your dog's dinner.
Some owners choose to feed their dogs dry food, some wet food and others a combination of both.
Only you can decide what's best for your dog. Read on to find out your options and get the information that will help you make an informed decision.
Chihuahua puppy food choices
Dog food for Chihuahua puppies can come in many forms.
Some owners choose wet food, or canned food. However, others may find this too expensive.
There are also concerns that canned meat may not provide all the nutrition a puppy needs.
A growing number of owners are now feeding their pets a raw food diet. These types of diets typically include bones and organ meats with supplemental veggies.
The benefits of this diet have not been scientifically assessed but some dog-lovers say their pets thrive on it.
You can check out the pros and cons of raw feeding for dogs.
One potential pro when it comes to the best dog food for Chihuahua puppy dogs is that they suffer from dental problems, and the lack of sugar might help to keep their over crowded teeth healthier.
Although this has not been specifically studied, we do know that unnatural diets in dogs is linked to periodontitis.
Kibble, or dry food, is the most economical, and most popular, choice. There are many brands out there, with various flavours and numerous specialised options.
From wheat-free to all-natural, the choice can be overwhelming.
Speak with your breeder and your vet if you have questions about what's right for your pup. They can help you decide what is the best food for a Chihuahua puppy.
Best dog food for Chihuahua puppy
What is the best brand of food for Chihuahua puppy? It depends on the puppy.
You may have to shop around to find something your puppy will love.
There is no one best dog food brand for Chihuahua puppies, but there are a few that are better than others.
Be sure to choose a puppy formula suitable for small breeds.
Toy dogs like the Chihuahua need smaller morsels of kibble to reduce the risk of choking.
Royal Canin Chihuhua Puppy Food
When it comes to dry food, Royal Canin Chihuahua puppy food is a popular choice.
This kibble is Royal Canin's small breed puppy brand. It is designed for dogs up to 8 months.
It contains highly digestible proteins, and a small easily chewed kibble.
What's more it is specifically aimed at Chihuahuas. Could this be the best dog food for Chihuahua puppy dogs?
You can check it out on Amazon here.
Hill's Science Diet Small Breed Puppy Food
Hill's Science Diet Small Breed Puppy Food is designed to be eaten by small and even toy dog breeds.
It contains no artificial colors, flavors or preservatives and only high quality ingredients.
Wellness Small Breed Puppy Food
Another top seller is Wellness Compete Health Puppy Food. It contains chicken, oatmeal and salmon.
This dry food claims to support bone, muscle and brain development.
It is designed with small breeds in mind, and prides itself on being all natural.
Nutro Ultra Puppy Food
Nutro Ultra Small breed puppy food is very well received by owners of toy and miniature dogs.
It contains chicken and rice, along with a host of so-called 'super foods'.
As well as being specially designed for smaller breed dogs.
Purina Pro Plan Focus
Purina Pro Plan Focus is a popular choice for owners of small breed puppies.
This specially designed formula aimed at small breed puppies uses high quality proteins, and has chicken as the number one ingredient.
The kibble is small in size to make sure that your Chihuahua puppy can chew it easily.
Check it out on Amazon here.
Best food to feed Chihuahua puppy with special dietary needs?
Allergies are one of the top three most common health problems in purebreed dogs.
Often these allergies are caused by food intolerances.
With grains being one of the main culprits, many owners choose to switch their pups to a grain-free or wheat-free diet.
Consult with your vet if you think your puppy has a food allergy.
Many of the top dog food brands now cater to specialised diets.
If you want to feed your dog a grain-free, wheat-free or even organic food, there is a wide selection available.
What is the best puppy food for Chihuahua puppies with food intolerances?
There are some good options when it comes to the best puppy food for Chihuahua puppies with vet confirmed food intolerances.
Or for owners who want to avoid grain when choosing the best dog food for Chihuahua puppy dogs.
Blue Freedom Grain Free Small Breed Puppy Food
Blue Freedom Grain Free Small Breed Puppy Food has a strict policy when it comes to ingredients.
No by-product meals, no corn, wheat or soy. In fact, nothing artifical at all.
It is designed to support healthy growth and development, with delicious deboned chicken as the main ingredient.
More Grain Free Puppy Food Options
There are a few more grain free puppy food options. Although they aren't specifically designed for small breeds they are suitable for them.
Blue Wilderness has a grain-free puppy formula in two flavors.
Rocky Mountain Rescue comes with red meat and Nature's Evolutionary Diet contains chicken.
For an organic option, try Castor & Pollux grain-free organic food.

It contains organic chicken, blueberries and coconut oil.
Best food for Chihuahua puppy dogs
So what is the best food for a Chihuahua puppy?
Since your Chihuahua puppy is still young and his digestive system is developing, introduce new foods carefully.
Start with small amounts and provide plenty of water with the food.
The best dog food for Chihuahua puppy dogs is one that contains all the nutrients they need, in small enough morsals to easily fit in their tiny mouths.
References