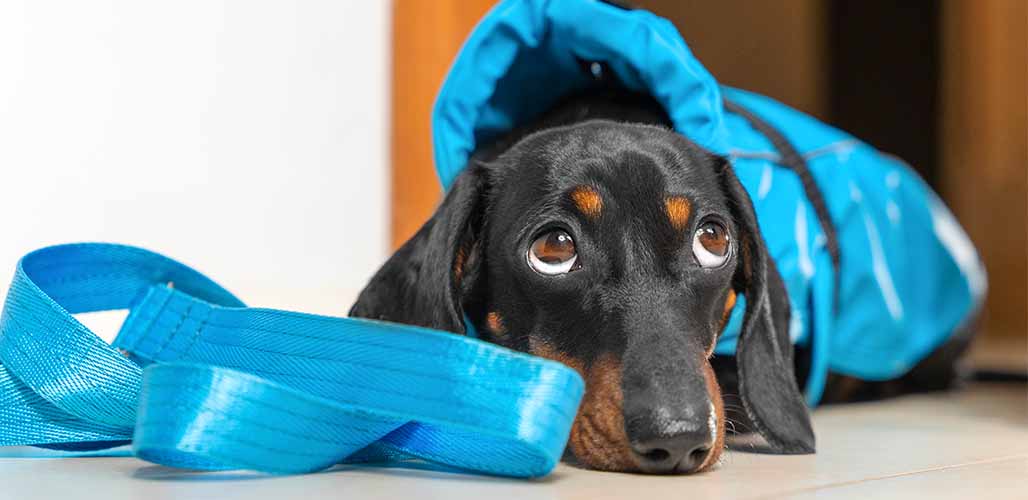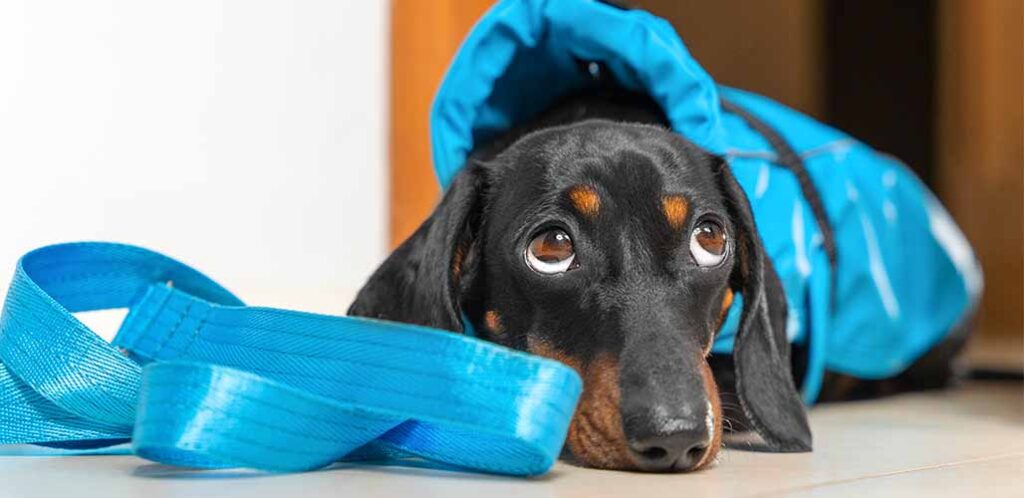 Why won't my dog go outside? When I got my first dog, it wasn't just for the company. I thought my puppy would help me be more active, giving me a reason to get out and about more often. So, I can imagine your frustration if your dog doesn't want to leave the house, or has suddenly stopped stepping outside. Any unusual behavior like this is always a sign to investigate! After all, you don't want your dog to be suffering from any unhappiness or ill health. In this guide, I'll cover the main reasons why your pup might no longer want to venture into the great outdoors so you can learn if anything more serious is at hand.
Contents
Why Won't My Dog Go Outside?
In most cases, a dog won't want to go outside because he or she is scared of something. No two dogs are the same, so understandably, there are a few different reasons why your dog could be afraid of going outside. You will need to analyze your dog as an individual to understand which category they fall into to ultimately help them face their fears and eventually enjoy going outside. Here are some of the most common reasons.
Sound Sensitivity
One of the first things that could be preventing your dog from going outside is sound sensitivity. If you've noticed that your dog out of nowhere has become fearful of going outside, then they may have heard a loud noise while playing in the garden or when they were out on their most recent walk.
Noises from lawnmowers, fireworks, thunderstorms, or even car exhausts may not seem particularly scary to you or me, but these noises can strike fear in your dog and elevate their stress levels dramatically, causing them to not want to go outside.
Overstimulation
Overstimulation is another factor that may be stopping your dog from living their best life outdoors. For some dogs, the hustle, bustle, unfamiliarity, and random activity that occurs outside can be extremely overstimulating and stress-elevating. Especially if they are typically quite a nervous pup.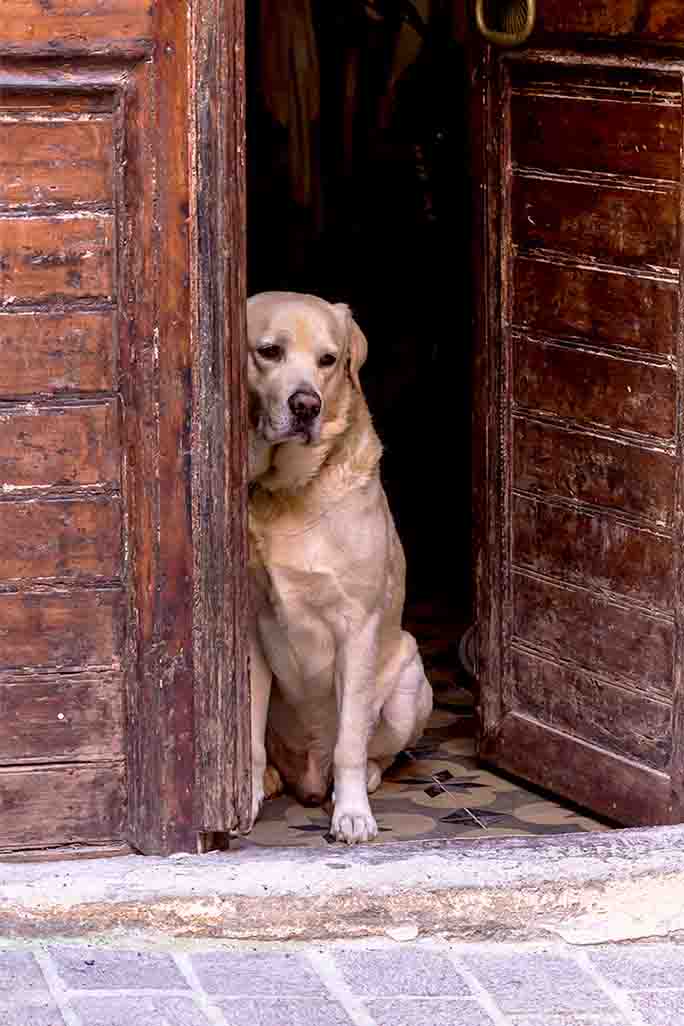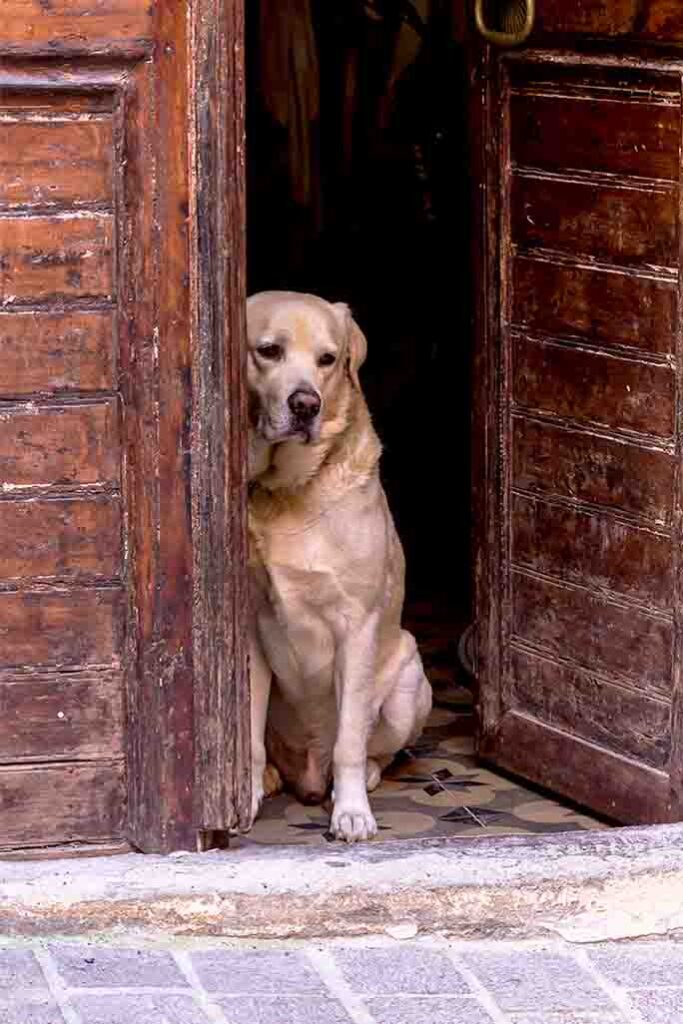 Puppy Panic
If you just brought a new puppy home, then their fear of going outdoors could stem from the fact that they simply aren't familiar with going outdoors. After all, puppies aren't really allowed to go outside until they're seven weeks old or completely vaccinated so it's completely understandable that this new foreign outdoor land is somewhat scary to them. Socialization is the key to overcoming this!
Obstacles
It's a possibility that your dog may not even be afraid of the outdoors, and instead, they're afraid of a different obstacle that is preventing them from going outside. For example, if you recently moved to a home that is on the second floor and your dog hasn't had any experience with stairs, then the stairs could be the issue and the problem you need to address.
Weather
Humans don't particularly enjoy going out in bad weather, so why would that be any different for your dog? A new experience with poor weather, such as snow, thunderstorms, or heavy rain, could result in your dog retreating to the warm, safe, and quiet space that they call home. I mean, can you really blame them?
Poor Socialization
Socializing your dog at a young age is crucial to prevent them from fearing humans, landscapes, and other dogs. If your dog never got the all-important socialization it needed while it was a puppy, then your dog could be fearful of everything outdoors that it has never experienced before.
Inexperienced with a Leash or Collar
Leash training is extremely important for all dogs, and if your dog has had little to no experience with walking on a leash, then even the sight of it can put them off going outside.
If you adopted your dog, for example, then your pup may have had negative experiences on their leash, and getting them to be comfortable with wearing one could be a slightly more challenging task. However, regardless of how fearful your dog is, you should introduce a collar and a leash little by little until they associate it with a positive experience.
Previous Negative Experiences
Any previous negative experience that your dog encountered while outside can cause them to resent the outdoors. A bug bite, stepping on something sharp, or a bad encounter with another dog, just to name a few, could leave an unpleasant memory in your dog's head and cause them to want to stay indoors where they feel safe and comfortable.
Medical Issues
The final reason for your dog's outdoor hiatus is an injury or medical issue such as leg pain, recent blindness, or an internal health problem that is making your pup feel lethargic and under the weather. If you've noticed any other unusual behavior in your dog, it is important that you take them to the vet for a professional's opinion.
Signs that Your Dog is Afraid to go Outside
You know your pet better than anyone else, and there are a few tell-tale signs you can look out for that will indicate that your dog is fearful of going outdoors. If you notice any of the following signs, I would recommend taking your dog's outdoor training slow to avoid any negative experiences which could put them off going outdoors even more.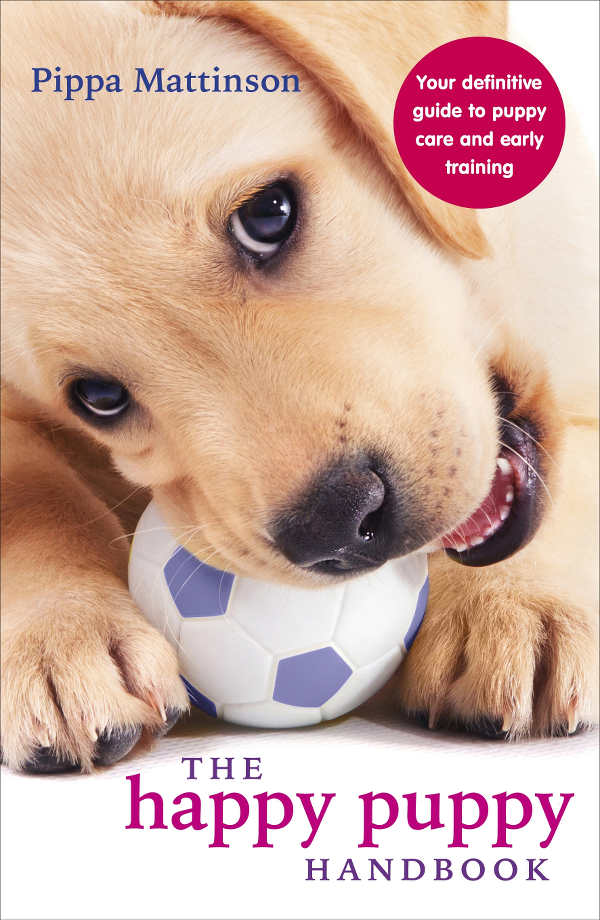 Panting
Lip licking
Dilated pupils
Pacing
Trembling
Freezing
Pinned back ears
Whining
Refusing to walk
Tucked tail.
How to Help My Dog Feel Happy Outdoors
Having a scared dog doesn't mean that you'll never be able to go for walks outside together. If you socialize your puppy well from a young age, they're more likely to be happy going out. This process can even happen during adulthood, though it will need to be much slower!
If possible, remove the thing your dog is scared of. But, in most circumstances you will need to slowly show your dog that they have no reason to be afraid. Start from a distance and use treats and soothing words until your dog is comfortable being near the thing they're scared of. Work at your dog's pace to move slower, keeping things positive at all times. If you're consistent, your dog will be eagerly bounding out of the house with you in no time.
In Summary: Why Won't My Dog Go Outside?
With so many different reasons why your dog doesn't want to go outside, it is crucial that you pay close attention to your dog and its recent behaviors. If they are displaying behavior out of the ordinary, then it may give you an indication of the cause of their newfound fear of the outdoors. Speak to the veterinarian to rule out any medical reasons, and work at your dog's pace to show them the outdoors is nothing to be afraid of!
Helping Other Problematic Dog Behaviors
Stopping a fear of fireworks
Is my dog scared of me?
How to stop my dog feeling sad