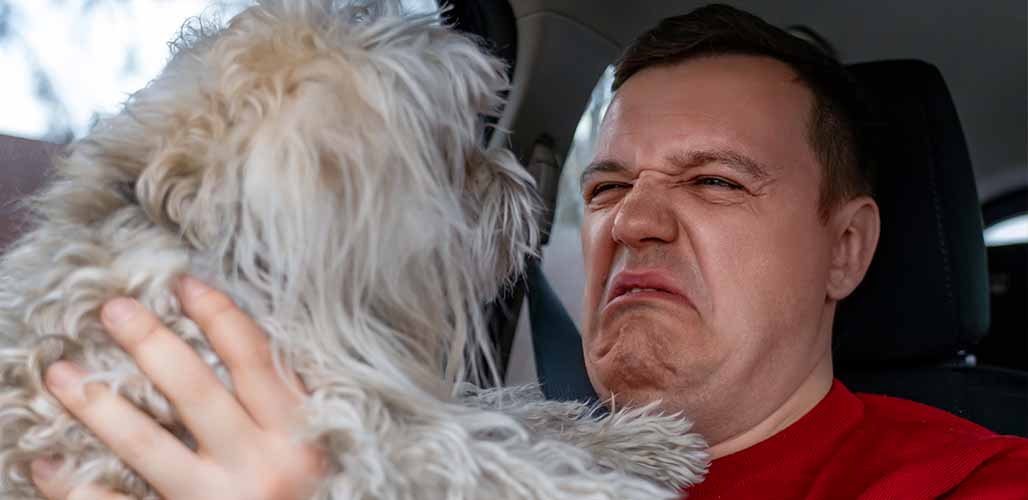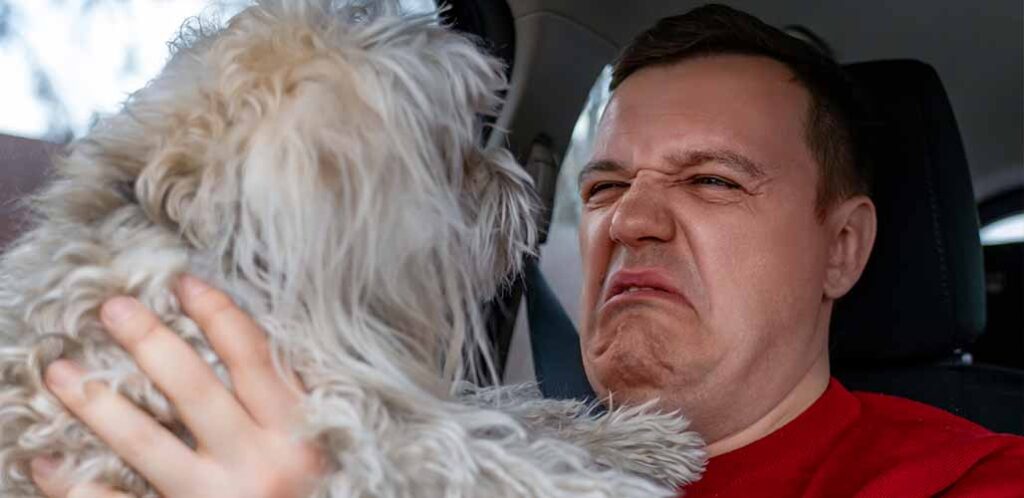 There's no denying that most dogs have a their own distinctive aroma. And for the most part, it isn't offensive – I love the normal smell of my dog! But every now and then, his usual musk is overwhelmed by something new and horrible, and I end up keeping my distance and asking 'why is my dog so stinky???' Over the years, the reasons for his pongy episodes have included rolling in poo, changes in his diet, and even a nasty infection. But there still more culprits we have yet to encounter. If you're trying to get to the bottom of a bad smell problem, I've gathered all the things to consider in this article, to help you narrow down the possibilities, and restore your friends natural fragrance!
Contents
Why Is My Dog So Stinky?
So lately, you've noticed a certain stink whenever your dog is around. You've given them a bath, and it's still persisting.
Dogs can stink for lots of reasons. Some of them are medical, some are lifestyle 'choices', and some are kind of in between. For example, ear infections are a pretty clear cut medical reason for an unpleasant whiff coming off your canine. On the other hand, my mom-in-laws' rescue Collie smells funky because he enjoys sitting in the duck pond to stay cool, and the pond smell has really absorbed into his fur now. This is clearly a lifestyle odor, as is the unmistakable pong of having rolled in fox poo. And finally, the smell of flatulence can be a benign (albeit noxious) result of what they're eating, or a sign of allergies – so it sits in between medical and lifestyle.
If your dog smells bad because of something he's done, then a good bath is usually all it takes to freshen him up. But if the cause is medical, the whiff won't go away until the underlying condition is treated. Here is a longer list of medical reasons why your furry friend might stink:
Canine seborrhea
Skin infections
Dental problems
Flatulence
Allergies
Ear infections
Anal sac problems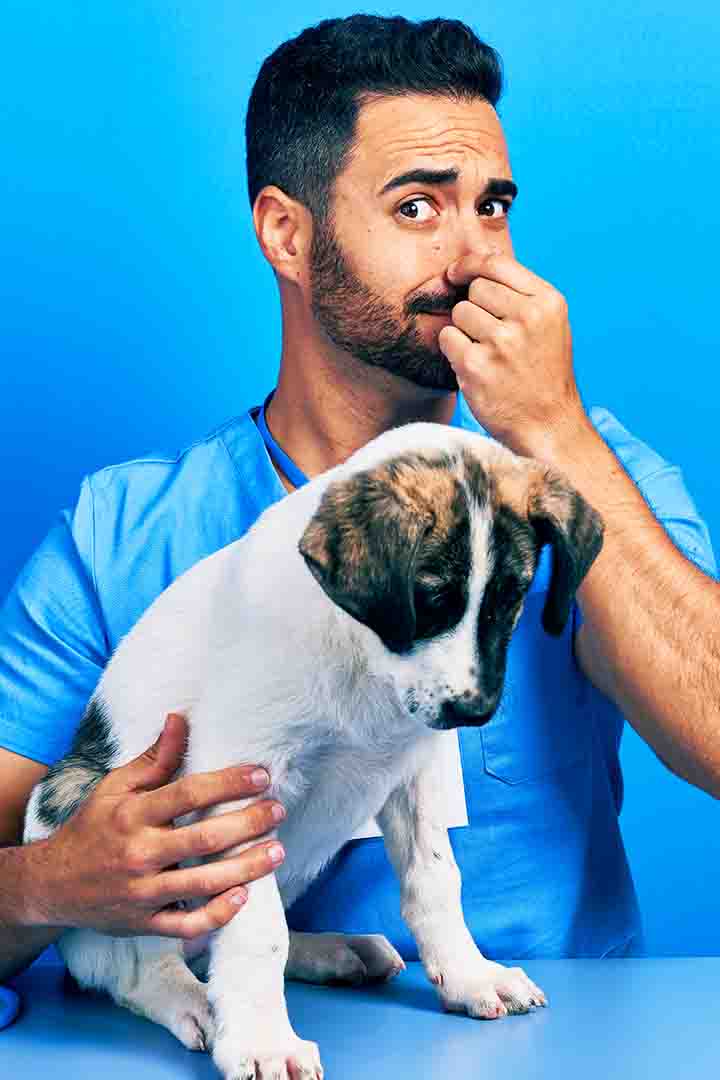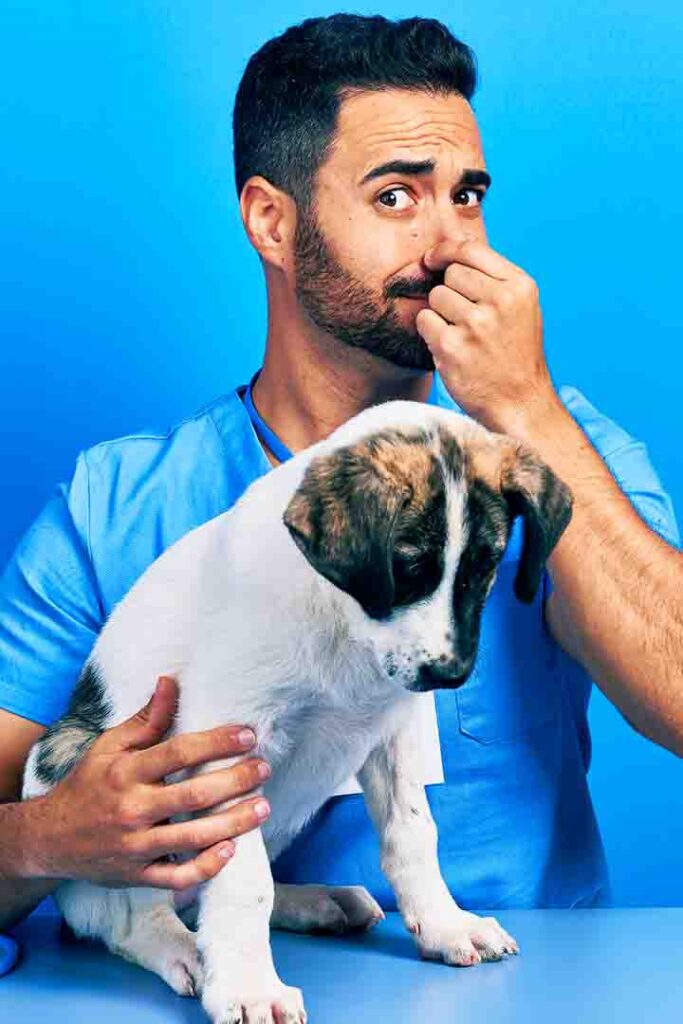 Canine Seborrhea
Canine seborrhea is a condition where the skin produces too much of a substance called keratin. You probably know that keratin is what forms our hair and nails. When your dog makes too much of it, their skin becomes flaky, greasy, or oily. And it gives off a characteristic canine seborrhea smell. Which is pretty unpleasant.
Usually, it's worse in places where moisture often gets trapped, such as among the skinfolds of wrinkly dog breeds. There are two categories of seborrhea – primary and secondary.
Primary seborrhea is genetic and starts when your puppy is still young. Fortunately, it isn't usually itchy or sore, but it is pretty unattractive to look at, and may smell. It's especially prevalent in some breeding lines of Labradors, Cocker Spaniels, Golden Retrievers, German Shepherds, West Highland White Terriers.
Secondary seborrhea occurs when another disease or factor has caused flaking skin. Triggers include changes in temperature, poor diet, allergies, and bacterial, fungal or parasitic skin infections.
Both types need immediate medical attention.
Skin Infections
Skin infections can also cause your dog to develop nasty odors. A classic example of this is a fungal ear infection. Fungal ear infections are caused by an explosion of Candida (a type of yeast) in the outer ear. They're most frequently diagnosed in dogs with floppy ears, who like to swim – such as Labradors and Spaniels. The warmth, damp, and exposure to non-chemically treated water creates the perfect conditions for fungi to enter the ear and flourish. Owners often describe the smell as being sickeningly sweet, like maple syrup. But it's likely your pooch is feeling itchy and sore, so a trip to the vet is called for.
Dental Problems
Bad breath is another smelly complaint from many dog owners. A buildup of plaque and tartar can cause bad breath and canine gingivitis. Just like us humans, doggy dental health (and odor) benefits from regular brushing. So keep your dog's teeth clean by brushing them and offering dental chews. Pets with a severe case of bad dental hygiene can be given a fresh start by visiting the vet for a proper cleaning – under sedation if necessary. Likewise, mouth odors caused by gum infections need medical treatment.
Flatulence
Canine flatulence a.k.a dog farts are another familiar source of bad doggy odor. But can you stop them from farting? Obviously not! The occasional smelly parp is completely normal. But if your dog's farts are incredibly smelly and frequent, it may be a sign that they are allergic to, or have a degree of digestive intolerance to, one of the ingredients in their food. This is definitely the case for my dog when he eats chicken, for example.
Your vet can help you identify triggers of excessive flatulence. This might involve following an elimination protocol to rule out individual ingredients. And if an allergy is suspected, it might include medicines to relieve the symptoms while the culprit is found.
Anal Sac Problems
Keeping in line with rear-end problems that can cause your dog to be smelly; their anal health is one of the most obvious culprits for a bad scent. Dogs have anal sacs or glands just inside their rectum, which secrete an oily substance with a very strong fishy aroma. It's thought that substance both helps them poo, and also communicates information about their age, health, etc – which is why they smell their butts when introduced. It's also thought that some dogs involuntarily empty their anal fluid when they are frightened or startled.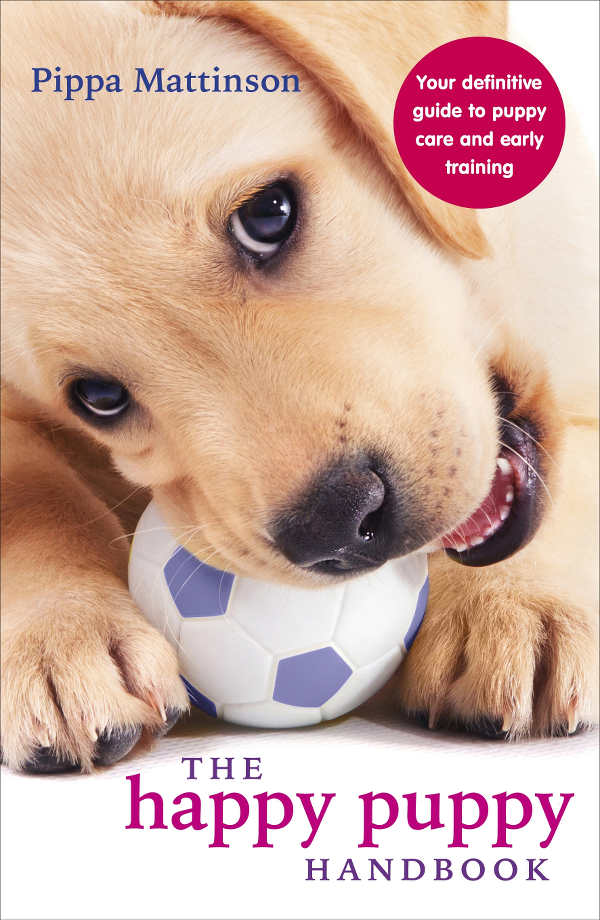 Once you've smelled it once, the stink of anal gland fluid is pretty unmistakable. But, it shouldn't usually be noticeable in a healthy dog. So if it is following your pet around, ask a vet to look them over.
Why Is My Dog So Stinky – Summary
Lots of events can trigger a change in how your dog smells. If the stink doesn't wash off, and you can't work out what has brought it on, your veterinarian is the best person to help deduce the cause. Since bad odor is often a result of something that is also causing your pet pain (like an infection) or discomfort (like an allergy), don't assume that his smell is something that you just need to tolerate. Get to the bottom of it as soon as possible!
If you've had trouble diagnosing the source of a bad smell on your dog before, we'd love to hear in the comments box what it turned out to be. And if you know a great shampoo for ridding dog fur of all traces of fox poo (and duck pond water…) we'd love to hear about that too!
More Questions Answered
Why is my dog so antisocial at the dog park?
References