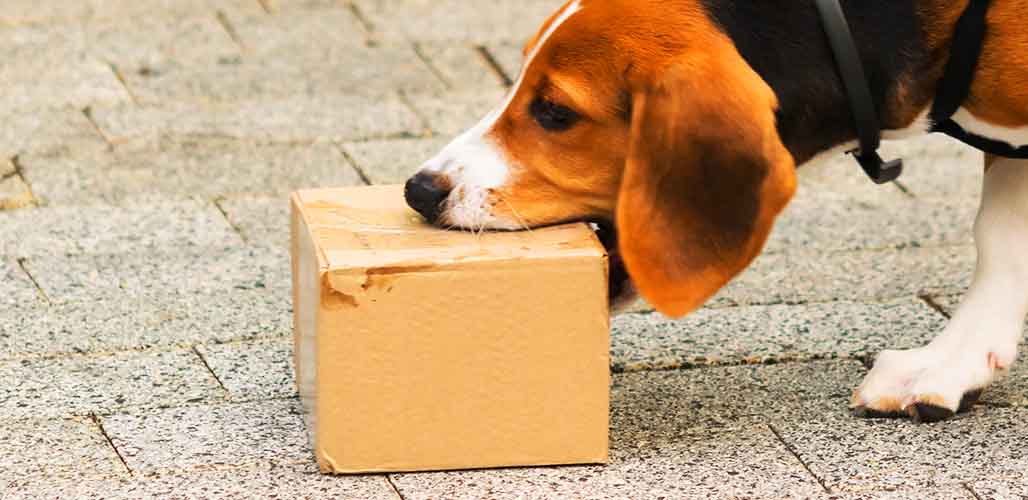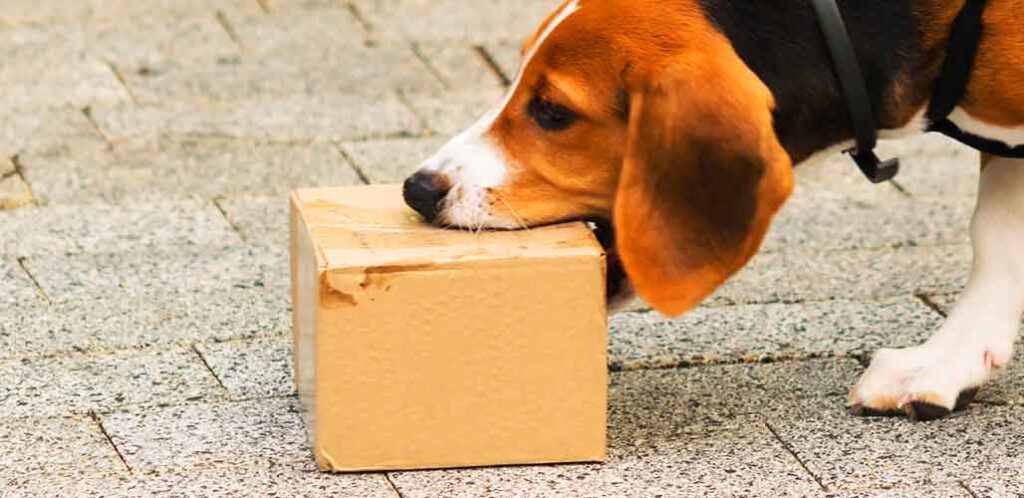 Why does my dog eat cardboard? My dogs do some strange things. Admittedly, eating cardboard is not the most bizarre of things they could do, but it's still pretty weird to see them munching away at a cardboard box. Chewing is an instinctive, normal behavior for dogs. It's how they learn about the things around them. So, it's essential to provide safe things for them to chew on to avoid them eating something potentially harmful or valuable. It should be fine if your dog only does this on and off. But as soon as eating inedible things becomes chronic or compulsive, it becomes unhealthy and called Pica. In this guide, I'll take a closer look at the reasons your dog might chew or eat cardboard, ways to fix this behavior, and when it can become dangerous.
Contents
This behavior isn't a huge concern as long as it's not compulsive. But, it can be a sign that your dog is lacking something. This could be a case of needing more mental stimulation or more exercise. But, it could also be a sign your dog is hungry, or missing something important from their diet. It's important to find the cause, so you can fix things before any other problems arise.
Why Does My Dog Eat Cardboard?
There are several reasons why a dog might start chowing down on this unusual non-food option. Some of them are more serious than others, so it's a great idea to try and determine why exactly your dog is acting like this. Here are some good questions to ask yourself to narrow your options down:
Is my dog getting enough to eat?
Have you changed something in their diet?
Are they getting enough nutrition from their diet?
Have you been spending less time with them?
Do they have any dog toys?
Are they spending a lot of time alone?
Are they getting enough exercise?
Does your dog have any other signs of behavioral issues?
These answers can help you decipher the root of your cause, whether it's something as simple as boredom, or something more complex, like Pica. Let's take a closer look at some of these potential causes.
1. Their Diet Needs Adjusting
Take a look at what you're feeding your dog. If they're taking out your boxes and toilet rolls, their diet is the first thing you need to consider. They could have a nutritional deficiency if you've switched something in their diet. Or, they could simply be hungry if their meal sizes are too small!
If you're concerned that diet is where the problem lies, it's a great idea to check with your veterinarian that your dog is a healthy weight. You can even take your dog's food to the vet to ensure it contains everything your dog needs. Homemade diets are the most likely to contain deficiencies.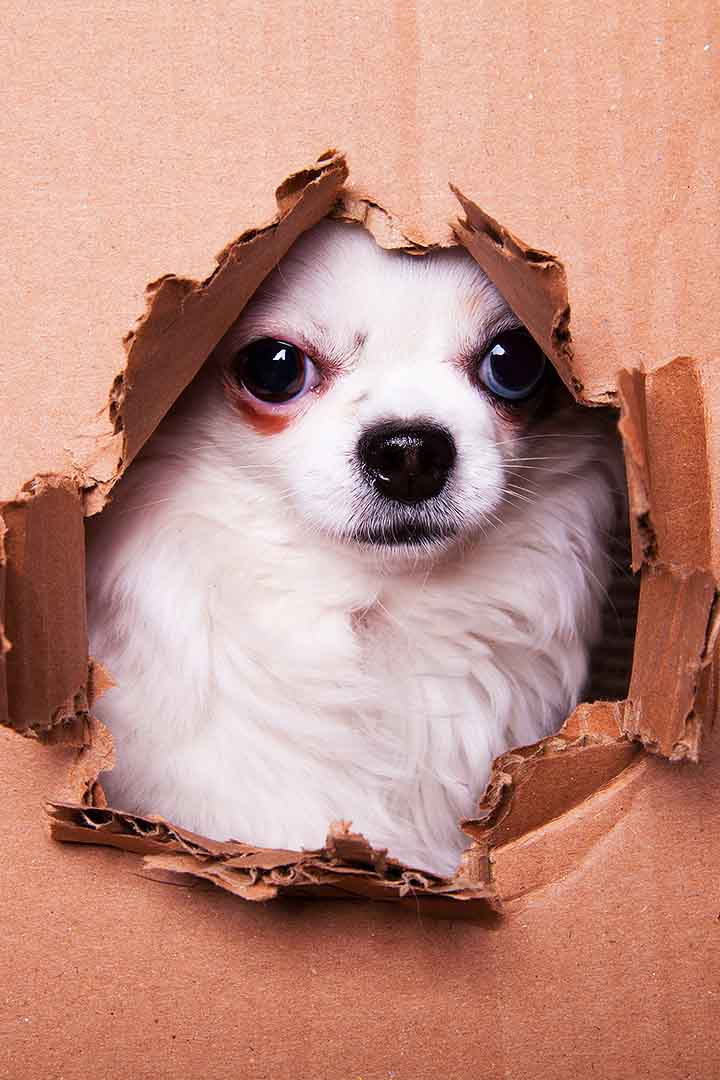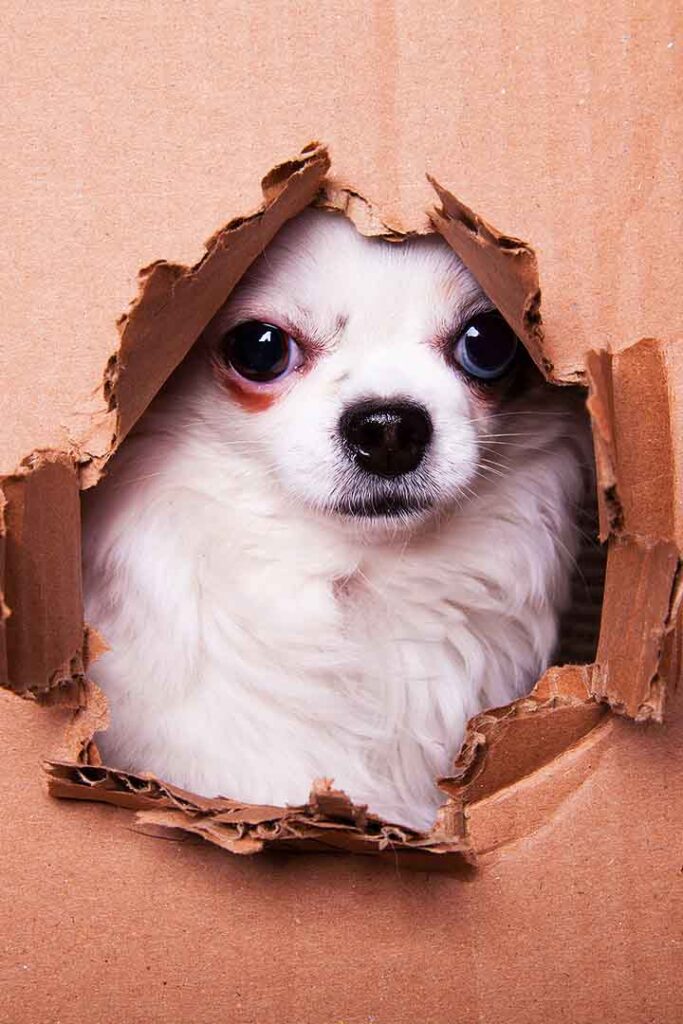 2. Mental Stimulation
Dogs have high levels of intelligence and need things to stimulate their mind. If not, they will start chewing and eating things they shouldn't. Destructive behavior is a common consequence of a bored dog. So, make sure you have chew toys to stop your dog from eating cardboard or, even worse, shoes. Interactive toys are a great idea, since they require more thinking to get a reward!
3. Not Getting Enough Attention
Have you been spending time away from your fur baby? Or have you been busier than usual and need more time to spend with them? Sometimes the draw to eat things they shouldn't is because they need quality time with you. If your dog knows you'll chase after them or come and take the cardboard away, they might do it as a way to get some much-desired attention from you!
4. Not Getting Enough Exercise
If you notice your dog starts to eat odd things like cardboard, then think about how much exercise they've had. If it's been a while since they burnt off some energy, take them for a walk. Bored dogs will seek entertainment wherever they can. And, like a lack of mental stimulation, a lack of physical exercise can lead to unwanted, destructive behaviors.
5. The Way Cardboard Feels to Chew
It might bother some people, but dogs have an innate drive to hunt. It's in their genes; not even the best trainers can stop this trait. And, some people suggest that cardboard has a similar feel to feathers in your dog's mouth. So, it might feel natural for your dog to chew on boxes around the house, especially if they're bored or hungry.
6. Pica
A dog eating cardboard compulsively or chronically can be a behavioral condition called Pica. Pica is when dogs eat and crave objects that are not food. It can also be caused by all of the reasons we've discussed above! So, it's a great idea to try and tackle eating the wrong things before it becomes a compulsive behavior.
Is Cardboard Dangerous for Dogs to Eat?
This strange food choice isn't toxic for dogs, but it's not beneficial for their digestive systems either. If your dog eats a lot of cardboard, there is a chance he or she could develop an intestinal obstruction. You can recognize this if they start burping and vomiting or develop a fever, diarrhea, constipation, or lethargy.
It's a broad range of symptoms, but if your dog has been eating a lot of cardboard or other inedible items, you should get them to the vet immediately. An intestinal blockage may require surgery or treating it with stool softeners. Watch your dog and check if it's passing through. Cardboard doesn't break down in the digestive system, so you'll see it in your pup's poop. Don't try to make your dog vomit unless your vet specifically instructs you to.
What Cardboard Objects Do Dogs Eat or Chew?
I never realized just how many cardboard objects there are around the house. But, all of them have the potential to turn into your dog's next victim. Some may be more harmful if they are coated in plastic or have a lot of glue. Here are a few things to keep an eye on or keep out of reach of your dogs:
Delivery boxes (Amazon etc.)
Cereal boxes
Toilet rolls
Pizza boxes
What to Do if Your Dog Eats Cardboard
If you come across bits and pieces of cardboard there are a few key steps to take. The idea is to try and stop your dog from eating any more when you've noticed signs of consumption! A small amount of cardboard might not hurt, but letting your dog continue chewing boxes can lead to complications.
Secure Your Dog
First things first, get your dog away from the scene and remove any cardboard they might still have in their mouth. If you have a dog crate or pen, using this is a great idea. Alternatively, place them in a room where they have no access to other boxes – somewhere you can keep an eye on them!
Search For Evidence
Before you throw the remains in the trash, check for what might've been in the cardboard. The cardboard might not be harmful, but if it were a box of chocolates, you'd want to get your dog to the vet as soon as possible. Additionally, check if the box was coated in anything like glue or paint, that could harm your dog.
Keep an Eye on Your Dog
Watch your dog for any symptoms that might indicate poisoning, distress, or an intestinal blockage. This can take up to 24 hours. If you notice any of these symptoms, speak to your veterinarian as soon as you can. If they're not available, you can search for an emergency vet.
Call Your Vet
If your dog ate a lot of cardboard, call your veterinarian and follow their advice. They'll usually ask a few questions to determine how your dog is, including how much cardboard they ate, any signs of illness or problems digesting the non-food item, and whether there was anything else potentially toxic in the boxes your dog ate.
How Do I Stop My Dog From Eating Cardboard?
One of the best ways to stop this behavior is to tackle and eliminate the potential causes that I mentioned earlier. Here are some steps you can take.
Go for walks and provide them with sufficient exercise.
Get some pet toys or new toys to stimulate your pooch's mind.
Spend some more time with your dog; if you've recently been too busy to hang out with them, even two minutes of the day could make all the difference.
Get help from a professional dog walker.
Speak to your vet to ensure their food is providing the right nutritional requirements.
Remove Cardboard from your Dog's Access
Supplementing the behavior with your dog's needs is a great start, but should also cut it off at the source. Invest in a trash can with a locking lid. This way, your dog has no chance of invading for cardboard treats. Keep your dog away from the bathroom, and keep all cardboard items like toilet rolls and tissue boxes out of reach. This might benefit your dog's health, but it's also a great way to ensure your house stays clean.
Pica can express itself in different ways. Dogs with this medical problem don't just eat cardboard, so if you notice your dog eating any non-food items compulsively, you should always take them to the veterinarian.