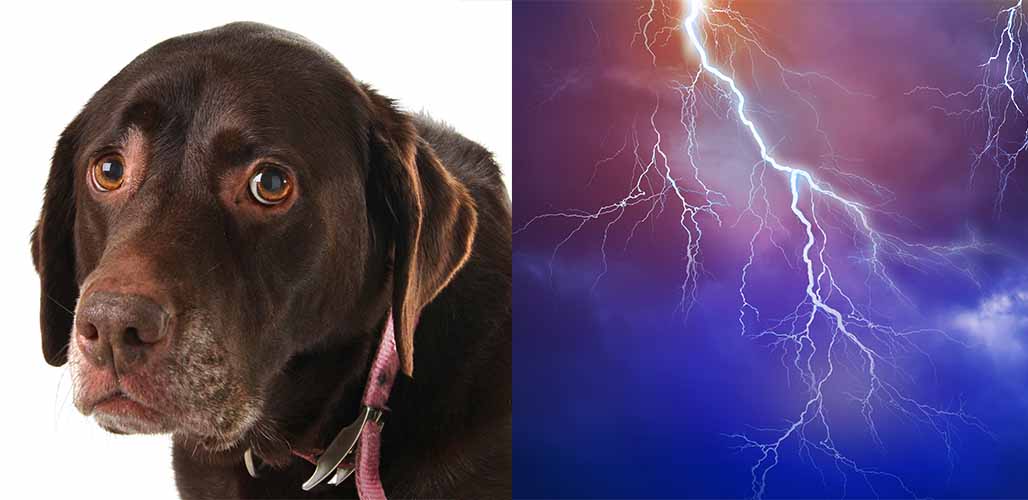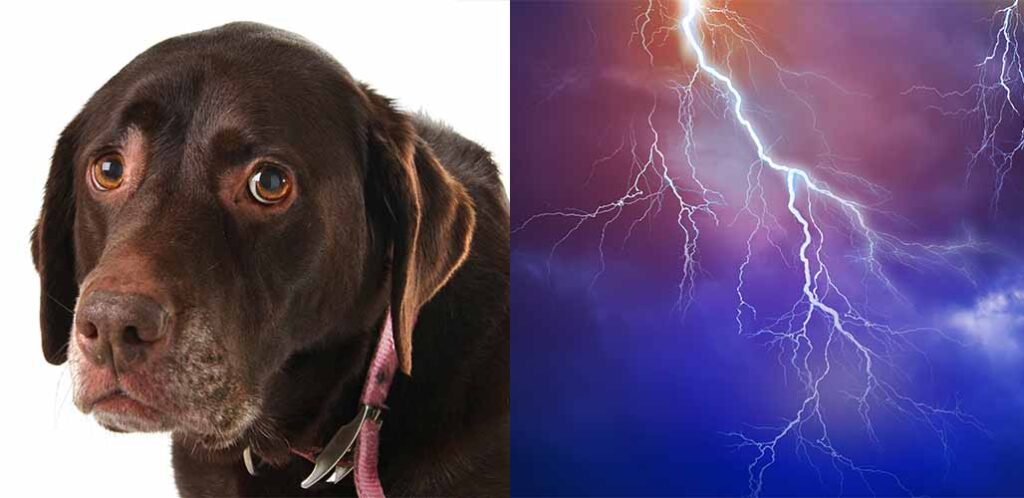 Most dogs are scared of thunder because they don't like surprising loud noises. Think how your pup will jump and bark when you switch on the vacuum cleaner if they hadn't heard you get it out? Natural noises like thunder are even more frightening, because even after the initial shock they can't tell where it's coming from. Today I'll share why dogs are upset by storms, and how to help reassure them during unsettling weather.
Contents
Why Are Dogs Scared Of Thunder?
Thunder is not just a loud rumbling noise. It also charges the air with electrical particles which land on the fur of the dog and cause static build-up. Most often, dogs don't know what to make of the way their coat suddenly feels. In some cases, the static build-up gives the dog an electrical shock.
But thunder isn't just about sheer noise and static electricity. It's often accompanied by changes in the air pressure along with dark skies. The changes in the weather are ominous and they put the dog on an edge. Most dogs develop storm phobias especially if they're shy or nervous by nature.
A storm phobia is a condition where the dog becomes irrationally afraid of any signs of a coming storm including thunder. Their reaction is excessive and they might put themselves or those around them in danger.
Which Dog Breeds are Scared More of Thunder?
Not all dog breeds are affected the same way by thunder. Dogs that spend a lot of time outdoors are more scared of thunder than those who are sheltered against these natural phenomena. Hounds, sheepdogs, and other working dogs are more likely to develop storm phobia and have a profound fear of thunder than other breeds. They spend more time outdoors which exposes them to the forces of the storm.
Puppies are also more prone to being scared of thunder. Any loud noise makes them anxious and they scurry to find safety and a place to hide. The same goes for dogs who don't socialize much as well as rescue dogs who might have had traumatic events leaving them jittery and more susceptible to phobias.
But perhaps the breeds with double coats are the ones who struggle the most with thunderstorms. German Shepherds, Golden Retrievers, Australian Shepherds, Siberian Huskies, Bernese Mountain Dogs, and Border Collies are some of those breeds whose thick coats become a major liability as static increases in a thunderstorm.
Is My Dog Scared Of Thunder?
Not every dog will react to loud noise and thunder in the same way. Some will hide, others will find more drastic ways to deal with the anxiety they're going through. The severity of the symptoms varies depending on whether the dog has storm phobia or just a regular fear of noise. Here are the signs that your dog might find thunder a painful experience.
Hiding: The dog will find a hiding place under the bed or in the basement where the noise and changes in the weather and air pressure are less perceptible. This can actually work in calming down the dog and protecting their coat against static build-up.
Escaping: In some cases, a panicked dog will escape the house and try to outrun the storm. Most dogs with storm phobia would react this way if given a chance. This puts their wellbeing and life in danger.
Shaking: An anxious dog would react to the sound of thunder with physical symptoms such as shaking and shivering, whining, or panting. If the thunderstorm continues for a few hours, the dog might actually become sick and would need immediate medical help.
Seeking Attention: The frightened dog will come to you to seek comfort or try to get your attention. The dog will stay by your side and follow you wherever you go until the storm blows over.
Acting Out: Your docile and loveable dog might engage in uncharacteristic behavior triggered by the thunder. They might start to salivate excessively, hyperventilate, become restless, or pee or defecate accidentally. The anxious dog would start pacing up and down and find it hard to calm down or get distracted.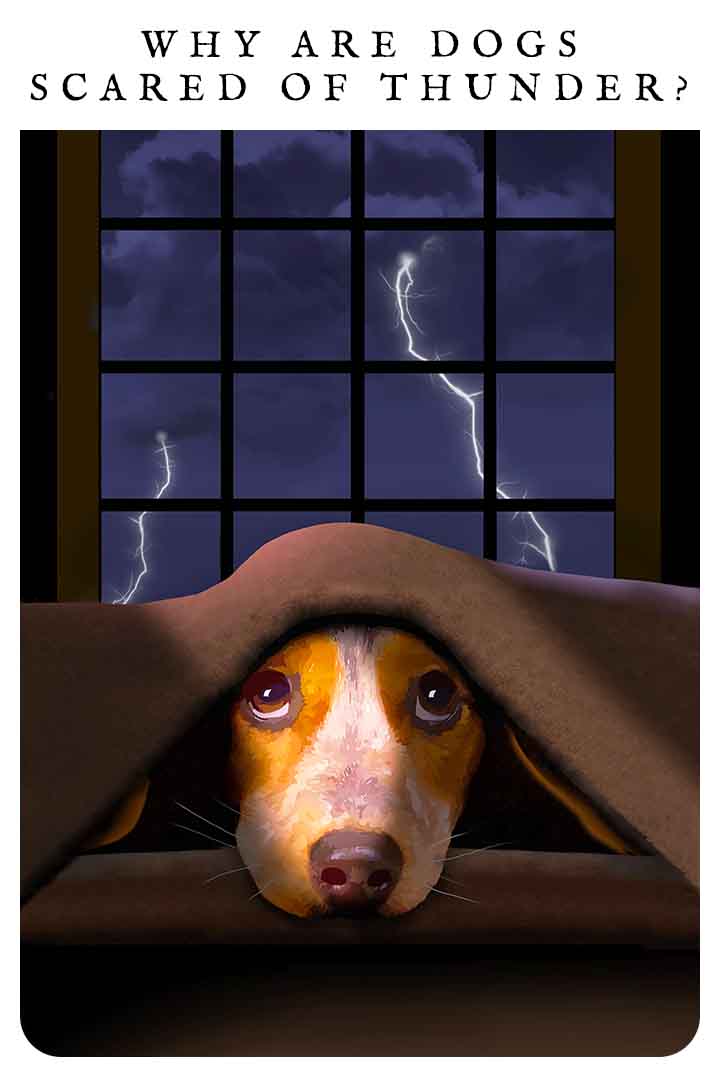 How to Help Your Dog Overcome their Fear of Thunder
Fortunately, your dog doesn't have to suffer through the thunderstorm alone. No matter how bad their storm phobia is, you can still help them cope with the symptoms and avoid the worst parts of the storm.
Since the dog is inside the house, then they won't have to deal with the changes in the barometric pressure, static build-up, or darkening skies. But the noise of the thunder is still a trigger. Here are ways to help your dog weather out the thunderstorm.
Safe space
Massage
Soothing music
Pheromones
Veterinary help
Make Your Dog A Safe Space
Most dogs would go into hiding when a storm approaches. But a hiding place isn't always available. So you need to provide a safe place for the dog to stay away from the sounds of thunder. Choose a place away from windows to minimize the noise and keep it dark. Offer the dog a few extra blankets in case they feel the need to crawl under the covers.
Puppy Massage
If the dog is showing signs of anxiety such as shaking or hyperventilating, then use massage techniques to calm them down. Use your fingertips with long strokes to cover the dog's back and chest area. Talk to the dog in a soothing voice during the message to assure them that they are safe.
Soothing Music Is Great For Scared Dogs
Play some classical music in the background. The calming music will help dissipate the stress and anxiety the dog is going through. White noise can also do a good job covering the rumbling noise of the thunder. If the dog has a favorite music, play it for them as a distraction.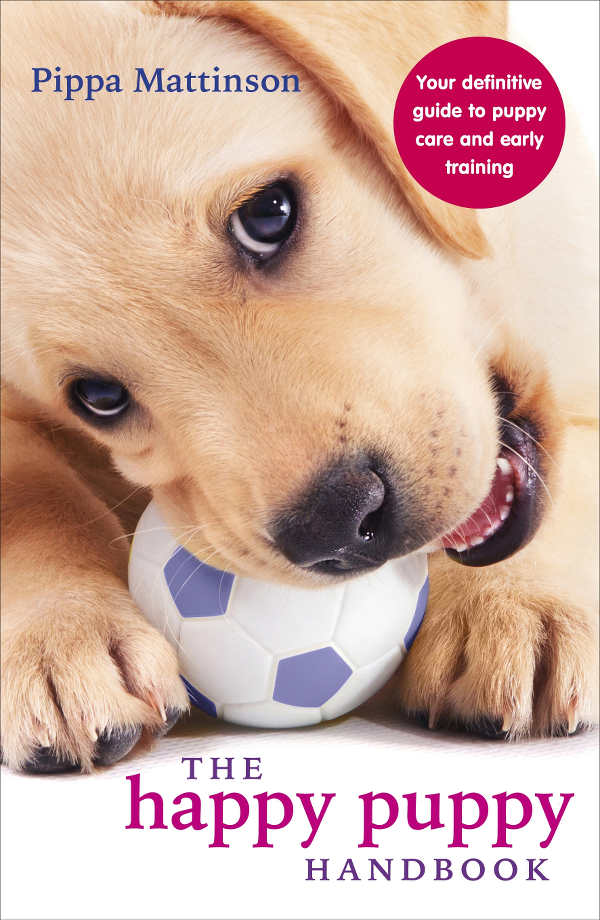 Pheromone Products Can Help With Canine Phobias
With their sharp smell sense, a dog's nose absorbs pheromones and transmits them to the brain quickly. The chemicals then reduce the anxiety and stress levels in the brain which helps the dog calm down. The key to using pheromone products is to apply them before the dog gets agitated or scared. If you're expecting a thunderstorm, offer the dog a dose of pheromones to keep them calm during the storm.
Talk to the Veterinarian
Consult your vet for the best ways to deal with storm phobia in your dog. Your vet might recommend dietary changes with more carbohydrates to promote more serotonin production in the brain. Medication might also be necessary in severe cases of storm phobia where other methods have not been successful.
Why Are Dogs Scared Of Thunder?
Thunder is a loud noise that scares most dogs. But it's also accompanied by changes in barometric pressure and static build-up that give dogs a hard time. Provide the dog with a safe place to hide and play their favorite music to distract them during the thunderstorm.
More About Your Dog's Feelings
References