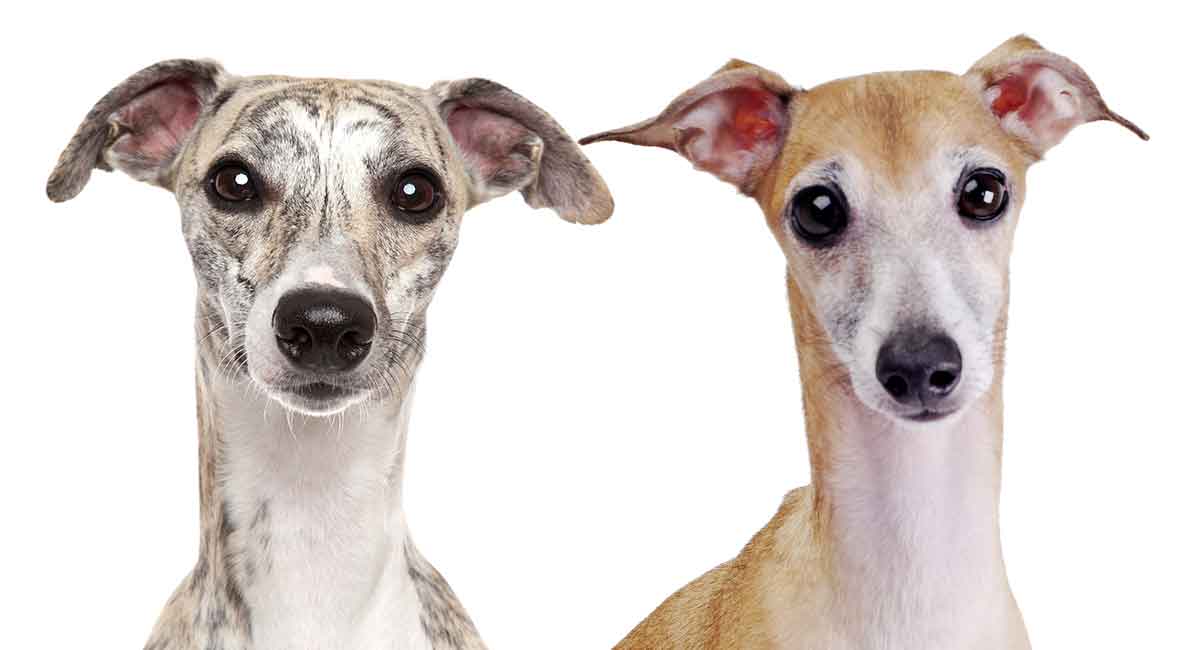 Welcome to our comparison of the Whippet vs Italian Greyhound!
You want a dog with the grace and perhaps speed of a Greyhound, but not the Greyhound's size.
Which smaller Greyhound-lookalike should you get, the Whippet or Italian Greyhound?
And since you mentioned Greyhounds, aren't Whippets, Italian Greyhounds, and Greyhounds related?
Are Whippets and Italian Greyhounds really that much smaller than their taller and heavier cousin?
We'll answer these questions and more about the similarities and differences between Whippets and Italian Greyhounds throughout this guide.
Italian Greyhound, Whippet – which should you pick?
The Italian Greyhound and Whippet may share some physical characteristics of the much larger Greyhound (hello, long legs and bodies built for speed).
But beyond that, these two breeds each have unique traits that make them vastly similar in some ways and different in a few others.
They're both lanky and lean breeds, but one defining difference is their size.
Italian Greyhounds are members of the Toy group, while Whippets are members of the Hound group.
We'll talk more about the physical and temperamental variances between Italian Greyhound and a Whippet in the next few sections.
Whippet vs Italian Greyhound appearance
As we hinted earlier, the Whippet and Italian Greyhound each look a lot like a Greyhound, minus the towering stature.
Both have the Greyhound's deer-like legs, swan-like neck, long and arching back.
As well as a short and sleek coat, upright yet folded ears, and large, expressive eyes.
And let's not forget the rat-like tail that flies behind when they're in motion!
There's a reason why the Whippet, Italian Greyhound, and Greyhound look so much alike – they are, indeed, all cousins!
All three breeds can trace their roots to the earliest sighthounds, which are thought to have been around for thousands of years.
Though the Italian Greyhound and Whippet are related, they do differ in size, likely due to their original intended usages.
The Italian Greyhound was bred to be a companion, occasional hunter, and coveted status symbol in the days of Roman-empire ruled Greece and Turkey.
This may explain his very small size (specifics on that in a bit).
On the contrary, the Whippet was developed in Victorian-era England to be the "Poor Man's Racehorse".
A slightly smaller and therefore less expensive to feed Greyhound.
Whippet vs Italian Greyhound temperament
As dogs with sighthound lineage, both Whippets and Italian Greyhounds are compelled to chase after wildlife, often without warning.
This means that neither breed should be allowed to run freely, or else, you may never catch them!
Running aside, both Whippets and Italian Greyhounds are usually mild-mannered pups who are quite friendly.
Italian Greyhounds, especially, love to be near their humans and love to find a lap to doze off in.
My sister-in-law's Italian Greyhound, Ivy, makes it her mission at family gatherings to sit in every attendee's lap for at least a few minutes!
Once they have expended some energy in short bursts, Italian Greyhounds and Whippets both can be rather lazy.
Lazy enough that both breeds are included in our list of the laziest dog breeds!
(We also include the Whippet in our list of calm dog breeds.)
Neither of these breeds are very vocal, so you'll enjoy the general quiet that will come with either a Whippet or an Italian Greyhound.
Want to learn more about the Whippet's temperament? Here is an entire article devoted to this lovely breed's personality.
Difference between Whippet vs Italian Greyhound size
Both Whippets and Italian Greyhounds are smaller than a Greyhound.
This makes them popular options for folks who like the look and feel of the Greyhound, but in a smaller package.
(I can also speak to the Greyhound's almost horse-like size; one of my close friends has a Greyhound who we affectionately refer to as 'the house pony'.)
But, there is a pretty big size difference even between the two mock-Greyhounds, as we previously mentioned.
As a member of the Toy group, the Italian Greyhound will stay tiny enough to be a lap dog, reaching anywhere from 13-15 inches tall at the shoulder and weighing 7-14 pounds.
As a member of the Hound group, the Whippet will grow large enough to be an effective hunter.
Reaching anywhere from 18-22 inches tall at the shoulder and weighing 25-40 pounds.
And as is the case with most dog breeds, females stay smaller than males in both breeds.
With the above in mind, one determining factor between whether you purchase a Whippet vs Italian Greyhound may be whether you want a lap dog or a dog who is substantial enough to sport with!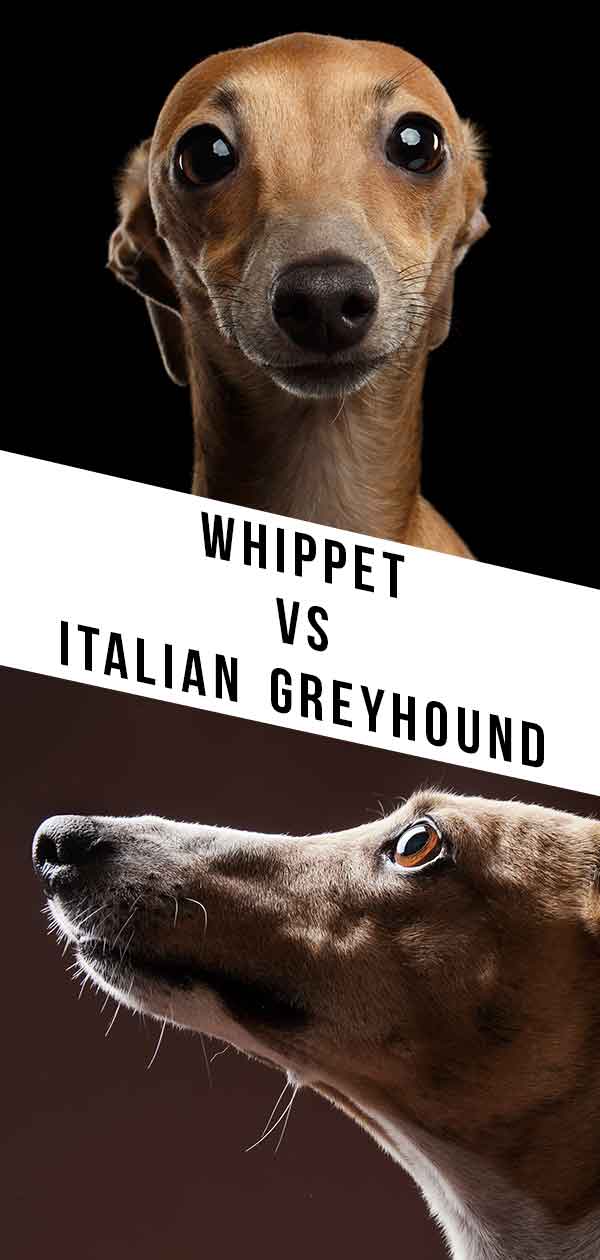 Italian Greyhound and Whippet coats
Both Italian Greyhounds and Whippets have a very short and smooth coat which does not require much in the way of grooming.
They each come in lots of hound colors, and may be solid or bi-colored, with a variety of markings.
Because both breeds have such thin coats, neither is a good fit for a very cold or damp climate.
If you live anywhere that is not warm year-round, purchase either of these pooches a doggie coat to keep them nice and toasty.
(We list some of our favorite dog coats for Whippets in this article.)
Whippet vs Italian Greyhound grooming and shedding
Due to their short and thin coats, both Whippets and Italian Greyhounds do fine with an occasional brushing.
You'll only need to bathe them if they happen to roll in something yucky.
Italian Greyhounds shed seasonally, if at all, and Whippets also only shed occasionally.
Similarly to other dog breeds, both of these guys should have their nails trimmed regularly to avoid the discomfort of long nails.
An important thing to note about keeping an Italian Greyhound is that you will need to brush their teeth often, if not daily.
Italian Greyhounds are genetically predisposed to some dental health problems.
And require more than the annual checkup of their mouths and the occasional tooth brushing.
We'll address this in the next section.
Italian Greyhound and Whippet health problems
Due to both Whippets and Italian Greyhounds being pure-breed dogs, they are predisposed to genetic health problems.
With their very thin coats, both breeds are prone to hypothermia and frost bite if exposed to cold temperatures for too long.
Some Whippet, Italian Greyhound, and Greyhound owners use dog booties to protect their paws when they must be exposed to snow or frozen ground.
And, with little in the way of natural protection from the elements comes an enhanced risk of skin problems and allergies.
Both breeds are also susceptible to having an overbite, which requires correction in many cases in order to allow the dog to eat normally.
Whippets have been known to develop eye diseases, heart problems, and blood clotting issues.
They also react negatively to anesthesia. We go into greater detail about each of these conditions in this article.
As we alluded to in the previous section, Italian Greyhounds easily develop tooth and gum infections if their teeth are not cleaned regularly.
This condition may be exacerbated by feeding them a diet that is high in sugar.
Italian Greyhounds are also prone to epilepsy, leg and tail fractures, joint problems, vision loss, and hypothyroidism, and may also react poorly to anesthesia.
Finally, Whippets have a lifespan of 10-13 years, and Italian Greyhounds have a slightly longer average lifespan of 13-15 years.
Italian Greyhound compared to Whippet intelligence
They are sighthounds and are driven to gallop after prey, many times on a whim.
Both Italian Greyhounds and Whippets can present a training challenge.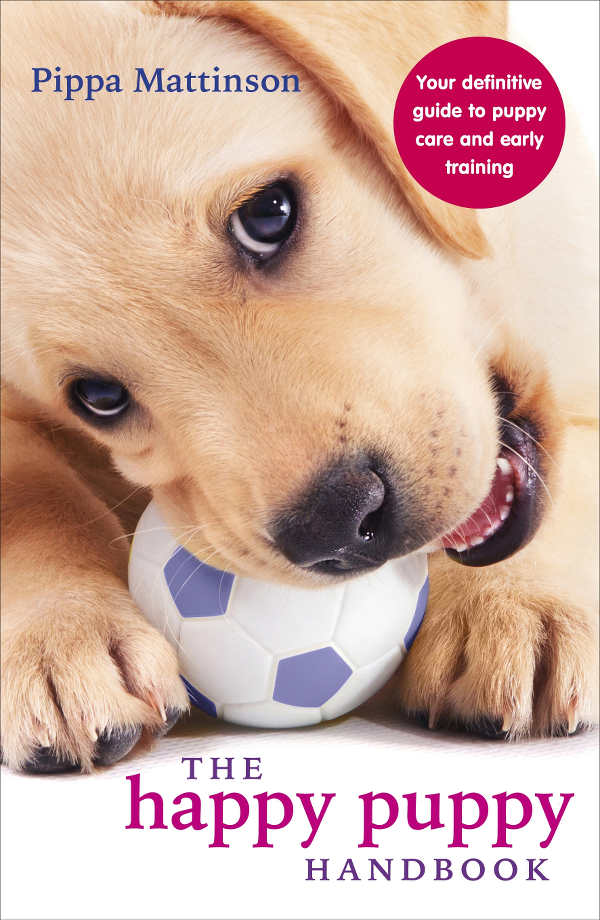 They are also stubborn, which can add another level of frustration.
For the aforementioned reasons, neither breed is recommended for first-time dog owners.
Additionally, like many Toy breeds, Italian Greyhounds can be a little skittish around new people.
You'll want to make sure they are properly socialized from birth or as early as possible to help them adjust to new faces and places.
Both breeds may be little escape artists, as well, so it's imperative that you have a sturdy enclosure for when they are outdoors.
Make sure that you don't allow your dogs to sneak past you and out the door, especially if you live along a busy road.
Finally, it's important to use a gentle hand with both Whippets and Greyhounds, for both are sensitive souls who do not take well to harsh words or punishment.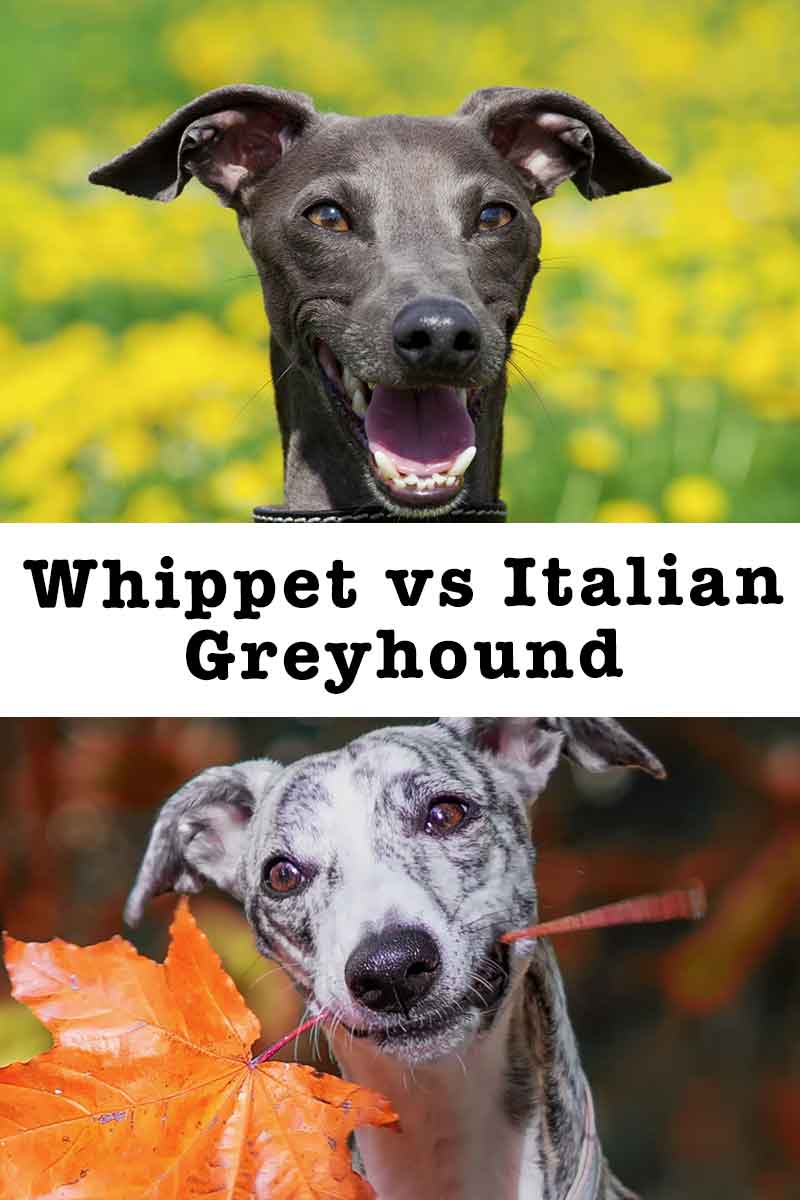 Whippet vs Italian Greyhound – a summary
When comparing the Whippet vs Italian Greyhound, it's easy to think that you're talking about the same dog.
After all, both breeds originate from sighthounds, and both are cousins of the Greyhound.
Both have bodies and minds built for chasing after things, although the Italian Greyhound is more of a pet than his larger Whippet cousin.
But, the biggest difference lies in their size and timeline.
Italian Greyhounds make their debut as favored lap dogs during the pre-Reniassance era.
While Whippets weren't as common until the 1800s, when they became beloved sporting dogs in England.
Regardless of whether you decide on a Whippet or Greyhound, you will still be the owner of a true piece of history!
Just remember that either pup is a bit fragile and won't take well to cold weather.
Want to Read More?
We've got plenty of similar breed comparisons for you to take a look at. Just click on the links here:
References