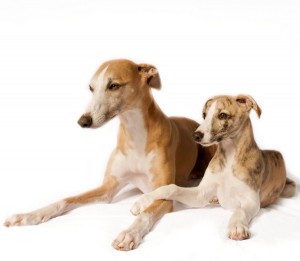 Few dogs are as distinctive as the humble whippet.
Though small in stature, this breed has a big personality and an iconic look with wide appeal.
Full of enthusiasm and charm, there are a lot of reasons to consider that the whippet might be the dog for you. So are there any potential pitfalls to inviting this breed to join your family?
History
The Whippet as we know it was bred in the North of England in the late 1700's, as a result of the selective breeding of lurchers to long-legged terriers.
Whippets were originally used to catch small game, such as rabbits and rats.
However, people quickly found a fun alternative to this line of work, and began making use of the whippets for gambling.
Creating rag races, where the whippets ran on straight tracks across fields, chasing a rag or piece of cloth.
Whippets are still today used for work by farmers and game keepers in England, and occasionally for sport by some, but are also much admired pets.
This is probably due to their small size, and very affectionate characters.
Characteristics
Whippets have a very particular look, with their greyhound shape and small size. The Kennel Club describes them as having a 'balance of muscularity with neatness, power with elegance'.
They have a short, smooth coat which comes in a range of colours including, black, white, fawn, brindle and more.
Whippets are known to make very good house pets and companions, as long as they have at a total of about 30 minutes of exercise every day.
Being born sprinters, the best way to exercise them is usually to take them for several short runs a day. This will also help to keep them calm and rested at home.
Bred for hunting, whippets are not just keen runners, but have a high prey drive.
This means that they are likely to obsessively try and get at any small furry hutch-pets, like guineapigs and rabbits, that you might already have at home.
They have also been known to chase and even catch and kill cats.
If you already have a cat and have your heart set on a whippet, then it might be best to get a puppy rather than an older dog. A puppy who has grown up with a cat will be far less interested in pursuing it than an adult who has been allowed to see them as prey for a while.
Proper socialisation and training are essential if you ever want to let a whippet off-lead in an unfenced location. You will need a bomb-proof recall, which can be achieved with dedication their training from an early age.
Temperament
Whippets are known to be friendly little dogs, who when well exercised will love nothing more than curling up next to you on the sofa.
Although they are often very good companions for children, it is important to remember that you must teach your children to respect your dog. Don't allow them to harass him or disturb him when he is sleeping.
As with any breed, socialisation to a wide range of people and situations from a young age will really help to keep a whippet confident and unafraid.
Daily Care
As I have mentioned previously, whippets do require exercising every day. If you do so, they will be a relaxed member of the household when you get home.
Due to their strong prey-drive and fitness, you will need to make sure that your garden is secure. A continuous fence of at least 5 foot should suffice to keep them from leaping into the neighbours garden and harassing their rabbits!
Despite being naturally fit dogs, they do have a few special requirements due to their composition and breeding.
They are slimly built little dogs, and as such will require a jumper or coat in the cold or wet weather when outdoors.
They do shed a little, but are not big moulters so a brief weekly brushing is all that will be required to keep your home relatively fur free.
Their thin coats and skin also mean that they are quite susceptible to bumps and scratches.
Potential Health Problems
Whippets have been bred for speed and hunting ability, and so are thankfully fairly free from some of the nasty genetic diseases that are rife in other breeds.
They do however have some cases of eye diseases with a genetic component, so if you are buying a puppy make sure the breeder has clear eye certificates for both of the parents.
They also have some incidences of von Willebrand's Disease – a blood disorder which affects clotting. Signs of this include nose bleeds, bleeding gums, and prolonged bleeding after surgery or bitches being on heat.
It usually appears between 3 and 5 years of age, and sadly has no cures although it can be managed with treatments including cauterising, suturing, transfusions and some medication.
Family Pets
If you are looking for a family pet, then the whippet should be a strong contender.  With their good health, great temperament and house-friendly size, they make wonderful companions.
Remember, before you purchase any puppy you must make sure you are prepared for the responsibilities of dog ownership.
Research breeders thoroughly and visit the puppy with his mother, and even arrange to see the father if possible!
There is no such thing as being too prepared, and the better you are informed the easier the transition into dog ownership will be.