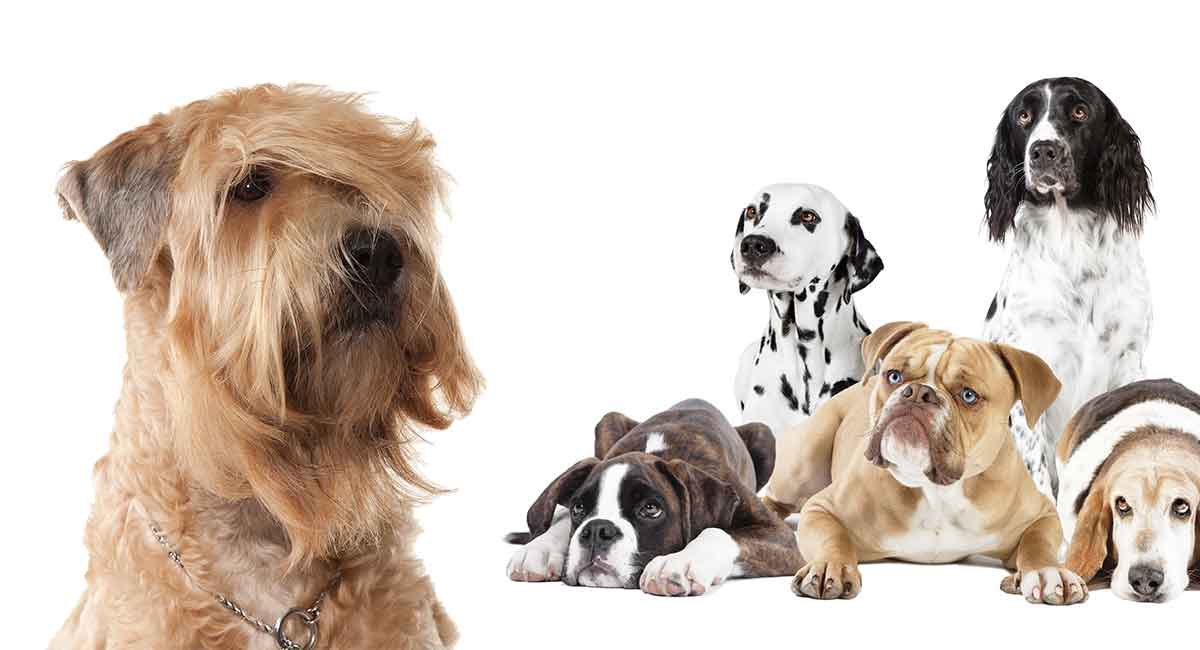 Wheaten Terrier mix puppies combine a Wheaten Terrier parent with another breed. In general they are cheerful, outgoing, hard working and loyal dogs, but their temperament traits and appearance will vary. A Wheaten Terrier mixed with a similar breed will produce puppies that are good with families of all ages, but they will also retain that typical terrier stubbornness, independence, strong prey drive and herding instincts too.
Contents
What Do Wheaten Terrier Mixes Look Like?
The Wheaten Terrier originally hails from Ireland, but today this breed sports two distinctive coat types. Both coat types are single-coated (so no insulating undercoat) and non-shedding.
The original Irish coat is the signature wavy, silky coat the breed has become known for. The newer English/American coat type is heavier, denser and more woolly than silky. A first generation mixed breed puppy is likely to have a long coat if the other breed has one, but most of them will have shorter more coarse coats than the Wheaten parent.
Wheaten Terrier Mix Temperament
Personality is a huge selling point when it comes to Wheaten Terriers. However, they do have their downsides for owners that aren't experienced trainers when out near livestock. It is possible that a mix breed dog will have a lower prey drive if the other parent isn't from working stock, but you can't rely on this to keep your neighboring wildlife safe.
Mixed breed puppies can take after either of their parents, or be a fun combination of the two.
Are They Healthy Dogs?
Wheaten Terrier dogs are fairly healthy, but when you combine another breed with them this can be compromised, or even improved on. Make sure that the Wheaten Terrier parent has been hip scored and has clear eye tests. The other parent should be tested for any conditions that relate to their breed.
Try to avoid mixes where the other parent has an obvious structural issue like a short muzzle or elongated back, and these come with added health issues.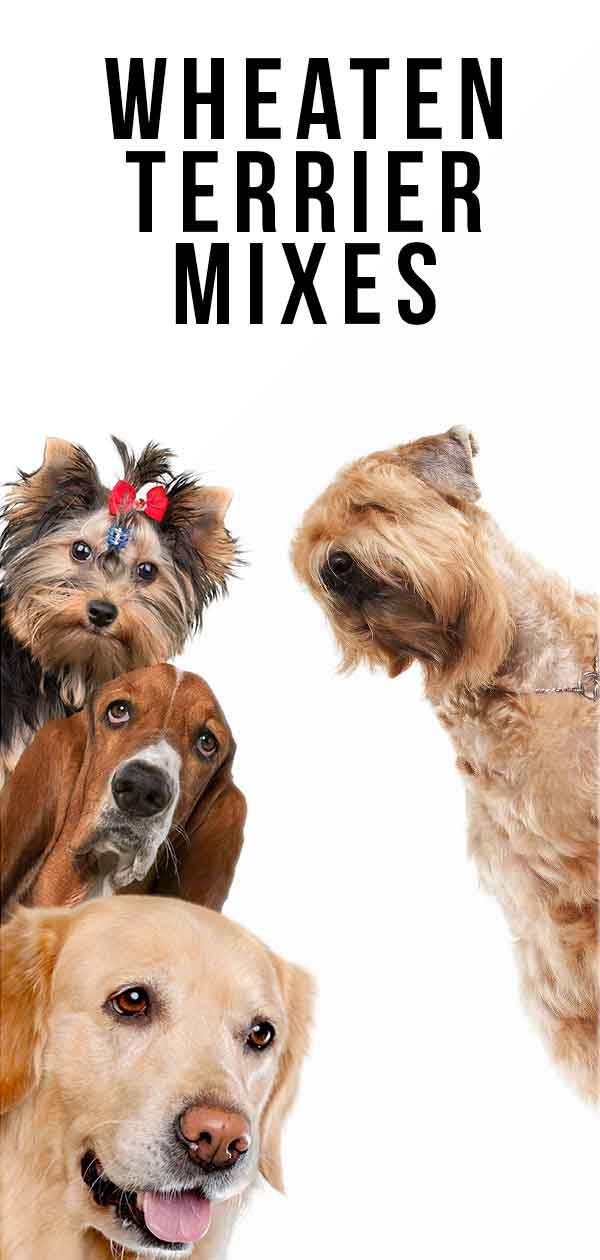 Wheaten Terrier Mixes
Although technically you could combine a Wheaten Terrier with any other breed you want, there are some mixes that are more popular than others.
American Eskimo Wheaten Terrier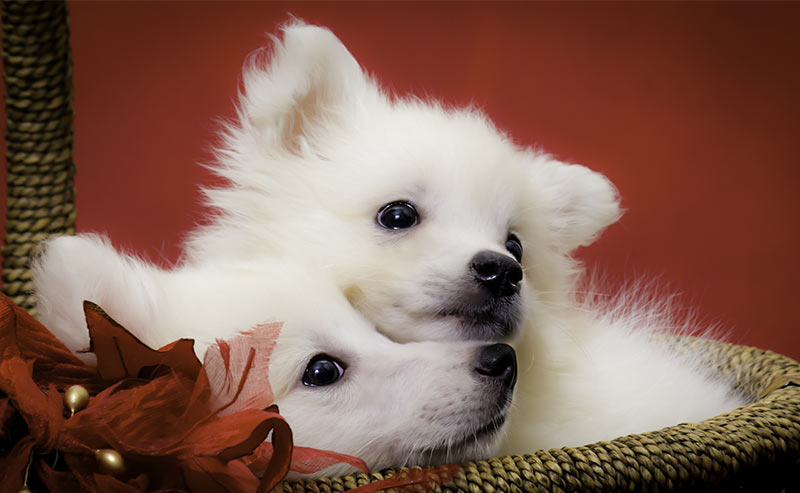 The American Eskimo dog is bred in three sizes. But the most common hybrid pairing breeds the standard "Eskie," who weighs 25 to 35 pounds, to the Wheaten, who weighs 30 to 40 pounds. This results in a weight range of 25 to 40 pounds for your Wheaten Eskimo.
This dog pairs a single-coated, non-shedding pup with a double-coated, heavily shedding pup. So expect some type of happy medium with moderate shedding and grooming duties.
Unlike terriers, Eskies are not stubborn and have a strong drive to please in training and life. Your hybrid pup may be more biddable and highly likely to want to learn tricks.
Wheaten Terrier Australian Shepherd Mix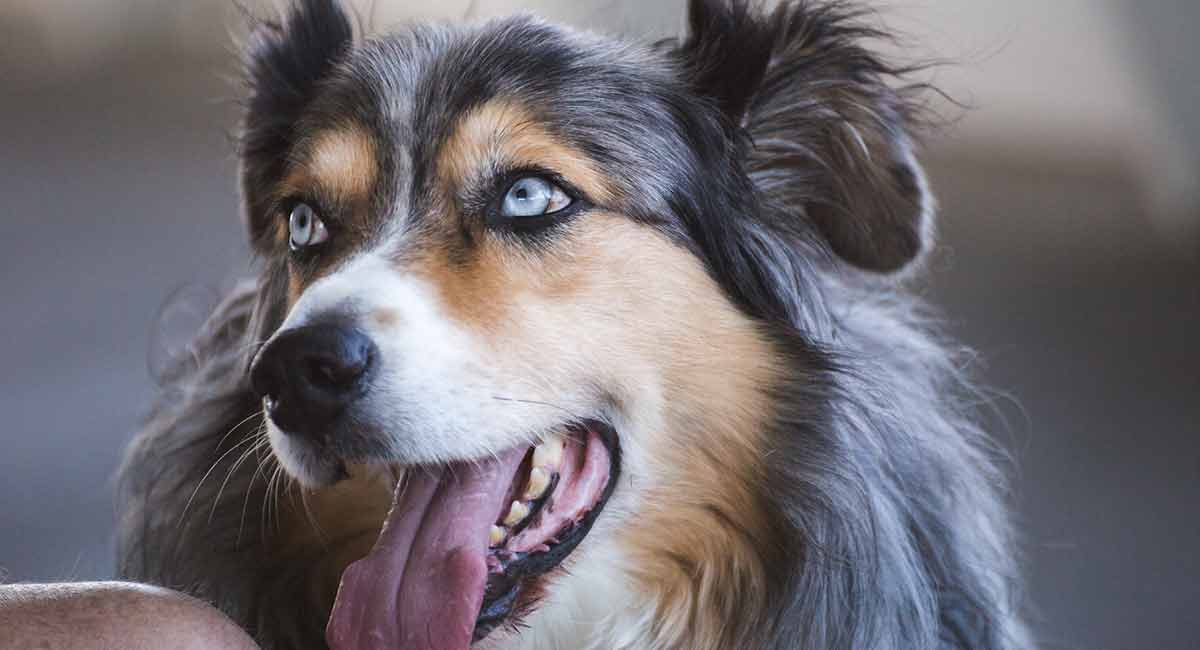 This hybrid breeding results in a slightly larger, heavier pup weighing between 30 and 65 pounds.
It pairs a double-coated shedding breed with a single-coated non-shedding breed, so you may get year-round and/or seasonal shedding.
They inherit a strong working dog ethic from both parents, and may be somewhat independent in temperament. Australian Shepherds are notoriously hard working dogs. However, they are very loyal and affectionate.
Beagle Wheaten Terrier Mix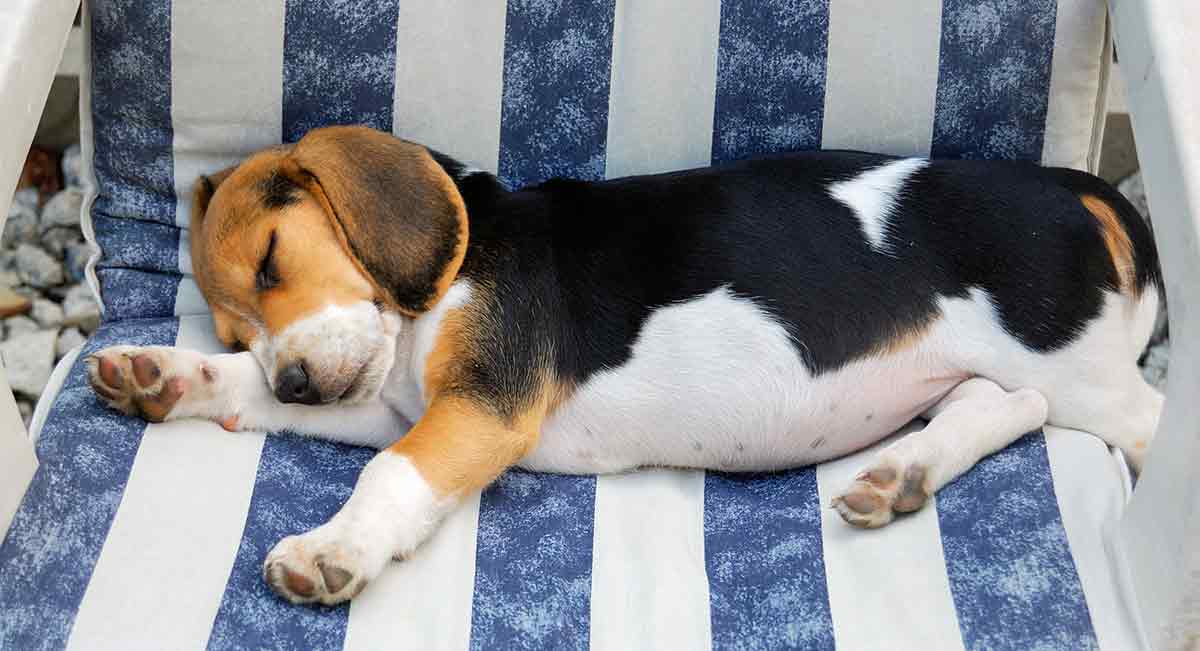 The Wheagle weighs 20 to 40 pounds and lives 10 to 15 years. Your hybrid may have a partial double coat and inherit the Beagle's musical howl rather than the Wheaten's bark, depending on parent influence. They tend to be bright, active and people-centric.
Wheaten Terrier Border Collie Mix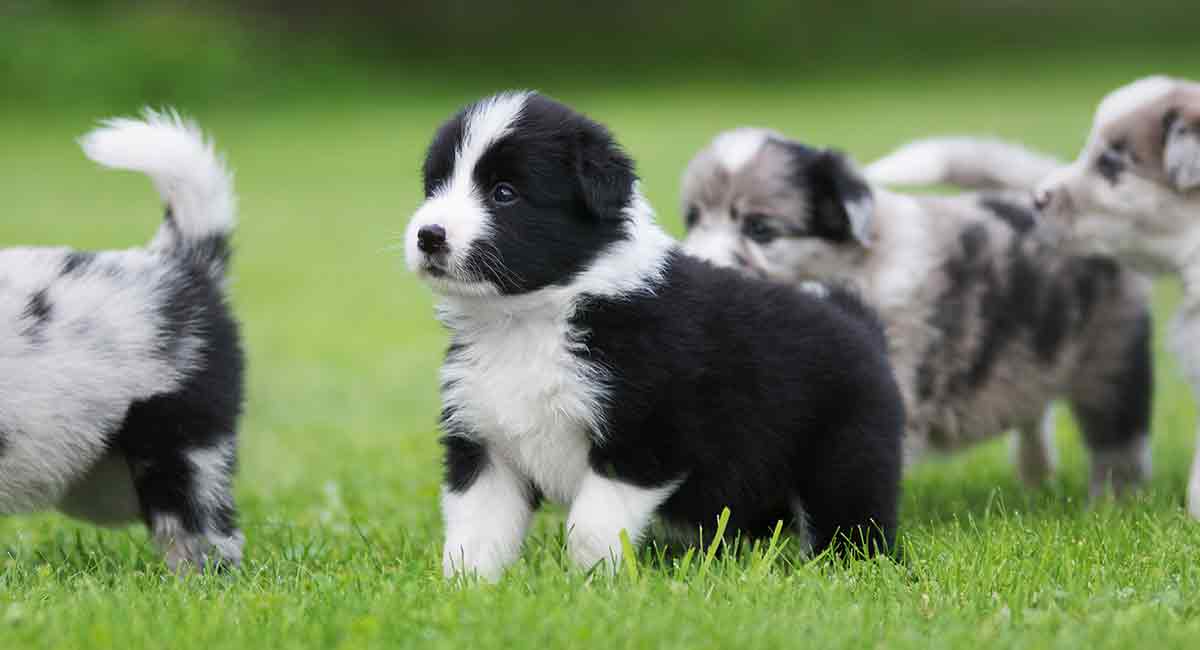 An adult Border Wheaten weighs 30 to 55 pounds and live 10 to 15 years. They will shed somewhat year-round and seasonally regardless of coat type.
This is a high-energy working dog and canine athlete to the core. The Border Collie is a very intelligent and loyal companion for the right homes.
Boxer Wheaten Terrier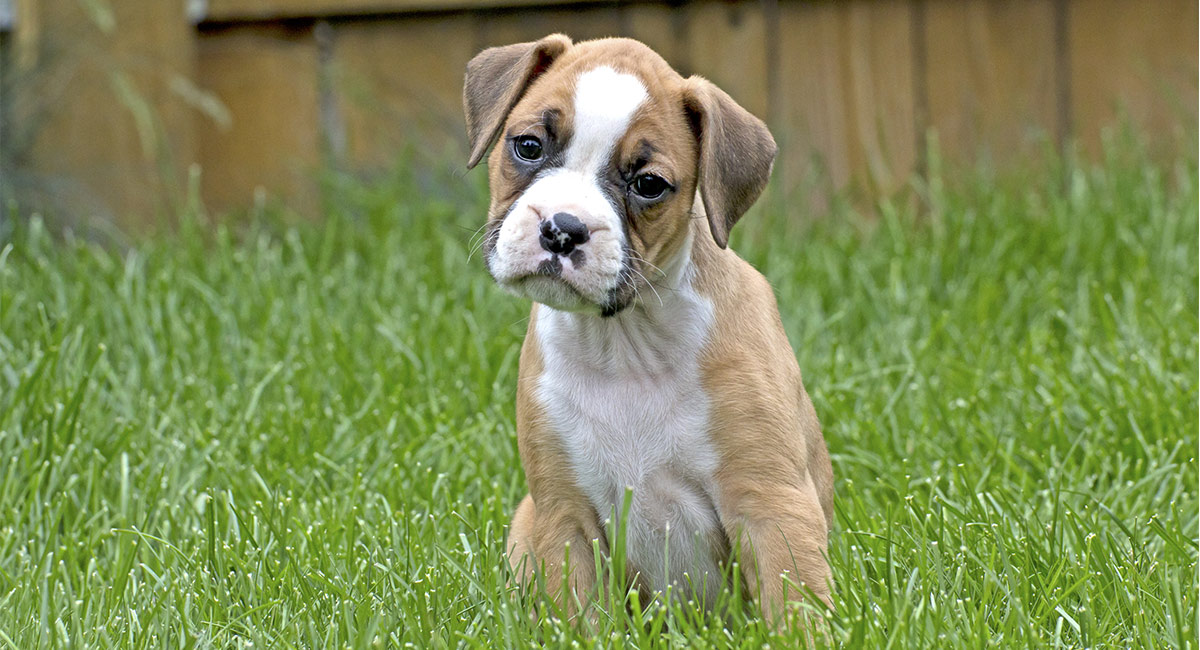 The Woxer may weigh anywhere from 30 to 80 pounds depending on which parent dog your puppy favors. This hybrid will shed moderately and will benefit from regular brushing.
Your Woxer is at risk of inheriting health concerns associated with the Boxer's brachycephalic (flat) muzzle shape. But some Boxer's have a better head shape than others.
Wheaten Terrier Bulldog Mix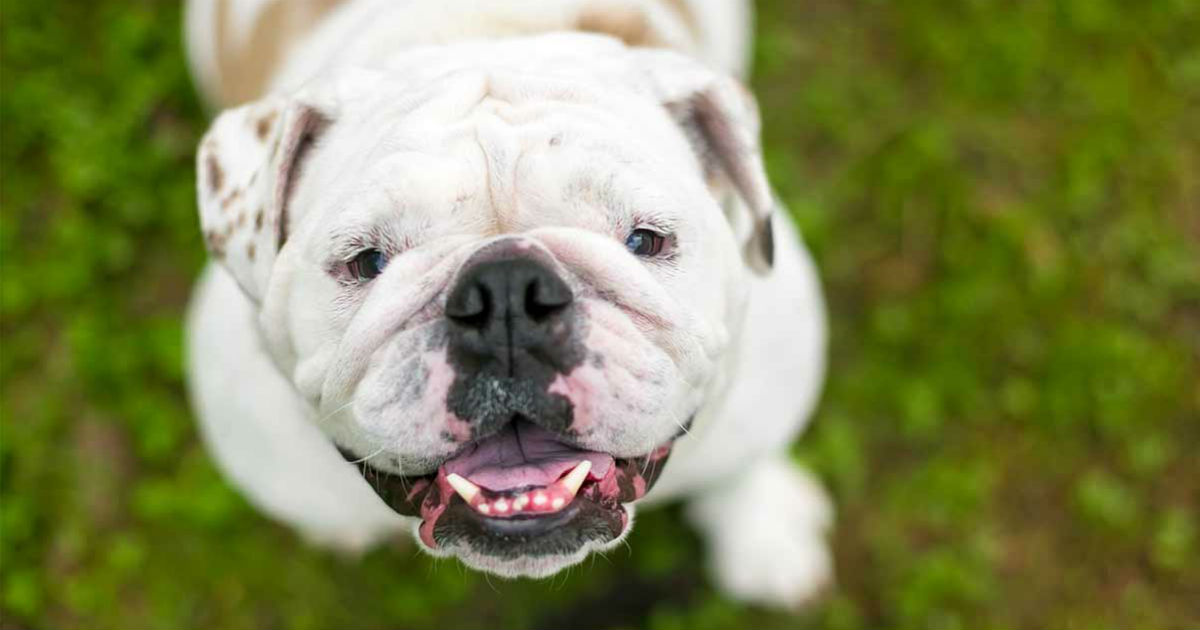 The Bully Wheaten weighs 30 to 50 pounds. Their typical life span is eight to 12 years. This dog will shed year-round. Luckily, your pup's winning personality makes up for some of the cleaning duties.
Your Bully Wheaten could have concerning health issues from the Bulldog parent's brachycephalic muzzle shape. Unfortunately, we recommend avoiding any English Bulldog mix for this reason.
Cavalier King Charles Spaniel Wheaten Terrier Mix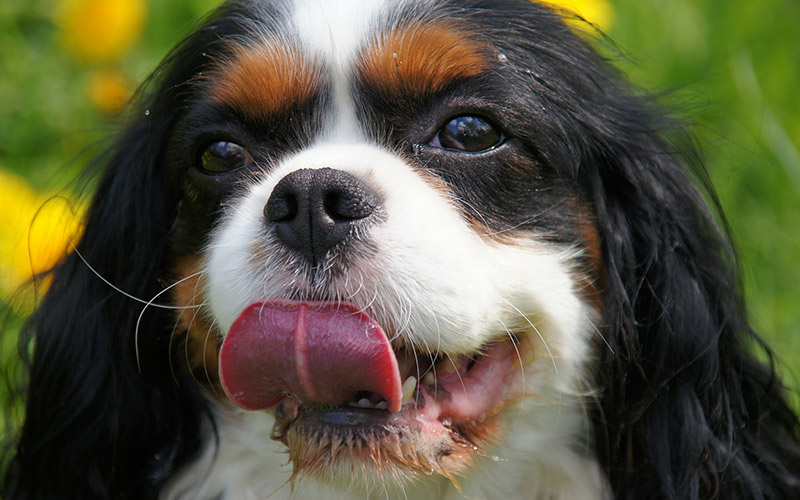 The King Wheaten's weight range is 13 to 40 pounds with a life span of 10 to 15 years. This dog inherits silky, longer hair from both parents.
Wheaten Terrier Chow Chow Mix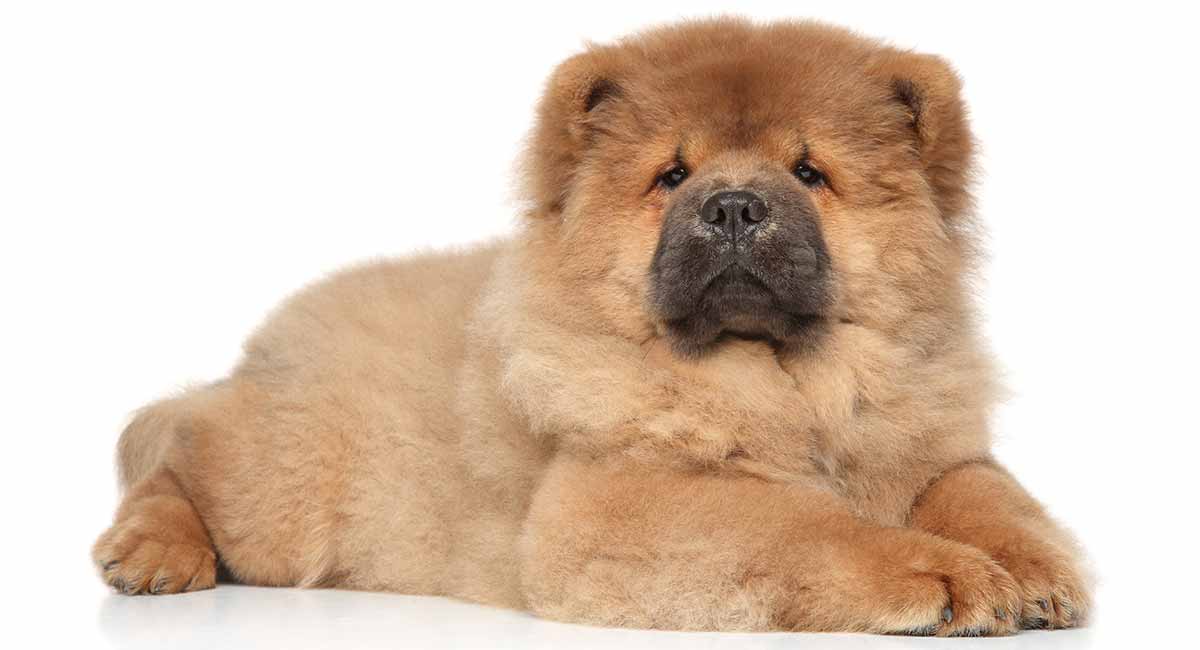 Your Wheatenchow probably weighs 30 to 55 pounds and lives eight to 12 years. Expect regular, and at times profuse, shedding—especially if your pup takes after the Chow side.
Check your state's dangerous dog laws before choosing a Chow mix, as they are banned in some areas.
Golden Retriever Wheaten Terrier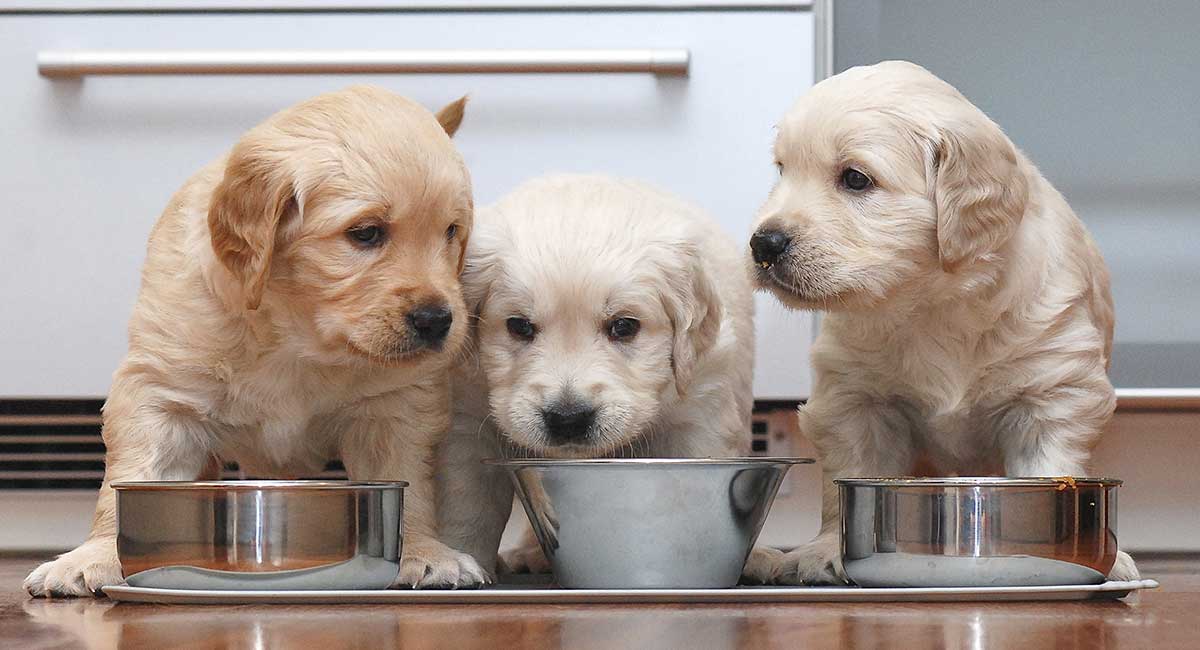 You can't go wrong choosing a soft-coated Golden. This puppy inherits famous friendliness from both parent dogs. Golden Retrievers are general excellent natured pets. Expect an adult weight range of 30 to 75 pounds and a life expectancy of 10 to 12 years.
This pup sheds year-round and seasonally.
Wheaten Terrier Havanese Mix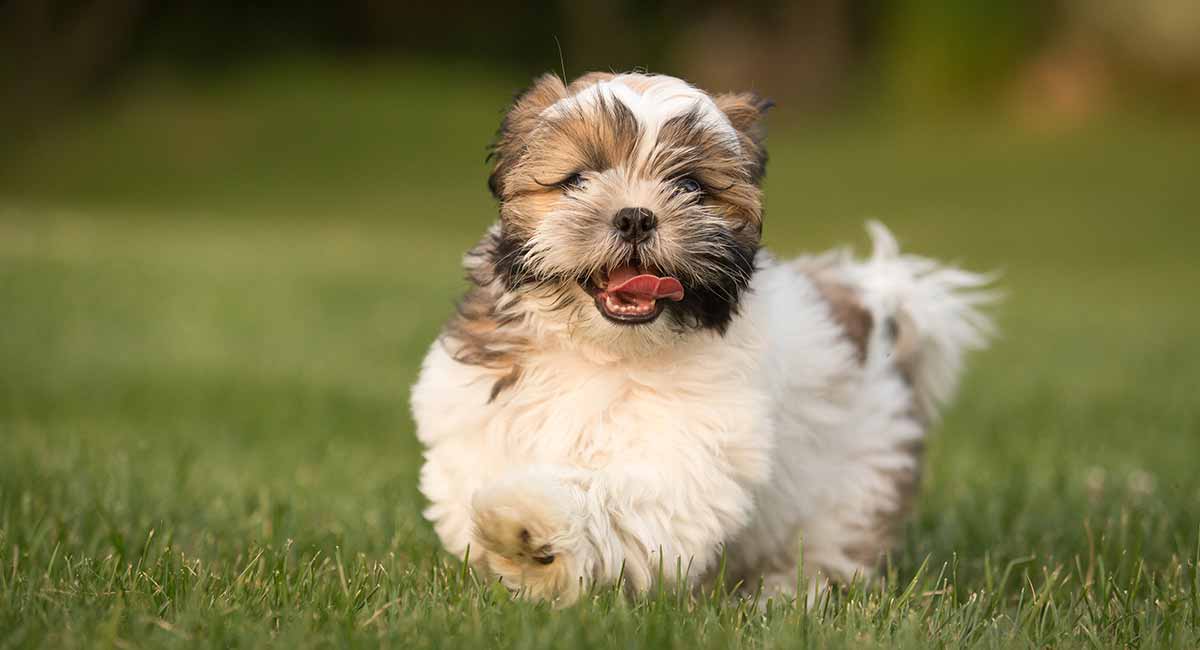 The Havawheat, a cross between a Wheaten Terrier and a Havanese, weighs anywhere from 7 to 40 pounds and lives 10 to 16 years. You won't see a lot of shedding with this hybrid, but you have to do a lot of brushing.
Jack Russell Terrier Wheaten Terrier Mix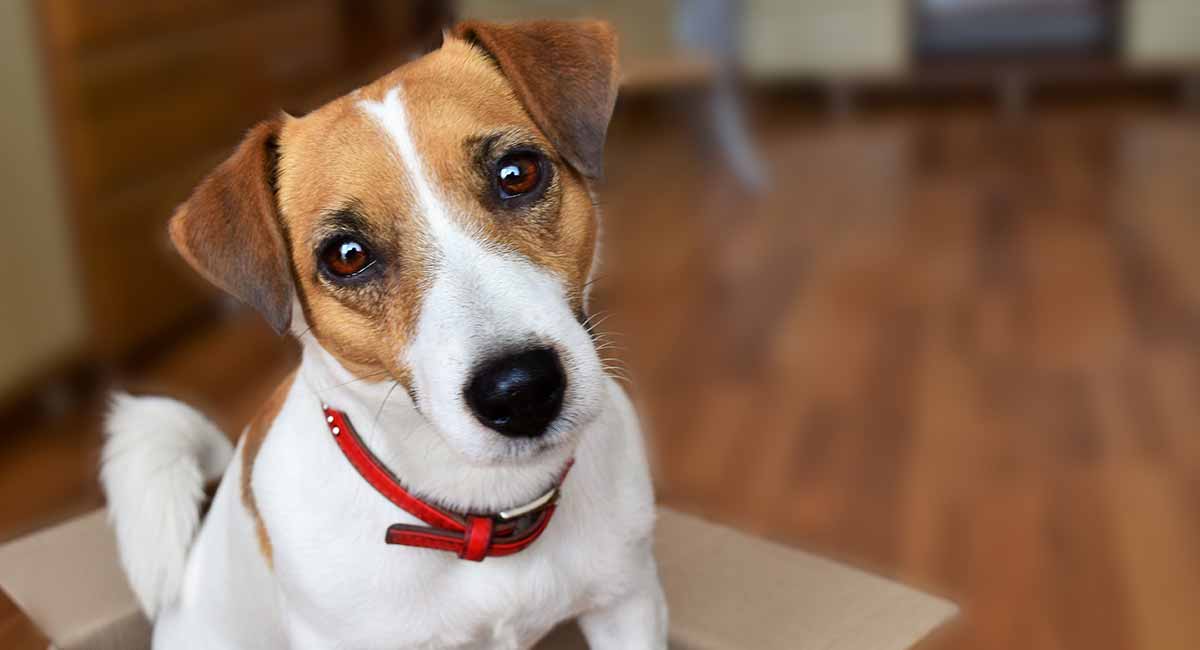 The Jackawheat is a Terrier, and you can see an independent spirit during training. The independence of the typical Jack Russell might well shine through. This dog sheds lightly and needs regular maintenance brushing.
Wheaten Kerry Blue Terrier Mix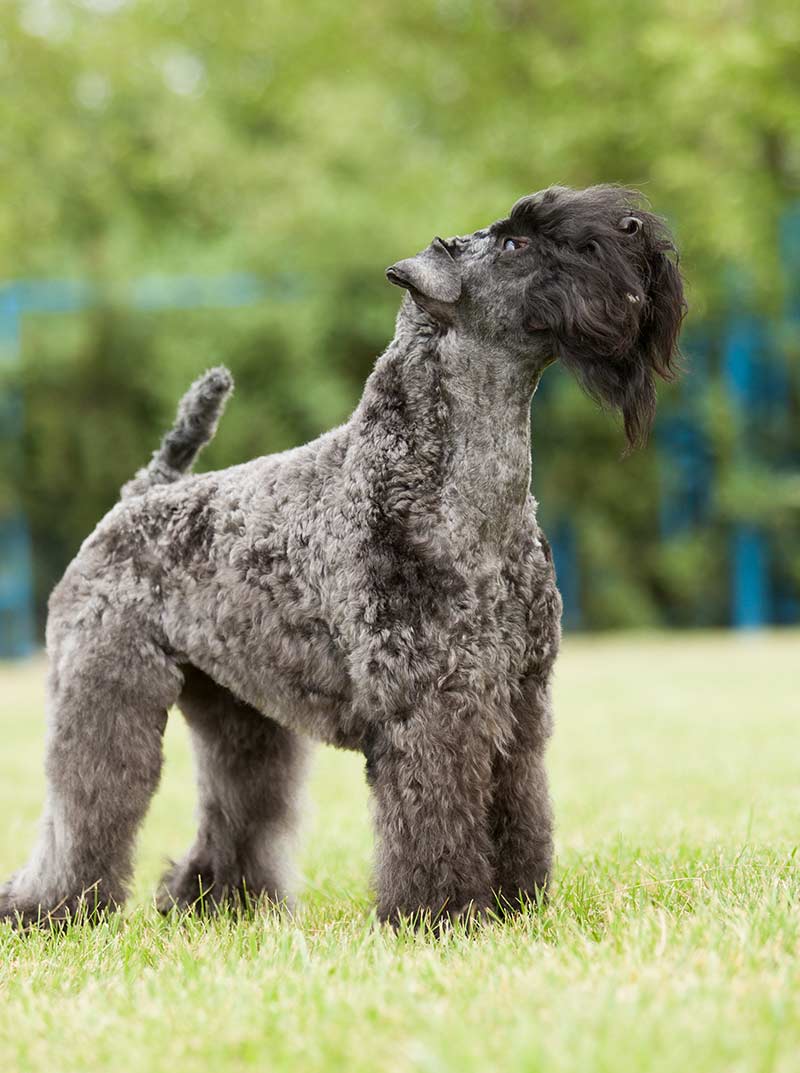 The Kerry Wheaten is an eye-catching Terrier—whether your puppy inherits the pale wheat coat of the Wheaten parent or the signature blue/gray coat of the Kerry parent. This dog doesn't shed but needs lots of hand-stripping to prevent tangles.
Labrador Retriever Wheaten Terrier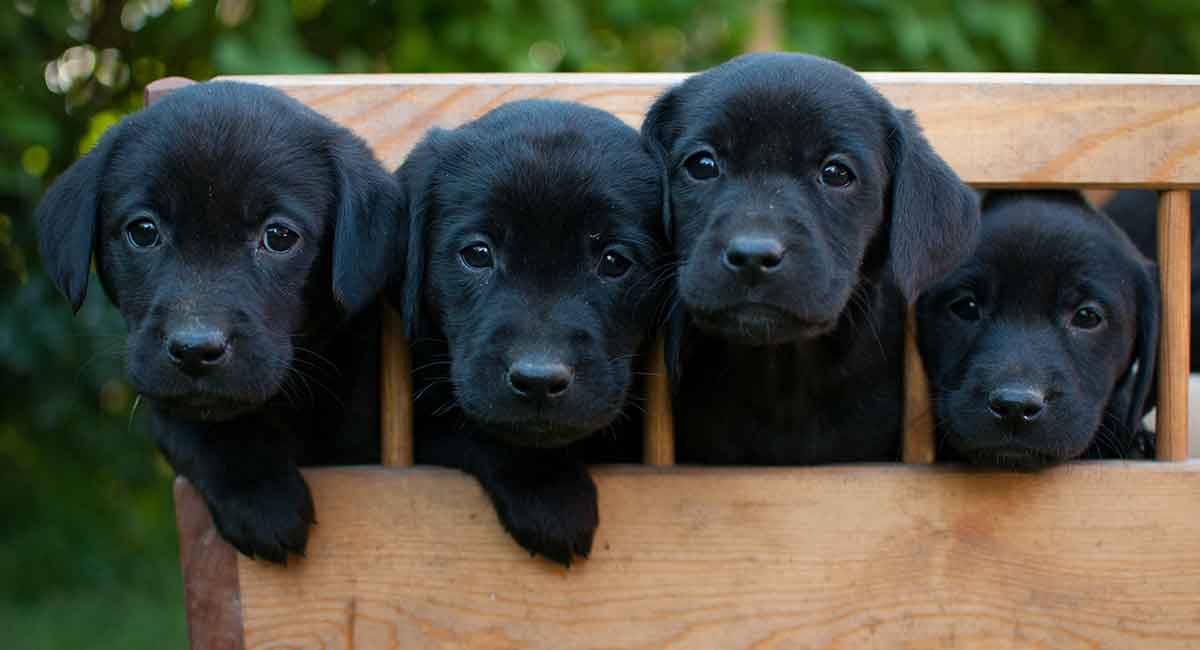 The Wheatador weighs anywhere from 30 to 80 pounds, and has a life expectancy of 10 to 12 years. This pup inherits a lively, extroverted, friendly and people-centric personality from both parent dogs. The coat sheds more or less depending on which parent your puppy favors.
Wheaten Terrier Lhasa Apso Mix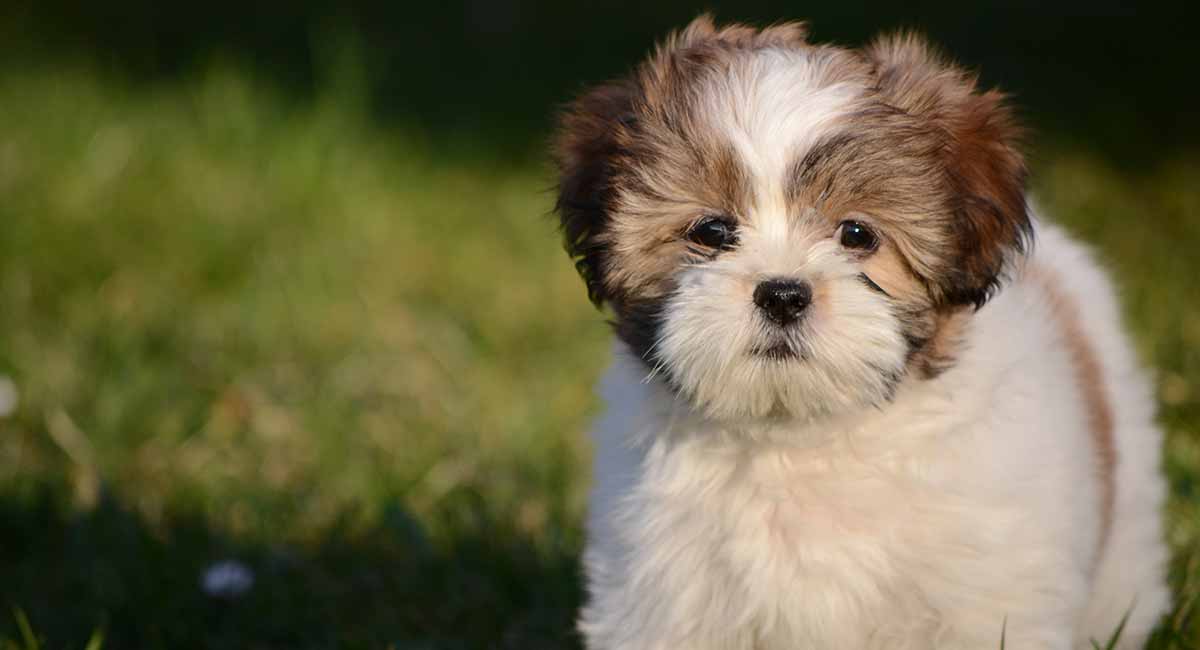 The Wheaten Apso combines the genes of the petite Lhasa Apso with the sturdier Wheaten. This hybrid dog won't shed visibly in most cases, but you must commit to daily brushing to avoid tangles.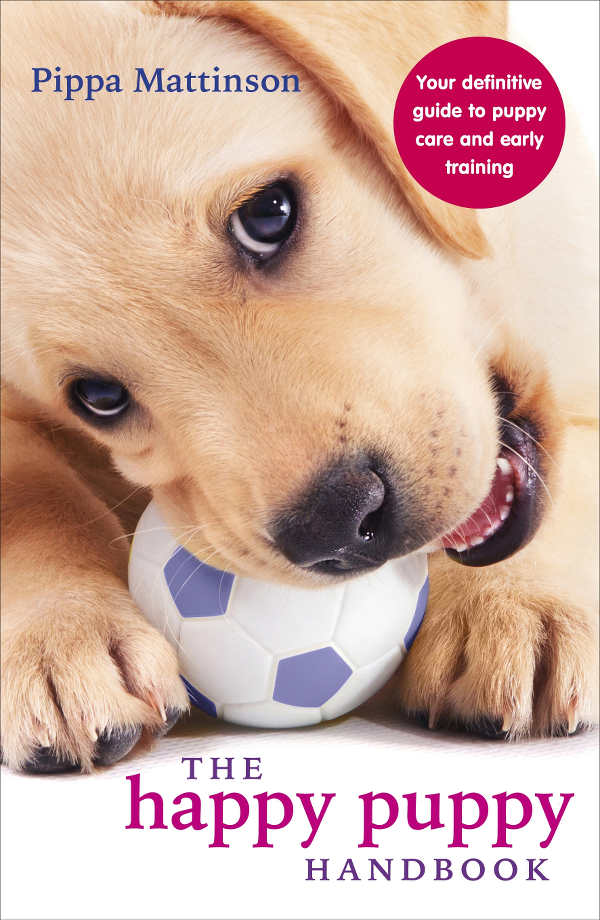 Miniature Schnauzer Wheaten Terrier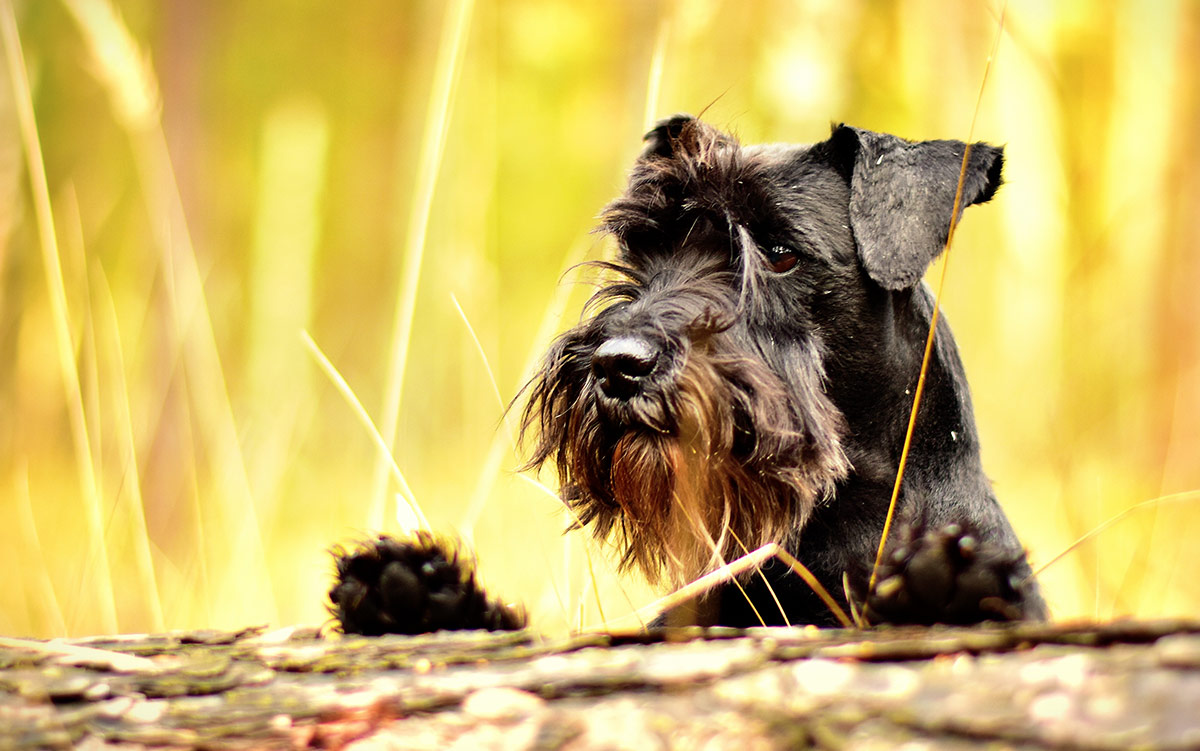 Your Soft Coated Wheatzer weighs anywhere from 11 to 40 pounds with a life expectancy of 10 to 15 years. This dog is single or double-coated, with a silky smooth or wiry coat texture. They are smart, active and eager to be with you.
Wheaten Terrier Poodle Mix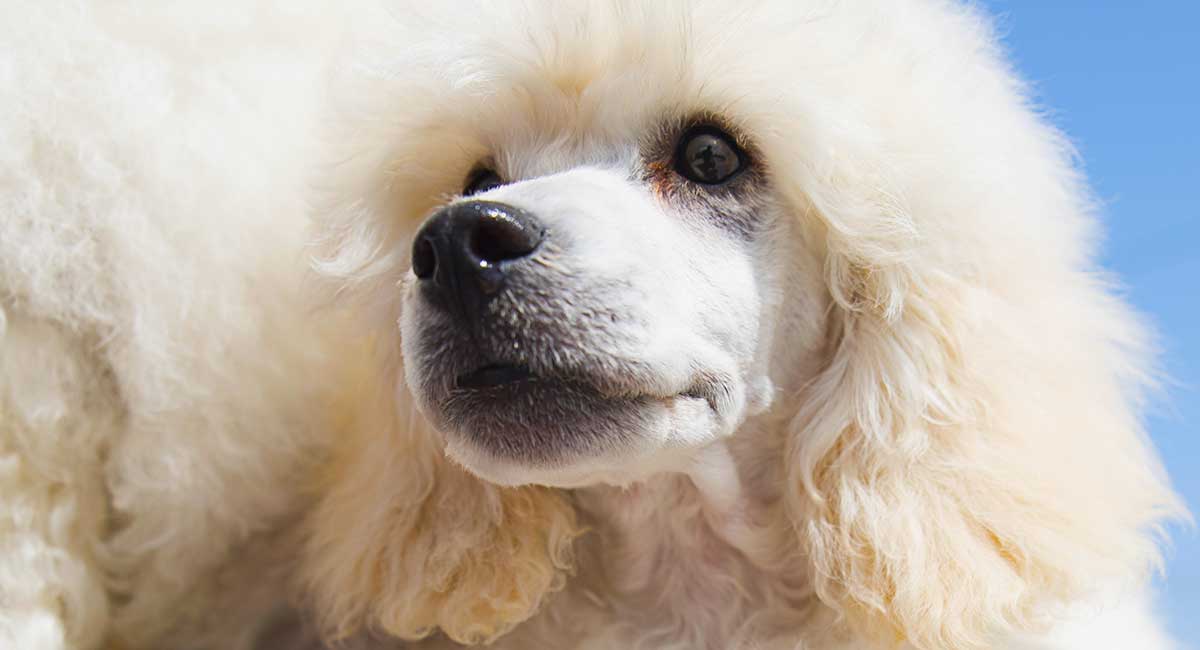 This dog has a non-shedding coat that needs lots of daily brushing.
Portuguese Water Dog Wheaten Terrier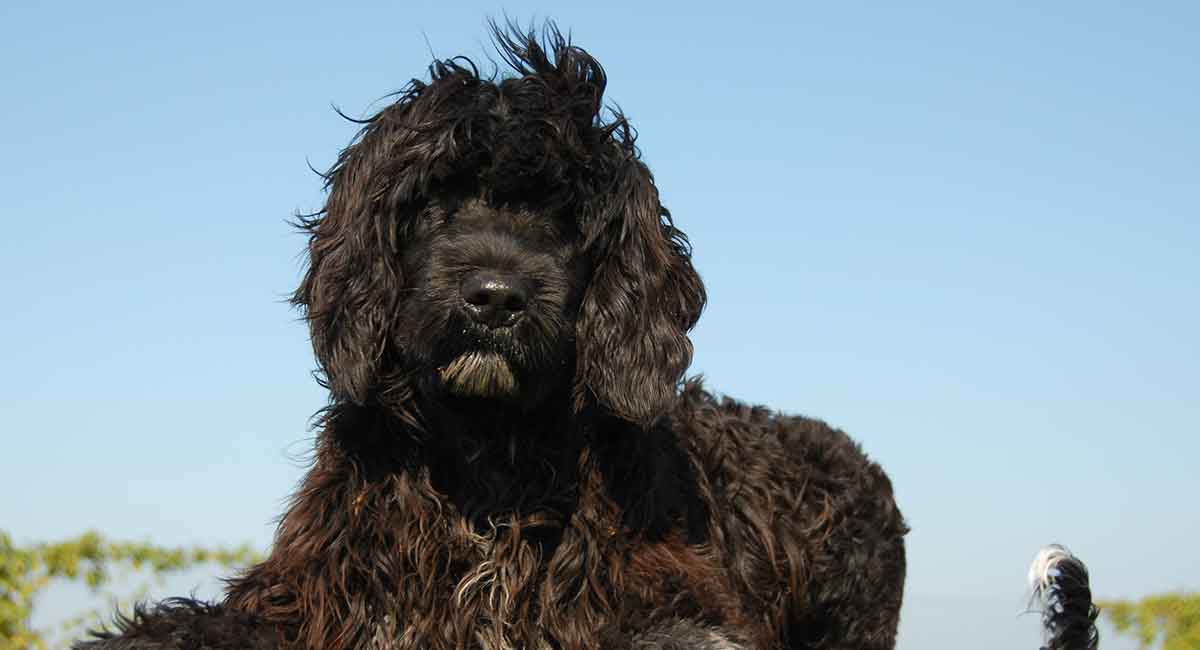 The Portuguese Wheaten are low shedding shed. It does need regular brushing or hand-stripping to remove trapped hair. Personality-wise, expect a happy, people-focused pup who can make an excellent canine athlete or companion—provided they get enough daily exercise.
Pug Wheaten Terrier Mix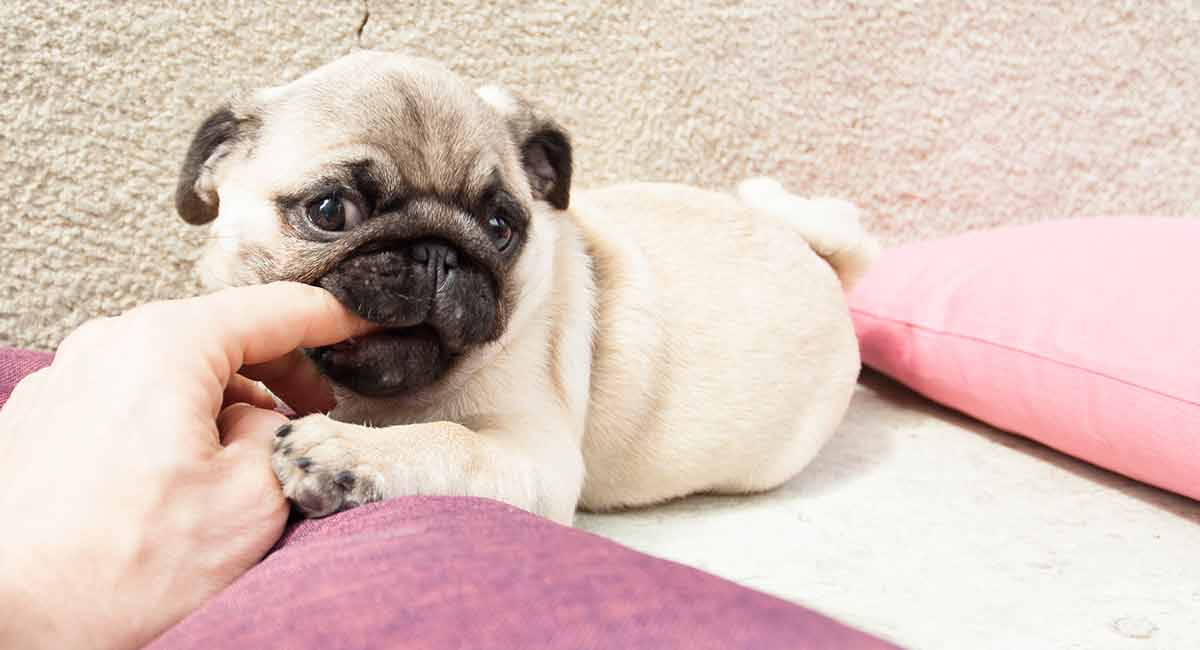 The Pugawheat, a cross between a Pug and a Wheaten terrier, may weigh anywhere from 14 to 40 pounds with a life expectancy of 10 to 15 years. This dog inherits a tendency to shed year-round from the Pug side.
The Pugawheat is likely to inherit the shortened, flat facial structure of the Pug parent.
Wheaten Terrier Shih Tzu Mix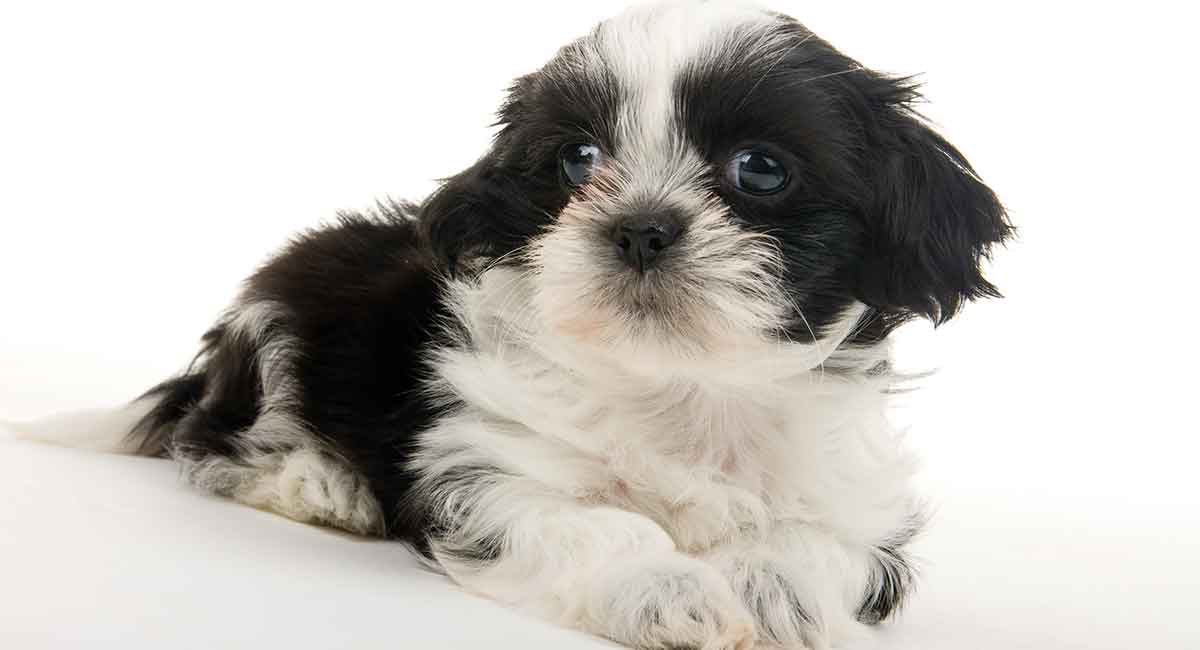 The adult range for your Wheat-Tzu is 9 to 40 pounds. The life expectancy ranges from 10 to 18 years with this hybrid pup. The Wheat-Tzu's coat is a single layer and feels silky. Expect daily brushing with this hybrid.
Wheaten Terrier Yorkie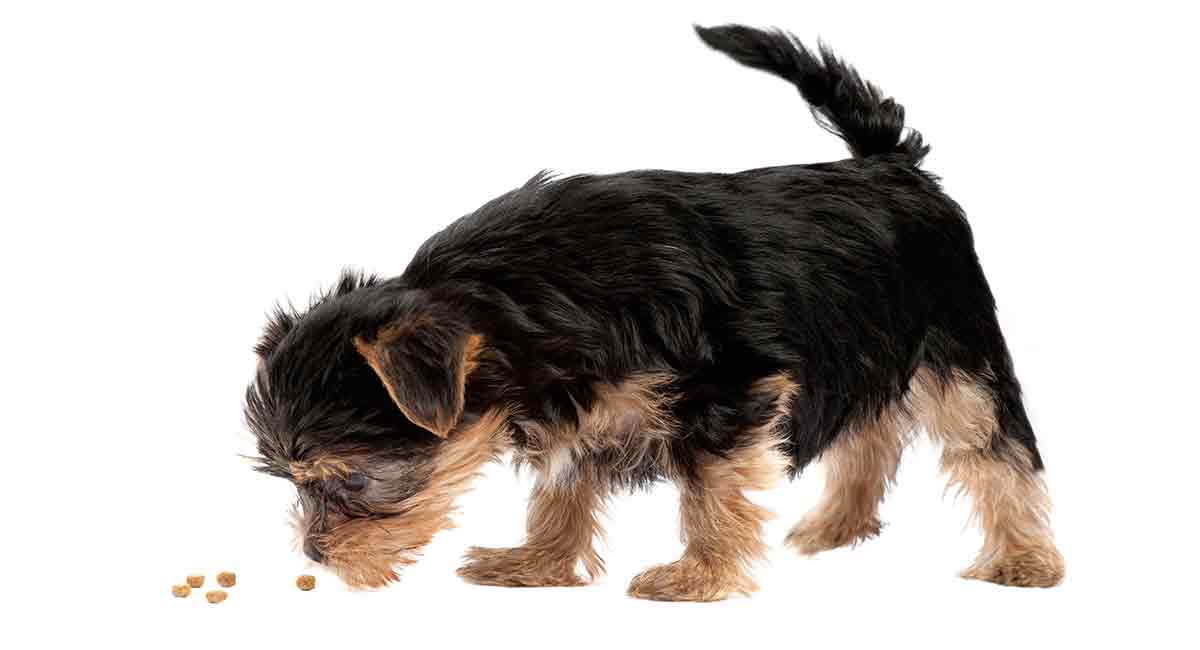 These dogs inherit a single coat from both parents that benefits from regular brushing.