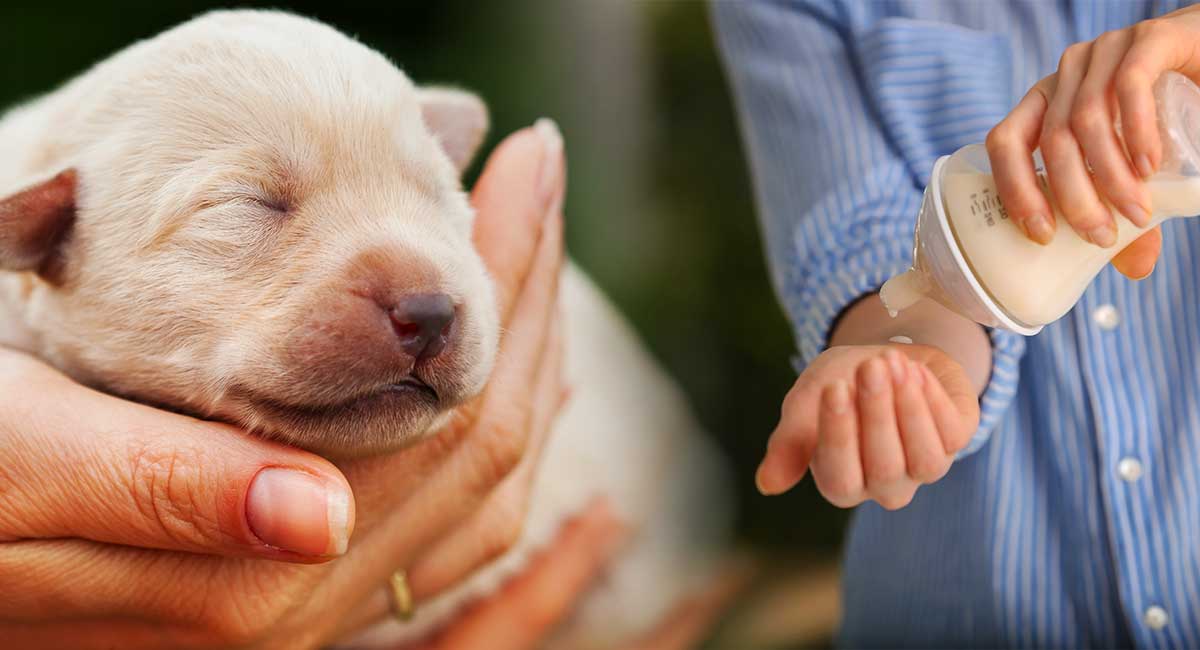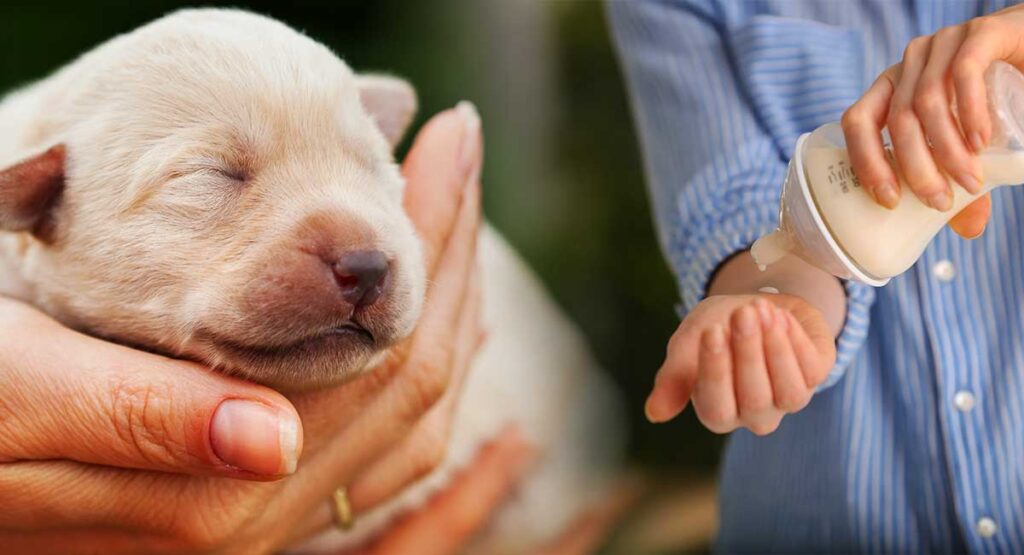 What type of milk do puppies drink? A mother dog's milk is specifically formulated to give puppies the exact balance of nutrients they need to grow.
If, for some reason, you need to feed your newborn puppies yourself, it's best to consult your vet and find an appropriate dog milk substitute.
Cows' milk doesn't have the right nutritional balance for puppies, so should not be used alone as a substitute for dog's milk.
If in doubt, your veterinarian is the best person to speak to.
What Type of Milk do Puppies Drink and Other FAQs
Feeding newborn puppies can be a complicated process for some dog owners. So, let's dive in and take a look at the best milk for puppies.
What Type of Milk do Puppies Drink?
Most puppies just need to drink their mother's milk. Puppies only drink milk until they are weaned onto solid foods.
This usually starts at around 4 weeks of age, until they are eating only solid foods at 7 to 8 weeks old.
A mother dog's milk is specifically designed to have all the nutrients that puppies need to grow into healthy older dogs. And, studies have shown that this nutritional composition changes throughout lactation.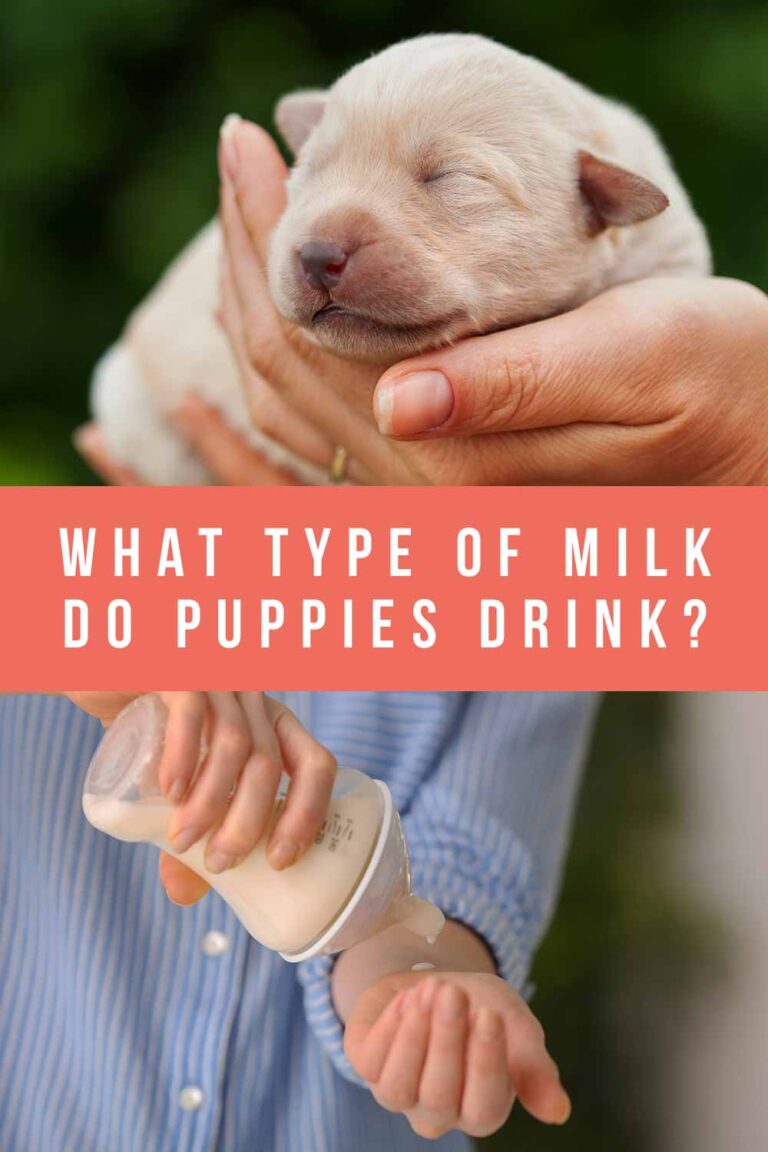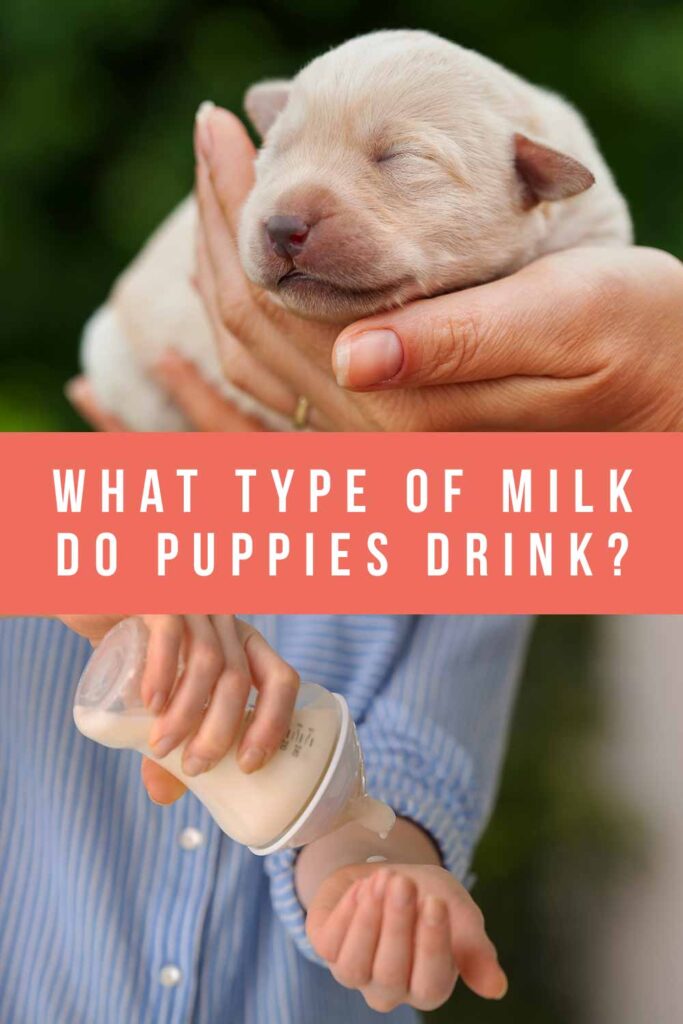 Achieving this exact balance of nutrients in a dog milk substitute can be quite difficult. In fact, a study into different dog milk substitutes found that even commercial products had vastly different nutritional balances.
So, if your puppies have a healthy mom producing lots of milk, you shouldn't need to interfere. She will make sure they have everything they need.
But, there are some cases where you may need to support your puppies a little more.
When Should You Give Puppies Milk Substitutes?
Most puppies won't need any extra food, or a milk substitute. But there are times when you may need to step in and feed them.
Firstly, and perhaps most obviously, is if your puppies are orphaned. Mother dogs can sadly pass away when giving birth, or shortly afterwards.
If your puppies don't have a mom to feed them, you will need to provide a dog milk substitute, and bottle feed them.
Second, your mother dog may be having trouble producing enough, or any milk. If she's failing to lactate, you will need to step in and make sure the puppies are getting enough to drink.
And thirdly, some individual puppies in a litter may not get enough milk. This could be because of an illness, a congenital defect, or even rejection by the mother.
If you're concerned that puppies are not getting their share, your vet may advise that you feed them with a milk substitute.
Can Puppies Drink Cows' Milk?
Cows' milk has a very different nutritional composition to dogs' milk. This is because it's designed to support calves.
If your puppy only drinks cows' milk, they may lack nutrients needed to grow into healthy adult dogs.
Most veterinarians will recommend you use a commercial dog milk substitute if your puppies need it.
This usually comes in the form of a powder that you make up into a liquid by adding water.
But, remember to speak to your vet for help choosing the best one, as their nutritional compositions vary significantly.
Can I Make My Own Puppy Milk Formula?
It is also possible to make your own dog milk substitution formula.
However, it will be difficult to ensure you're getting the right balance of nutrients for your puppy.
Once again, your vet is the best person to speak to. They may be able to recommend a recipe for creating your own dog milk substitute.
But, puppies drink a lot in their first few weeks of life. So, if you're making your dog milk yourself, expect to be kept quite busy.
For most people, it is more convenient to just buy a commercial substitute. It is less time consuming and means there's less pressure to guarantee the nutritional balance is correct.
How Should I Feed an Orphaned Puppy?
Once you've got your chosen dog milk substitute, you need to know how to feed it to your puppy or puppies.
Generally, the best option is to bottle feed them. This will mimic the natural nursing process for puppies.
But, follow your veterinarian's advice. If your puppy needs a milk substitute because of a congenital health problem, a different method may be best.
How Often Do Puppies Drink Milk?
When they are first born, puppies will drink a lot of milk. In fact, they may be seeking out food as often as every two hours.
They will continue to drink lots of milk until you start to wean them onto solid foods, which usually happens at around 4 weeks of age.
But, even after this, milk will remain a part of their diet until they are fully weaned onto solid food.
If you are having to bottle feed your puppies, you may need to attend very regular check ups with your vet to ensure your pups are a healthy weight.
If they are underweight, your vet may want to schedule more frequent feedings. Or, they may want to decrease the number of feedings if your puppies are getting overweight quite quickly.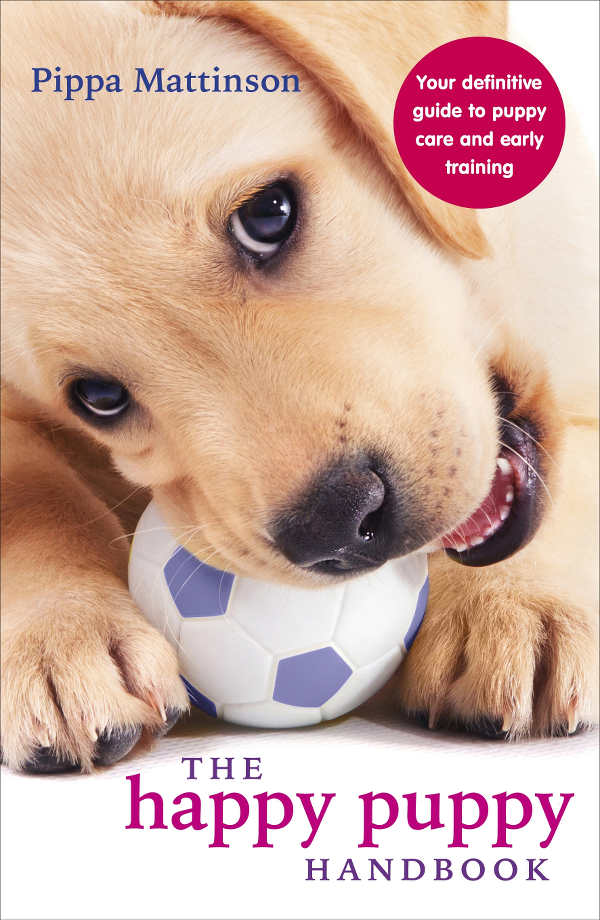 Can Older Dogs Drink Milk?
Many people choose to give their older dogs cows' milk.
As an occasional treat, cows' milk is fine for older dogs. But, too much of it, or drinking it too often can cause upset stomachs or weight gain.
Some dogs may also be lactose intolerant. It's not a good idea to offer your dog cows' milk if they are sensitive to it.
You can read more about dogs and milk in this complete guide.
But, like puppies, cows' milk should never be used as the only source of nutrients for your dog.
What Type of Milk do Puppies Drink? A Summary
Puppies will do best if they are able to consume their mom's milk. But, in a lot of cases, they aren't able to do this.
If your puppy needs a dog milk substitute, it is usually easiest to choose a commercial option. Speak to your vet to find the right one for your puppy.
Your veterinarian is the best source for answering questions about your individual puppy's health!
References and Resources