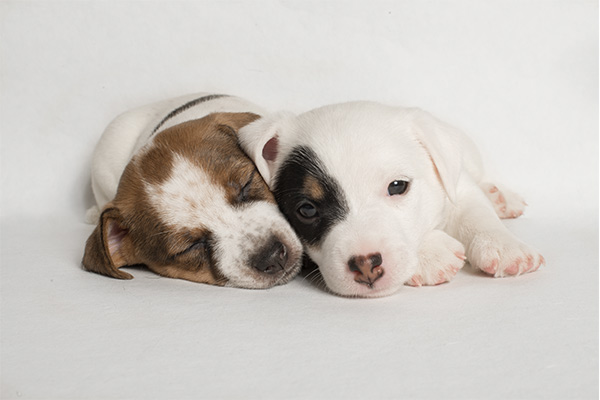 We are going to be talking quite a bit about pedigree dogs  on this site.
So before we go any further, I want to just take a look at what we mean by the term 'pedigree'.
If we take the word literally, a pedigree is simply an ancestral or genealogical record
However, what most people mean when they talk about pedigree dogs, is a dog that is 'pure-bred' and registered on the Kennel Clubs 'breed register'
Pure bred and registered
The image of the 'pure-bred' dog has taken a bit of a dive in recent years.
In some respects, with justification.
And we will be looking at some of the issues concerned in this series.
In today's article, I am just going to define 'pure-bred' and talk a little bit about pure bred dogs in general terms.
I think this will be useful for us to refer back to when we look at the issues surrounding dog-breeding in general, and pure-bred dogs in particular.
What do we mean by 'pure-bred'?
A pure-bred dog is one that has been produced from a mating between a dog and a bitch from the same registered breed.
When I talk about a registered dog, I mean a dog registered with the Kennel Club breed register.
These are records of the ancestry of pure-bred dogs that are kept by the Kennel Club and which go back in some cases over a hundred years.
Breed registers
The UK Kennel Club was the first national Kennel Club.  Though there are now similar organisations in many countries around the world.
When the Kennel Club was formed in 1873, it aimed to create a set of rules governing both the newly fashionable activity of dog shows, and the sport of Field Trials.
Keeping records
From 1874, stud books were created to record the winners of these competitions, and a few years later the idea of creating a register to identify individual dogs of each breed, was formalised
This seemed like a great idea, for a number of reasons.
Essentially, all enthusiastic breeders keep records.
This helps them to figure out which breedings are the most successful, and which are less so.
Pooling these records in a central register is a good way of gathering and storing information about each breed.
To begin with, this was quite an informal affair.  With dogs being registered as one breed or another, based on appearance and the preference of the breeder.  But over the years, one by one, the registers for each breed were closed.
The closing of the registers
Once a breed register was closed, only those dogs bred from dogs listed on the same register could join that register.
This is what we mean by pure-bred.
A dog might look like a golden retriever, behave like a golden retriever and, to all intents and purposes be a golden retriever, but if his parents are not registered as golden retrievers, he is not a pure-bred dog, and (with a very few exceptions) cannot be registered himself.
So a pure-bred dog is specifically a dog listed on a closed register.
Why did we close the registers?
Breeding between dogs which look similar, and behave in a similar way is a great way of producing puppies that will grow up to look and behave like one another.
This is very helpful, especially when breeding dogs for a specific role or purpose.
Don't Forget To Add Your Dog!

Imagine if you want a puppy of a particular size,  temperament.  If you mate two dogs, each of whom have one of the qualities you want, hopefully some of the puppies will share both those qualities.
But this is wasteful, because some of the puppies will have neither of the qualities you are looking for.
Taking puppies that have all the qualities you want and breeding those together is a way of ensuring that future puppies have those qualities too.  And of reducing 'wastage' – or puppies which in times gone past would have been 'culled'
Part of the rationale for prohibiting cross-breeding was to provide a pool of dogs that all shared the same characteristics.  And to provide reliable and consistent results when breeding from dogs within that pool.
Some might also argue that it created a kind of 'elite' and a sense of 'belonging'  in  the same way that restricting membership to any 'club' might do
What about in-breeding?
Of course one of the easiest ways of finding dogs that look and behave alike, is to look at dogs that are related.
Breeding from an inter-related group of dogs helped to fix certain qualities and characteristics.
And some of our breed registers in their infancy, would have undoubtedly contained dogs that were already closely related to one another. This was not initially seen as a bad thing
The problems with closing the registers
Once a breed register is closed, the gene pool is cut off, and all the descendants of the dogs that are ever bred in that breed share the genetic information of the dogs that were listed on the register at the point at which the register was closed.
One of the key purposes of closing the registers was to enable us to breed 'true' to type.
Of course we now know that there are problems with doing this as well as benefits.  Problems that arise due to loss of genetic material which can never be replaced.
But at the time when the registers were closed, we did not know as much about population genetics as we do now. So it seemed like a reasonable and sensible thing to do.
I want a puppy like that!
People like to know what they are getting.  And there are very real benefits to purchasing a pedigree puppy.
If you buy a puppy from mixed ancestry – a mongrel,  you have no real way of knowing what he will grow up to be like.
You won't know how tall he will grow, how much attention his coat will need, whether or not he will be likely to guard your house, or enjoy fetching a ball.  All this will be revealed in time, but you won't know in advance.
If we buy a golden retriever puppy, we know that we are going to get a largish dog with floppy ears and a medium length coat.  We know he will be a yellow colour, and with sensible rearing, will probably be a good-tempered family dog.
When you buy a pure-bred puppy, you know, within reason, what you are going to get.   And this is a great comfort to most of us.
The downside of pure-breeding
In the last decade there has been a growing body of concern about the health issues that arise when breeding animals within a closed and limited population.
Just as breeding from close relatives tends to 'fix' desirable characteristics like temperament, colour and body shape, by bringing together the genes responsible, it also increases the risk of harmful recessive genes getting together in pairs.
Studies have been done on wild animal populations that have been isolated, and these studies, together with the work of the scientific community have highlighted some of the health issues that can and do arise within any closed gene pool.
You can read more about this topic in:  How the loss of genetic material affects our puppies
These issues were underlined by the launch of Jemima Harrisons controversial film Pedigree Dogs Exposed which first aired in 2008
Controversy
The Pedigree Dogs Exposed film brought the health issues involved in breeding within closed registers to the forefront of public awareness and hard hitting tone of the film caused something of a rift between the dog buying public, and the dog breeding and showing community.
Some pure-bred dog breeders have struggled to understand the concepts involved, and some have felt very threatened by what they perceive as an attack on their breed, or on their breeding practices.
Education
Over the last two or three years however, there are signs that dog breeders are becoming more aware of the health issues generated by breeding within a limited gene pool.
Some are now working with biologists like Carole Beauchat to learn about population biology and to address these issues
Carole is the founder of the Institute of Canine Biology and is working hard via her Facebook group, and the courses she runs to educate dog breeders in genetics, so that they can make better breeding decisions for the future.
Should I buy a purebred dog?
This article is not about whether or not puppy buyers should chose a pure-bred dog, we'll look at that in a separate post.
What I wanted to do here is to define what we mean by 'pure-bred' and describe in general terms what the outcome of 'pure breeding' may be, for both dogs and their owners.
If you buy a pedigree puppy, you'll know for sure what type of dog your puppy will grow into.  This is a factor that should not be underestimated, especially if you have very specific requirements of your future dog, if for example you wish to work your dog as a gundog.
There are other factors aside from genetics that we need to take into account when it comes to dog health.  It may be argued for example that breeders of pure-bred dogs are often more motivated to run health checks on their breeding stock, than are breeders producing mongrels or cross-breeds.
There is no doubt that are issues with pure-breeding that can and should be addressed.  We'll be looking at those, in the coming weeks, and at how you can improve the odds of good health in any puppy you buy.
Summary
The popular term 'pedigree dog' is usually used to refer to a dog that is 'pure-bred'.   Pure bred dogs are bred only from dogs that belong to a specific breed register.
Our Kennel Club holds breed registers of pure-bred dogs whose pedigrees (ancestral records) can be traced back over many generations.
All registered pure-bred dogs share the genetic material that was contained in the gene pool at the moment when the register was closed.
Over time, genetic material is lost, and the gene pool become smaller.
This inevitably results in some health issues in pure bred dogs, issues which biologists and informed dog breeders are attempting to address.
If you are buying a pure-bred puppy it is a good idea to acquaint yourself with the health issues that have arisen in your breed to date, so that you are aware of the risks as well as the benefits of raising a dog from a particular breed.