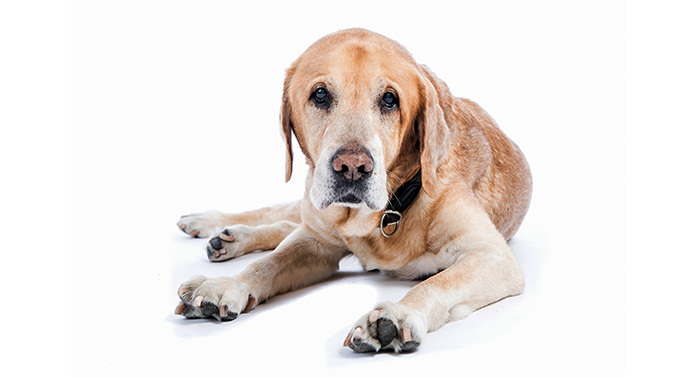 What age is considered a senior dog?
As a rule of thumb, veterinarians regard the last 25% of a dog's forecasted lifespan as their senior years.
Since the average lifespan of a dog varies by their breed, or mix of breeding, this means some dogs enter their senior years earlier than others.
And long lived breeds are seniors for longer than short lived breeds.
In this article, we take a look at what it means to be a senior dog, and when you should start treating your pet like one.
What Age Is Considered A Senior Dog?
These days there is an enormous segment of the pet care industry dedicated to looking after senior dogs – from supplements, to complete diets, to special beds.
Which leaves a lot of dog owners scratching their heads about when to start using them.
What does senior mean, and at what age is a dog considered senior?
The senior dog
Put simply, "senior" describes dogs who are getting old.
For some dogs this means lots of changes, in their physical condition, overall health, and mental sharpness.
Other dogs slow down just a little bit, and some lucky seniors don't seem to realise that they ever left puppyhood.
When do dogs become senior?
Over the years, dog researchers have proposed several specific ages at which dogs become senior.
The problem assigning the same threshold age to all dog breeds is that different dogs age at different rates.
For example, Dogues de Bordeaux live less than 6 years on average. Whereas Miniature Poodles live over twice as long – to around 14 years old.
So a 6 year old Dogue de Bordeaux is certainly a senior, but it would be silly to say the same of a 6 year old Mini Poodle.
Which is why vets, researchers, and other dog experts have settled on a convention that assigns a proportion of dogs' lives as the senior period, rather than a fixed number of months or years.
Specifically, they describe dogs as senior once they are three quarters of the way through their predicted lifespan.
This method allows for breed differences in life expectancy, whilst remaining easy for dog owners to understand.
At What Age Is A Dog Considered A Senior?
So, let's take a look at what that rule of the last quarter means in terms of numbers for some of our most popular dog breeds.
These are the 10 most popular breeds in the U.S. by numbers registered with the AKC in 2019, and the approximate age they could be considered senior:
| Breed | Average Life Expectancy | Considered Senior From |
| --- | --- | --- |
| Labrador Retriever | 12 years 3 months | 9 years 11 months |
| German Shepherd Dog | 11 years | 8 years 3 months |
| Golden Retriever | 12 years 3 months | 9 years 11 months |
| French Bulldog | 9 years | 6 years 9 months |
| Bulldog | 6 years 4 months | 4 years 9 months |
| Poodle - Standard* | 12 years | 9 years |
| Poodle - Miniature* | 13 years 11 months | 10 years 5 months |
| Poodle - Toy* | 14 years 7 months | 11 years |
| Beagle | 12 years 8 months | 9 years 6 months |
| Rottweiler | 8 years 11 months | 6 years 8 months |
| German Shorthaired Pointer | 12 years | 9 years |
| Pembroke Welsh Corgi | 12 years 2 months | 9 years 1 month |
* The AKC doesn't distinguish between the different sizes of Poodle in its published data, so we've included them all for good measure!
Making sense of the data
In our table, the average life expectancies are drawn from surveys of thousands of dog owners in 2010 and 2013.
And the age each breed is considered senior is calculated by working out 75% of the average life expectancy.
As you can see, there's a considerable range in the age at which these dogs hit their golden years.
The two shortest lived breeds are the Bulldog and the French Bulldog – both also severely brachycephalic and prone to spinal abnormalities.
These breeds are considered senior long before the other dogs on the list, because their lifetimes are short overall.
Meanwhile, the longest lived breeds are the Miniature and Toy Poodle. They aren't typically considered seniors until they're in their second decade!
Mixed breed dogs
Mixed breed dogs and mutts (dogs of unknown ancestry) make up the largest proportion of pet dogs in the U.S.
For a straightforward cross between two known breeds, you can estimate when they will become senior by using what you know about their parents.
Take for example the fluffy little Morkie, a cross between a Maltese and a Yorkshire Terrier. Malteses live, on average, for 12 years 4 months, and Yorkies for 12 years 8 months.
Their average lifespan combined is 12 years 6 months, and 75% of that is 9 years 4 months. So, a Morkie is considered senior from about 9 years old.
Meanwhile, a popular large crossbreed is the Labrador Retriever x Rottweiller, or Labrottie.
Labradors have an average life expectancy of 12 years 4 months, and Rottweilers just 8 years 11 months.
So the average Labrottie lifespan is a little over 10 and a half, and a Labrottie should be considered a senior from their 8th birthday.
I don't know my dog's ancestry
Don't worry. The average lifespan of all non-purebred dogs is 13 years and 1 month.
Three quarters of that is 9 years 10 months.
So in other words, if you're not sure how long you expect your dog to live, start thinking about senior care for them by their 10th birthday just to be on the safe side.
But what does that involve exactly? How does looking after a senior dog differ from their earlier life stages?
What Does It Mean To Be A Senior Dog?
When our dogs are in their prime, and causing the most mischief in our homes, it's hard to imagine them ever slowing down.
But the aging process eventually affects dogs in several ways.
Physically, they start to slow down, sleep more, and have less strength and stamina for exercise – although many older dogs still enjoy short walks.
They get gradually more prone to acute illnesses, such as urinary tract infections, and find them harder to fight off.
Degenerative conditions like deafness, hip dysplasia, degenerative myelopathy and progressive retinal atrophy also continue to worsen.
Mentally, senior dogs are less successful in memory and learning tasks than young and middle aged dogs.
By the age of 12, 3 in 10 dogs are also beginning to experience the first symptoms of canine dementia – rising to 7 in 10 dogs by the age of 16.
But despite the challenges facing them, growing old doesn't have to be a bleak prospect.
How To Give Your Dog A Good Old Age
Our dogs are living longer than ever.
In 2002 the average pooch lived 10 years 6 months, but by 2016 that had increased to 11 years 10 months – 14 months more!
This means that veterinarians are gaining increasing experience in caring for senior dogs.
And we know more than ever about giving them a comfortable old age.
The importance of check ups
Your dog should have annual health checks with their veterinarian throughout their whole lives.
For most dogs, it coincides with having their annual shots.
Towards the end of a dog's life, these check ups take on extra significance.
A recent study in Belgium found that a large proportion of elderly dogs thought of as healthy by their owners actually had underlying health conditions.
Sometimes these conditions are invisible, or our dogs conceal them well.
But sometimes it is just hard to admit to ourselves that our friends aren't as young as they were.
Veterinary check ups are a wise way to make sure nothing is missed.
Choosing the right diet
Choosing what to feed your senior dog is another proactive way to care for him well in later life.
Senior dogs typically need 25% fewer daily calories than they did in their prime.
Adjusting their calorie intake and keeping them at a healthy weight will help to protect them from other traps of old age, such as joint problems and heart disease.
You can do this by decreasing their portion sizes. But many commercial diets formulated specifically for older dogs are intentionally less calorie-dense, so that your dog can still enjoy the same portion size but get less energy from it.
Your vet might also recommend a diet that is high in protein, to prevent muscle loss, and nutrients to preserve their overall condition, such as omega-3 fatty acids, medium chain triglycerides, and antioxidants.
Some conditions associated with senior dogs, such as canine dementia, can be managed in part by making the right food choices, and your vet can help you with that.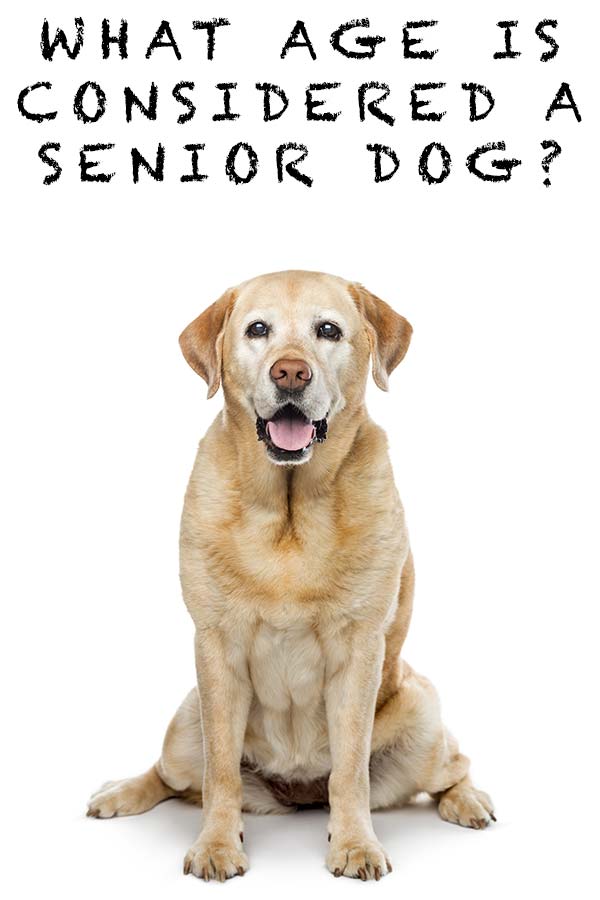 What Age Is Considered A Senior Dog? Summary
Dogs are considered senior once they are more than 75% of the way through their predicted life span.
Our understanding of how best to care for senior dogs has increased significantly in recent years.
And good senior care can improve not just the quantity, but the quality of life for our elderly pets.
Do you have a senior dog?
We'd love to hear about them in the comments box down below!
Related Articles
References
Adams et al. Methods and mortality results of a health survey of purebred dogs in the UK. Journal of Small Animal Practice. 2010.
Crouse. Lower Urinary Tract Diseases of the Senior Dog. Angell Animal Medical Center. Accessed 2020.
Dwight Tapp et al. Concept abstraction in the aging dog: development of a protocol using successive discrimination and size concept tasks. Behavioral Brain Research. 2004.
Epstein et al. AAHA Senior Care Guidelines for Dogs and Cats. Journal of the American Animal Hospital Association. 2005.
Groves. Nutrition in senior cats and dogs: how does the diet need to change, when and why? Companion Animal. 2009.
Manteca. Nutrition and Behavior in Senior Dogs. Topics in Companion Animal Medicine. 2011.
O'Neill. Longevity and mortality of owned dogs in England. Veterinary Journal. 2013.
Seibert. Management of Dogs and Cats With Cognitive Dysfunction. Today's Veterinary Practice. Accessed November 2020.
Willems et al. Results of Screening of Apparently Healthy Senior and Geriatric Dogs. Journal of Veterinary Internal Medicine. 2016.