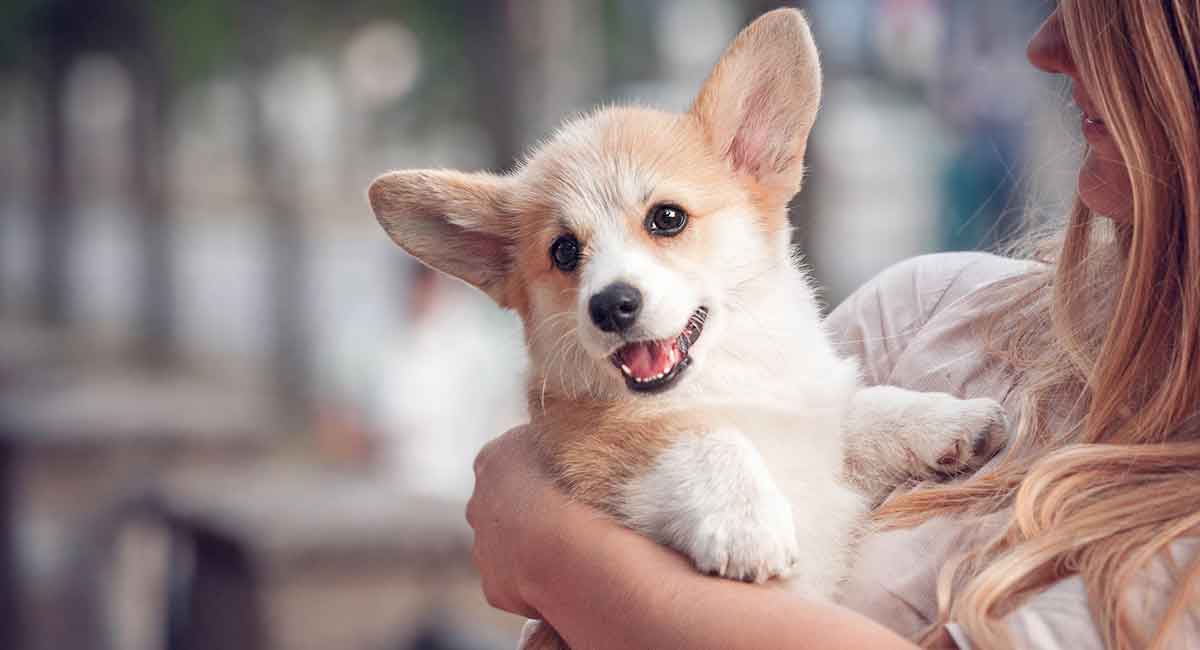 Welsh dog breeds are a delightful and varied bunch.
But one thing they have in common is the ability to win your heart with just one woof!
Welsh dog breeds hail from Wales, a country in the United Kingdom.
Wonderful Wales
Wales is situated adjacent to England to the east.
The sparkling Atlantic Ocean and Irish Sea lap the spectacular coastline on the western side.
In fact, Wales has over one kilometer of coastline, and the craggy country has a mostly mountainous landscape.
It is a rugged terrain.
Welsh dogs were bred to be scrappy and capable of enduring long hunting and herding trips.
The Best Welsh Dog Breeds For You
Picking a pooch that is a good fit for your lifestyle is crucial to developing a long term, enjoyable relationship with a forever friend.
Welsh dog breeds originated to meet the demanding needs of hearty hunters.
And they retain a prey drive in their DNA.
That is to say, regular physical exercise is a must.
In addition, these dogs share a keen intelligence, and must be provided with plenty of mental stimulation in order to stay happy and content.
If not, you can expect your pup to get into a bit of mischief as she seeks out her own, sometimes destructive, entertainment!
Welsh Dog Breeds
Many consider the pedigreed Welsh Terrier to be the oldest living dog breed in the United Kingdom.
As you will see, this is a mischievous but loveable little fellow.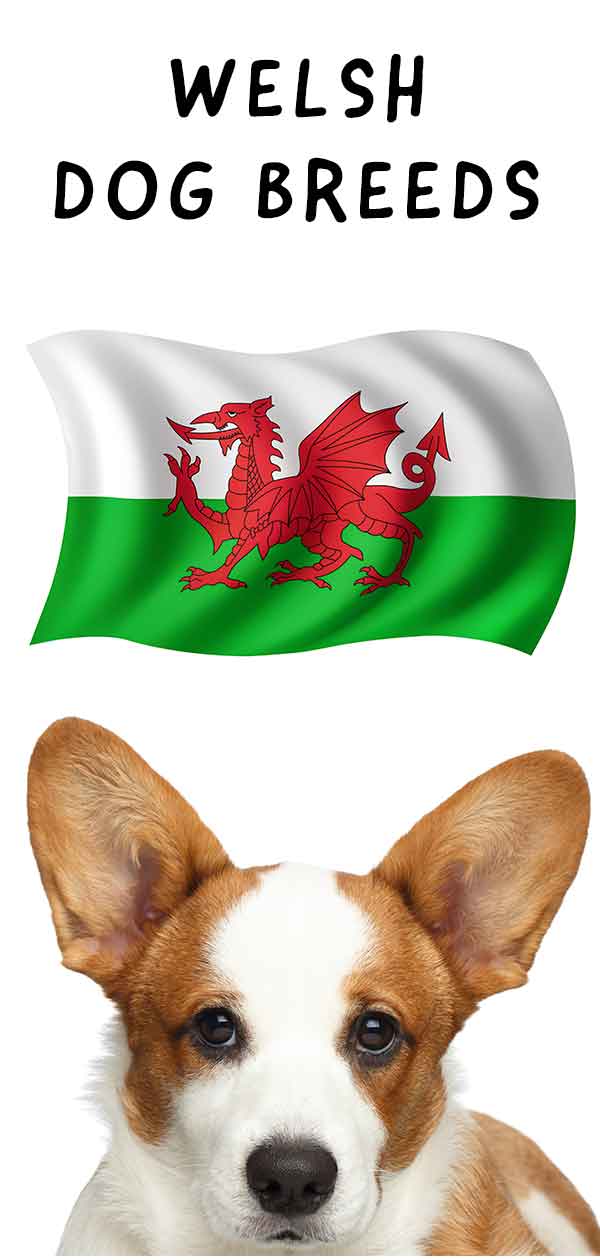 When it comes to Welsh Corgis, the Pembrokes and Cardigans are known both for their distinctive appearance.
Not to mention for being Queen Elizabeth's favorite breed.
The good-natured pedigreed Welsh Springer Spaniel is a medium-sized breed that belongs to the sporting group.
If you're looking for a handsome and kindly canine bestie, this may be the dog for you.
And, if you're in the market for a lively, active animal companion, take a close look at the Welsh Sheepdog.
He's not a pedigreed canine, but he is an alert fellow who loves to please.
Key factors to consider with Welsh dog breeds
Working with a responsible breeder is always recommended if you are looking to bring home a pedigreed Welsh dog breed.
The unfortunate truth is that many dog breeds have health issues that may impact their immediate and/or long term health.
For this reason it is imperative to work only with responsible breeders who have health certificates for their puppies as well as the parents.
Such breeders will be vigilant regarding major health issues.
They can advise you about any potential temperament or health problems within the breed that you are interested in.
In addition it is important to remember that all pups need a helping hand with training and social skills.
Early socialization and puppy training classes are strongly recommended if you are considering a Welsh dog breed.
These animals have been bred to work long and hard hours in the great outdoors.
And sometimes these rugged habits don't exactly translate to civilized contact.
For example, nipping at heels may be an issue!
Through the process of exposing your pup to a wide variety of people, places, and situations, you will help her to develop into a well-adjusted, well-mannered adult.
With all this said, it's time to take a look at the wonderful dogs that hail from Wales.
Welsh Terrier dog
The pedigreed Welsh Terrier is a sturdy little dog, at an average height of just over a foot, with approximately 20 pounds on his frame.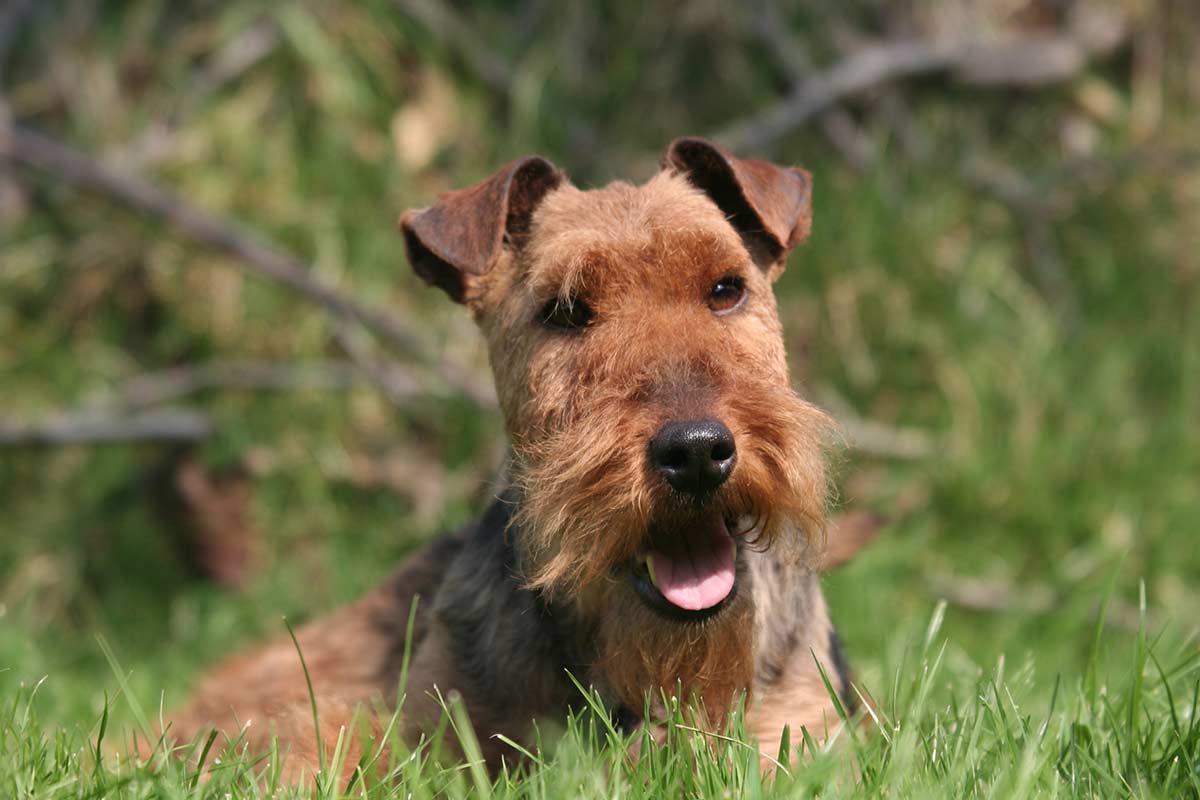 He has a distinctive rectangular-shaped head.
The Welsh Terrier will live to around 12-15 years of age.
As is the case with dogs in the Terrier group, this pooch has a wily demeanor, with sparkle in his personality.
This assertive breed is descended from working dogs whose main purpose was to flush out, chase, and kill prey.
This tenacious instinct remains in the modern Welsh Terrier, and owners will find him to be an intelligent dog full of stamina and determination.
But his prey-drive remains at the forefront of his temperament, resulting in a pup who simply cannot resist chasing after whatever it is that catches his watchful eye.
This can include vehicles, children, and other animals.
Keep your Welsh Terrier on a leash while outdoors. Take care around smaller animals.
Nonetheless, the outdoors provide a positive outlet for the large stores of energy that Welsh Terriers possess.
Training is key
Proper training is crucial in order to teach this spirited pup good manners.
In fact, they are not recommended for first time dog owners due to the inherent challenges that come with teaching a terrier to consistently obey commands and be a model doggie citizen!
The tan and black coat grows snug to the body of this affectionate little dog, and requires hand stripping.
This process involves plucking the hair off by hand, a learned art!
A haircut should be given every 2-3 months.
Welsh Terriers are a generally healthy breed, but within the breed some dogs are prone to allergies.
In addition, hip dysplasia and Legge-Calve-Perthes disease are concerns.
Today Welsh Terriers make a delightful domestic companion.
Patience and experience with dogs is recommended for owners of this loveable but somewhat high-maintenance pooch in the Welsh dog breeds group.
Welsh Springer Spaniel
Unlike some of the other Welsh dog breeds, the pedigreed Welsh Springer Spaniels are big boys and girls!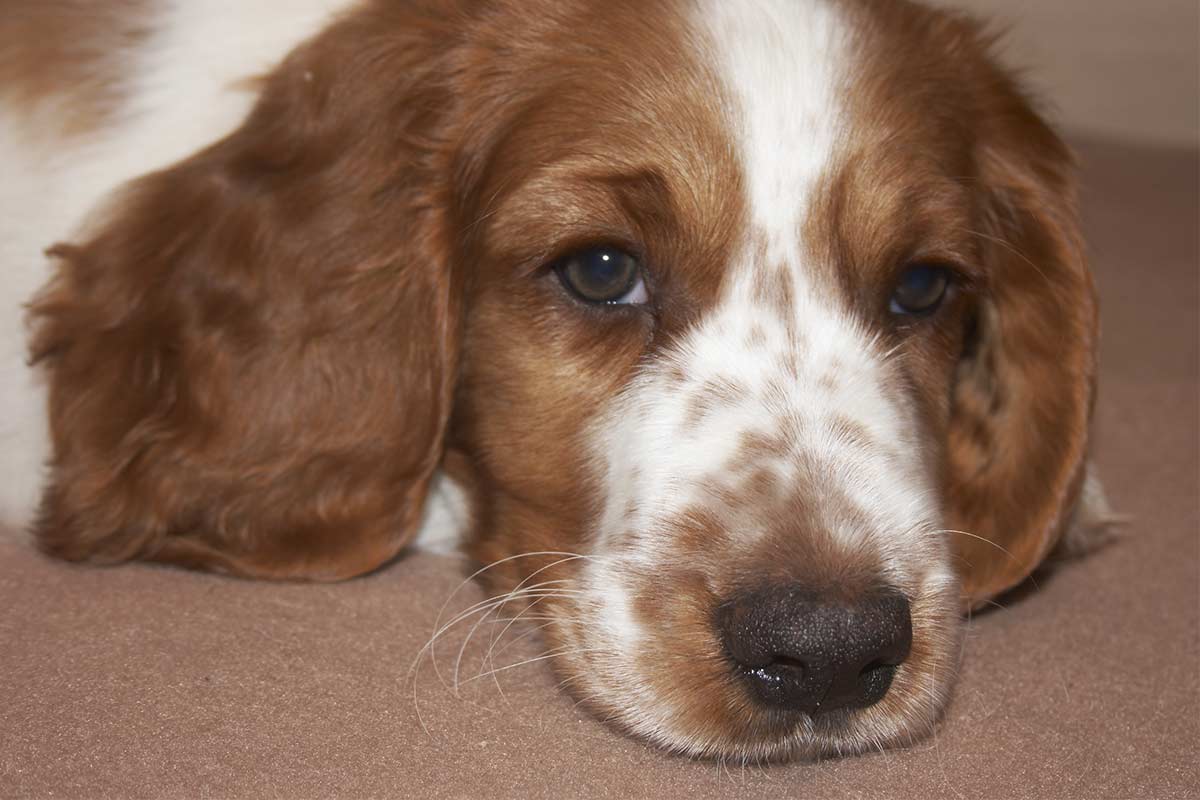 The cheerful Welsh Springer Spaniel is a medium-sized breed and belongs to the sporting group.
The Springer Spaniel is one of Britain's oldest sporting breeds.
This dog averages 17-18 inches tall, with males weighing anywhere from 40-55 pounds and females tipping the scales at about 35-50 pounds.
Welshies, as they're known, have a tapered head and are covered in a magnificently-colored coat of white and red.
The fur is not particularly high maintenance, and brushing a couple of times a week will keep it looking its best.
Look for the beginnings of any mats or tangles, and undo these with a metal comb or slicker brush.
Activity is key
Welsh Springer Spaniels thrive when they have plenty of activity to keep them busy, which means daily playtime and exercise.
Welshies are at their best when they can spend lots of time with their favorite people, so taking your pup along for walks will make her especially happy.
This breed is an excellent choice for those with an active lifestyle who enjoy taking their furry friends for a trip to the dog park.
Your pup may be a bit shy with the strangers she encounters while out and about, however.
Welshies remain hunting dogs at heart, which means that the urge to chase small animals is a constant.
This is where early socialization and positive, supportive training classes come in!
While your pup may be a loving and loveable companion, she still needs to learn how to behave around children and animals smaller than her.
Welsh Springer Spaniels overall are a healthy breed but hip and elbow dysplasia, eye disease, and autoimmune thyroiditis can occur.
Cardigan Welsh Corgi
There are two popular types of Welsh Corgi dog: the pedigreed Cardigan Welsh Corgi and the Pembroke Welsh Corgi.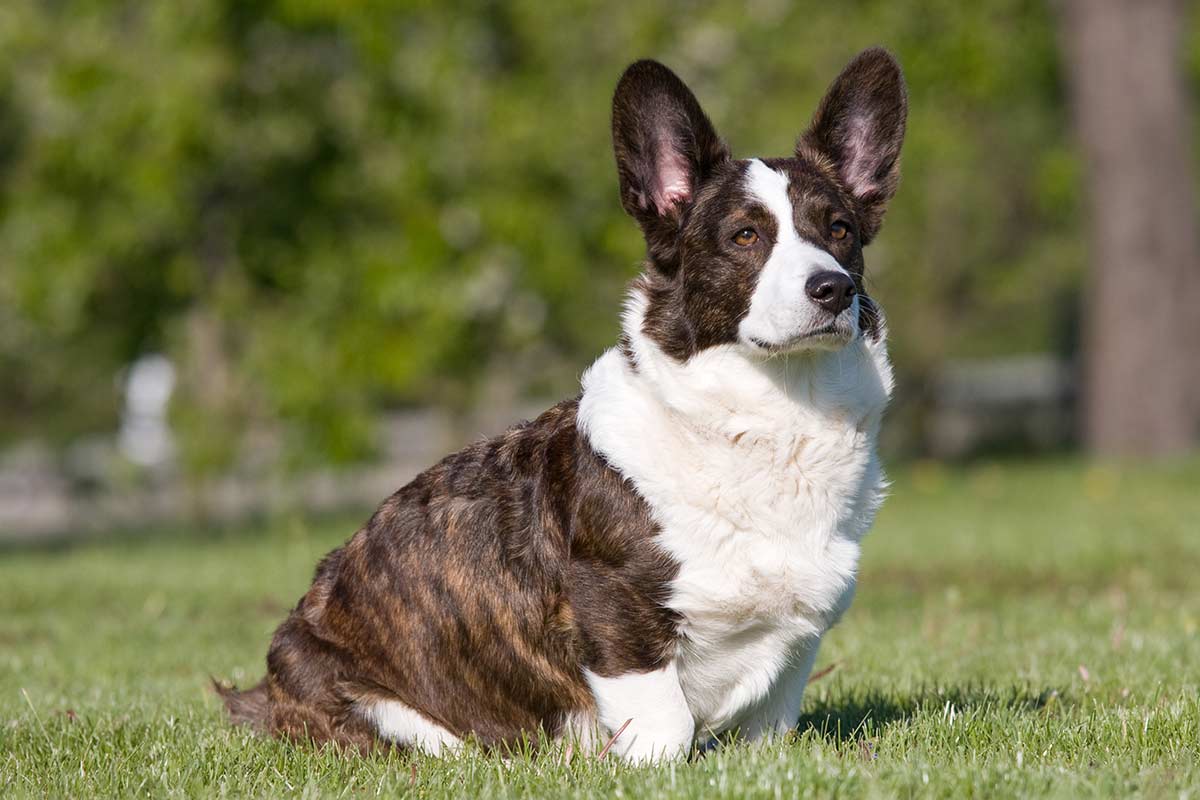 The Cardigan Welsh Corgi is a fine example of a Welsh herding dog.
He is an adorably short-legged Welsh dog. His petite stems served him well as a Welsh cattle dog.
In fact, the Cardigan Welsh Corgi is among the oldest of all British dog breeds.
Today the pooch that was first developed as a working farm dog makes for an intelligent, yet spunky companion animal.
Averaging around a foot tall, males typically weigh 30-36 pounds, while females average 25-33 pounds.
The Welsh Cardigan Corgi retains his herding instincts and has a moderate to high energy level.
These pups need to have a daily exercise outlet and mental stimulation in order to maintain a healthy constitution and weight.
If left to languish alone, this breed has a tendency to take matters into his own hands.
And will find a way to amuse himself, usually in an unwelcome, destructive manner.
Welsh Cardigan Corgi training and appearance
This vigilant and faithful Corgi breed definitely needs a training regimen in order to learn how to respond appropriately to humans and other animals.
They make excellent watch dogs since the guarding instinct remains with their DNA.
But because of this, training must include learning not to nip at children and to play well with other animals!
The Cardigan Corgi is a Welsh wire haired dog.
This means her fur has a wiry, harsh texture, and she comes with a short to medium length double coat.
A thorough brushing once or twice a week will keep your pup's fur healthy and looking its best.
Colors range from sable to red and white, with brindle, black, tricolor and blue merle not uncommon.
This Welsh dog breed generally enjoys good health.
However, the pooch can be prone to degenerative myelopathy, hip dysplasia, and progressive retinal atrophy.
In addition, the Cardigan has a long back. Take care to avoid back problems.
For example, even routine jumping from a bed, couch, or stairs can injure your dog's delicate back.
Take care to pick your pup up with two hands under the stomach to protect her lengthy spine.
With her inquisitive little face and outsize ears, this dog is ready to please. She is just as happy watching TV indoors with you as she is going outside for a walk.
Pembroke Welsh Corgi
The pedigreed Pembroke Welsh Corgi and the Cardigan Welsh Corgi have many things in common, most notably their trademark diminutive little legs!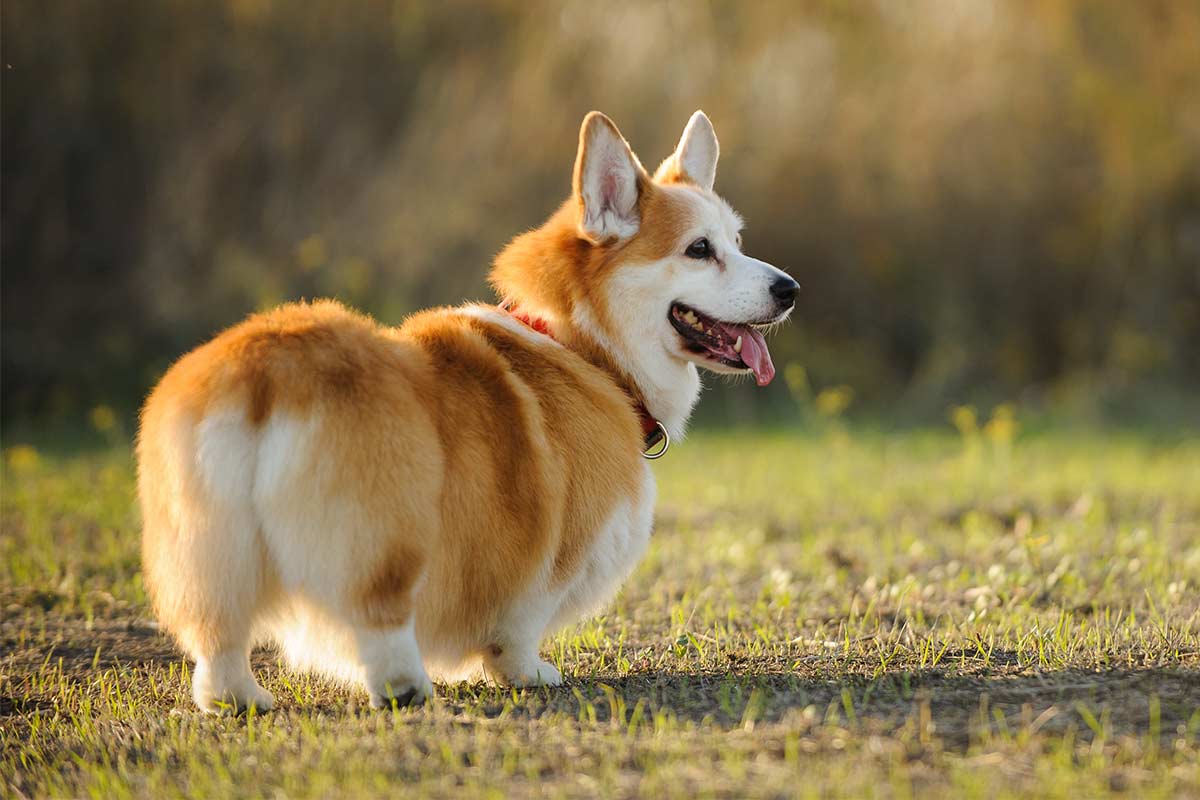 Those stubby legs served the Pembrokes well in their initial roles as herding dogs.
The ability to bite and nip at the cattle and then make a quick getaway definitely worked to this breed's advantage!
Today's modern Pembroke is a loyal companion. She has a high need for physical activity, just as her ancestors did.
The Pembroke ranges from 10-12 inches and can reach up to 30 pounds, with an average lifespan of 12-13 years.
If you're looking for a people dog, you're in the right place! Pembrokes love to spend time with their humans.
And they have an above-average intelligence as well as an affectionate nature.
Nonetheless, this scrappy dog requires firm and consistent training to learn how to behave properly, given that her herding instincts remain intact.
Pembroke Welsh Corgi training and appearance
Pembrokes have a stubborn streak, but early socialization and positive training will go a long way toward helping your furry friend become a model citizen!
Like the Cardigan Corgi, the Pembroke Corgi is a happy dog when she has a job or task to keep her busy.
Daily walks and trips to the dog park will keep this little one in good condition, although extreme cold or heat is to be avoided.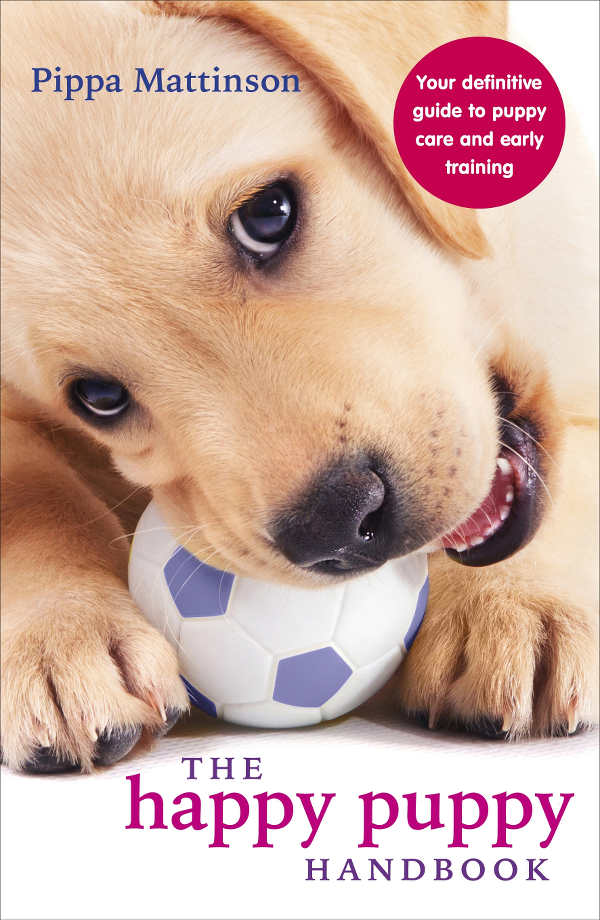 As befits a dog developed for herding, the Pembroke's fur is both thick and weatherproof.
It comes in shades of sable, red, black, fawn, and tan, and sometimes includes white markings.
This Corgi has a double coat that consists of a coarse outer coat and a lighter, softer undercoat.
Potential owners should be aware that this Corgi sheds at a prolific rate, and daily brushing is necessary to keep mats and tangles at bay.
A slicker brush and comb will make quick work of brushing your bestie, but during the heavy shed season regular baths may be needed to help keep your Corgi's coat in shape.
Potential health concerns include degenerative myelopathy, eye disorders, elbow and hip dysplasia, and cardiac problems.
Von Willebrand's disease, a bleeding disorder, may also be a concern with this breed.
Welsh Sheepdog
The Welsh Sheepdog is not a pedigreed dog as are the others on this list, but he is every bit as congenial and charming!
The Welsh Sheepdog is sometimes called the Welsh Collie.
Males can range in size from 15-19 inches and weigh between 30-45 pounds.
Females are the same average height but weigh between 25-40 pounds.
They were bred to help drive large herds of cattle and sheep in the field and were helpful assistants for guiding the flock to the marketplace.
This pup is a rangy-looking dog. His main attribute was the ability to perform rough work, not look pretty!
Welsh Sheepdog appearance
Welsh sheepdogs have a wedge-shaped head.
The double coated fur appears in shades of tan, black, red, and blue merle colors, with or without white markings.
Sometimes the eyes are a vivid shade of blue, and in this case your handsome pooch is sure to stand out from the crowd!
Welsh Sheepdog fur tends to run long and straight.
Brushing a few times a week will keep her looking her best, although daily brushing is recommended if your dog has longer hair that tends to mat or tangle.
This medium breed dog is full of compact muscle, and was bred to herd.
As such, these pups need a very active lifestyle to remain healthy and happy.
In fact, small living quarters may be a hardship for this pooch, especially if left alone for long periods of time.
While this is truly a working dog, at the same time she craves attention and is eager to please her favorite humans.
Temperament-wise Welsh Sheepdogs are alert, intelligent, loyal, and protective.
As is the case with the other Welsh dog breeds, training is essential as Welsh sheepdogs can have a stubborn streak.
Hip and elbow dysplasia are common concerns among this breed.
Overview of welsh dog breeds
We hope you enjoyed our look at the delightful range of Welsh dog breeds.
Do you have a Welsh dog? If so we would love to hear about your experience with your special pup in the comments section below!
Resources