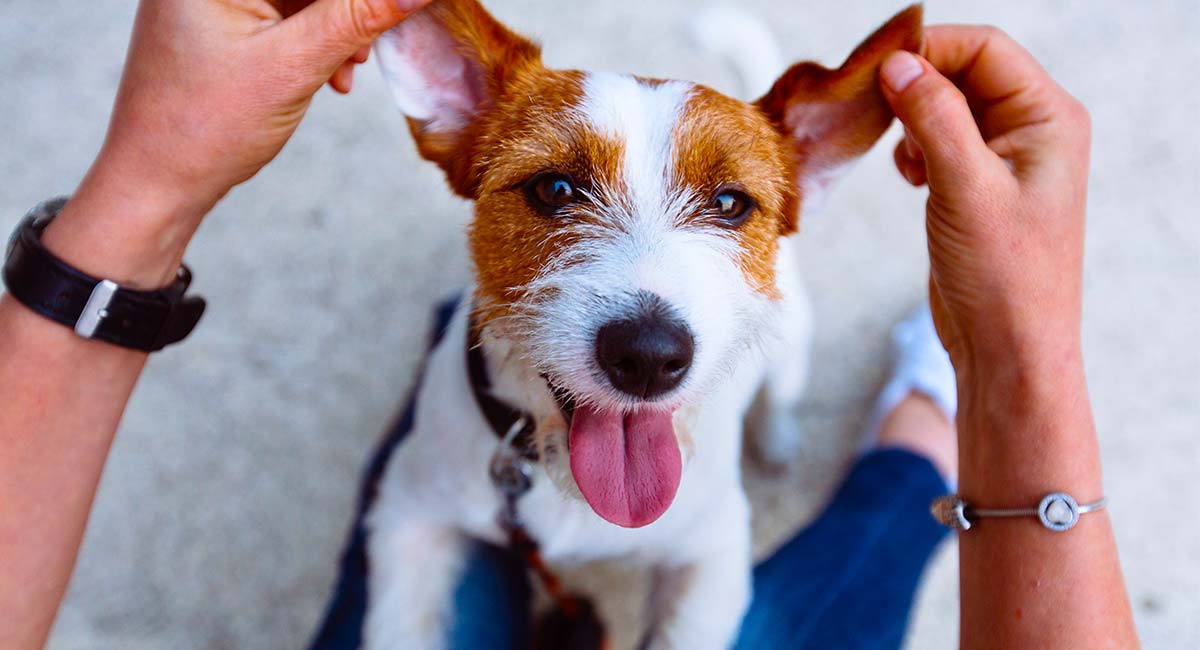 Terrier dog breeds are beloved by dog owners the world over. But it takes a special kind of pet parent to raise and coexist with this spirited, sassy, tenacious, yet very special animal.
Thankfully, there are different terrier dog breeds for different kinds of owners. We'll be looking at all these different terrier types. From small terrier breeds to large terrier breeds.
Let's find out how different they each are, and which will be right for you.
Terrier Dog Breeds and Their Personalities
Original terrier dog breeds were developed to hunt, guard, and protect.
These traits were used to good advantage by farmers and mill owners who needed a scrappy dog. These were dogs capable of ridding the landscape of pests and vermin and to help in hunting endeavors.
Nowadays, though, their roles are much different. Regardless, though, modern owners should be aware that, in large part, most terrier dog breeds retain the same personality. Most of these different terrier types are still as scrappy and stubborn as their valued ancestors.
Their personality also includes a certain bit of energetic rambunctiousness. And don't forget that tendency to chase after whatever catches their eye!
But, where maintenance is concerned, their needs vary. Some but not all terrier breeds, like the glossy, long-haired Yorkshire Terrier, need intensive grooming care.
No wonder many owners of long-haired terrier dog breeds, such as the Yorkie, choose to use a professional groomer. No doubt this helps to maintain their dog's beautiful but high-maintenance fur.
Many other terrier dog breeds, though, are not as high maintenance.
Terrier Dog Breeds and Training
Despite their sassy personalities and sometimes demanding grooming needs, terrier breeds are great dogs. They make great pets with proper and early socialization and training.
Positive training methods will help your pup to understand and learn your behavioral expectations.
But, without training, terriers can give free rein to their instinctive behaviors. In extreme cases, depending on the different terrier types, this can mean herding and guarding issues.
At the very least, the self-assured terrier personality imbues these pups with a sense of superiority. Don't be surprised to see your pup going toe to toe with much larger dogs!
Likewise, it's not uncommon for a sassy terrier to challenge you as well. Which is why training is an important aspect of his upbringing.
Because of his stubborn tendencies, training a terrier can carry a certain degree of difficulty. But don't give up. Instead, just imagine how obstinate and "dogged," your furry friend would be without such guidance! They truly need you.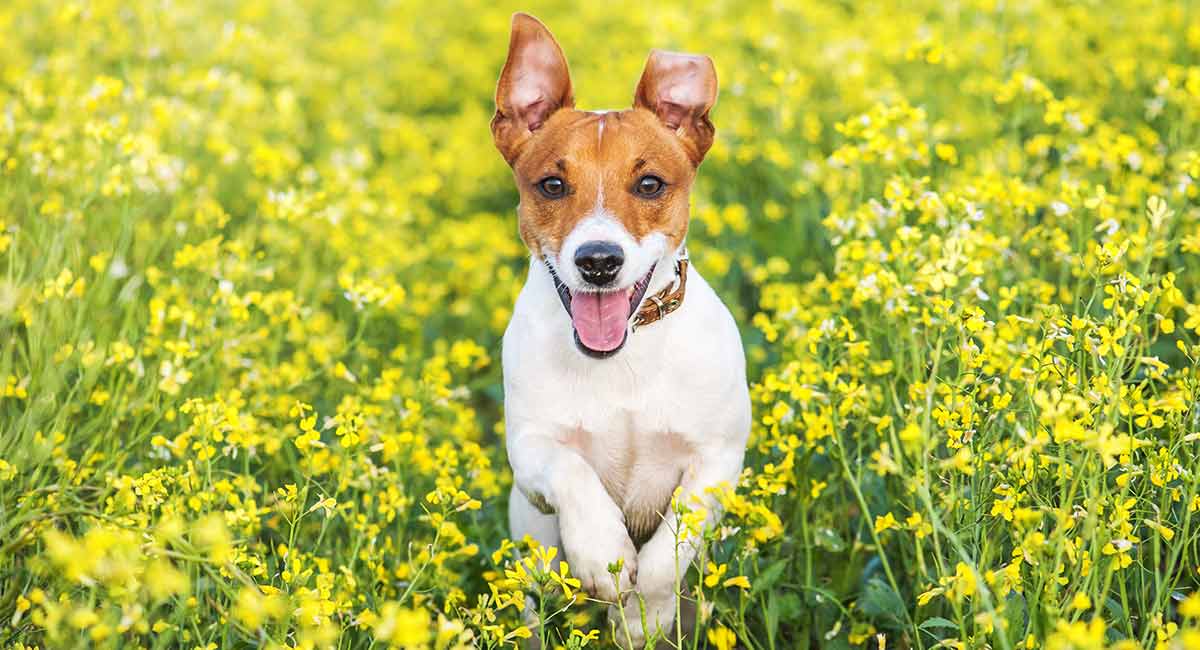 Socialization
Early socialization is key to raising a well-adjusted pup.
Dogs who are not exposed to other animals, people, and environments at an early age will struggle. They often have a hard time overcoming a natural fear and/or distrust of new situations and other animals.
Pets who are not properly socialized can also be overly aggressive with other animals. Even worse, they can be aggressive with children. This is a situation you definitely want to avoid.
Terrier Dog Breeds and Breeders
When choosing a purebred dog such as a terrier, work with a responsible breeder. These will provide you with health clearances for the pups, and ideally for both of your puppy's parents.
It is best if you can meet the parents as well. This will help you gain a sense of your pup's temperament and personality. Plus, breeders will help you understand the needs and proclivities of individual breeds.
Although terriers belong to a singular group, different terrier dog breeds have different needs and health concerns.
Types Of Terrier Dog Breeds
What are the best terrier dog breeds? It's a great question, and the answer really depends on what you are looking for in a forever companion. There are indeed different terrier types.
In a bit, we're going to examine several different terrier dog breeds. We'll cover large terrier breeds and small terrier breeds, looking at their individual traits and health issues.
In the meantime, a few generalizations regarding terrier dog breeds can be made.
Characteristics of Terrier Dog Breeds
First off, terrier dog breeds are smart.
This isn't surprising. After all, they were originally bred to perform a key and valuable function. So they have naturally developed a keen ability to understand and meet their human's behavioral expectations.
Secondly, terriers have a medium to high energy level that requires regular exercise.
Even the cute lap dog Yorkshire Terrier has a revving engine inside that needs a routine physical outlet in which to expend its energy.
As a group, terrier breeds are known for their sense of loyalty. As well as an ingrained fighting/hunting instinct.
Terriers are also known for having extroverted, outsized, and loyal personalities. Most enjoy being the center of attention. So for them, a lack of attention can result in destructive, negative attention-seeking behavior.
If you want a playful, spunky dog who likes to show off his canine IQ and personality, a terrier may be the right choice for you! Now let's look at some large terrier dog breeds.
Large Terrier Breeds
Airedale Terrier
This dog breed is known as the largest terrier breed. It is known for its size, regal bearing, and high energy. They weigh between 50 – 70 lbs and can reach as high as 23 inches tall.
History
The breed initially began in England in the 1800s where it was bred for hunting purposes. Traditionally, the Airedale Terrier was created by crossbreeding a Terrier with an Otterhound. Experts speculate, though, that there might be other breeds in the mix. The old Black and Tan Terrier, and Broken Coated Terrier, for example. Many of these parent breeds are now extinct.
These dogs have some fascinating history. They're known for being especially versatile, having served in the British Armed Forces during the First World War as messengers and guard dogs.
In North America, they worked as a "three-in-one hunting dog,". They assisted in catching waterfowls, game birds, and furred prey. Truly versatile, this breed!
Traits
Despite having such a fierce background, these dogs are as loyal, affectionate, and quite family-oriented. They are very friendly, eager to please, and welcome obedience training. This is something all terriers should receive.
So if you're wanting a terrier and have kids, this breed is a great place to begin. Keep in mind, though, that the Airedale should be kept occupied. Either by human company or a great toy. These dogs do not enjoy being bored. Although they mean well, you should always supervise them with small children.
Airedales appreciate moderate exercise and are happy with a nice daily walk. With regard to grooming, they are low maintenance. Their short coat does well with weekly brushing, and if you're feeling fancy, you can send them to the groomers every three or four months.
Health
With Airedales, health concerns are few and far in between. Still, check them for hip dysplasia and the occasional heart issue.
Bull Terrier
Today the Bull Terrier is a friendly animal companion full of personality. But, its affable outlook belies the fact that it was bred to be a blood sport participant.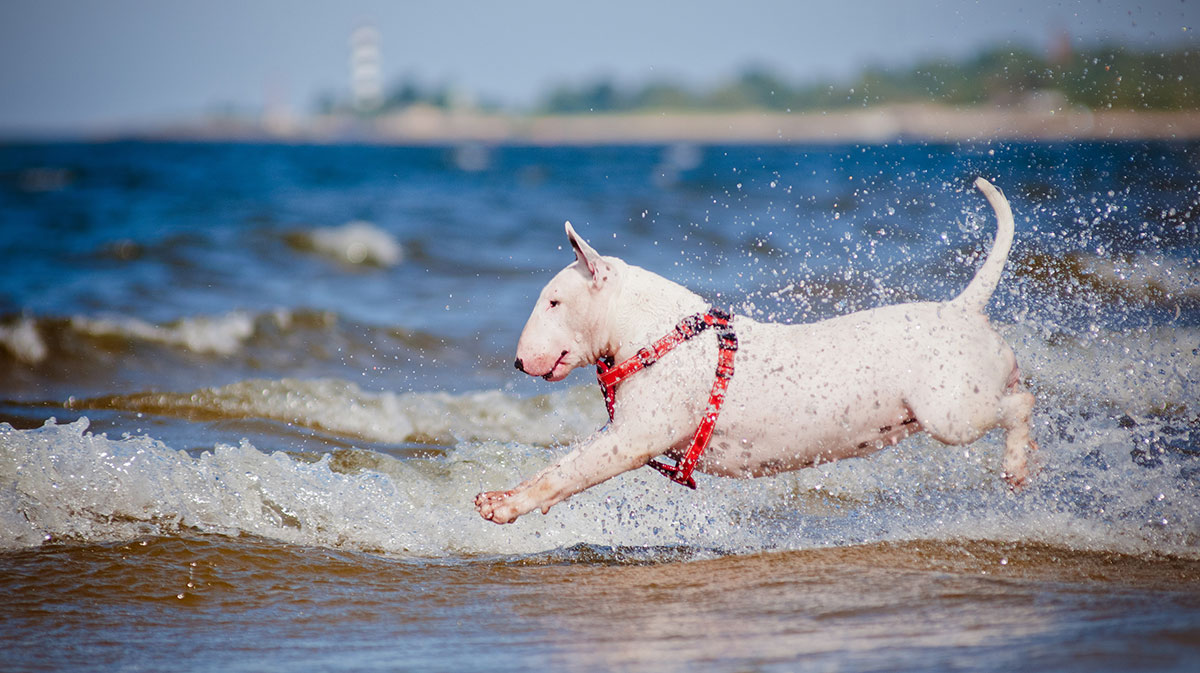 History
The Bull Terrier is the result of cross breeding Bulldogs with terriers.
Bulldogs were originally used to bait a chained bull. The bloody spectacle became a popular "sport" in the UK, commencing in the 1200s.
Hundreds of years later, the practice of dog-on-dog fighting replaced bull-baiting. Then powerful Bulldogs were bred with spirited terriers to produce a robust physical and mental fighting canine specimen.
By the mid-1800s this gruesome activity was outlawed. A breeder named James Hinks is credited with developing the modern Bull Terrier. This breed is currently ranked as the AKC's 57th most popular breed.
Traits
With its unique bullet-shaped head, the affectionate Bull Terrier falls within the group of large terrier dog breeds.
If you're looking for mostly white terrier breeds, this pup fits the bill. Its coat is white with various splotches of color scattered about the body.
The Bull Terrier averages 50–70 pounds. It typically reaches 20–22 inches in height.
They're known for being stubborn but playful fellows. And their loyalty is legendary.
Expect to exercise an athletic and muscular Bull Terrier on a daily basis. Thankfully though, weekly grooming is usually sufficient to control its short, rough, low-maintenance coat.
Keep in mind, however, that these canines prefer to be the only dog in the household. What's more, their prey drive and fighting instinct must be considered if you have children at home.
Health
This breed is known to suffer from allergies. Especially in the summertime when pollen counts are high.
Unfortunately, the breed is also prone to deafness. 2% of bi-colored Bull Terriers and upwards of 15–20% of white pups experience hearing issues. In fact, white fur is a marker for deafness in other animals as well, including cats and mice.
Plus, heart and kidney disease are known issues with Bull Terriers.
Not sure about this large terrier breed? Try the Miniature Bull Terrier — one of the miniature terrier  dog breeds. It resembles its larger Bull Terrier brethren in most ways, just in a smaller package!
How small?
Miniature Bull Terriers average about a foot in height and weigh approximately 18–28 pounds. To learn more about the Bull Terrier, be sure to check out this informative article.
Small Terrier Breeds
Now that we've considered some of the larger terrier dog breeds, let's look at some other different terrier types. In particular, we'll now discuss the small terrier breeds.
Terrier Dog Breeds – Staffordshire Bull Terrier
If you're interested in black terrier dog breeds, there may be a smart and courageous Staffordshire Bull Terrier pup in your future!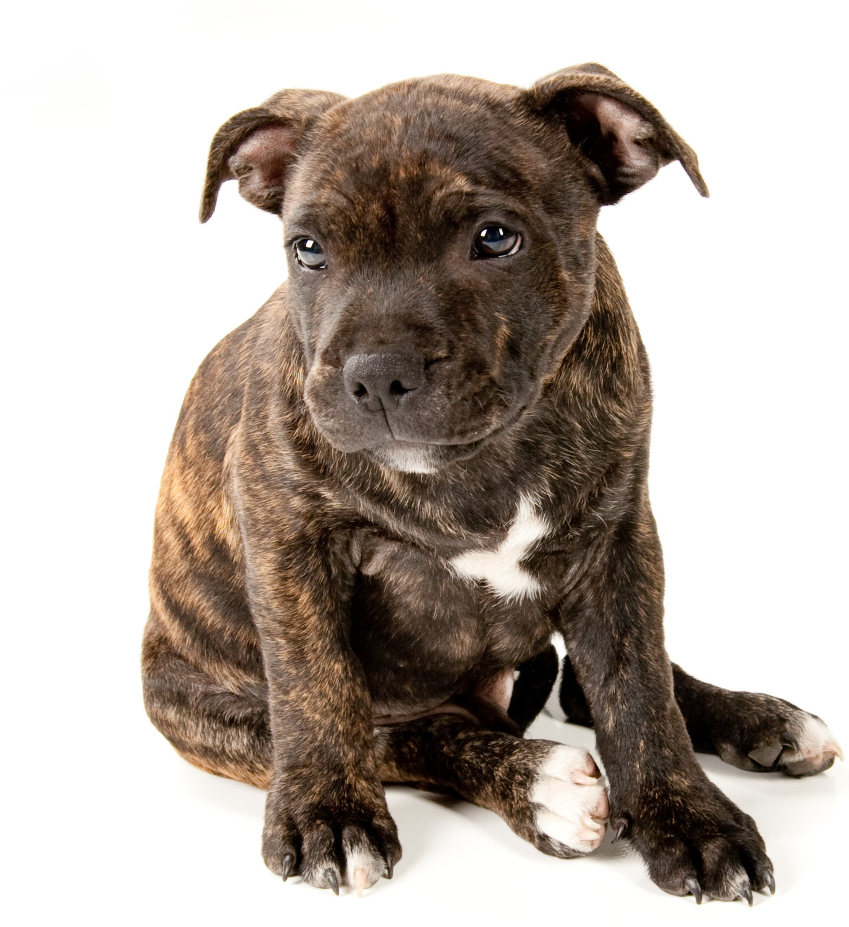 Like the Bull Terrier, the Staffie breed was developed by breeder James Hinks. It's also a mix of Bulldog and terrier genes.
These adorable and loving dogs can be quite irresistible as they love to please their owners.
Traits
This canine comes in a variety of colors, including shades of tan and brown. But a powerful black hue suits this muscled, short-haired dog particularly well.
This 14–16 inch tall terrier is lumped in with the small terrier dog breeds. But it's a hefty bundle of muscle and sinew.
Typically packing 25–38 pounds on its frame, the Staffie is nonetheless known for its amiable nature. This makes it well suited for families.
They typically have a calm demeanor which makes them a good dog for children. Especially so if proper socialization and training have taken place. Socialization is very important for this breed. Years of careful and thoughtful breeding have diminished but not extinguished the fighting instinct within the Staffordshire Bull Terrier.
Staffies have a short, easy-to-maintain coat. So an occasional bath along with weekly brushing will keep them looking her best.
Health
This hefty dog can be heat intolerant. So while daily moderate exercise is called for, avoid doing so in humid or hot conditions.
What sort of health issues are Staffordshire Bull Terriers prone to?
Skin allergy is a concern, as are eye issues including cataracts. Joint and bone issues may also present themselves.
You can learn more about the Staffie's health issues, temperament, and personality here.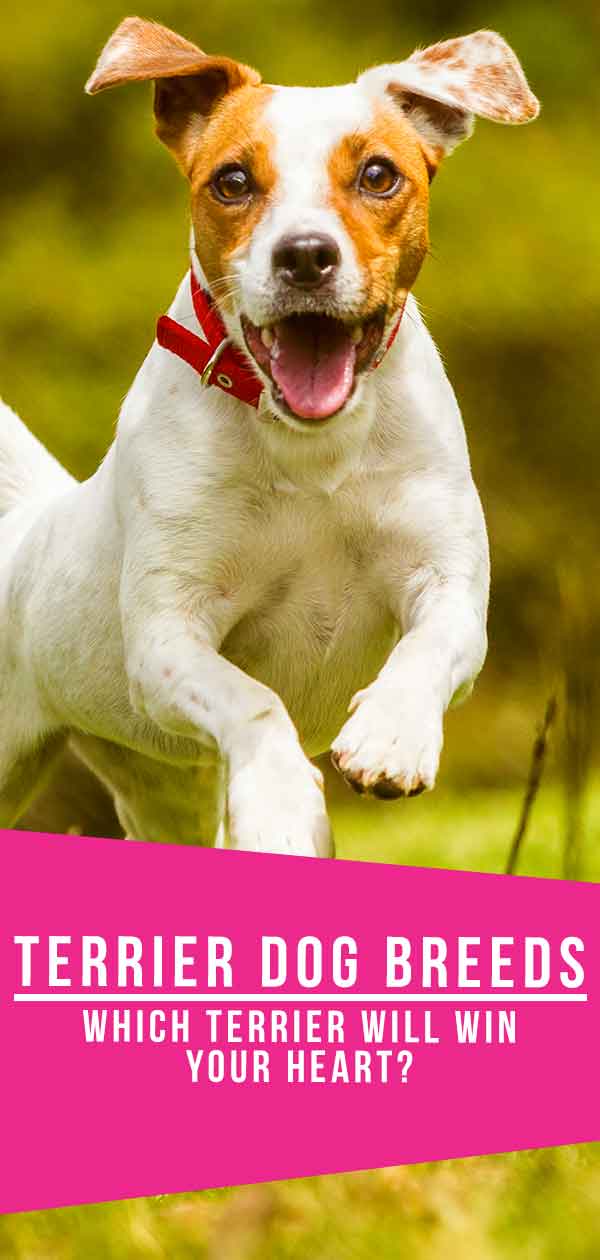 Border Terrier
Among other things, wire haired terrier dog breeds such as the Border Terrier are valued and sought out because of their low maintenance coat.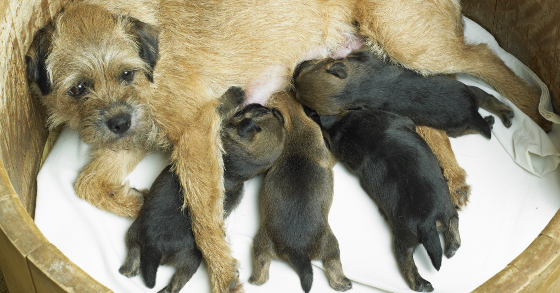 This pooch has a double coat consisting of a soft, fleecy undercoat beneath a coarse, wiry outercoat.
A weekly brushing is more than enough to keep this breed's fur in tip-top shape. But when shedding season hits, some extra elbow grease is required.
During shedding season, dead hair must be removed daily. You'll also need a rake, stripping tool, or hands. This process can take upwards of 30 or more minutes.
Traits
As far as black and tan terrier breeds go, the Border Terrier fur can be grayish-black and tan. But it can also be blue and tan, red, or wheaten.
Although this is not quite a miniature terrier breed, it is nonetheless a small pooch. Border terriers generally weigh 11–15 pounds on average. They reach 12–15 inches in height and have an intrepid, affectionate demeanor.
In appearance, the nondescript pooch is something of a plain Jane. It doesn't have the dramatic coloring or exaggerated features of some terrier dog breeds.
Rather, you'll find the Border Terrier has an adorable hangdog, world-weary expression on its little face. Its face is completed with small eyes and non-flashy ears.
One thing we love about this breed is their playful curiosity. That and their affection make them good dogs for children.
These dogs aren't crazy active but will need brisk exercise daily. Ideally, this can mean a walk or trip to the dog park.
Health
As with the Staffordshire Bull Terrier breed, heat can be problematic for the Border Terrier breed. So be sure to carefully monitor outdoor exercise when the temps climb into the 80s and beyond.
But as far as terrier dog breeds go, Border Terriers overall are a healthy breed. Nonetheless, hip dysplasia, eye problems, heart issues, and allergies are conditions that can appear. These should, therefore, be screened for.
Would you like to learn more about this no-frills terrier?
Be sure to check out this informative article.
West Highland White Terrier
The West Highland White Terrier, Westie for short, is a little dog with a big personality.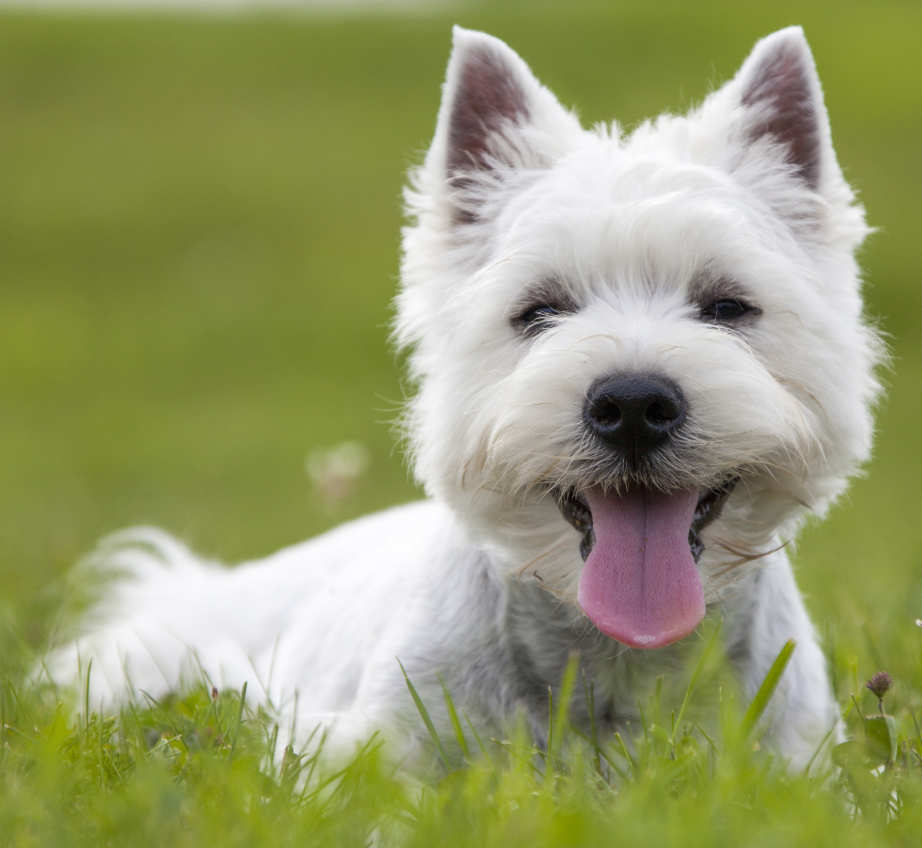 Traits
This perky little white-furred fellow has round black eyes. They may look like an adorable plush toy on the outside, but on the inside, they retain the terrier spunkiness that the breed is known for.
It is the AKC's 41st most popular dog, and most do not quite reach a foot in height (10–11 inches on average). They weigh approximately 15–20 pounds. But they have a solid doggie IQ combined with a playful outlook on life.
As such, the Westie is a portable dog, albeit one you need to keep an eye on. It's certainly one of those that adores chasing after whatever catches its eye!
According to the AKC, the Westie originated in the 1700s, as the Malcolm clan began breeding the pooch on their Scottish estate. The initial reason for breeding was for the purpose of exterminating pests.
Like most terrier dog breeds, the Westie is a strong-willed pooch and requires early and positive training. These can help the breed to learn good doggie manners.
Still, their confident manner and love of play are attractive qualities that guarantee life with a Westie is never boring!
Care
Moderate exercise, such as a brisk walk or a session at the dog park, will suit the Westie. Keep in mind, though, that he should always be on a leash due to his desire to chase after moving targets.
Westies have a double coat that's rough on the outside and soft underneath.
Daily brushing is required, with regular stripping of dead hair a must.
White fur can be especially hard to keep looking bright and clean. So, reasonably, some Westie owners opt to use a professional groomer who can keep the fur pristine and properly clipped.
Health
Healthwise, the Westie can be subject to heart disease, hip dysplasia, and patellar luxation.
Skin allergies are also common in Westies.
It's been estimated that up to a quarter of Westies may experience atopic dermatitis. This incurable condition is managed via specialized diet and medications.
Want to learn more about this adorable little dog?
You can find out more about the charming Westie here.
Terrier Dog Breeds – Yorkshire Terrier
The popular toy breed Yorkshire Terrier is one of the most delightful of the English terrier breeds.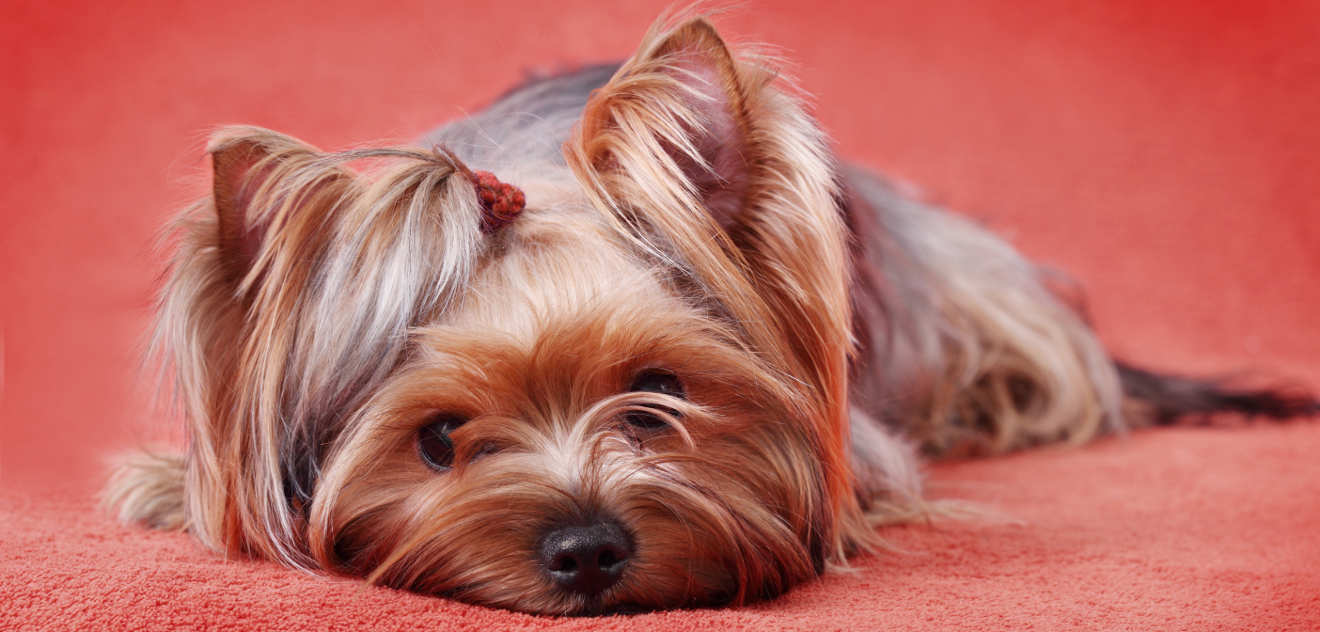 History
The petite Yorkie came on the scene in the mid-1800's. At the time, it was valued for its ability to root out vermin in textile mills.
Toward the end of the century, however, the Yorkie came into favor as a lap dog. The AKC registered its first Yorkie in 1885.
Traits
The picture-perfect Yorkie is a petite dog, standing just 7–8 inches tall and topping out at about 7–8 pounds.
Without a doubt its stunning, luscious, long locks are one of the Yorkie's most memorable qualities. But as is the case with the Terrier group in general, beneath this pooch's glamorous facade beats the heart of a scrappy warrior!
This long-lived, hypoallergenic pup is full of personality, He loves being the center of attention.
This breed can display a decidedly stubborn streak at times. But it is a loyal and courageous companion animal.
In some ways, owners have the best of two worlds with the Yorkie. There's the playful pup full of rambunctious energy. Meanwhile looking for all the world like a canine supermodel!
Care
Its exquisite tan and blue-hued hair is its crowning glory. It can be kept long or clipped in a more manageable cut. Either way, the delicate fur should be brushed daily. A weekly bath is also recommended to keep the coat in good condition.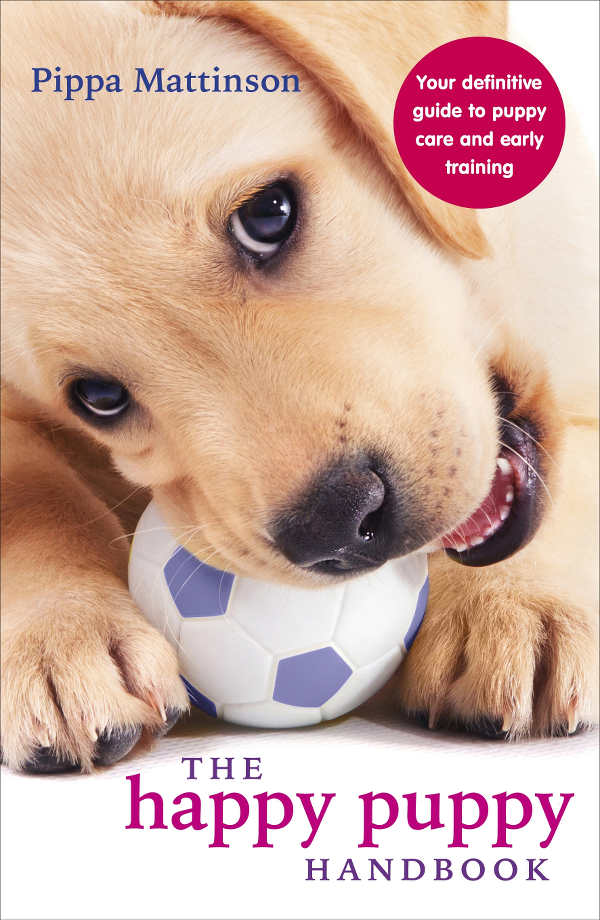 The Perfect Companion For Life With A New Puppy
For this reason, many owners opt to have their Yorkies professionally groomed.
The Yorkie has a medium energy level that is best served with daily light to moderate exercise. They'll be happy with a walk or play in the yard.
Overall, the breed is a relatively healthy one. Although eye issues and luxating patella can occur.
Would you like to learn more about this personality-packed breed?
Be sure to check out this link.
Patterdale Terrier
Like the Yorkshire Terrier, the Patterdale Terrier is another of the English terrier breeds.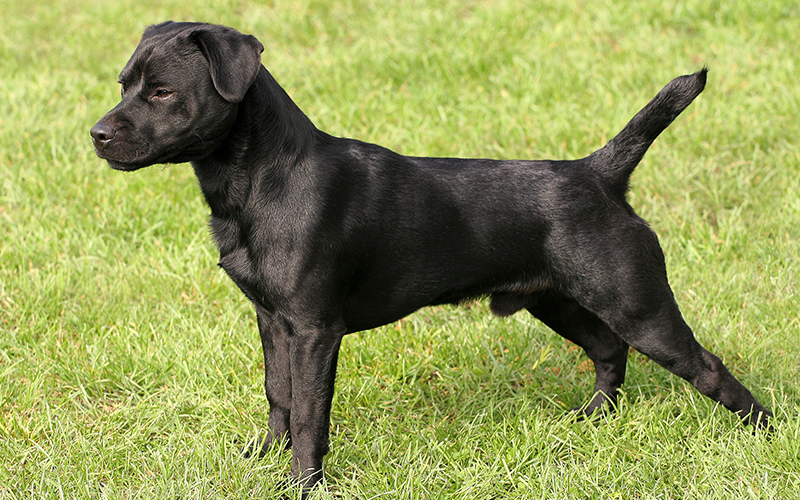 The typical Patterdale Terrier weighs on average 11–13 pounds and typically reaches around a foot in height. Patterdale Terriers come with either a hard, long-ish fur coat or a short and smooth coat.
The majority of the time, this spunky fellow comes with a basic black fur color. Still, red, yellow, and brown coats are occasionally seen.
History
This is a relatively new dog breed. It was developed in the early 20th century. But like other breeds in the terrier group, the Patterdale was developed as a hunting dog.
The goal was for the Patterdale to hunt down foxes and rats. Naturally, to this day they retain a strong will and may display a bit of guarding behavior.
As such, it has an extroverted personality, a hardy energy level, and an ingrained love of chasing the things that catch its eye.
Patterdale Terriers are a relatively healthy breed. Nonetheless, they can develop the typical terrier allergic sensitivities, including skin issues. Knee problems and eye issues may be seen as well, including glaucoma, conjunctivitis, and cataracts.
Would you like to learn more about this fascinating terrier dog breed? Be sure to check out this informative article.
German Hunting Terrier
Most terrier dog breeds originated in the UK. But, if you're wondering about German terrier breeds, may we suggest the German Hunting Terrier?
Also known as the German Jagdterrier, this pooch comes in black and tan. It's also available in brown and white. On average it stands 13–16 inches tall while weighing approximately 20 pounds.
This intelligent and loyal pooch was developed in Germany to hunt underground prey such as raccoon and fox. Yet, it is also adept at hunting rabbit and boar above ground.
They can and do make good pets. But they retain a strong prey instinct. This, combined with the fact that the breed is not commonly encountered, may have you thinking twice before seriously considering the German Hunting Terrier.
Are The Terrier Dog Breeds Right For You?
It's essential to understand that modern terrier dogs retain a natural cockiness. As a result, they need early, supportive training if you want your dog to learn how to positively channel their energy.
Owing to their origins, terrier dog breeds also have a love of digging. Which means your vegetable or flower garden could be at risk!
In fact, the name terrier is from the Latin for terra, meaning earth. This comes from them originally being bred to hunt and/or eradicate underground animals.
Most terrier dog breeds like and want to be busy. So, they need a moderate to high level of exercise. However, these pups should always be kept on a leash due to their tendency to bolt after whatever catches their eye.
Terrier dog breeds are known for their sense of loyalty, love of attention, and playful temperaments.
As you've seen on our list most are small dogs with huge personalities. While not traditional lap dogs, these terrier breeds have a well-deserved reputation as affectionate animals.
Summary – Terrier Dog Breeds
We hope you enjoyed our list of different terrier dog breeds. Do you have a terrier at home? What one of these different terrier dog breeds caught your eye and why?
We would love to hear about your experiences with this extroverted, energetic, and lively animal!
You might also want to take a look at our fun guide to hairless dogs! 
References and Further Reading
AKC. Terrier Group.
AKC. Airedale Terriers.
Ahlstrom, L.A., Unilateral deafness in a white Bull Terrier diagnosed by BAER assessment, Australian Veterinary Journal, 2008
Strain, G.M., Deafness prevalence and pigmentation and gender associations in dog breeds at risk, The Veterinary Journal, 2004
Van De Sandt, R., et al, Abnormal ocular pigment deposition and glaucoma in the dog, Veterinary Ophthalmology, 2003
This article has been extensively revised for 2019.